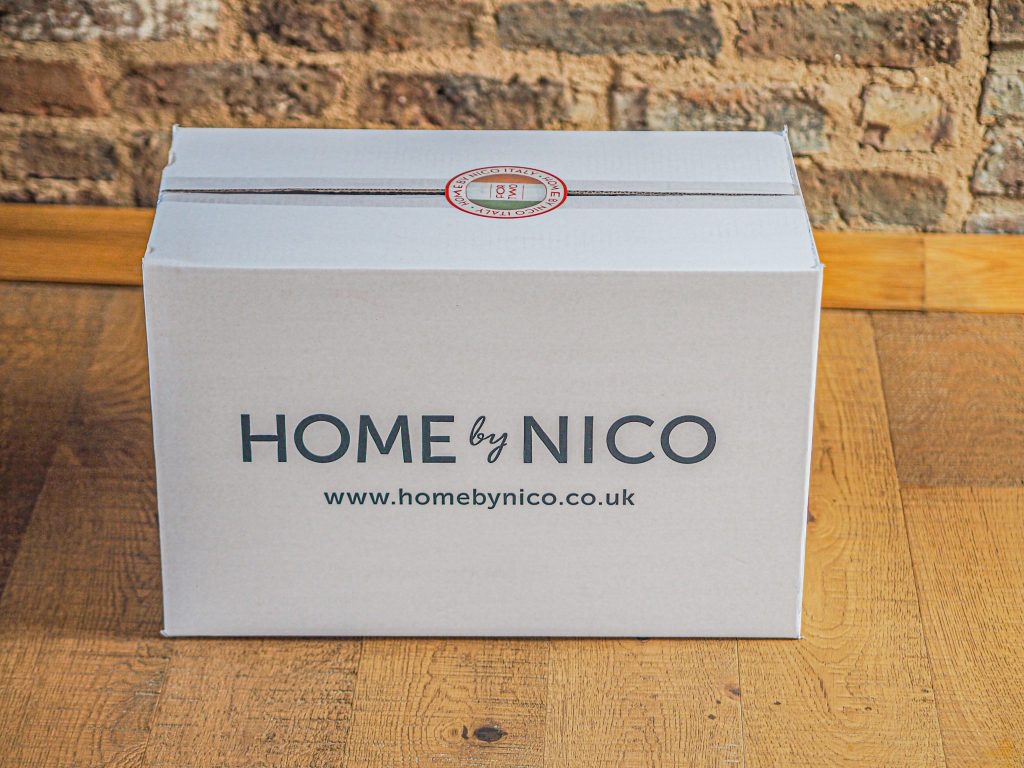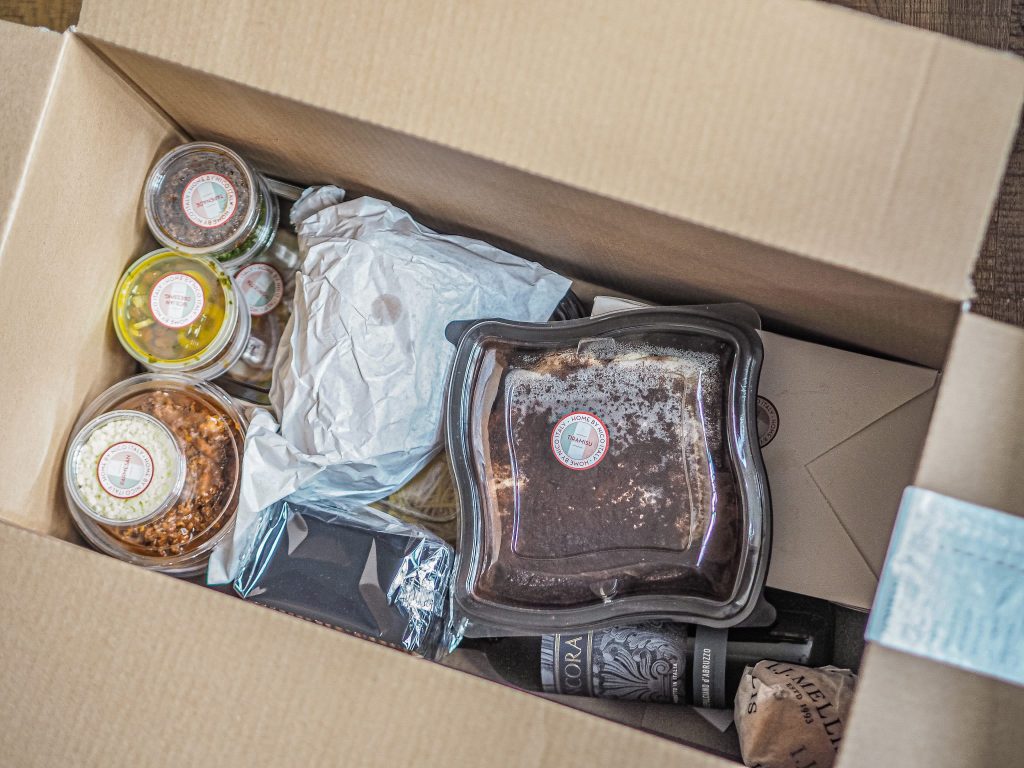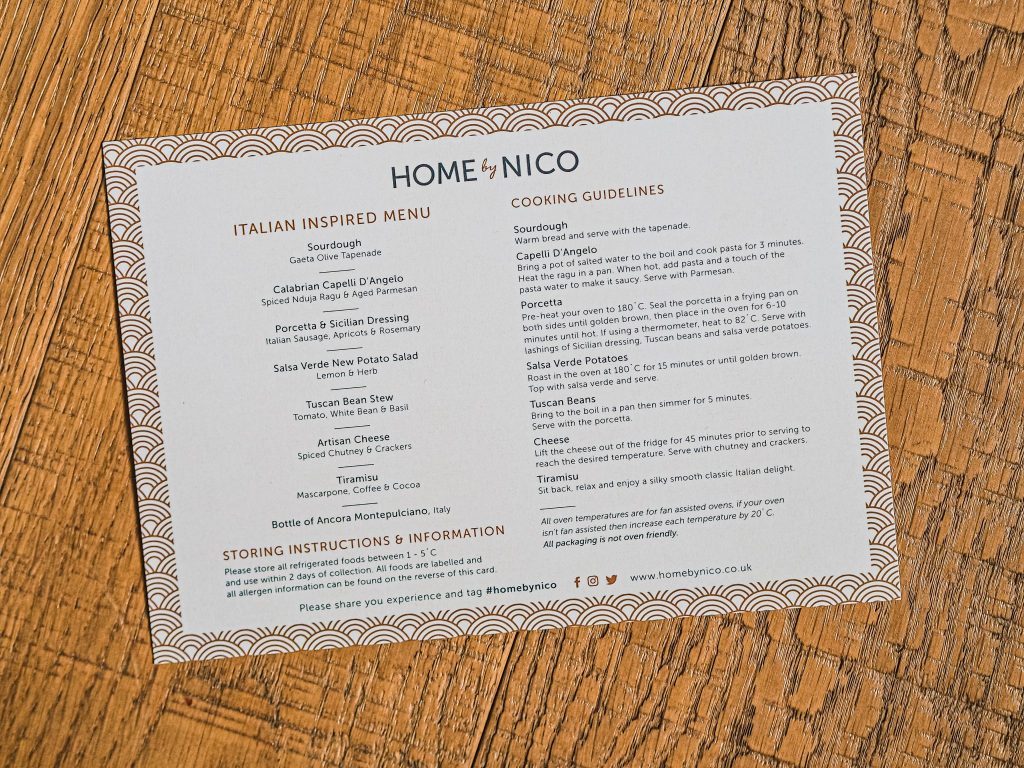 Home by Nico
Last weekend Jonny and I ordered the Home by Nico box as a weekend treat. The Home by Nico box is a restaurant style experience from Six by Nico, all packaged up into one epic box for either two or four people. The theme of the dishes change regularly, and as soon as I saw that this one was Italian themed, I had to have it.
I won't lie, it was a little challenging to get. I was poised for the 9am release time, but had to go into a work call at the same time. At around 9.10am I quickly went to checkout in the background of the call and they had all sold out. I was devastated as it was one of those where it was in my basket and so if I'd just been a little quicker I would have bagged it. As I recently said on Twitter, there's nothing like something suddenly going out of stock to make you realise how much you wanted it. Luckily, a couple of days later I saw a post saying they had a few extra of the two person boxes; I've never darted to a restaurant website so quickly in my life. I successfully checked out and shortly after got my confirmation email with instructions for collecting the box at the weekend.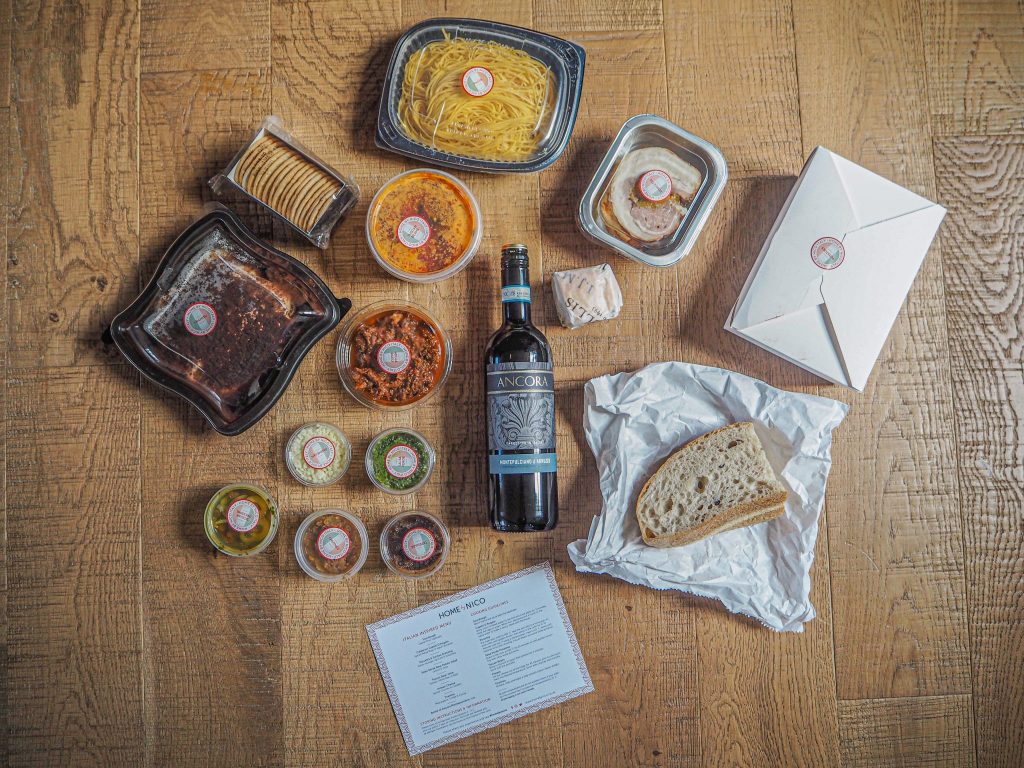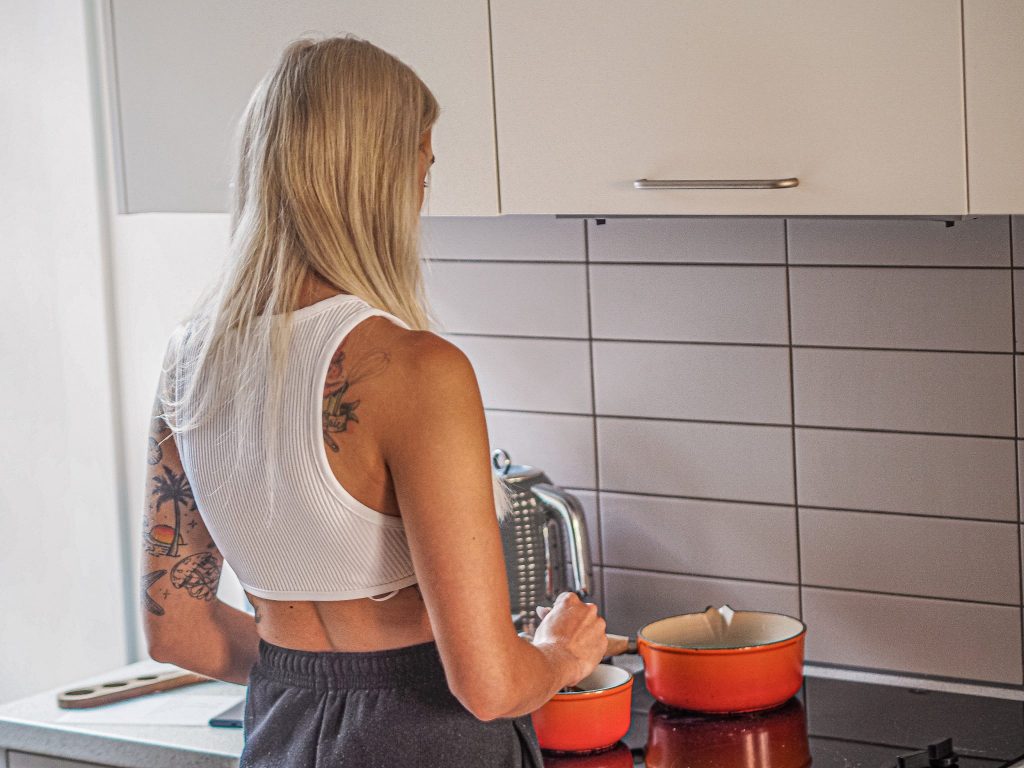 The Box
The Home by Nico box contains locally sourced produce, curated into a multi-course dinner. It has everything you need to re-create the restaurant experience in your own home. Everything is prepped and just needs to be heated and served, so if you don't think of yourself as a kitchen wiz then this is the best way to feel like a chef with minimal effort! Simply heat up and serve up – ideally whilst sipping on a glass of the wine thats also included.
The two person experience costs just £50 and includes multiple courses plus a bottle of wine. When I ordered it I though it was great value, but when we cooked it I realised it was absolutely incredible value! I like to think I can eat a lot of food, but the dessert lasted us three days and the other courses last us two (the wine obviously didn't last). We had five courses in total and were suitably stuffed afterwards. The produce has a 3 day shelf life too; so if you want to cook it in the days following pick up then just be sure to refrigerate in the meantime.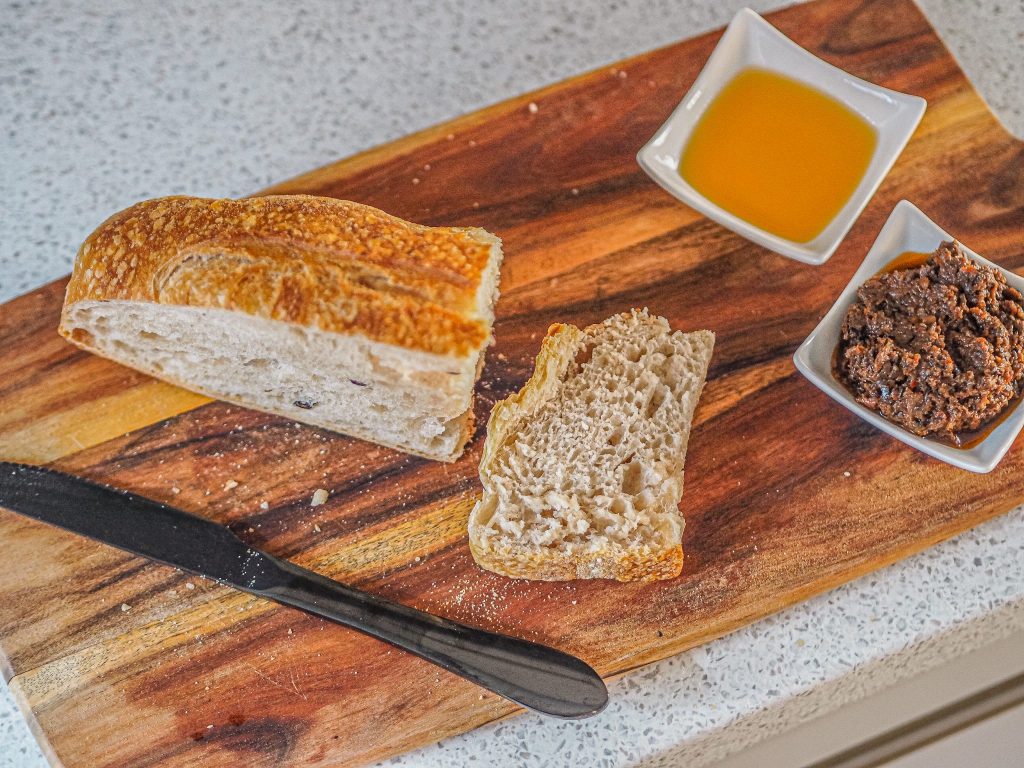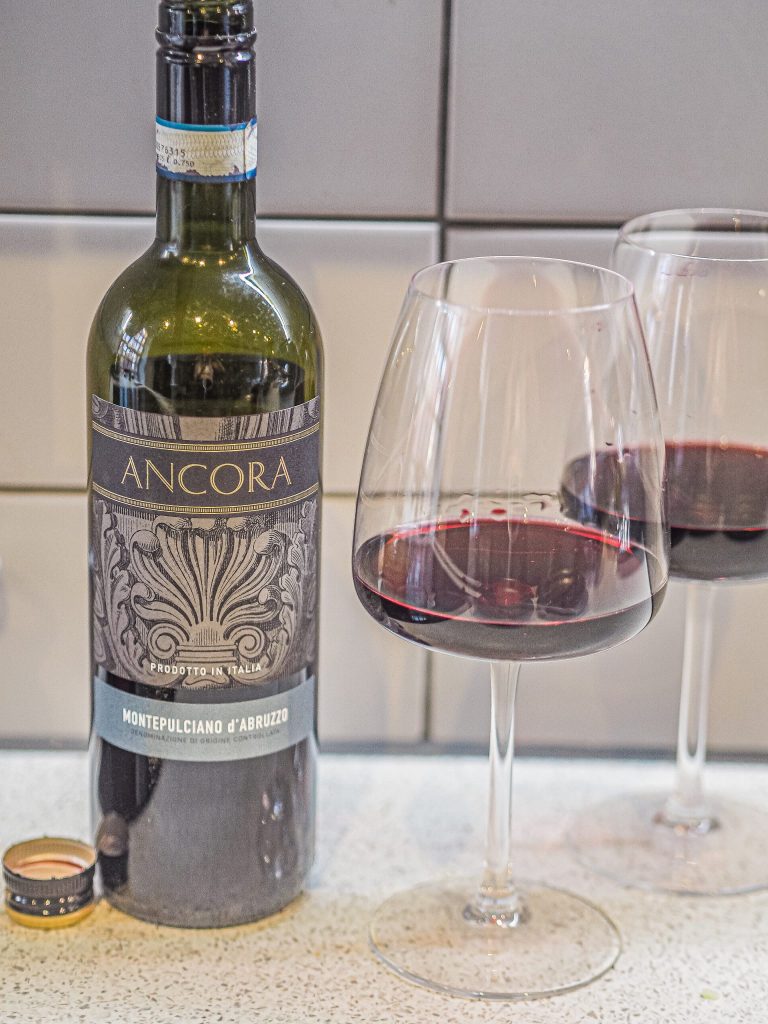 The Courses
Sourdough
Gaeta Olive Tapenade
First we started off with some fresh sourdough. It just required a quick heat in the oven and was served with tapenade. I got a little fancy and added my own sun-dried tomato oil for dipping too. Probably a good job considering how quickly we got through the tapenade. This was a lovely simple starter and great for nibbling as you crack open the wine and begin the experience.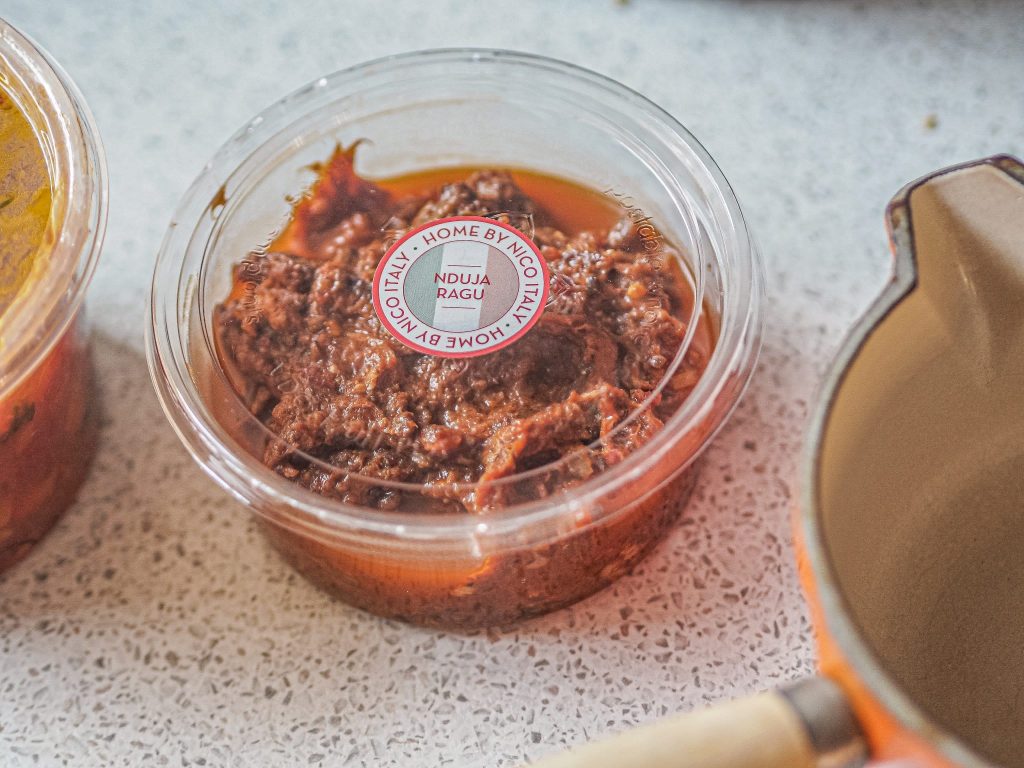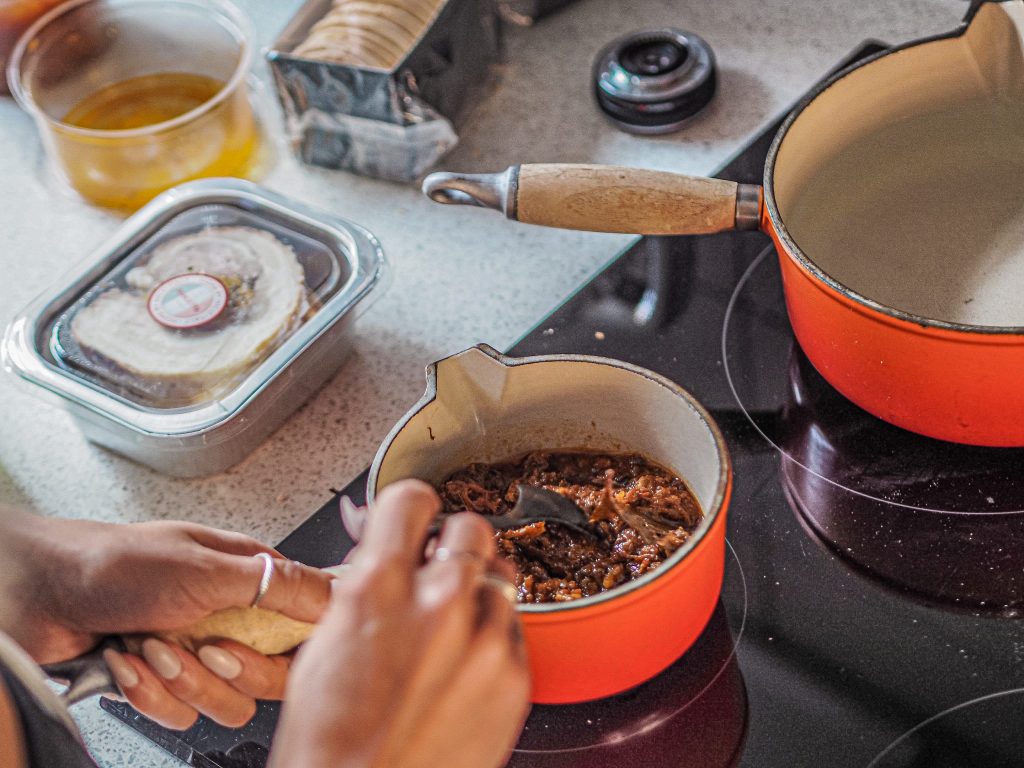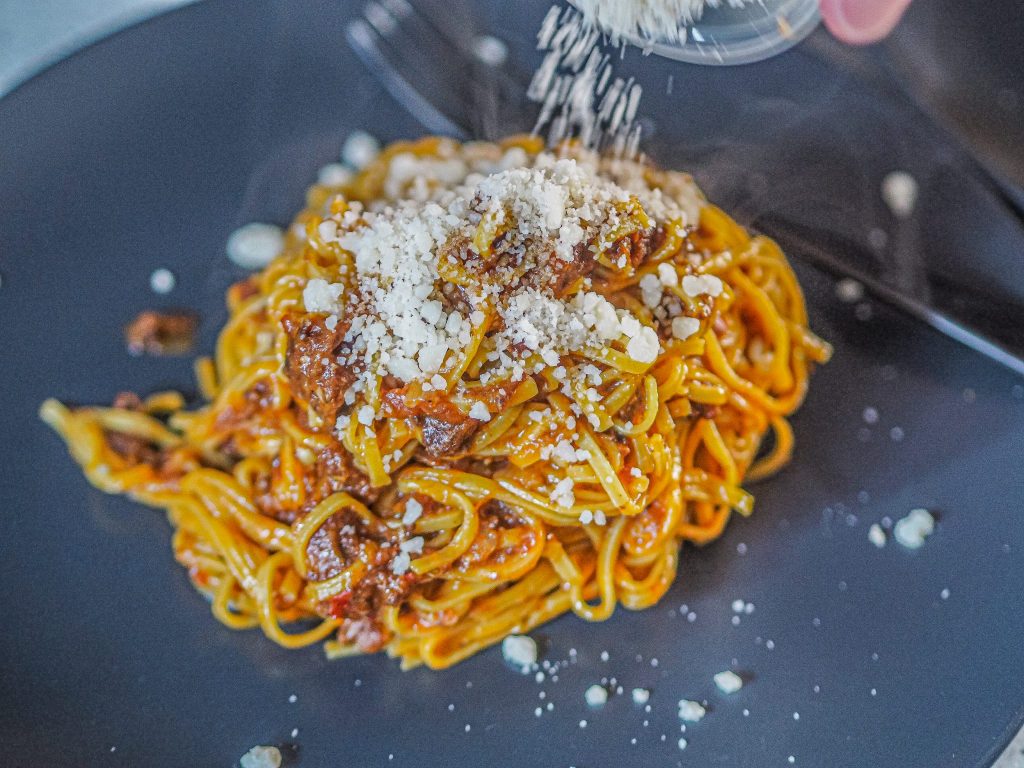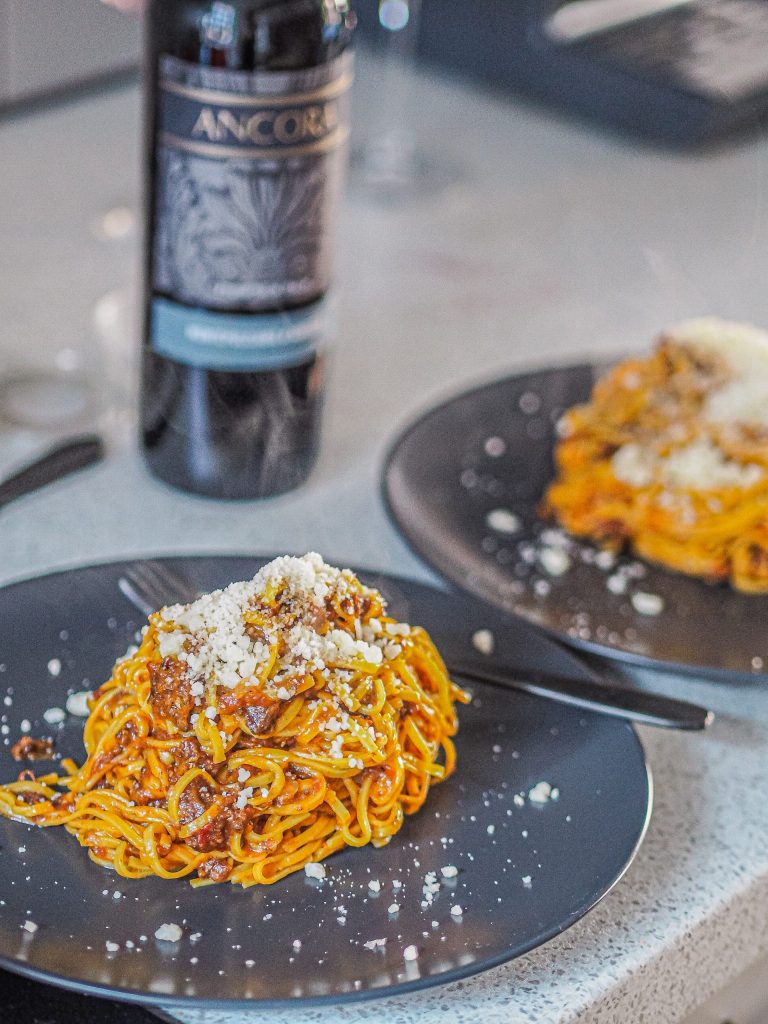 Mains
Calabrian Capelli D'Angelo
Spiced Nduja Ragu & Aged Parmesan
Next up – fresh pasta served with n'duja ragu. Safe to say that n'duja-anything has been high on the agenda for the past year or so, so we were excited to try this at home. Both ingredients were quickly heated and then tossed together and topped with parmesan. Super simple and incredibly delicious. I ambitiously plated the whole thing and was definitely going to finish it but I quickly realised (aka Jonny knows me too well and told me it would be best to stop if I wanted to fit all the courses in, which I definitely did) so we saved some and moved on to the next course.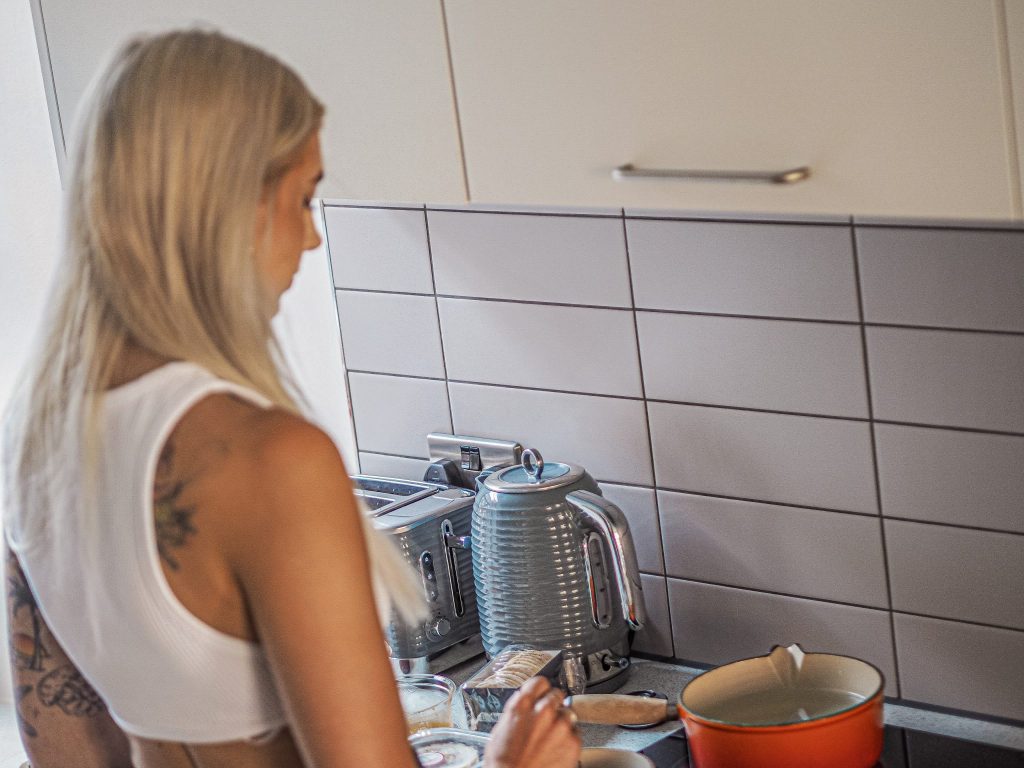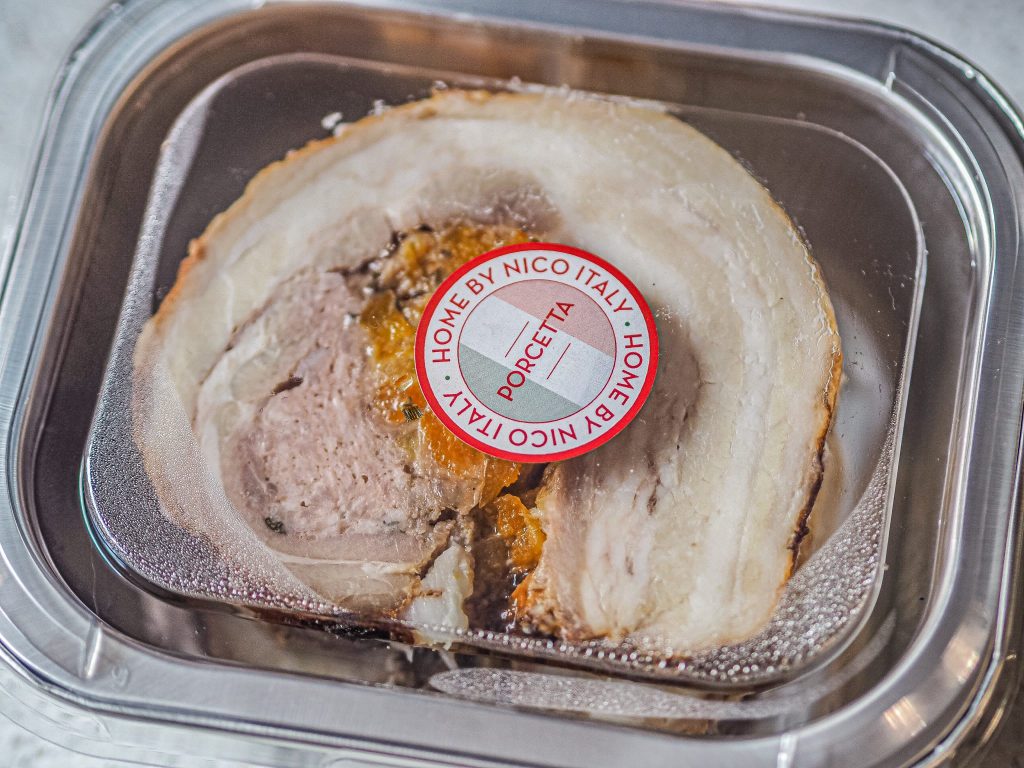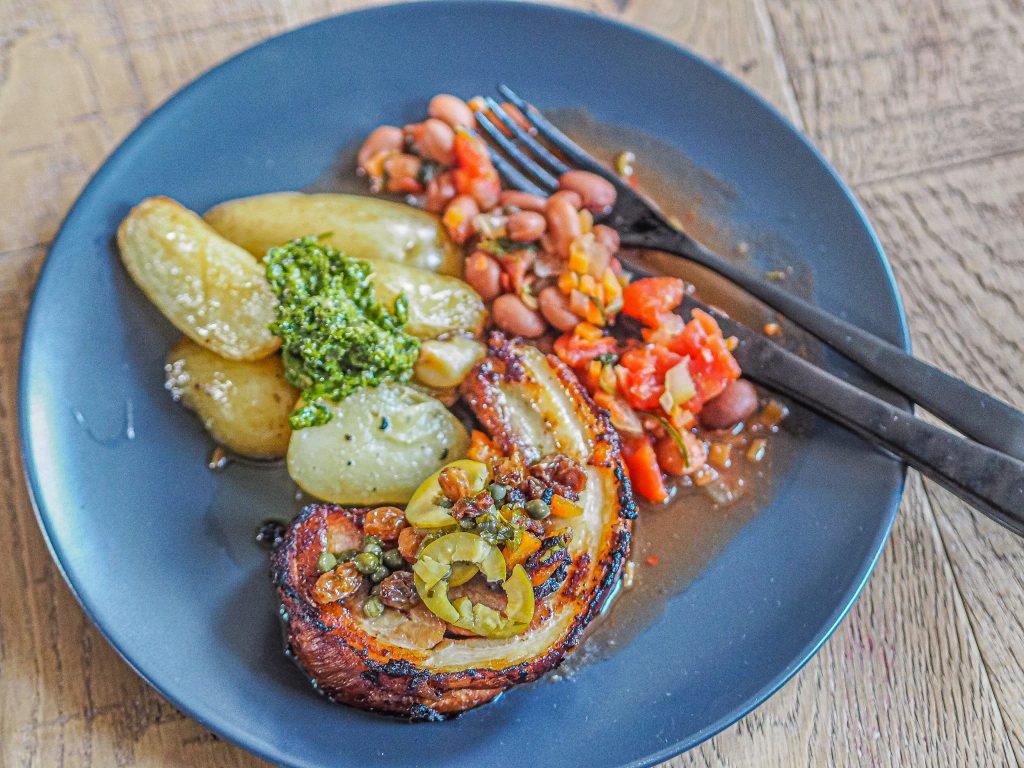 Porchetta & Sicilian Dressing
Italian Sausage, Apricots & Rosemary

Salsa Verde New Potato Salad
Lemon & Herb

Tuscan Bean Stew
Tomato, White Bean & Basil

The next course comprised of three elements, coming together to make one delicious meat course. I sealed the porchetta in a pan and then heated in the oven, along with the potatoes. The bean stew also just needed heating up in a pan. Finally served together with lashings of Sicilian dressing over the meat, and salsa verde on the potatoes. This course was so light and flavourful, much moreso than what I expect when I think of a meat and potato style dish. With every mouthful I got a wonderful hit of zing or warming earthiness of the herbs.
Another great thing about the Six by Nico style of eating is that you get things you may not necessarily have ordered if you were picking from a menu. This is not something I would have opted for myself, but I was so glad it was part of this experience. It has totally inspired me to try re-creating some of the elements myself.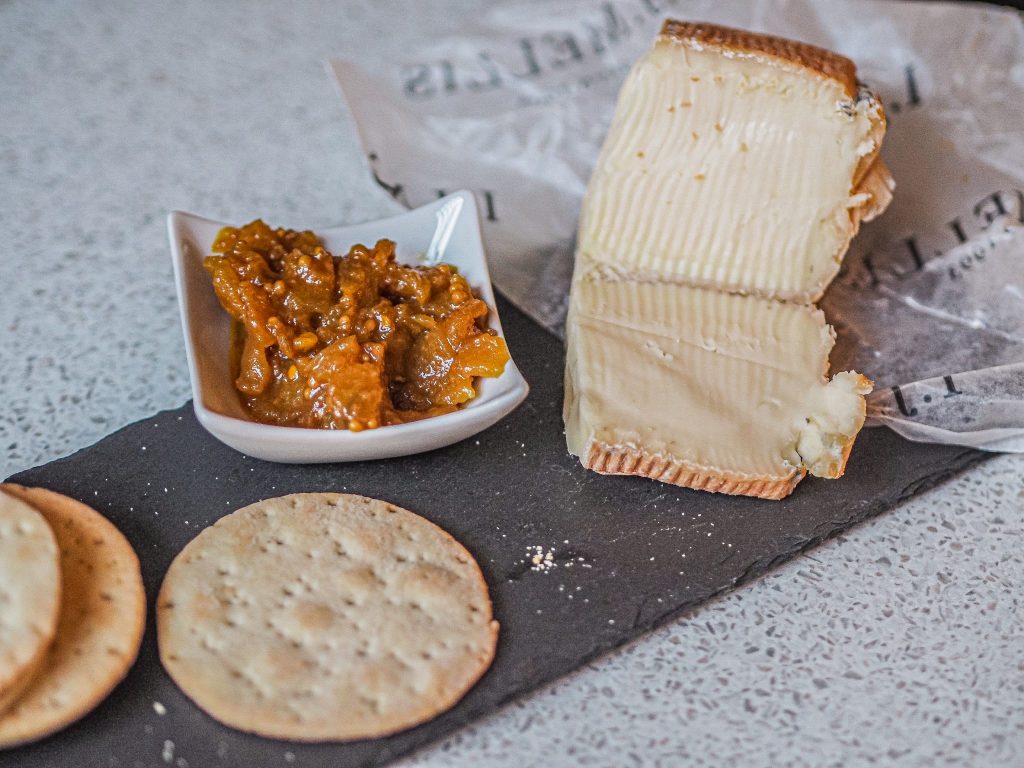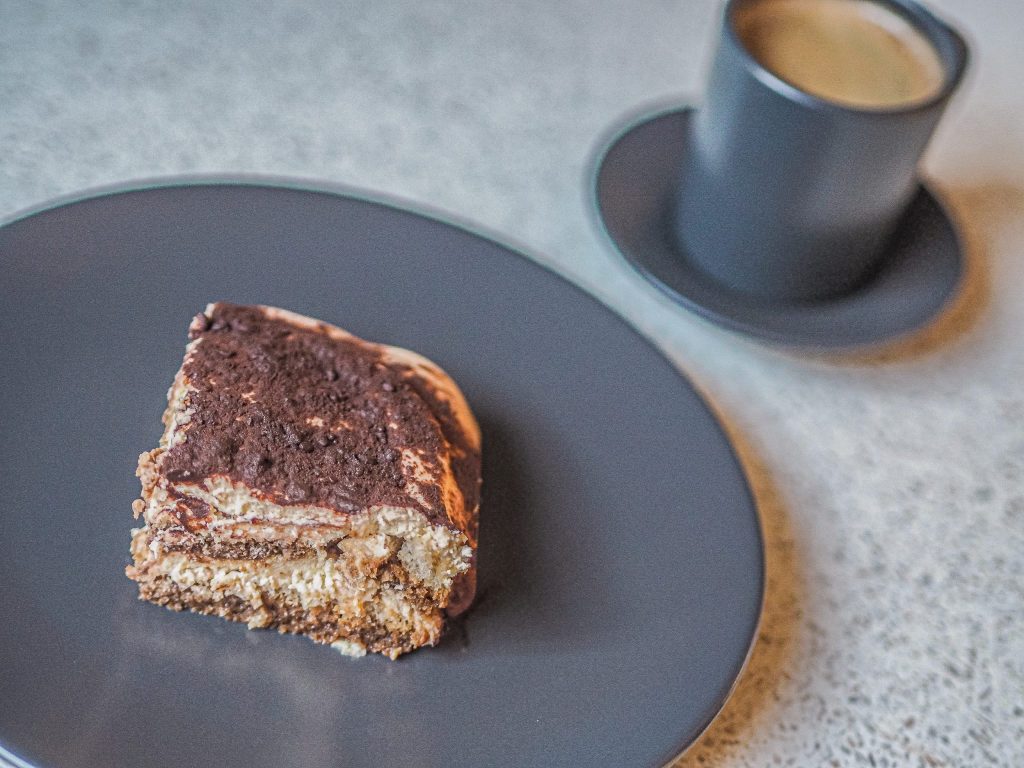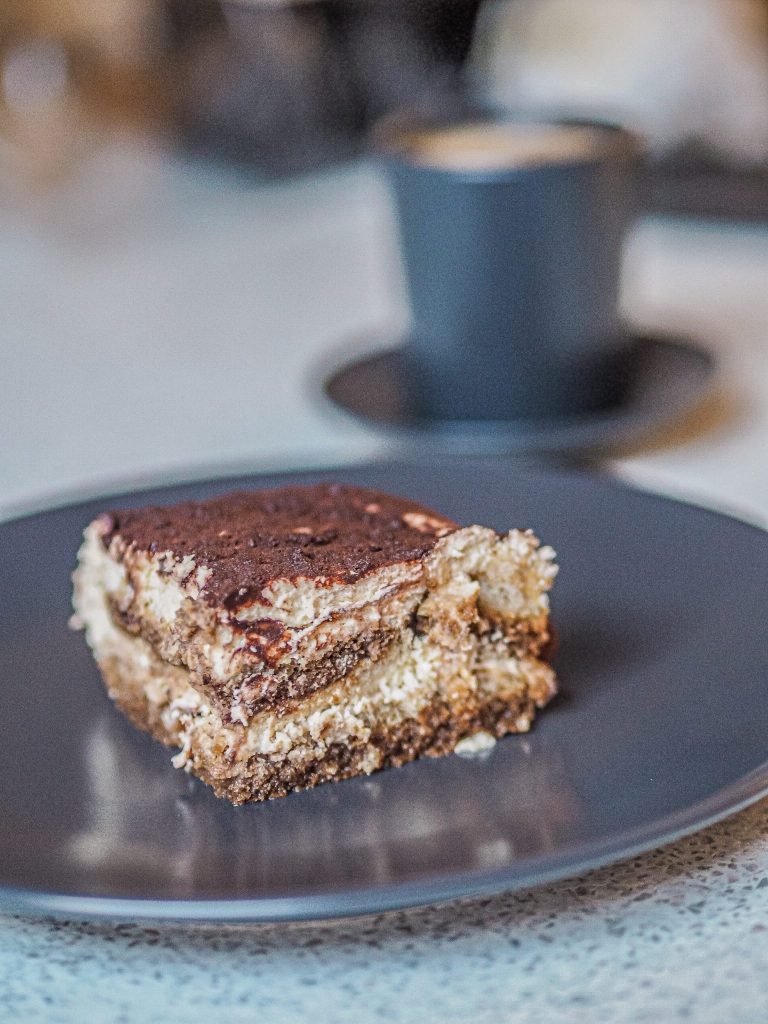 Desserts
Artisan Cheese
Spiced Chutney & Crackers
Tiramisu
Mascarpone, Coffee & Cocoa
Good news dessert lovers – there were two in this box! I usually opt for something sweet to finish dinner (when I say usually I mean every day). However it was nice to have a bit of both this time. No prep required here, we simply served the cheese and crackers with the most delicious chutney I've ever tasted – 100% will be trying to make this myself. Followed swiftly by some tiramisu and an espresso to accompany. Tiramisu is my fave dessert so this was the perfect end to an amazing meal at home.
Review
If you're a regular follower you may already know that my favourite cuisine is Italian; so this was a dreamy evening of dishes for me. That said, I would try another themed cuisine from Home by Nico in a heartbeat. Not to mention I will be heading to the restaurant as soon as we get back to normality and dining out is a thing again.
I couldn't recommend this enough. The whole experience makes for such a wonderful evening. It allows you do something fun in the kitchen minus all the stress that can often come with preparing multiple courses at once. I wasn't asked to do this review, but as soon as I got it I knew it would be something I wanted to share and encourage others to try. A truly unique experience and definitely one of the highlights of lockdown.
You can visit the Six by Nico website here to choose your location, view menus and sign up for the pre-sale to be notified when the boxes go live. Unfortunately the Home by Nico boxes are only available for collection, so make sure you're able to pick-up before ordering.
LL x