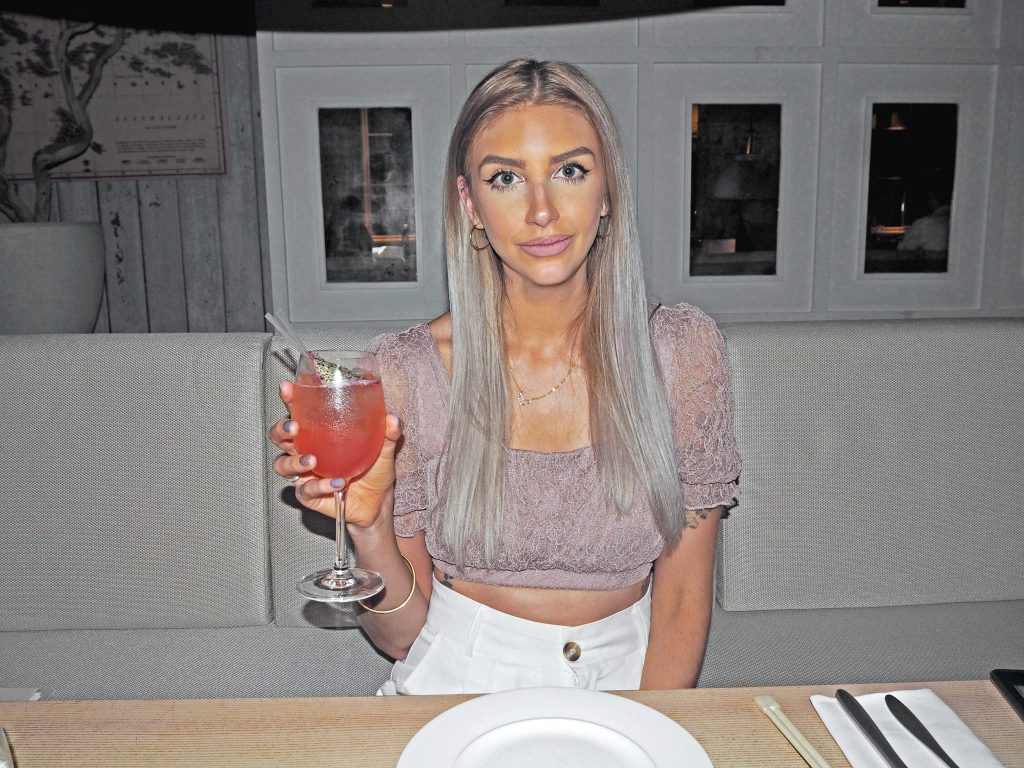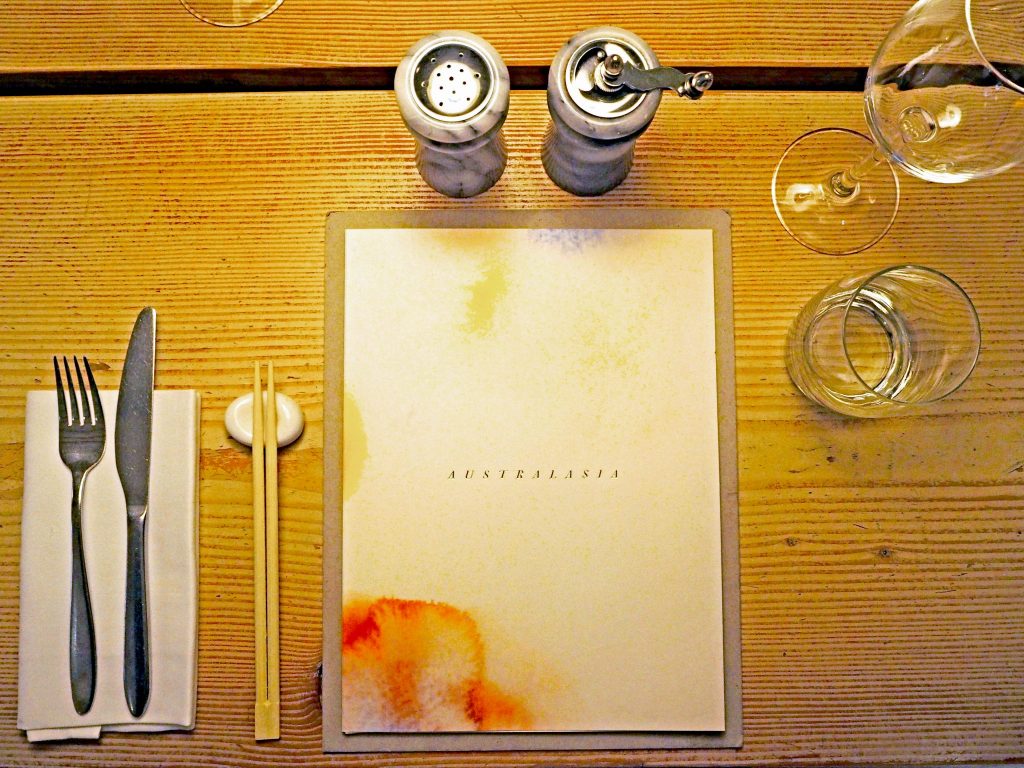 Australasia Review
I remember when my best friend and I were walking through Manchester back in our uni days. We were filled with excitement when we saw a mysterious entrance being built in Spinningfields, and heard the site was going to be Manchester's new underground bar and restaurant.
The glass doorway that stands alone in the avenue square creates so much intrigue, and the stairwell down into the beautiful space below the hustle and bustle of Deansgate is almost like a stairway into another world.
I visited a few times when Australasia opened, and was always a fan of their modern, Australian style menu. I am a lover of seafood (I'm sure you've heard me say that enough times now), and they serve some of the best I've had.
In my opinion, Australasia is one of Manchester's best kept secrets. It isn't a secret as such, but the cool location gives it that sort of vibe. I also think that with the ever-changing foodie science of Manchester, it can sometimes be easy to forget the real favourites of the city.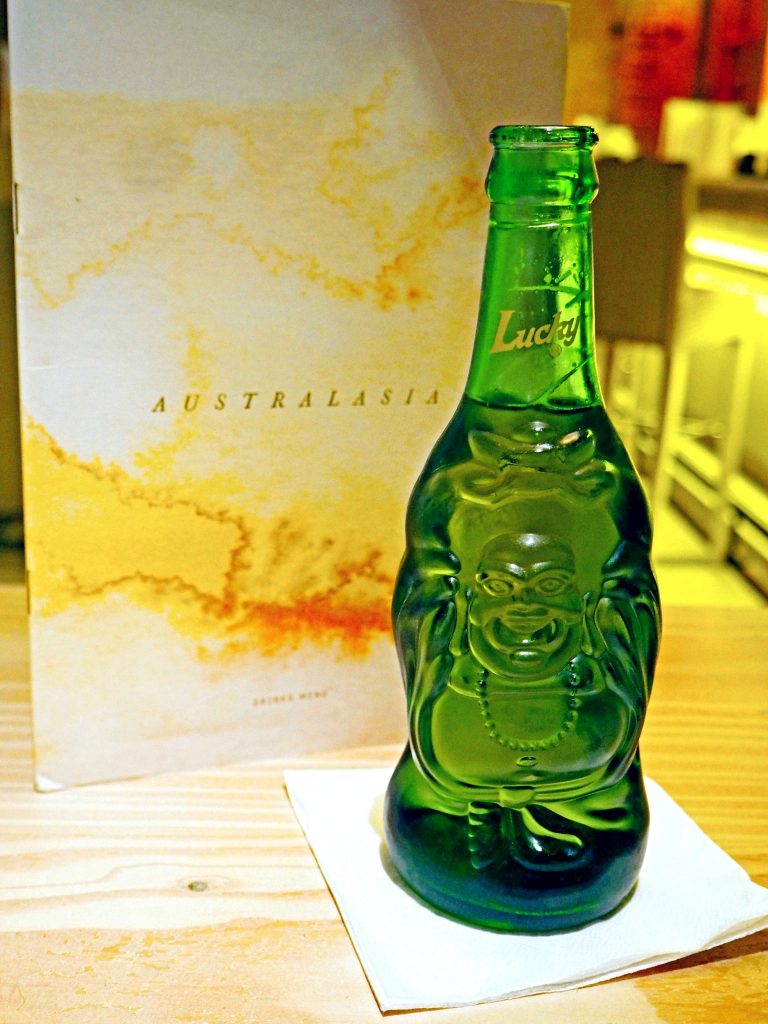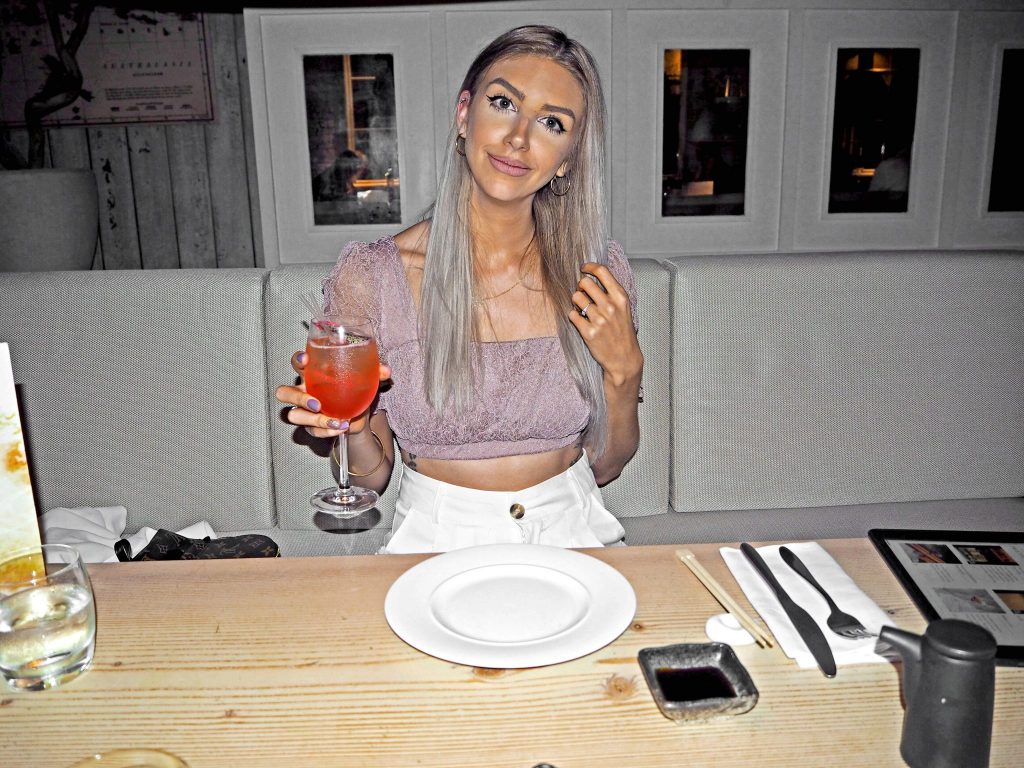 Drinks & Dining
I always love having a pre-meal drink at Australasia. The bar area is so cool, and they have an incredible list of cocktails and wines that are without-a-doubt worth trying. We popped into the bar first for an ice cold Lucky Buddha beer (£5.50) before heading to our table.
Once we were seated, I was eager to try one of the cocktails after eyeing up the extensive menu at the bar. The drinks list comes on an iPad, with many ways to search for a drink that you would love. I opted for an Australasia Spritz (Sparkling rosé, plum sake, rose liqueur – £9.50). It was a hot day so this went down a treat. Jonny had a Lost in Translation (Nikka All Malt whisky, Yuzu sake, miso and Thai ginger – £9). He is a whisky lover so this was a flavourful yet light drink which vanished before I even had chance to try a sip; I can only assume it was amazing 😉
You can either dine locally or traditionally at Australasia. Locally is my personal preferred option; ordering a range of small plates to share. Traditionally, I'm sure you could have guessed, is the starter, main and dessert approach.
There is also currently a Lighter Bites for Lighter Nights menu, running until the end of August. This includes five dishes from a specially curated menu for just £25 per person, and you can add a glass of wine for £4.95. This is perfect for late summer evenings, and a great way to sample some of Australasia's dishes.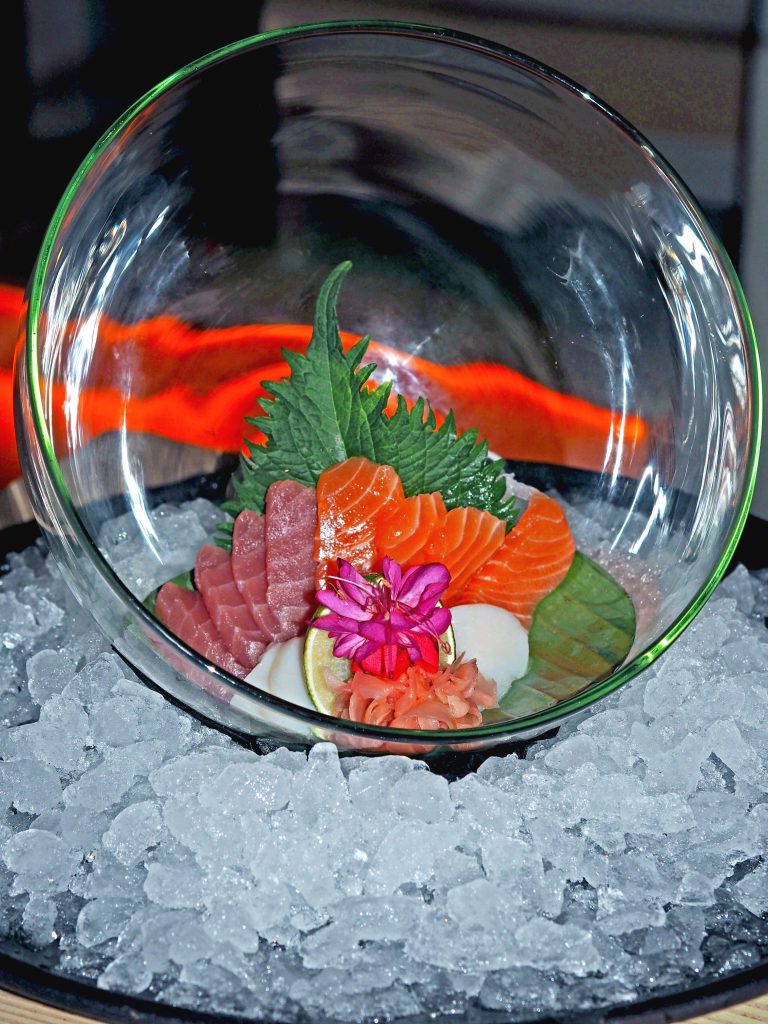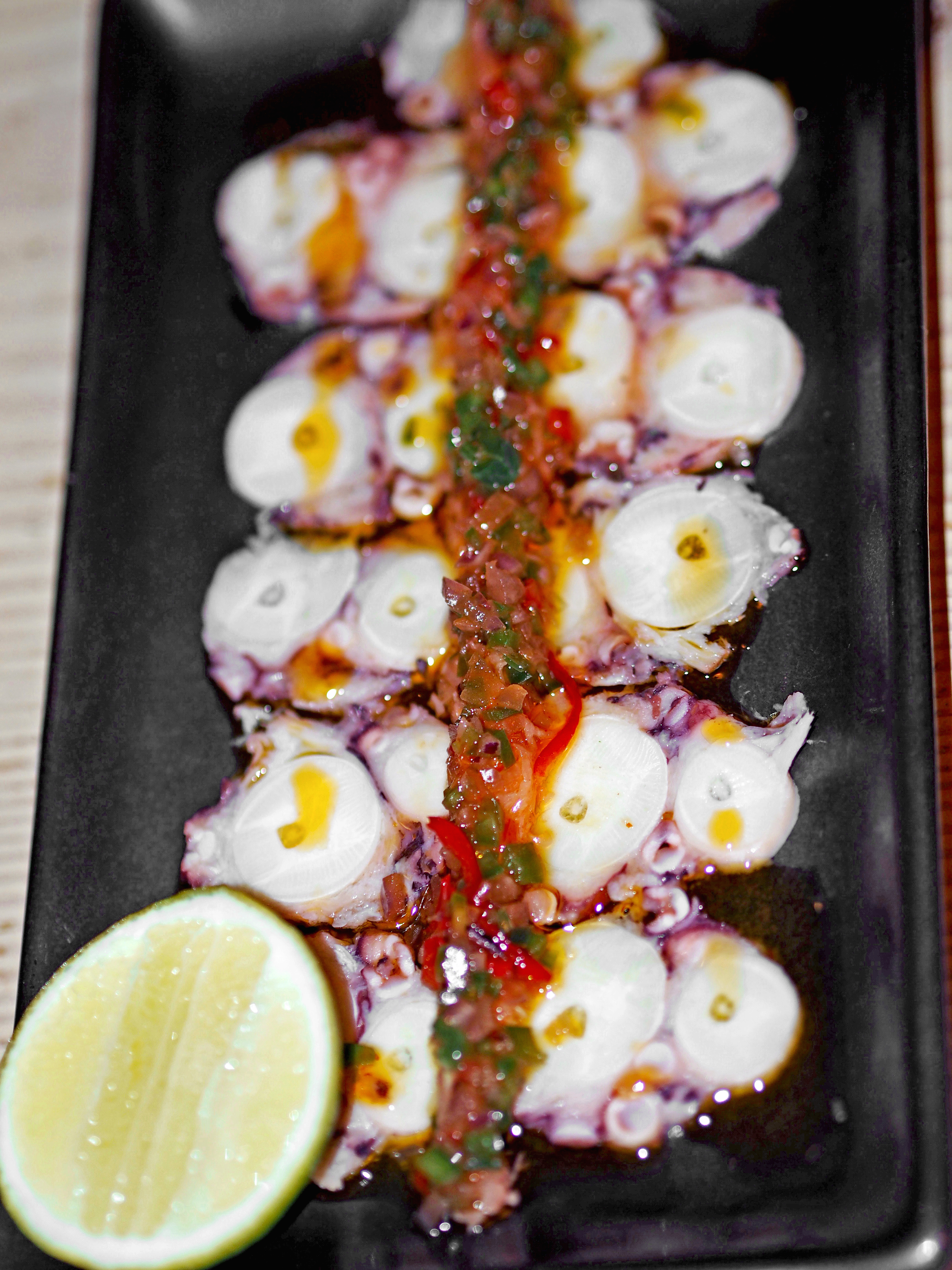 Seafood
We chose to dine locally, which of course means I could try more of the menu – winner! If you, like me, love to have a little bit of everything then I recommend this style of dining.
Our food was served waves, beginning with our seafood selections. We opted for the Mixed Sashimi (£23), Soft shell crab with tentsuyu dipping sauce (£12.50), Roasted scallops with cauliflower purée and wakame pickle (£13) and Octopus carpaccio with jalapeño salsa (£9).
The sashimi was so fresh and melted in the mouth. It was made even better by the fresh wasabi which was grated at the table for us too. The soft shell crab is something I've had at Australasia before, and I already knew how well they do it. I never order the same thing twice at restaurants, so I guess that tells you how good it was. The scallops were perfectly cooked; golden on the outside and still tender on the inside. And the octopus carpaccio.. absolutely incredible. We weren't expecting to enjoy this as much as we did but it was one of our favourite dishes. The jalapeño salsa compliments the light, fresh octopus perfectly.
Seafood is my favourite kind of food, but Jonny is more of a meat-lover. This means I know it must be good if he is loving it as much as I am. I was initially worried that I may have gone OTT on the fish courses but they were all incredible and needless to say, we cleared our plates.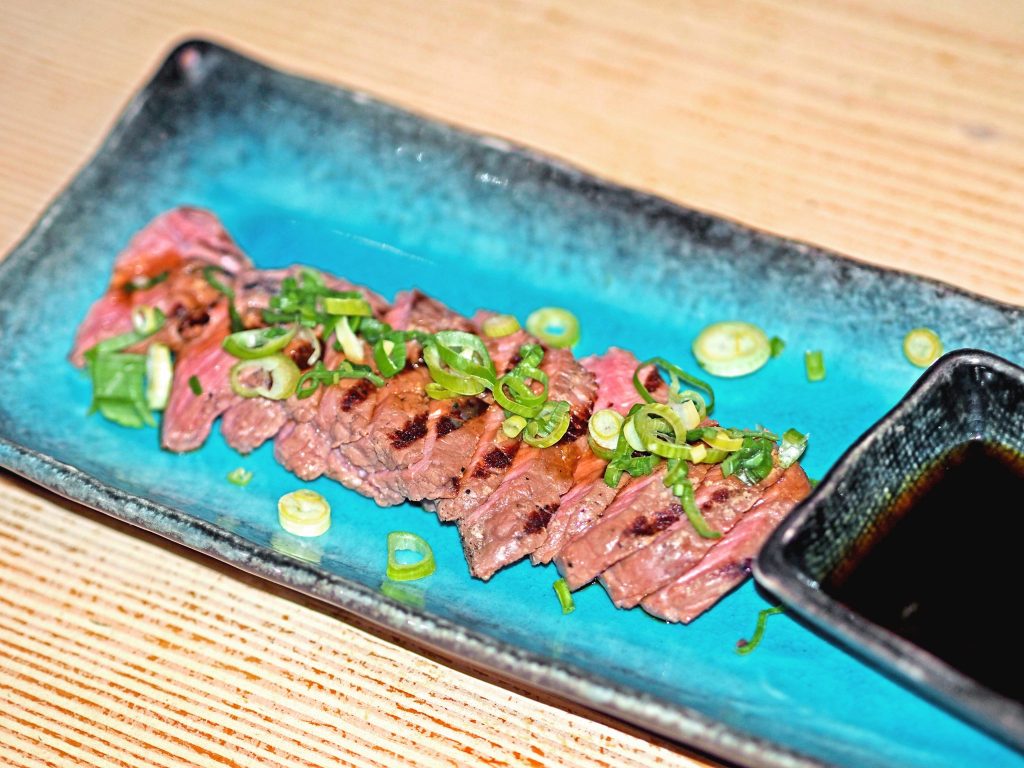 From the Grill
Our next courses were from the grill. We had Mongolian lamb cutlets with Asian slaw (£10), Seared teriyaki beef rump with sweet soy and spring onion (£9) and a side of Wilted spinach with chilli & soy dressing (£5.50).
I don't eat red meat very regularly but this was probably the best beef I've ever had. It was so tender and soft, it just melted away in the mouth. I 100% recommend this dish to any meat-eaters dining here. The lamb was again, something I personally wouldn't usually order. But yet again, I was blown away by the quality and the flavour. The sauce it was cooked in was incredible and the meat was cooked to perfection. You'd also think that there isn't much I can say about spinach, but again, Australasia nailed it. It was literally cooked so well; slightly wilted but not soggy and soft, and the dressing really brought it to life.
This set of dishes were all things that actually surprised me. As a seafood lover I wasn't expecting to like them as much as our first wave of dishes, but I found myself wishing I had a bigger stomach so that we could try more plates.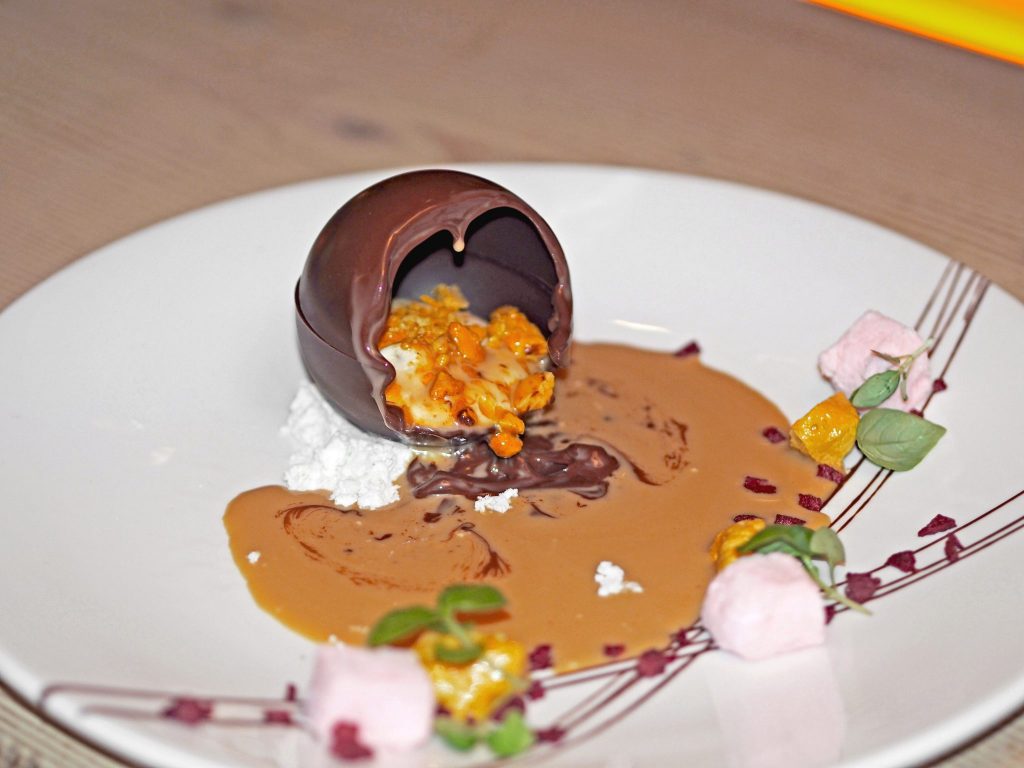 Dessert
I can't even remember the last time I ordered a dessert when eating out. Every single dish had impressed us so much though, that we just had to try something sweet. Our savoury dishes were also so light and fresh, it was such a nice change from having dinner out and leaving feeling stuffed and overly-full, and actually having room for a little sweet treat.
We opted for the Mango soufflé with coconut ice cream and passion fruit sauce (£8.50) and the Chocolate dome with peanut, honeycomb and salted caramel (£9). The soufflé came highly recommended, but was quite a different choice for us. I don't usually go for fruity flavoured desserts; I'm much more of a chocolatey kinda gal.
If you like tropical flavours then the soufflé is for you. It is super light and fluffy, and the tang of the passion fruit sauce just adds a little sweet kick which ties the creaminess together in the soufflé and ice cream. The Chocolate dome was my winner however. Definitely a sweet-tooth's dream dessert. As a lover of the peanut butter and chocolate combo, I could eat this every day. The theatre of the melting dome and beautiful presentation are an added bonus, and yes, it tastes as good as it looks. Actually, it tastes better.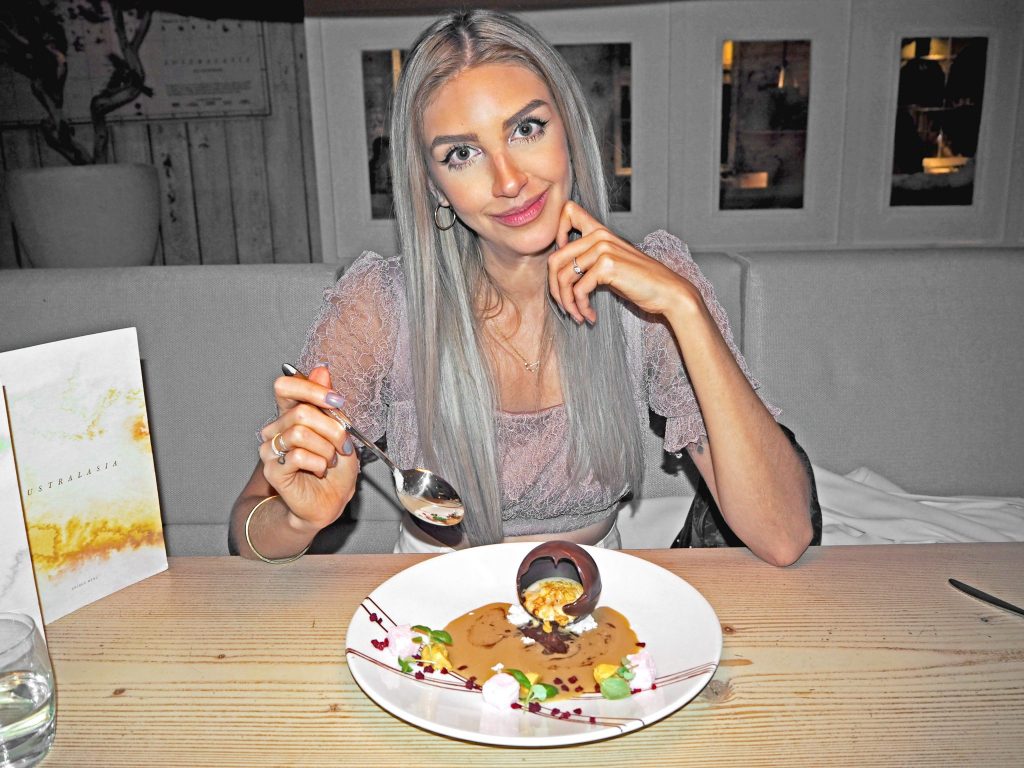 My Australasia Review
I'm sure you can already tell that my review of Australasia is simply exceptional. A restaurant that has slightly gone under the radar for the past few years, but is well and truly back on mine.
Literally every single dish was amazing, and I couldn't fault one thing. We had such a lovely evening and the experience was just what you would hope for from a restaurant; from beginning to end. I also love that there was a little theatre with some of the dishes, like the freshly grated wasabi and the melting chocolate dome. Nothing too OTT but just enough to make it that bit more special than your everyday dining experience. The quality of the food was outstanding, and even the dishes I didn't expect to like, I loved.
I will 100% be back soon to try some more of their menu, and I will be sneaking back in before the end of August for the Lighter Bites menu, for sure!
You can visit the Australasia website here for menus and booking.
What did you think of my Australasia review? Let me know in the comments if there is anywhere you would like me to visit and review on the blog.
LL x
*This evening was complimentary. All opinions are my own.