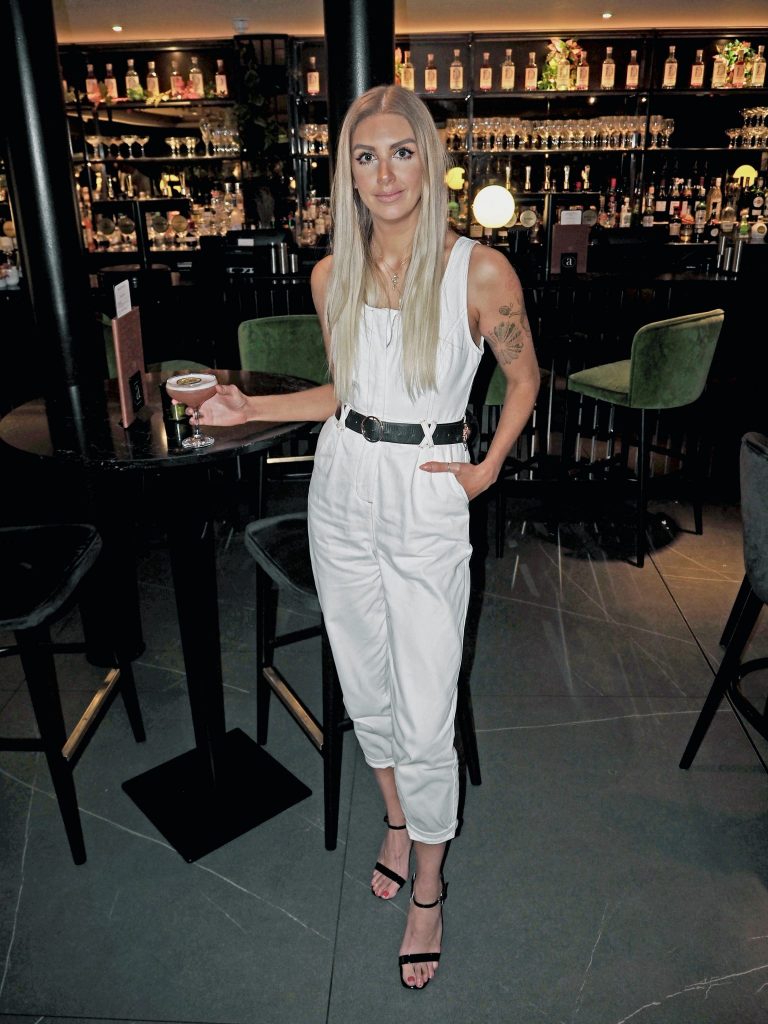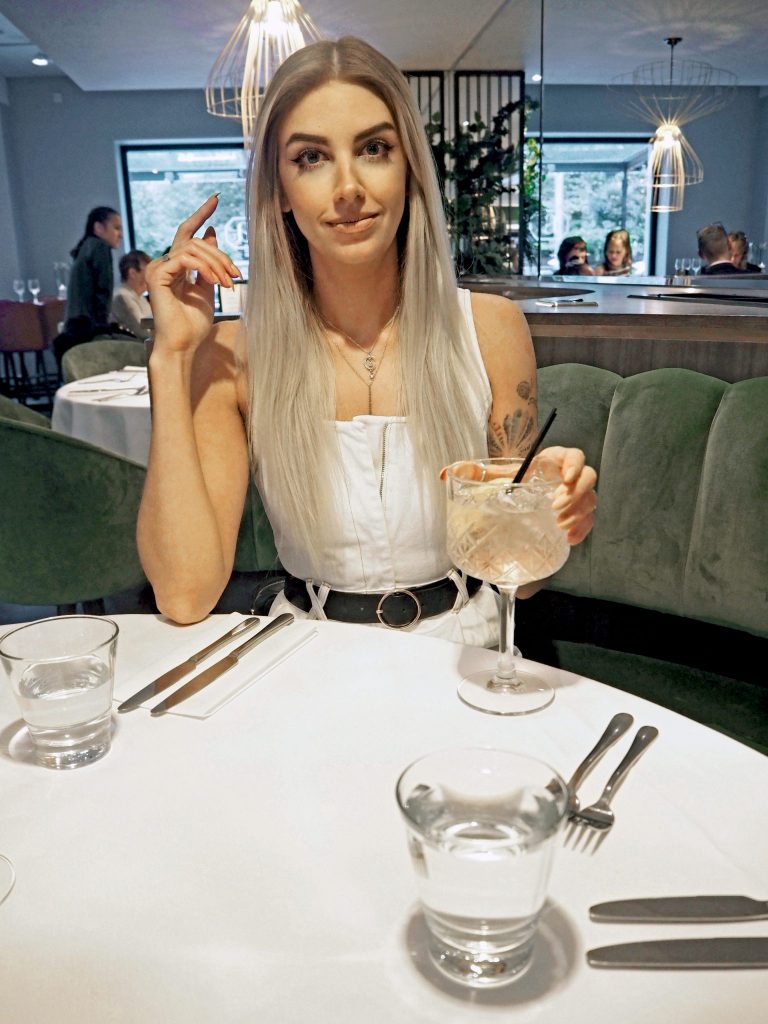 Albert's Restaurants
If you are local to Manchester you will probably have heard of Albert's. Beginning with Albert's Shed located in Castlefield, the restaurant has become increasingly popular, leading to new venues in Worsley and Didsbury. They are also opening the newest branch in Standish this year, which I am very much looking forward to as it is actually where I grew up!
This year Albert's Didsbury celebrated 10 years with a brand new look and extended bar area. After closing at the beginning of the year for a transformation, Albert's Didsbury is back and better than ever.
The interior looks amazing. The dark green, cold and tan colourways look so classy and sophisticated, and the velvet seats feel really luxurious. I also love the living plant walls.. perfect for the gram 😉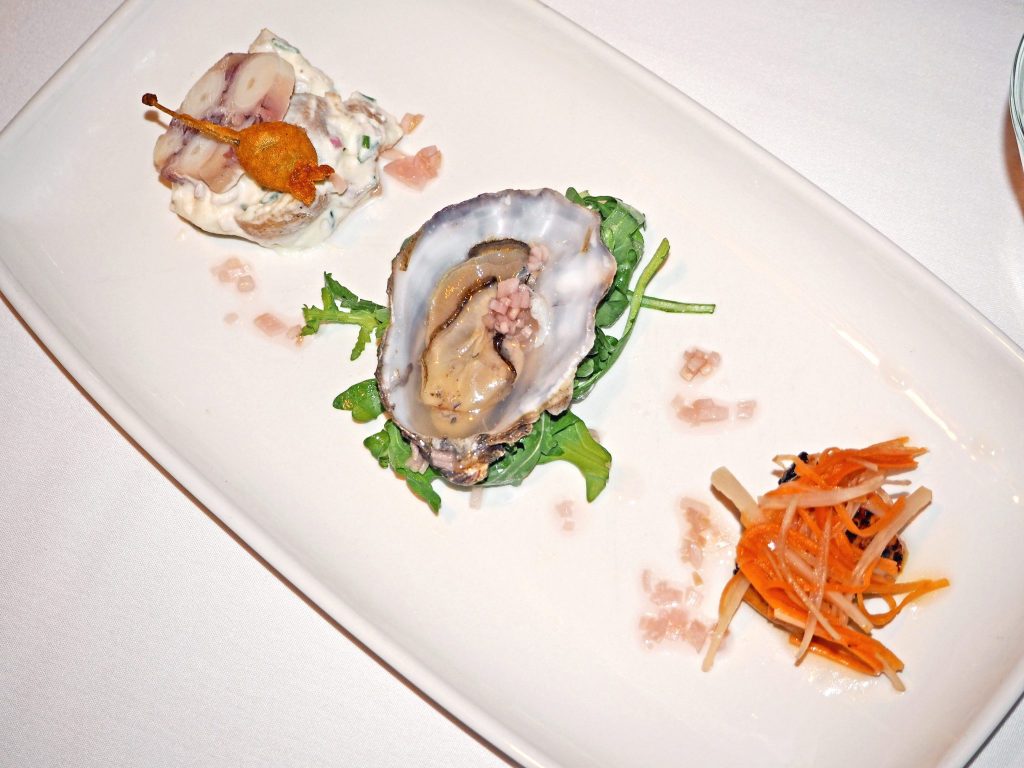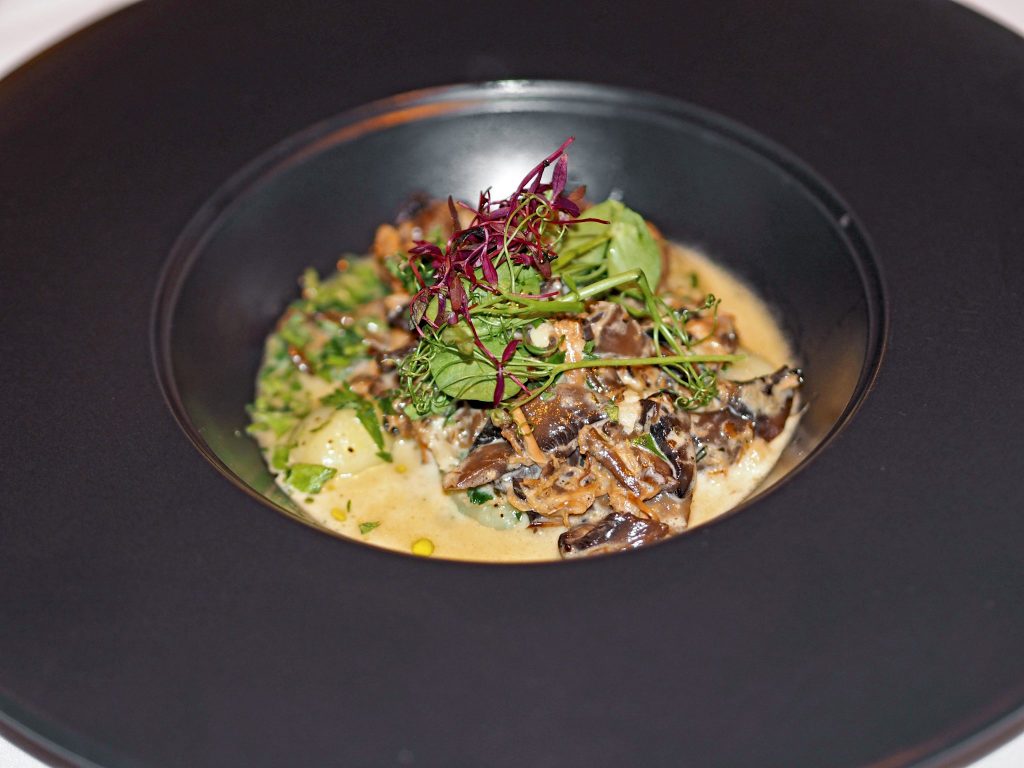 Starters
To start I had the Seafood Plate: Blackened Miso Salmon
with asian coleslaw, Lemon Marinated Octopus with saffron & confit garlic potato salad and crispy caperberries, and Rock Oyster
with sherry shallot vinegar (£9.50). As you can imagine, this is a seafood lover's dream! I always go for seafood when eating out as I just think it's one of those things you can never make quite as well at home. I also love that you get a little bit of three very different dishes on here; perfect for those who (like me) aren't the best at making decisions – especially important ones like which dish to order from the menu!
Jonathan ordered the Rabbit Gnocchi: slow braised rabbit in a pancetta, white wine and mushroom cream sauce with buttered gnocchi (£6.50). This was incredibly tasty with lots of rich and delicious flavour and tender meat. Something I personally wouldn't go for but after trying it I would really recommend this for those who like bold and meaty dishes.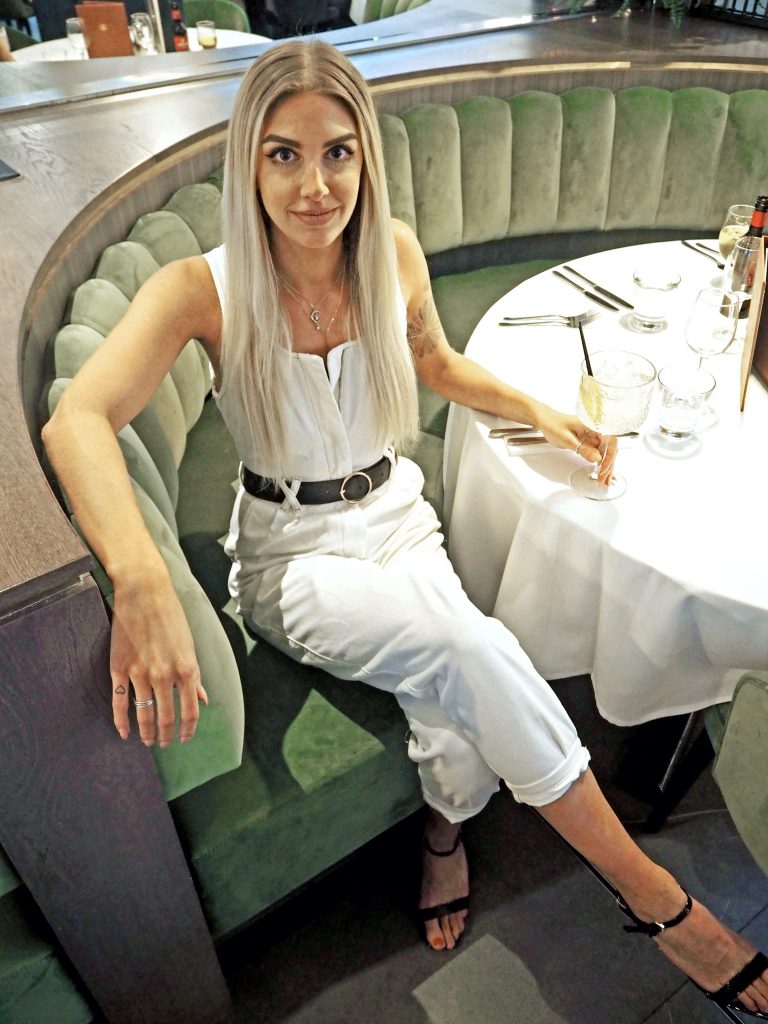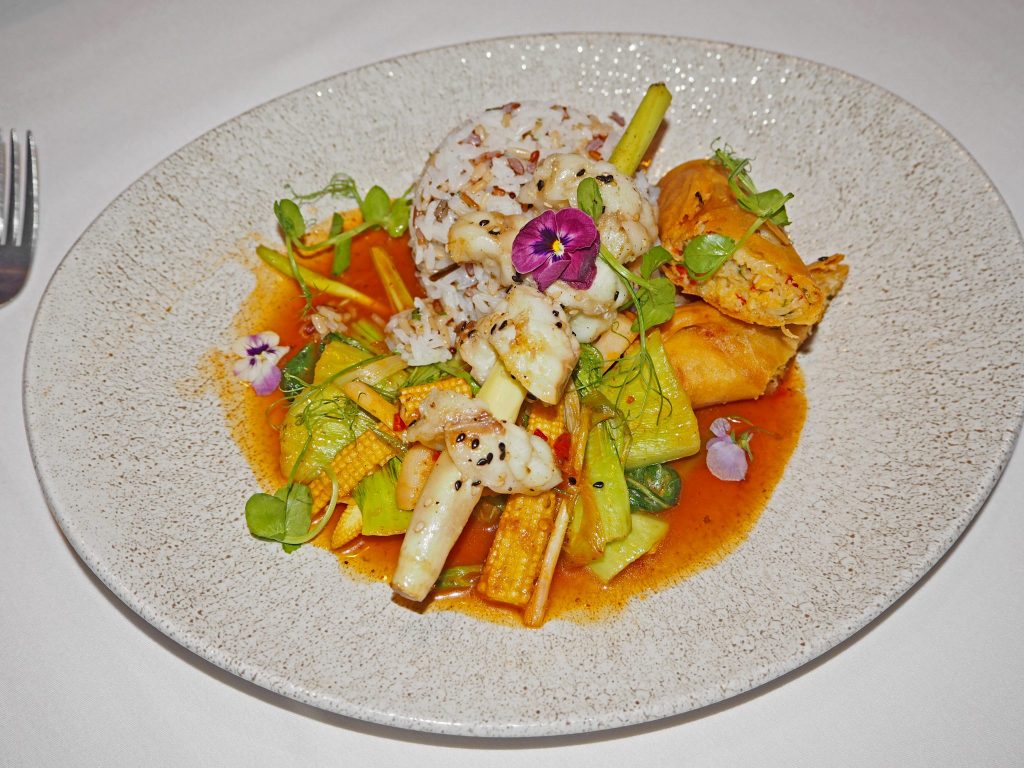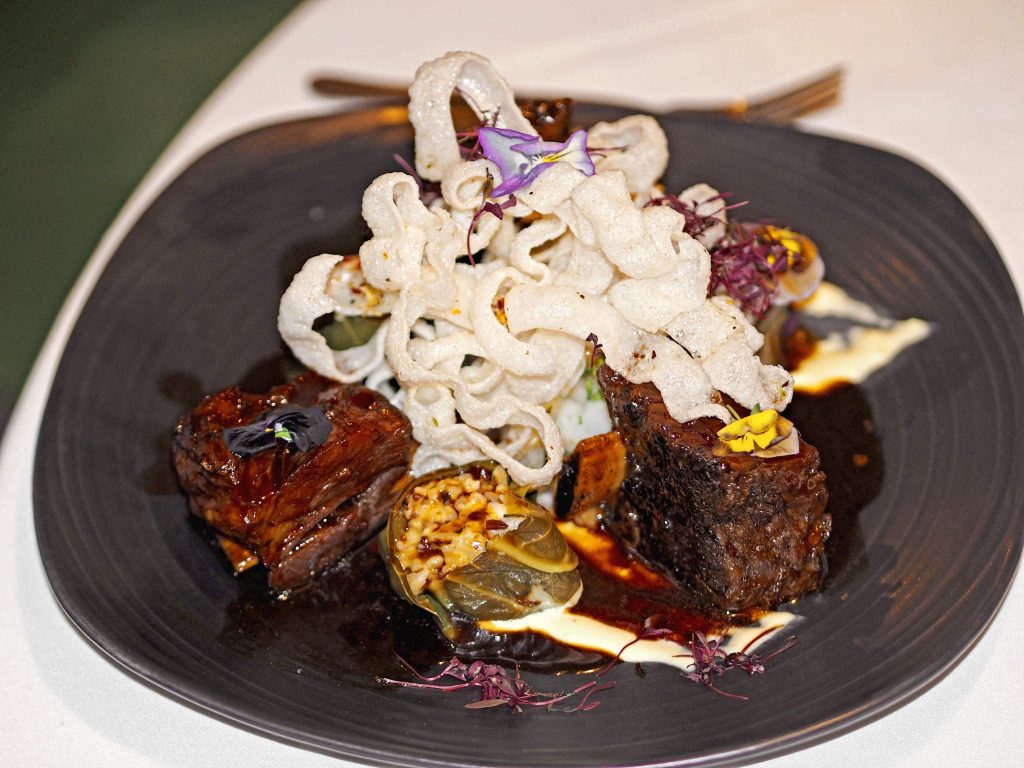 Main Meals
Sticking with my seafood theme (how could I not after that starter?!) I had Sweet & Sour Monkfish: roast monkfish with a crab & coconut spring roll, sweet & sour blood orange sauce and oriental vegetables (£19.00). The dish is presented beautifully; an array of tropical colours topped with dainty flowers. The monkfish was served on a lemongrass skewer giving it a light citrus flavour. The vegetables and rice complemented the dish perfectly and allowed the monkfish to be the star of the show.
JP had the Sticky Beef Shortrib: with a soy & burnt orange glaze, coconut rice rolls and an oriental salad, served with wasabi crème fraîche (£17.50). If you want an impressive looking main then this is definitely for you. The huge chunks of sticky beef are impressive alone, but they are complimented with cute parcels of coconut rice, and topped with a crispy tangle of crackers. The meat was melt-in-the-mouth tender and fell right off the bone. I wouldn't think of beef short ribs as something to serve in an oriental style dish but the flavours worked so well and it is a really unique dish. The only thing that let it down for me was the flavour on the coconut rice; it was very floral and a little too overpowering. It may have just been this batch of rice but it wasn't very coconutty in my opinion. However that said, the dish as a whole was great and I would definitely recommend.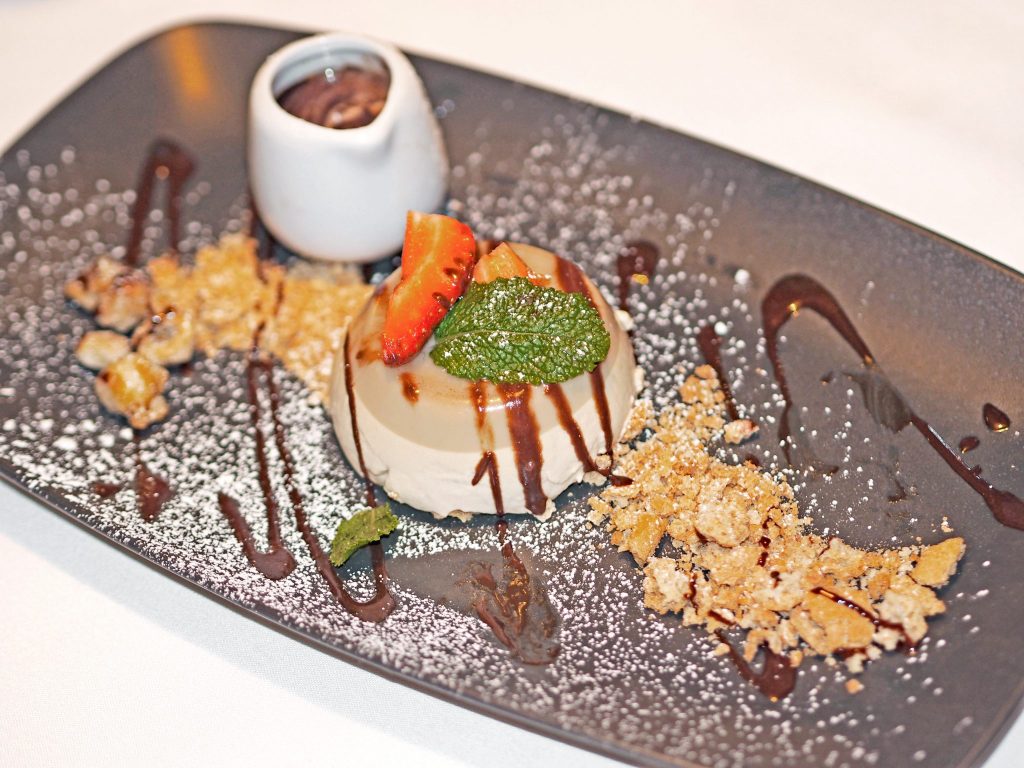 Dessert
Most of the time I skip dessert when eating out. I'm usually more of a starter and main kinda gal, than a main and dessert. However, it would have been rude of me not to sample the dessert menu to share my review with you guys so I'm blaming this on you! If I do order a sweet treat, I always gravitate towards coffee and chocolate flavours. Either that or I go for a liquid dessert in the form of a decadent cocktail. So.. I decided to order one of each, naturally. We shared the Espresso Panna Cotta with a warm pouring chocolate and hazelnut brittle (£6.50) and I had a Tiramisu Martini: amaretto and baileys with a strong shot of coffee shaken with double cream and garnished with grated chocolate (£8.00).
Ok so we need to talk about the Tiramisu Martini. If I could replace my daily morning coffee with this I would. If you like espresso martinis then you need this in your life – 10/10. Panna cotta isn't a go-to dessert for me but I loved this version. The coffee flavour is the perfect addition and the warm pouring chocolate really makes it. It is indulgent but light enough to not tip you over the edge after multiple courses. This combo was an absolute winner.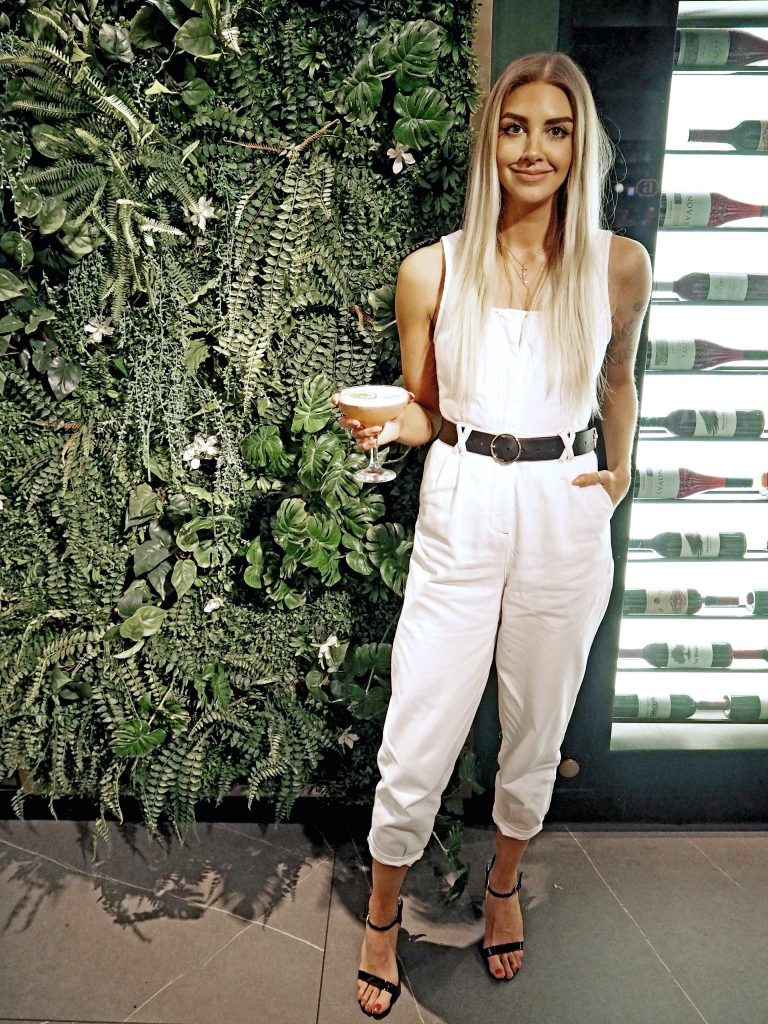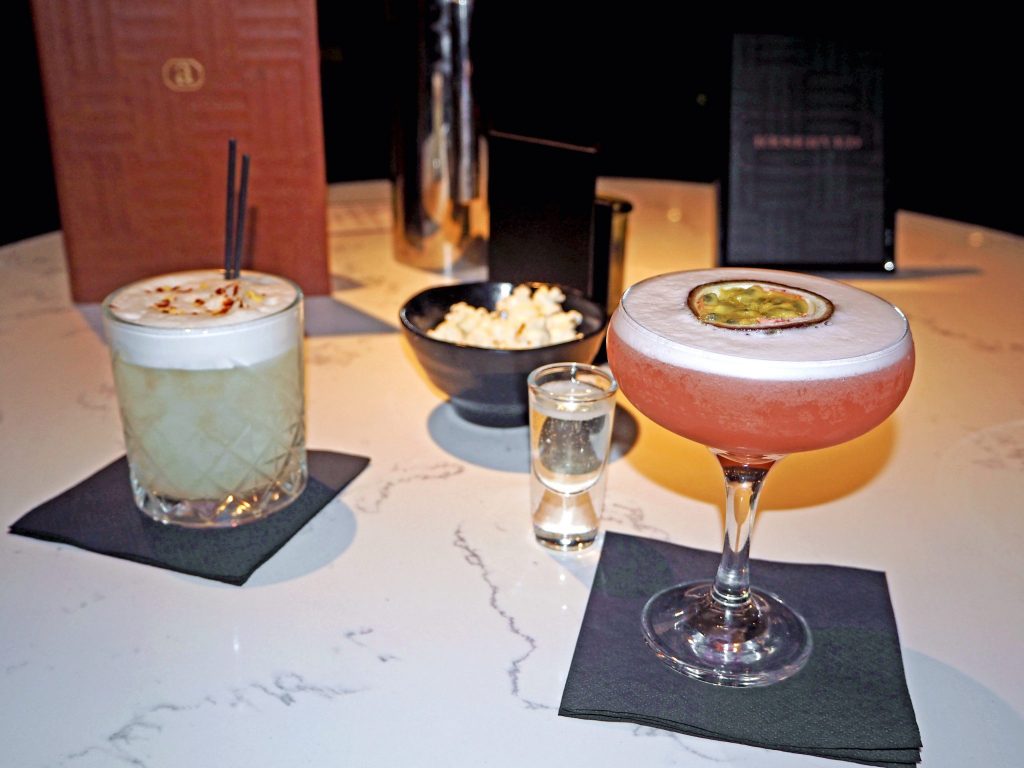 The Bar
To end our experience with Albert's, I couldn't leave without having a cocktail or two in their new gorgeous bar.
The expansion of the bar area in Albert's is a fab destination for those who are just popping in for drinks, as well as pre and post meal tipples. The drinks menu has been revamped with a range of local craft beers, cocktails, fizz and wines. The bar actually seats 56 in total and can host pre-bookable party tables too, making it an exciting addition to the Didsbury social scene. It is also home to the full Didsbury Gin range which will be on show in a gorgeous botanical themed back bar serving bespoke Gin and Tonics.
I had a classic Pornstar Martini: vanilla vodka, pineapple juice, passionfruit liqueur and citrus, with a side shot of prosecco for the fizzy finish (£8.50). You can't go wrong with a well prepared classic, and this hit the spot. A fruity and refreshing cocktail with a hint of fizz. Jonathan had the Tequila & Grapefruit Sour: tequila, lime, agave, grapefruit bitters and juice shaken hard with egg white to create a mexican twist on a sour (£9.00). I adore anything with grapefruit and I would definitely order this next time I go.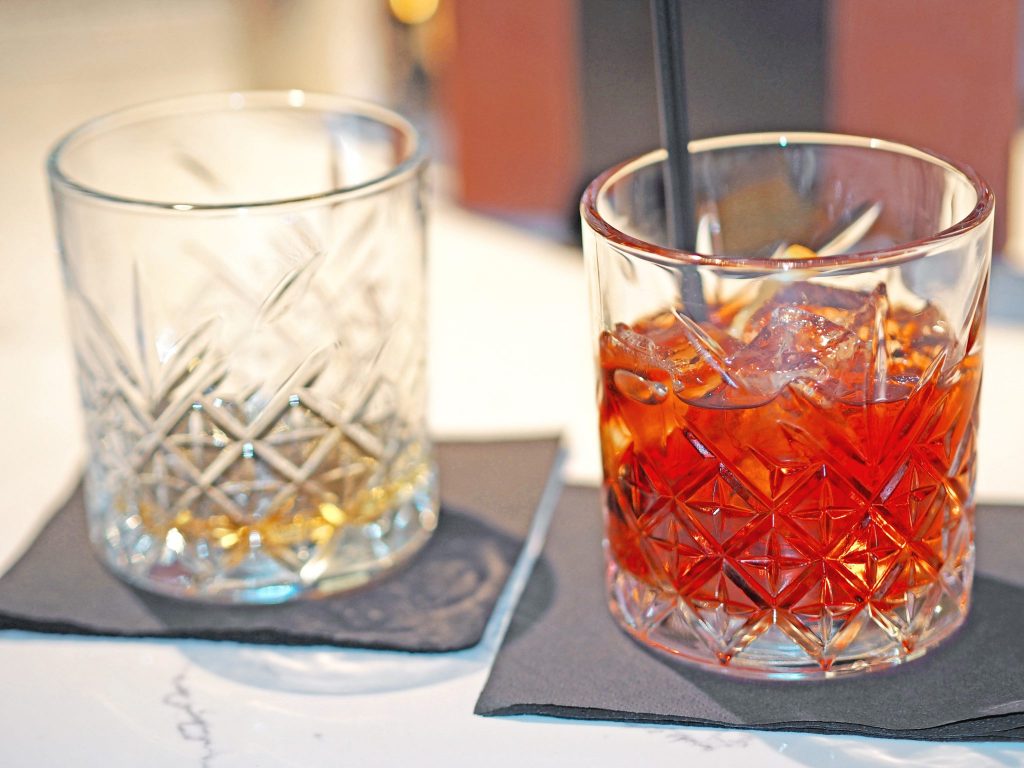 The bar staff are also happy to make you drinks off-menu, so I ended the evening with a classic Negroni. Albert's also had a great range of Whisky, so Jonathan tried a Japanese whisky recommended to him by our lovely server.
Review
Honestly I couldn't recommend Albert's Didsbury enough! From the stunning new interior to the amazing food and drinks, and the exceptional service; it was everything I hoped for from a dining experience.
The menu is huge, but there is no sign of quantity over quality here; all of the dishes we tried were amazing and will 100% be back to try more.
The revamped venue also boasts a brand-new look outdoor area including chairs and tables for 76 people on the terrace and up to 120 people on the lower terrace. Perfect for summer!
You can visit the Albert's website here to check out their other venues as well as menus and booking.
LL x
*This evening was gifted in exchange for review. As ever, all opinions are my own.