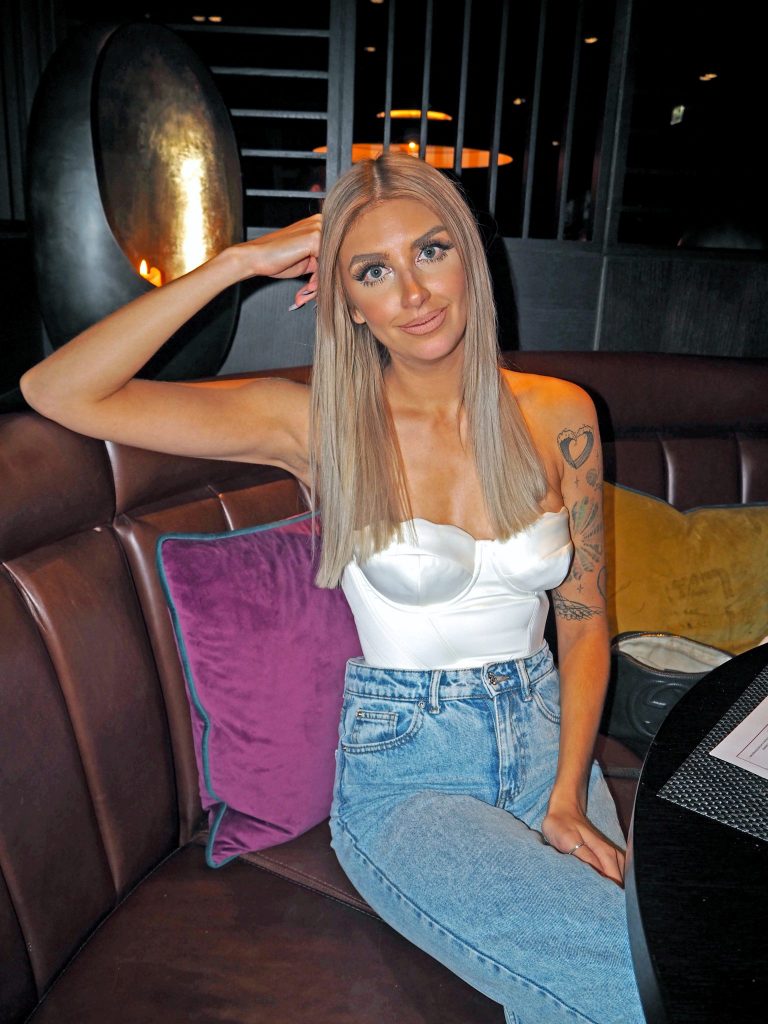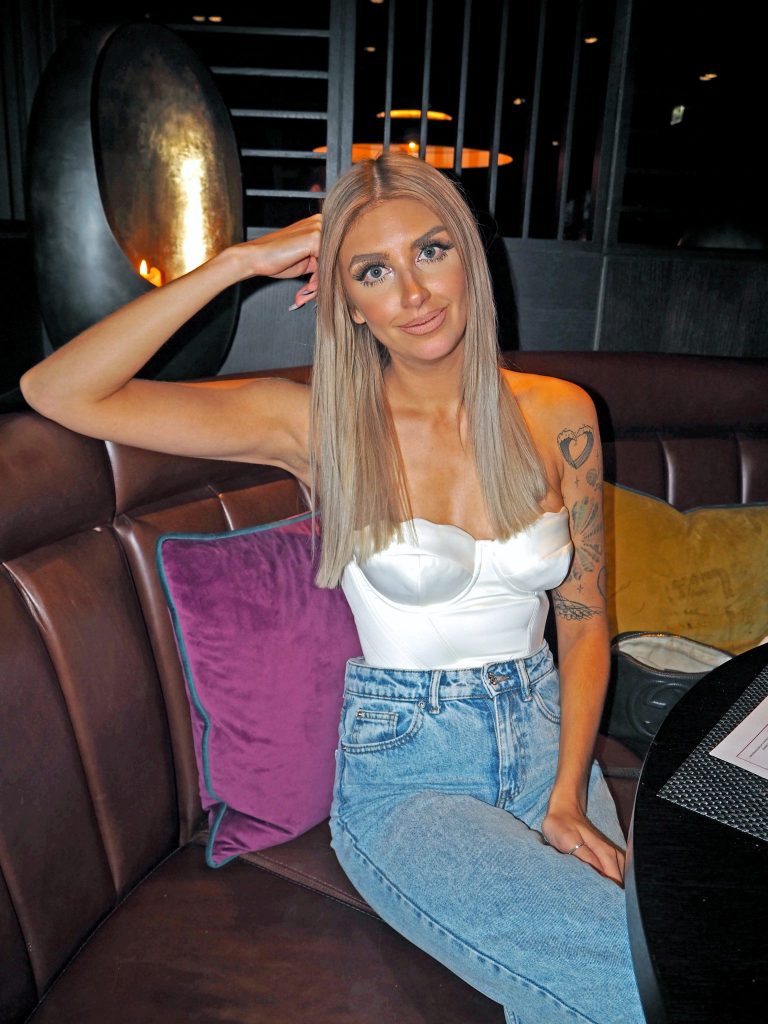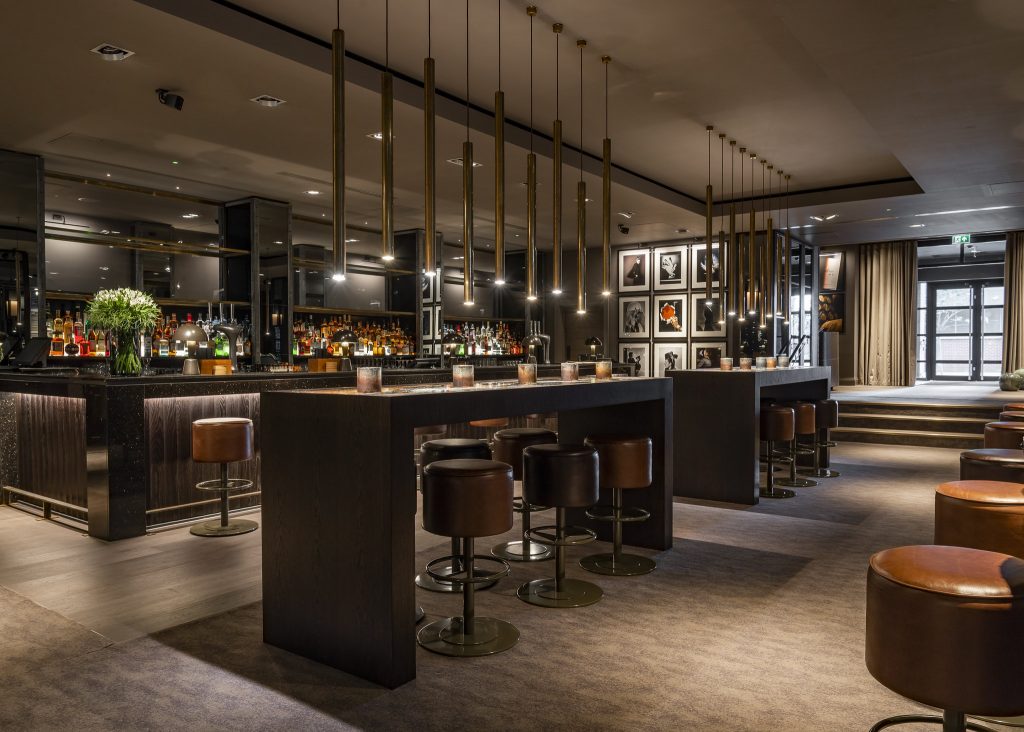 Dakota
When you think of hotel restaurants what's the first thing that comes to mind? Historically I would think of a cheap restaurant in a budget hotel, but with the increase of boutique and luxury hotels across the city has come some of the best restaurants housed within them.
One of the most recent additions to the hotel and restaurant scene in Manchester is Dakota Hotel and Restaurant. I recently paid a visit to Dakota Bar and Grill to check out their food offering. Before I went along I (obviously) checked it out on Instagram. As someone who always 'Instagrams' venues before a visit, I was immediately impressed. Both with their super chic and luxurious decor, and with the instagrammably delicious food.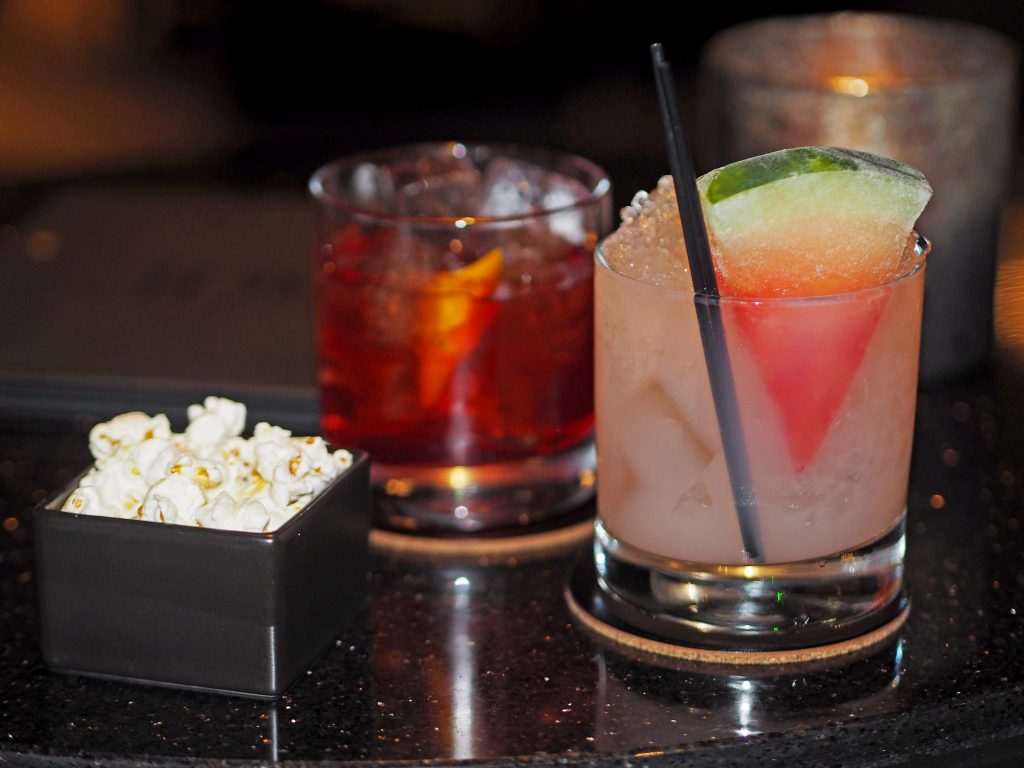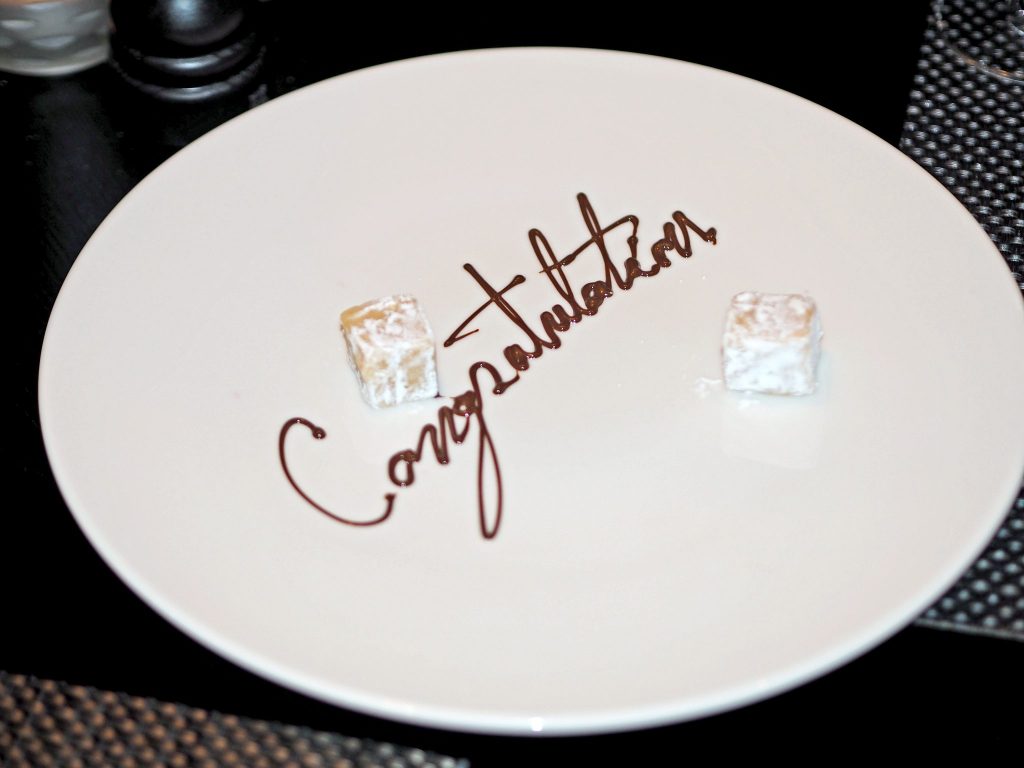 The Bar
We headed to Dakota on a chilly Thursday night, after going to view our new apartment in Ancoats for the third time (eek!) Dakota is situated just a 3-minute walk from Piccadilly Station, and was also a short walk for us from Ancoats.
We decided to warm up in the bar and chat about our exciting home plans before moving into the restaurant for dinner. The staff were all incredibly friendly and so lovely; we were delighted when they brought us a special little treat after telling them we were celebrating our new apartment purchase!
To drink, I had a Bobby Dazzler – Bobby's Gin, Tequila Cabeza Blanco, Watermelon Basil, Lime & Almond (£11). Jonny had the classic Negroni – Martini Riserva Rubino, Tanqueray 10 & Campari (£10). Mine was super fresh and fruity; if you like watermelon then order this. The negroni is a classic, and they know how to do it well.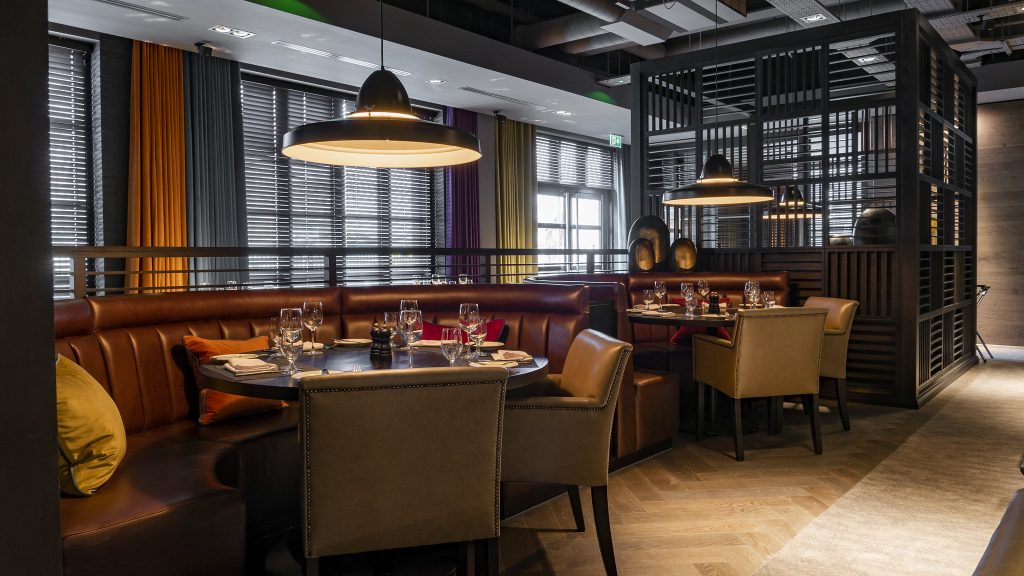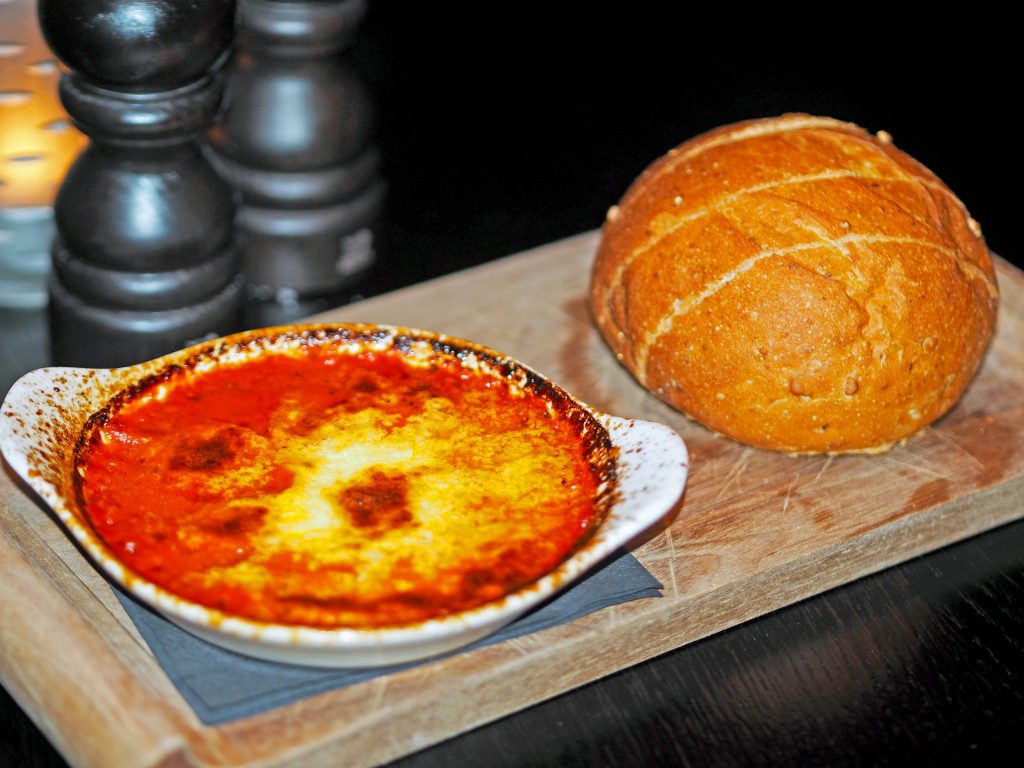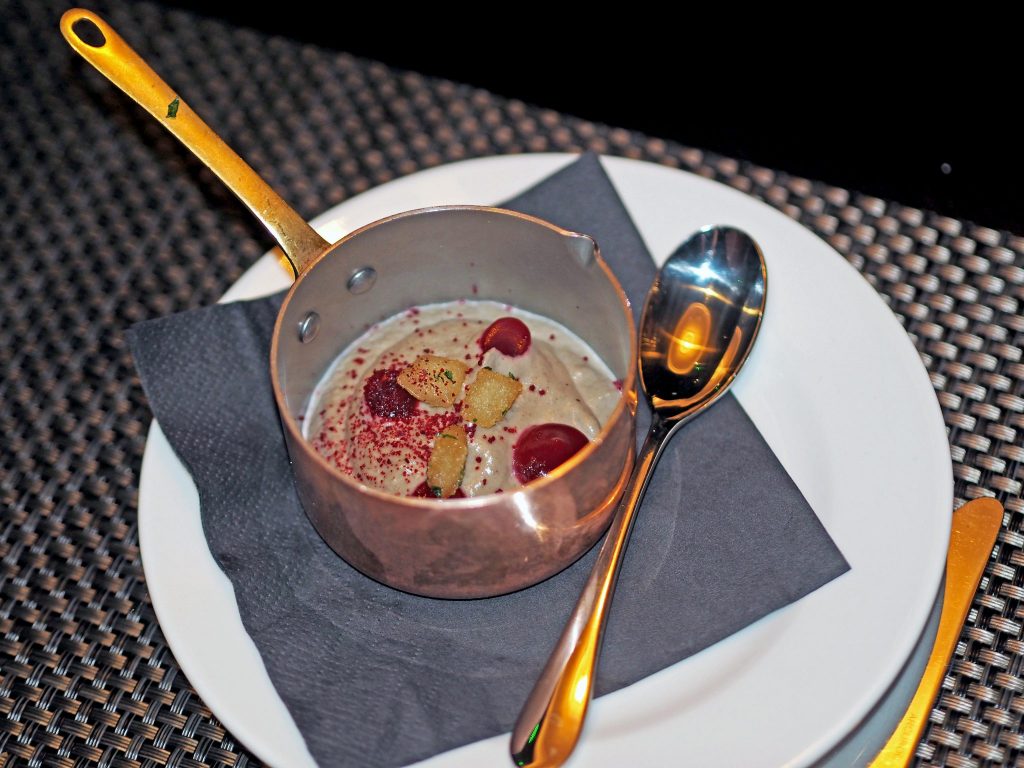 Amuse Bouche
Food that has several courses is my favourite kind. I also love it when there is a little something extra that you don't see on the menu. We were already excited about the cute congratulations plate, so I was in my element when we were presented with two additional, pre-meal courses; an amuse bouche as well as their Venetian Dip.
This is actually available on the bar menu (£5), and is a tomato, basil and goats cheese dip served with freshly baked bread for dipping. Writing this is actually making me crave it. It's super simple but baked to perfection and such a comforting dish for the colder months. I'd walk back over just for a cocktail and the dip to be honest. If you're not eating in the restaurant then you must at least try this.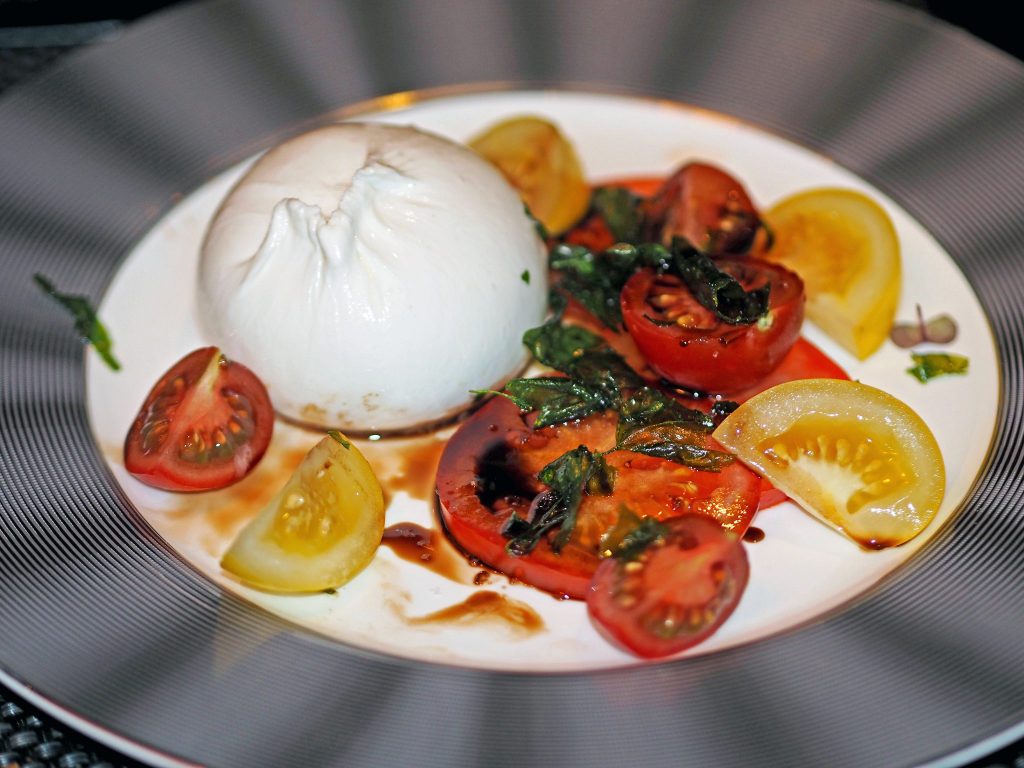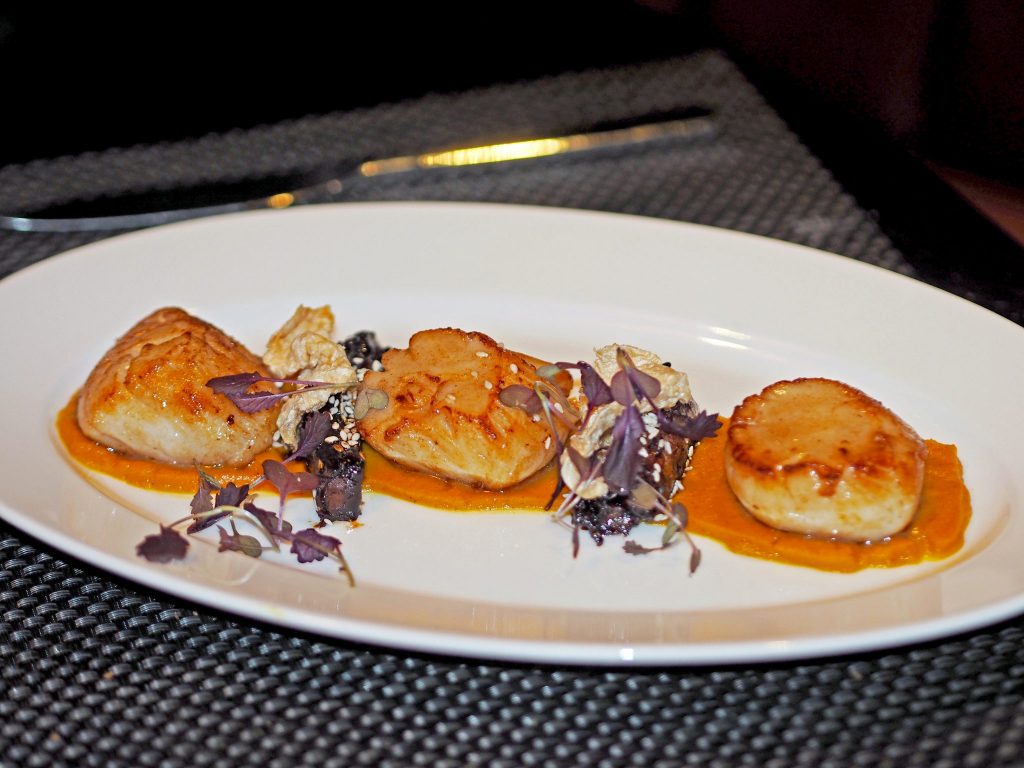 Starters
Jonny ordered the Caprese Salad – Burrata, Tomato & Aged Balsamic (£10) and I had the King Scallops – Oriental Ribs & Pork Crackling (£15).
If I see scallops on a menu then you can guarantee they will be on my order. These ones were among the best I've had. Large, meaty scallops that were perfectly cooked, balanced with contrasting flavours and textures from the rich ribs and crunchy crackling. The Caprese was just as you'd expect – light, fresh and creamy.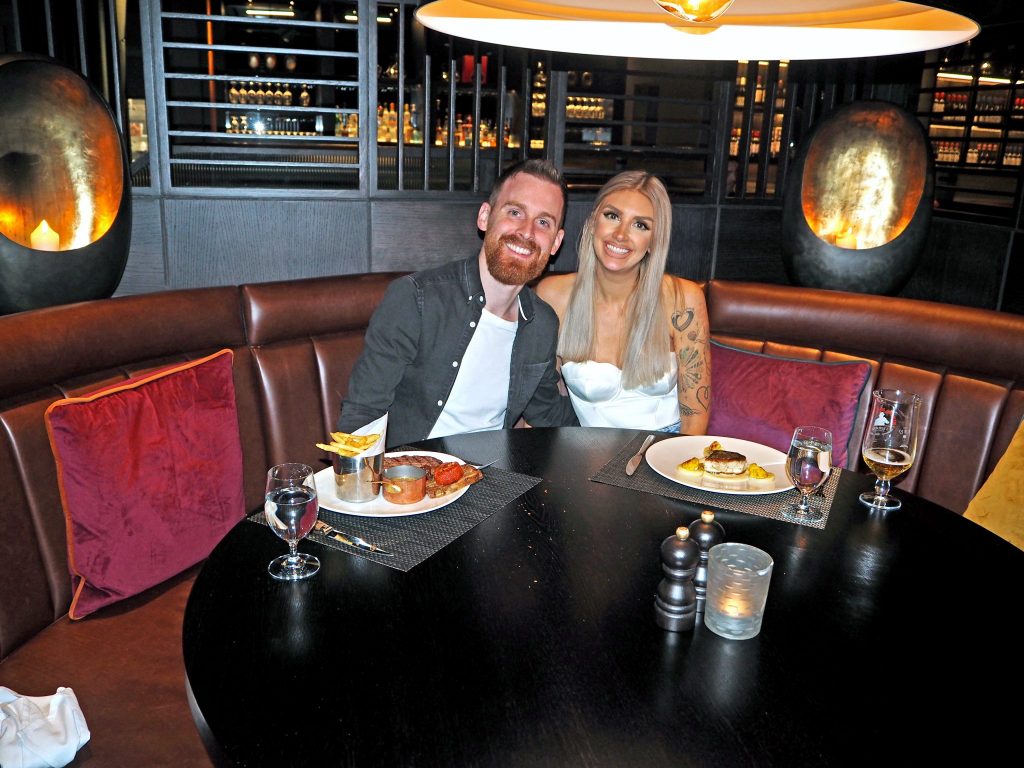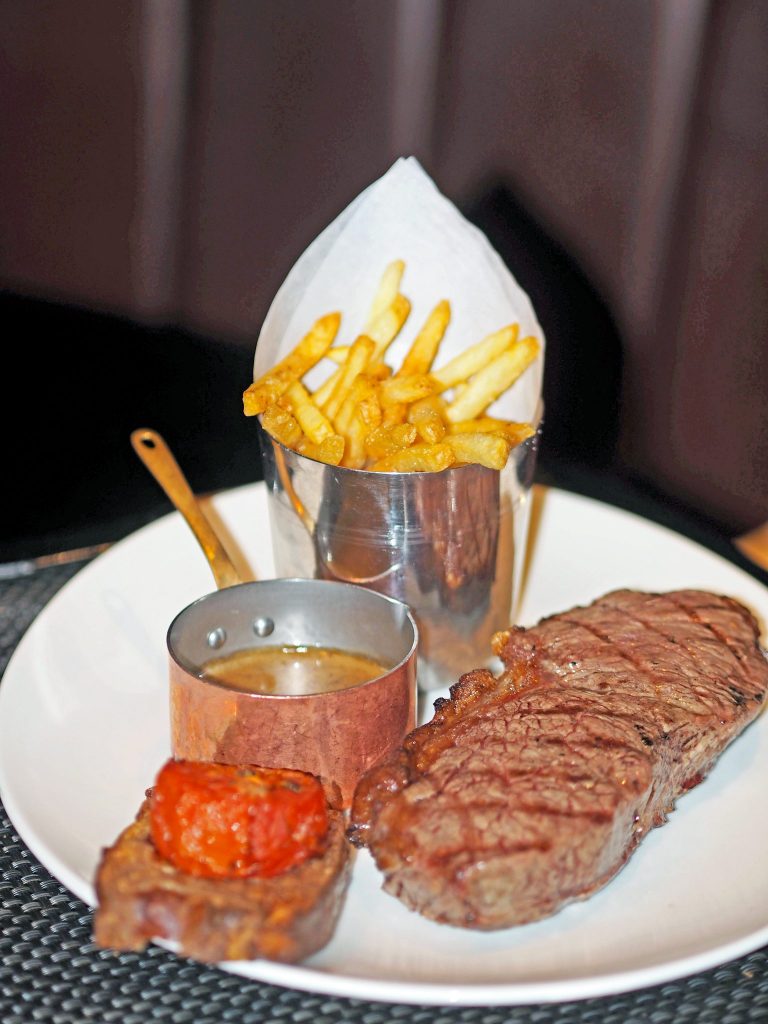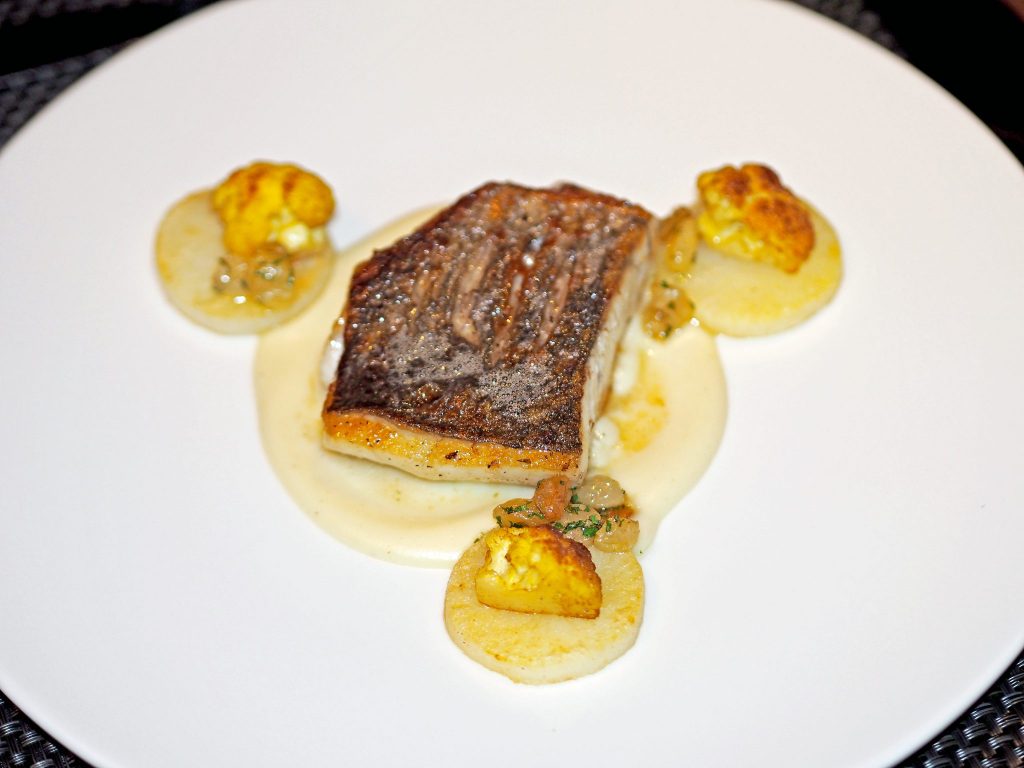 Mains
For main, I (obviously) had another seafood dish; the Line Caught Stone Bass – Jerusalem Artichoke, Cauliflower & Fondant Potato (£22). Dakota's speciality is their signature steaks. Sourced from the very best British farms; Grass-fed, 35-day-aged beef is lightly seasoned then cooked to your liking over hot coals. Jonny is a steak lover, so he had the 340g Sirloin Steak with peppercorn sauce and fries (£29).
As you can see from our cheesy grins, we were both very happy with our meals. My stone bass was just how I like it – crispy skin with tender and flaky fish underneath. The creamy artichoke, cauliflower and potato complimented the light flavours without overpowering the fish. I also tried the steak which was melt-in-the-mouth delicious. As someone who rarely orders steak, I could see why this is their speciality. That said, all of the seafood courses were amazing so the Dakota chefs are certainly not one-trick-ponies.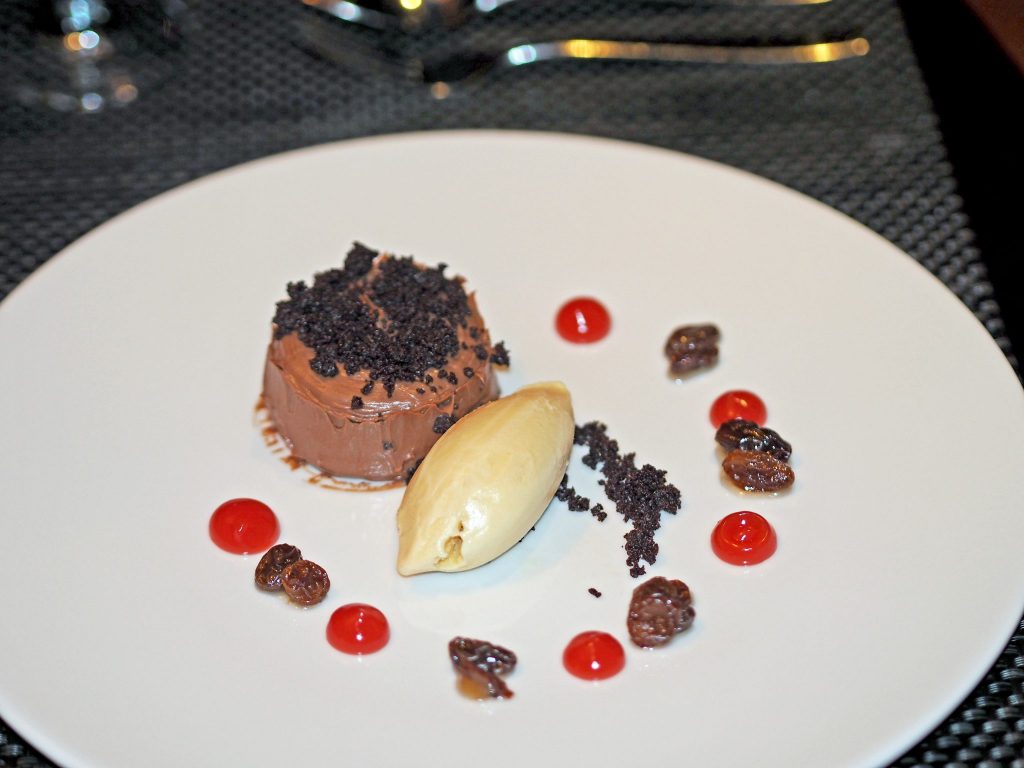 Dessert
I've become an addict to ending a meal with dessert. I used to only ever go for a starter and a main but this past year I've acquired a rather large sweet tooth, and I couldn't pass up the Chocolate Mousse – Blood Orange & Salted Caramel (£7).
Jonny claimed to be 'just having a taste' but somehow we ended up sharing it. I was pretty full though so I can't complain (too much). It was actually ideal as I got my sweet kick without a heavy dessert; the mousse was very light and as you can imagine, chocolate and orange was a match that can't really get much better.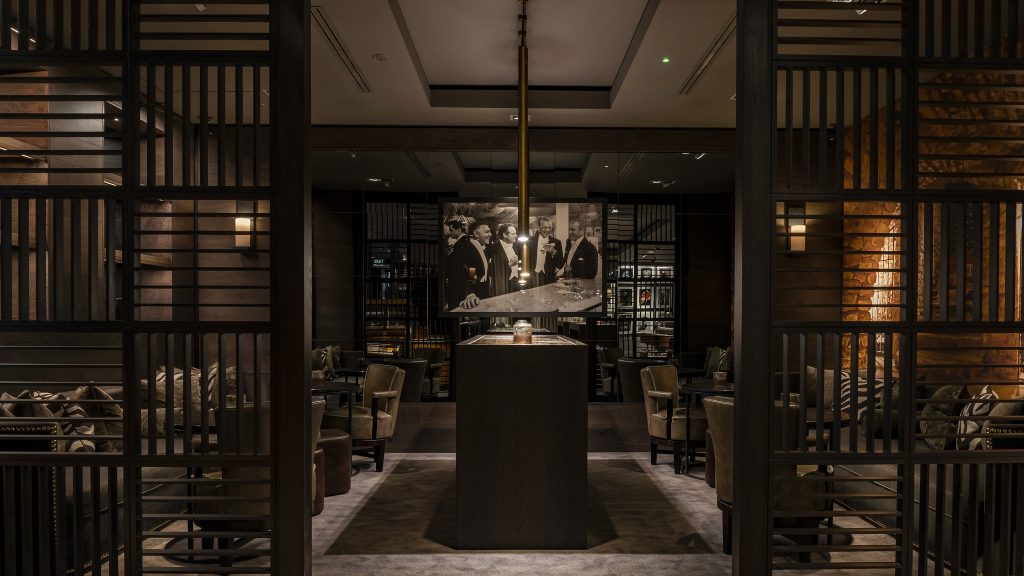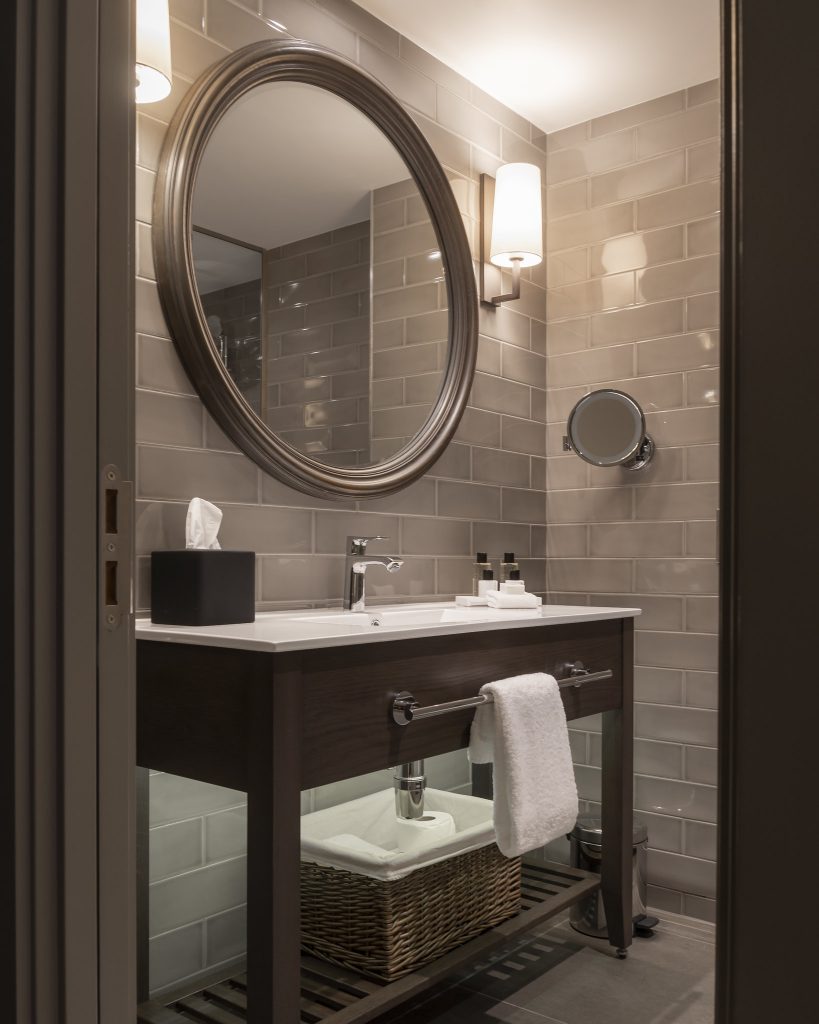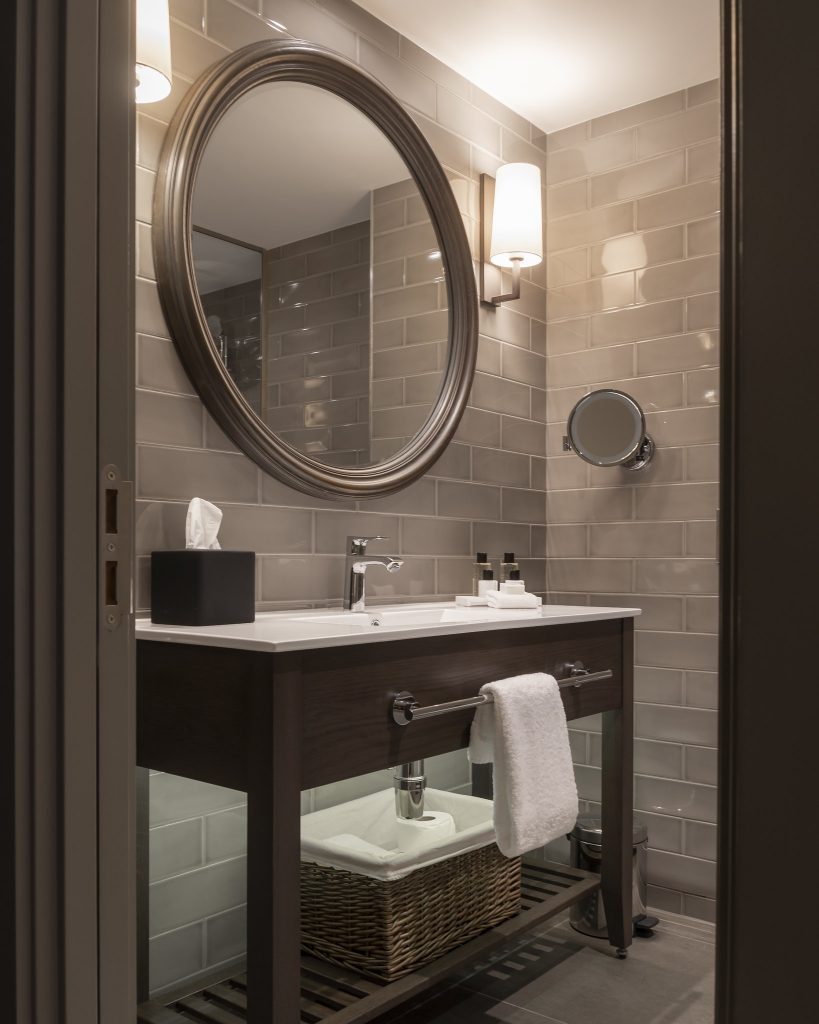 My Review
If you've read this far, I'm sure you don't need me to tell you that our whole experience was faultless. The service was amazing and every member of staff we experienced was incredibly friendly and so lovely. This is always something that for me, makes the experience of any restaurant, bar or hotel memorable. Food can be amazing but if you have a terrible experience then it may be the deciding factor for not re-visiting.
Dakota proved that they are at the top of their game with all aspects. The interior is extremely cool and feels like something from a swanky New York movie. The food was incredible, and better than several highly-priced restaurants I have visited before. Every dish was a delight to eat, and you could tell that the menus had all been well-considered; and little extras like the amuse bouche and venetian dip made it that bit more special than a standard restaurant experience.
If you are looking to drink, dine or stay in the city centre then Dakota is now somewhere that I would 110% recommend to anyone and everyone. Whether it's a business meeting, date night or weekend stay, Dakota offers all services at top quality.
You can visit the website for menus and booking here.
LL x
*This visit was complimentary. As ever, all opinions are my own.