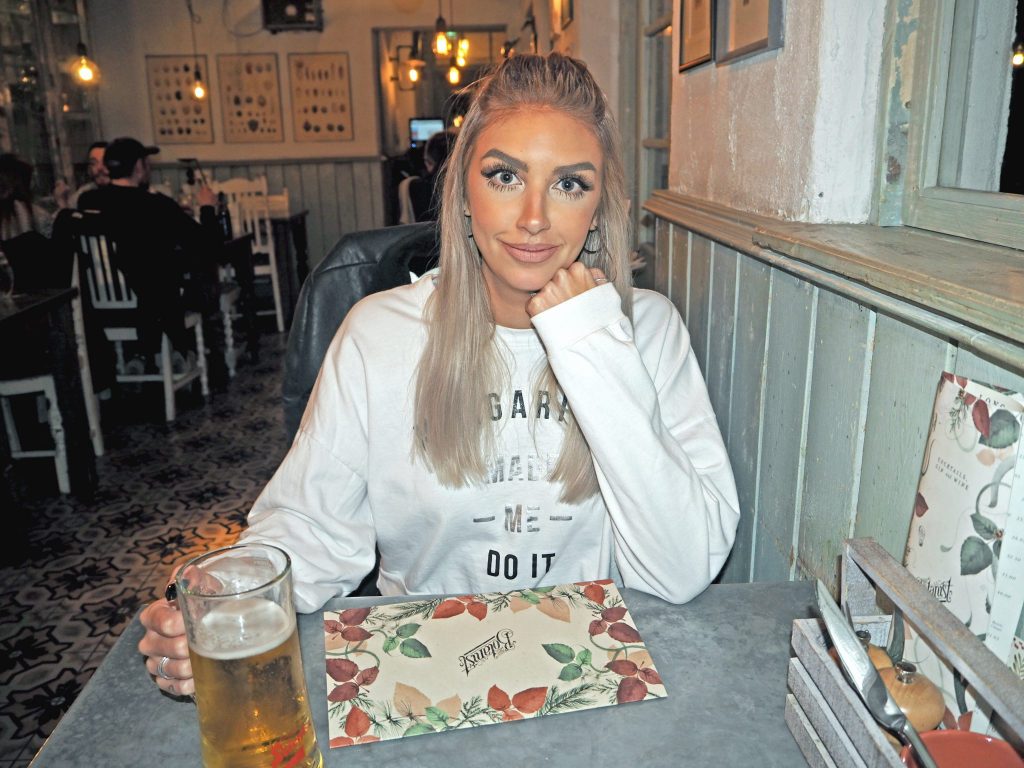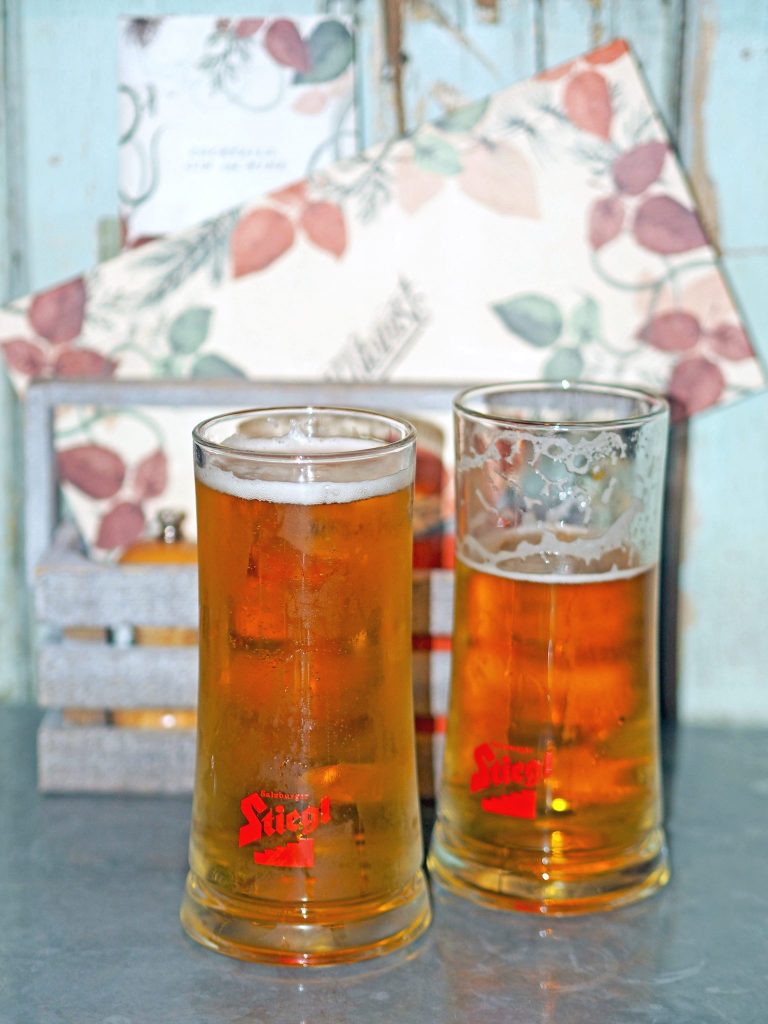 The Botanist
Manchester's food and drink scene is ever changing. I'm sure you already know that one of my favourite things to do is to hunt out new venues and try their dishes and drinks. However, I also like to relax in the knowledge that there are a handful of trusty faves; the bars and restaurants that you know what to expect and know you can pop in whenever with family and friends for a nice drink and bite to eat. The Botanist, located on Deansgate, has been one of those trusty venues for me for the last year or so.
I hadn't actually eaten there before, but we will often pop in for a drink when in the area and looking for a nice bar. The drinks are great for all tastes as they have a range of beers, as well as an extensive cocktail menu. They regularly have a live pianist playing too, which is something I love in bars.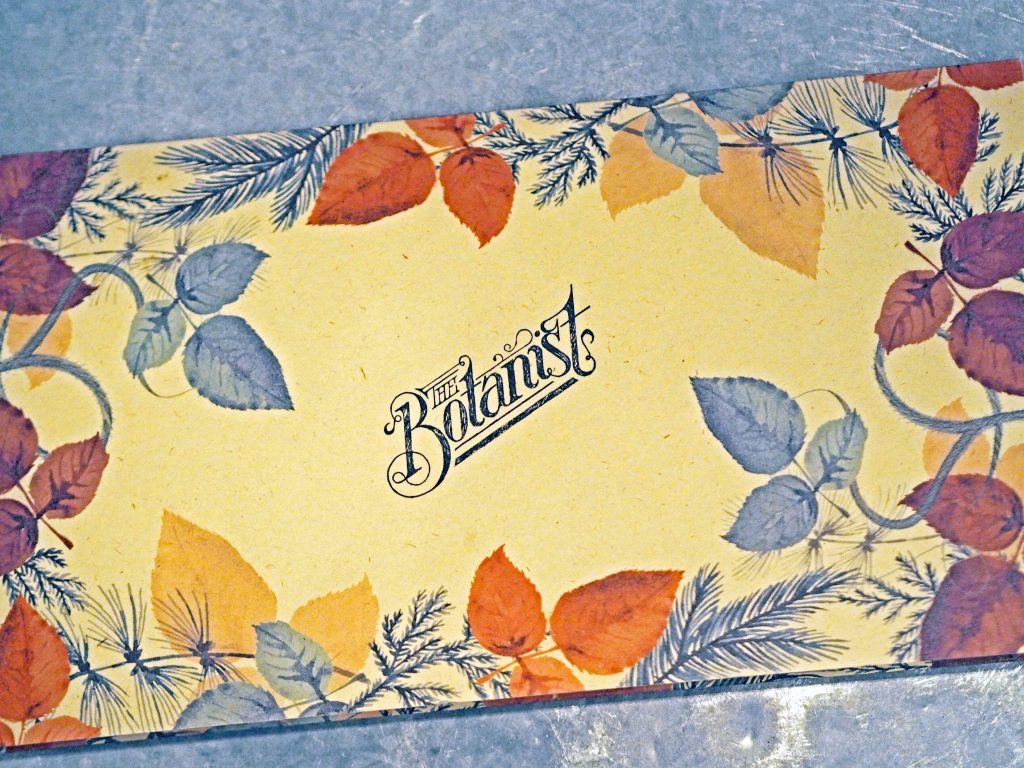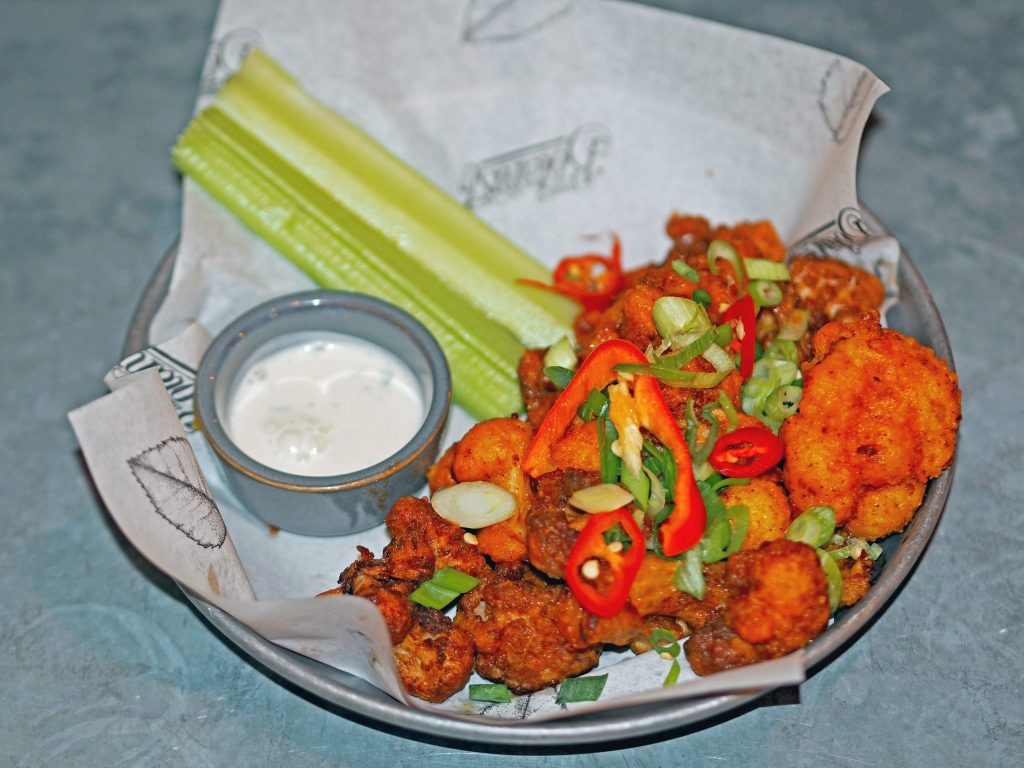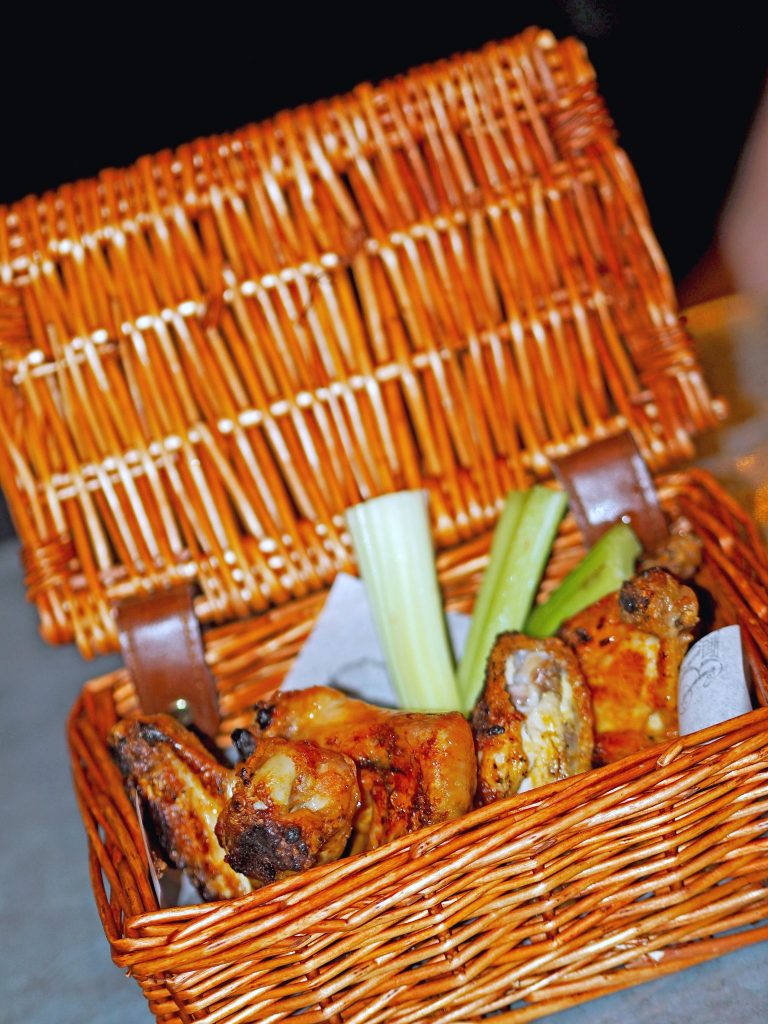 New Autumn Menu
Last week I was invited down to my local Botanist to try out their new Autumn food menu. I love the transition into Autumn/Winter with food and new restaurant menus. I always want to order something hot and comforting, and The Botanist is the kind of place I can see myself going for cosy dinners and pre-Christmas drinks.
Starters
To start we ordered the Franks Hot Wings with ranch sauce (£6.95) and the Cauliflower Wings marinated in Franks Hot Sauce (£4.95). I've had cauliflower wings a few times now and these were definitely one of the best. Both starters were really generous portions and the chicken wings came in the cutest mini wicker hamper which made me love it even more (I'm a sucker for cute presentation!)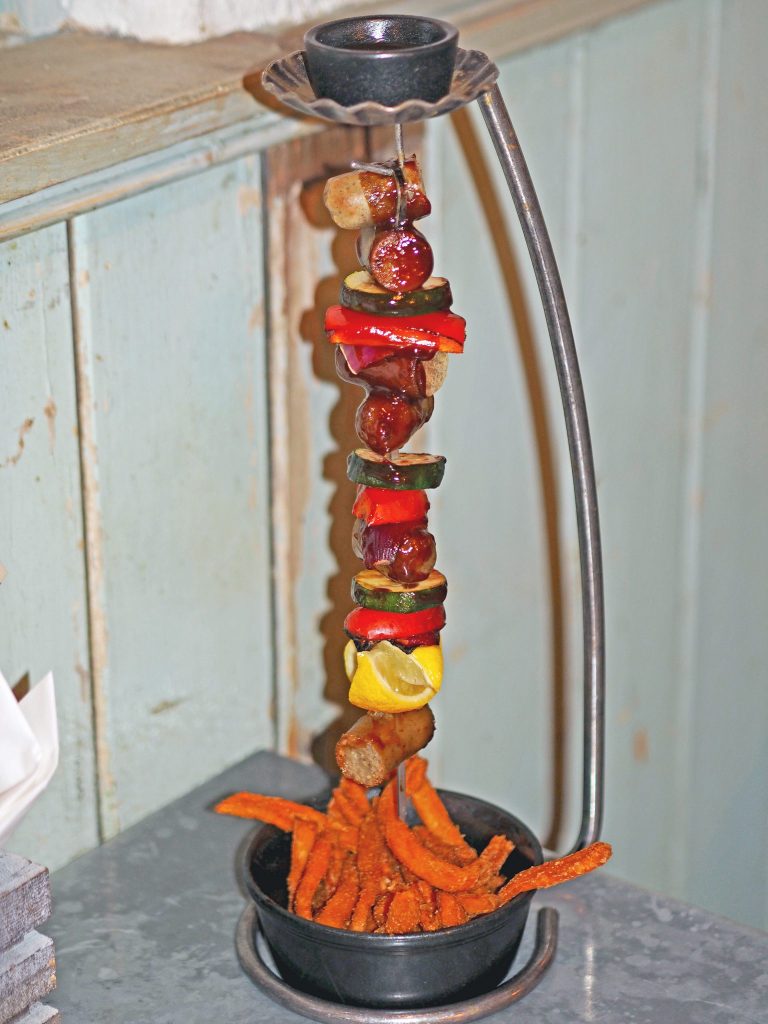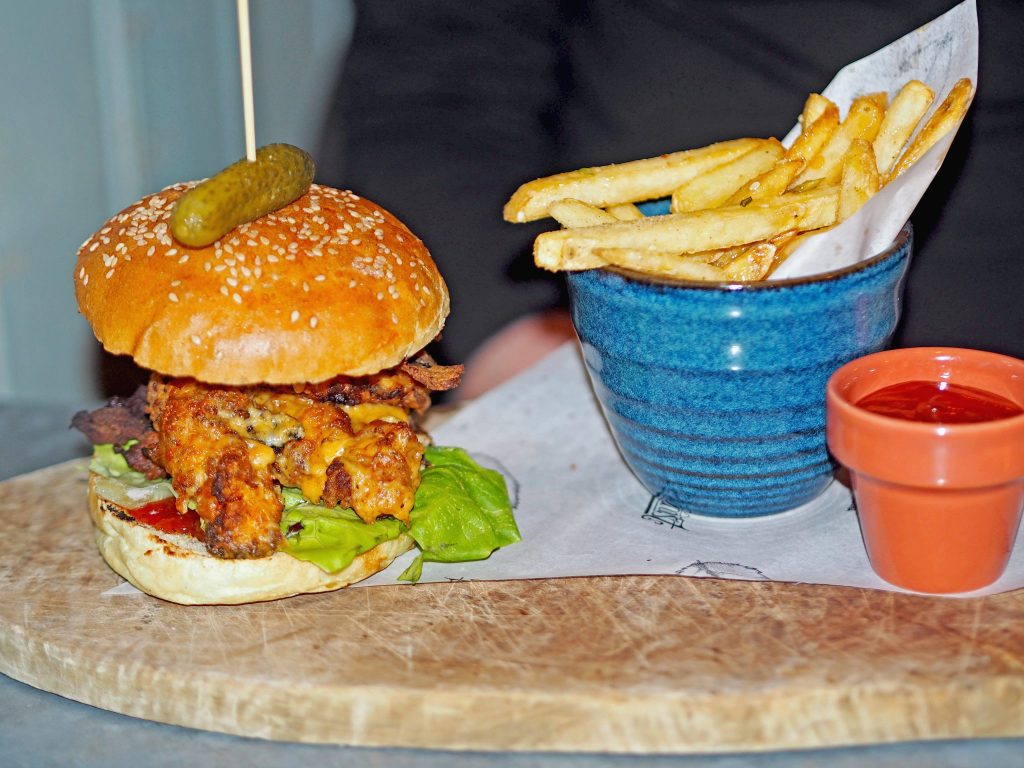 Mains
For mains I just had to try one of The Botanist's famous hanging kebabs. They have eight to choose from; I opted for the Tofurky Sausage with maple barbecue sauce (£11.95). Jonny ordered the Buttermilk Chicken Burger with jalapeño cheese (£11.50) with extra bacon.
I've mentioned a few times on the blog that I've been incorporating vegan products into my diet quite a lot recently, and The Botanist have plenty of options for veggies and vegans too. My kebab was impressive to look at and really tasty. I hadn't had Tofurky sausage before but I'll definitely try it again – it is one of the best sausage alternatives I've tried so far. The sauce is quite sweet but comes in a pot separately so you can add as much as you like.
The burger itself was nice but we did find that the bun and the added bacon was a little dry. Personally I'd probably add some more sauce to it for more flavour and to keep the dish from becoming dry. The chicken however was delicious and the sweet chilli chips were amazing. If you're ordering fries I definitely recommend upgrading to this option.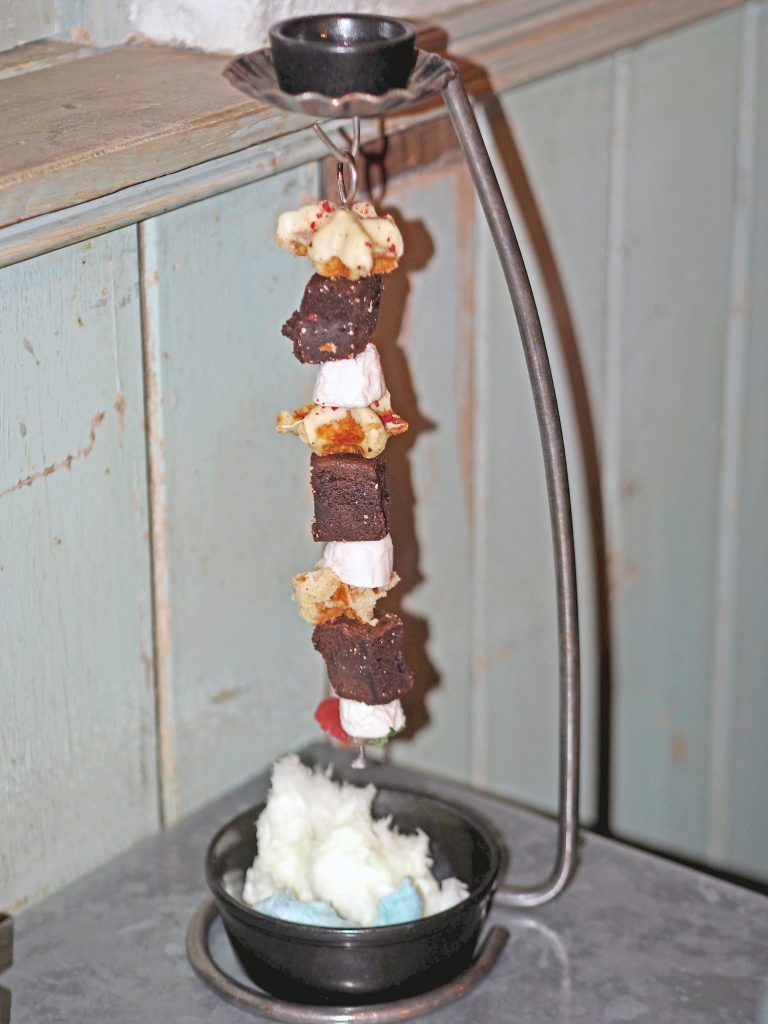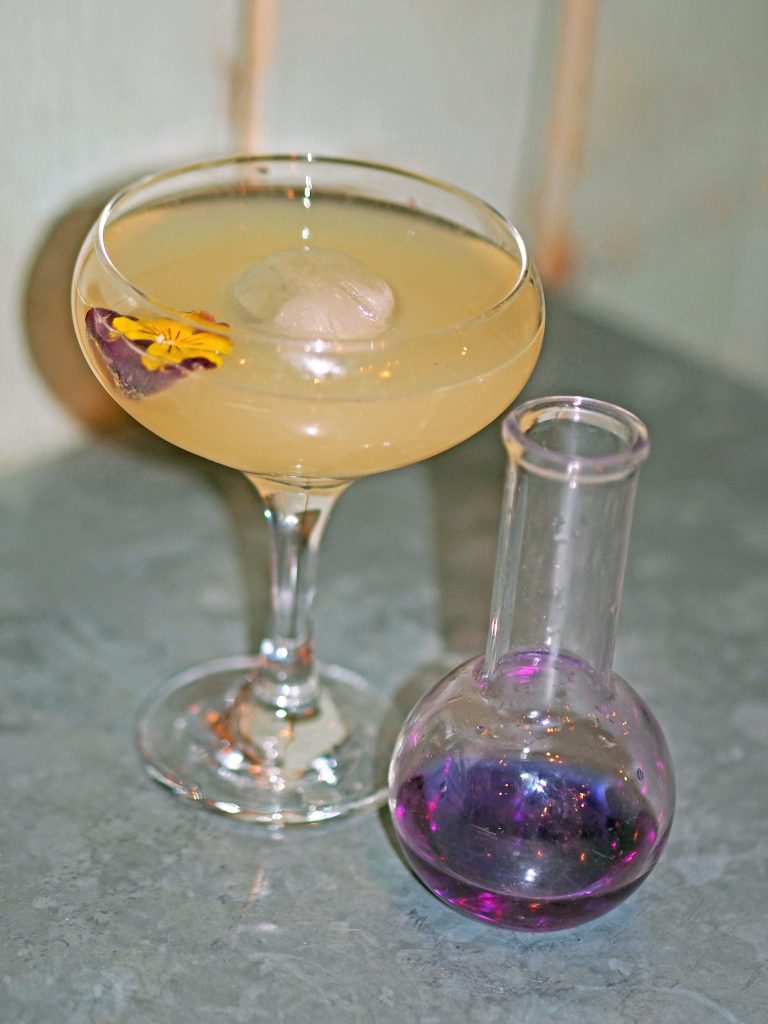 Something Sweet
I don't know what has happened to me this year but I've become such a dessert person. I never used to bother with dessert but now I always need a bit of something sweet to end my meals.
All of the desserts sounded amazing, but I had to go with the novelty dessert Hanging Kebab (£6.75). I told you I'm a sucker for presentation. The kebab consisted of chocolate brownie, waffles and marshmallow, with caramel pouring sauce, and ice cream topped with cotton candy at the bottom. Basically all of the sweet treats in one! The brownie and ice cream with the sauce was a dreamy combo and the highlight of the dish.
I also had to have a Botanist cocktail. I tried the Miracle Bulb (£8.95) – Empress 1908 gin, yuzu sake, apple liqueir, jasmine syrup and apple juice lengthened with lemonade. If you love fruity gin cocktails then this one is a winner. It's sweet but still quite light and refreshing so it was the perfect way to end the meal for me.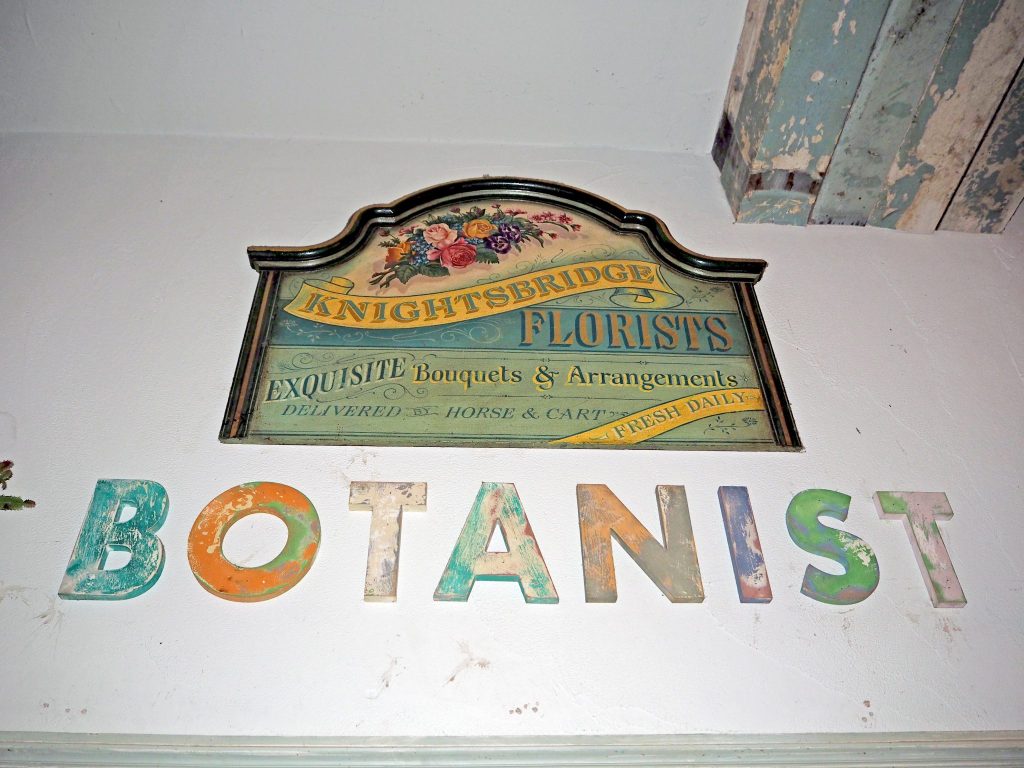 My Review
We had a lovely night at The Botanist and the food was great. If you're looking for a friendly, pub-style atmosphere with casual dining and plenty of drinks then this your spot.
The food was all great and I am really impressed with their vegan offerings and extensive menu. My only negative is that our waiter brought the new drinks menu out to us once we were ready to leave. I would have loved to have seen it earlier as they all sounded incredible and I would 100% have tried a couple of those. I guess I'll be popping back soon to try them!
The Botanist are kindly offering a third 1/3rd off for my followers when you book via this Booking Link (valid for one week and excludes Saturday).
If you follow me on Instagram you can also see my night at The Botanist here.
LL x
*This was a gifted experience. As ever, all opinions are my own.