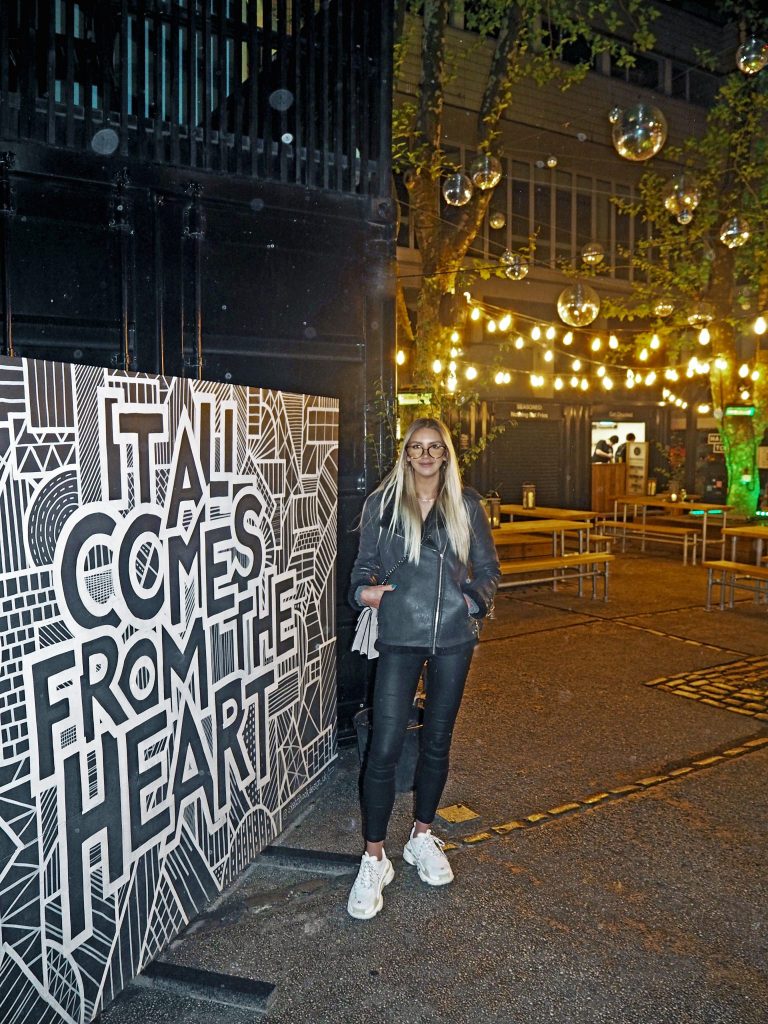 Hatch
Hatch is Manchester's award-winning retail, food and drink destination located on Oxford Road. The venue boats a huge outdoor space, with plenty of seats and a range of pop up street-food vendors, bars and independent stores. You are definitely missing out if you haven't already been! The popularity of Hatch is certainly growing and it is set to triple in size this June.
I last visited just before Christmas and was surprised at how busy it was despite the winter chill. There are, however, plenty of outdoor heaters (you should always be prepared for the Manchester weather), but hopefully they won't be needed during summer! It is the perfect spot to spend a sunny afternoon with friends, trying the amazing food and browsing the different pop-ups.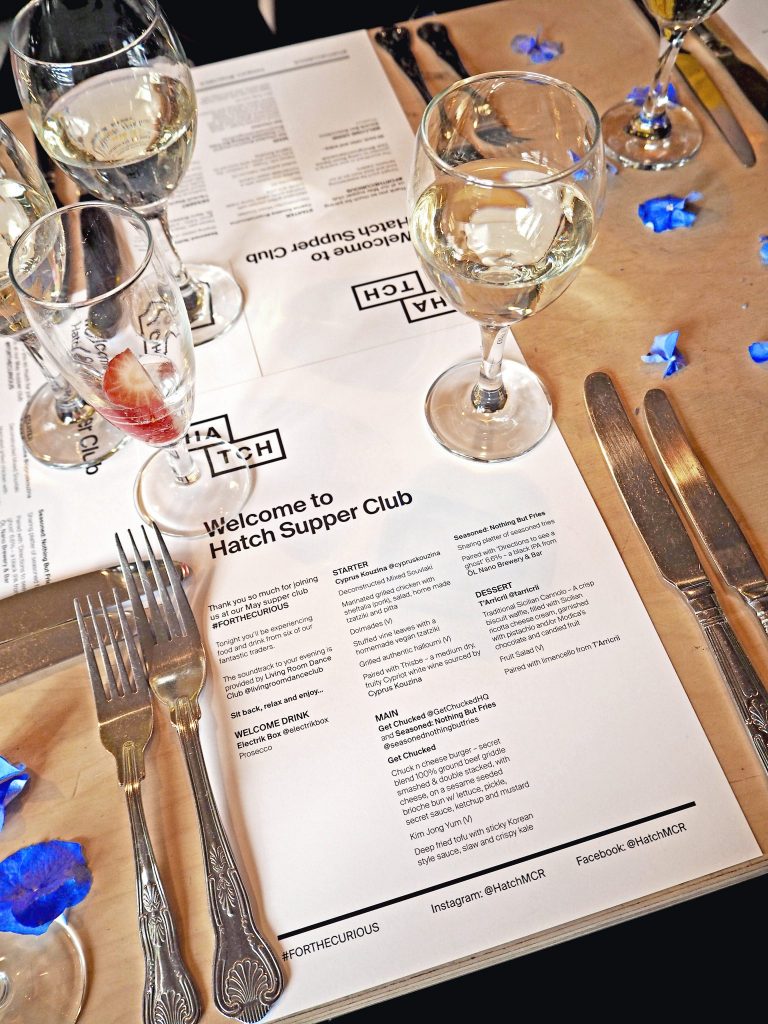 Spring Supper Club
Earlier this month I was invited to Hatch for their May supper club. This was an introduction to their latest street food partners; the menu encompassed elements from each vendor, as well as drinks from Electrik Box and ÖL.
Upon arrival we were handed a prosecco from Electrik Box – my favourite way to start any and all events! We headed upstairs in the bar where our tables had been beautifully set up for the dinner party.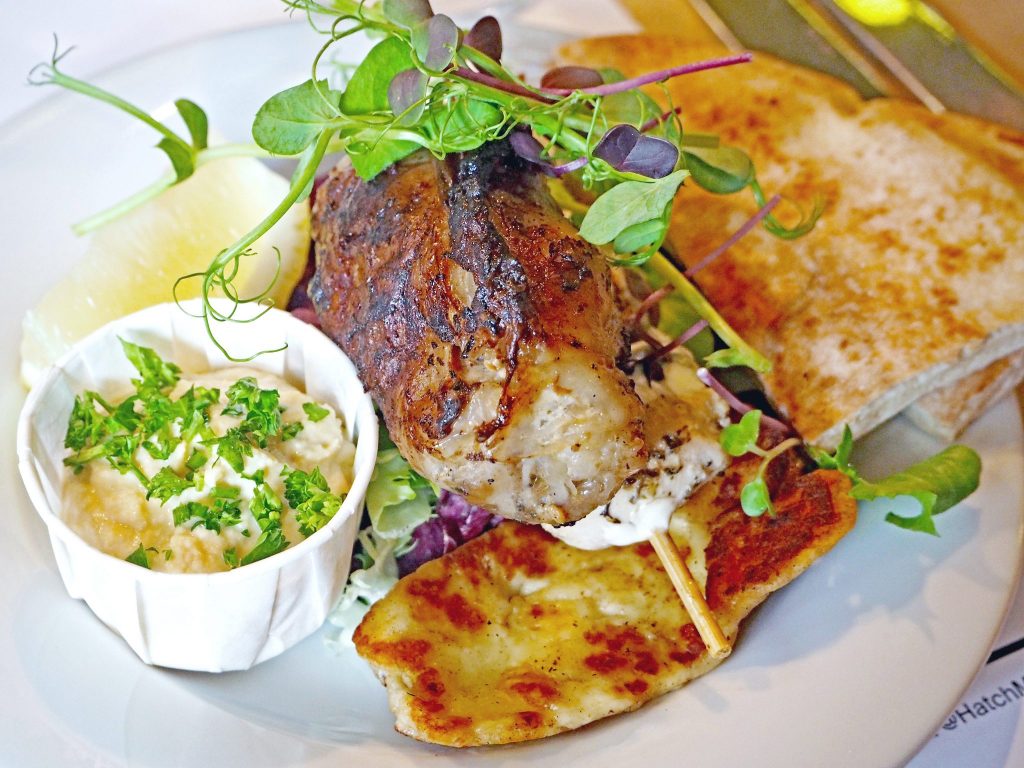 Cyprus Kouzina
To begin we had a starter from Cyprus Kouzina; Deconstructed Mixed Souvlaki. This family-run business fuses fresh local produce with fine Cyprus-imported ingredients to create an authentic, Cyprian street food concept.
The starter consisted of marinated grilled chicken with sheftalia (pork), salad, homemade tzatziki and pitta. There was an option with dolmades for veggies, and we had grilled authentic halloumi too. It was paired with Thisbe – a medium dry, fruity Cypriot white wine sourced by Cyprus Kouzina.
I adore this type of cuisine and I love dishes that have a little bit of everything to try. This was the perfect way to showcase all of the delicious food that Cyrpus Kouzina create. The homemade humous was the best I've tasted and the halloumi was a highlight.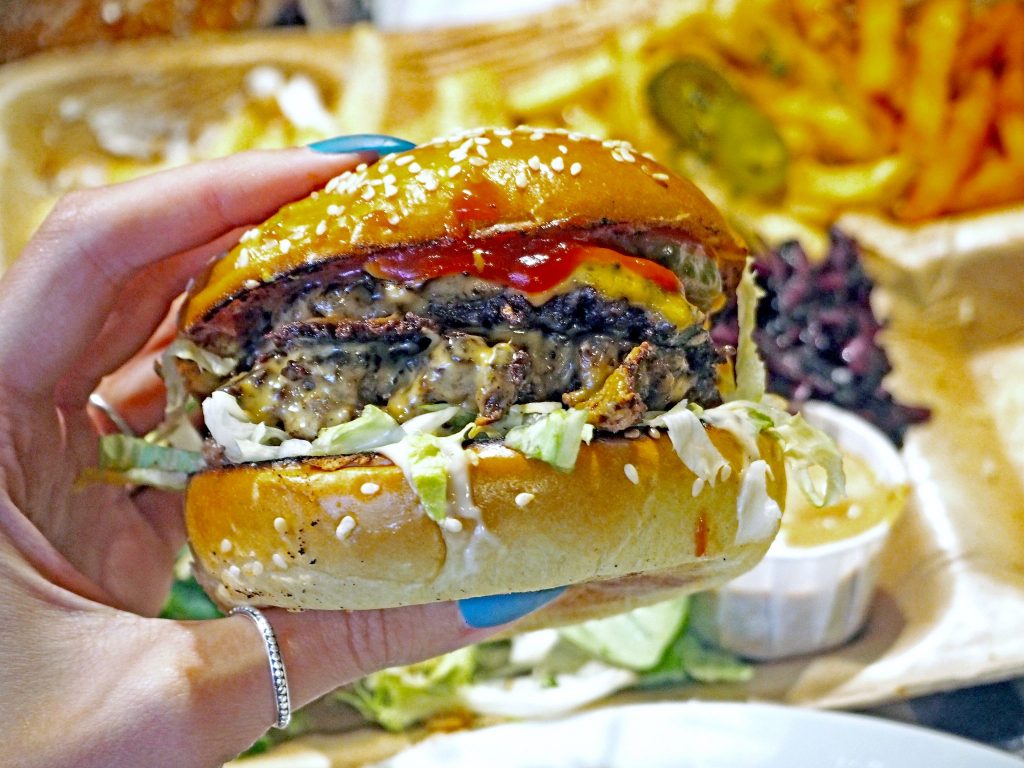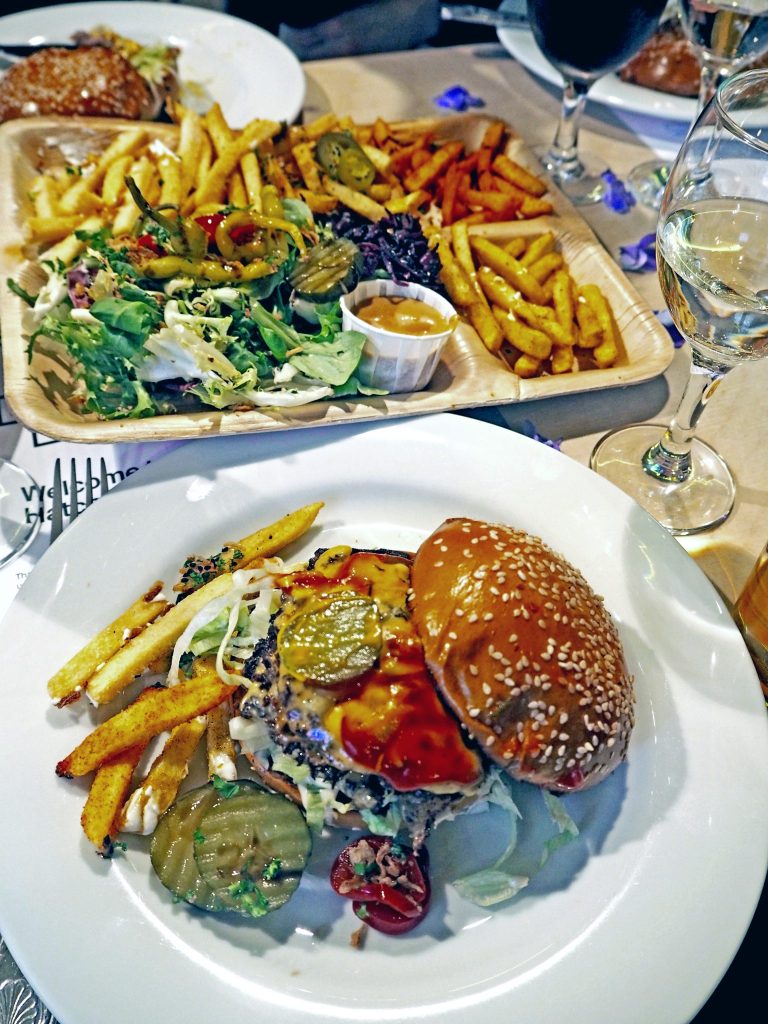 Get Chucked & Seasoned: Nothing But Fries
Our main was an epic burger from Get Chucked. I was very pleased when I saw this on the menu, as I'd actually been looking at the Hatch Instagram earlier that day and drooling over their pics. We had the Chuck 'n' Cheese; secret blend 100% ground beef griddle, smashed and double stacked, with cheese lettuce, pickle, secret sauce, ketchup and mustard, all piled onto a sesame seeded brioche bun. It actually exceeded my expectations and is 100% one of the best burgers I have had.
We were also served huge sharing platters of fries from Seasoned: Nothing But Fries to accompany the burgers. Our selection included:
House BBQ fries (ve) Balsamic vinegar, fresh parsley
Katsu curry fries(v) Natural yogurt, fresh coriander
Cheese and onion fries (v) Parmesan, cream cheese, crispy onion
Smokey salt & pepper fries (v) Honey, herbs and jalapenos
My fave were the smokey salt & pepper fries, but all were delicious.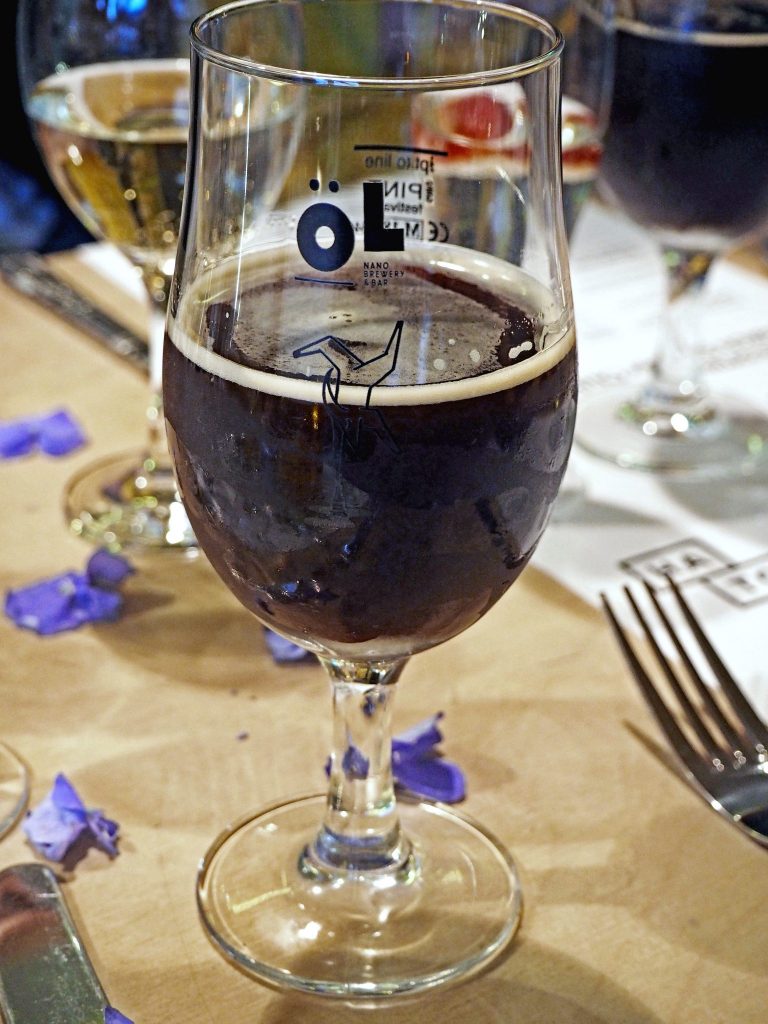 ÖL
Our main was paired with 'Directions to see a ghost' from ÖL. A black IPA (6.6%) which I absolutely loved. I really like a darker, smooth beer to end a meal on – almost like a dessert, so this was perfect. ÖL are a nano brewery and keg bar serving their own brews alongside a selection of beers from some of the world's best breweries.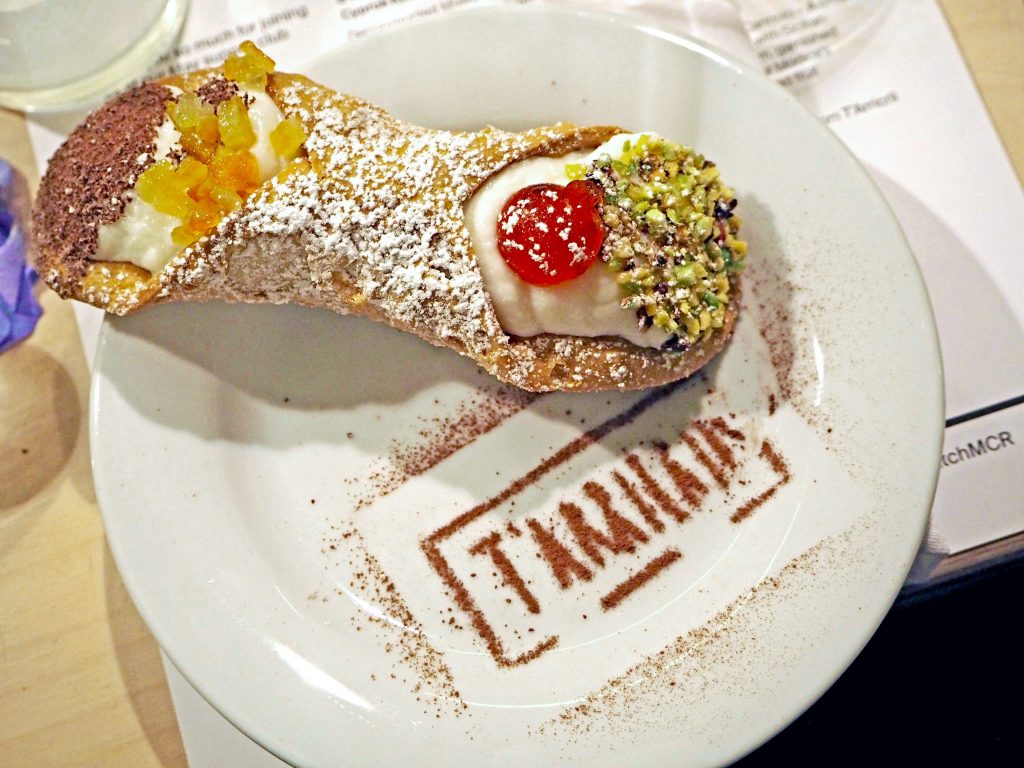 T'Arricrii
To satisfy the sweet tooth and bring the supper club to a close, we had traditional Sicillian Cannolo from T'Arricrii. This brand was created by two brothers with a passion for Italian and Sicilian food and drink. It was the perfect dessert as it is light, yet satisfying and really delicious. The Cannolo is a crisp biscuit waffle, filled with Sicillian ricotta cheese cream, garnished with pistachio, Modica's chocolate and candied fruit. This was paired with limoncello which was the perfect digestif and a well-deserved cheers to such a lovely evening.
The owners each came out to chat us throughout about the food and their businesses. This was great as they all had such inspiring stories which made me love them even more! You can clearly tell (and taste) that every element of each dish is created with passion. I love eating food that has been prepared with such consideration for the ingredients and tastes. I will 100% be back and would eat at every single one of these places again for sure.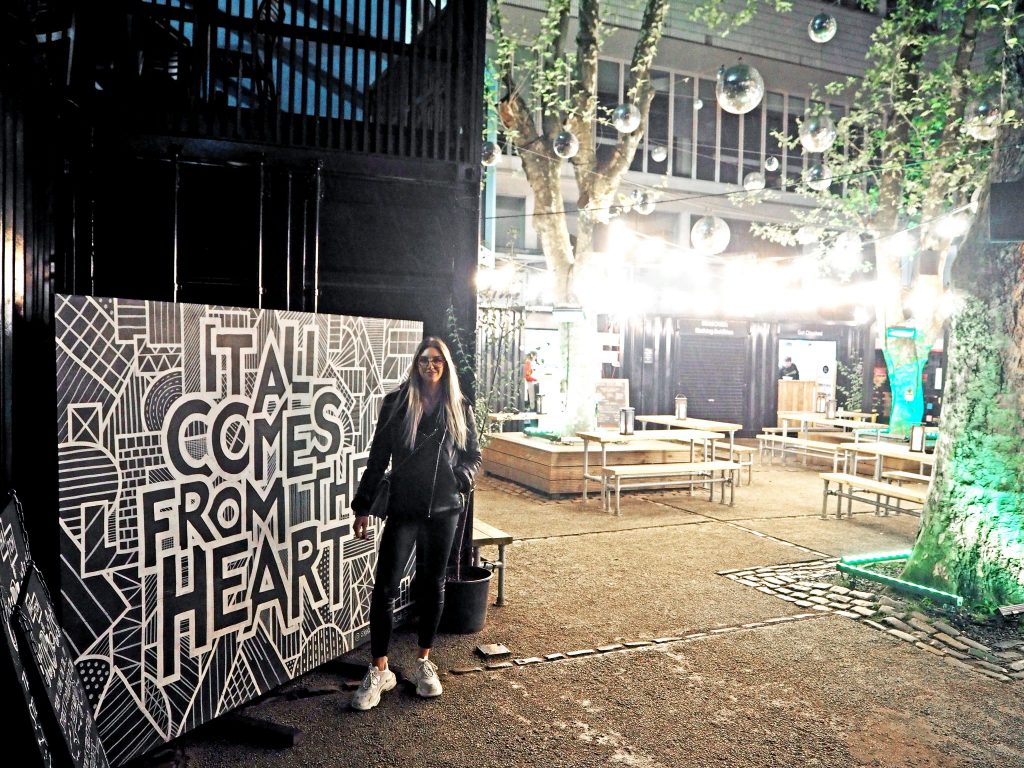 You can head to the Hatch website here for more info and to check out the current residents.
LL x
*This evening was kindly gifted. As ever, all opinions are my own.