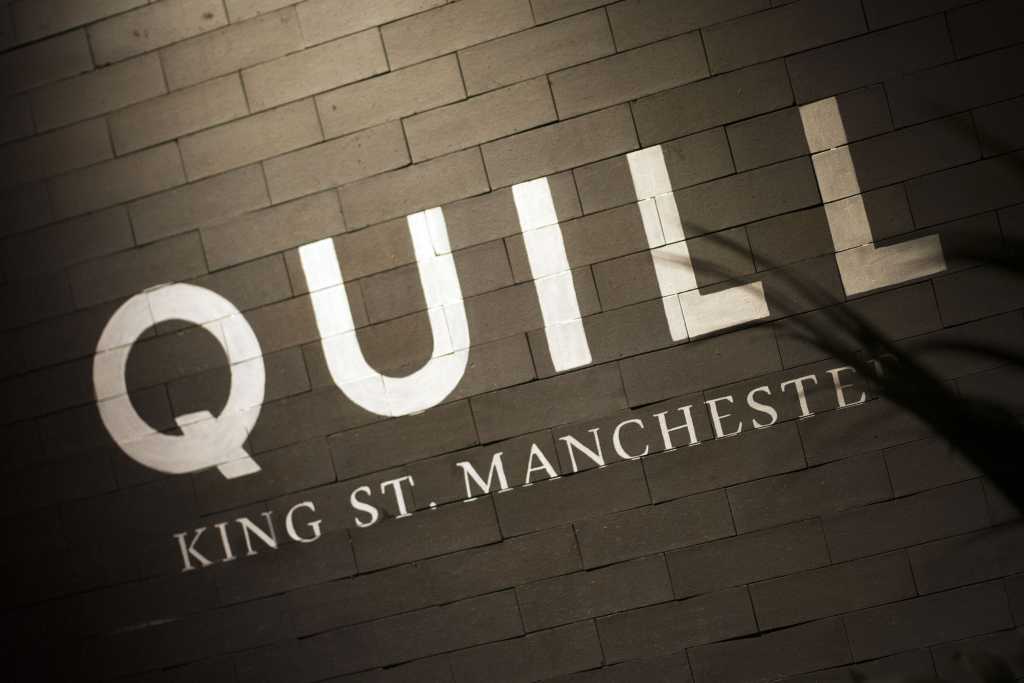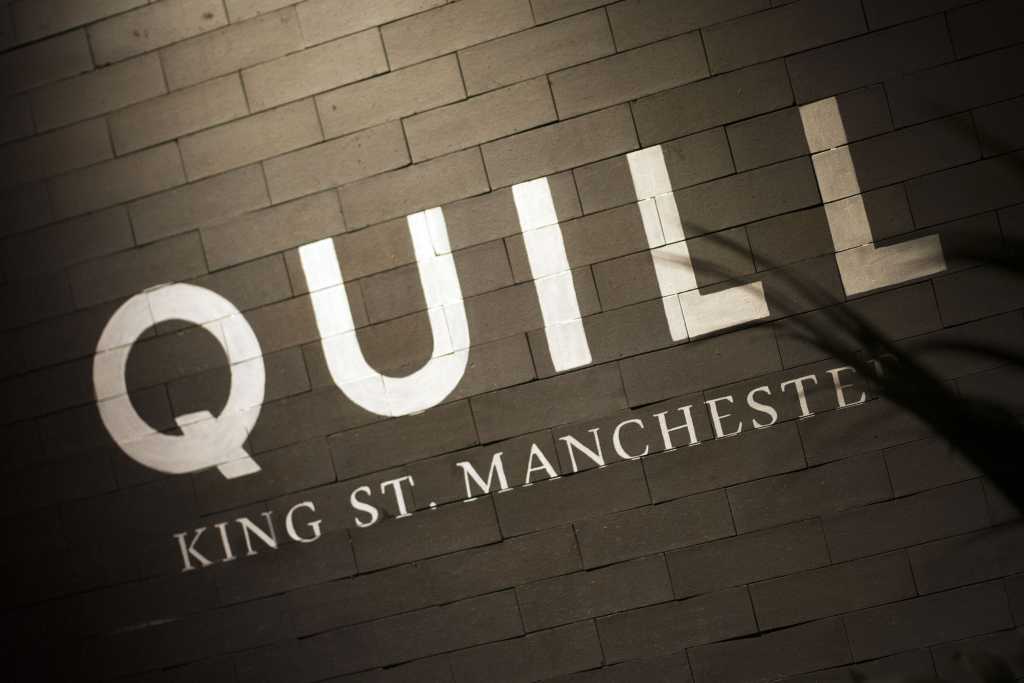 For those of you who know me, you will know that I am a self-confessed foodie. There is nothing I like more than going out for a meal and sampling the food and drink offerings of the city. As Valentine's Day is also my anniversary with my boyfriend, this year he booked us in for the Valentine's taster menu at Quill restaurant on King Street in Manchester. Of course this was a surprise for me, so that all I knew before we arrived is that we were going to a restaurant and there were going to be 10 courses. Knowing this leading up to the day was pure excitement and torture at the same time – I love surprises but I was dying to find out where we were going and what delicious food we would be eating.
We got ready and jumped into an Uber to our destination. You should have seen the grin on my face when we arrived! Jay had picked here as I had mentioned wanting to try it a couple of times when it first opened in 2015, and it was the perfect choice. The interior is very classy and atmospheric, with lots of low lighting and monochrome décor. The front of the restaurant looks out onto King Street, and the restaurant itself is in amongst some of the designer stores of Manchester – not where I had imagined this sort of restaurant to be at all, but it was beautiful none the less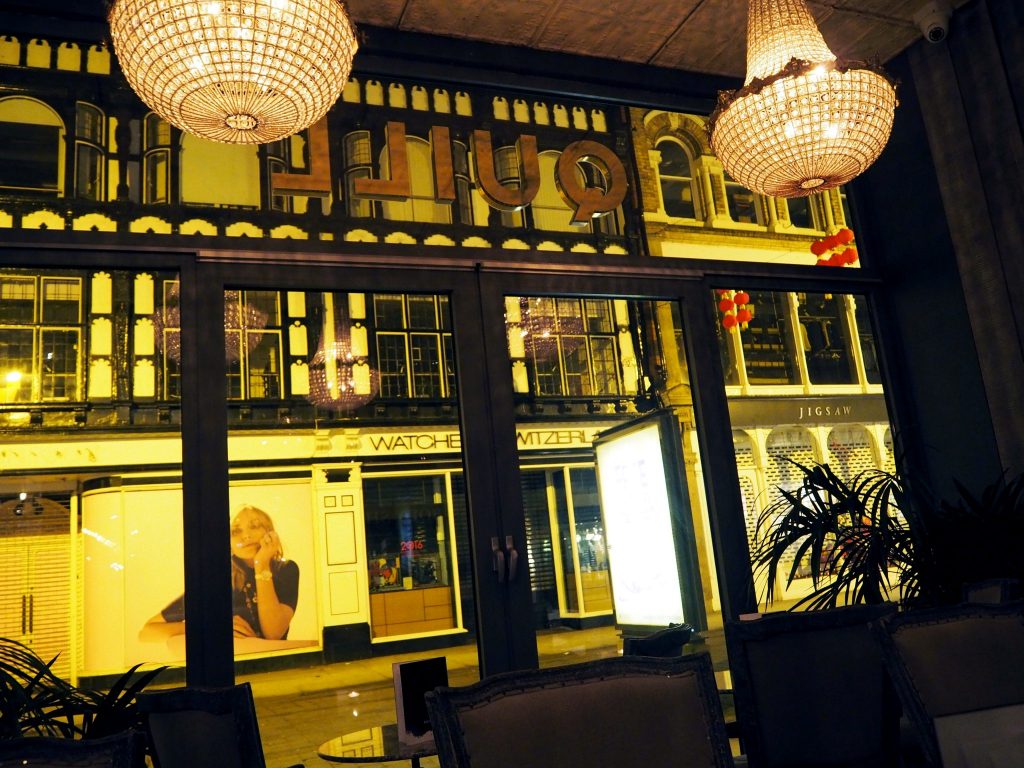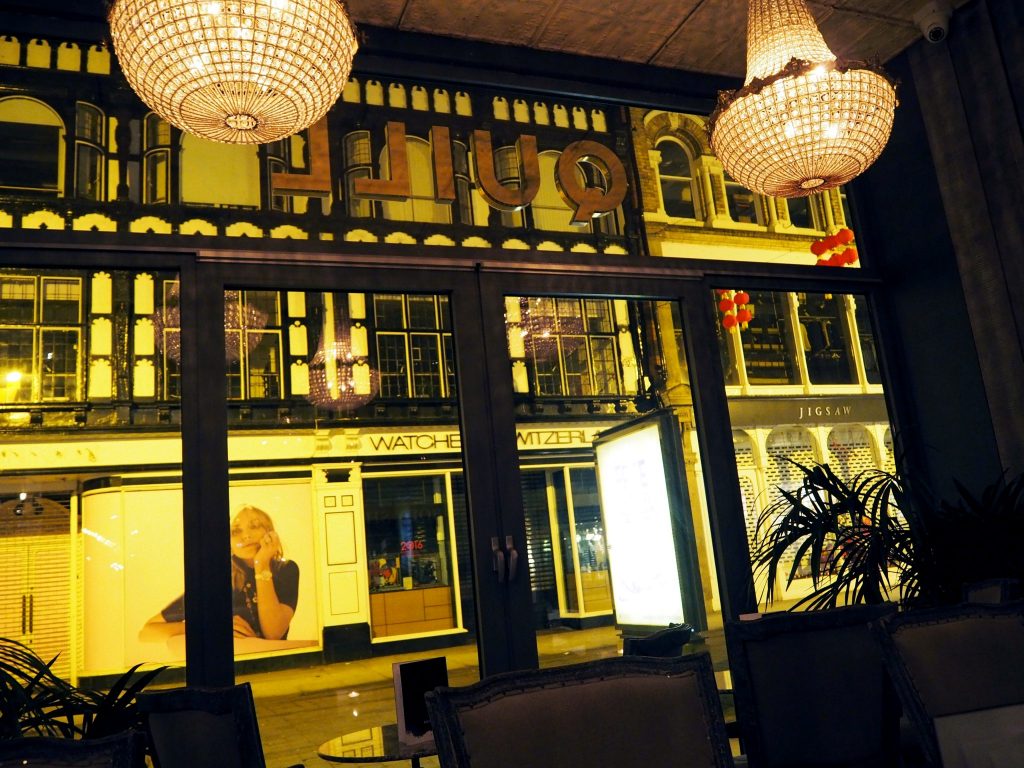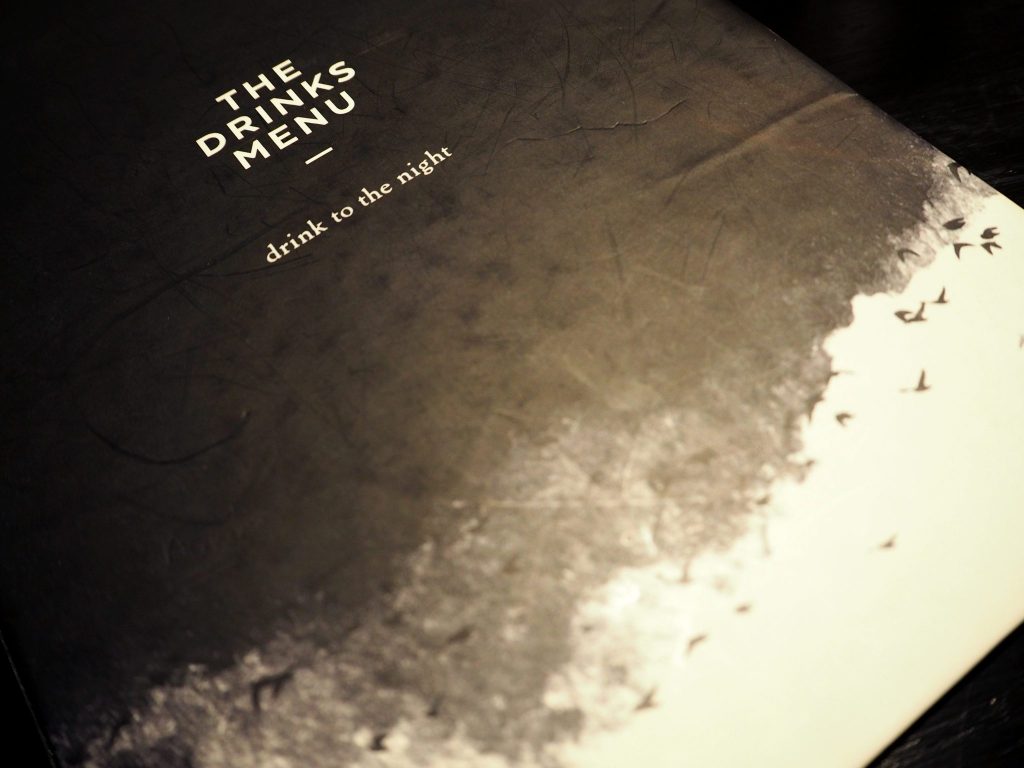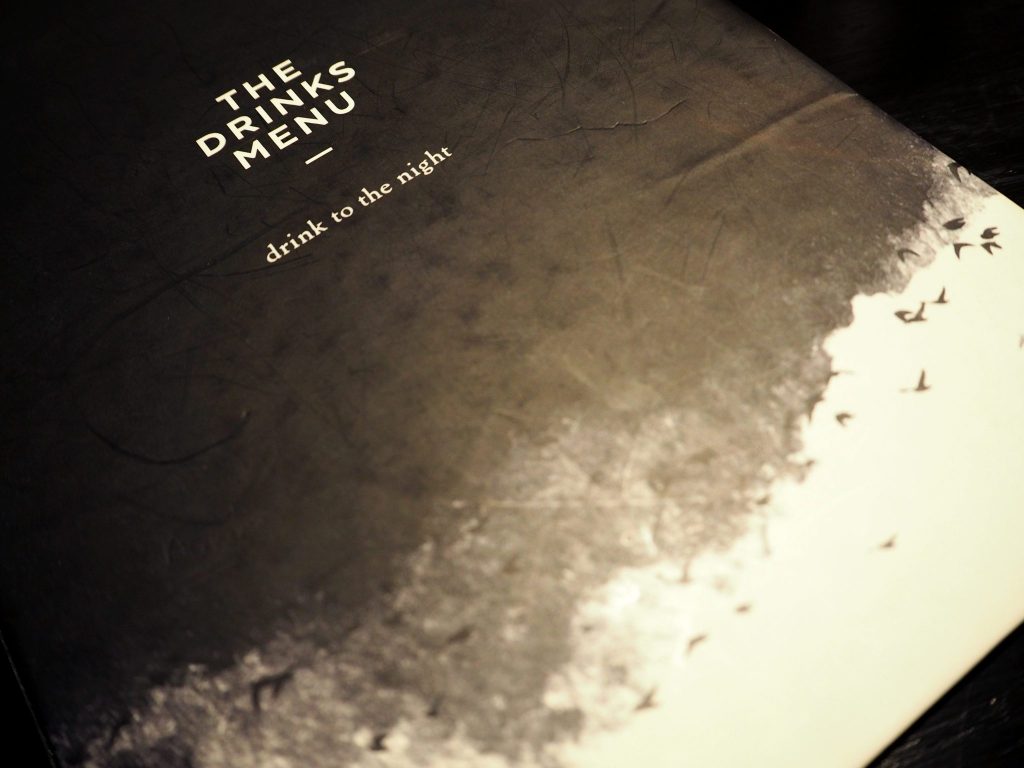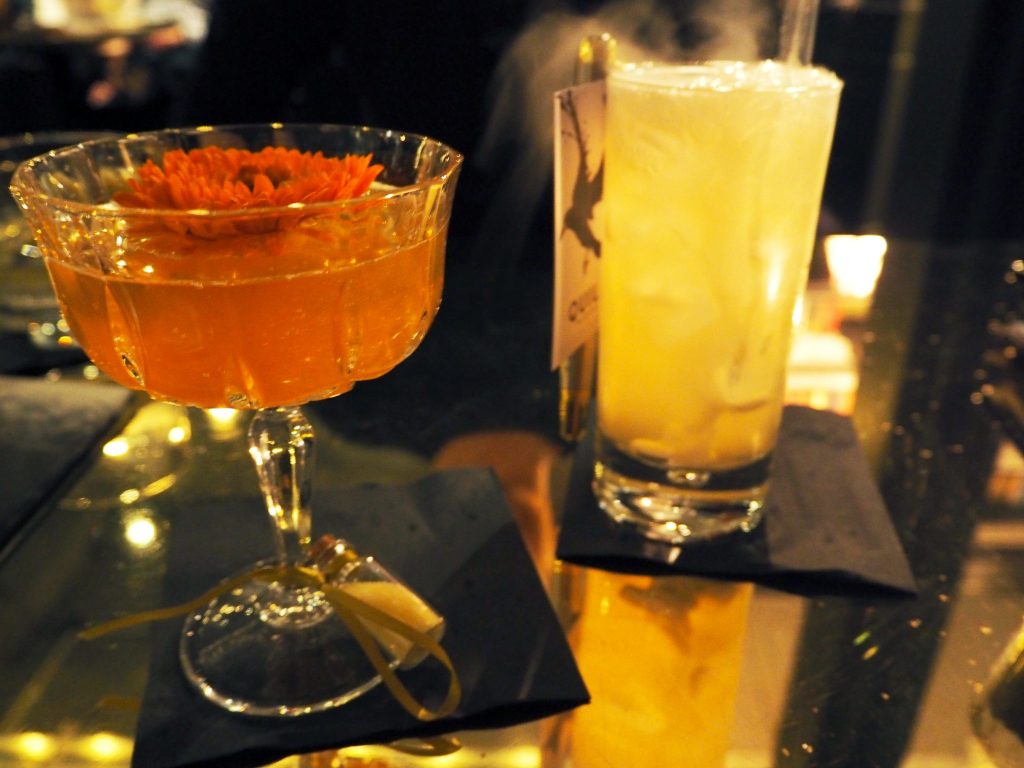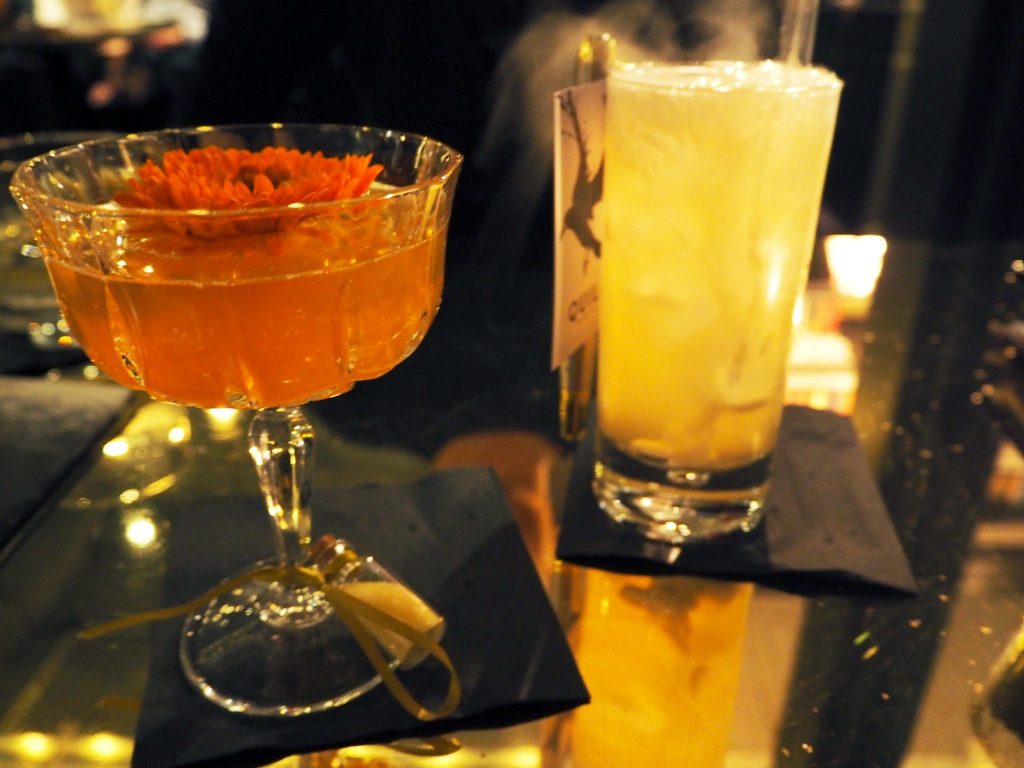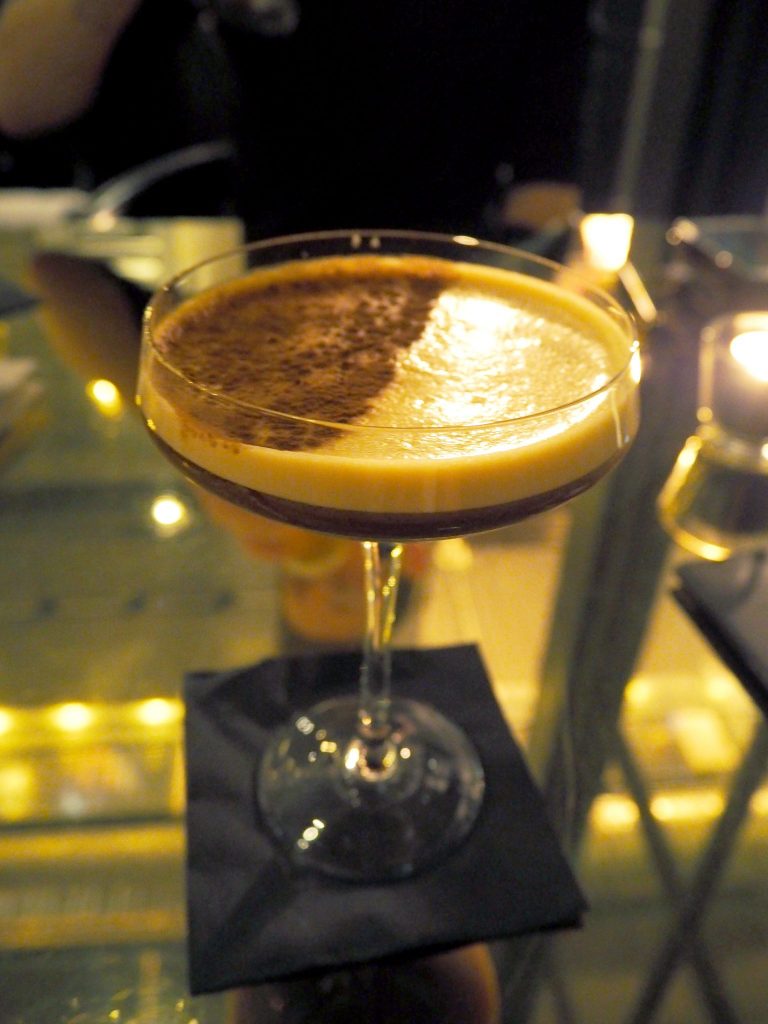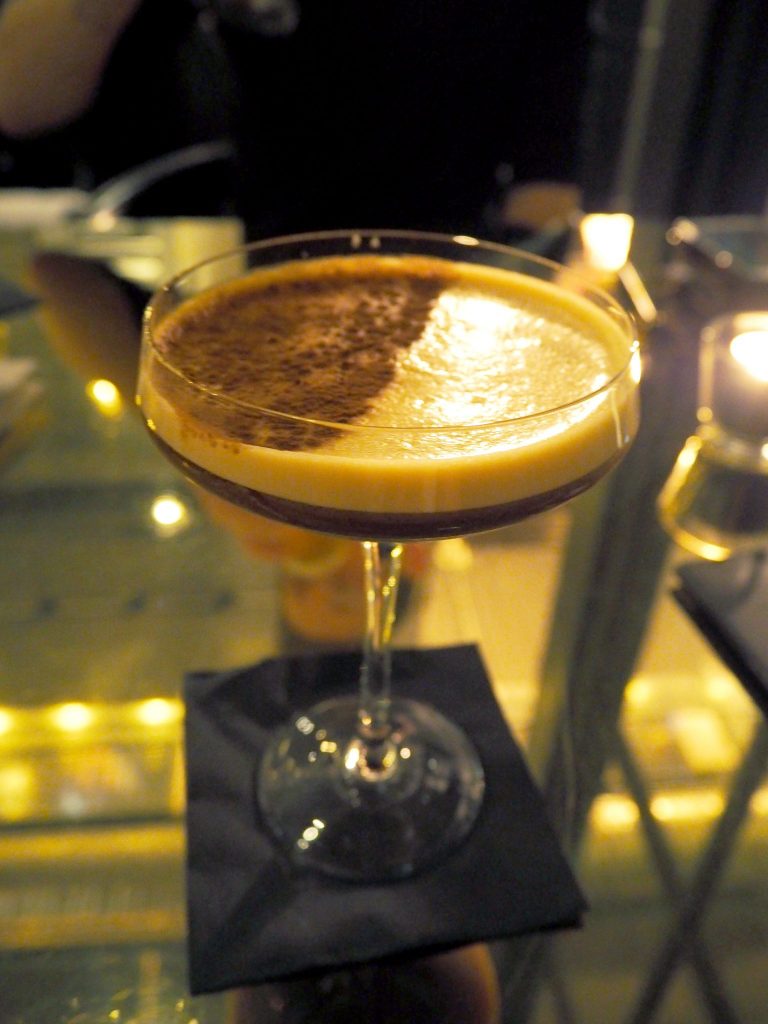 The seating began at 7, so we took a seat in the bar area downstairs as we arrived early, and ordered a couple of cocktails. The menu has a great selection of drinks so of course I was a while choosing what to have, as everything sounded amazing and this was obviously a critical choice. I began with 'The Hour Glass' which consisted of fragrant rose, creamy caramel, gold and Prosecco, and Jay had the 'Of The Pen' with came oozing with dry ice and garnished with a pen, and contained rum, ginger, and allspice. They arrived beautifully presented; certainly cocktails designed to please the eye as well as the taste buds. Both cocktails were delicious, and almost too easy to drink. After this I had planned to move onto wine, but I had been eyeing a couple of other cocktails up in the meantime and I just had to try one more before dinner. Jay moved onto beer and I went with the 'To The Night' cocktail, and I am SO glad I did. This is literally one of the nicest cocktails I have ever tried, it had the perfect amount of coffee and ice cream, and tasted exquisitely indulgent without being sickly at all.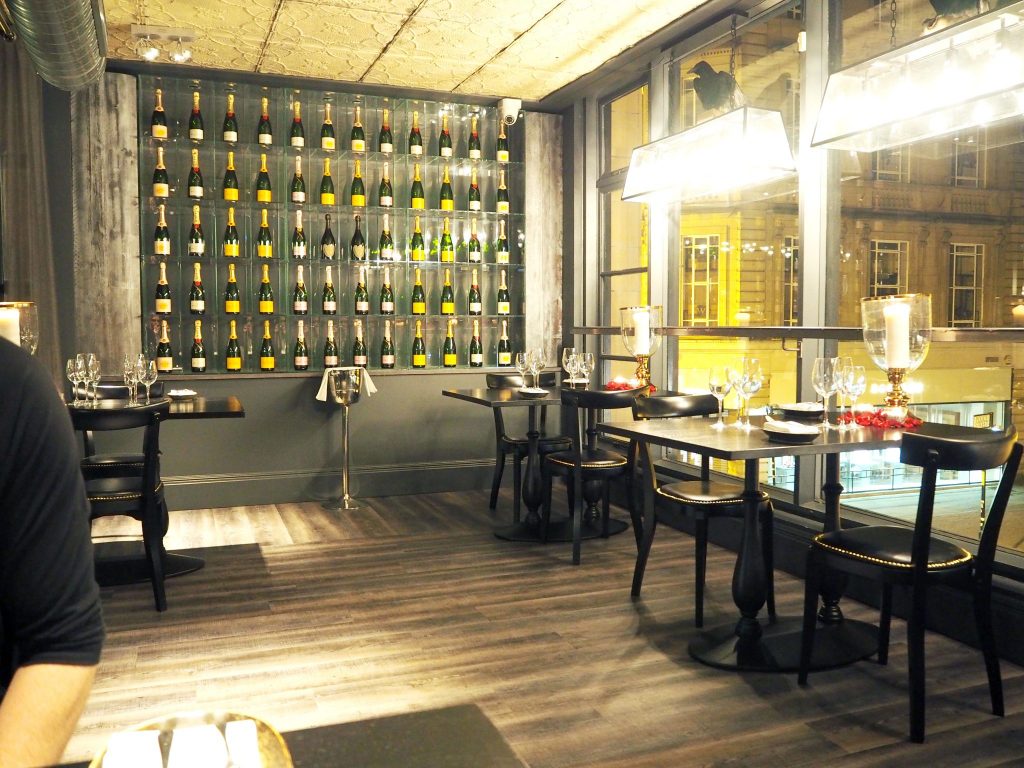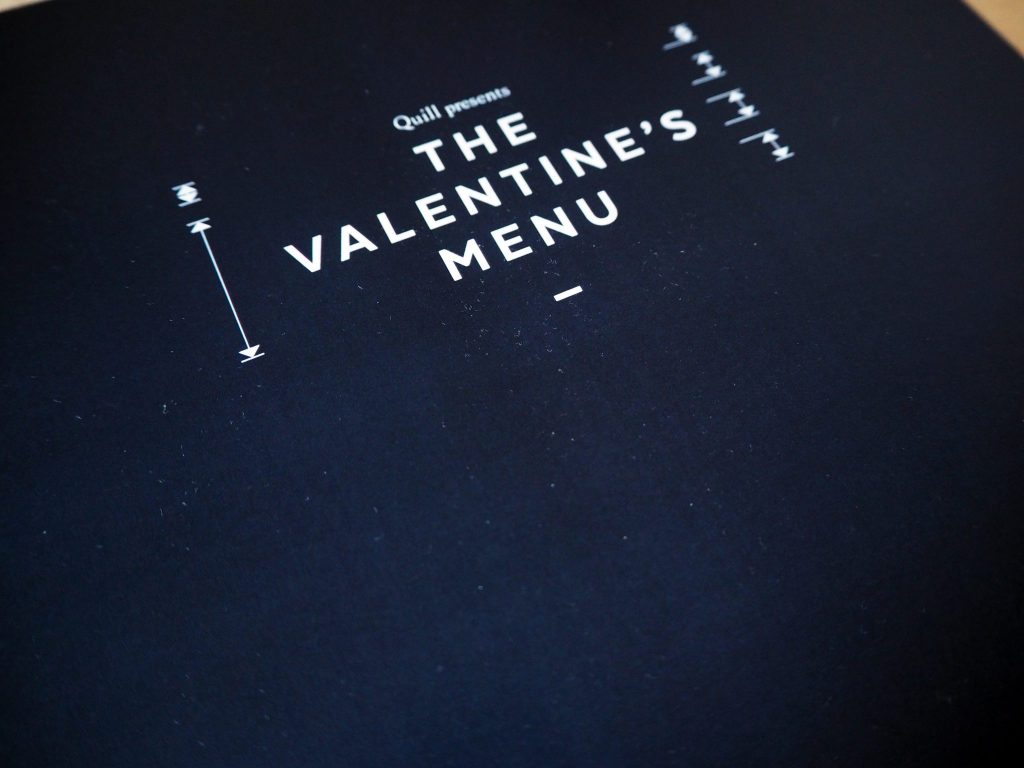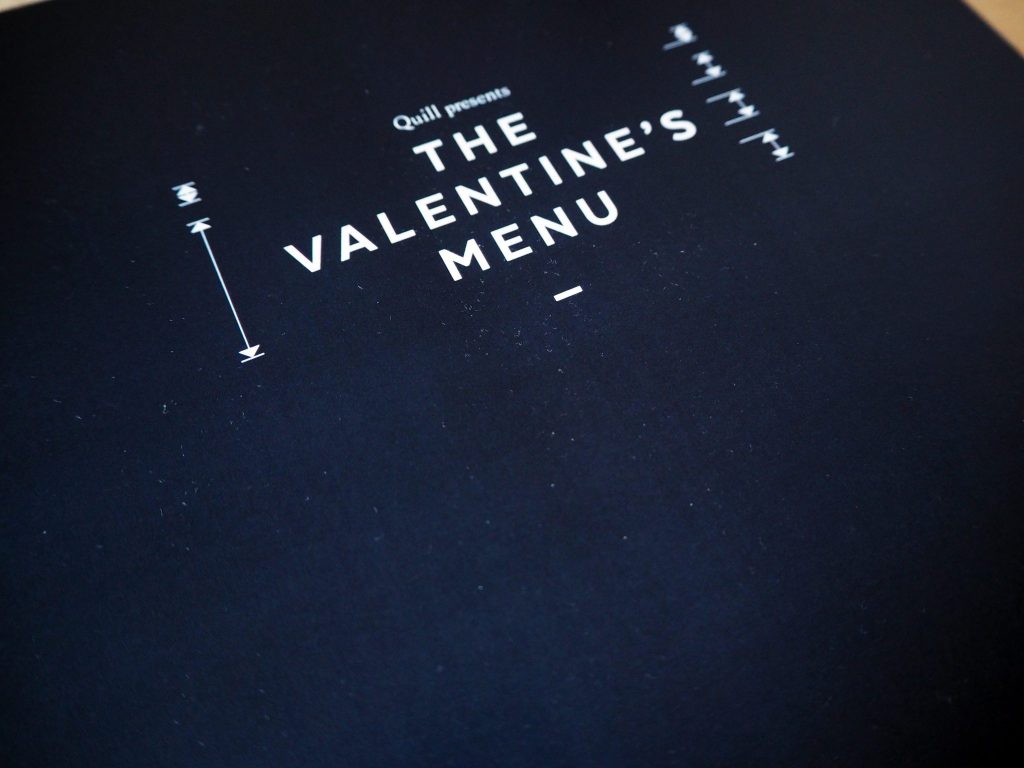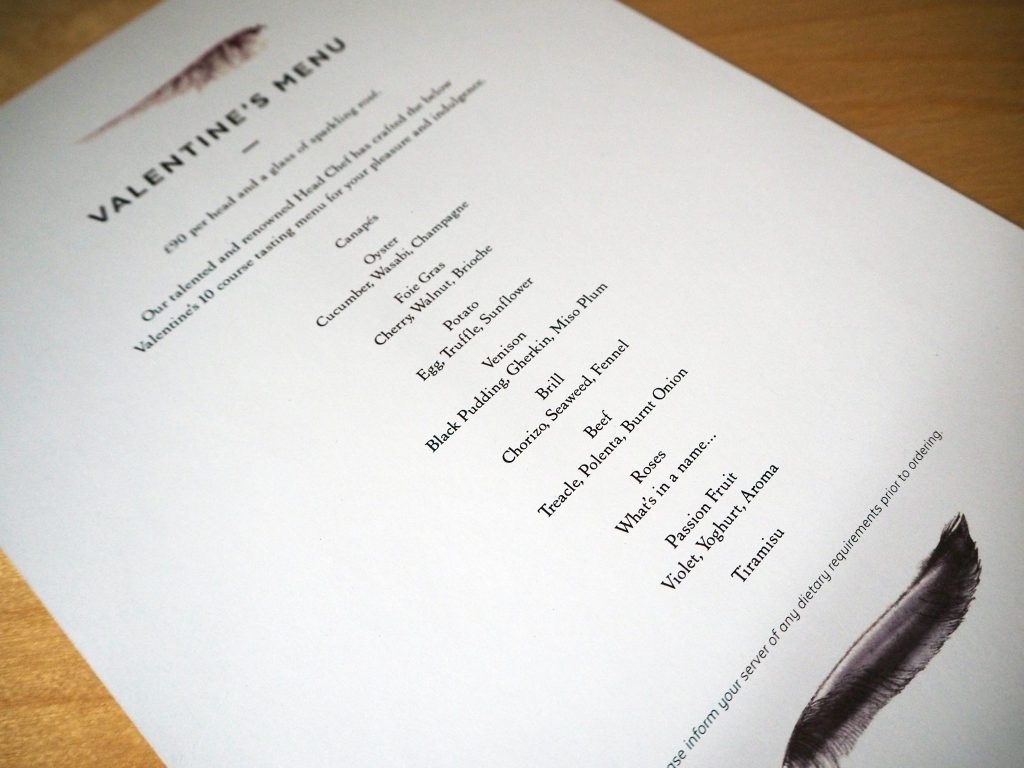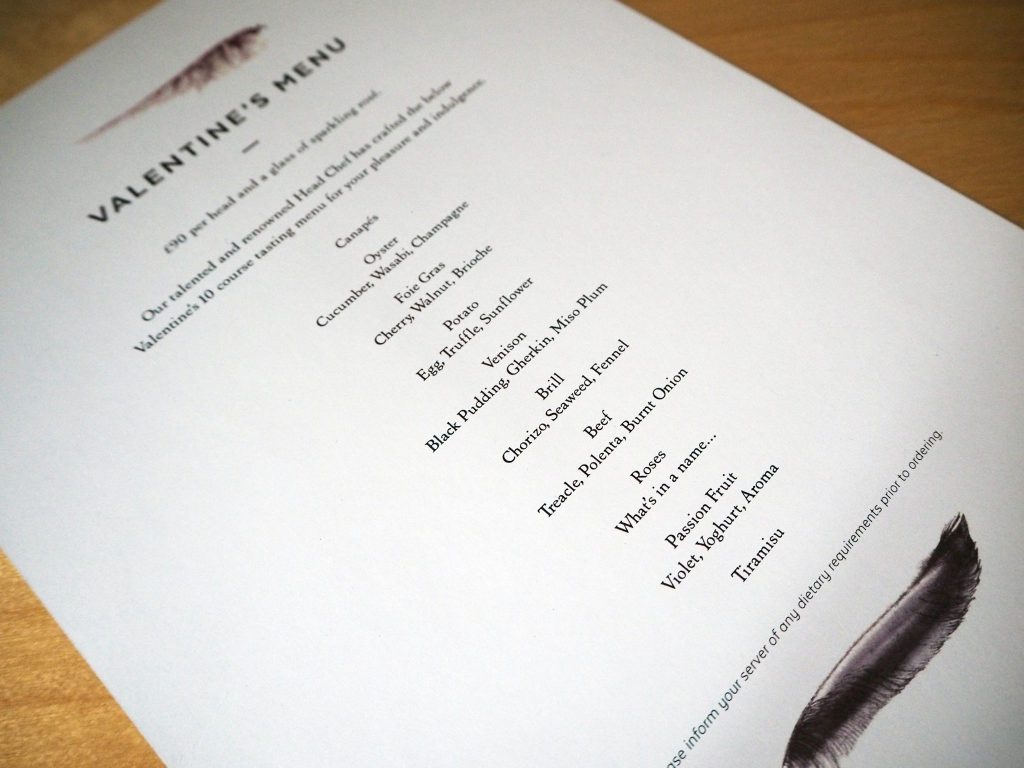 As 7pm arrived, we were the first couple to be shown to our seats in the dining area upstairs. We were seated to the front of the building, just near the large glass windows giving a great view of the old style rooftops of King Street. The waiter was lovely, and talked us through how the menu worked before presenting us with a complimentary glass of pink bubbly. The menu was designed to indicate just a few ingredients from each course, purposely leaving most of each dish to the imagination and encouraging diners to be creative with what they think or feel might arrive on their table.
When the other diners were seated, the dishes began to arrive. Each course was staggered for each couple so that the chef could present the dish and explain what was in it. I loved this touch, and it was great to see chefs who have such passion for the food they have created.
I won't talk you through every single course otherwise this would be a very long blog post (more-so than it already is!), but I will put the name of the course and a few notes for the ones I found particularly tasty.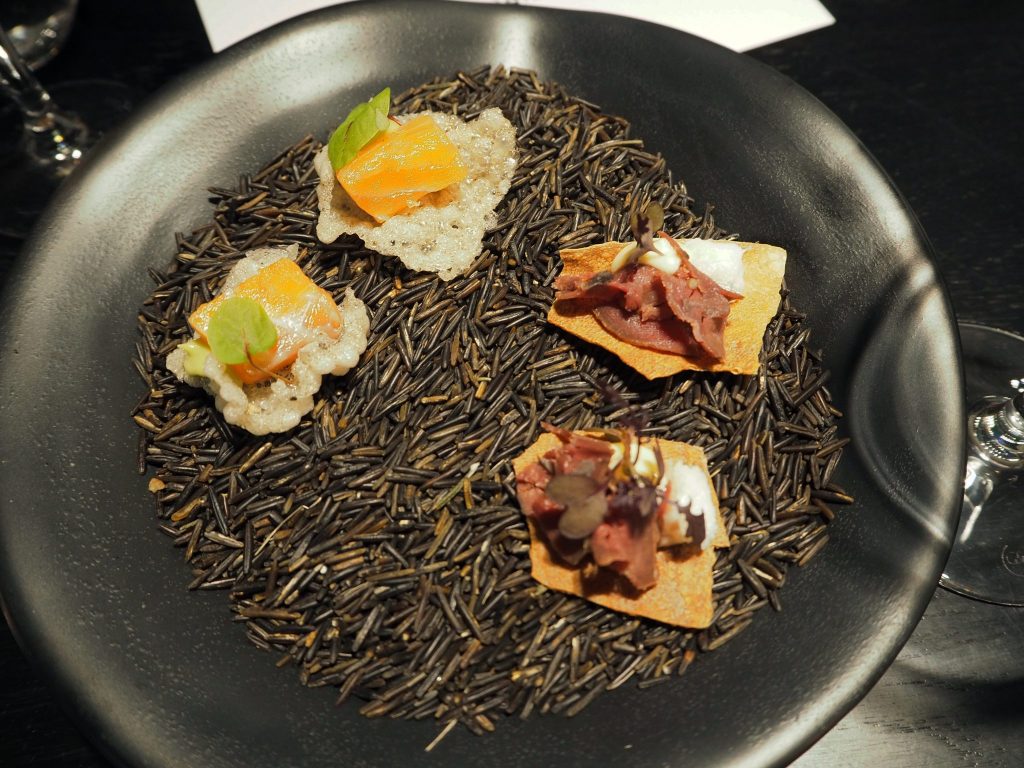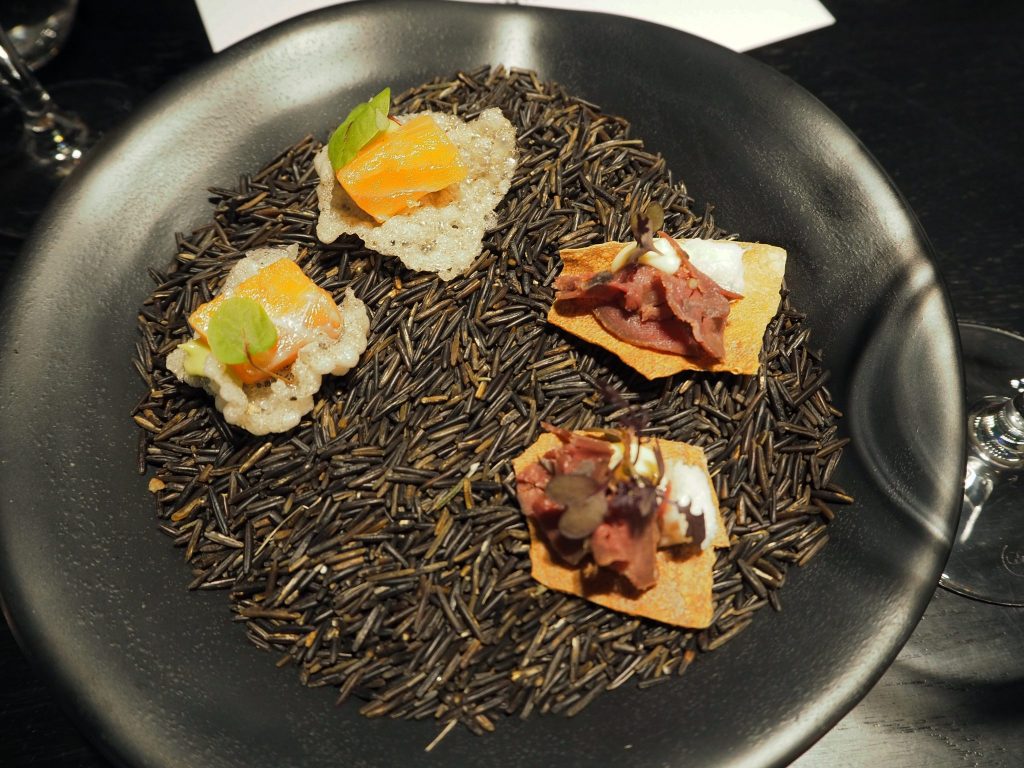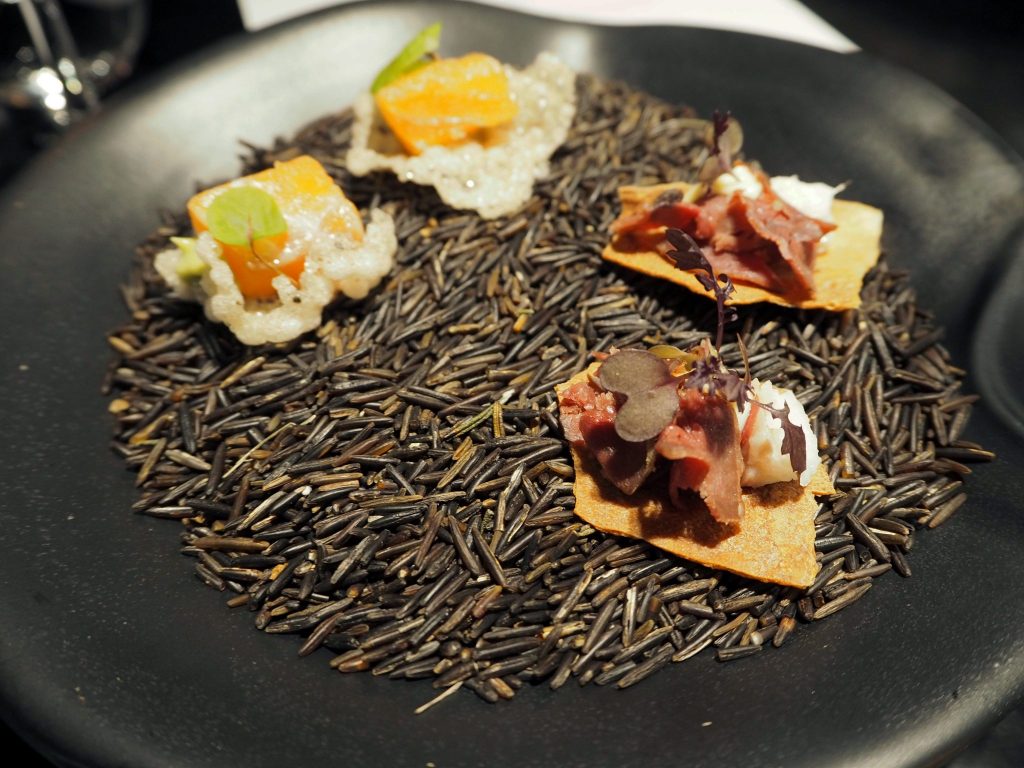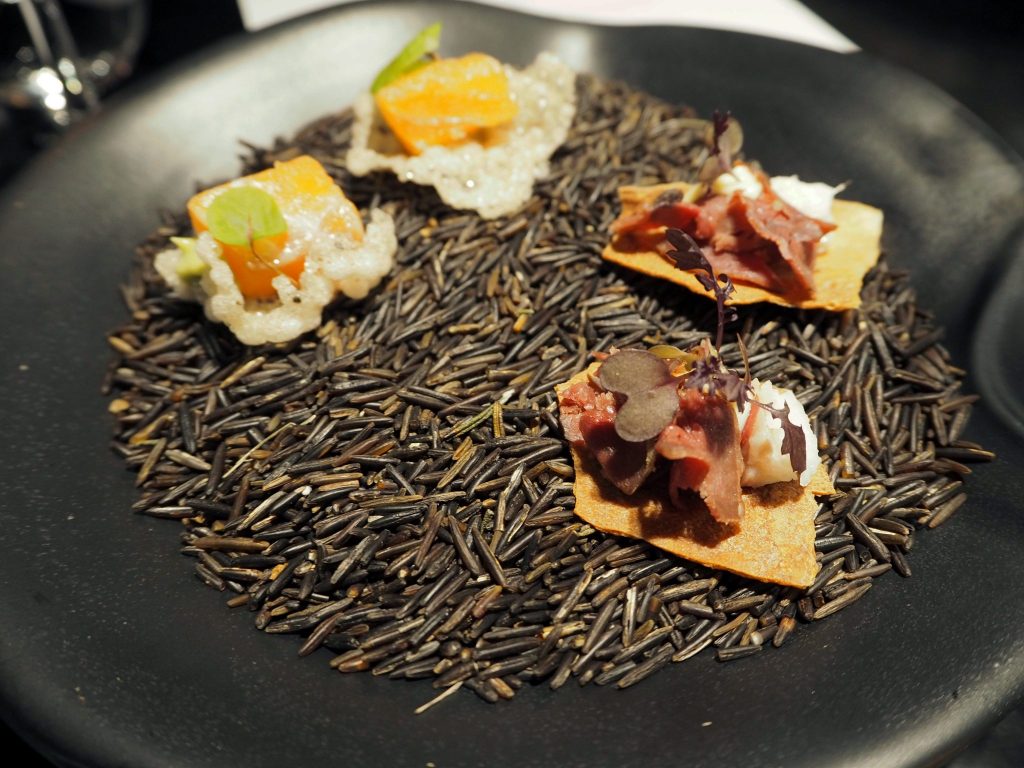 Canapés
What a way to begin the meal. These were perfect bites of incredible flavour and texture and were an amazing start to the courses – I could have just eaten these all night!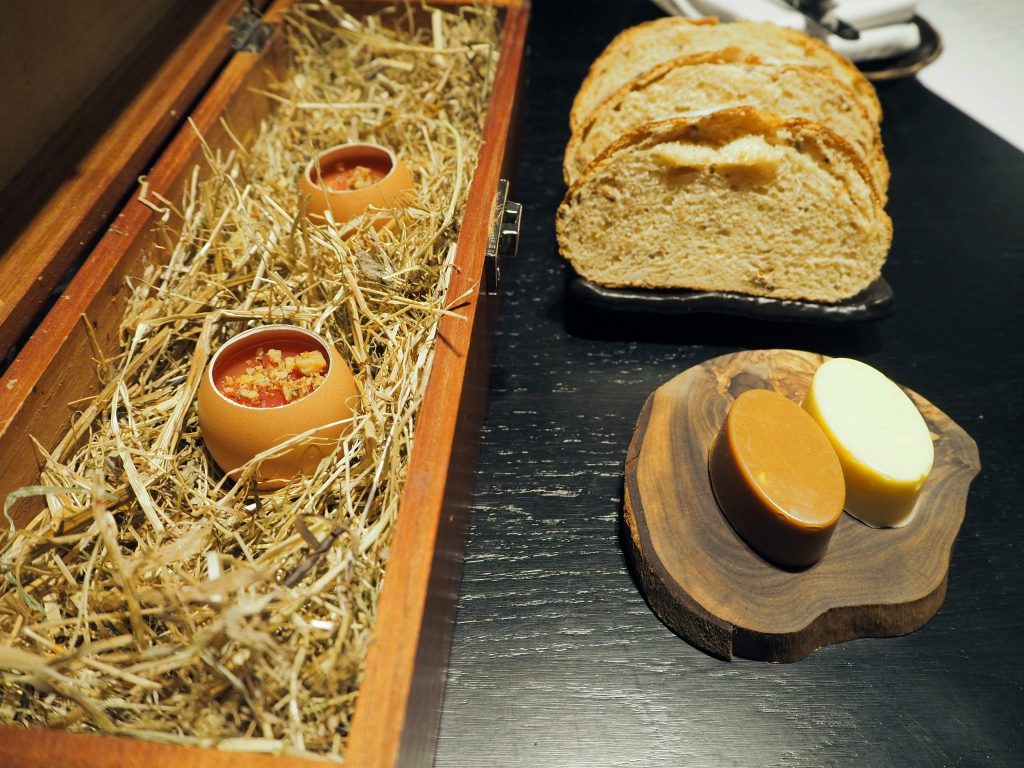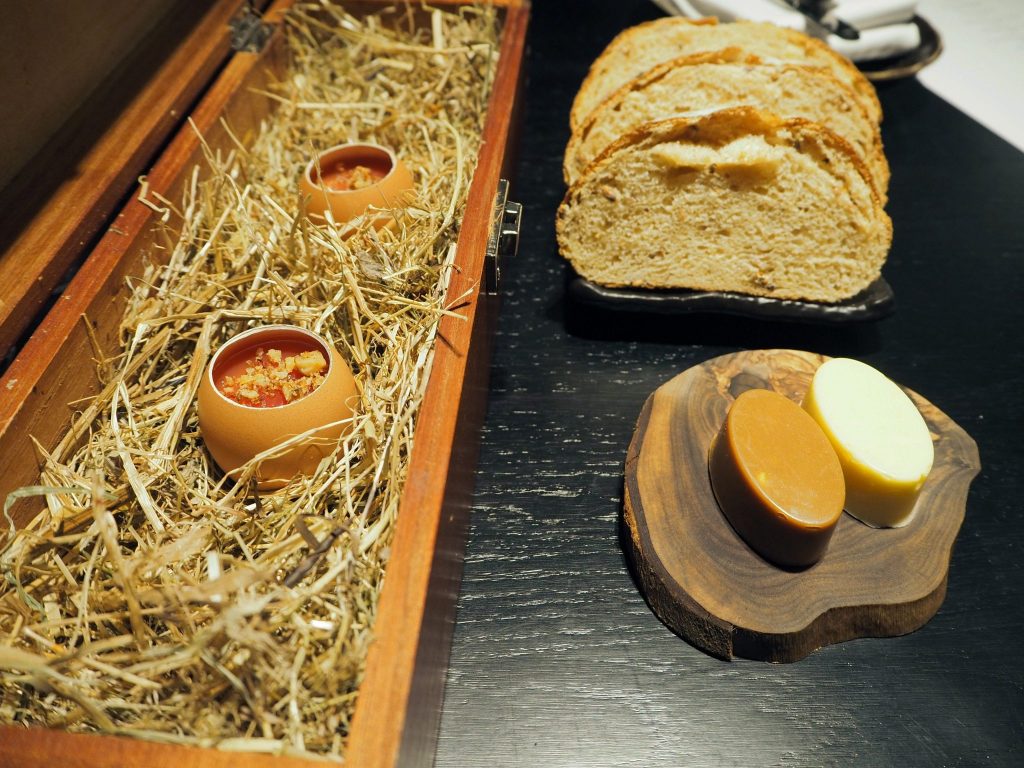 Amuse-bouche
This was an extra course which wasn't actually included on the menu, but came right after the canapés. Delicious chicken liver parfait with homemade bread and butter. This bread is to die for – 100% the softest bread I have ever tasted. They also had 2 variations of the homemade butter – regular and marmite, which I thought was a great addition but you will of course, love it or hate it.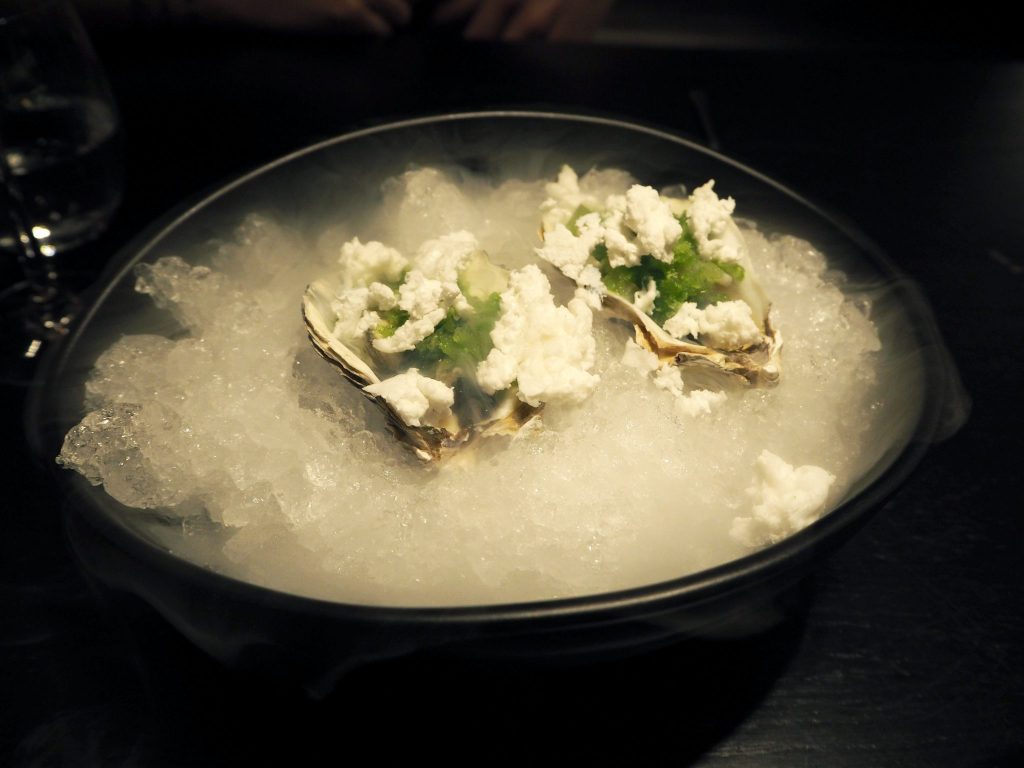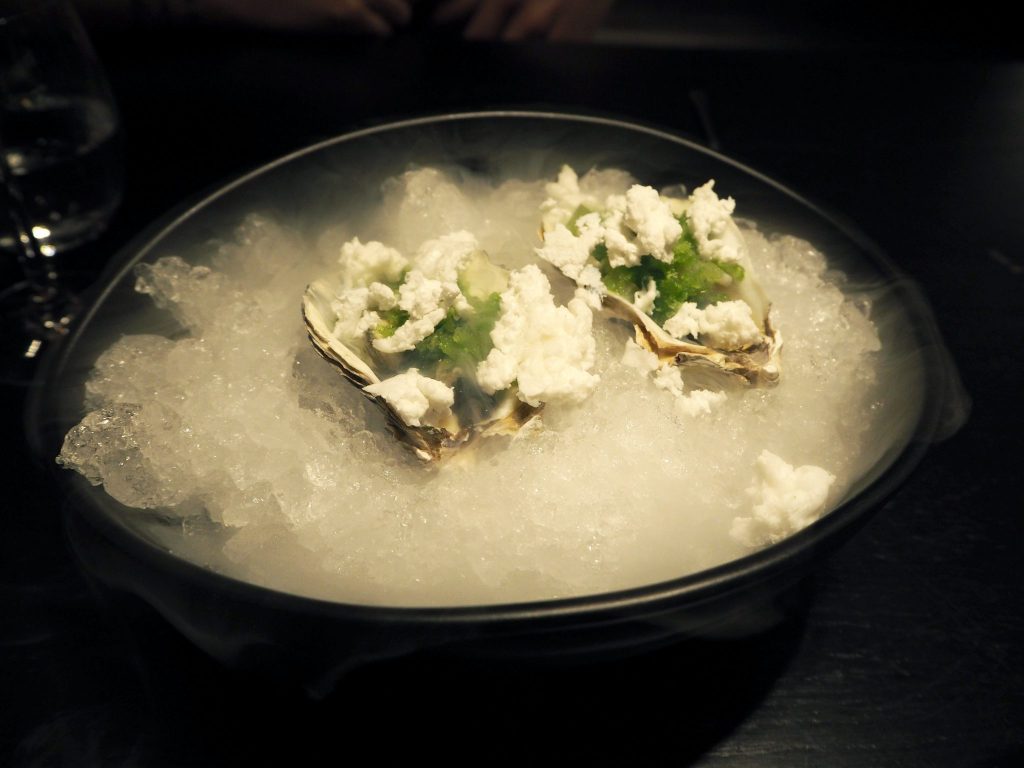 Oyster | Cucumber, Wasabi, Champagne
The most impressive part of this dish was the chef creating these little clouds of champagne clusters by pouring it into dry ice. A very fresh course with wasabi and cucumber to compliment.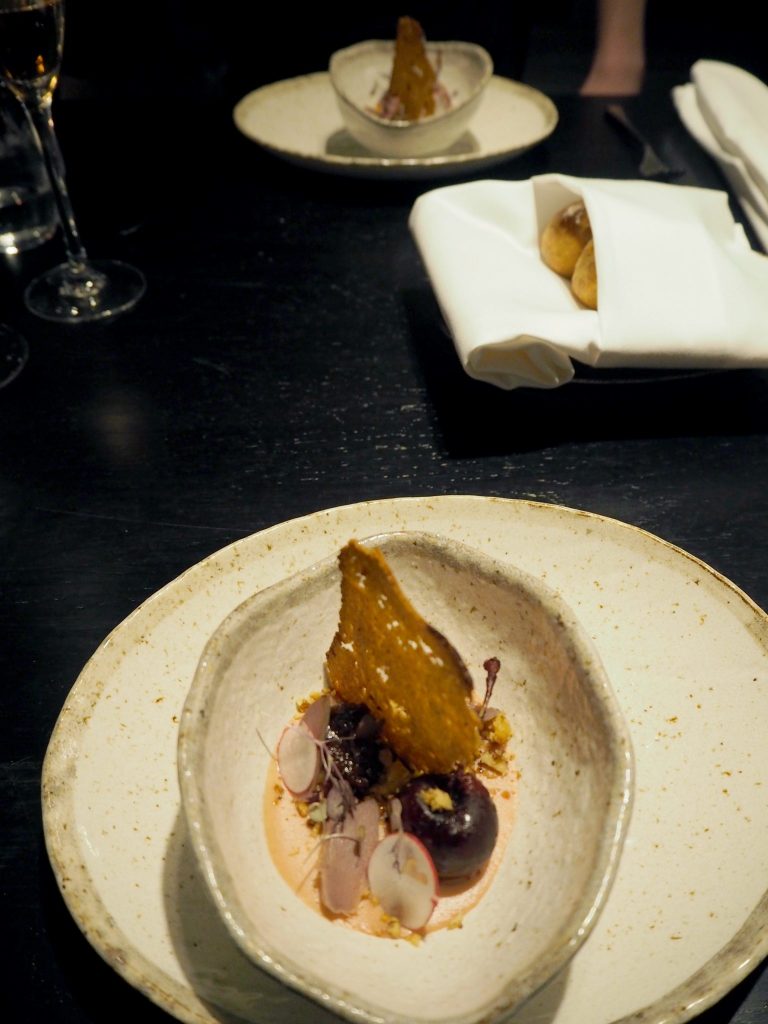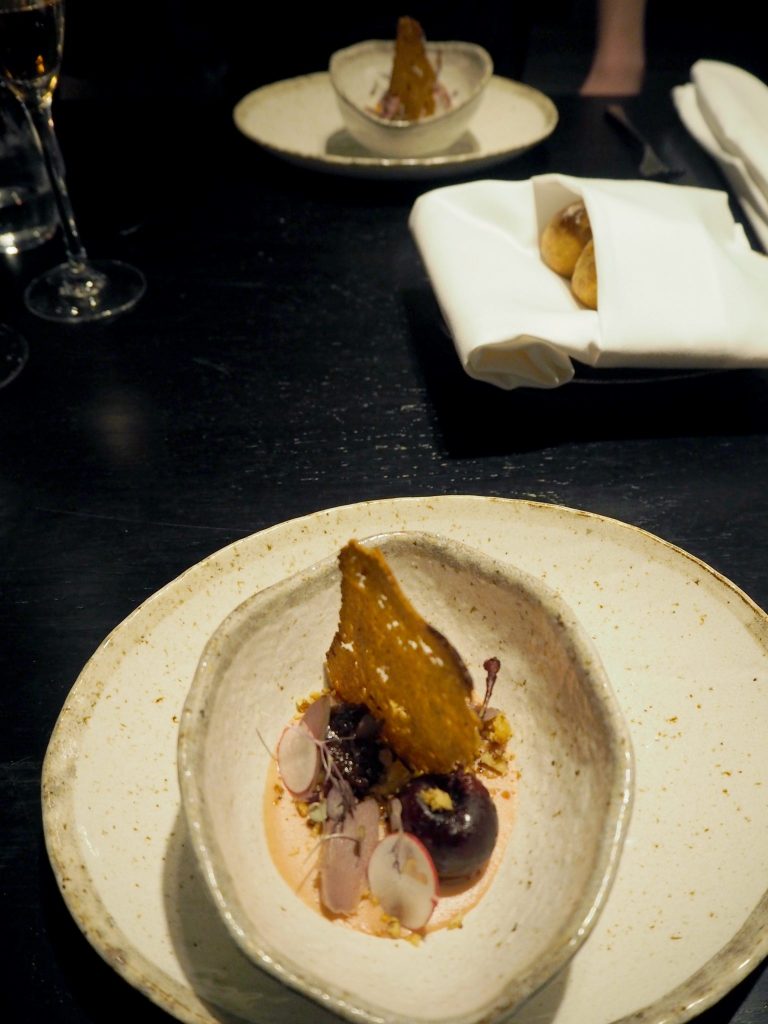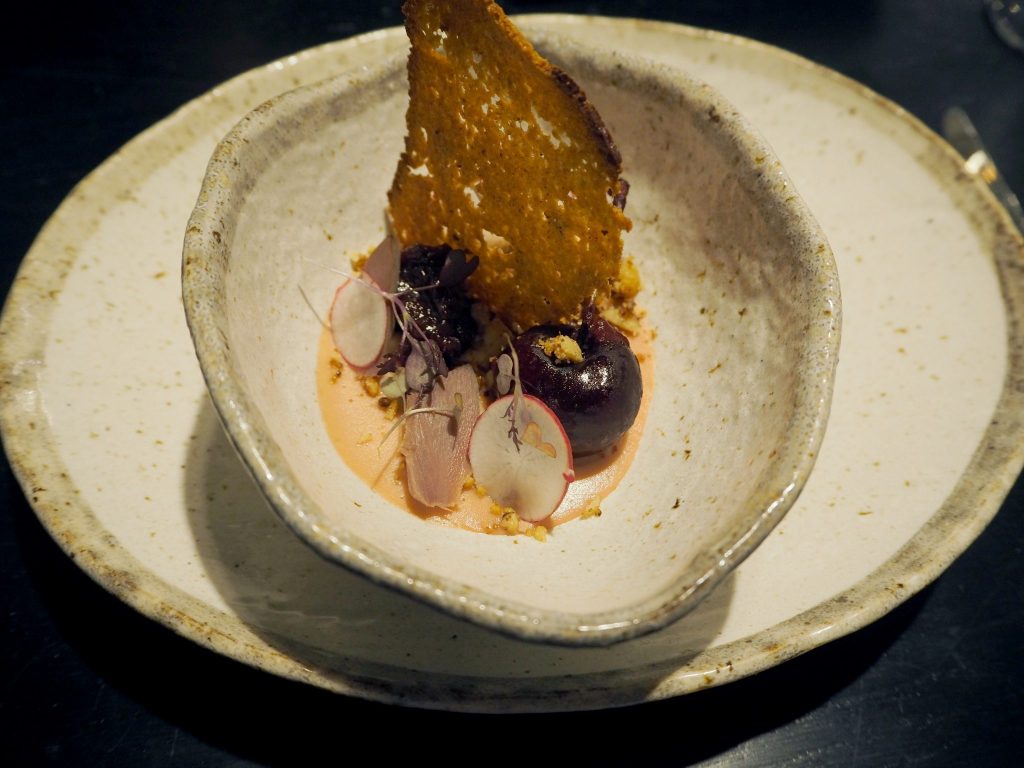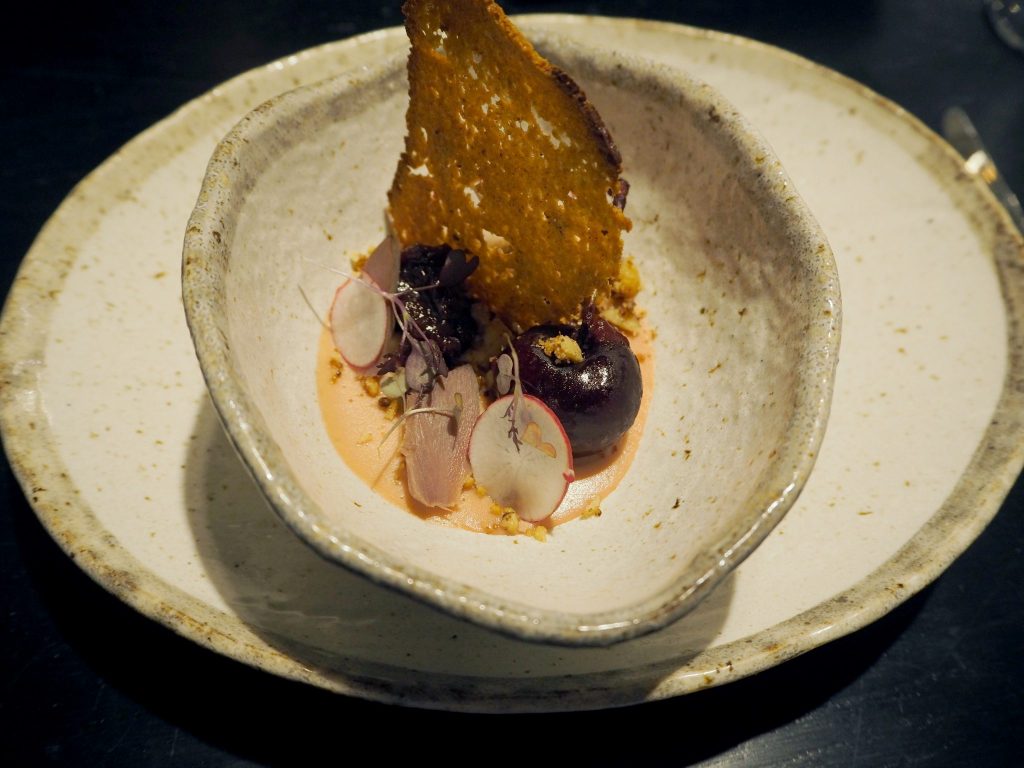 Foie Gras | Cherry, Walnut, Brioche
I could't get over how cute the little brioche buns on the side were – looking like they were tucked up in a blanket!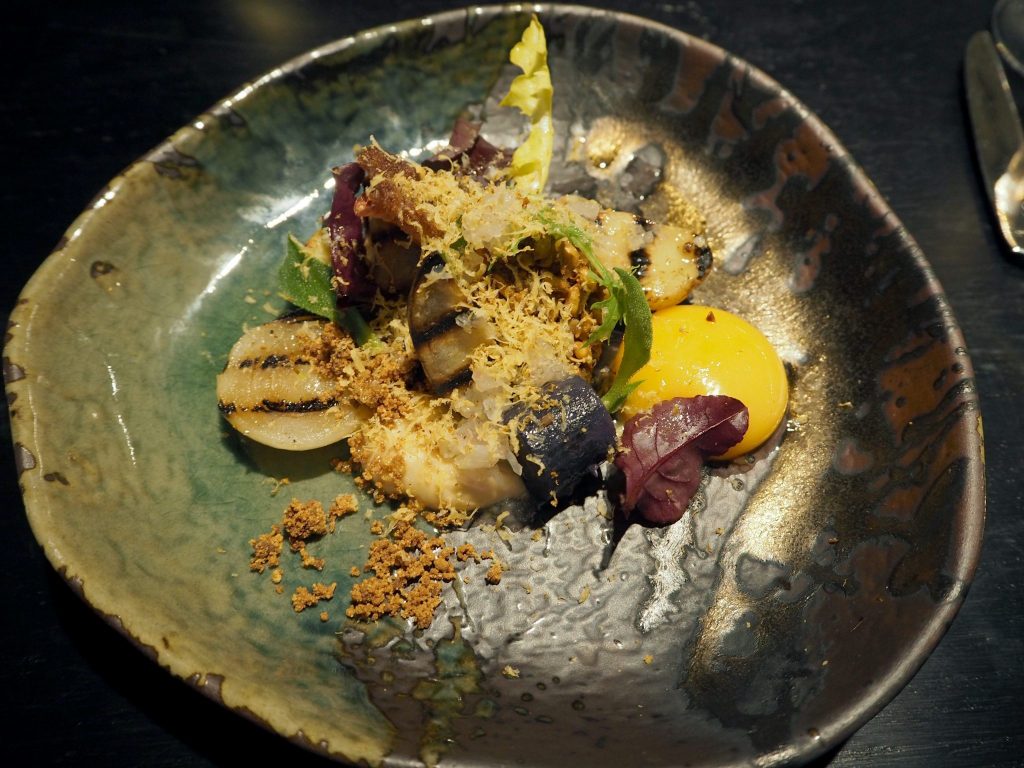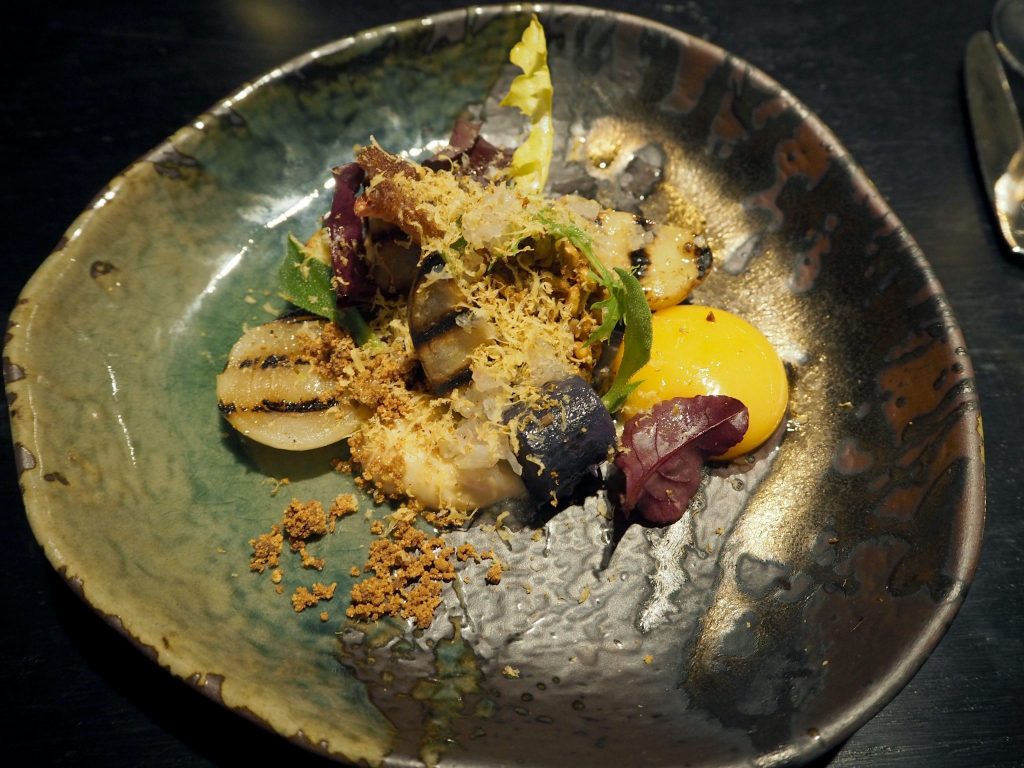 Potato | Egg, Truffle, Sunflower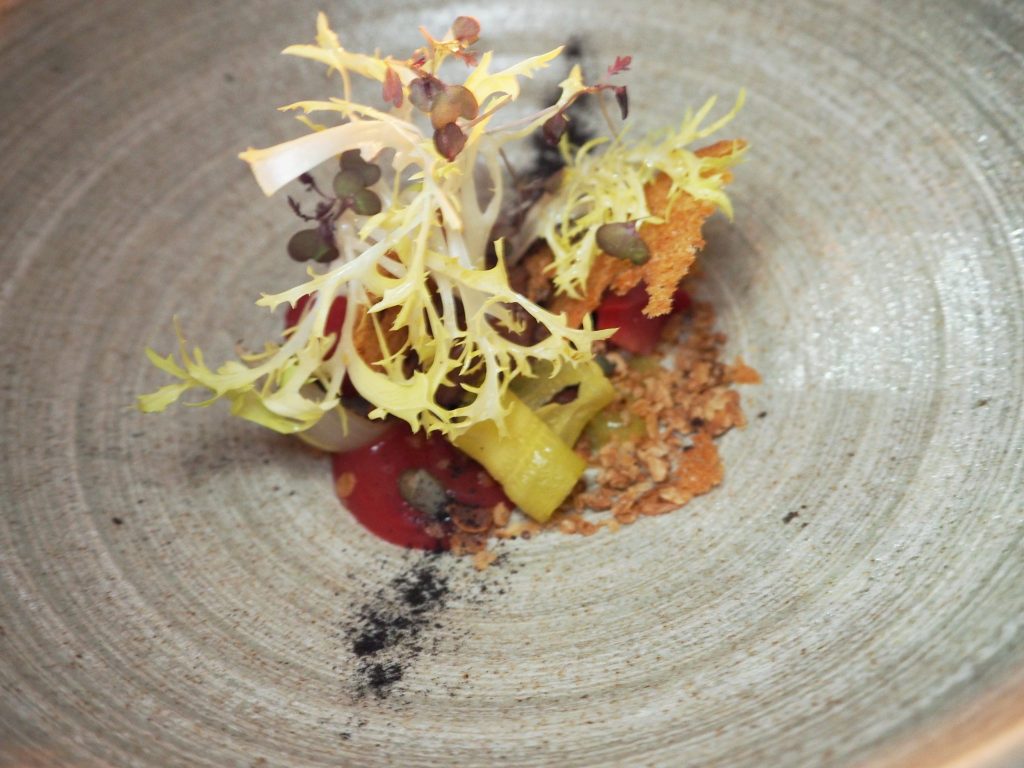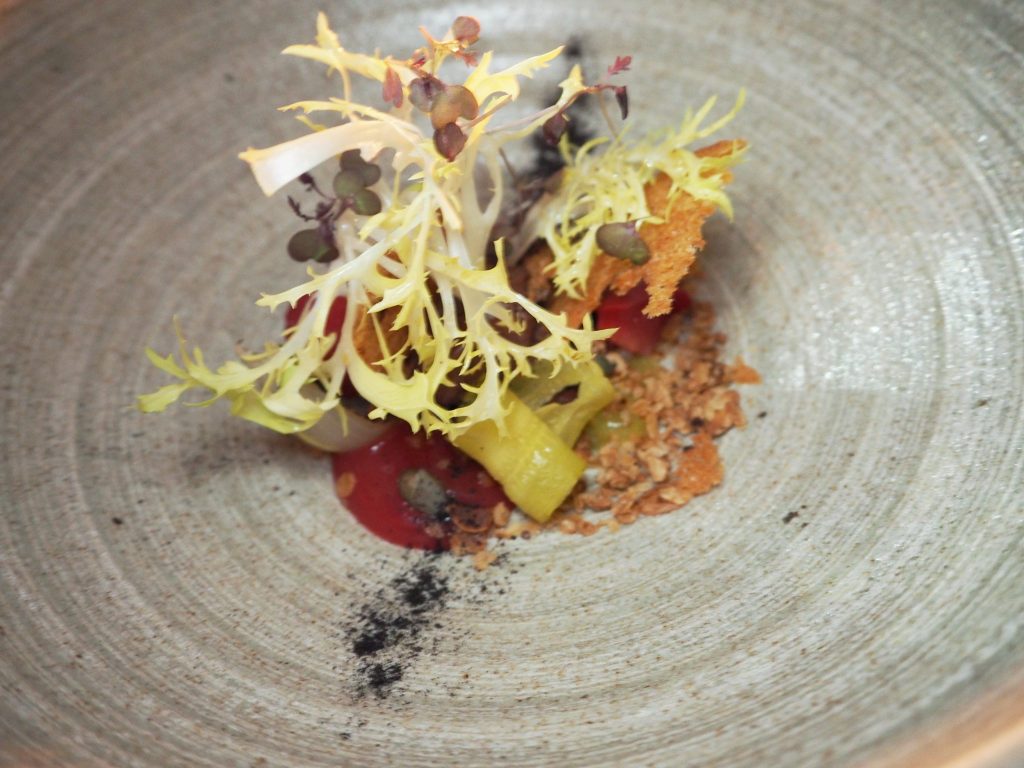 Venison | Black Pudding, Gherkin, Miso Plum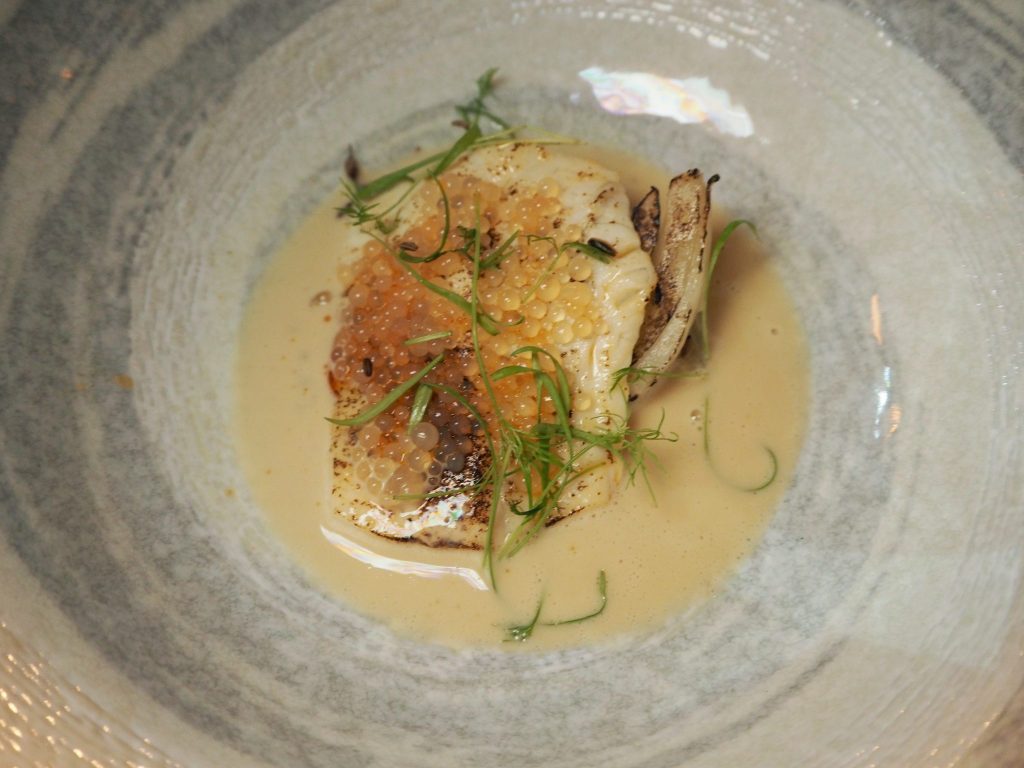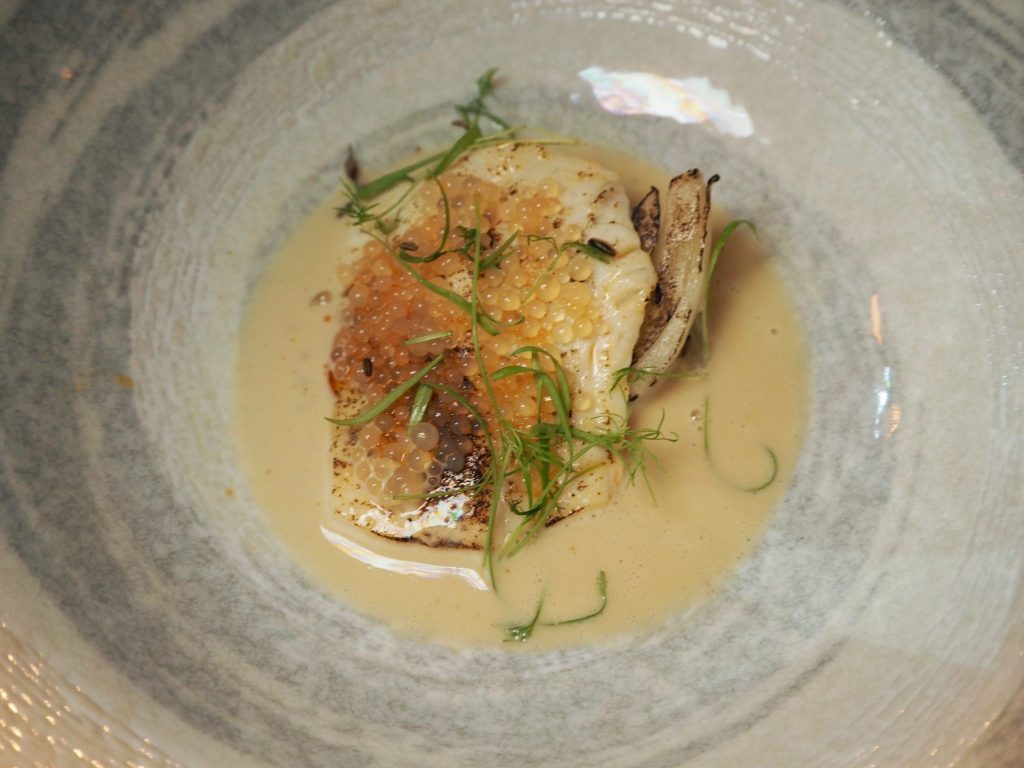 Brill | Chorizo, Seaweed, Fennel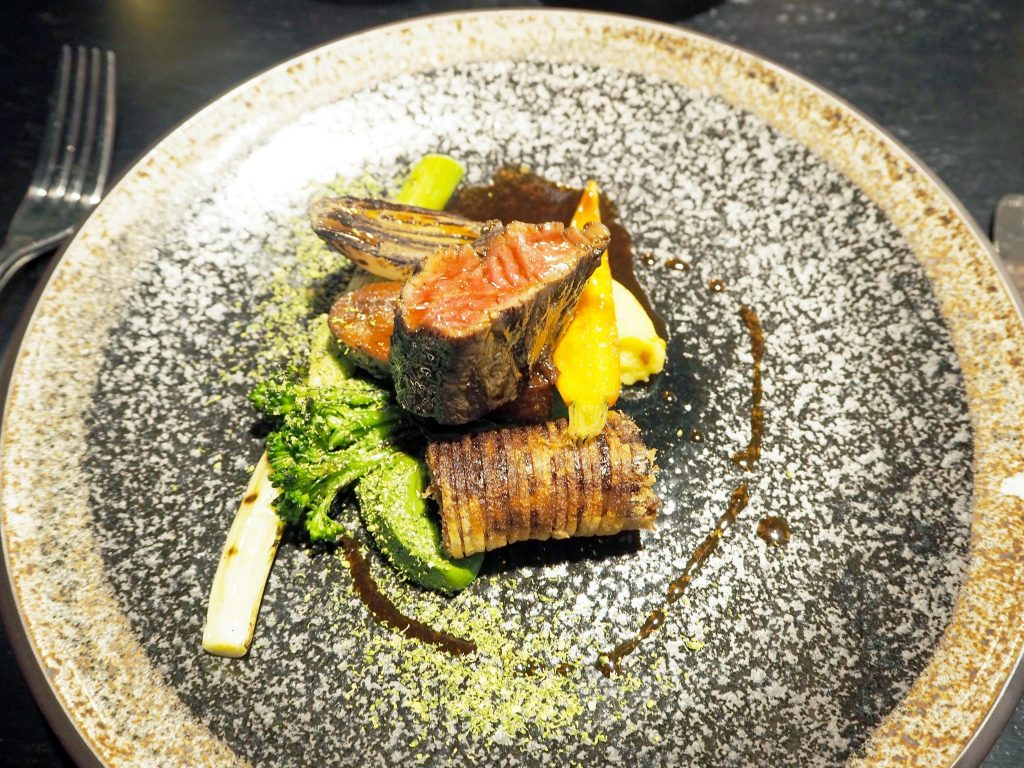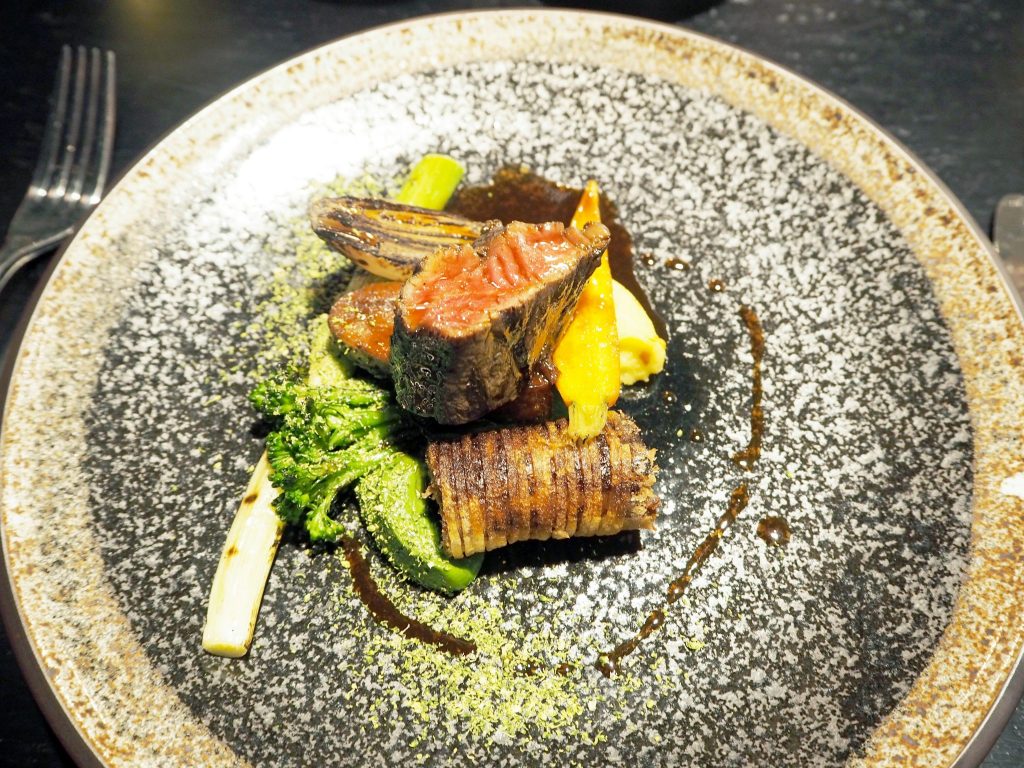 Beef | Treacle, Polenta, Burnt Onion
One of my favourite courses – the beef was incredibly tender and delicious.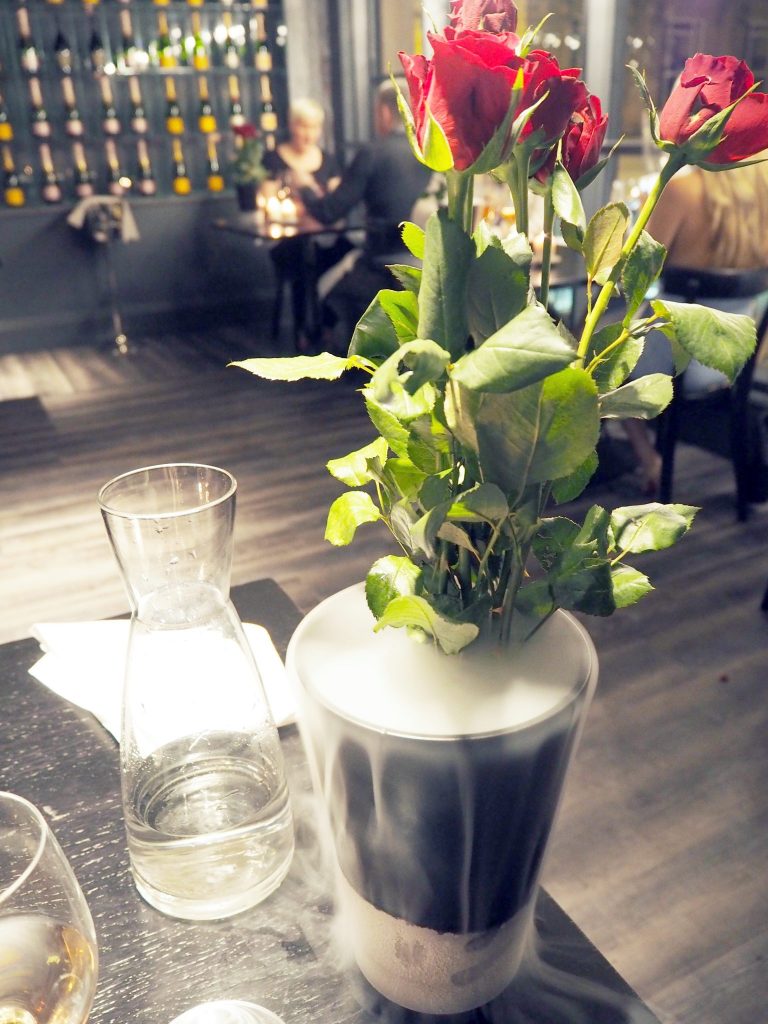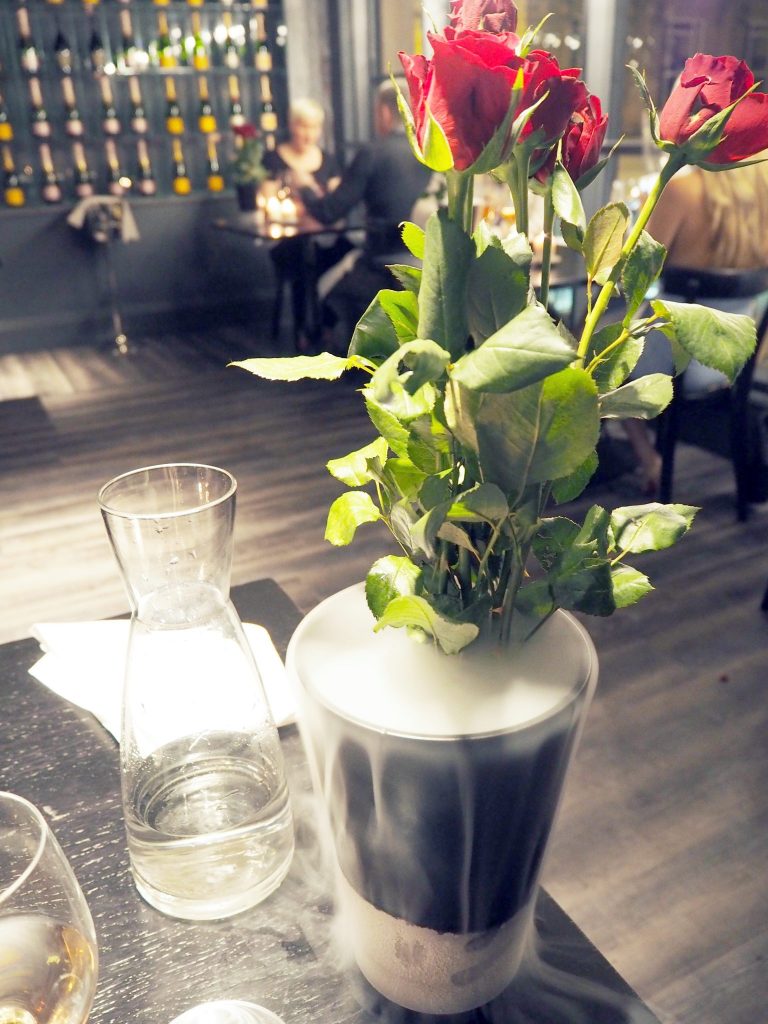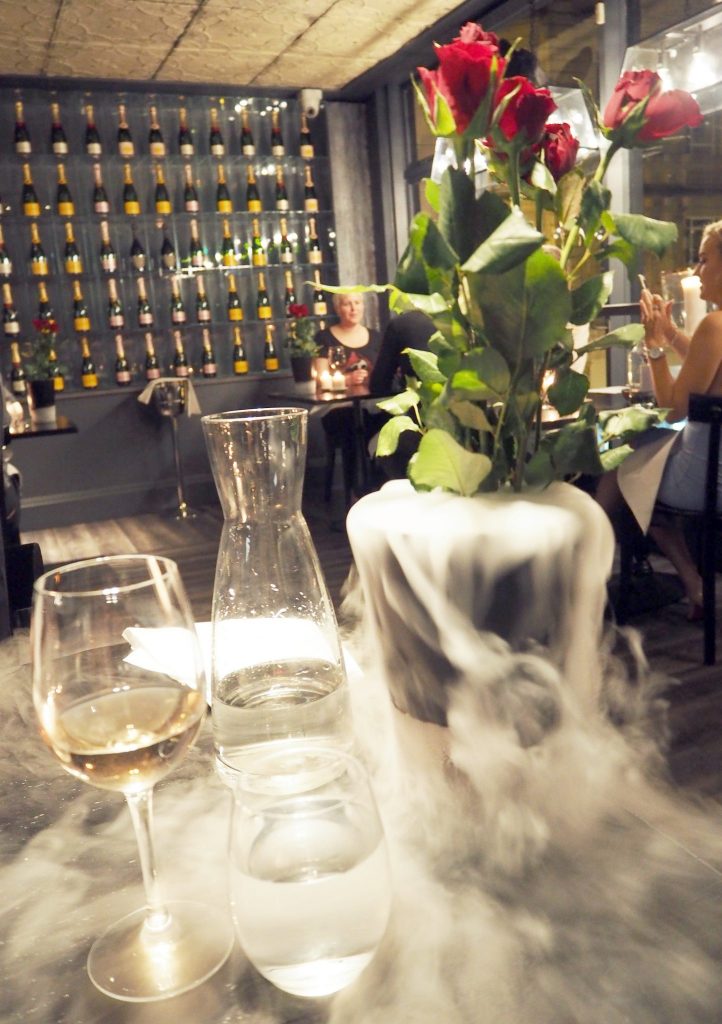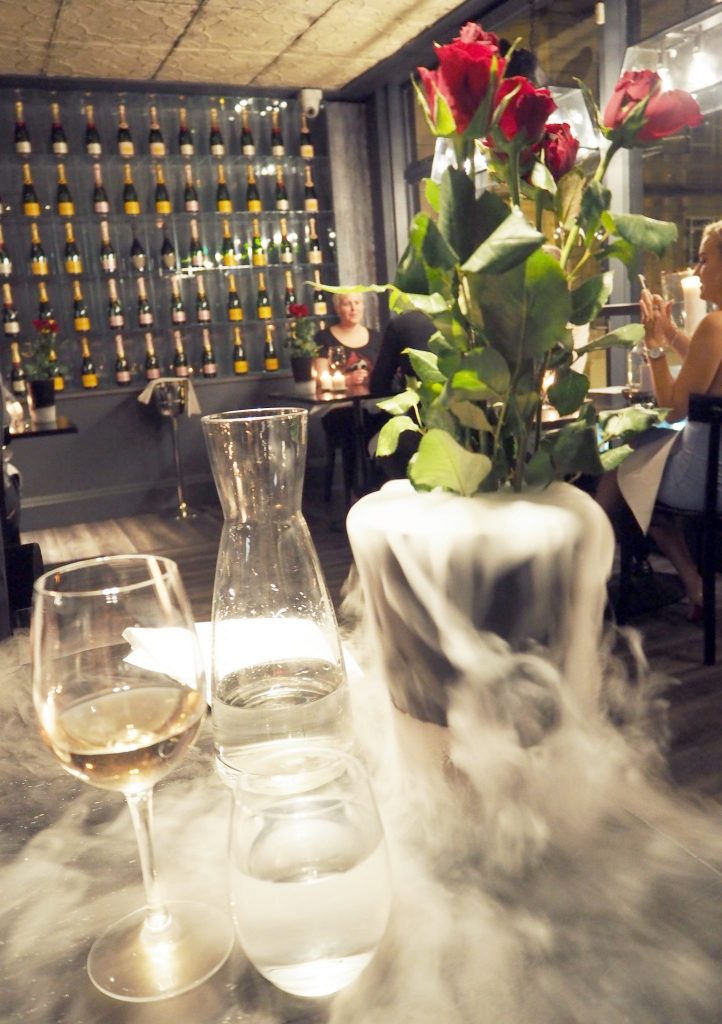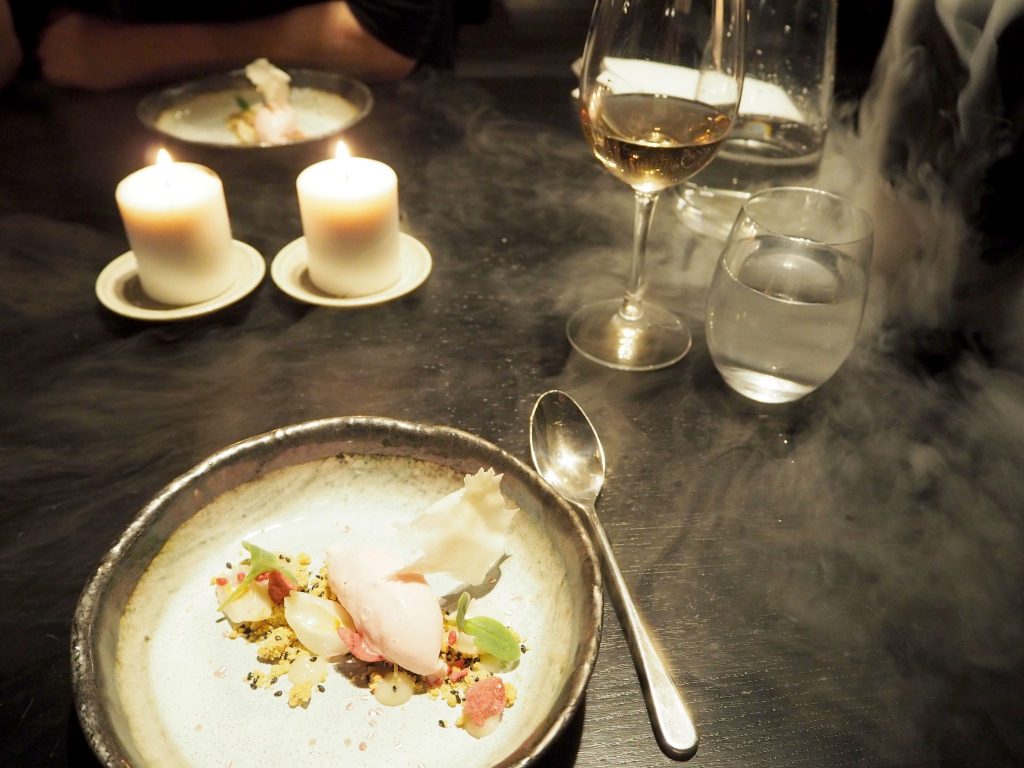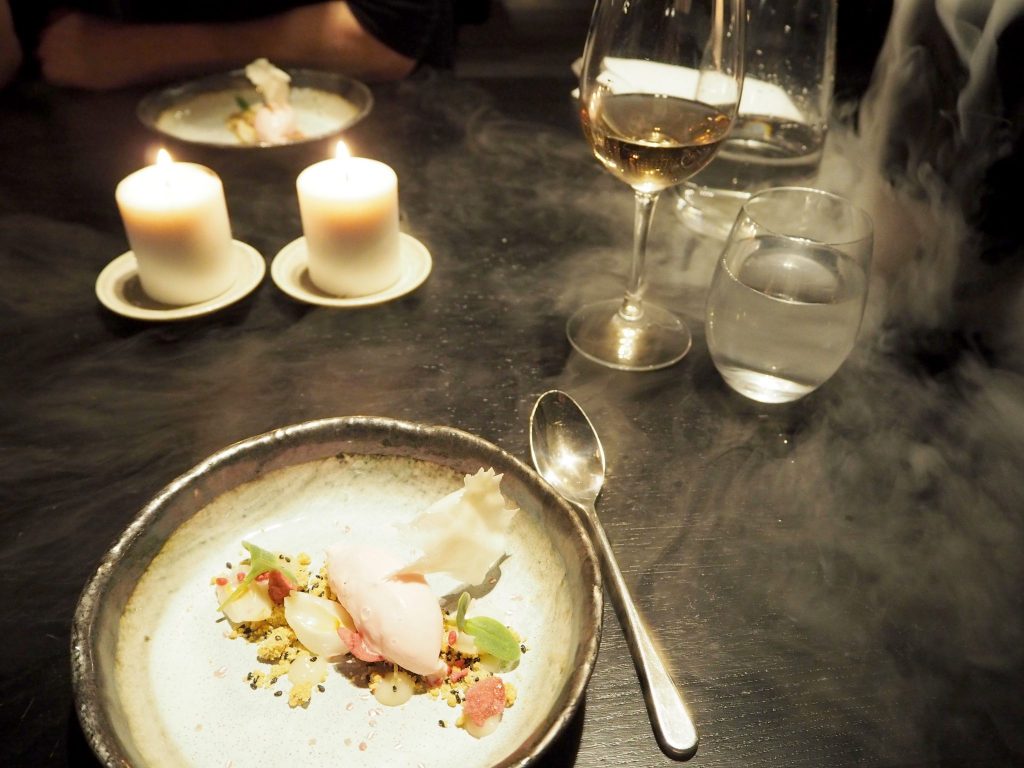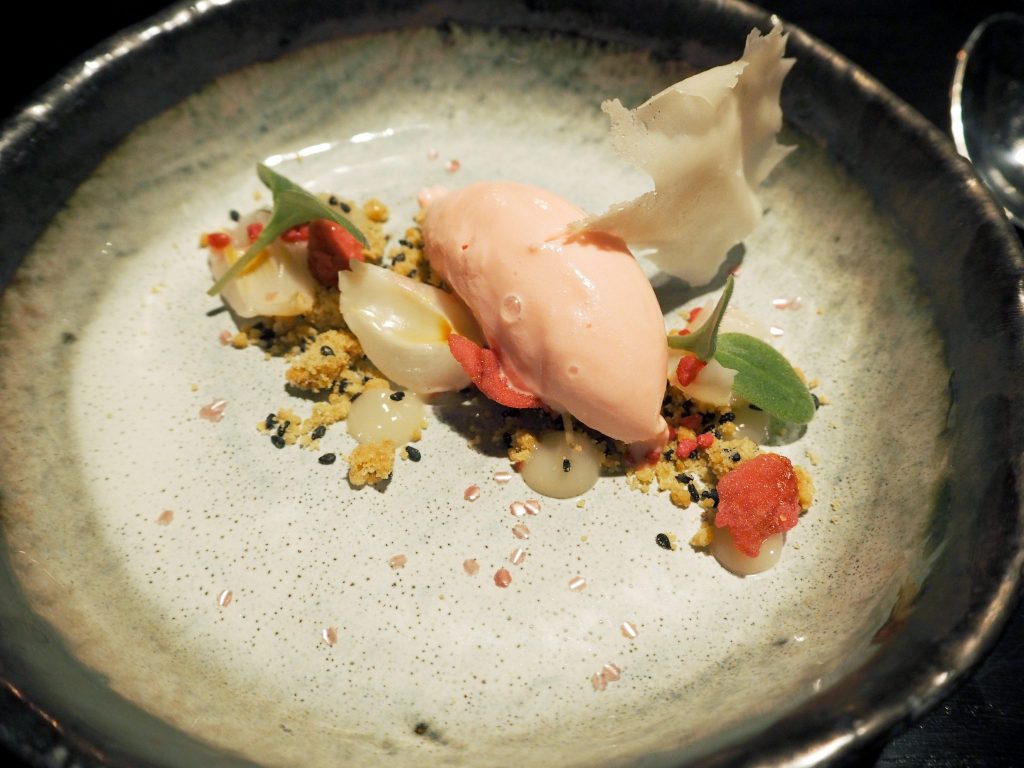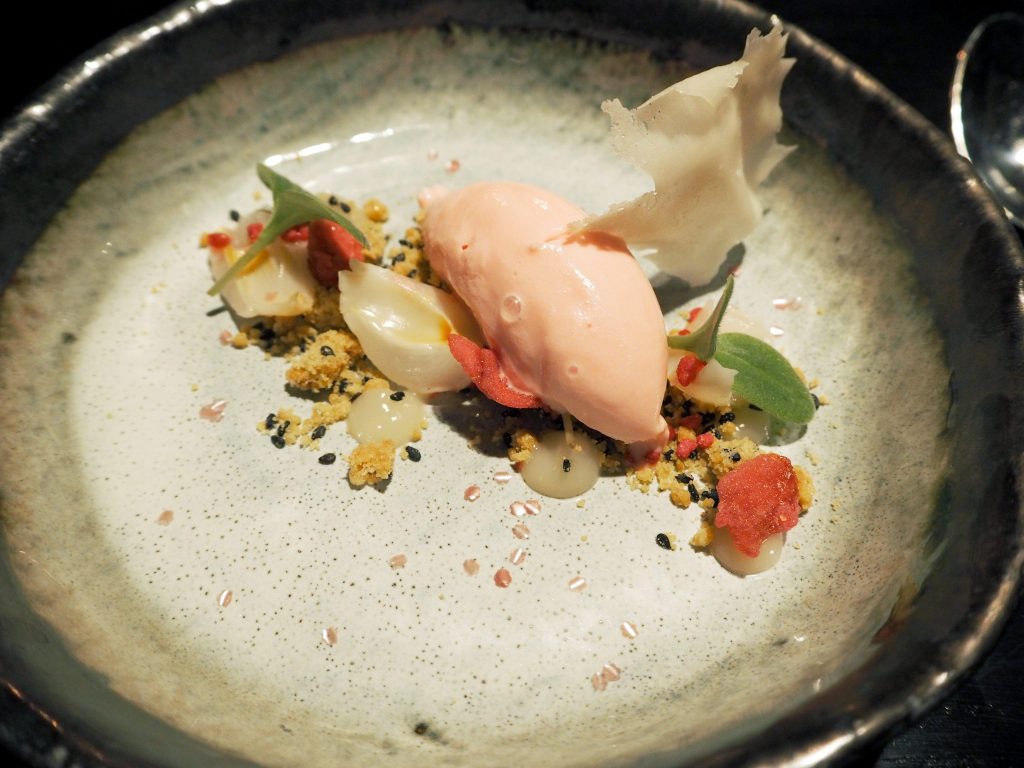 Roses | What's in a name…
This was a course for all of your senses, and each table were wowed by the thought and presentation behind it. A pot of roses was placed on the table and dry ice poured into the base, as our dessert plates were served amid the smoke. A gorgeous rose smell combined with the magical looking plant and the delicate flavours of this course made it much more than just a dessert.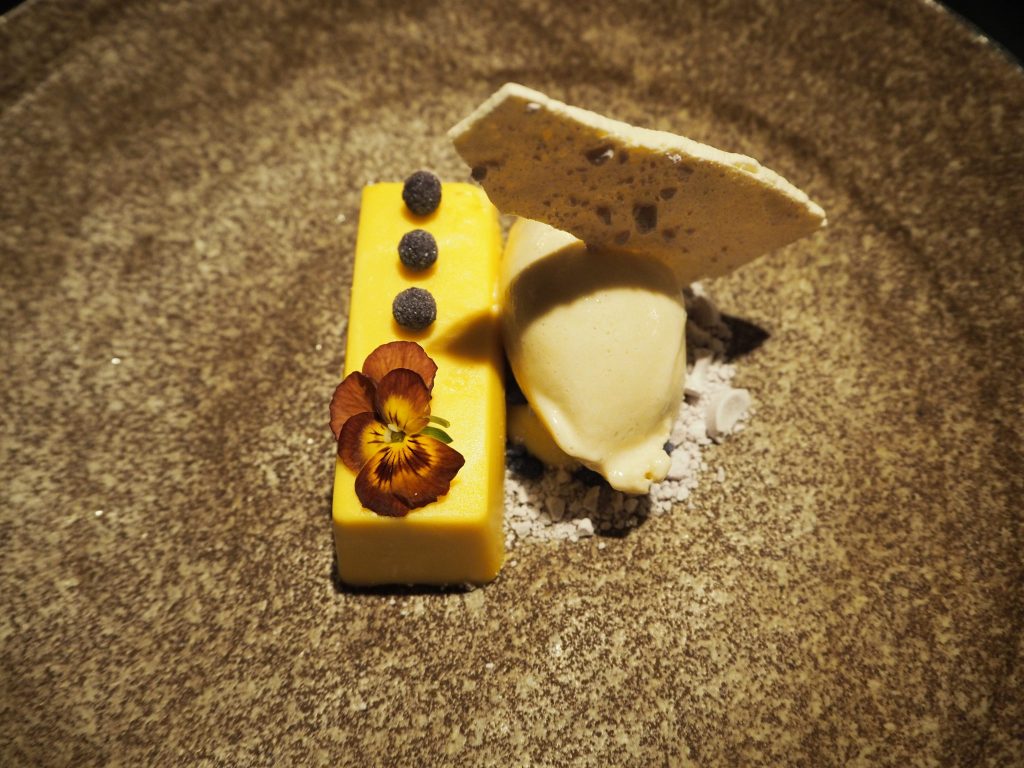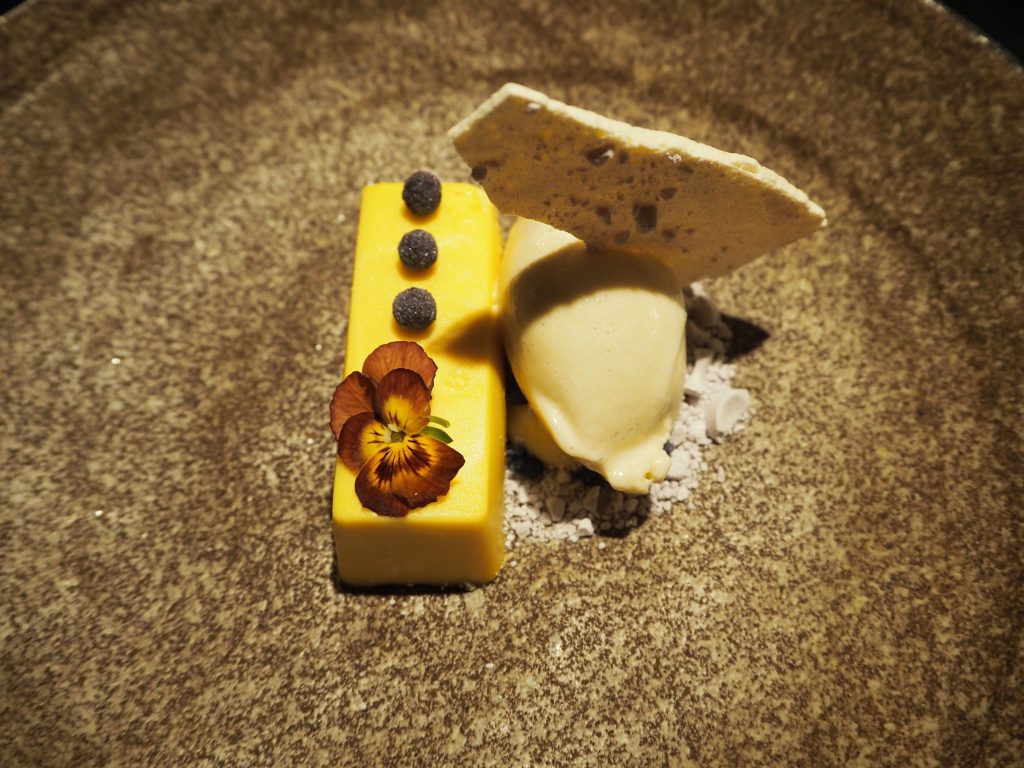 Passion Fruit | Violet, Yoghurt, Aroma
I wasn't sure what exactly the 'aroma' part of this course was, but the parma violet flavour did stand out and was a great yet unexpected accompaniment to passion fruit.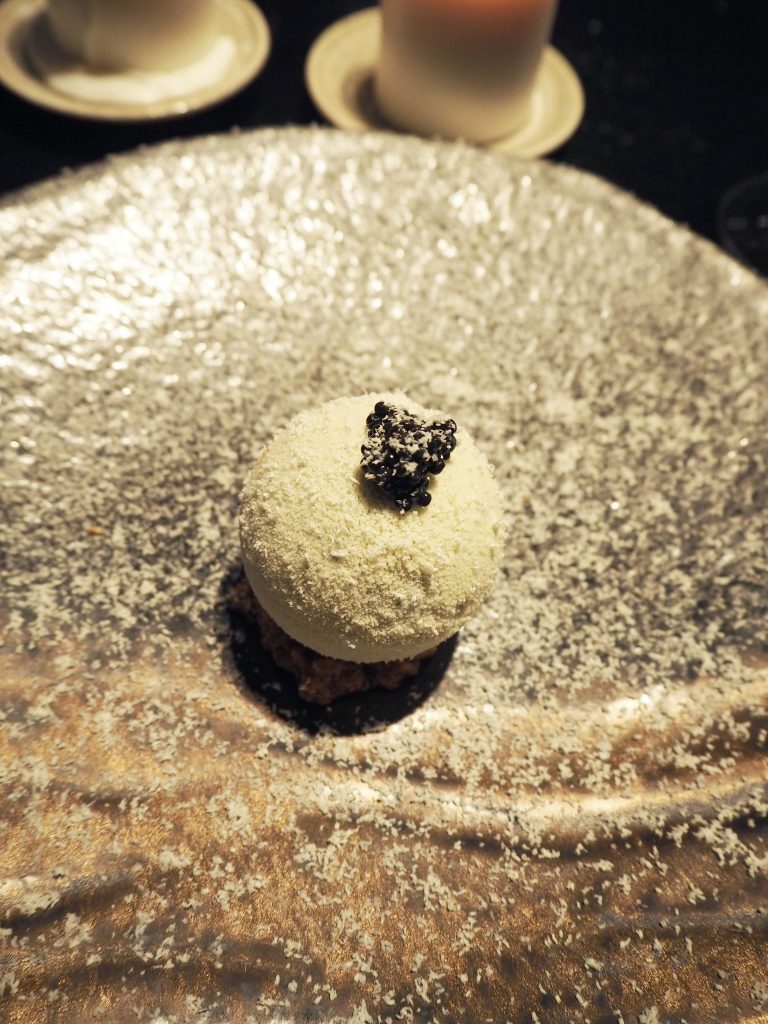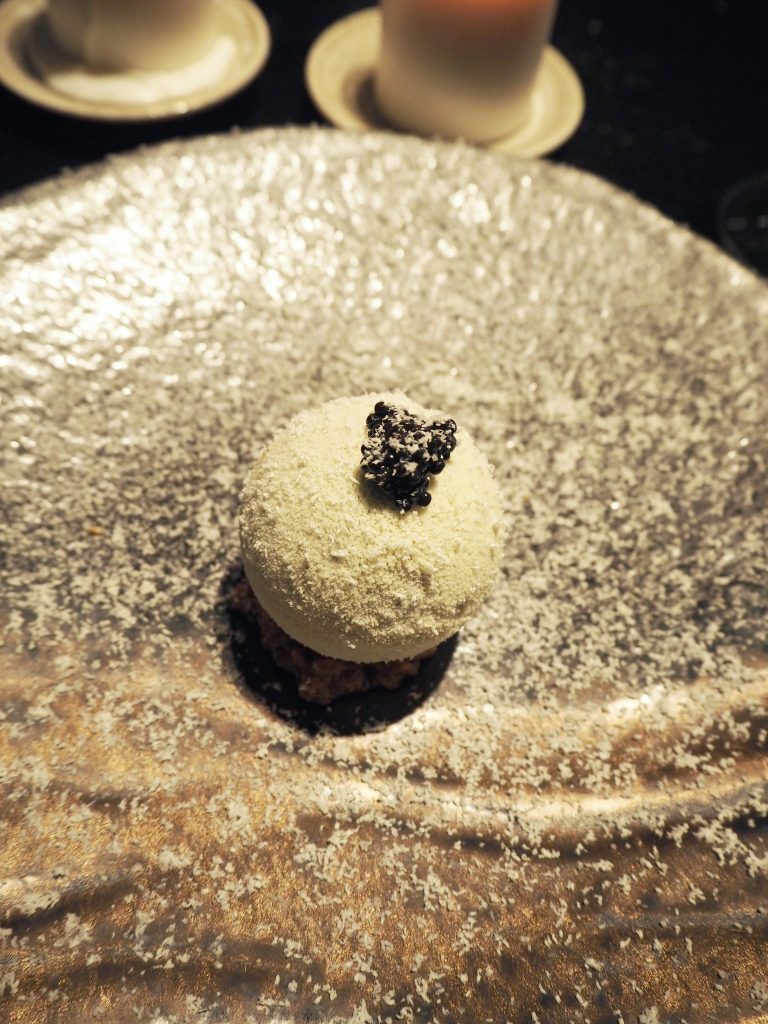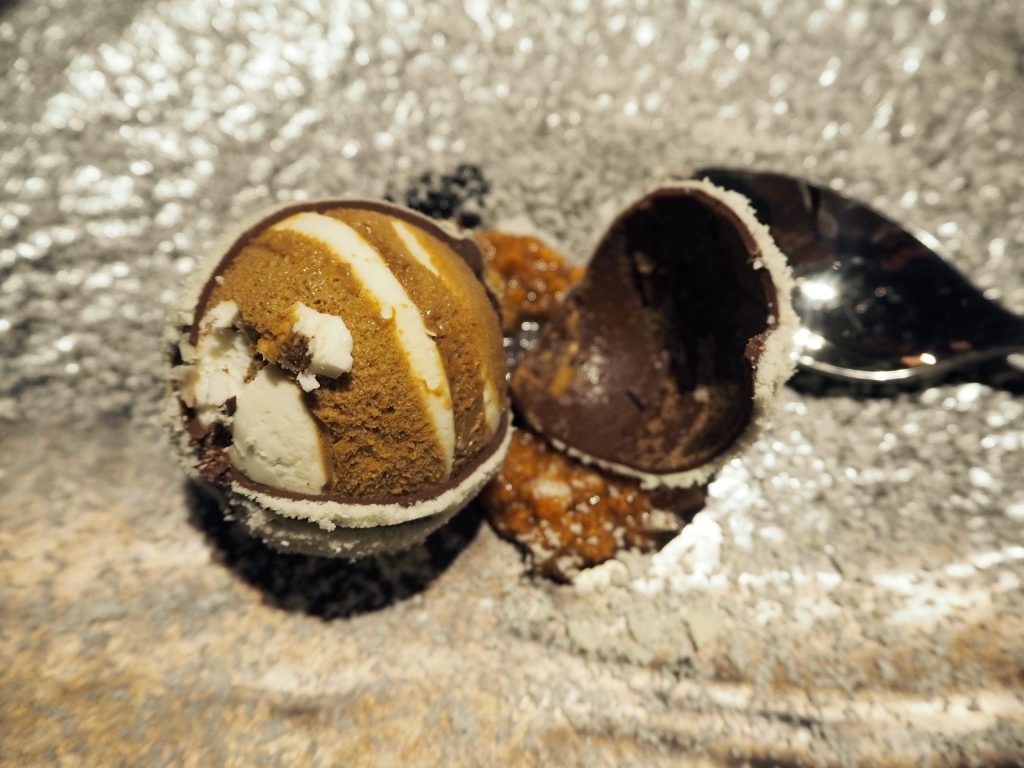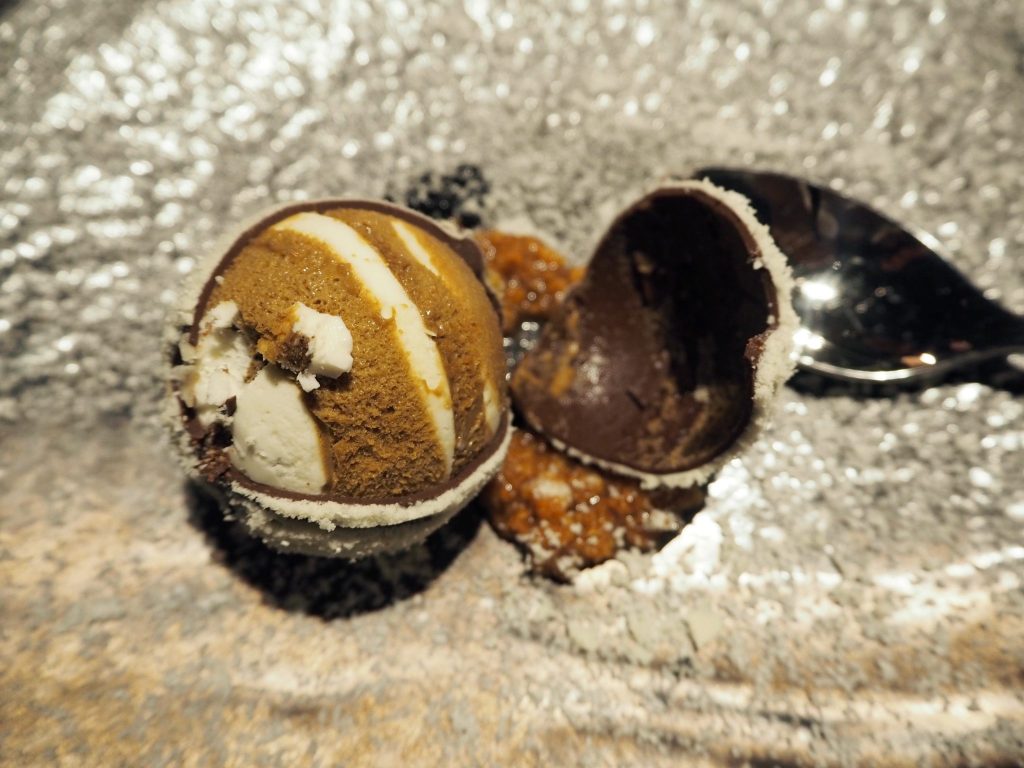 Tiramisu
One of my fave desserts is a good tiramisu, and this was just out of this world! It arrived looking like a perfect snowball in the centre of the plate, and as you crack into the outer chocolate shell, the inner layers are revealed. I was getting really full by this point but I was determined to finish every mouthful and I couldn't let this delicacy go to waste. Needless to say, it was divine.

And that completed the 10 course menu.
Overall I would actually say it was outstanding. The staff were so tentative and helpful, the food was just amazing and the whole thing was more of an experience than just dinner – which is exactly what you would hope for from a tasting menu like this.
One small downside that I didn't mention earlier was that part way through, the power went out in the restaurant. Understandably this was a big challenge for them, especially on their Valentines evening, but all of the staff did their upmost to keep the experience going and make sure everyone was comfortable and informed. We got extra candles immediately and then a free glass of pink bubbles to keep us going. It was of course a little disappointing and did add extra time onto what was already a long night, but it wasn't the restaurant's fault and they did their best to make sure that it didn't affect the experience.
So aside from the power shortage, it was a spectacular evening. We were there for a full 5 hours, which did start to feel a bit drawn out towards the end but that was only due to the unexpected power issues and nothing that could be helped or avoided.
I would highly recommend trying Quill out, especially if you love fine dining. It was an unforgettable experience and I rate the restaurant really highly on every single aspect; from the food itself, to the service, atmosphere and experience as a whole.
Have you been to Quill? Are there any other amazing restaurants in Manchester I should try out?
LL x