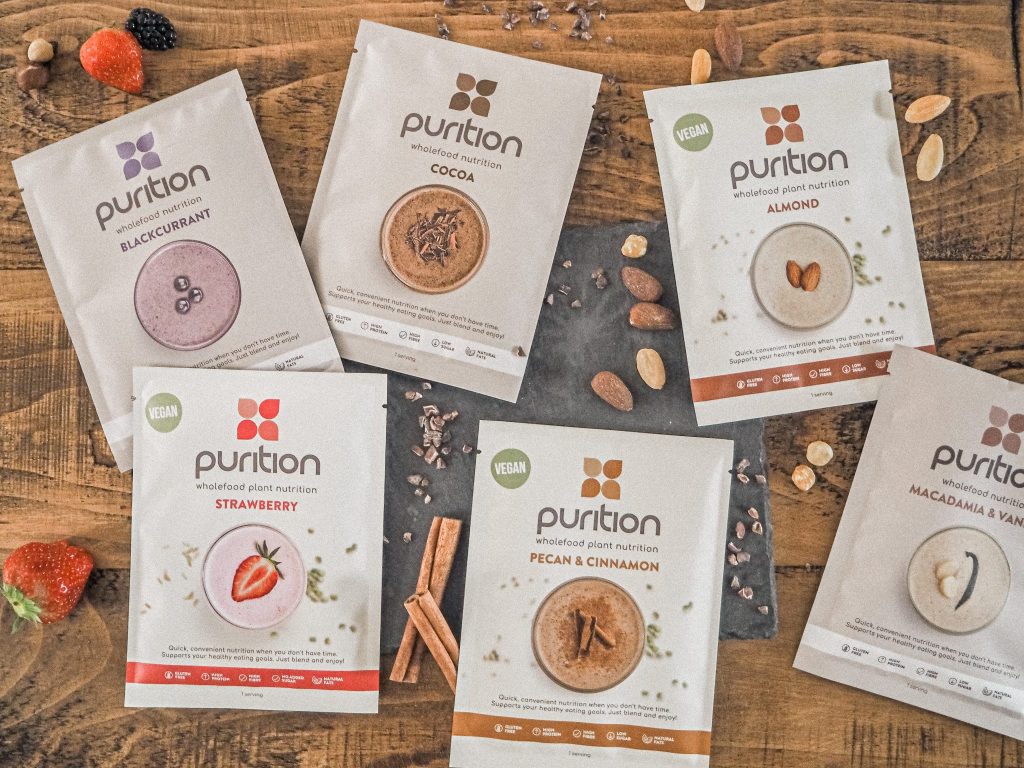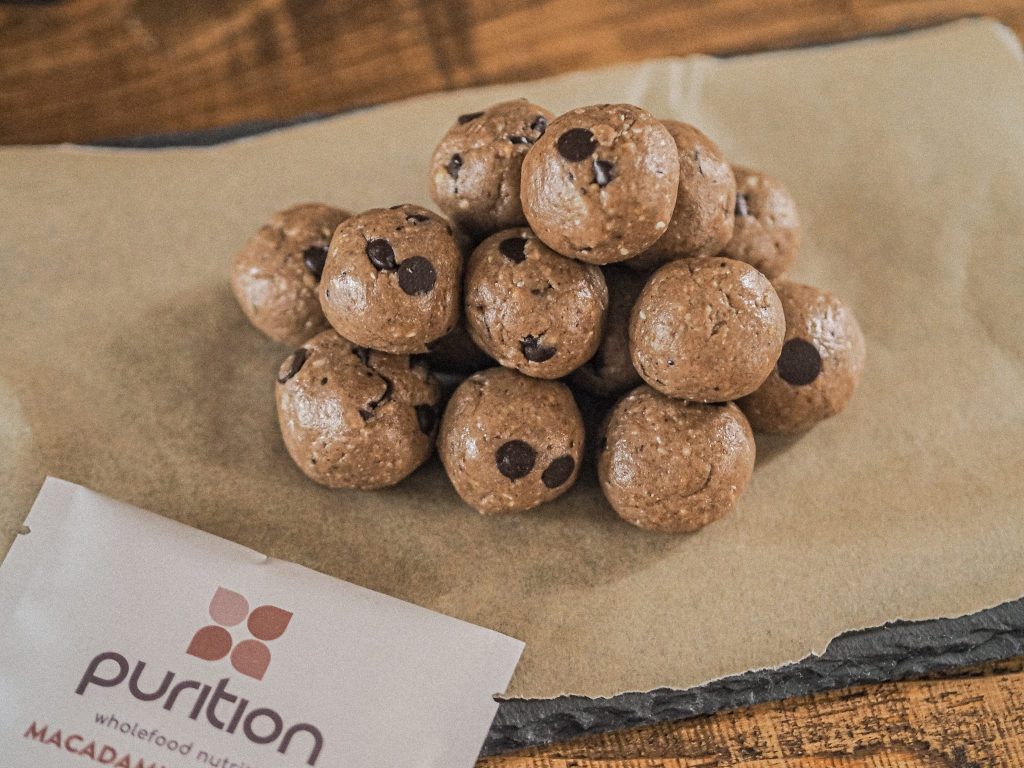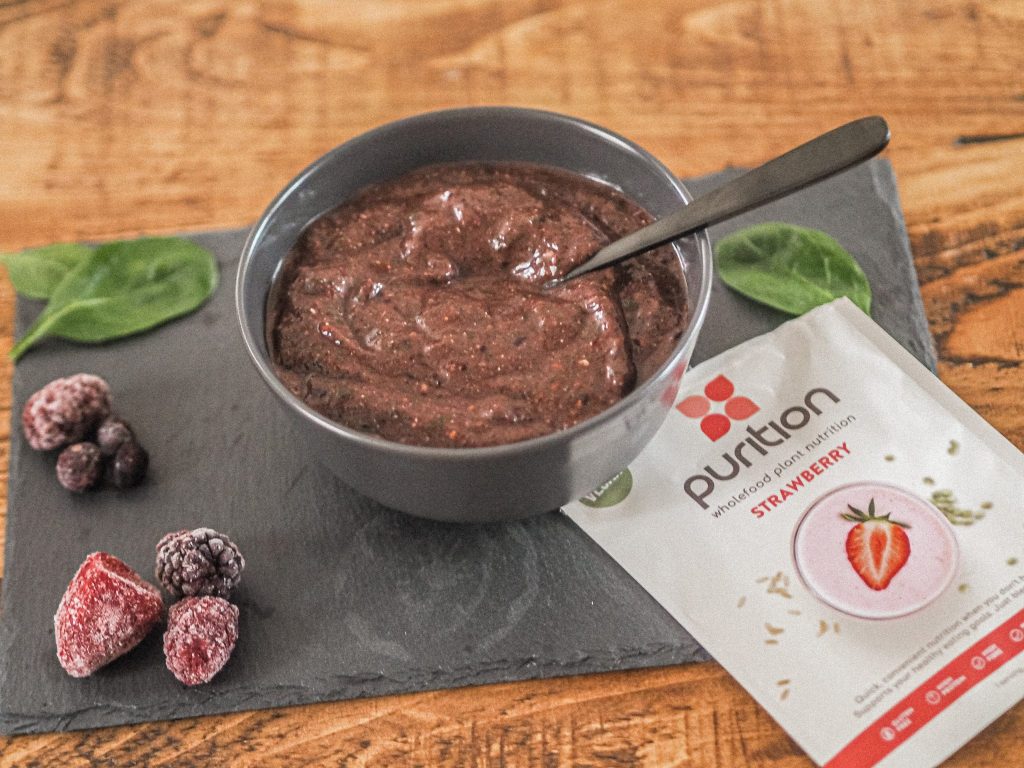 Purition
Purition recently sent me some of their products to try, and with the new year and plenty of people trying to make some healthier choices after Christmas indulgence, I thought it would be the perfect time to put together some healthy recipe ideas you can try if you're fancying a sweet treat.
What is Purition?
Purition is a real food shake made from wholefood ingredients, namely seeds and nuts. They provide a natural alternative to ultra-processed and refined protein and meal shakes. Their wholefood powders can be blended up into a quick and healthy breakfast or post-workout shake or smoothie bowl, mixed into porridge or baked into healthy protein snacks. Purition is high in protein, fibre, healthy fats and naturally occurring vitamins and minerals, but low in sugar and carbohydrates.
Purition also only contains natural flavour ingredients like freeze dried strawberries, cocoa and vanilla pods. This means it's more subtle and less sweet than regular protein shakes, but much better for you! If you'd like it a little sweeter, consider adding some maple syrup, a third of frozen banana or some low sugar fruit such as berries. They have vegetarian and vegan ranges that are sourced locally wherever possible.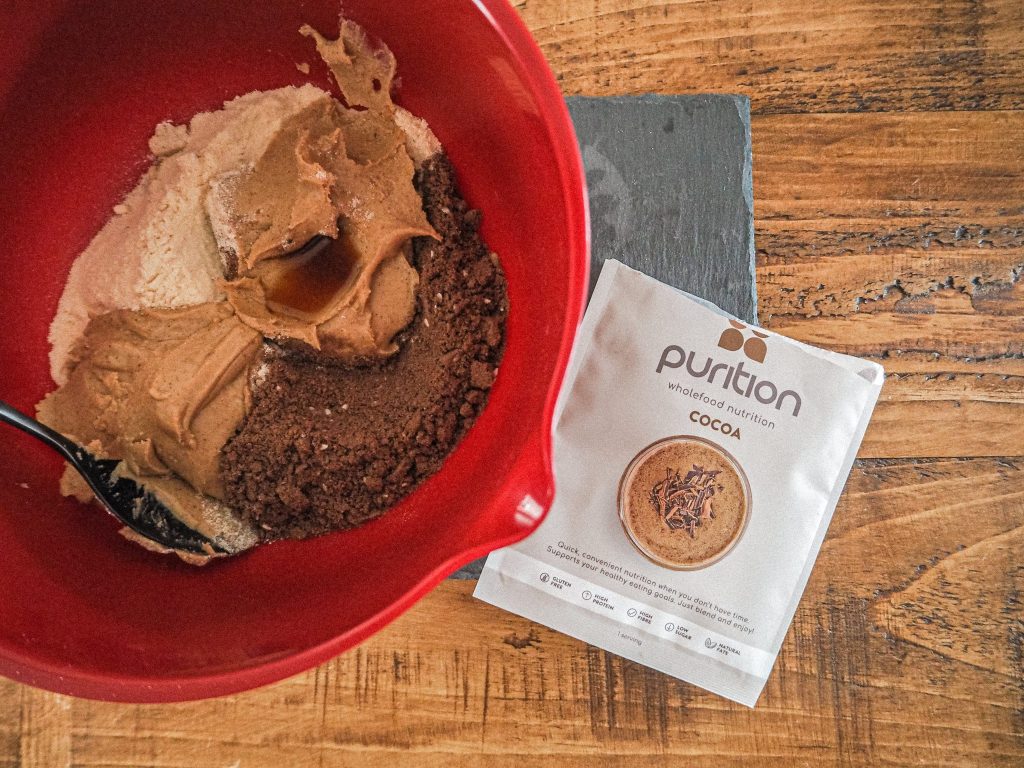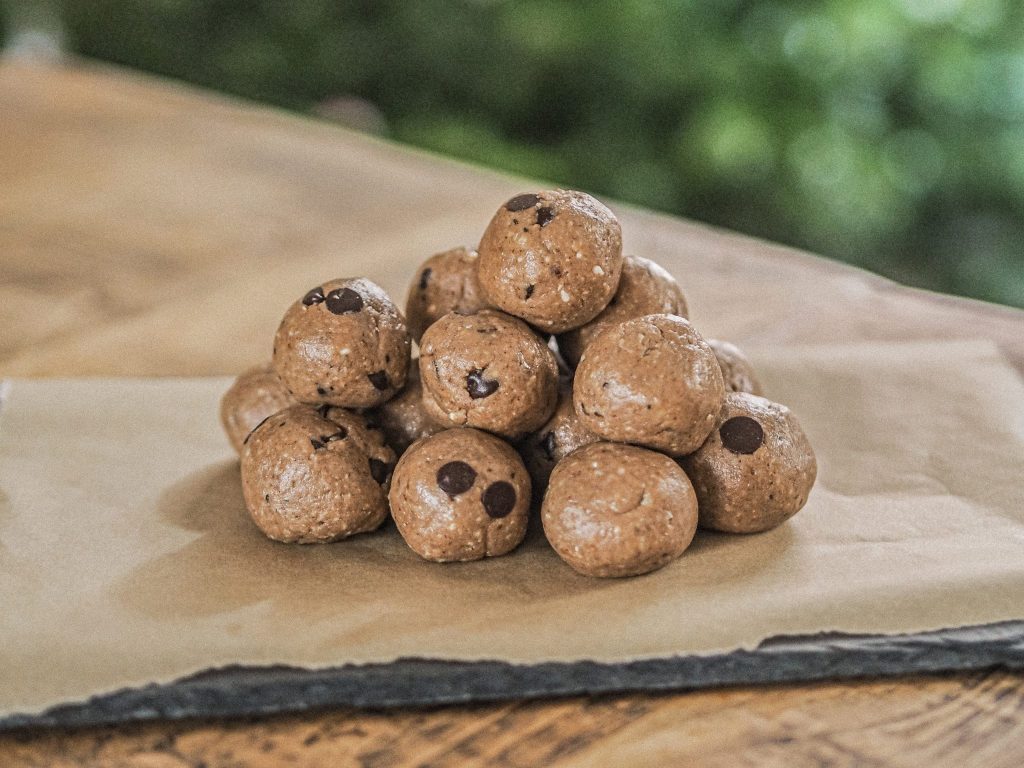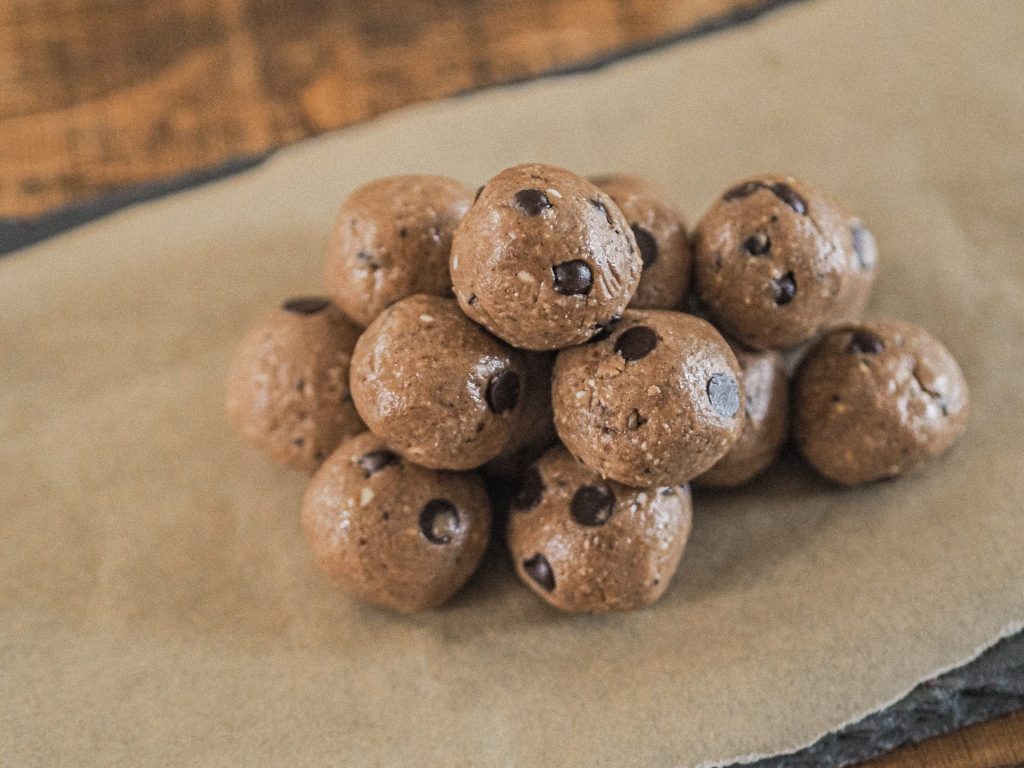 Cookie Dough Bites
First up we have these raw cookie dough bites. These are great for snacking on, or as a tasty dessert alternative.
Ingredients
– 50g Oat Flour
– 50g Almond Flour
– 1 Sachet Vanilla or Cocoa Purition
– 1 Tsp Vanilla Extract
– 150g Smooth Peanut Butter
– 1 Tbsp Coconut Oil
– 1 Tbsp Agave Syrup (you can also use maple syrup or honey)
– 50g Chocolate Chips (or the whole bag)
Method
This is a super simple one! Mix everything together in a mixing bowl then fold in your chocolate chips. You should be able to pick up chunks and roll them into balls with your hands. (If they are too dry, just add some more syrup or a splash of milk). Roll into 15 biteseize balls and place on a tray lined with baking paper. You can freeze them to speed up the process or just keep in the fridge. For a slightly more indulgent option, dip in chocolate once set!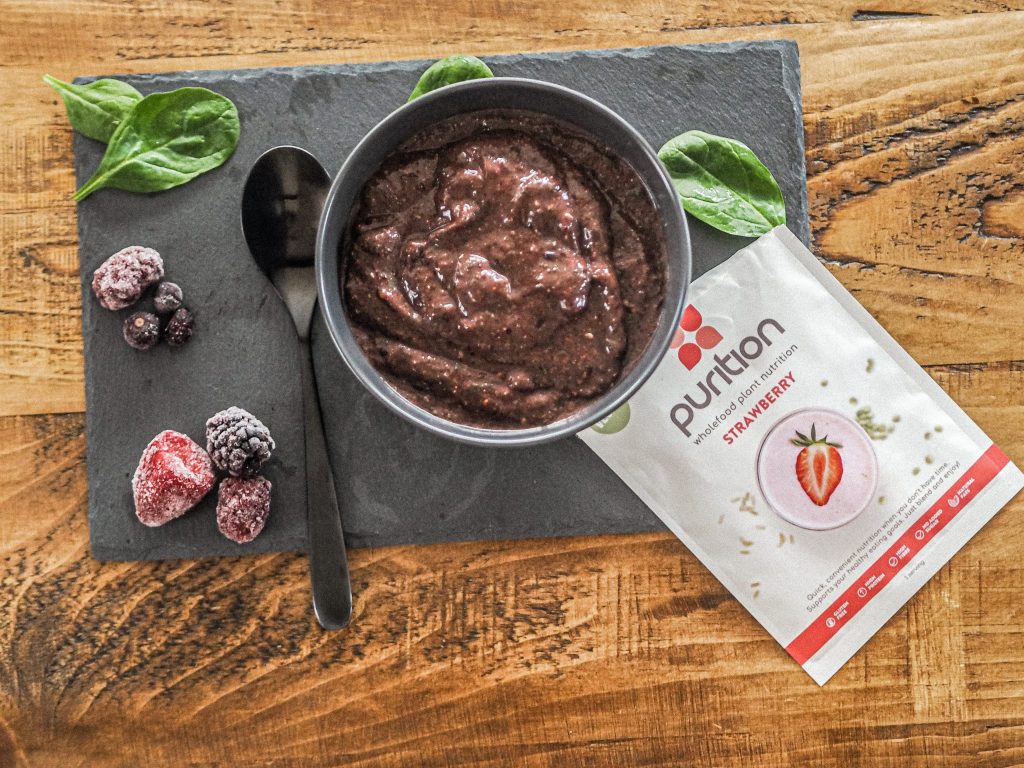 Purition Breakfast Smoothie Bowl
This one is more of a breakfast meal, but you could also have it as a dessert and switch up the berry Purition for a cocoa or vanilla flavour and top with peanut butter or chocolate chips.
Ingredients
– 100g Berries
– 50g/Half a Banana
– Handful Spinach
– Sachet Strawberry Purition
– 150ml Water or Milk
Method
Another easy one; this just requires adding all of the ingredients into a blender a blitz until smooth! It should be thick enough to eat with a spoon from a bowl, rather than more liquid-y like a smoothie to drink. You can change up the fruit depending on what you like but this is my favourite combo. The banana gives a thick, creamy texture that makes it more like ice cream. Also feel free to decorate with more fruit, nuts and seeds or peanut butter!
Review
I don't tend to drink shakes, and prefer to mix protein or superfood powders into healthy meals or snacks like this. I do find them to be less sweet than other, more artificial protein powders. However I don't mind this at all as I know that all the ingredients are natural, and adding them into sweeter dishes combats this anyway!
I'll be trying to make a few more of these as we head into the new year. Once I've eaten all the chocolate first obvs! I never "diet" but I do like to try and incorporate more healthier options into my daily meals as my Christmas diet has a severe lack of nutrients and vitamins!
Let me know if you try any of these recipes. You can visit the Purition site here to shop.
LL x
*These products were gifted. As ever, all opinions are my own.