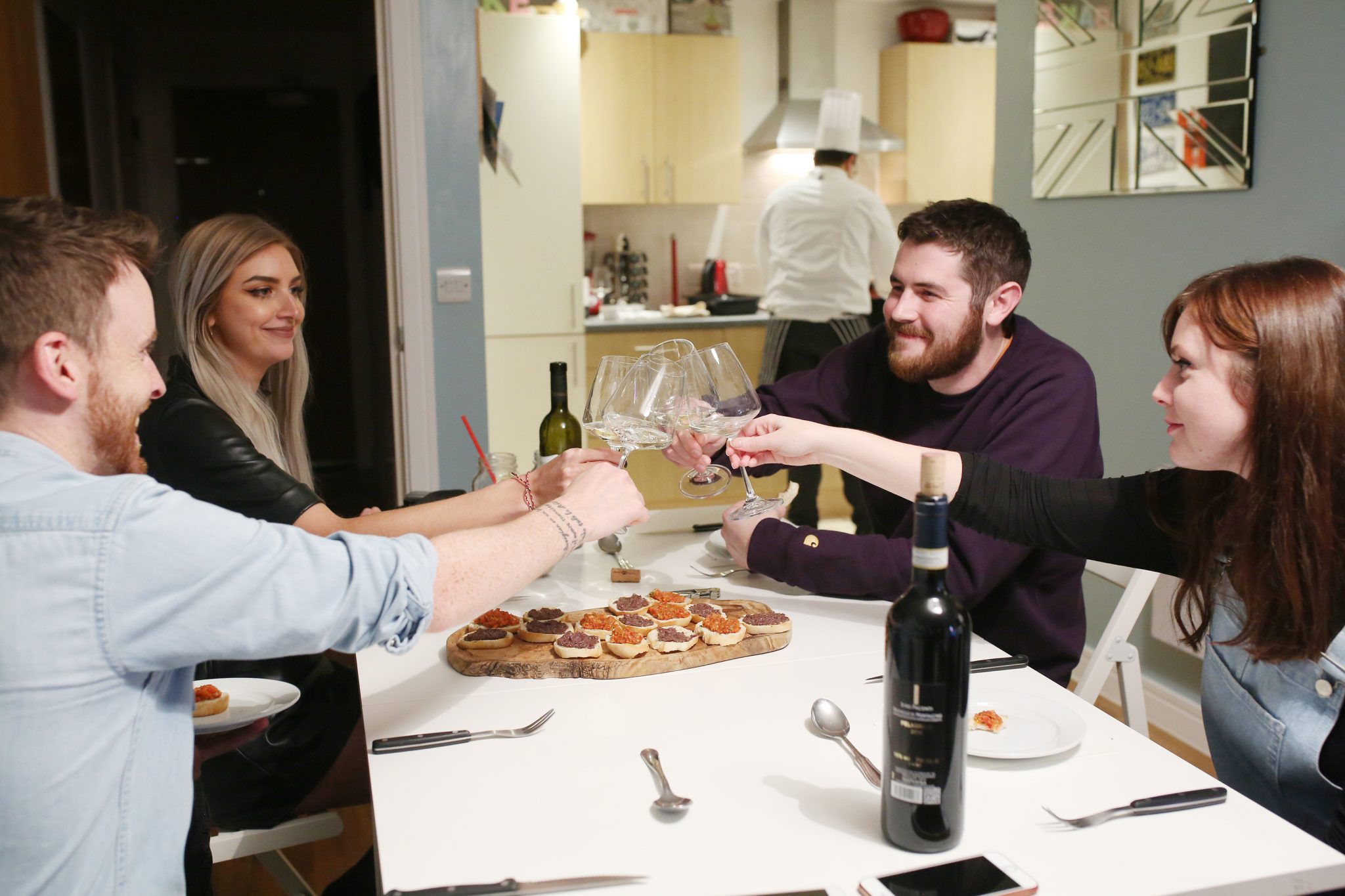 Eating delicious food with friends? I'm there. Dinner parties? Love them. A dinner party where no work is required and the food is restaurant quality, all in the comfort of your own home? Absolutely tell me more immediately.
That was my response when I heard about La Belle Assiette – a company who take care of your dinner party for you; providing the finest chefs who buy only the best ingredients, cook in your kitchen, serve each dish, and then do the honours of tidying up before they leave. What isn't to love about that?
If you follow me on social, you may have seen my recent dinner party with La Belle Assiette on Instagram Stories. I got a tonne of questions about it and the night was absolutely amazing so I just had to share the details with you guys.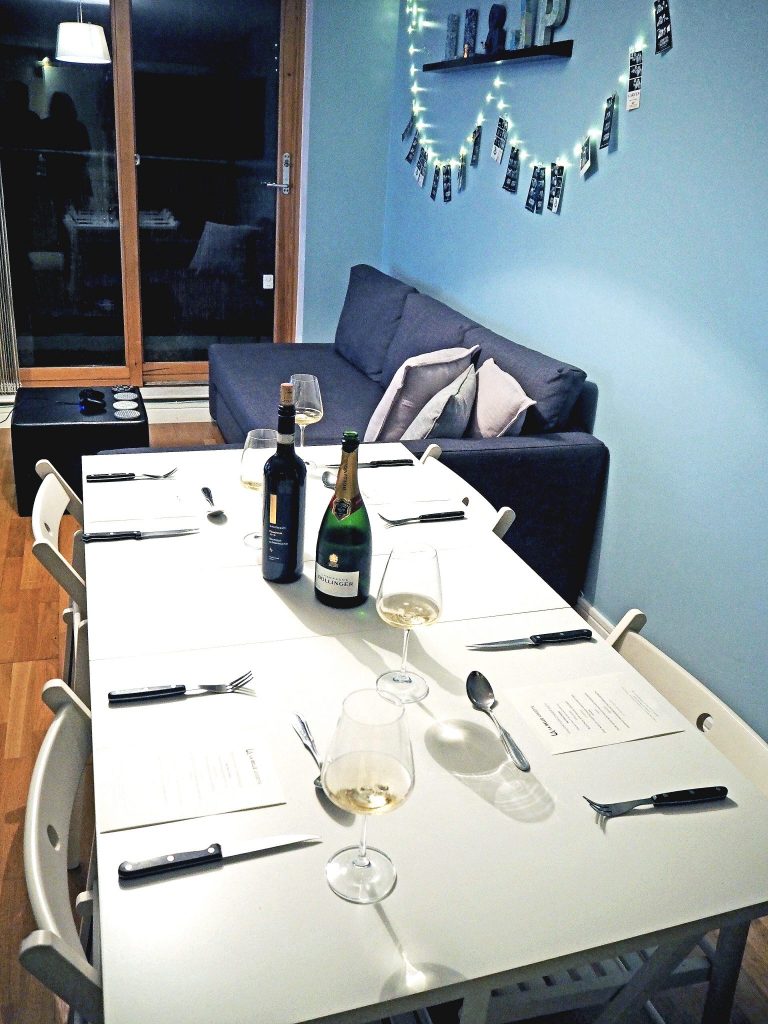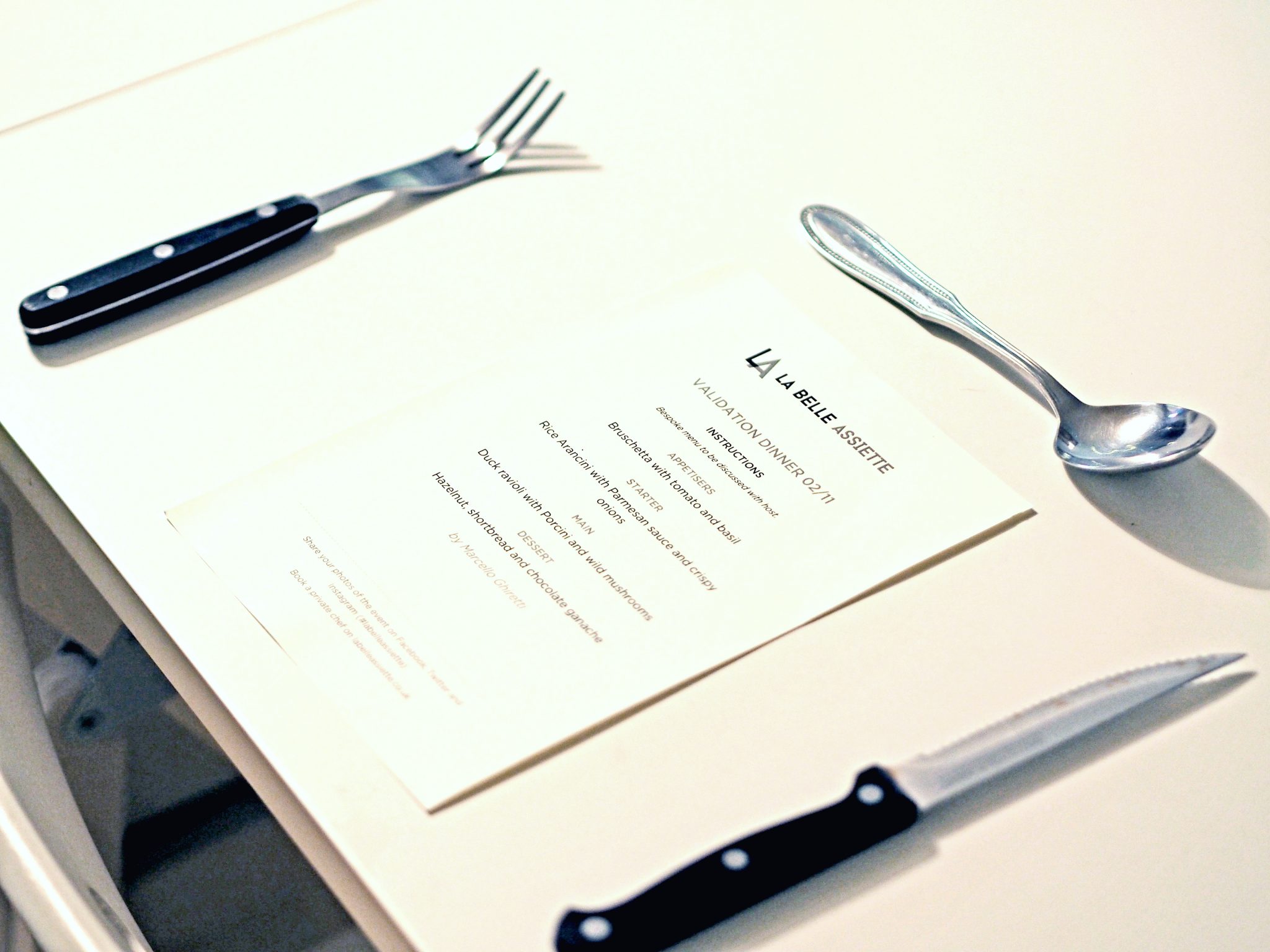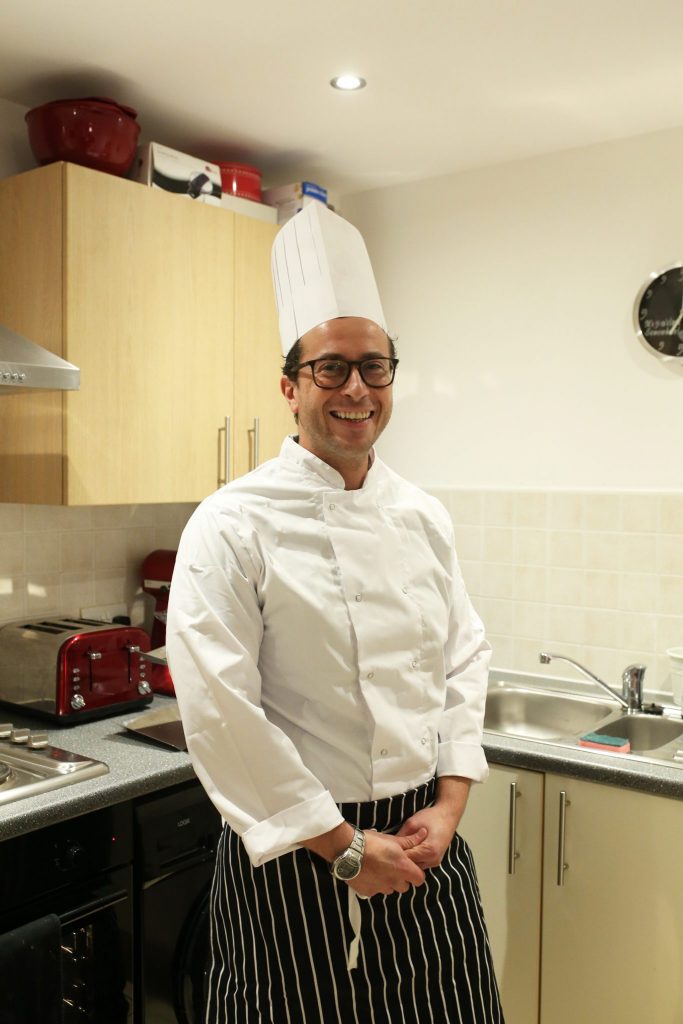 La Belle Assiette offer three prices to fit a range of budgets and occasions – Temptation (£39 a guest), Prestige (£59 a guest), and Signate (£89 a guest). Within these levels there is currently a total of 350 chefs and an incredible 1950 different menus to choose from, so you can be sure that there will be a cuisine and menu you love for your dinner.
Our chef was the lovely Marcello, who was brilliant and so easy to work with from the moment I booked in my dinner party with LBA. He called me to discuss menus and what he could offer, talked me through a range of options, and we discussed the menu over text message leading up to my dinner party to ensure everything was on track, and we were both happy with the food for the evening.
When planning your event, you can provide all of your guests' information to La Belle Assiette, so they can send notifications and updates on your evening, view the menu online, as well as leave any feedback they have afterwards. My menus were also sent out in the post the week before my dinner party, so I could add them to my table setting. These little extra touches really make the event feel special.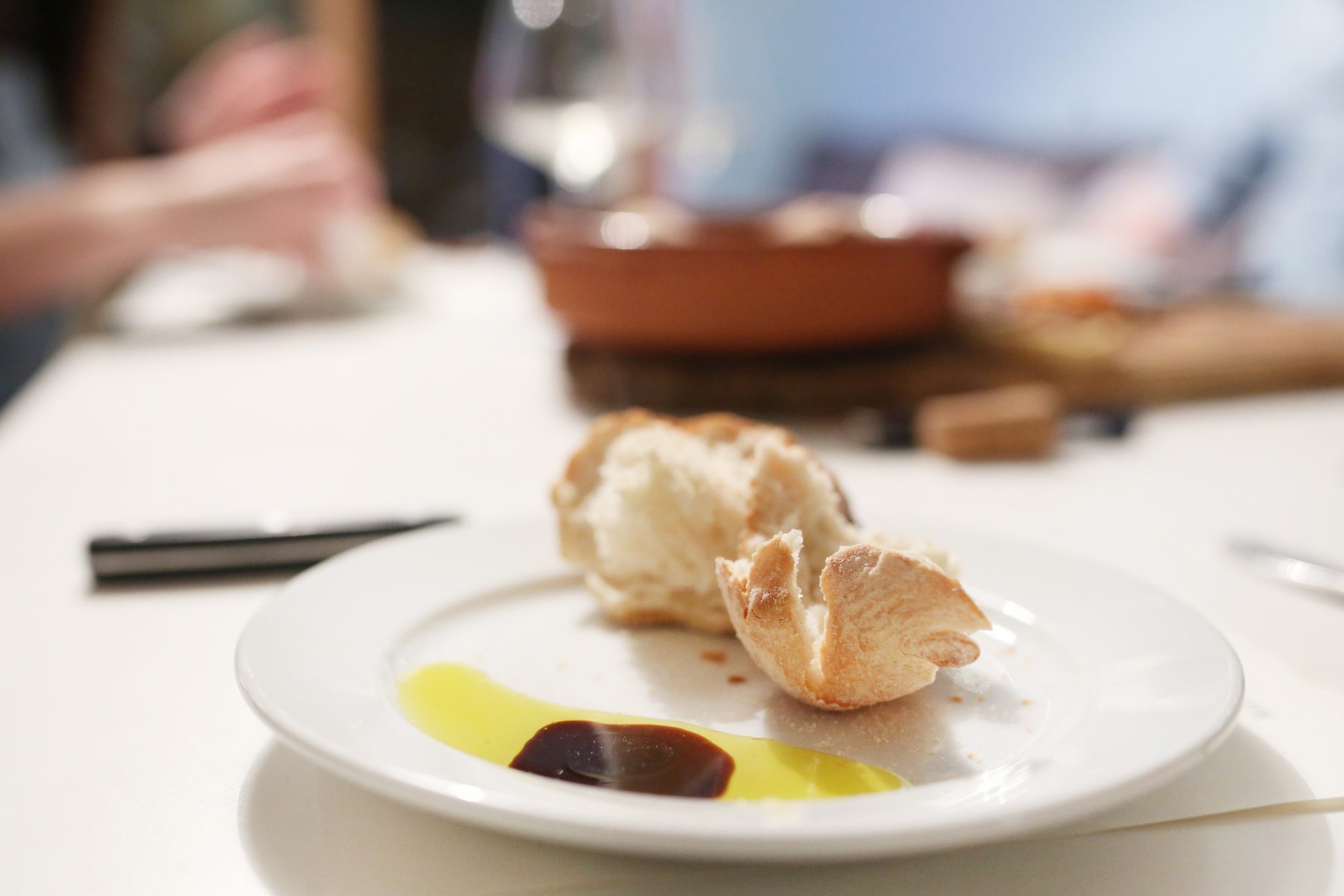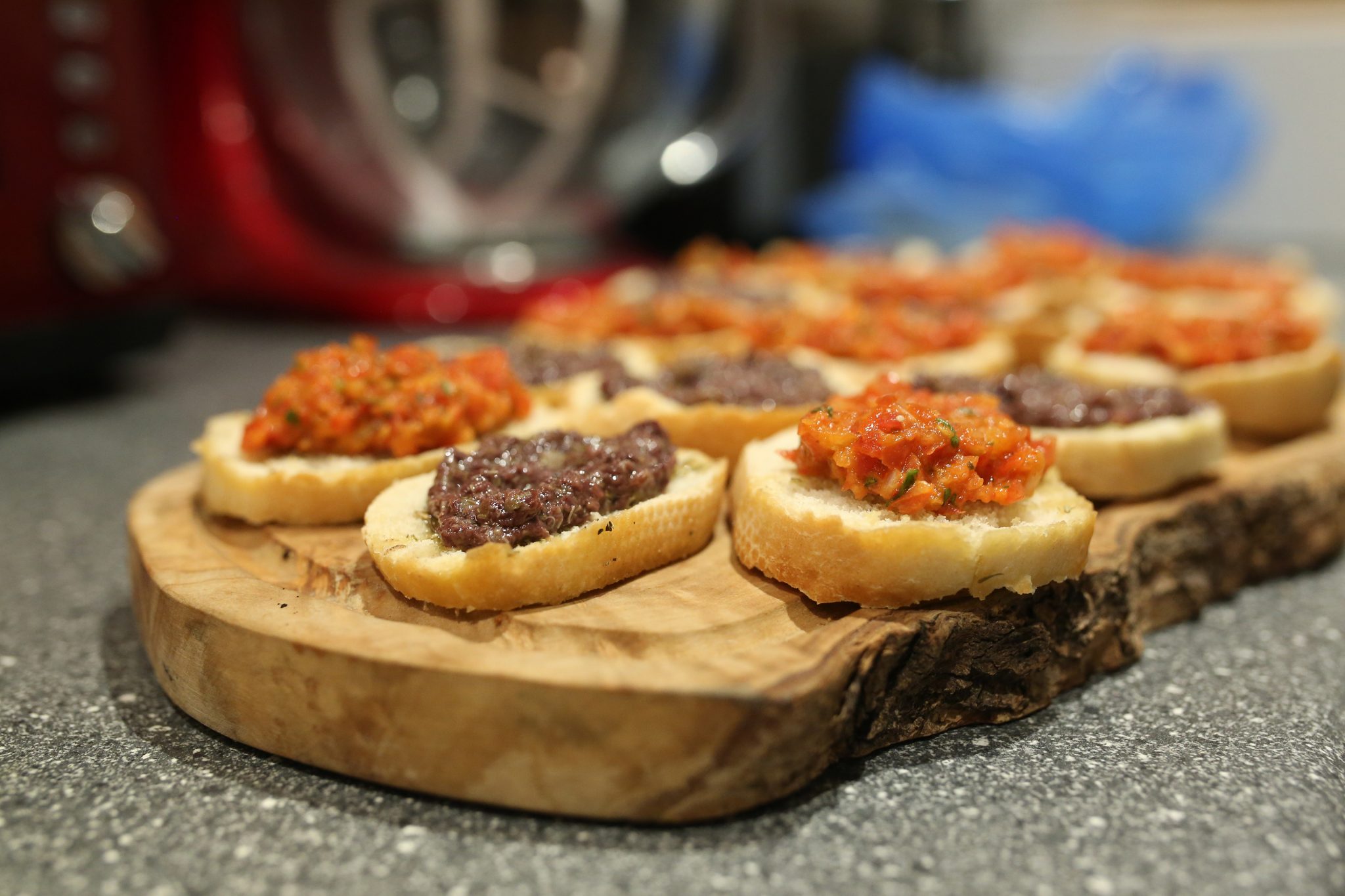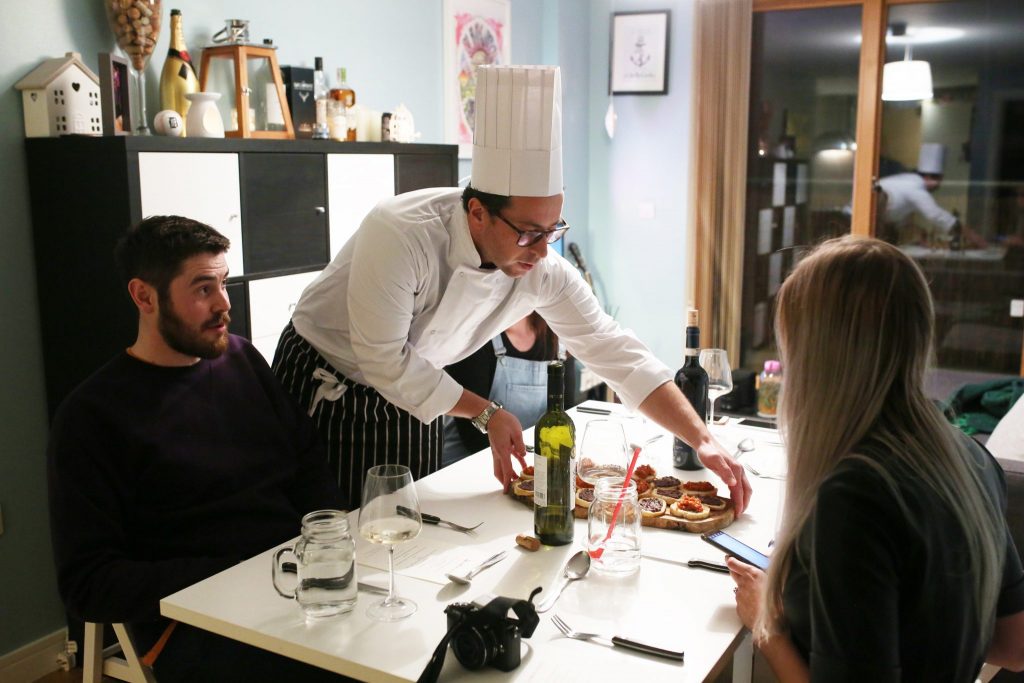 Another great reason to choose this sort of dinner party over hosting out, is that you can have a range of matched wines (or any other beverage) without breaking the bank. We toasted with a glass of champers to start off the evening, followed by a white for our starters and a red to go with the main. These along with other drinks would have been well over £150 in a restaurant, so it's great to be able to pull out all the stops (pun intended) at home, for a fraction of the price.
Our evening started with an appetiser of bruschetta on homemade sourdough bread, with two toppings of tapenade and tomato and basil. However, whilst Marcello was preparing this, he kindly brought some extra fresh bread for us to try, with some delicious olive oil and balsamic – of course from Italy.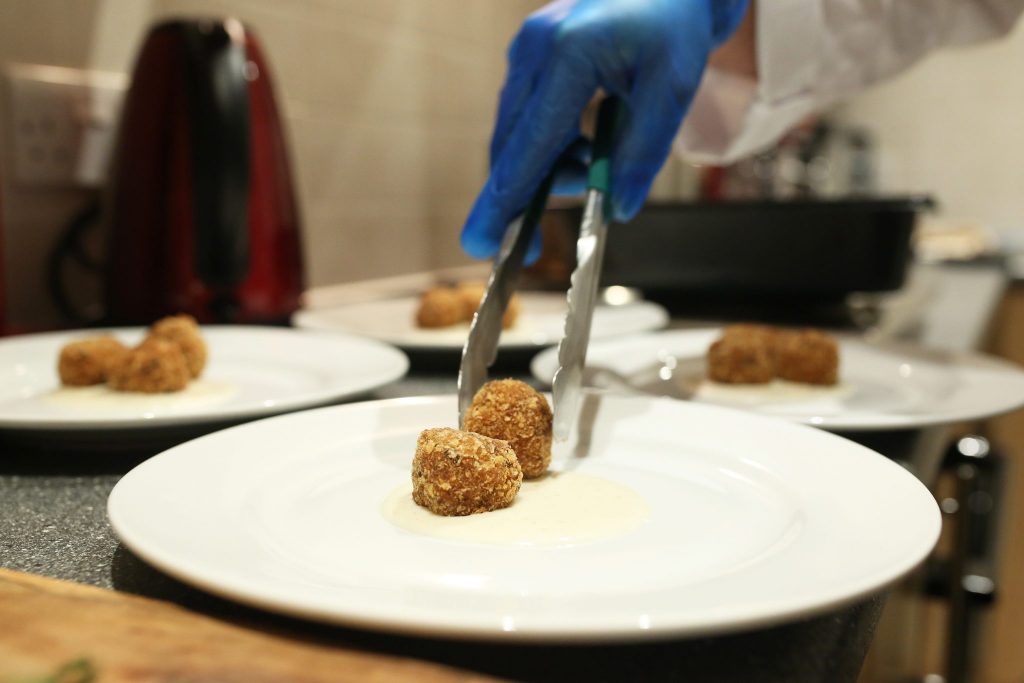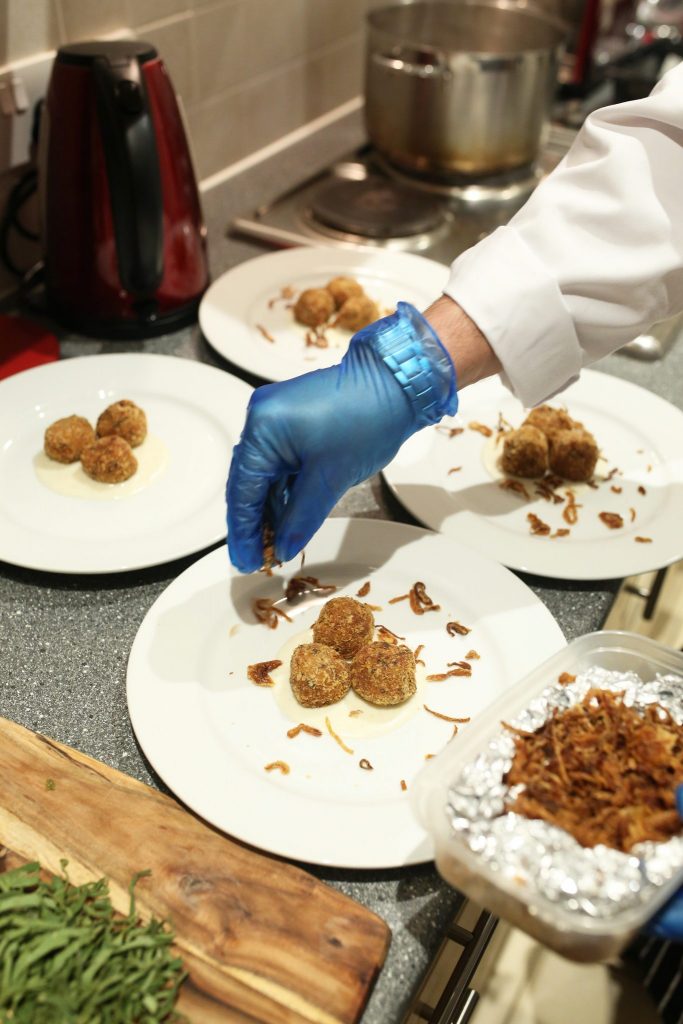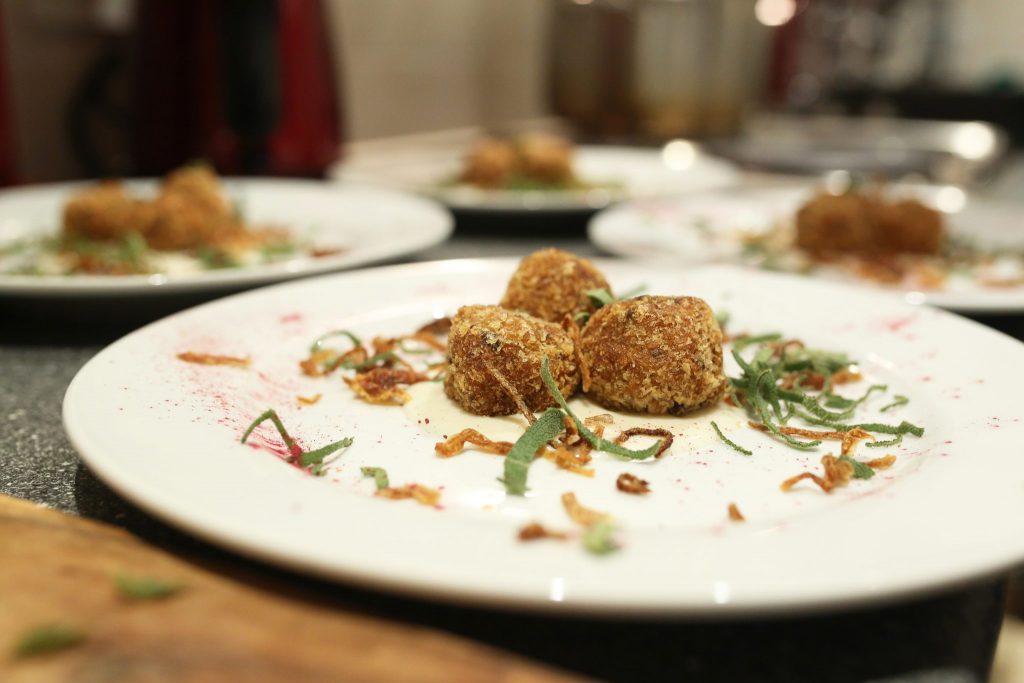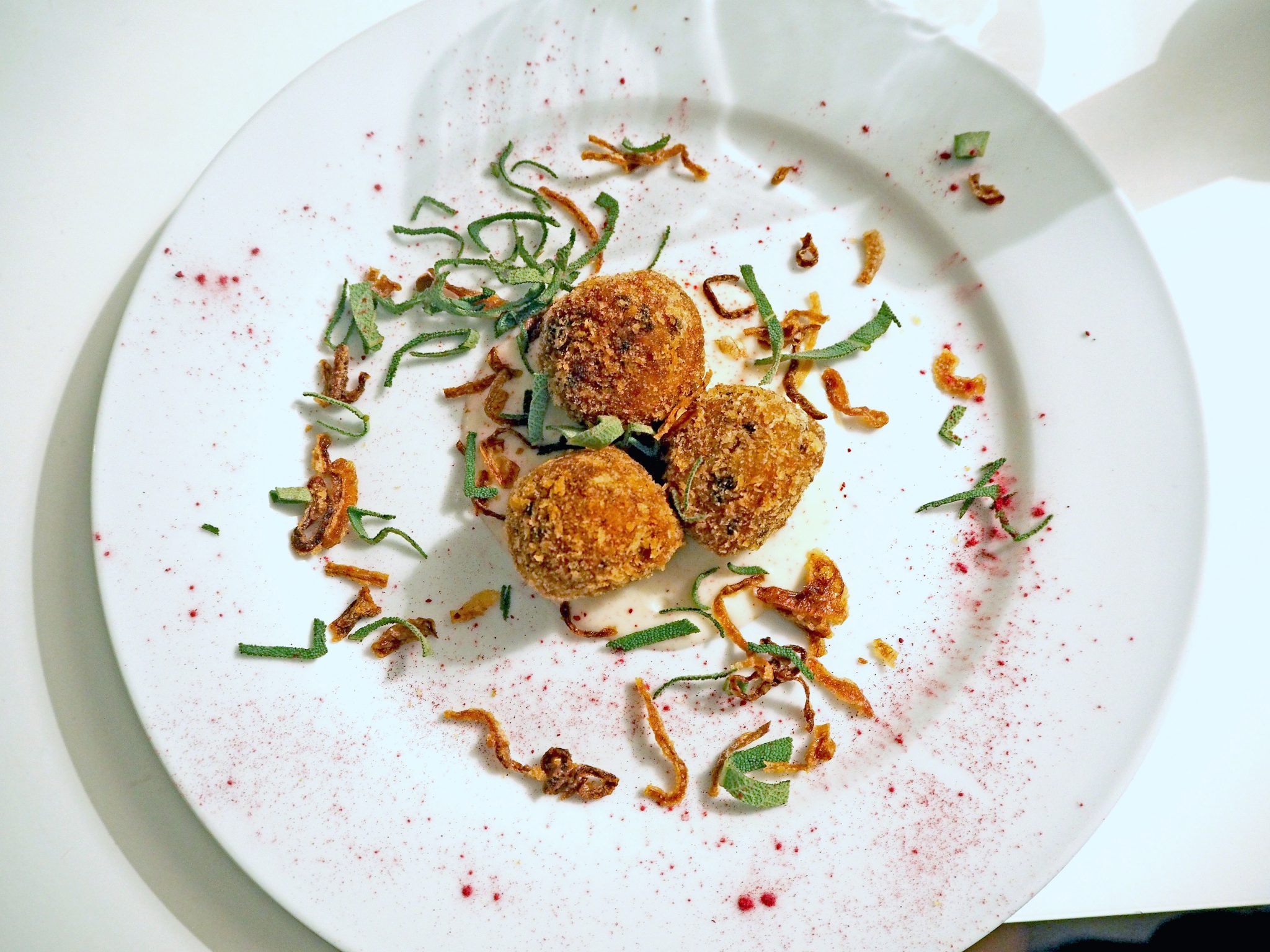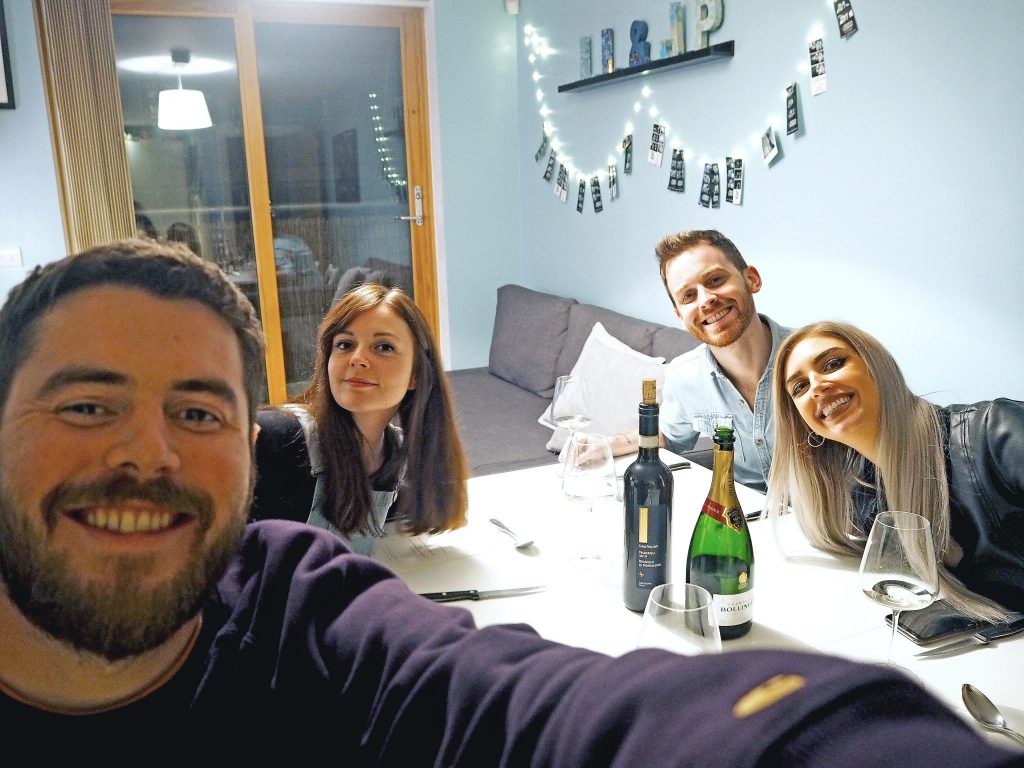 Next up was the starter – Arancini with Parmesan Sauce and Crispy Onions. After the rustic bruschetta platter to start the evening, I wasn't expecting to be so impressed at the presentation of our first course; we were already absolutely adoring the food and the flavours, and then with the presentation of our starter we were all blown away. Needless to say, the taste of the dish matched the presentation and we cleft our plates clean.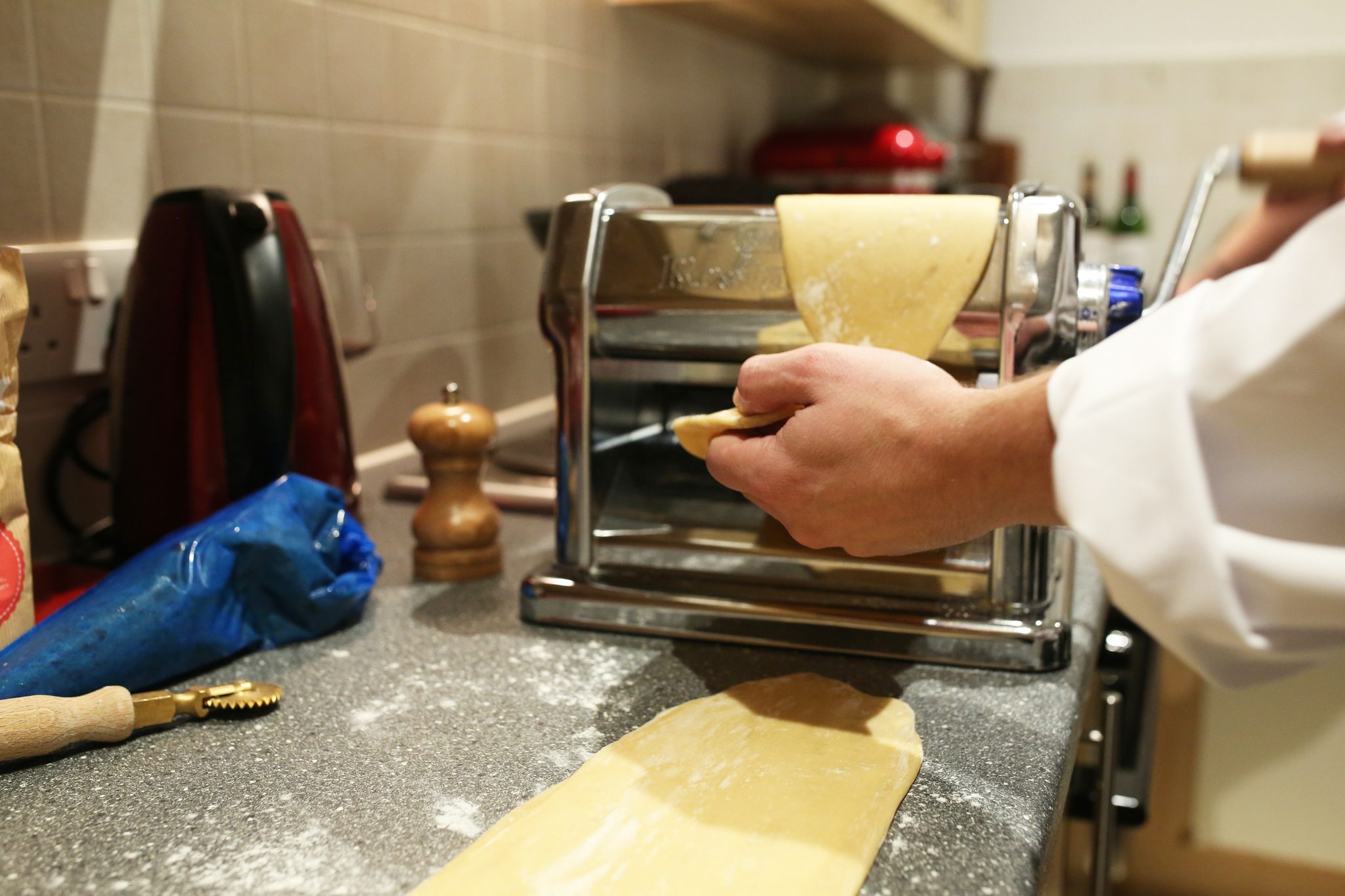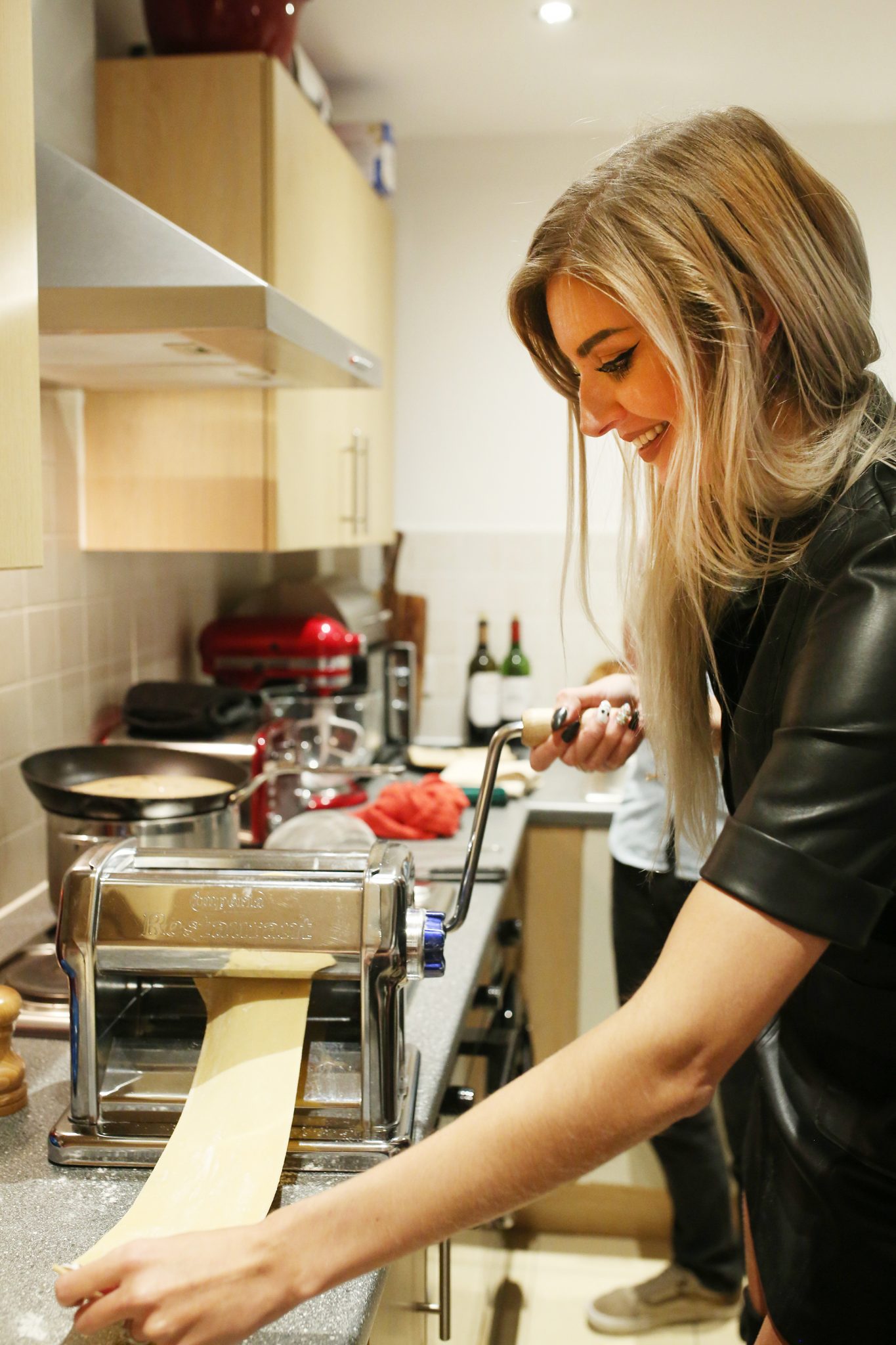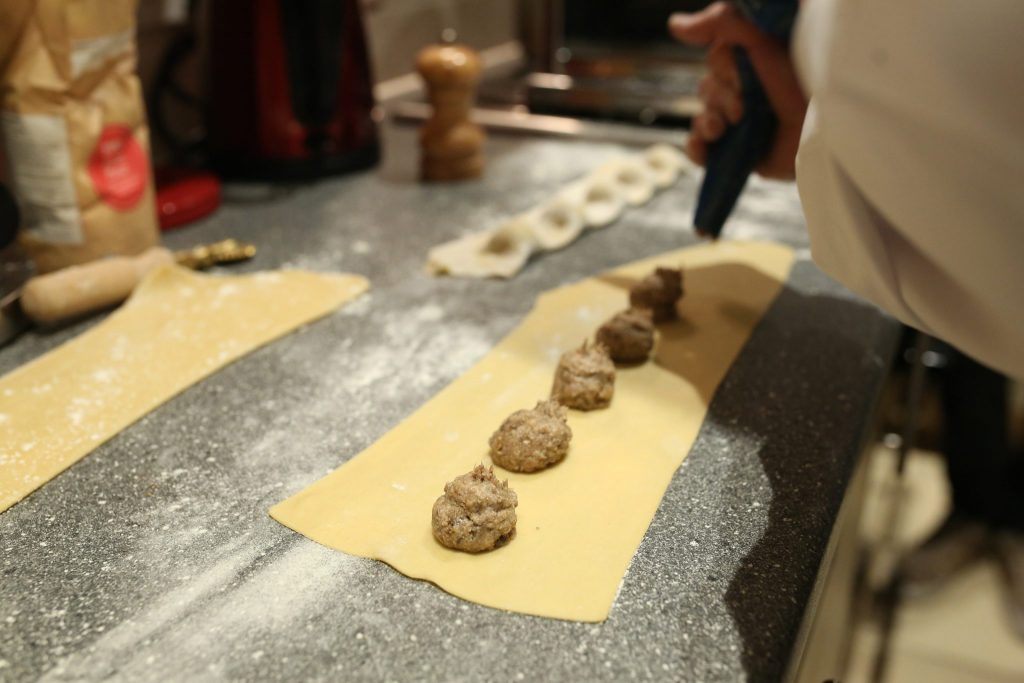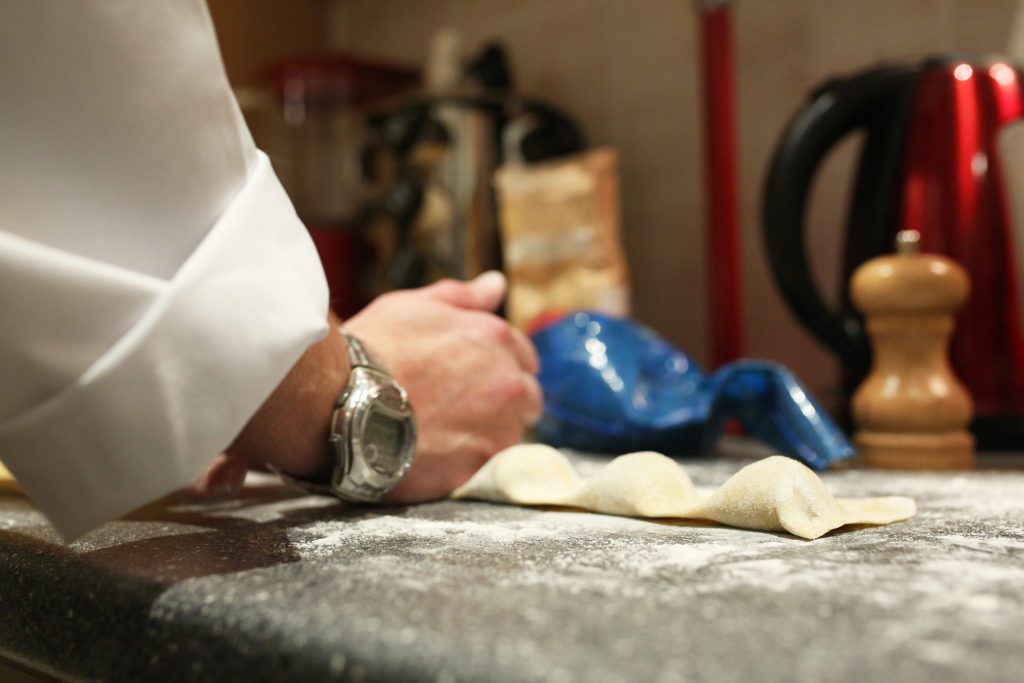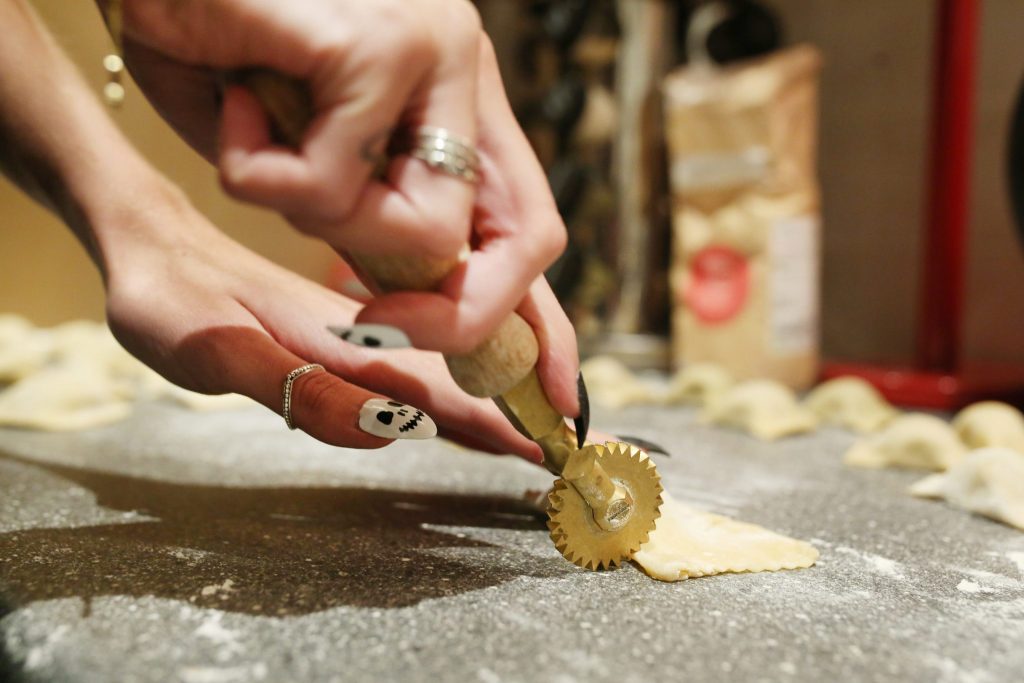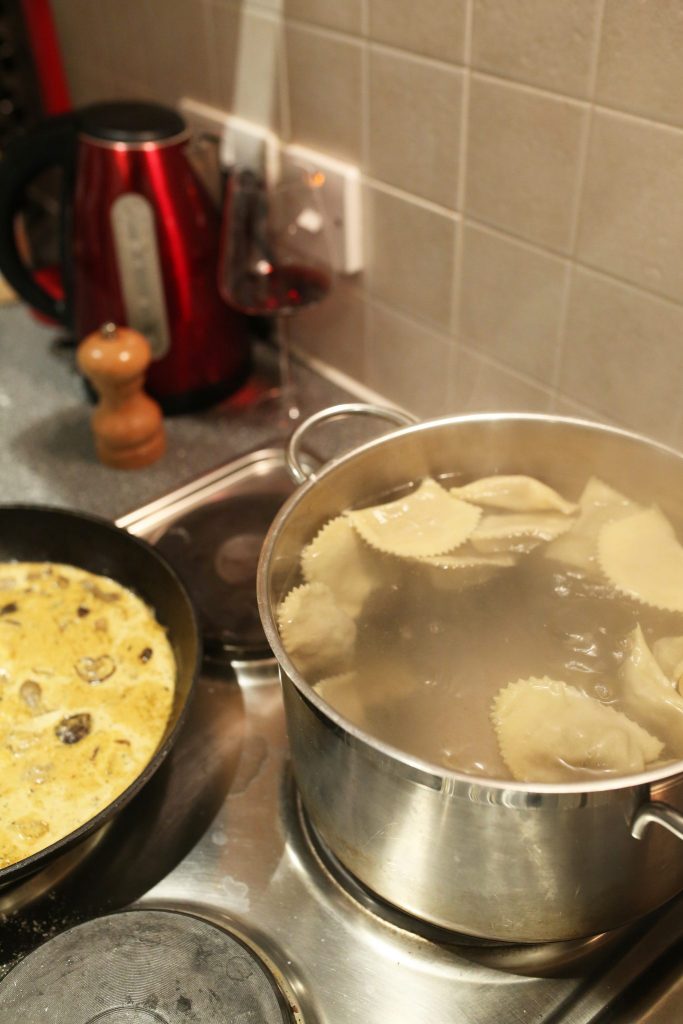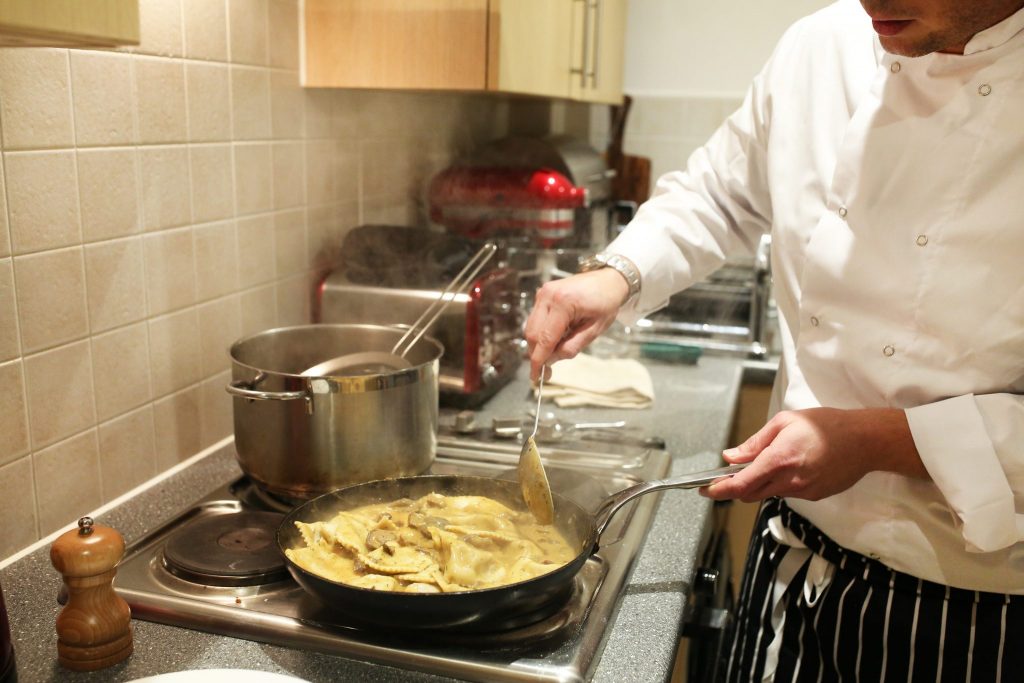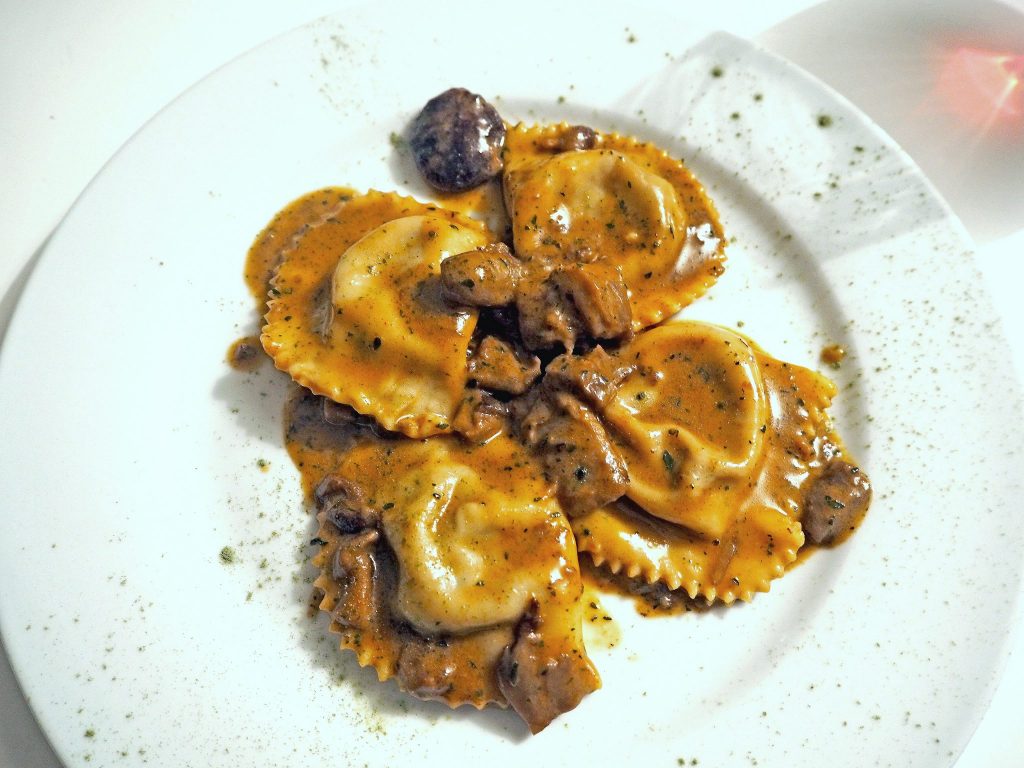 Next up was the main course – Duck Ravioli with Porcini and Wild Mushrooms. Marcello spoke to me before the evening and suggested that he could bring his pasta machine to teach us all how to make our own Ravioli on the night. I loved the idea of having this fun interactive part to the evening, and we are all foodies so pasta making was something we all wanted to get involved in.
Marcello was a brilliant teacher and let us all have a go at each stage of the pasta making, so that we had all added our own into the pan before he continued cooking the rest of the dish for us. It was really simple yet very interesting to learn, and we all had fun taking part in the main course.
Again, the presentation was second to none and the flavours were out of this world. The dinner table fell silent as we all (once again) cleared our plates. The duck and mushroom went together so well; the flavours were rich and delicious inside the light pasta shells (and I was very happy to learn that there were leftovers for us to eat the following day).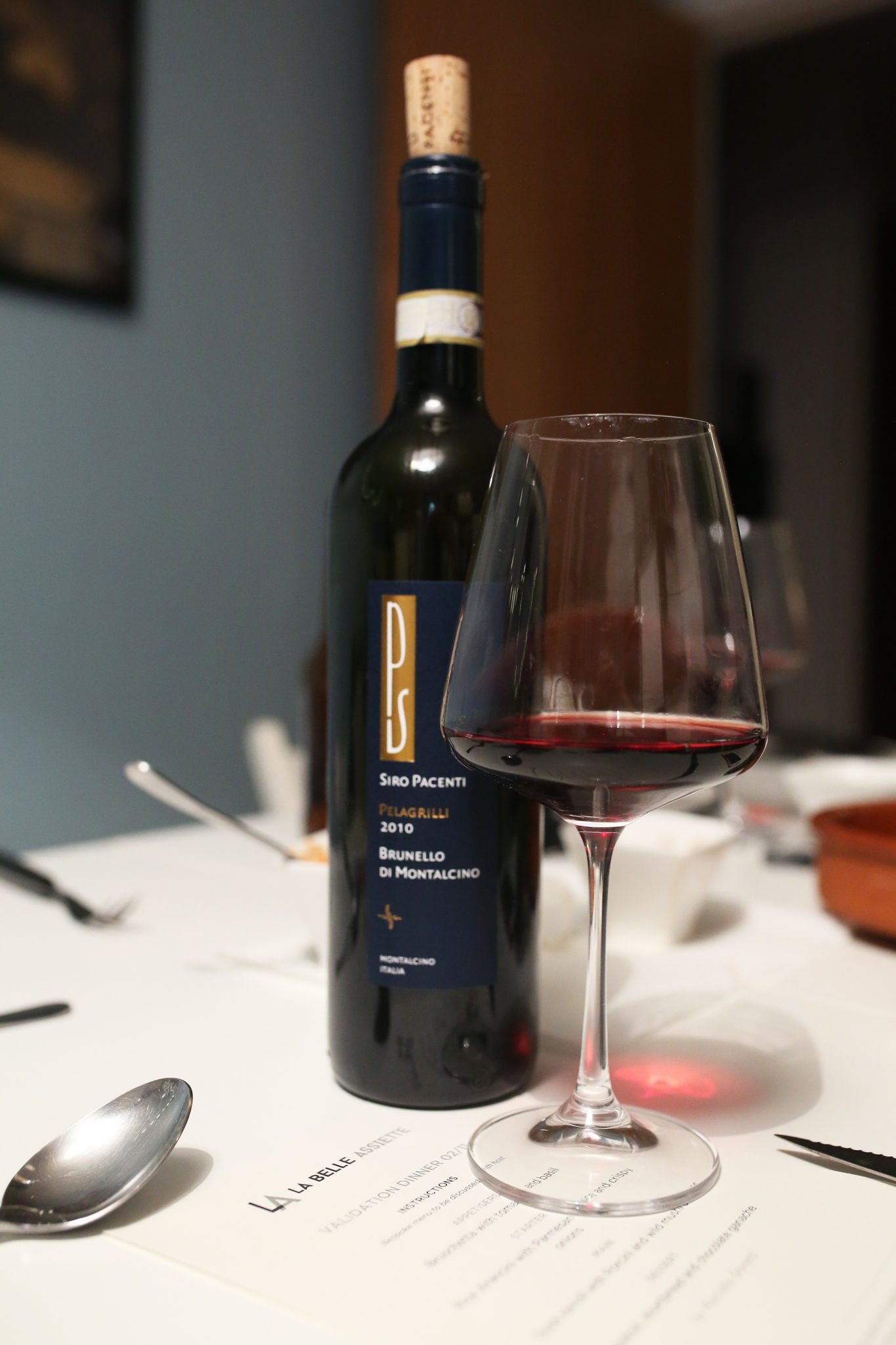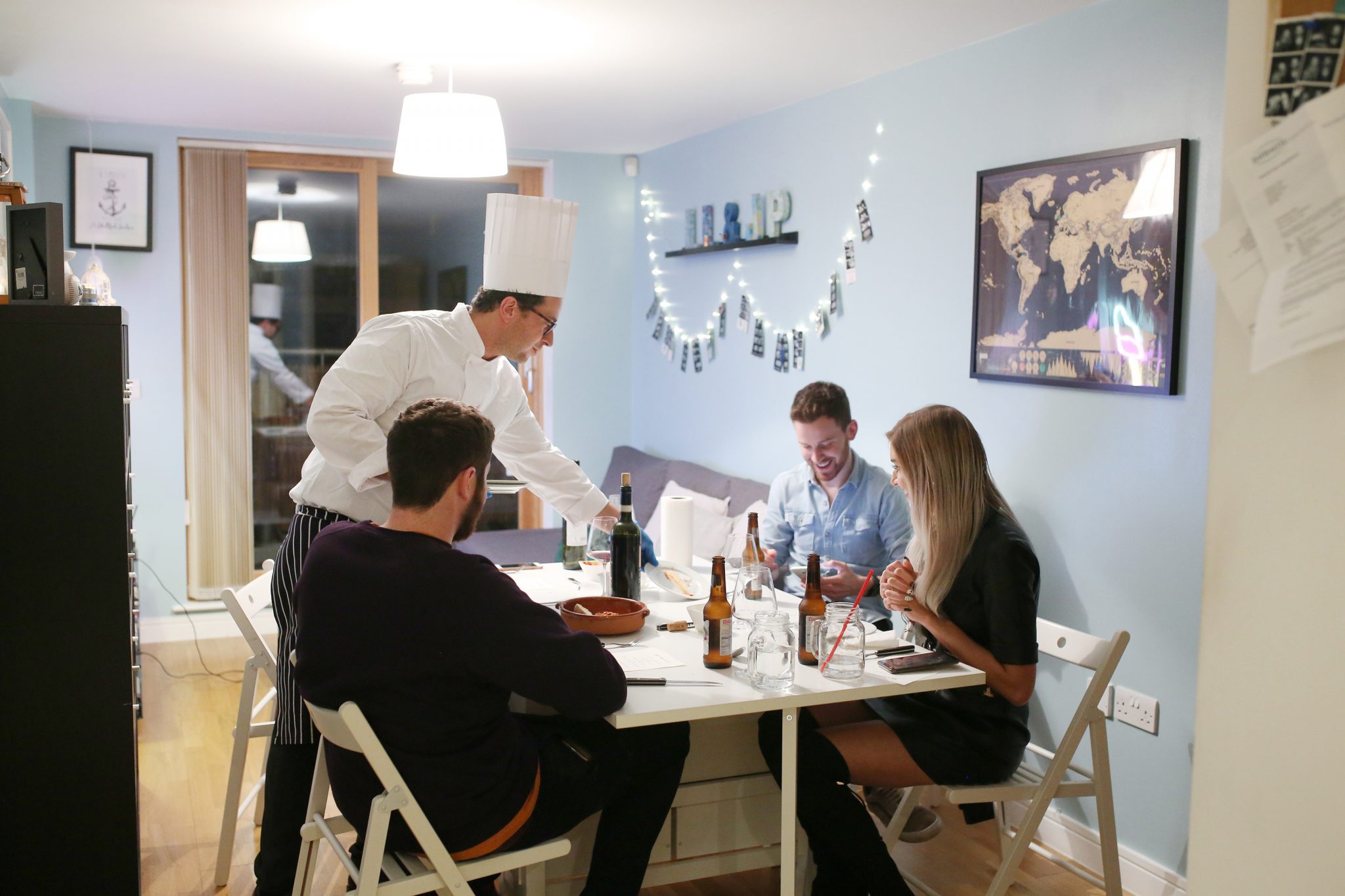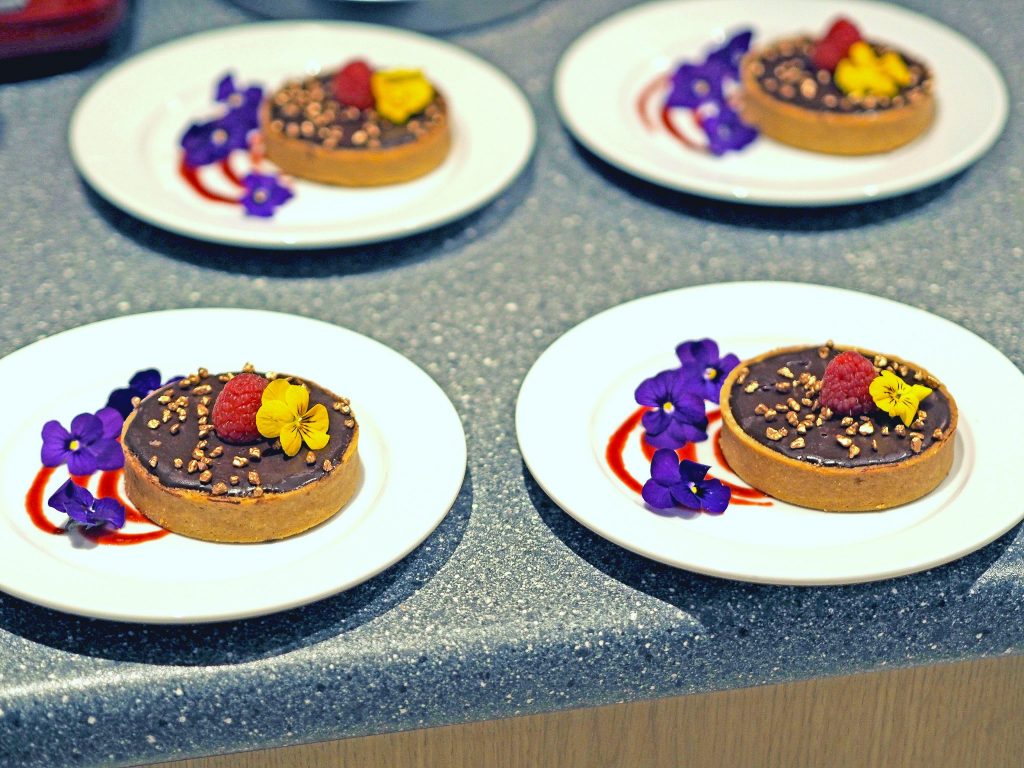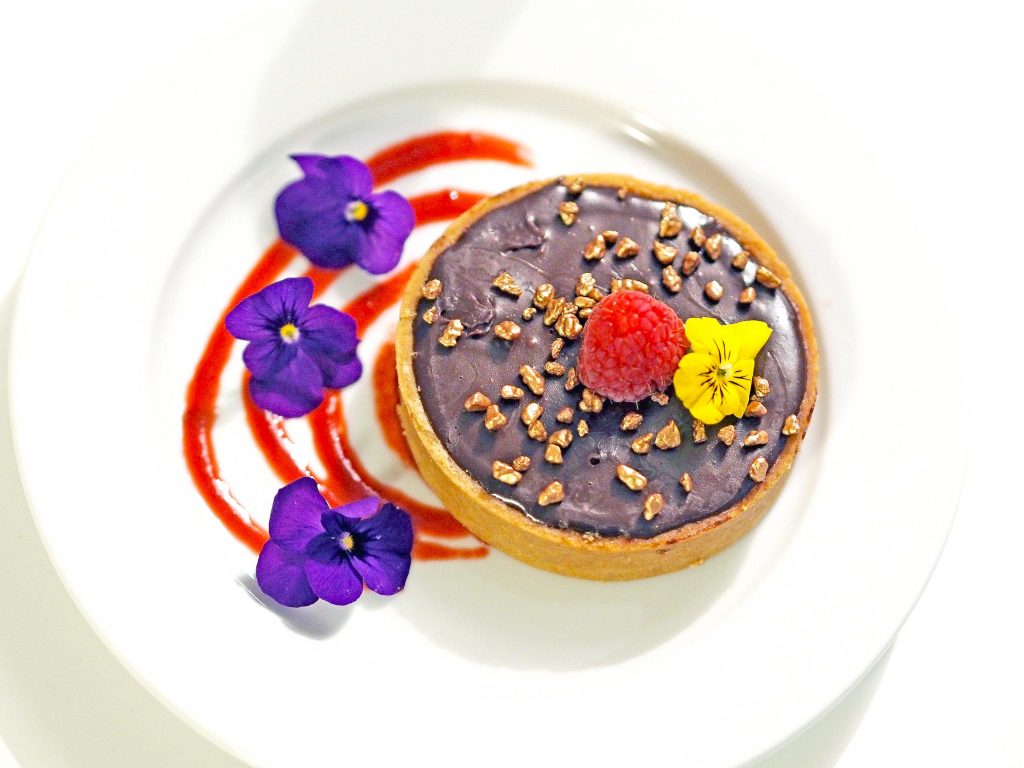 Our dinner ended with a Hazelnut and Chocolate Ganache Tart inside a Shortbread Case, which was almost too pretty to eat. By this point we were all really full, and despite us all not being huge dessert fans, once again we all finished the course. The ganache was smooth and creamy, and the dish was a nice sweet hit to round off the menu for the evening, without leaving us all in a total food coma (sort of).
We had an absolutely amazing evening and Marcello was the best chef we could have hoped for for the dinner party. We even ended up taking a few group selfies and suggestion we all meet for a drink one day! Each and every morsel of food was so delicious; myself and my guests were all hugely impressed and none of us anticipated how great the evening would turn out to be.
If you are looking for a great idea for a date night, to take the stress out of hosting a dinner party, or just trying something a little different at home then I would absolutely recommend La Belle Assiette.
You can visit their website here for more info, to view their menus, and to enquire.
LL x
*This evening was kindly provided by La Belle Assiette for review – a huge thank you to them and Marcello for an amazing evening. As ever, all opinions are my own.