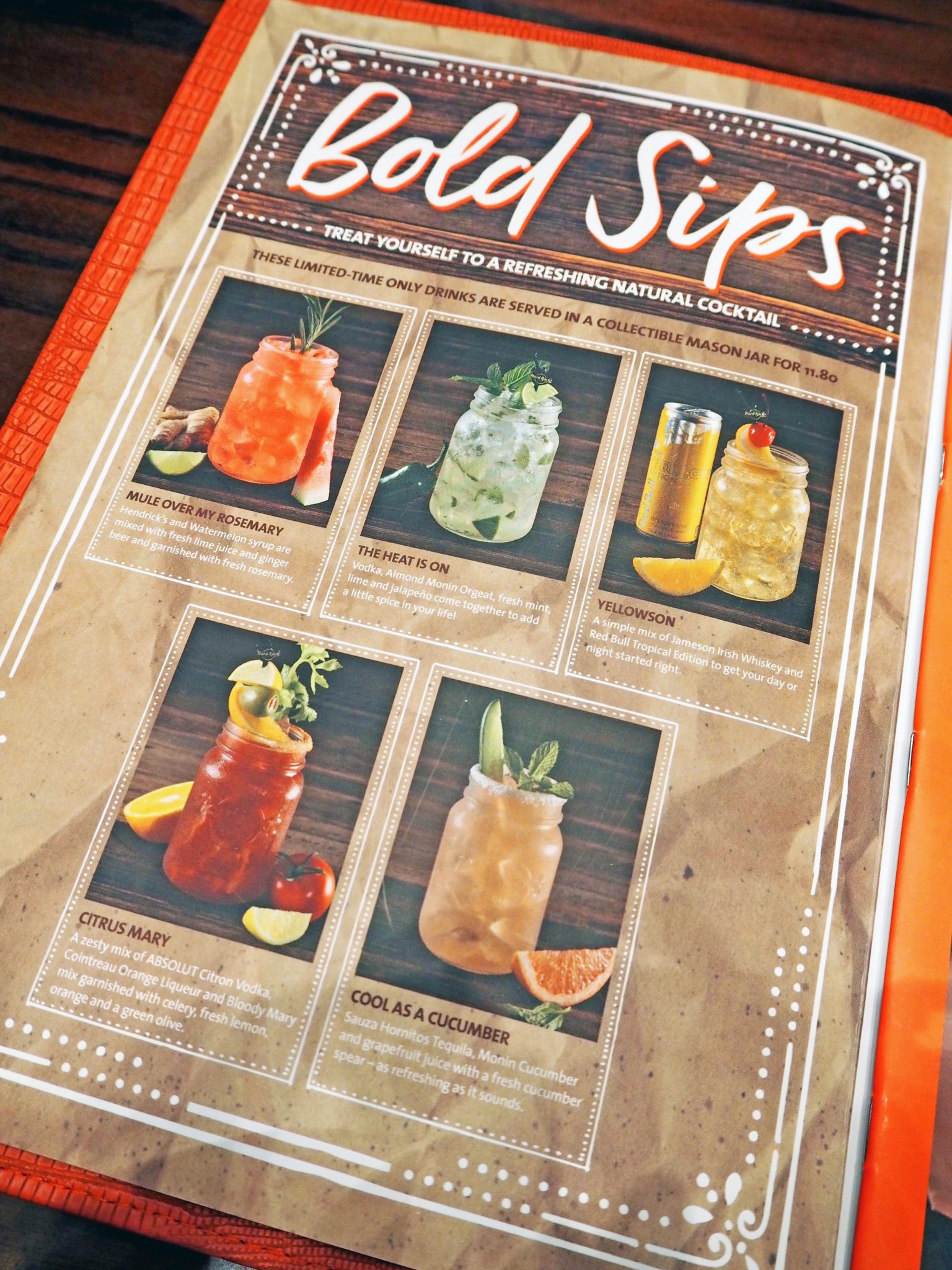 Halloween seems to be becoming more popular over here in the UK; I used to know it as being a more celebrated holiday in other countries like America, who definitely go all out for the spooky season, but more and more clubs, restaurants, shops and workplaces are now getting involved in the Halloween festivities.
To get into the Halloween and Autumnal spirit, Hard Rock have some new seasonal cocktails, as well as a special Halloween Burger and 'Evil Eye' cocktail.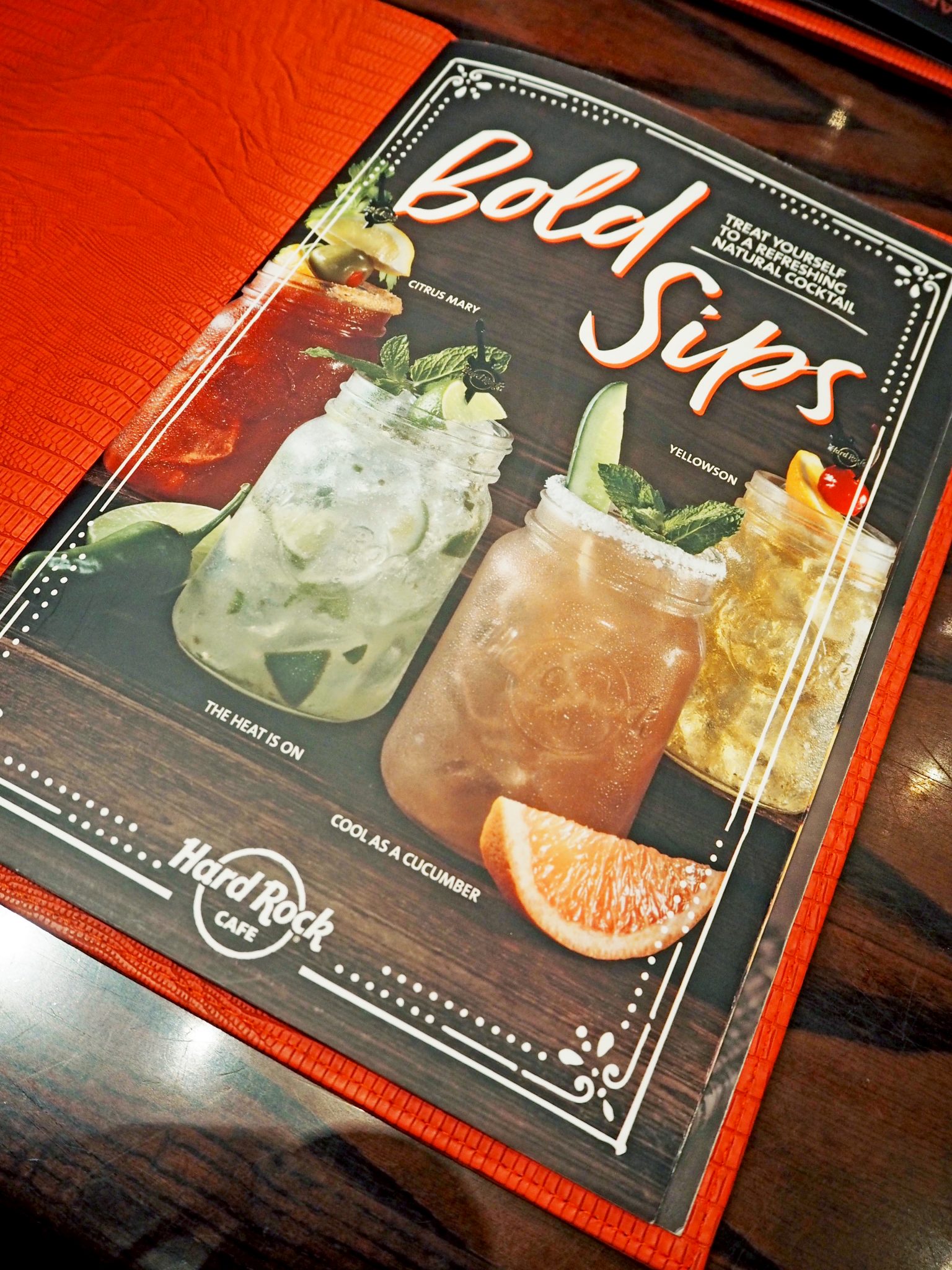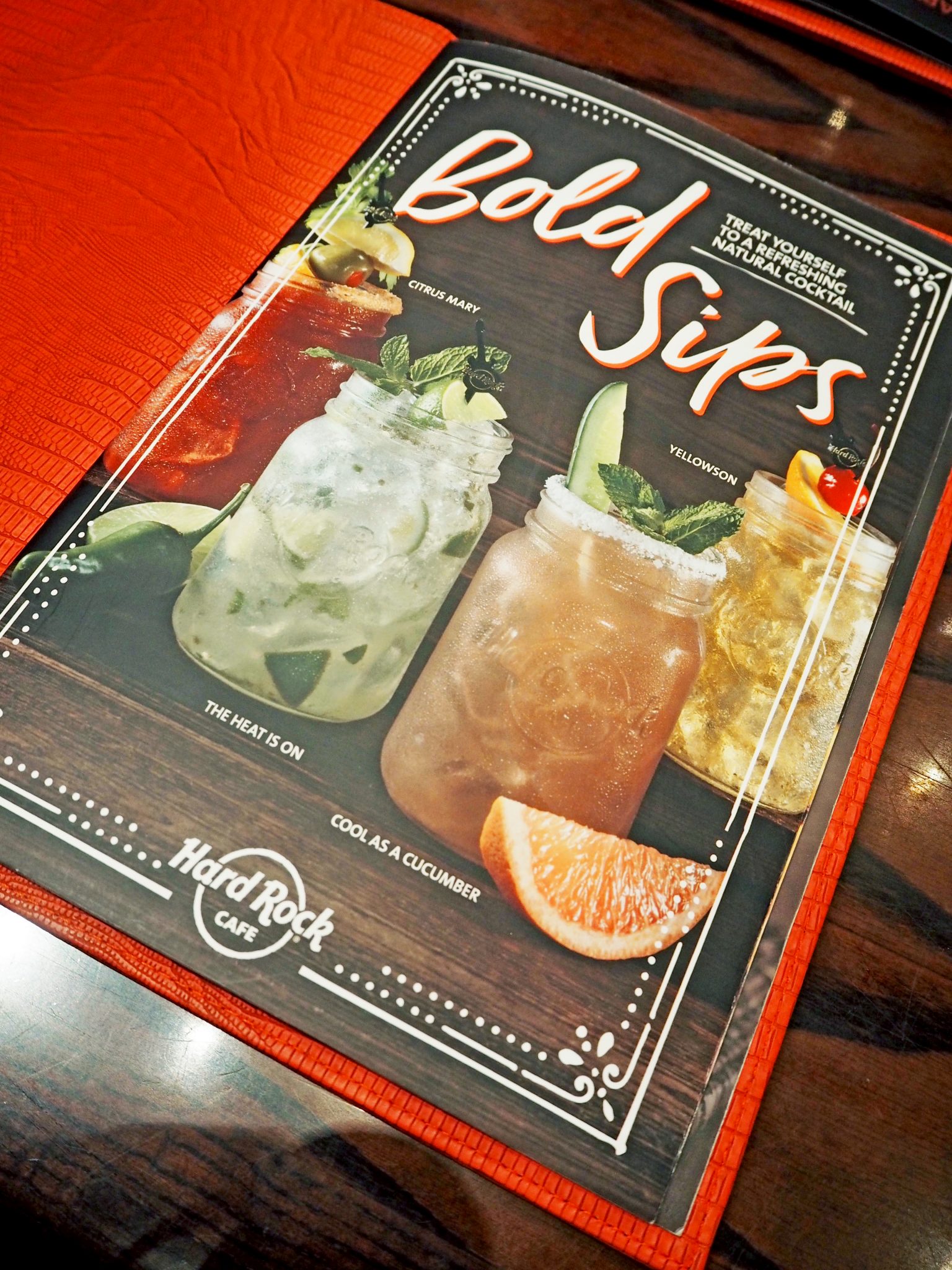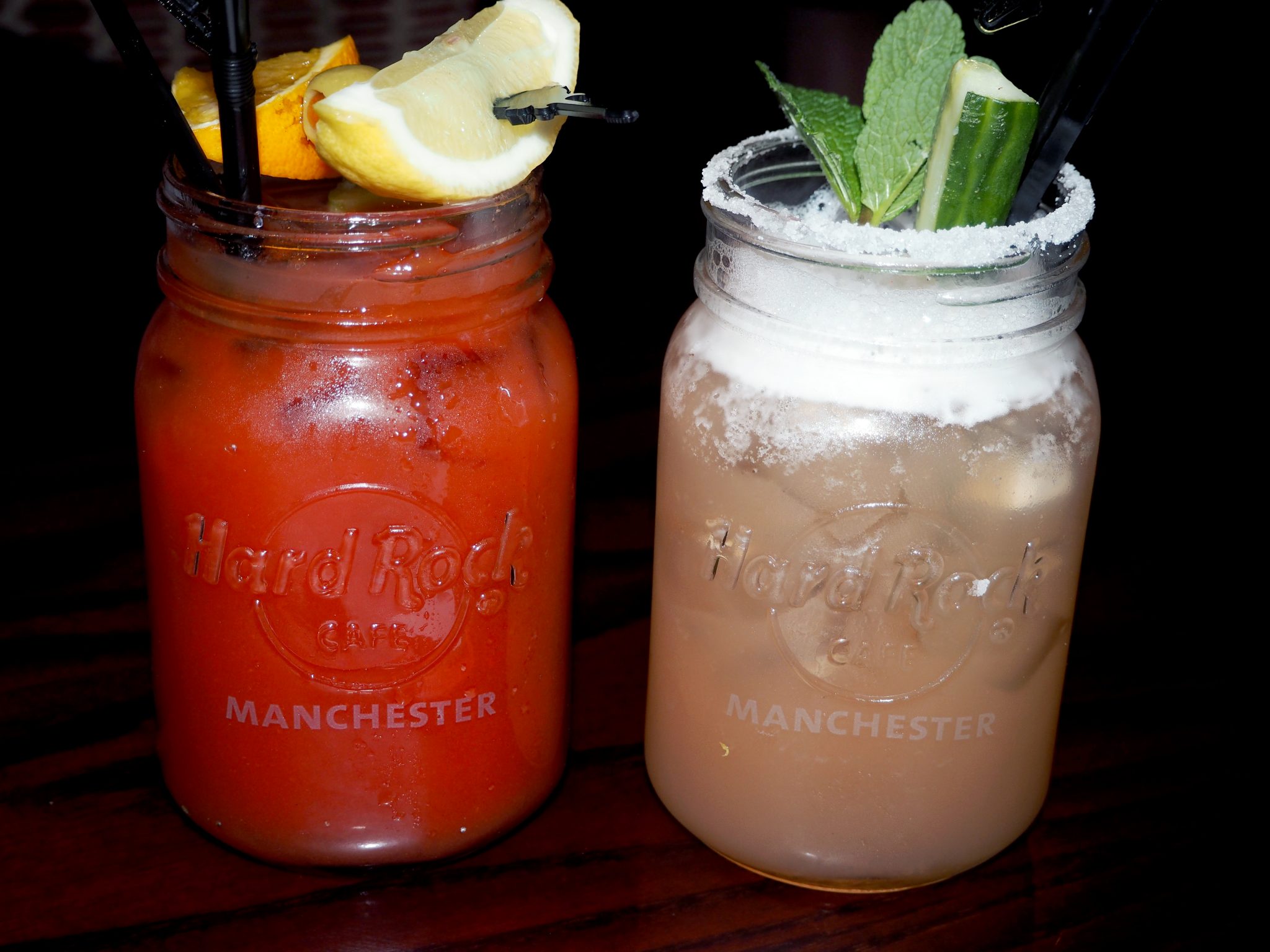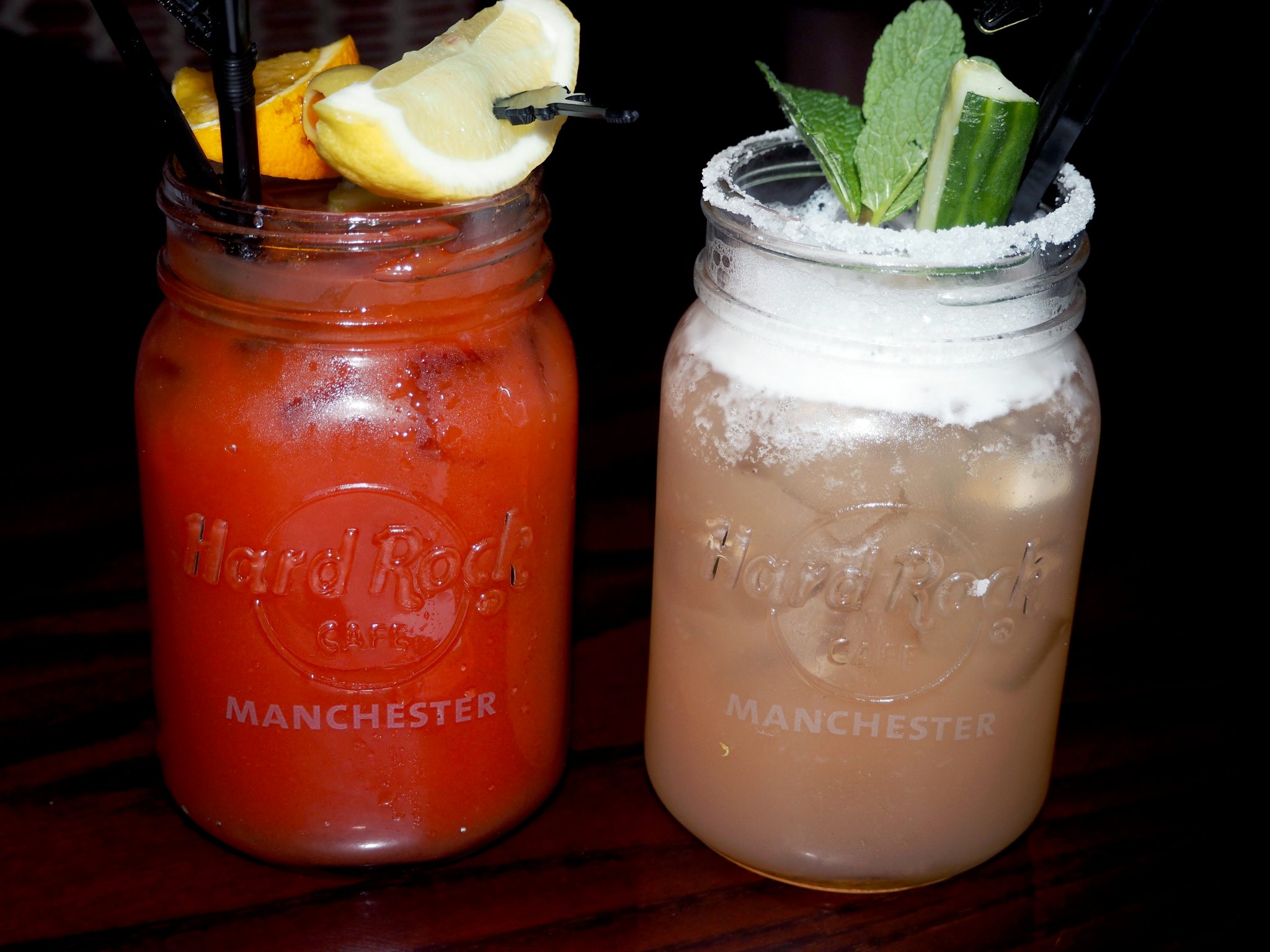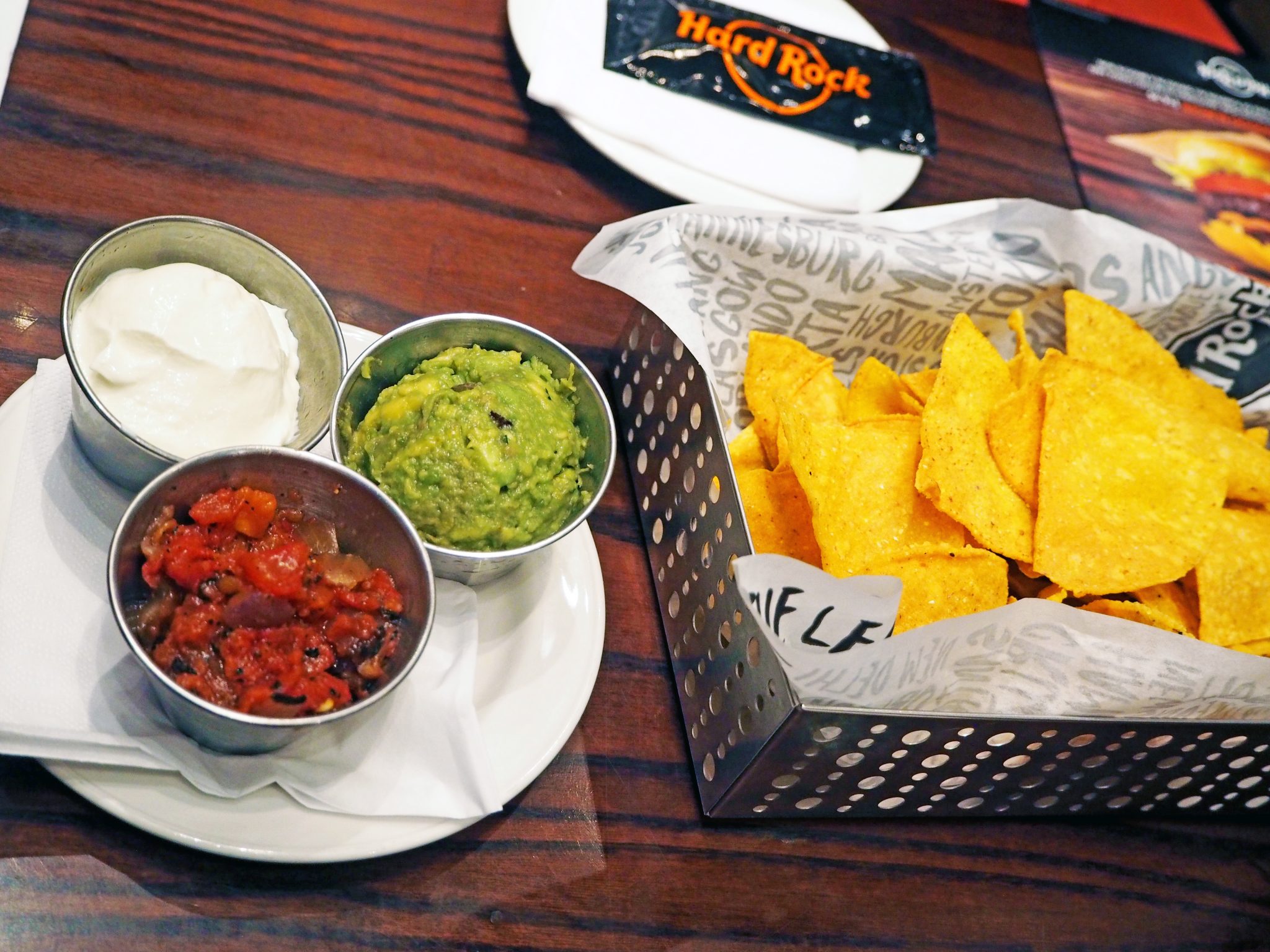 This week we headed into our local Hard Rock Café – Manchester, to try out these new delights.
If you are a regular reader, I'm sure you will have seen that I am a return visitor to Hard Rock Café (you can find some of my recent blog posts here, here and here) – the service and atmosphere is always great, food is delicious, and there is always something new to try.
This time we got to try the Bold Sips Cocktails – available from 12 October – 12 November 2017 at Hard Rock Cafe Manchester, these brand new cocktails come packed with seasonal, all-natural flavours, perfect for keeping cosy on chilly Autumnal days.
The line up consists of 'Mule Over My Rosemary' loaded with gin, watermelon and lime juice, 'Yellowson' – a whiskey warmer, 'Citrus Mary' with a fruity melon and lime twist, complete with citrus vodka. For the fiery rockstar looking for some jalapeno spice this Autumn, sample 'The Heat Is On' – the hottest cocktail of the lot, or cool things down with 'Cool As A Cucumber', crafted with tequila and grapefruit infusion.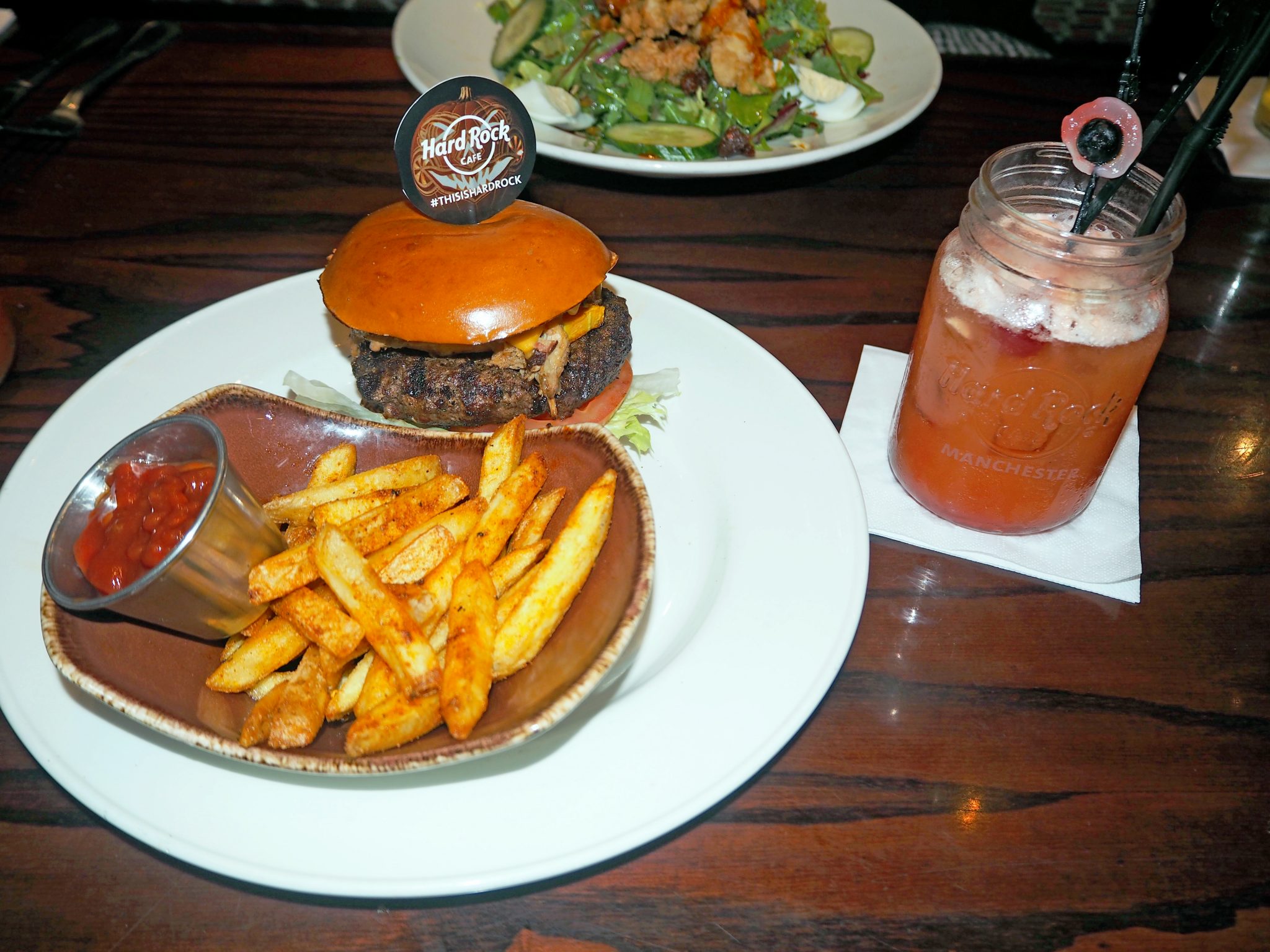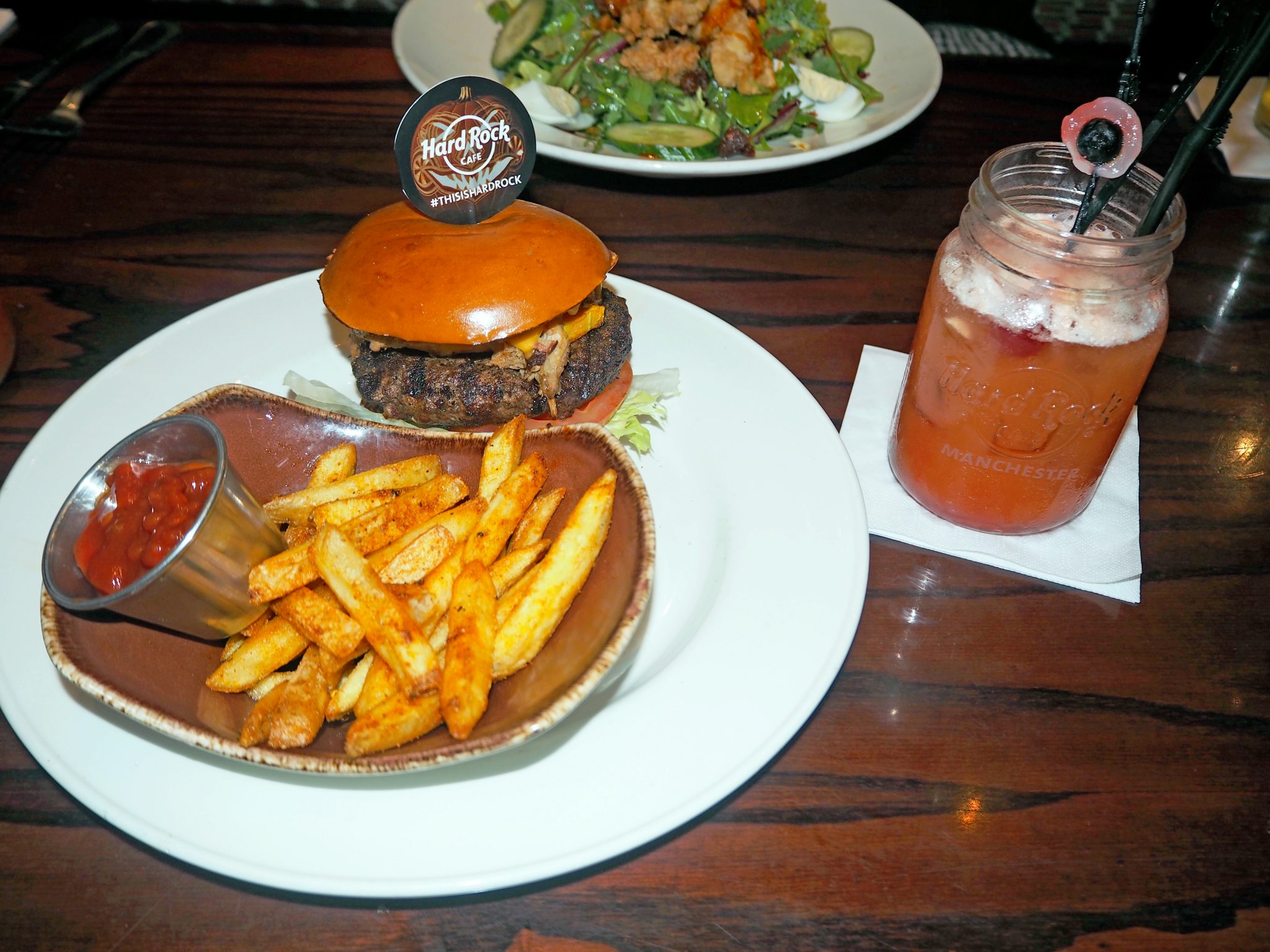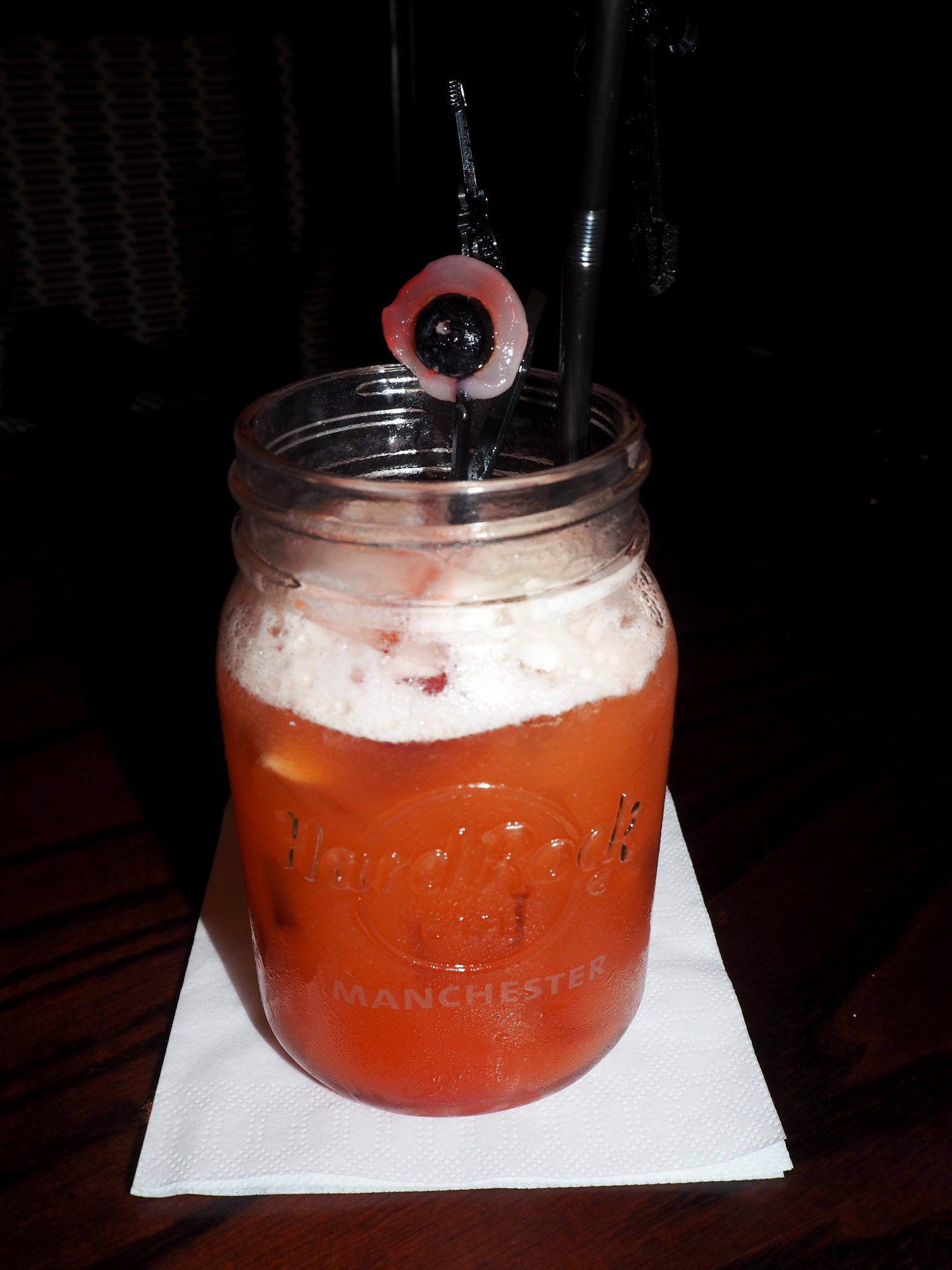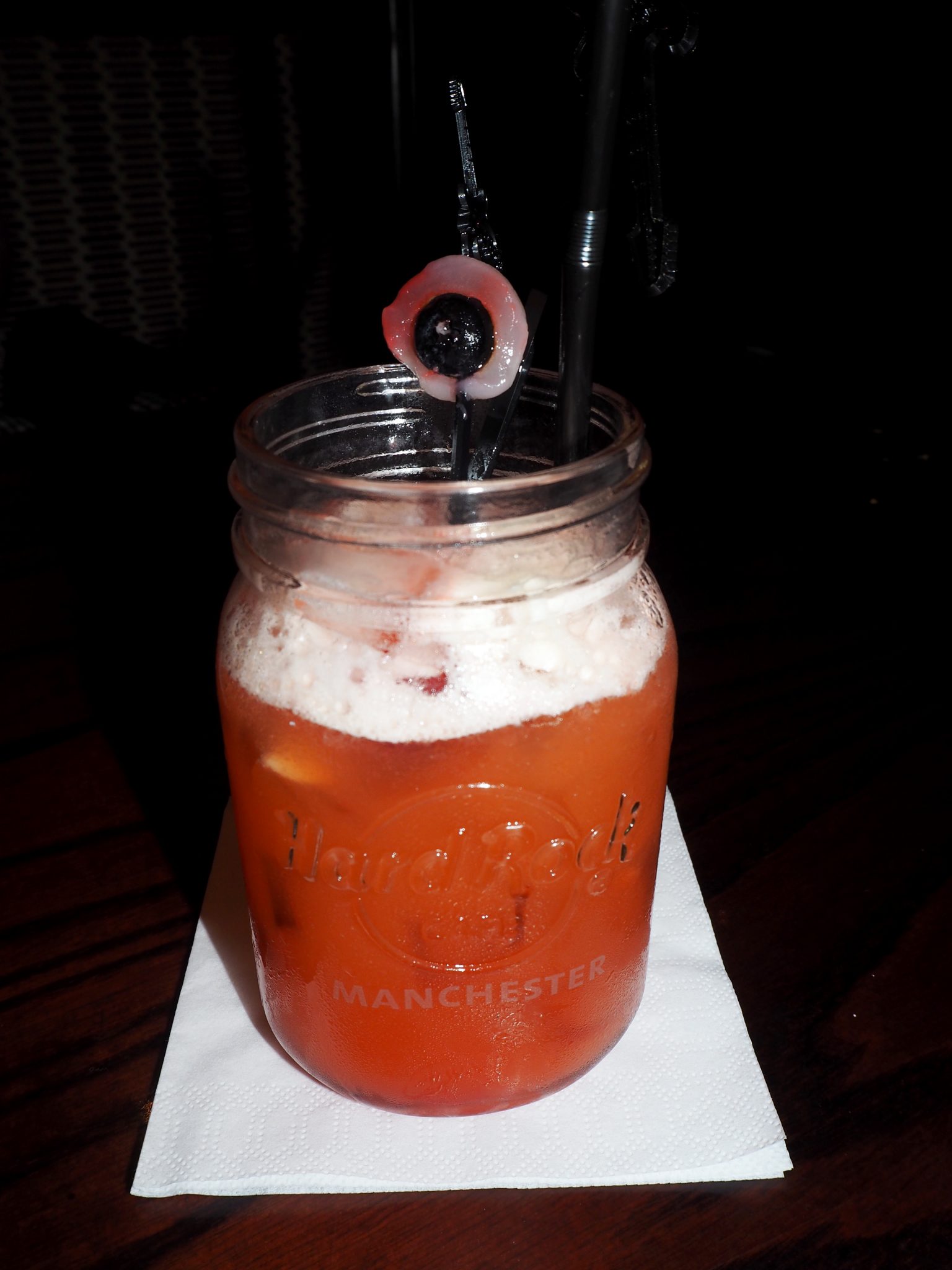 We of course had to try the Halloween Voodoo burger; consisting of Hard Rock's signature, mouth-watering ½lb burger patty, terrifyingly tasty pulled pork smothered in melted cheese, complete with a Cajun voodoo spiced slice of grilled pumpkin. This limited-time-only burger is the ultimate ghoulish treat this Halloween.
As we were having the burger, it only made sense to try the accompanying Evil Eye Cocktail, complete with an edible bleeding eyeball on top, made from spiced rum, Bacardi, lime juice, pineapple, Gomme syrup, Angostura, strawberries and blueberries. This Halloween cocktail, and Hard Rock's limited-edition Halloween burger are perfectly petrifying, partnered especially for this spooky season.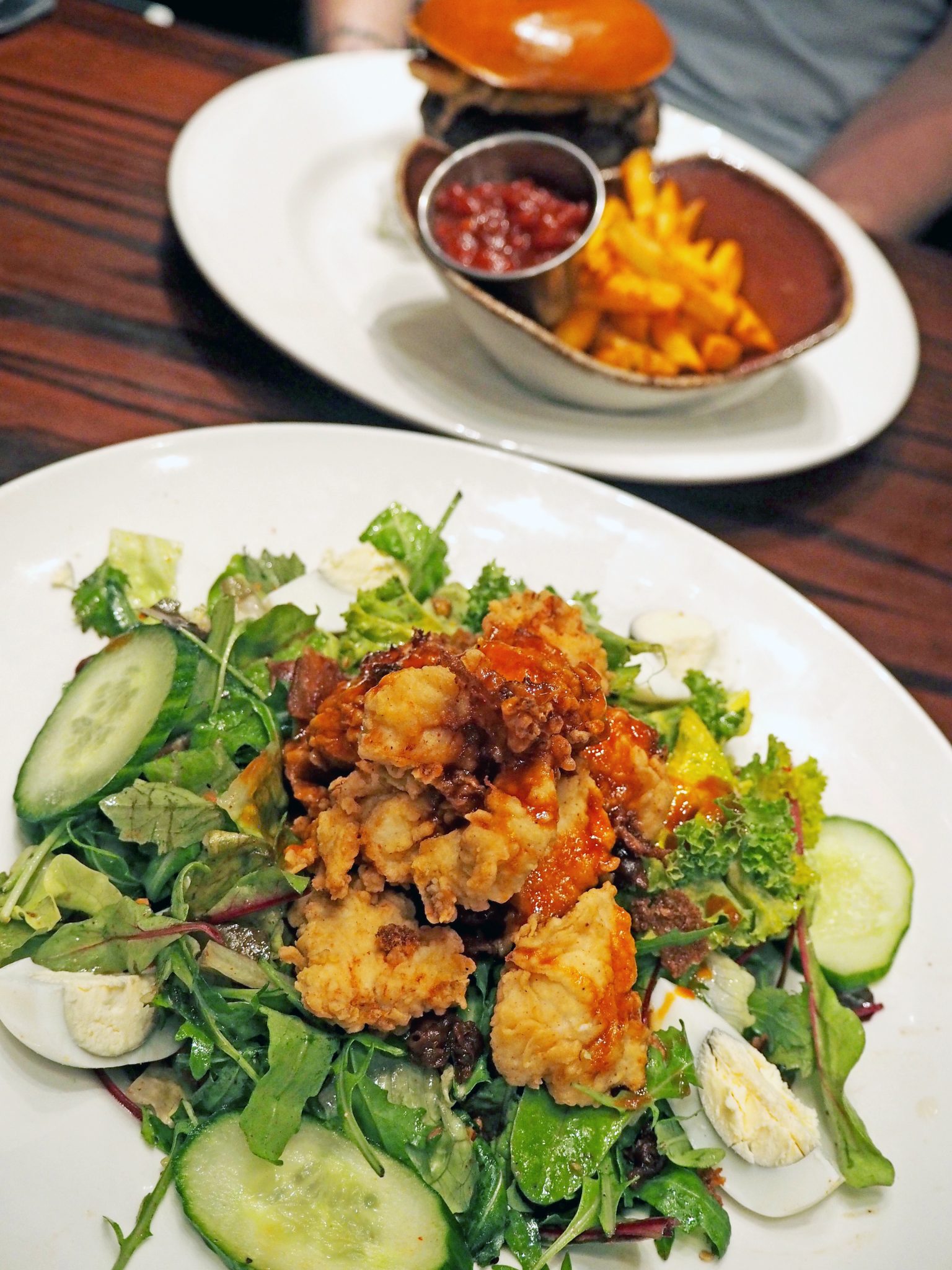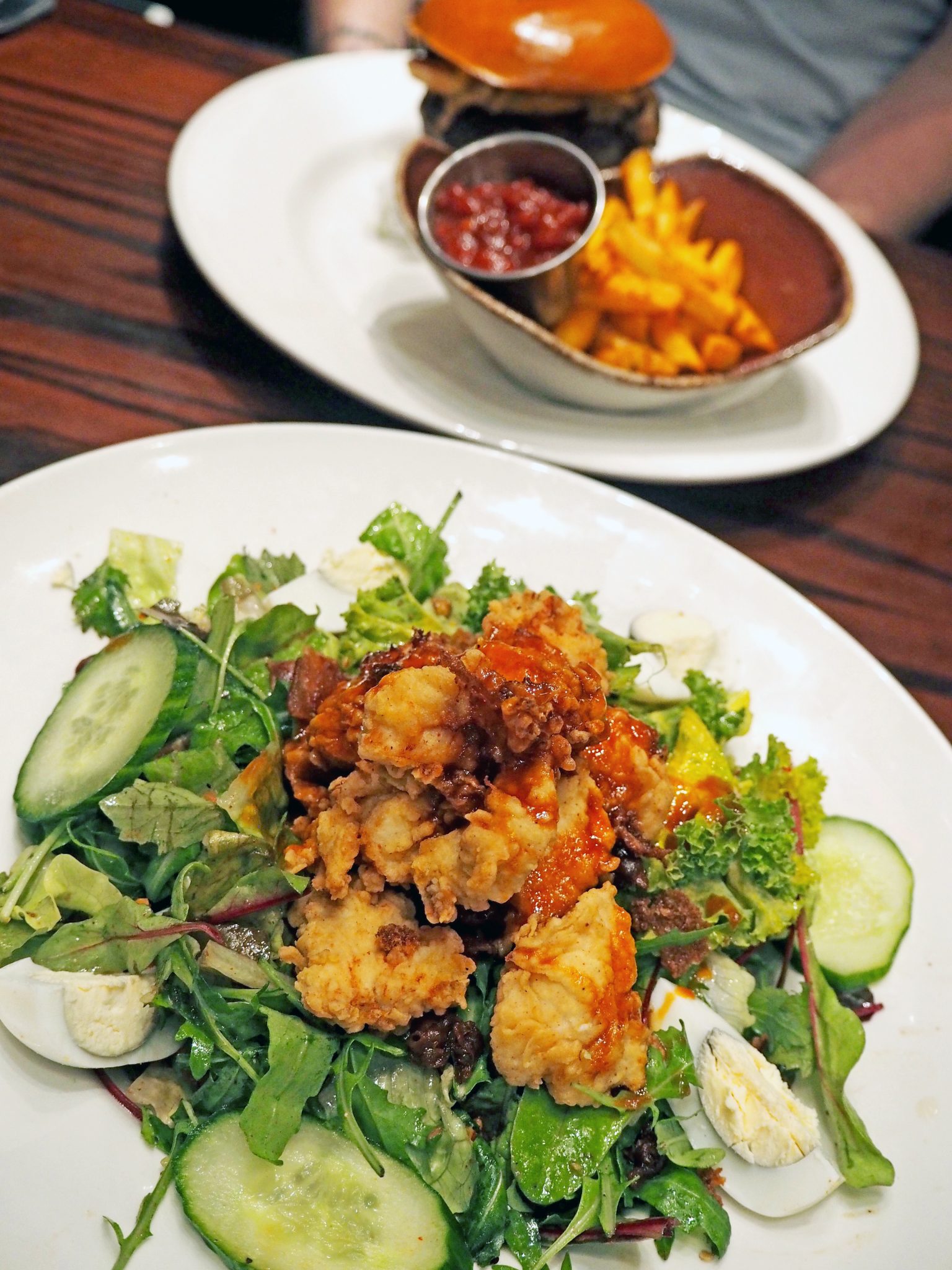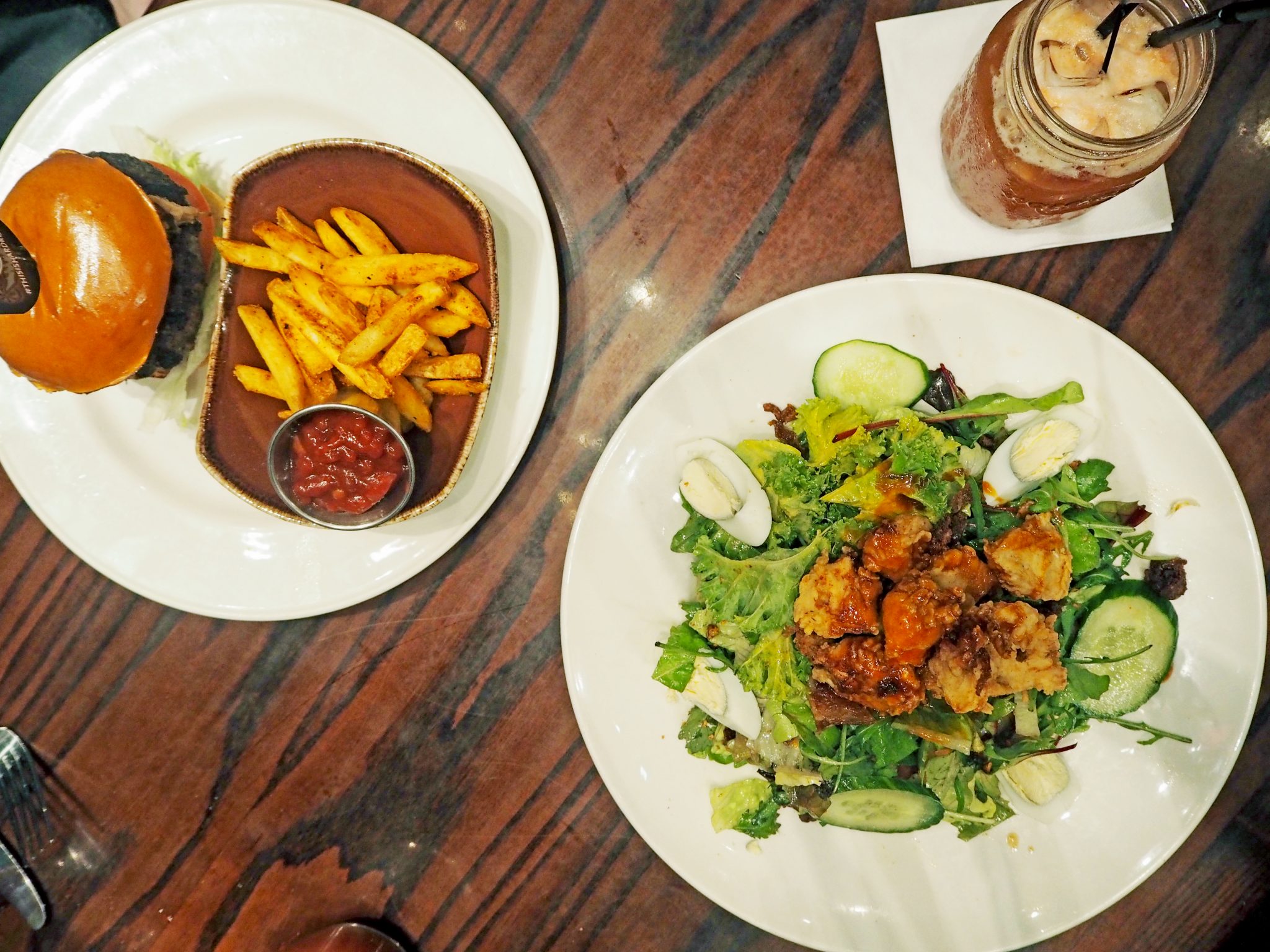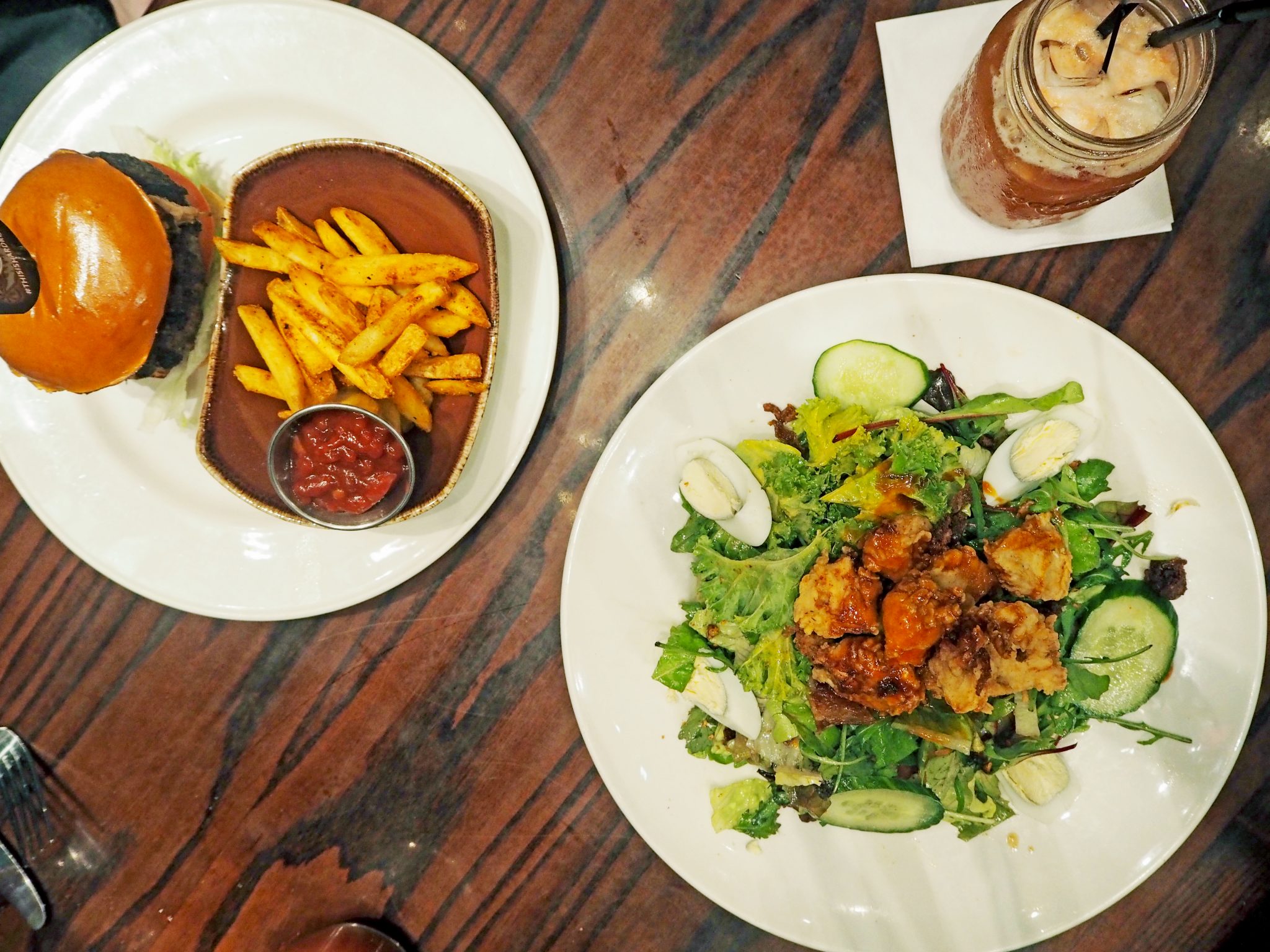 I love the Bold Sips cocktails, there is a great mix of flavours in there to suit all tastebuds, and I love that they all have an Autumnal feel, and are made with all natural ingredients. My favourite had to be the Cool as a Cucumber – very light and refreshing, and great to match with any meal from the menu.
The Halloween Voodoo burger was, as always, super tasty. I love the signature Hard Rock burger patty, and the pumpkin added amazing flavour and texture, which went perfectly with the tender pulled pork.
The Bold Sips cocktails are available in their Manchester restaurant from the 12th October – 12th November, but if you want to catch the Halloween Voodoo Burger and Evil Eye cocktail, you need to head down asap, as this is only on offer until Halloween on the 31st October.
You can head to the Hard Rock website here for more information, and for your nearest Hard Rock location.
LL x
*The food featured in this blog were kindly provided by Hard Rock – as ever, all opinions are my own.