After my trip to Canada I have now returned to the not-so-sunny Manchester, and I am already missing the beautiful weather. In the unlikely hope of encouraging the summer weather to return to the city, I have teamed up with Adore Me – a New York based intimates brand, offering beautifully designed swimwear, lingerie and bras, to bring you my beach day musts.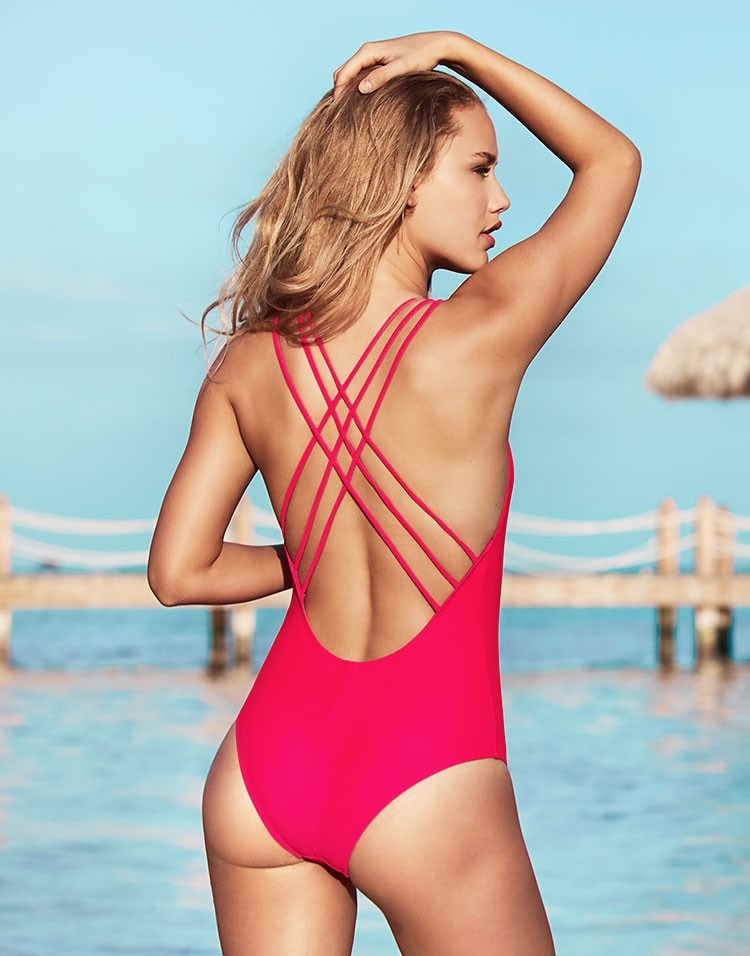 Keona Swim | $49.95 | Adore Me
First up is this beautiful red swimsuit from Adore Me. One pieces are totally back in this year in the best way. Previously they were sometimes seen as frumpy and unflattering, but with so many designs out there now, there are endless options to suit every body shape.
This one I love because of the low back and crossover strap detail. It is also available in white which would look great with a glowing tan.
(L-R)
Keona Swim | $49.95 | Adore Me
Jemm Beachwear Flamenco Beach Rose Gold Aviators | £22 | Noughts and Kisses
South Beach Watermelon Round Beach Towel | £25 | ASOS
'I'm Busy' Oversized Straw Hat | £18 | ASOS
White Perforated Bikini Vest | £30 | River Island
Saint Laurent Canvas Tote Beach Bag | £450 | Selfridges
Gwendolyn White Boyfriend Coverup | $49.95 | Adore Me
When heading to the beach, you always need a good coverup. Wether it be for throwing on for the journey, or to protect yourself from the UV rays, this boyfriend shirt is ideal for the beach. I have been loving the casual, oversized boyfriend style recently so this is the perfect addition to my beach musts list!
(L-R)
Leopard Print Crochet Bikini Top | £20 | River Island
Leopard Print Crochet Bikini Bottoms | £13 | River Island
Chanel Espadrilles | Chanel
Ray Ban Aviator Gradient | £179 | Ray Ban
ABAD x Missguided Red Bandeau Bikini Set | £25 | Missguided
La Roche-Posay Anthelios Ultra Light Spray | £19 | Boots
Black Tropical Lola Kimono | £40 | Dancing Leopard
Dana Halter Bikini | $49.95 | Adore Me
Over the last couple of years bikinis have really become a true fashion statement and a way to reflect your style, as well as just something you throw on for the pool or to beach. I love how there are so many more styles and designs of swimwear now, and its great to be able to flatter your body shape and choose something that truly suits you, rather than just a one shape fits all sort of deal.
This halter bikini from Adore Me is a gorgeous twist on the standard triangle style bikini, and I love the extra detailing in the bottoms to match.
Beachwear has come so far in the last few years, and I love how easy it is to now style up your beach/pool wardrobe thanks to the beautiful range of swimwear, coverups and accessories now available both on the high street and in designer stores.
Adore Me have a beautiful range of swimwear, available in all styles and sizes. They also have an incredible range of lingerie and sleepwear, many of which have gone straight to the top of my wish list!
What are your #beachdaymusts? Are there any items you can't live without on a beach day? Let me know in the comments below!
LL x
Are you following me on 


?