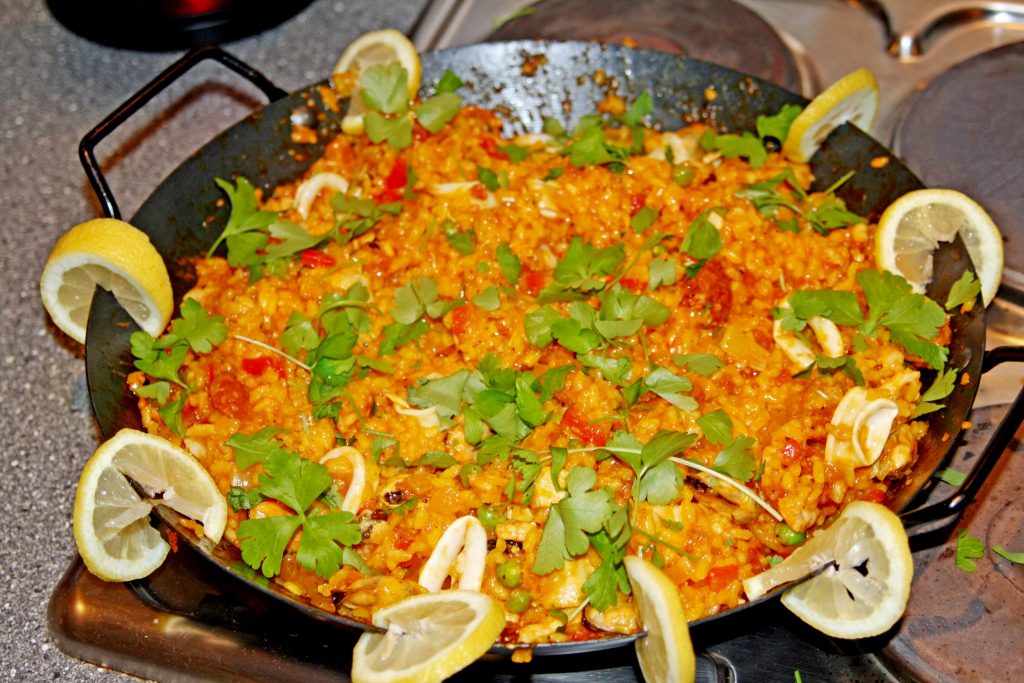 Make this perfect-for-parties, showstopping paella at your next get-together, and you're guaranteed to be bombarded with compliments. Plus you only have one pan to wash at the end of the night – winner!

I was inspired to make this dish myself when I was away on holiday in Ibiza this year. We stayed in an all-inclusive hotel where they held themed nights in the restaurant on various days of the week. Of course there had to be a Spanish themed night, and the main attraction for me was the humongous pan of paella. Mounds of saffron rice laced with king prawns, squid rings and huge mussels still tucked in their glossy shells.
As soon as I had finished my first plate of the delicious dish (I obviously went back for seconds), I knew I wanted to cook this myself as soon as I got home. We had started a bit of a tradition with some friends prior to our holiday, where we would take it in turns to hold a mini dinner party and cook something new for each other at the weekends. I was always looking for recipe inspiration and new dishes to create, and I had just found the perfect dish to wow our guests with – it would be my next pièce de résistance.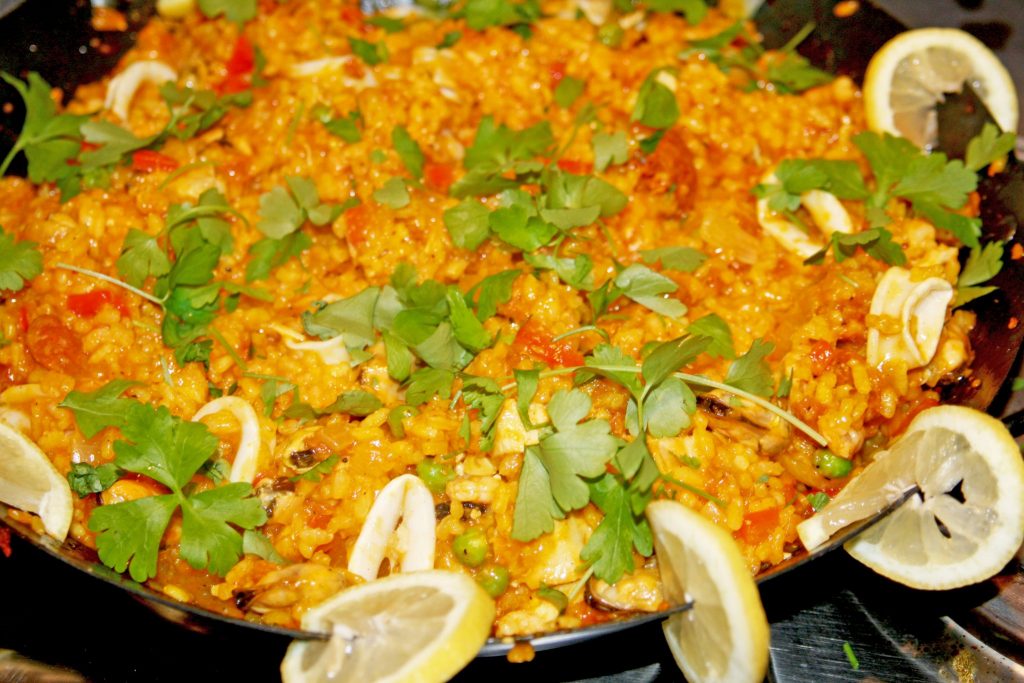 I had planned to do a test run and cook the dish for just myself and Jay as I had never made paella from scratch before and wanted to perfect it beforehand. However, the first opportunity we had to host dinner I just couldn't wait any longer so I decided to go for it. We also decided to put Jay's new drinks dispenser I got for his birthday to good use and make a barrel of sangria to accompany dinner.
Needless to say it was a huge success. Everyone was very impressed and a few of us went back for multiple servings of paella – always a good sign. The sangria coupled with the dish was perfect; we even ended up making a second batch.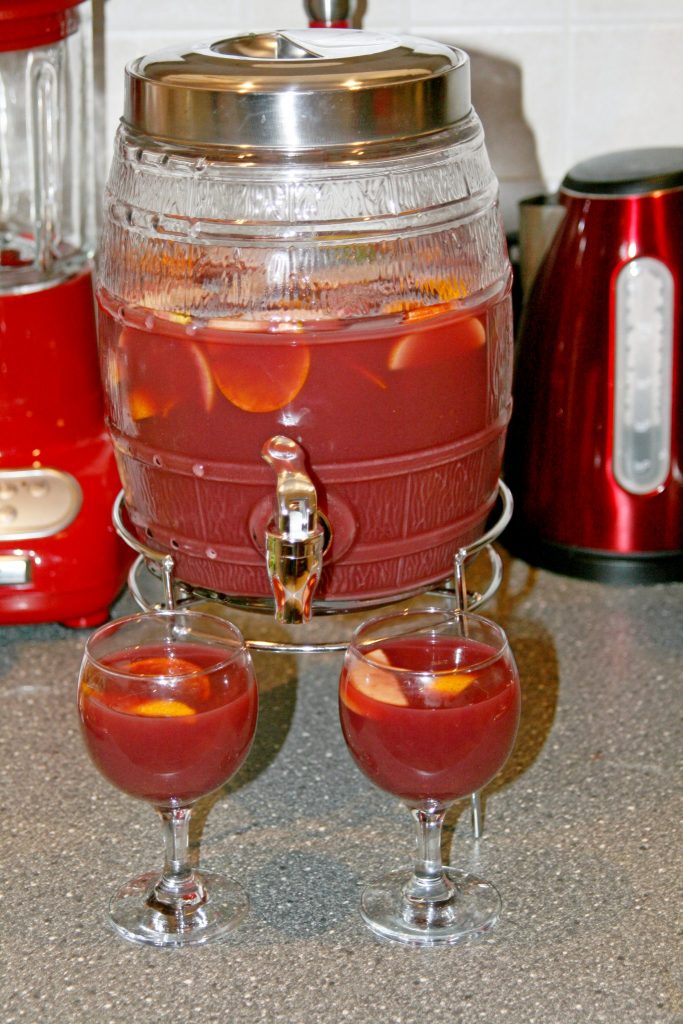 The recipe below feeds about 6 people, although I would definitely recommend making more than you need with this as people do like to go back for a second plate.
Ingredients
A good glug of olive oil
6 cloves garlic, finely chopped
1 large white onion, finely chopped
1 large red pepper, finely chopped
2 pinches saffron
2 teaspoons smoked paprika
Sea salt
Freshly cracked black pepper
2 litres hot chicken stock
125ml white wine
A bunch of flat leaf parsley (quantity is really preference based – this is just to scatter on the top when serving)
6 heaped tablespoons peas
100g Chorizo, sliced
6 chicken breasts or thighs, chopped
10-15 king prawns
10-15 squid rings
10-15 mussels
75g per person of paella rice
NB: The seafood is really to preference – I love all seafood so I like to put lots in, but it depends on how much you and your guests like it – you can also eliminate it completely if you aren't a fan. However if you are putting seafood in a great tip is to check out the fish counter and the aisles for a big mixed bag of seafood as these are so handy for chucking in and if you don't want the faffing of having to de-shell.
Method
Heat your paella pan over a medium heat and add a good glug of olive oil. Chuck in the garlic, onions and chorizo (a lot of recipes add pancetta at this stage so feel free to add that in here too). Add in your pepper and fry everything until softened, and the wonderful chorizo has painted the pan with its fiery crimson colouring.
Add the chicken to the pan and begin to stir-fry. Meanwhile infuse your chicken stock with the saffron. When the chicken has become golden, add in your paella rice and give it a stir until everything is coated with a glossy orange glaze.
Add in the wine, the smoked paprika and season with salt and pepper.
During my research on paella I learnt that traditionally you should stir the stock in quickly and then from that point forward the dish should not be stirred at all; this helps the grains of rice to remain separate. You should shake the pan regularly to prevent the dish sticking, until the very end of the process where you should leave the dish with the intention of creating a thin crispy layer of rice on the bottom of the pan. This is called the soccarat and is supposed to be the tastiest part of the dish! I did attempt this but my shaking skills aren't quite up to scratch and for fear of losing half of dinner on the floor I stuck with mainly stirring just for safety. This trick is something I need to perfect!
Now you will need to add about half of the chicken stock and give everything a good shake (if you've got the skills!) or stir to get the flavours really mixing. You can leave this to cook on a gentle-medium heat, but be sure to come back and move regularly to ensure nothing sticks to the bottom of the pan.
Next sprinkle in the peas and gradually add the rest of your stock as the dish is cooking and the rice is soaking up the liquids. Note that some paella rice cooking times may vary so always check the pack before you begin and be sure to cook according to the instructions.
Add in the seafood right at the end of the cooking time – just enough to cook everything through thoroughly (and not to make anything go chewy). The seafood I used was pre-cooked so just needed to be heated through, so bear in mind a little more time if cooking from raw. Alternatively, some recipes do cook the seafood in a separate pan and transfer to the paella at the last minute, although I much prefer the dish when all the flavours are cooked together in the same pan.
Serve with sprinklings of parsley, wedges of lemon and lashings of sangria!
This recipe is super easy and a great one-pan-dish, which saves a lot of work when holding a dinner party. I have used a couple of tricks in this recipe to make it (hopefully) fool-proof and perfect for when you want to throw something impressive together for guests but are limited on time and have other things to prep too. For example I used stock cubes but you may want to change this up to make your own stock from scratch with the chicken, and I used a mixed bag of seafood but if you and your guests don't mind de-shelling then I would always go for fresh seafood from the market.
My paella frees up some time and mess that a lot of people like to minimize at parties, but still has that wow-factor presentation and taste.
Hope you enjoy!
What is your favourite dinner party dish?
LL x