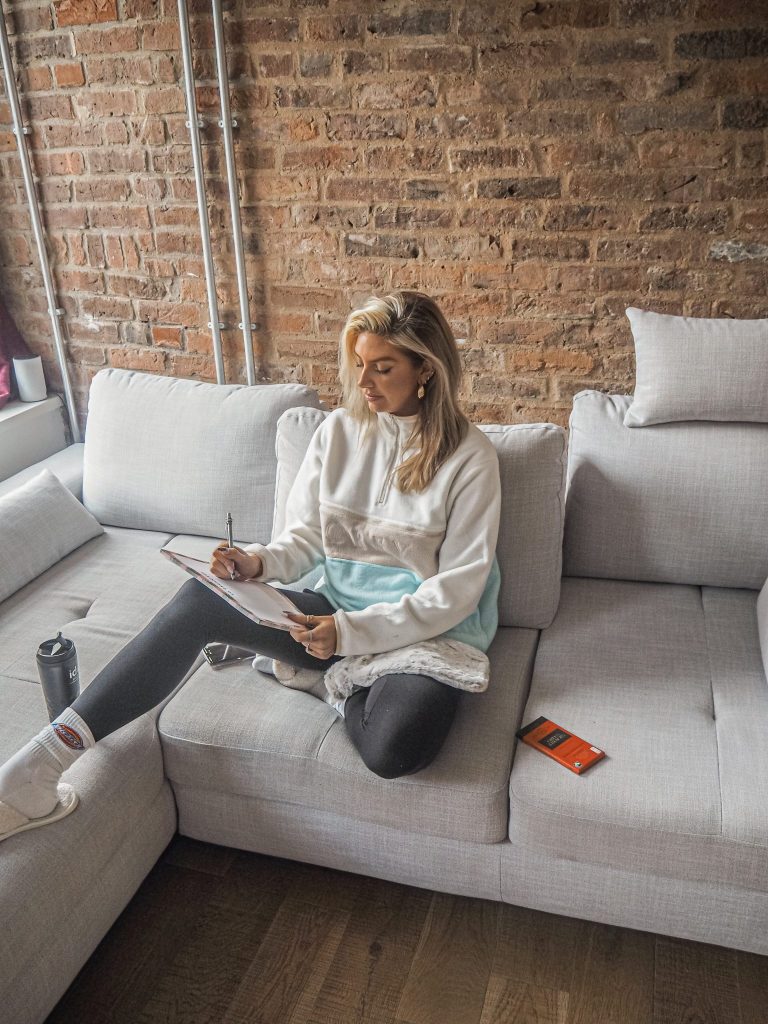 Tips for Getting Through Winter
Ideal Heating are giving away 100 bags of free coffee and travel mugs to our winter heroes. The campaign is around keep those working hard through the winter months warm and cosy. The heating specialists have partnered with independent coffee brand, Maude to create their very own limited edition coffee brand. It's packed with comforting hints of chocolate, warming notes of ginger and a delicate touch of cranberry. To celebrate their Ideal Blend Giveaway, I wanted to share my top tips for getting through the winter months. They kindly sent me a little hamper of goodies to keep me going until spring, which inspired some of my tips!
We are finally moving into brighter days, and I can already feel that I'm more upbeat and positive thanks to the lighter evenings and some sense of hope in the not too distant future. I really struggle getting through winter and I'm one of those people who is almost always cold as it is. The gloomy days and darker hours seem to have an impact on my mood and productivity too, so it can be hard to stay motivated throughout the winter months. Although we are coming into spring, we can still have those darker and colder days, which can have an impact on motivation, positivity and mental health. Today I wanted to share my best tips for getting through winter if you are feeling a little low. Some of these have been a real help for me during lockdown in general, as well as winter.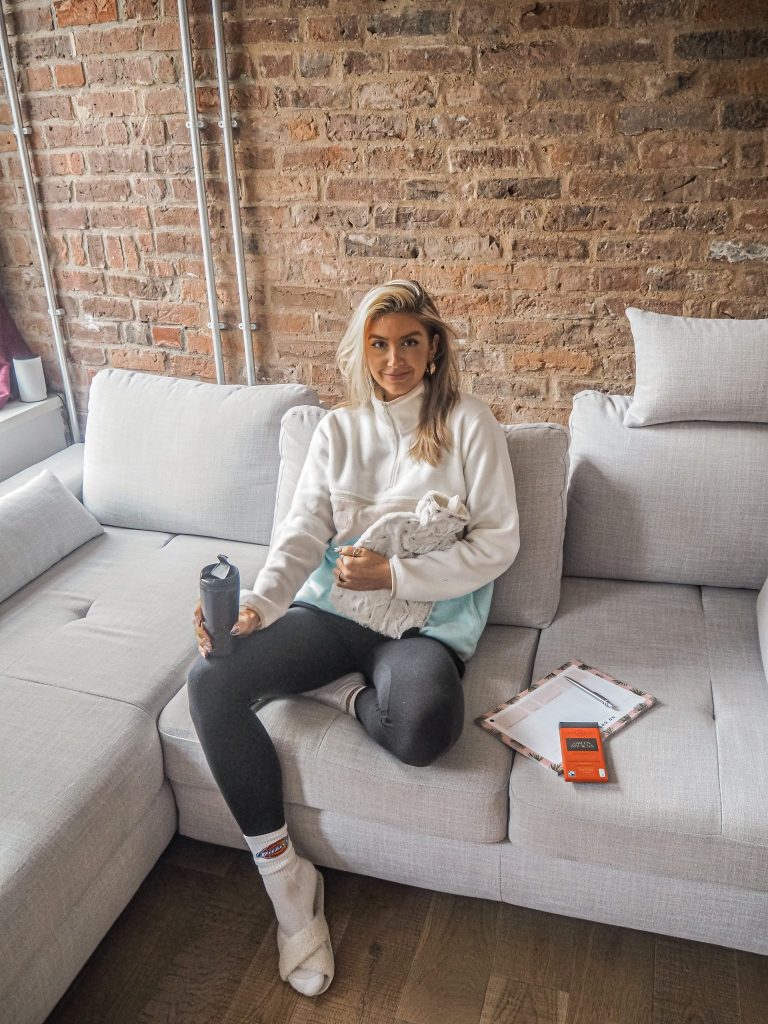 Self-care
This is something that gets thrown around a lot, but how often do we actually make time for it? It can look different for everyone too, so start by having a think about what this means for you. For me it means making time to do little things that really boost my mood.
My main one is exercise, and since I haven't been able to go to the gym, my mood was really impacted. I recognised that I couldn't just sit and wait for them to open again as I felt worse each day. So, I made a plan to try and do some sort of exercise each day. Even if its just a walk around the block or to get our shopping for the week; I feel so much better for moving my body. I've also been trying to get back into yoga which is a great way to relax as well as boost your mood.
My other forms of self-care are just parts of my daily routine that added structure to my day. Getting ready each day really puts me in the right mind-set for the rest of the day. Whereas sitting in pyjamas all day whilst working made me feel quite sluggish. I also take time each Sunday to do a face mask, wash my hair and get myself ready for the week ahead. Since I've done this I feel like I start Mondays with so much more motivation than I did before.
Stay Warm
I am the master of procrastination in any circumstance. However, when it comes to winter I spend a lot more time procrastinating because I feel too cold to get up and get myself moving! I was sent this hot water bottle as part of this campaign, and it has been an absolute lifesaver. Honestly its probably my most used accessory of 2020/21. If you're feeling a chill its nice to have something to instantly boost your heat, plus you can carry it around with you! I also always have cold feet, so I actually like to sit with my feet on it too!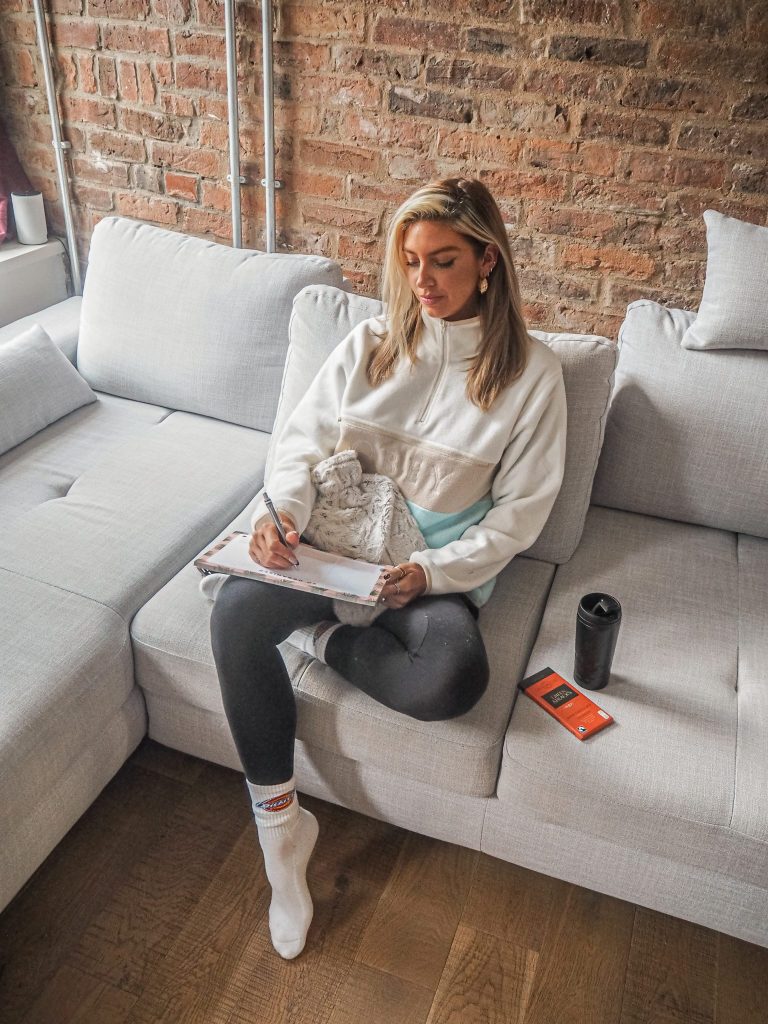 Food and Drink
I'm sure you already know that food and drink is always high on my agenda. I think finding a good balance of having food that makes you happy and food that makes you feel good is key. I absolutely overindulged over Christmas, who doesn't?! and whilst I made the most of every slice of cheese, glass of wine and box of chocolates, I could only do it for so long until I started to feel a little sluggish, and the enjoyment of the exciting food had lost some of its appeal.
Colder days often call for something hearty and warming, but it doesn't necessarily need to be stodgy or unhealthy. Think healthy soups, warming casseroles, hot and spicy stir-frys. Even just making simple swaps to some healthier alternatives in your usual favourites can really help. I always find that my more unhealthy meals always excite me a little bit more if I've been eating healthier things more regularly, as they feel like more of a treat. Try to stick to plenty of veggies and fruits during the week and then have a few more indulgent dishes at the weekend. This has really helped me to stick to more of a routine, as well as feeling more healthy and having more energy.
Make Plans
I often get to a place where I feel quite overwhelmed with my blog and work, as well as things I need to do at home, and I feel like writing a list or planning out the tasks is taking away time from doing the actual jobs! However it really isn't the case. In fact I had this very feeling this week, and after a couple of days I made myself sit down and write out all the tasks I had to do. Then I could look at deadlines and plan out when I had to do things by, then dropped everything else in around it. I feel so much better now! My head feels clearer just from not thinking about so many things all at once and trying not to let them slip out of my brain until I get them done!
Now our restrictions here in the UK look like they will be slowly being lifted, we can also start to think about future plans. The thought of this makes me so excited in itself! I'm already working out when I will be able to see friends and family again (and more importantly, go to the pub!) However if you are a little nervous or anxious about this, why not plan your weekends at home? For my lockdown birthday, I made a fun birthday bucket list of all the things I wanted to do. Even doing simple things like watching your fave film, having some time to relax – maybe have a bath or read a new book, or cooking a meal you love could be part of your plans.
I hope some of my tips for getting through winter help you with some of the tougher days.
You can visit the Ideal Heating website here.
LL x
*The items featured in this post were gifted. As ever, all opinions are my own.