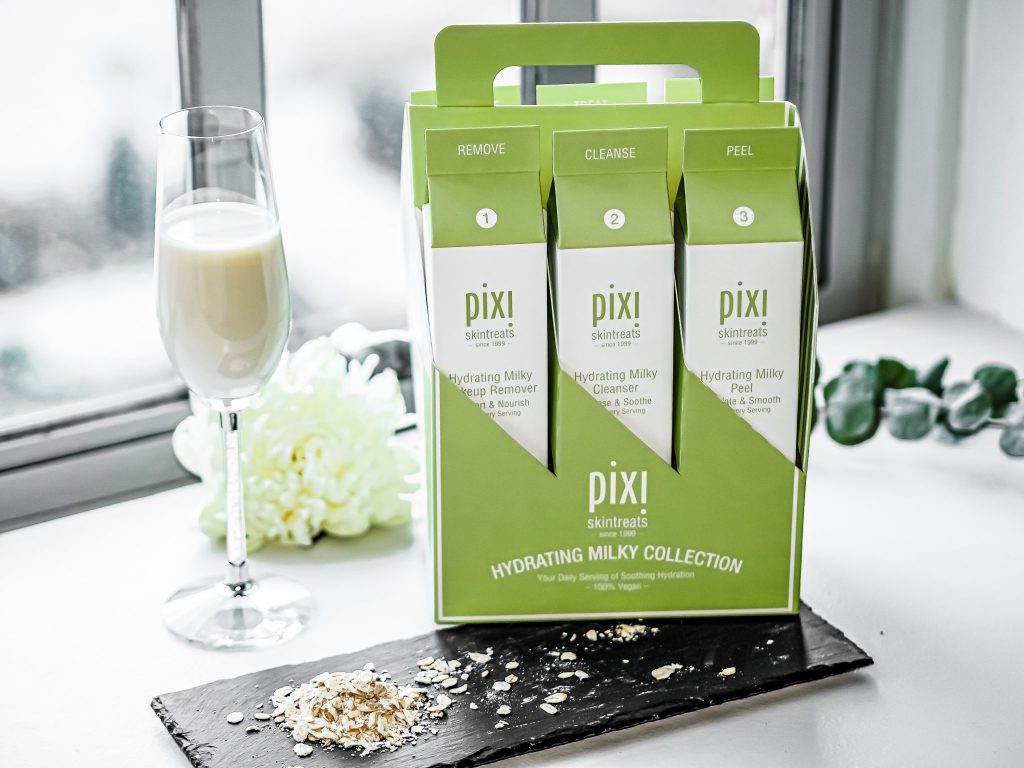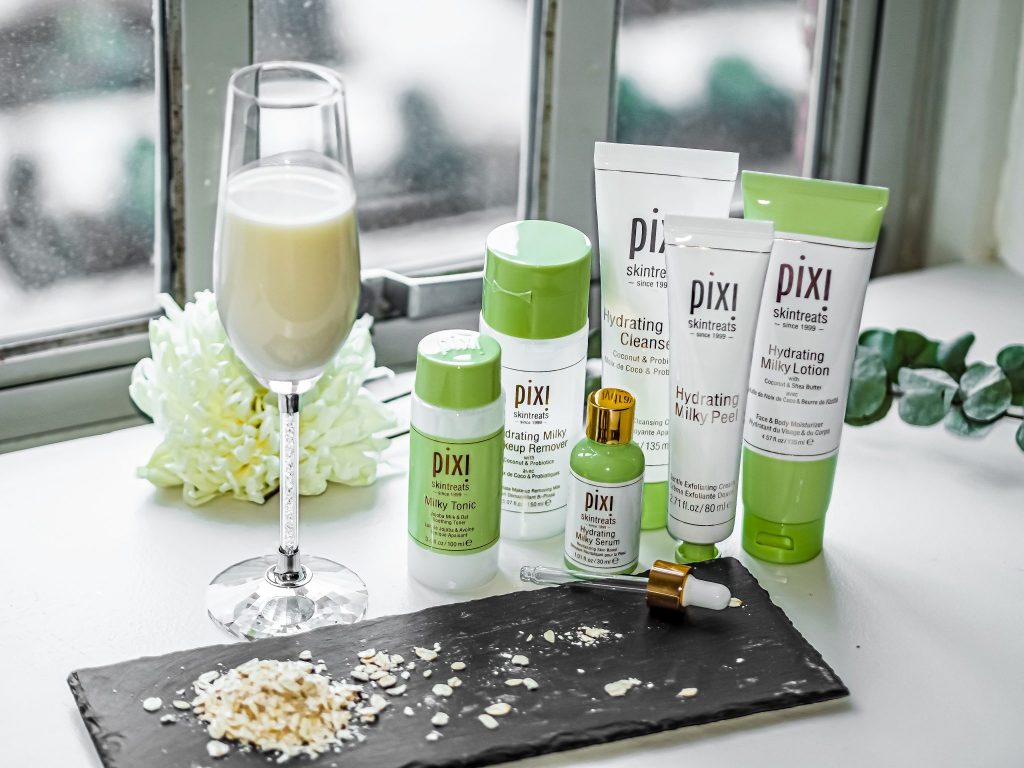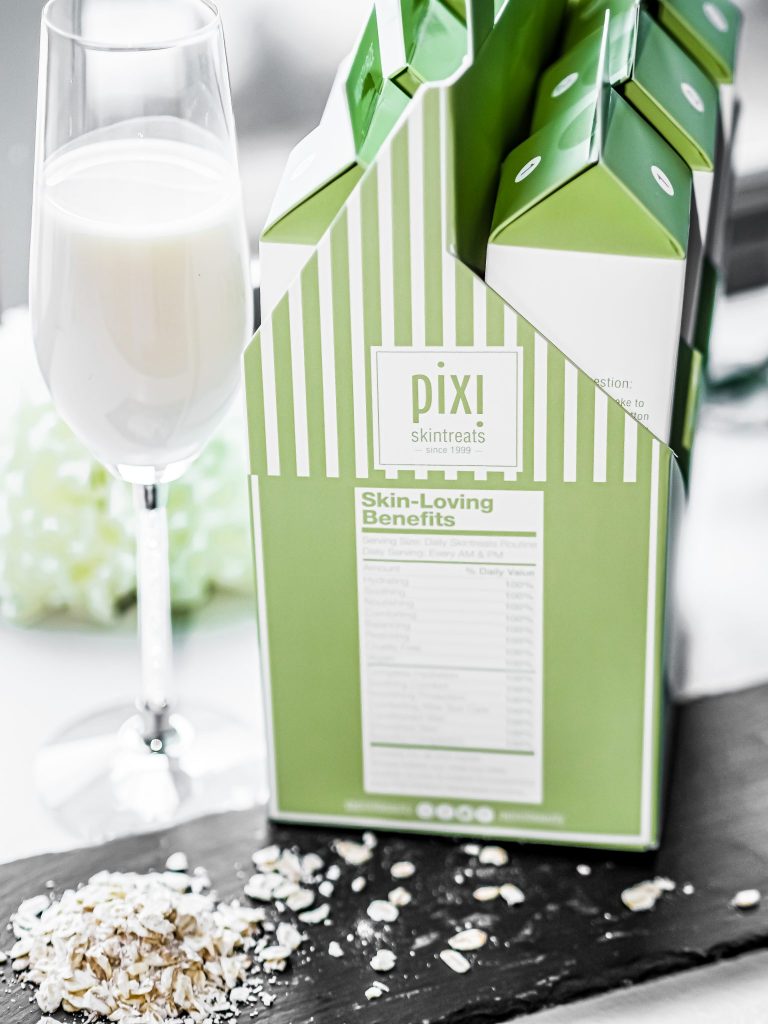 Hydrating Milky Collection
Pixi's most recent release is the Hydrating Milky Collection. You better believe I did a little squeal of excitement to be sent this super cute package recently. (Luckily it was just before all the COVID-19 craziness happened, so I'm incredibly grateful to have some beautiful skin bits to keep my self-care routine going and my skin hydrated!) If you saw my posts about the Pixi Vitamin C Collection and the 20 Years of Glow box, you will know that they always nail their PR packages. This is definitely the beauty package I get most giddy about receiving .
The retro style milk carrier contains a six step skincare routine ideal for anyone who wants firm, healthy and youthful skin. The Milky Collection boasts and array of rich, moisturising skincare products. These are SO perfect for my quarantine skincare routine right now, and whilst I'm trying to make extra time for taking care of myself, why not indulge in all 6 steps at once?! Something I probably wouldn't take the time to do as often as I'd like.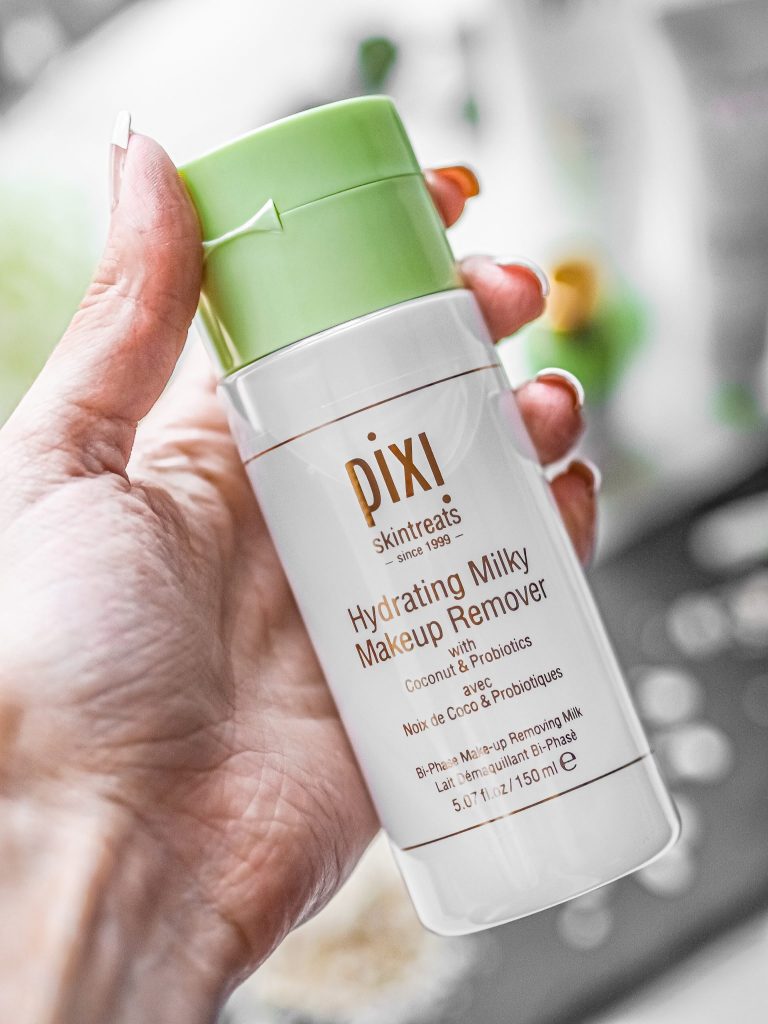 Remove
Step one: Hydrating Milky Makeup Remover. This moisturising makeup remover is strong enough to tackle the most stubborn eye, lip and face makeup, but gentle enough to leave your skin hydrated and nourished. It's also infused with Coconut and Oat Extract and Probiotics to help keep your skin healthy. I simply take a couple of cotton pads each evening a swipe over my face, with more focus on the areas with heavier makeup to cut through anything thicker or long-wearing.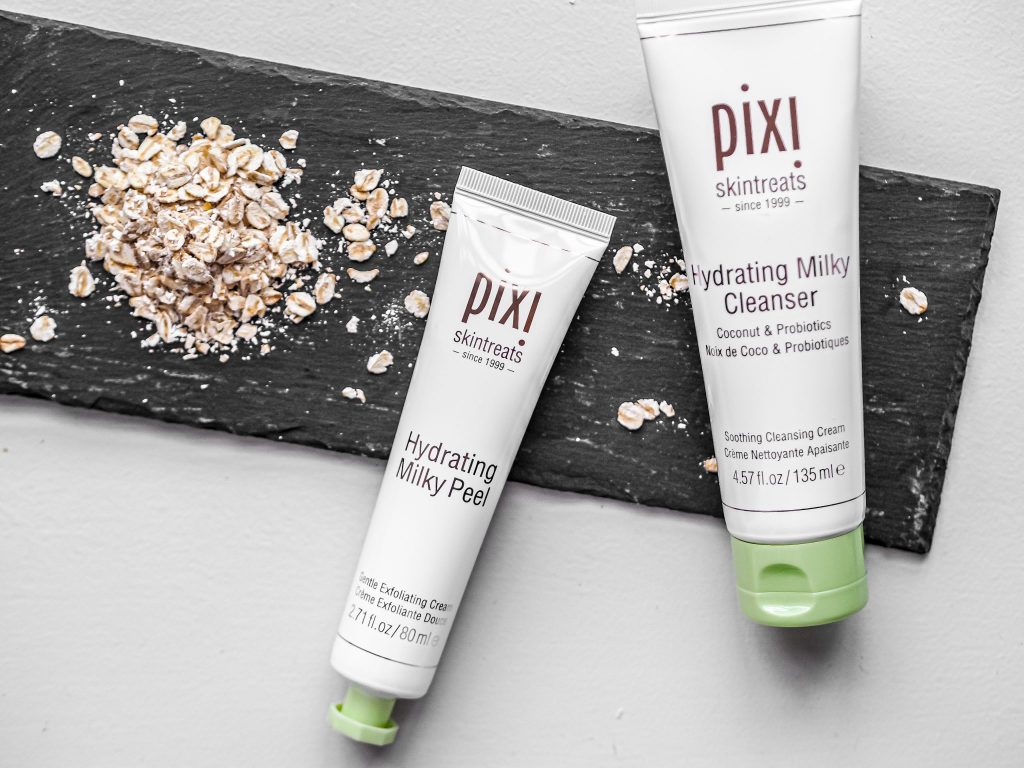 Cleanse and Peel
Next is the Hydrating Milky Cleanser. It's super rich and moisturising thanks to the addition of Coconut Extract, Oat Extract, Probiotics and Willow Bark Extract in its formula. This ultra-nourishing cream cleanser helps to moisturise while thoroughly cleansing skin. My only note on this would be to keep it away from your eyes. I'm sure plenty of people already do this but I often apply cleansers to my whole face so when they are a little stingy on the eyes it gives me a bit of a shock! It's really light and delicate on the skin though (just don't be careless like me and get it in your eyes!)
Step 3: Gently exfoliate without drying your skin with the Hydrating Milky Peel. This micro-peeling cream delicately removes dead skin cells to brighten your skin. The formula also contains Natural Cellulose, Coconut Extract, Oat Extract, and Probiotics for added moisture. Arginine also helps boost your skin's collagen and elastin production for youth-preserving effect. I love this product! It's really soft and not harsh at all. The formula is very smooth and fine and leaves my skin feeling super smooth.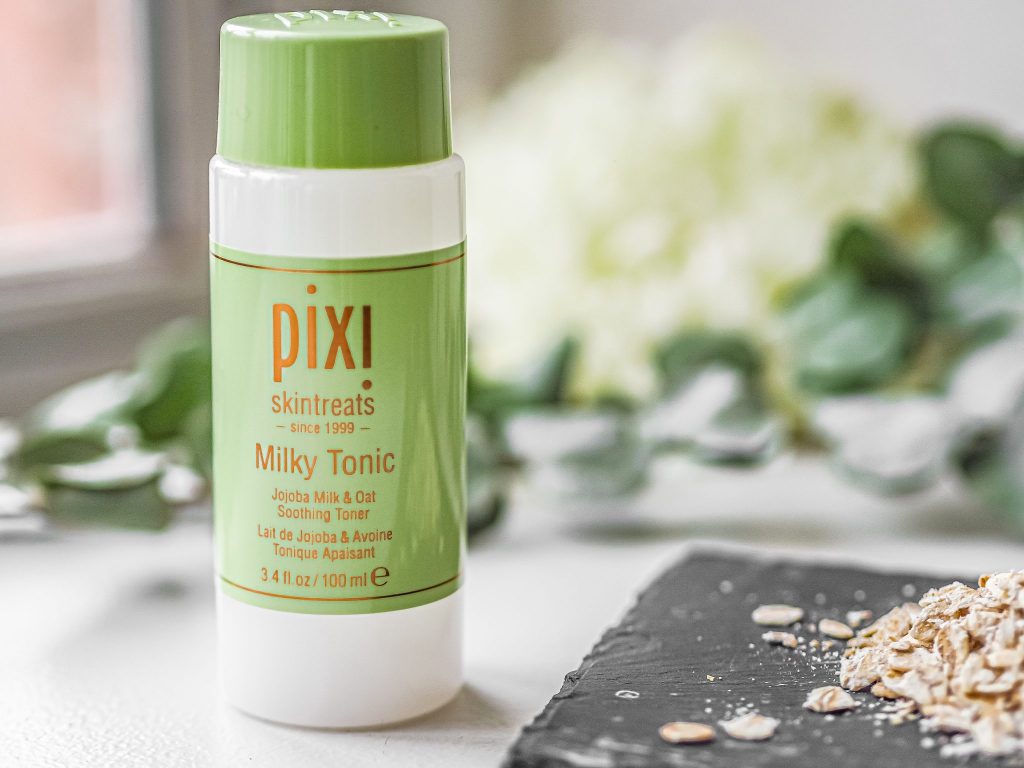 Tone
Step 4 is to moisturise and tone your skin with the Milky Tonic. This facial toner calms, balances and hydrates your skin. I am a longtime fan of the Pixi Glow Tonic, as well as their other more recent variations (although I do prefer the original). This one is very calming and light; I would say its less harsh than their other tonics too. So if your skin struggled with those or any of the stronger ingredients then I'd highly recommend trying this one.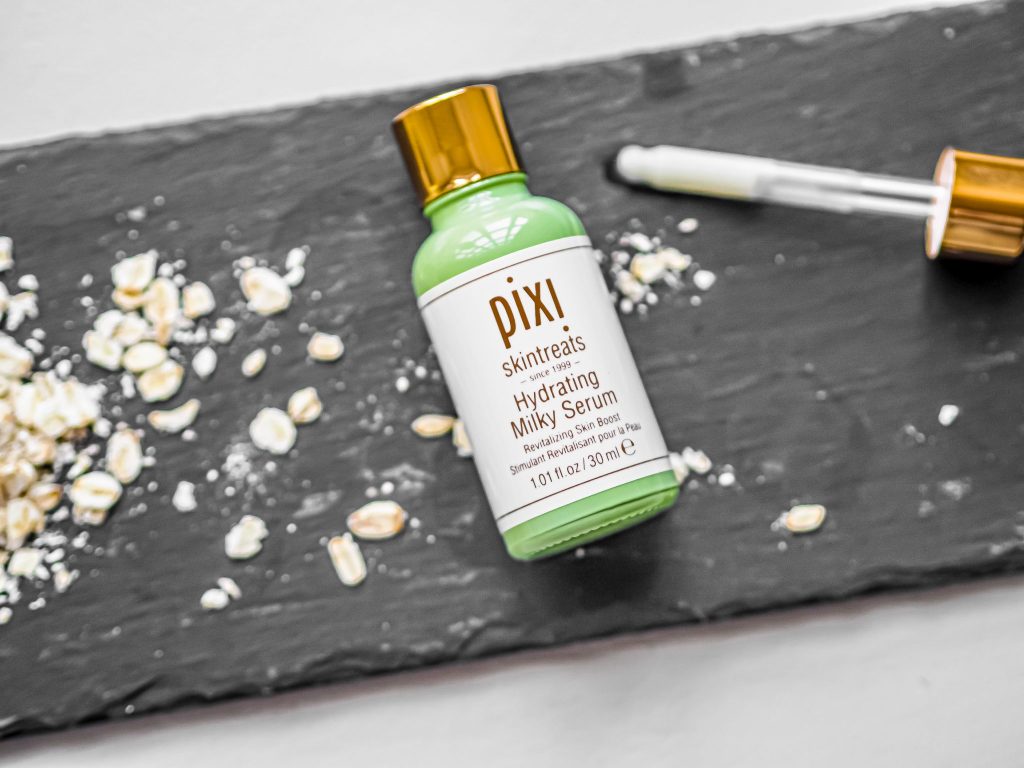 Treat
Treat your skin to concentrated hydration with Hydrating Milky Serum for step 5. This nutrient-rich serum features a lightweight formula that instantly restores dehydrated skin as it nourishes your complexion. This is thicker than the other Pixi serums I have tried, and again feels quite delicate but also highly hydrating on the skin. I've been using this mainly at night time for deep moisturising before bed.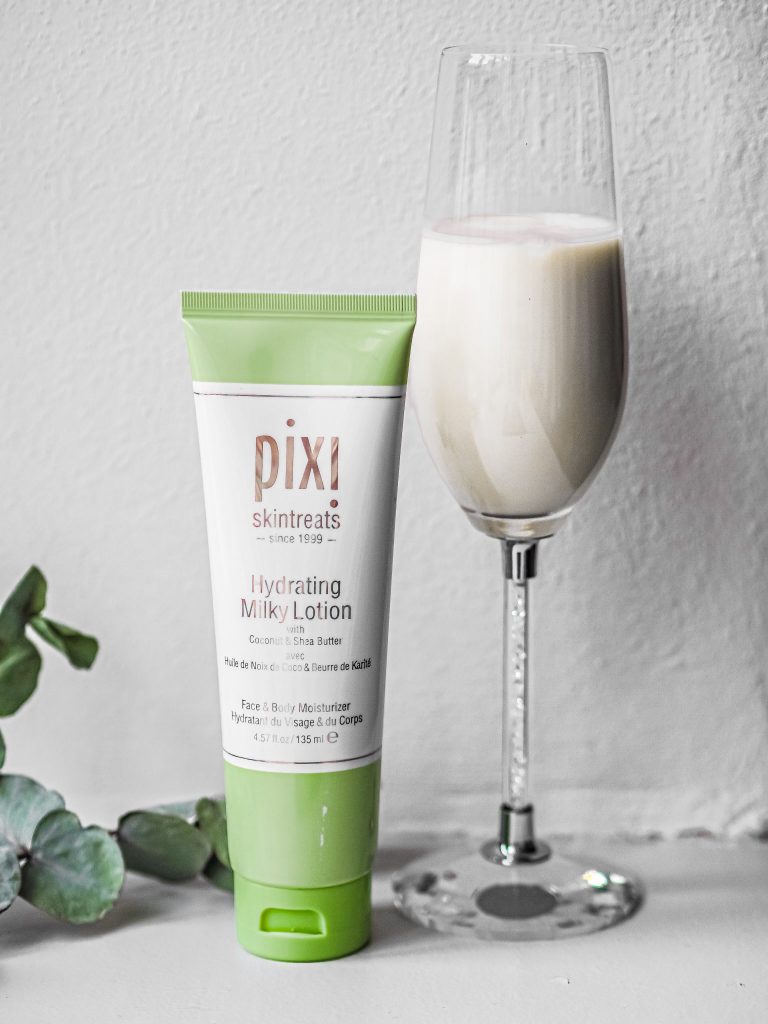 Moisturise
And finally, step 6 – moisturise. Follow the serum Hydrating Milky Lotion, which contains an ultra-moisturising blend of Coconut Oil, Cocoa Bean Extract and Shea Butter. This is an awesome product as you can use it on your face and body, so perfect for taking on trips or overnight stays (whenever we can do that again!) I do love a good multi-purpose product.
My Review
Pixi just kill it every time for me. I love that they never stray totally away from what they know with new releases; they usually go for variations and different types of products that they already do really well. I think this is really key – do less, but do it well, rather than trying to be everything to everyone. That's actually something I've been thinking about a lot recently in general life, as well as here, but we will save those deeper thoughts for another post and stick to product reviews here for now!
The Hydrating Milky Collection has been a delight to use and I'm still enjoying incorporating it into my skincare routine daily. The scent is a really subtle and comforting smell that is quite light and compliments the rich moisturising products really well. Using a combo of these items has been great on my skin; especially in these strange times where we may not be getting enough sunlight, fresh air and vitamins. If you've ever found some similar products quite harsh then I would really recommend this collection as it has been so gentle and soothing on my skin.
You can shop the full Hydrating Milky Collection here, or each individual product is linked under the images.
LL x
*These items were gifted. As ever, all opinions are my own.