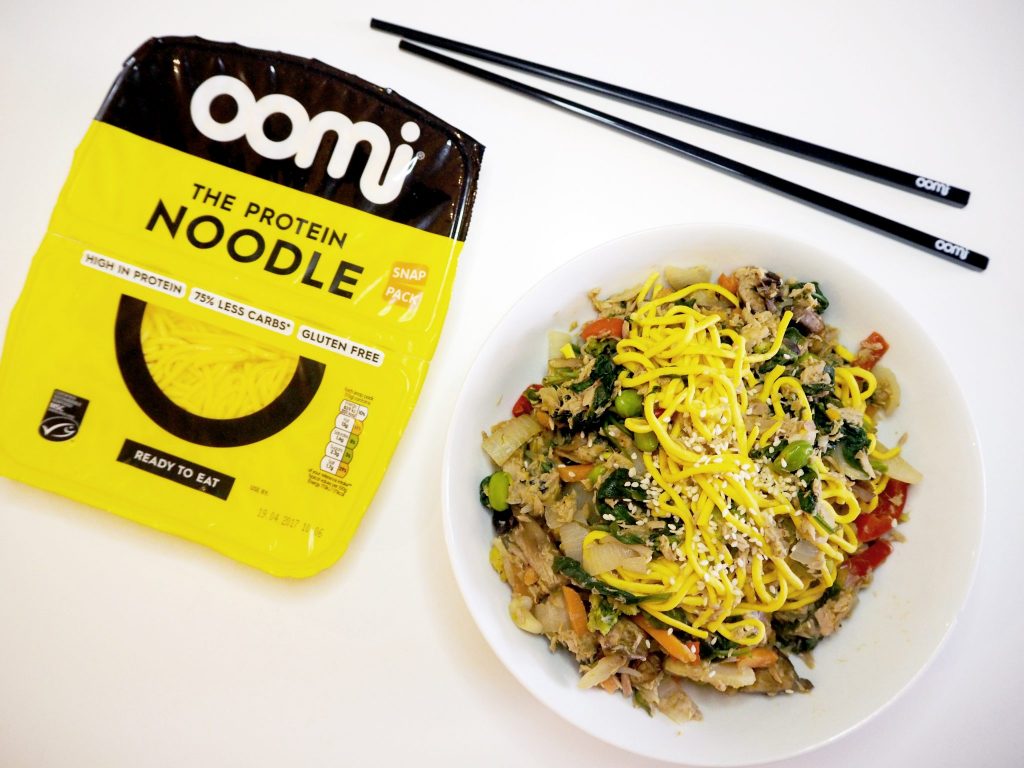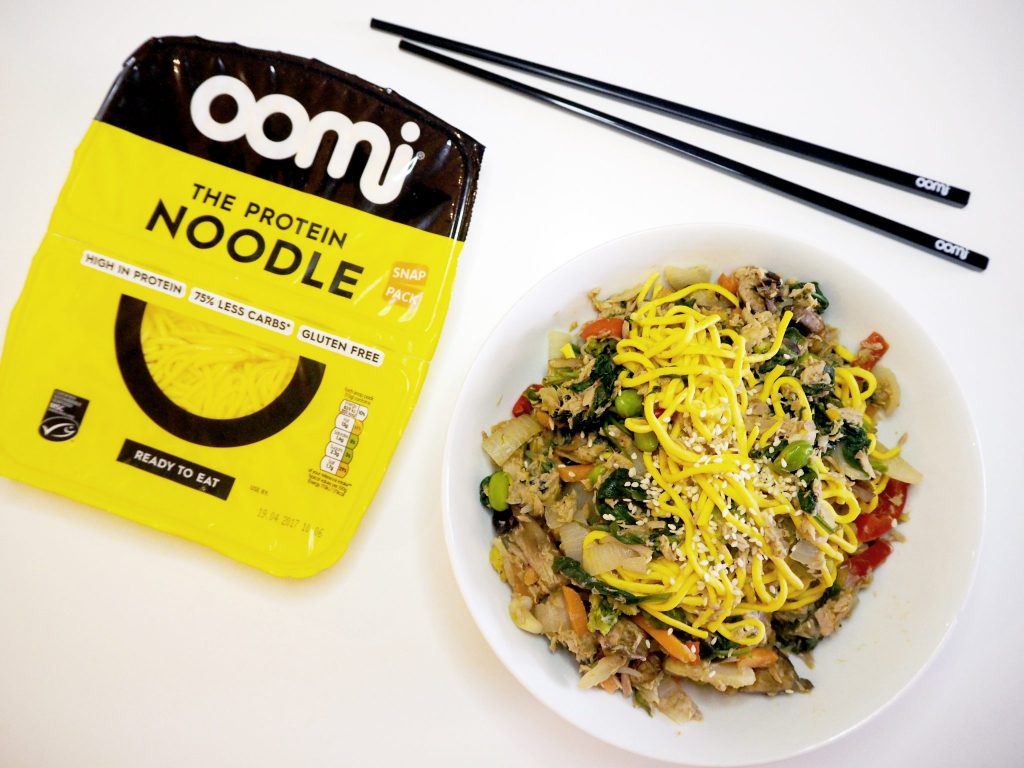 I know I talk about health and fitness quite a lot these days, as leading a healthy lifestyle and training in the gym has really become one of my biggest passions. Because of this, I am hoping to start sharing some more healthy tips as well as recipe ideas, and maybe even workout suggestions with you guys, as it seems to be something everyone is loving at the moment too.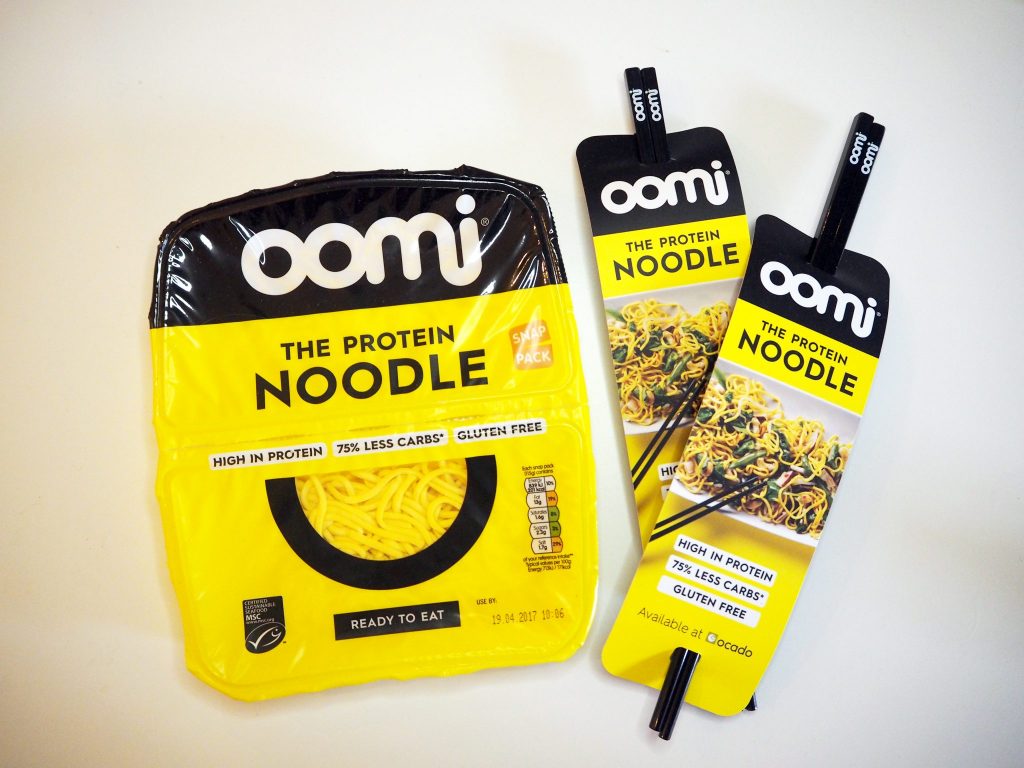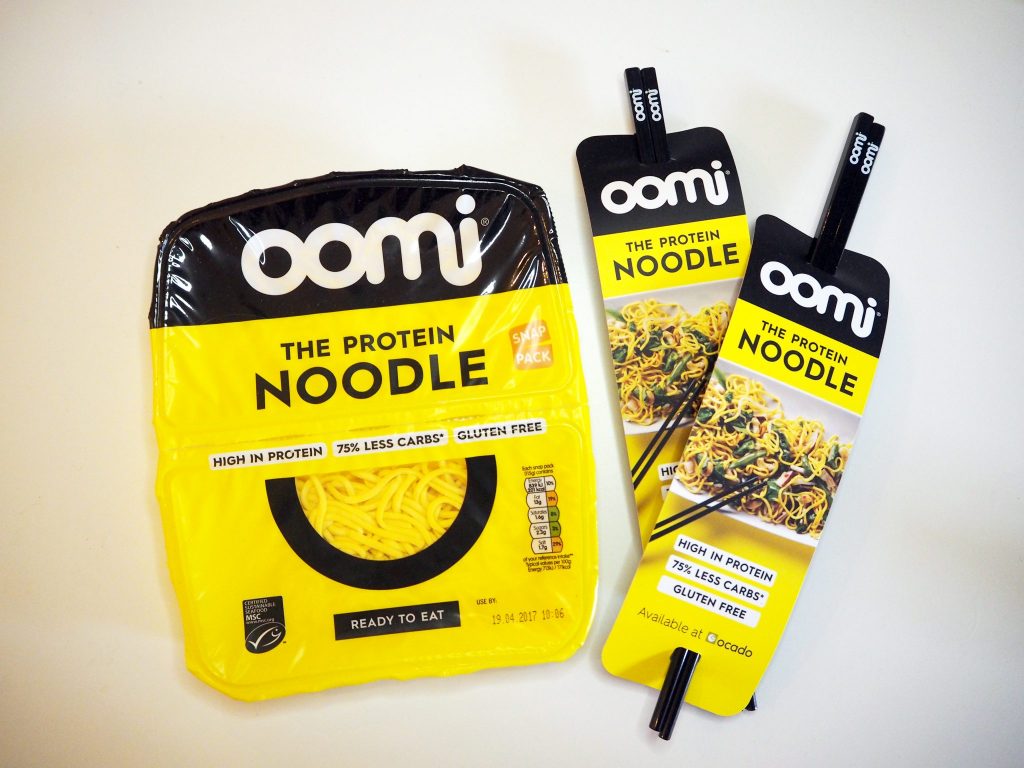 I love trying new foods, and adore finding new delicious health foods to add to my repertoire, so I was excited to try out these Oomi Protein Noodles. They are actually made with MSC certified fish, and are gluten free, 75% less carbs than the standard egg noodle, and of course, high in protein.
The plastic package has two servings that come in handy separate containers; you simply snap them apart and throw the noodles in a wok, or you can even microwave them – both options take under two minutes. Despite the noodles being made with fish, they don't taste like fish at all, so can quite easily be added to any dish where you would usually opt for noodles. They would even work well as an alternative to spaghetti, so you could cook with mince or meatballs for an Italian twist.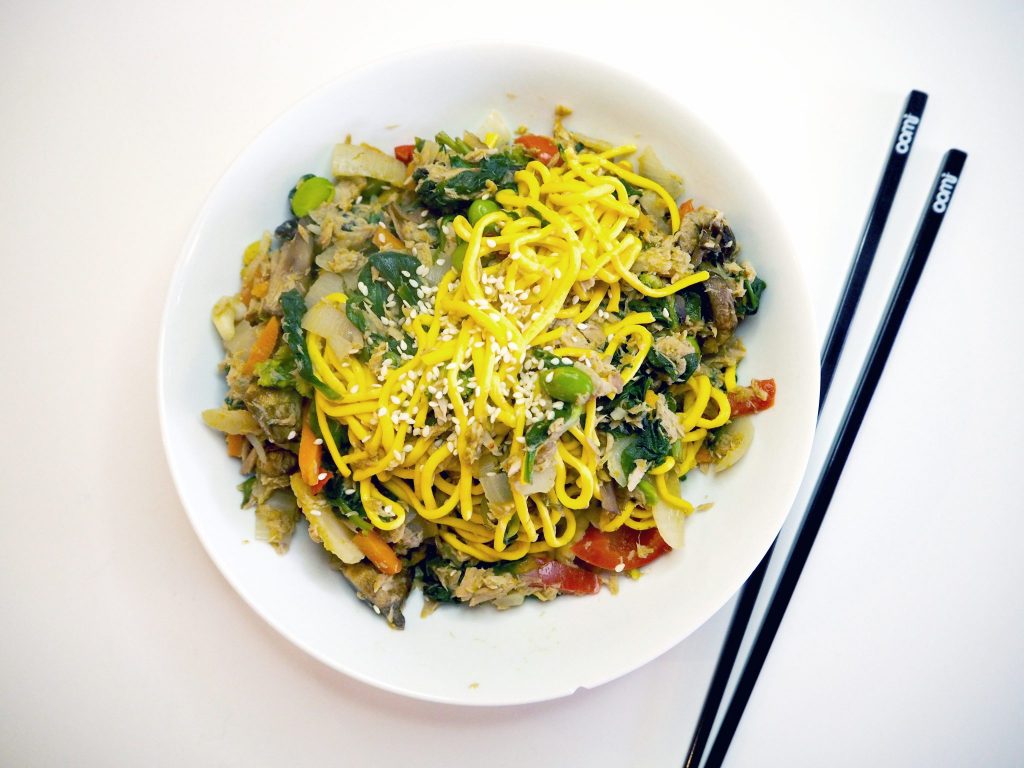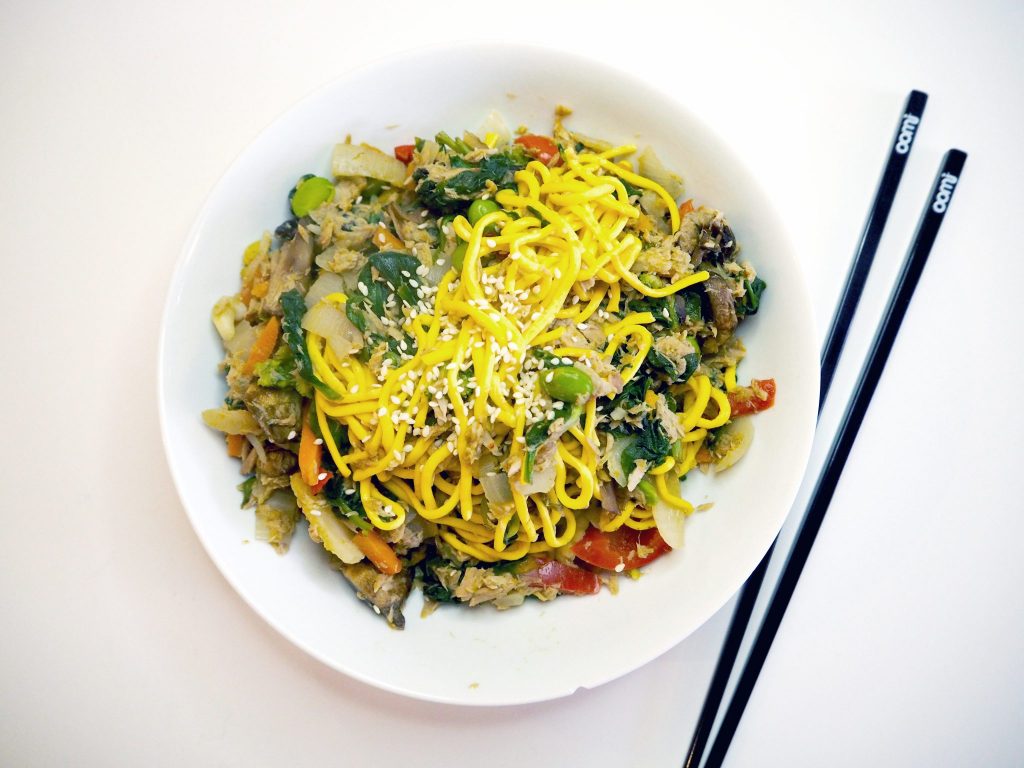 For me, these noodles are the perfect staple to keep in my refrigerator at all times; they can be added to pretty much anything, and make the perfect base to cook up a quick-fix dinner, taking away the hassle but without losing any goodness. Fish protein is known for being easier and quicker to digest than other meats like chicken and fish, and each portion of these Oomi noodles stacks in at 12g protein, so would make a perfect post-gym dinner.
You can, of course, create some amazing noodle and salad dishes with Oomi, but I also wanted to show that not all healthy dinners are Instagram perfect, and you can cook up something healthy, delicious and quick with just a few store cupboard essentials. For this dish I heated up a wok with some coconut oil and added in a portion of frozen stir fry veg and frozen edamame, followed by a tin of tuna and some fresh spinach. I then thew in the noodles and added a sauce (I used soy sauce and some herbs and spices to make mine, but you could use a ready made sachet or make your own favourite sauce at this point), and served with a sprinkle of sesame seeds. These are items that I always have in my cupboard and freezer, so I know I will always be able to whip up a hearty and satisfying dinner with a few staple ingredients.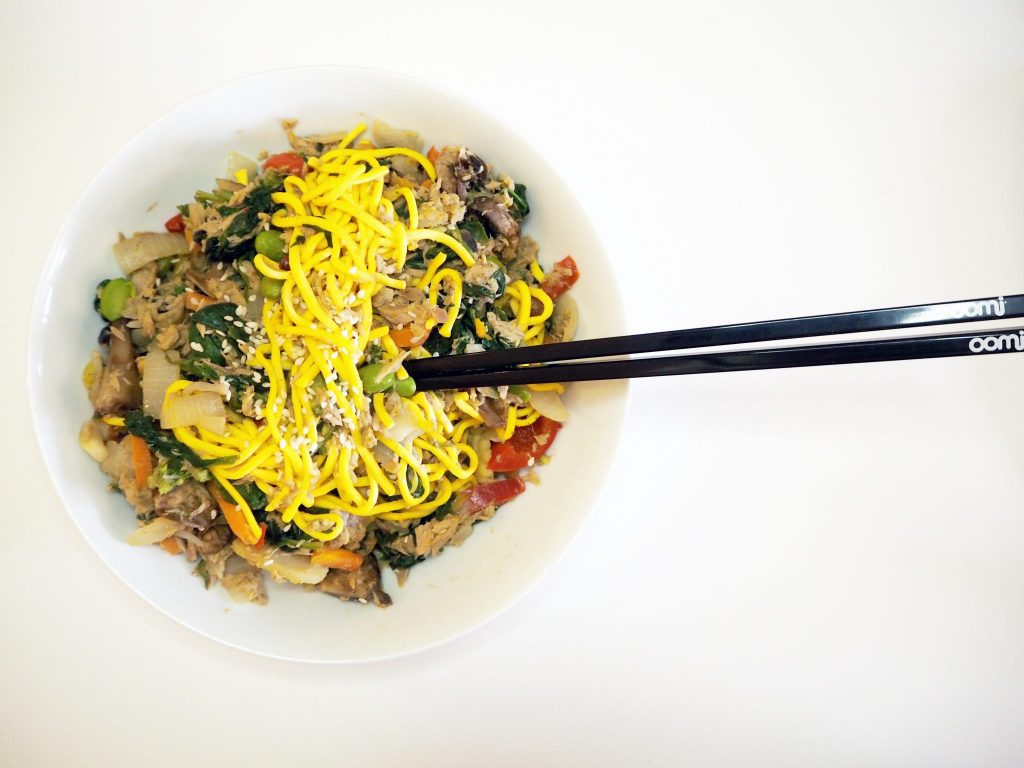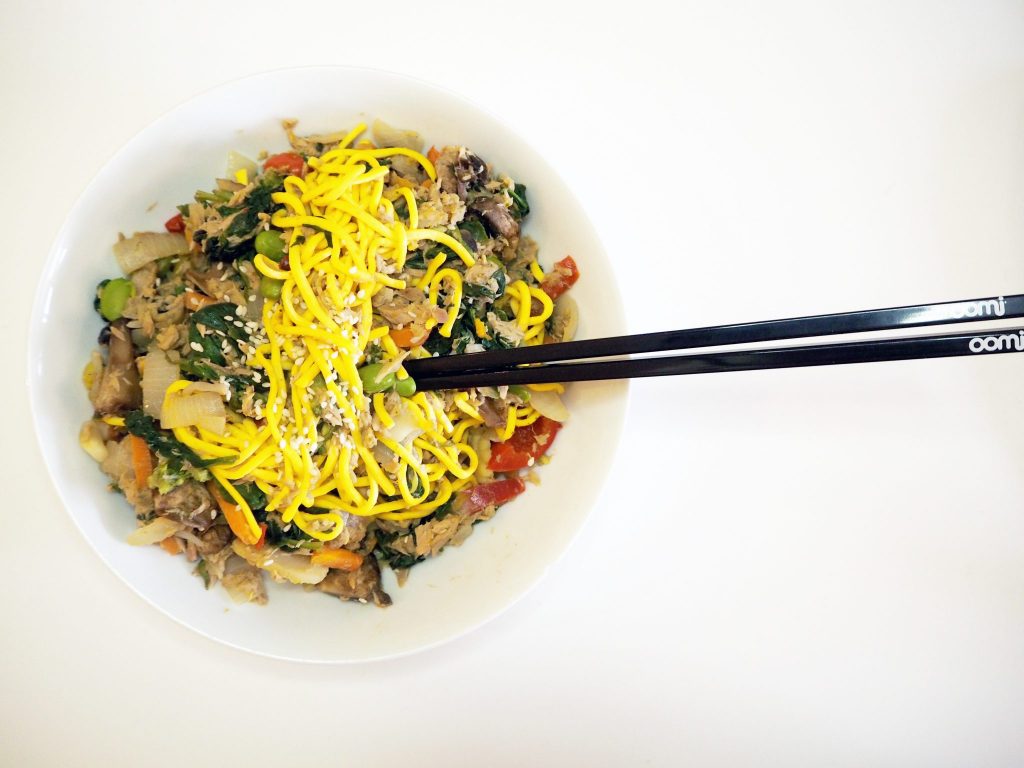 My portion size actually ended up being pretty big too, so although the noodle portions may initially look small, you will be surprised how far they go – especially with added vegetables and meat. I did put this together for a dinner time meal and it definitely filled me up (which is quite a task as I am always either A – hungry or B – eating), but you could also use some lighter ingredients and create a noodle salad or something similar if you prefer smaller meals, which would also work well for lunches.
Oomi noodles are available at Ocado and Tesco stores, so are super easy to get hold of too. They are definitely one of my new faves and a great way of getting some added protein into your meals. Click here to find your nearest stockist.
What are your favourite health foods?
LL x
*This product was sent to me for review – as ever, all opinions are my own.