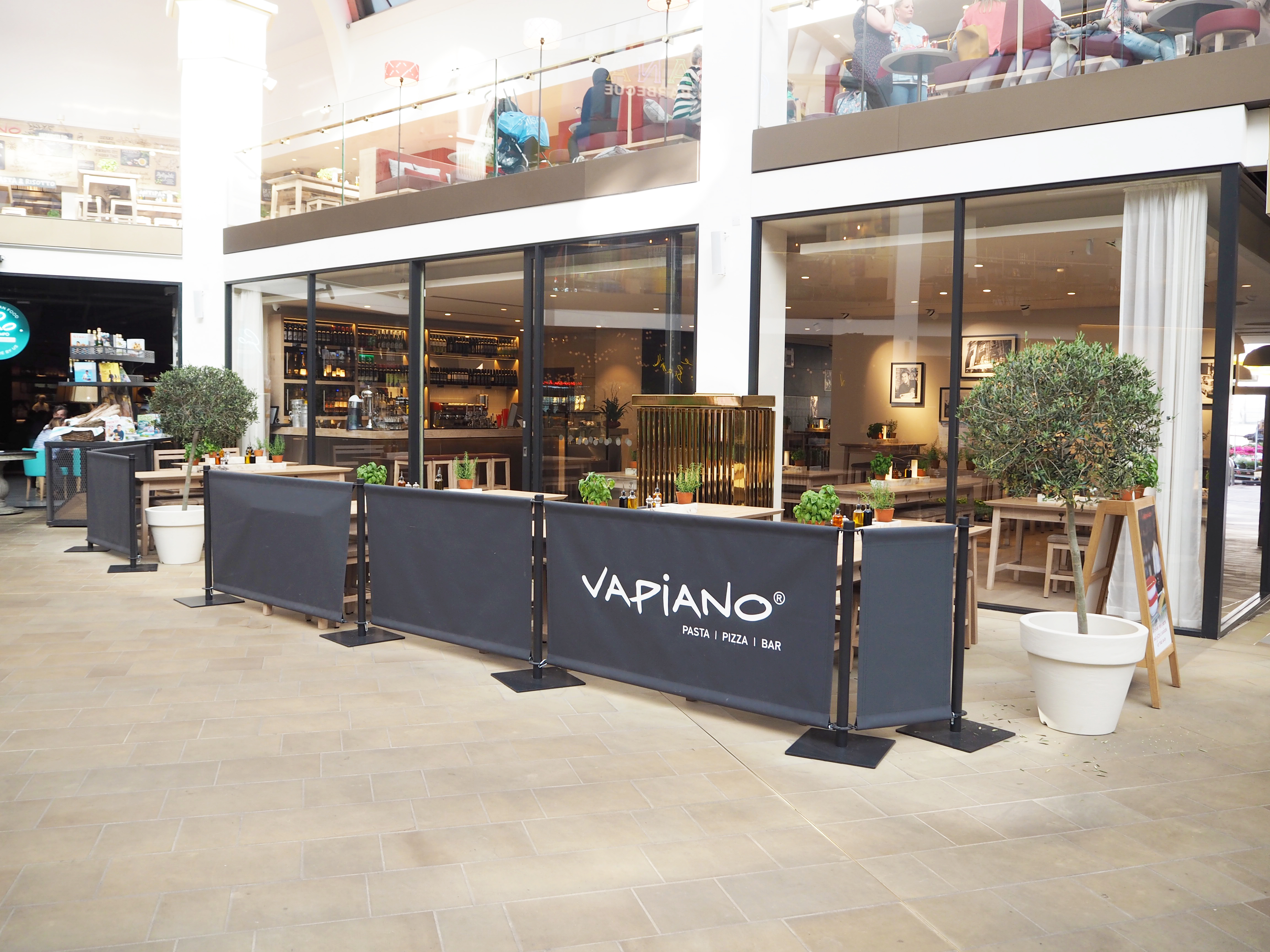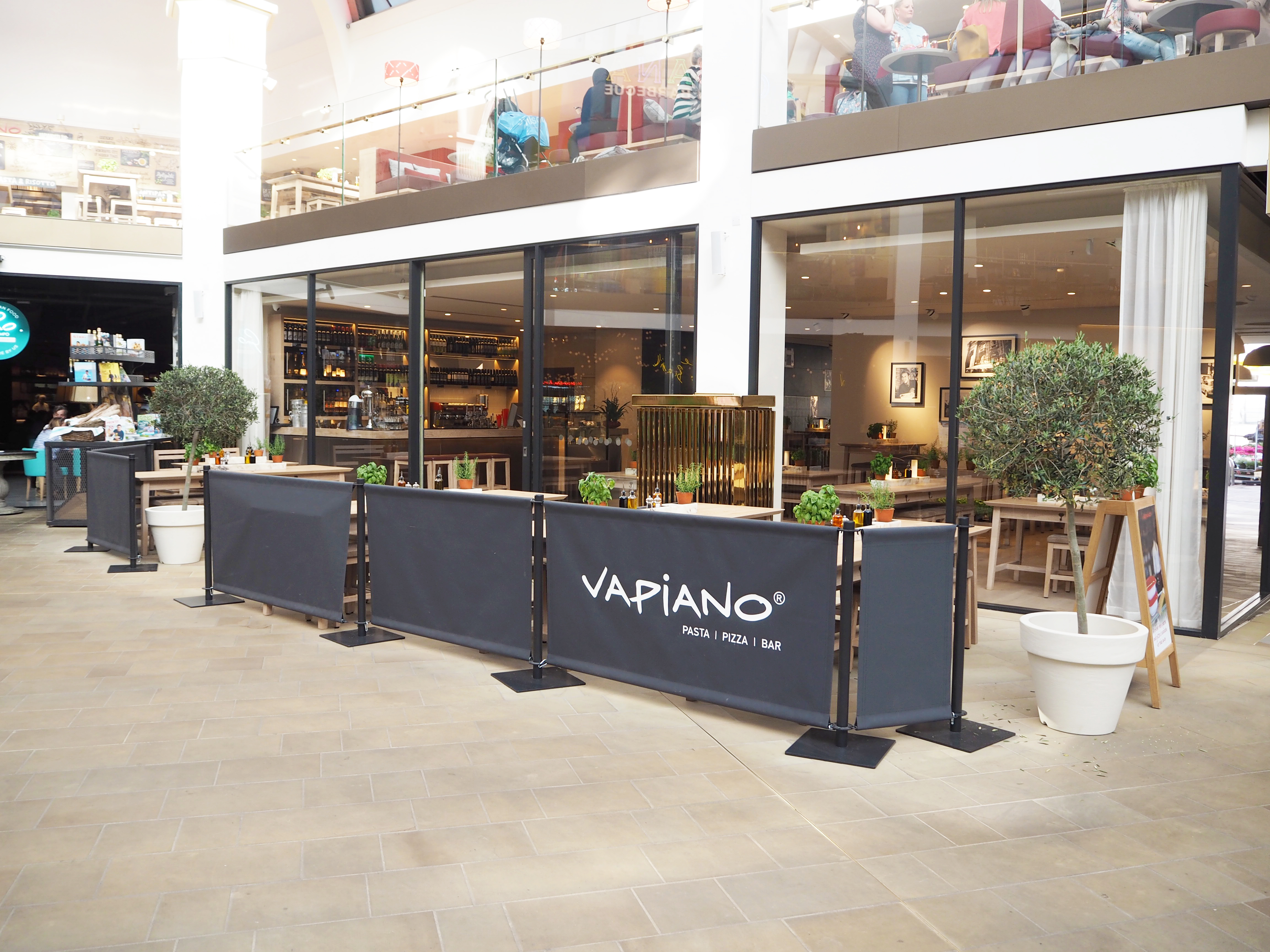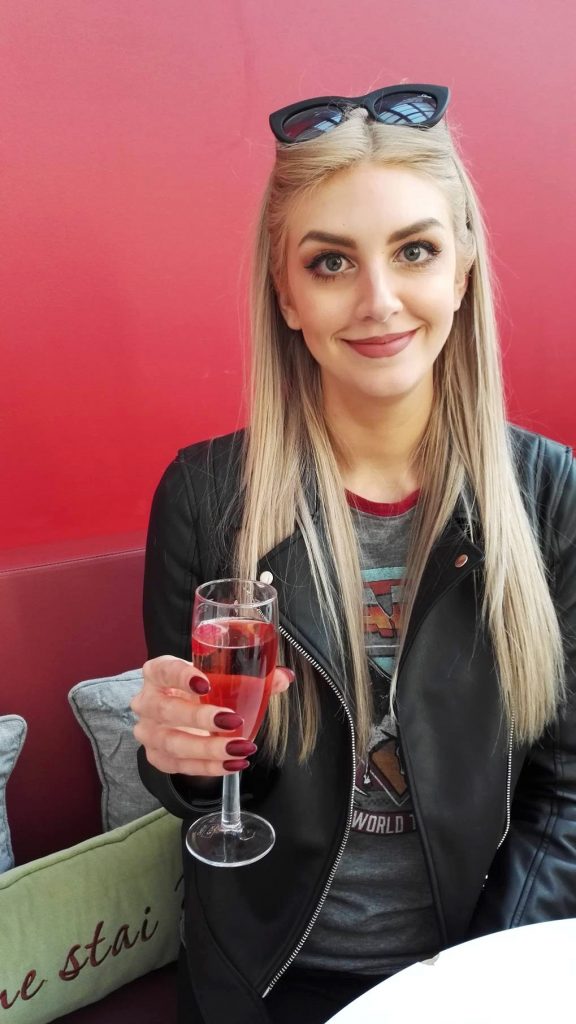 In Manchester city centre, you are never too far from a new bar or restaurant, and recently they seem to be popping up here, there and everywhere – just in time for the summer months when every drop of sun is an excuse to get out and about. One of my favourite new spots in the city is the Corn Exchange. 
Of course the beautiful building is not new at all. A long-standing Edwardian feature of Manchester, the building has historically housed stores, cafes and markets. However, with the ever growing popularity of The Arndale Centre, 'The Triangle' shopping centre as it was then known became somewhat of a ghost town, and was deserted for quite some time. This year, the Triangle relaunched as the Corn Exchange – home to a collection of restaurants offering a wide range of cuisines and menus to suit every taste bud.
As soon as I heard this was opening I knew it would be a huge hit. Like me, the residents of Manchester just can't get enough of new bars and restaurants, and we don't have anything else like this – a mouth-watering mix of dining spots all under one roof, complete with outdoor seating areas surrounding the building. The Corn Exchange also caters for those rainy days, with open seating inside the venue. The tables are situated outside the restaurants so you still feel like you are dining al fresco, but you are kept warm and dry under the glorious glass ceiling.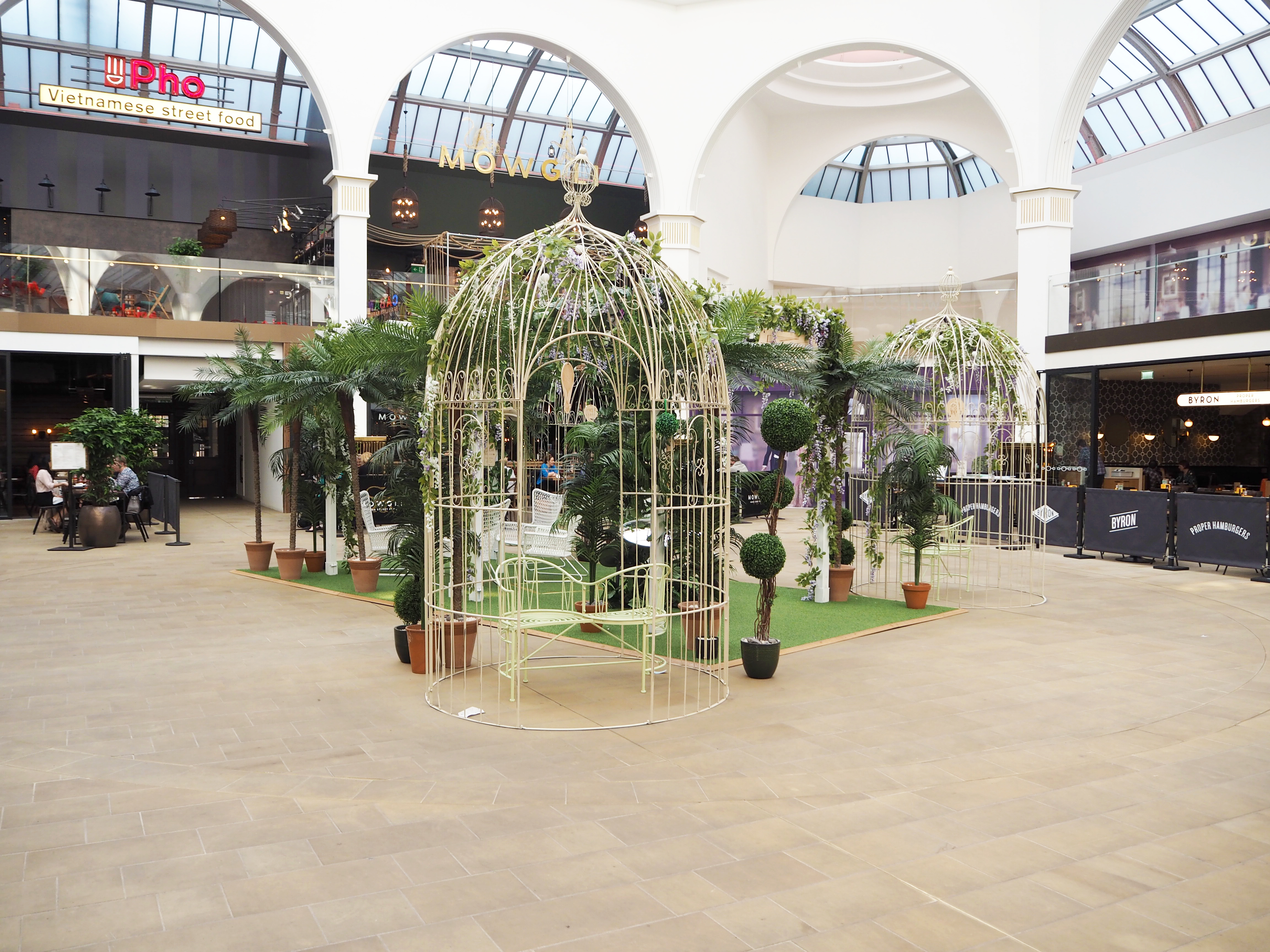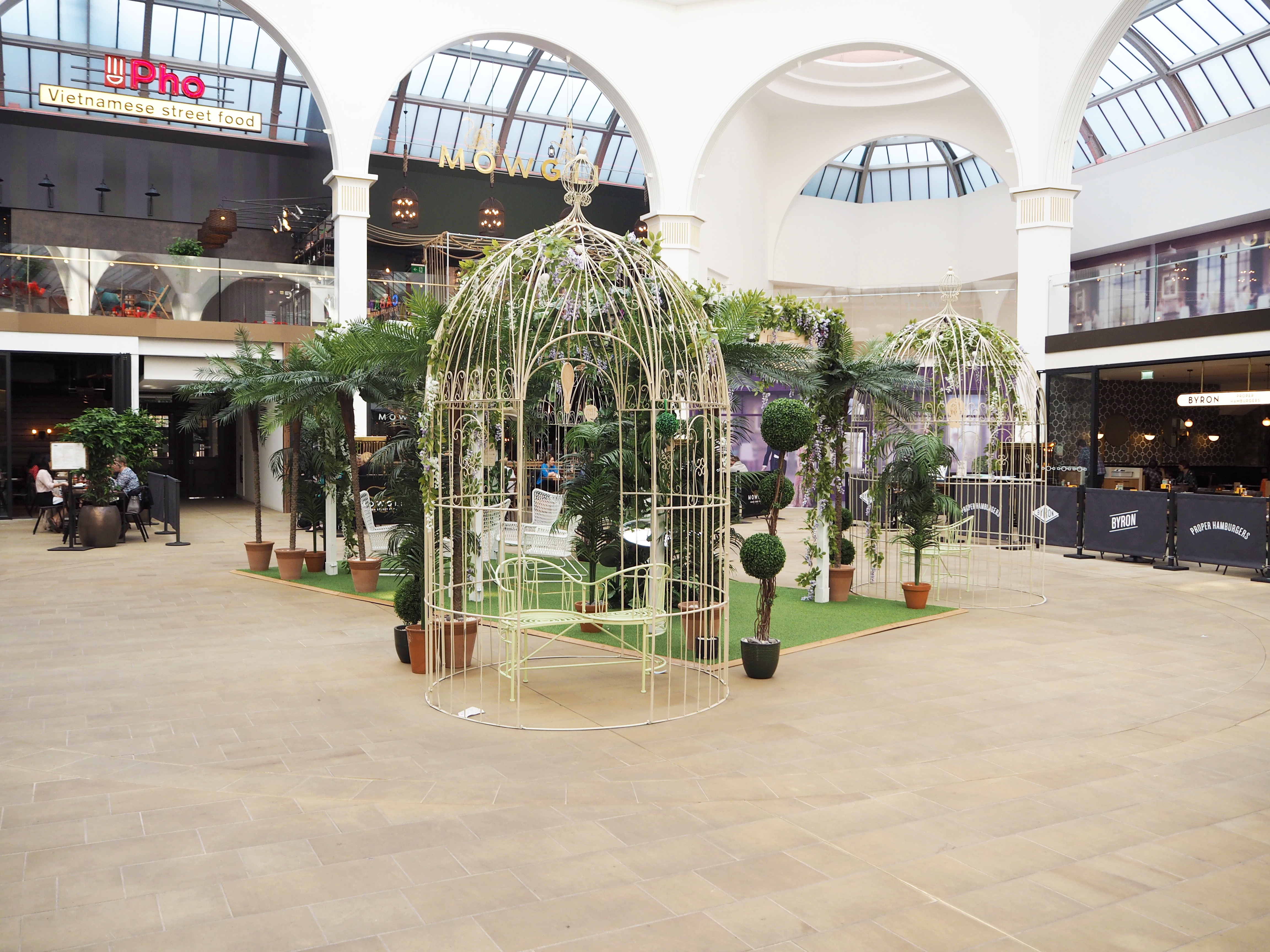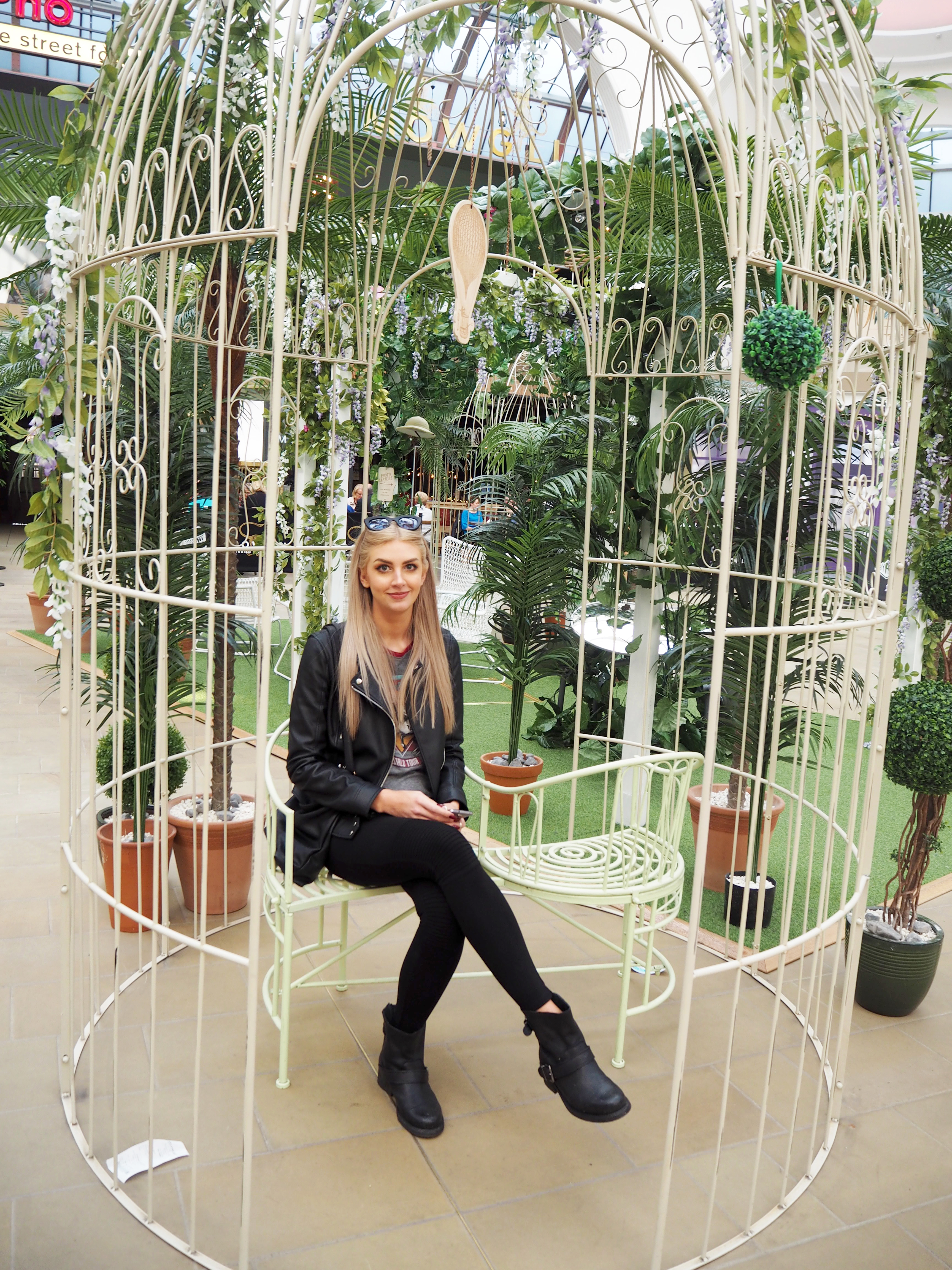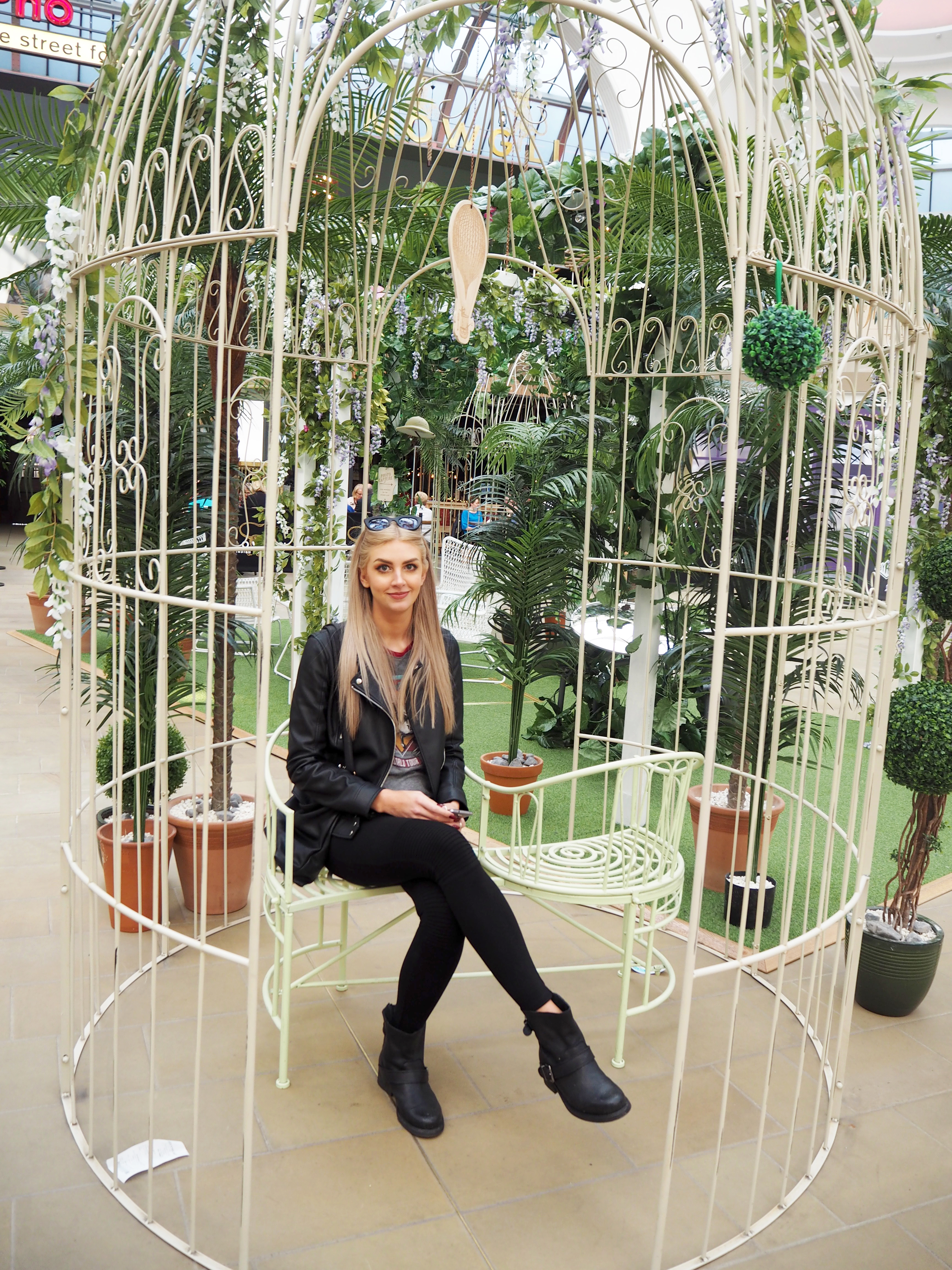 So far all of the places I have tried in the Corn Exchange have not failed to impress me – some I have tried before, others are a new experience. I was very excited when I received an invite to the launch of a new cocktail menu at one of the restaurants – Vapiano; a laid back Italian eatery priding themselves on fresh ingredients and creating quality dishes to the customers' preference, right in front of them. This is a spot I have always admired as I walk past the big glass windows – rustic wooden tables are lined with dozens of fresh herb plants, which not only look beautiful but are there for guests to be able to add to their dishes as they please.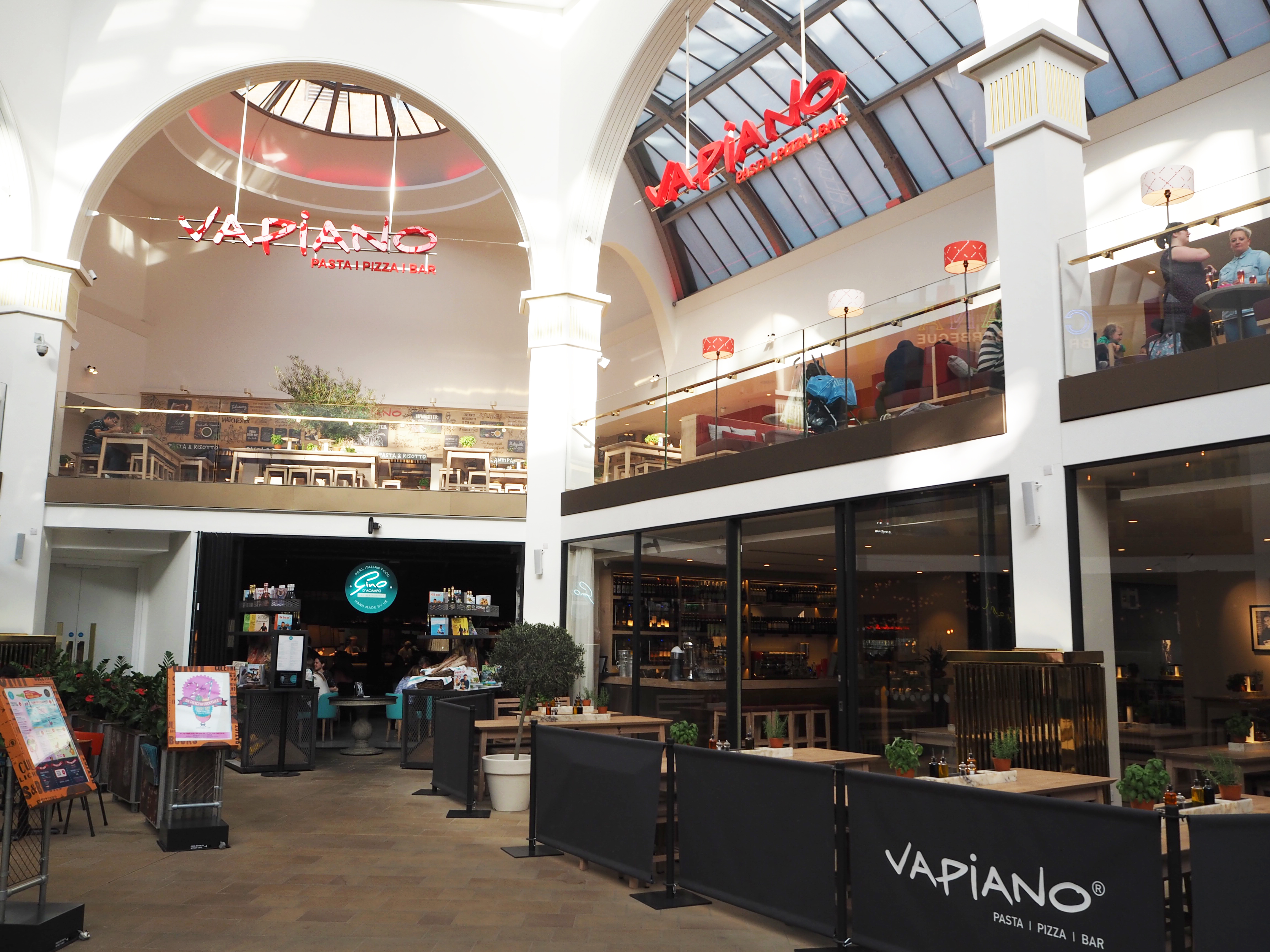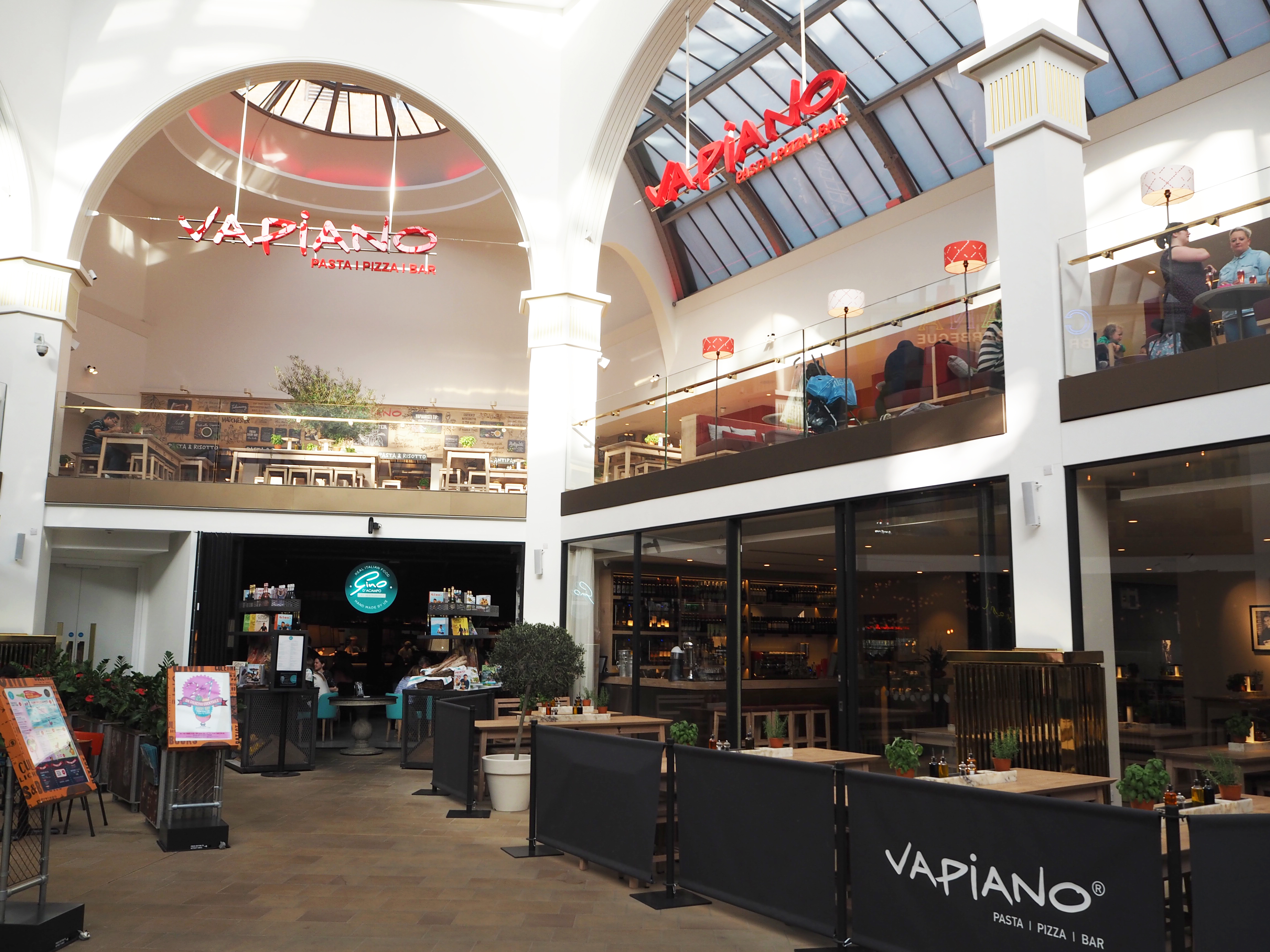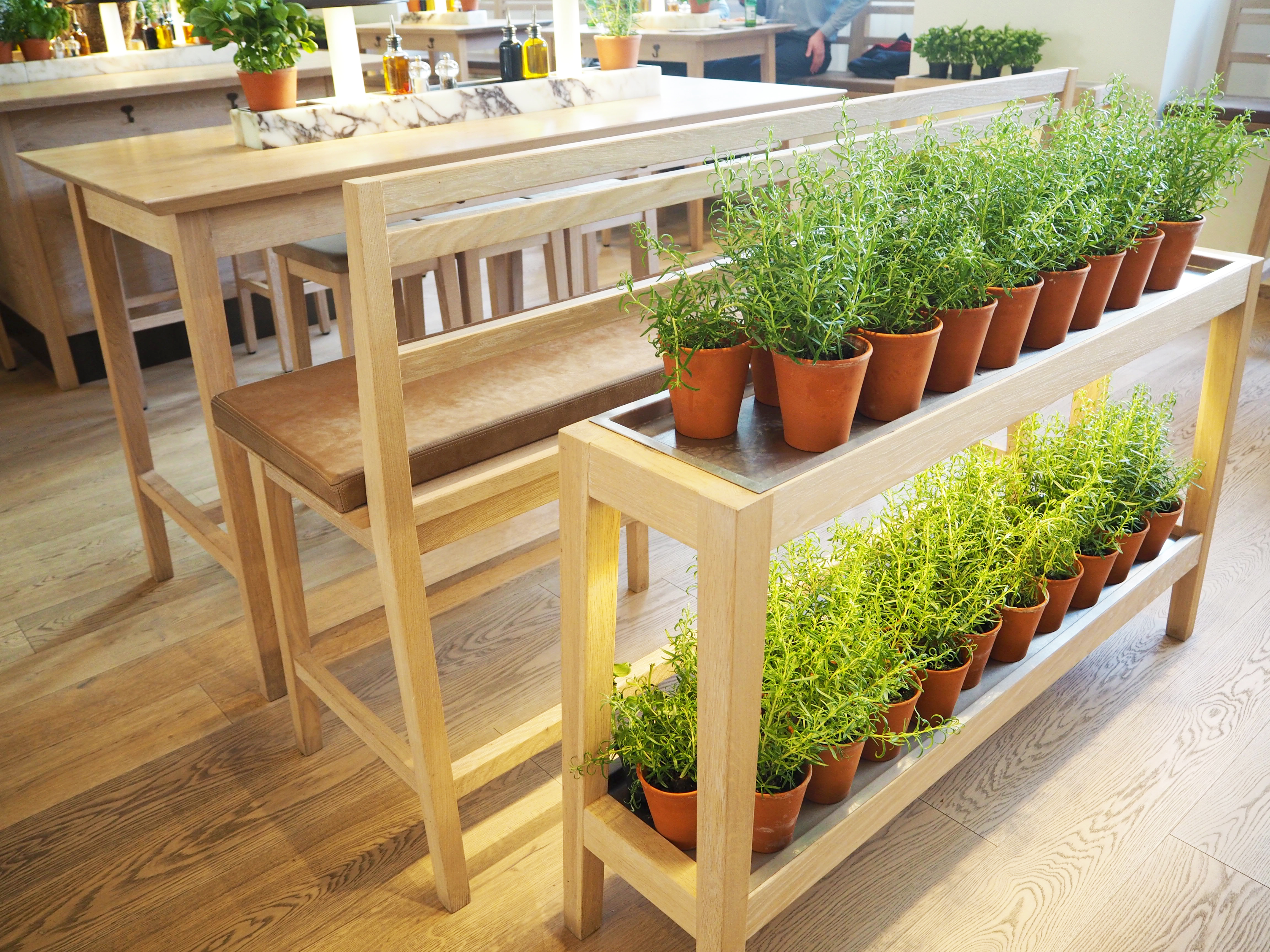 The interior of Vapiano looks like it could be something picked right from the heart of Italy. As I entered the restaurant I really felt the warm Italian atmosphere that Vapiano reflects. The attitude they live by is 'if you have an easy-going and relaxed approach to life you'll live more healthily and longer', which is a translation of the Italian proverb 'Chi va piano, va sano e va lontano'. I love this sort of relaxed, friendly feeling and the idea of just enjoying life, it really is such a great place to go to enjoy your surroundings and share it with those around you.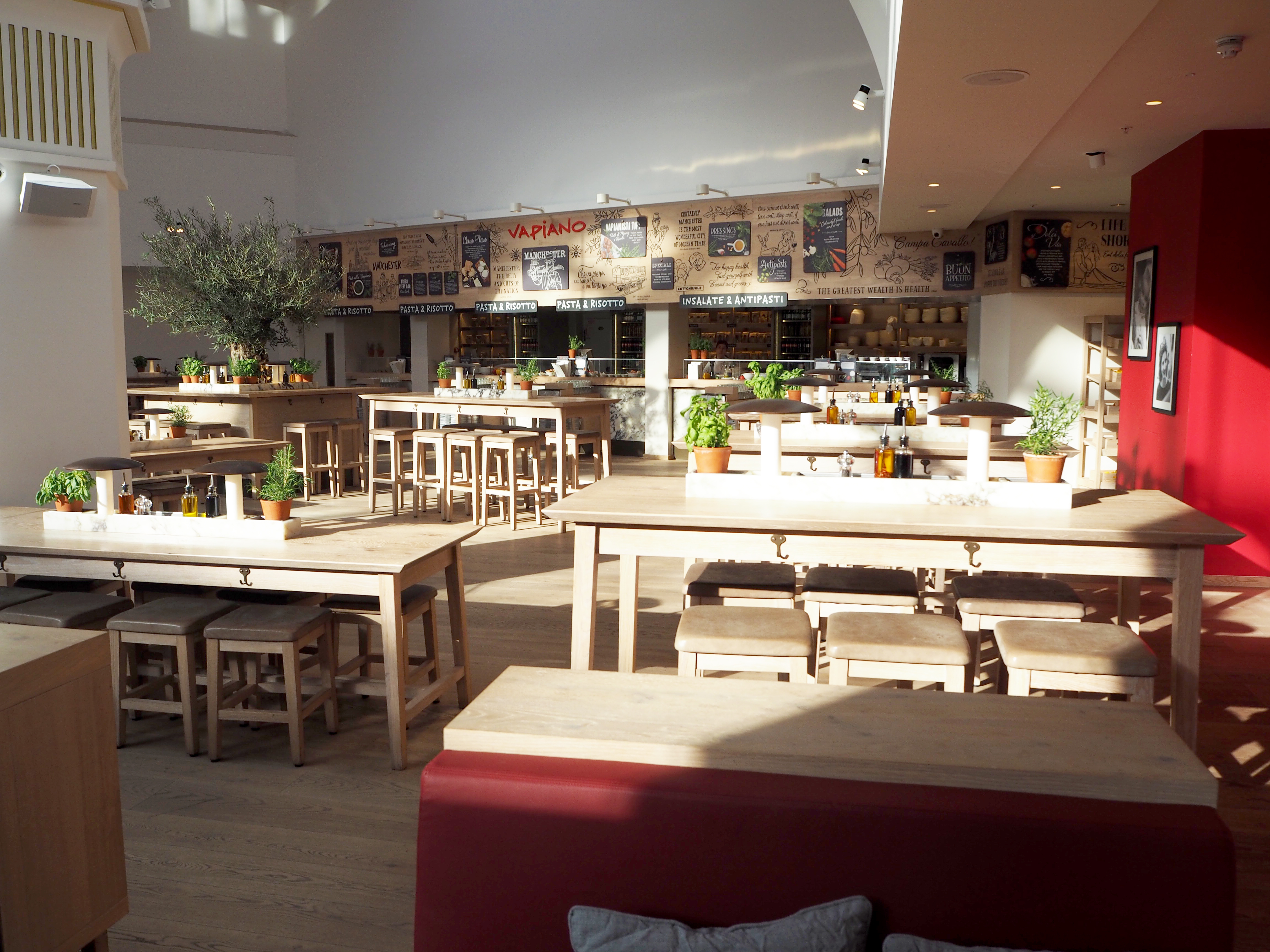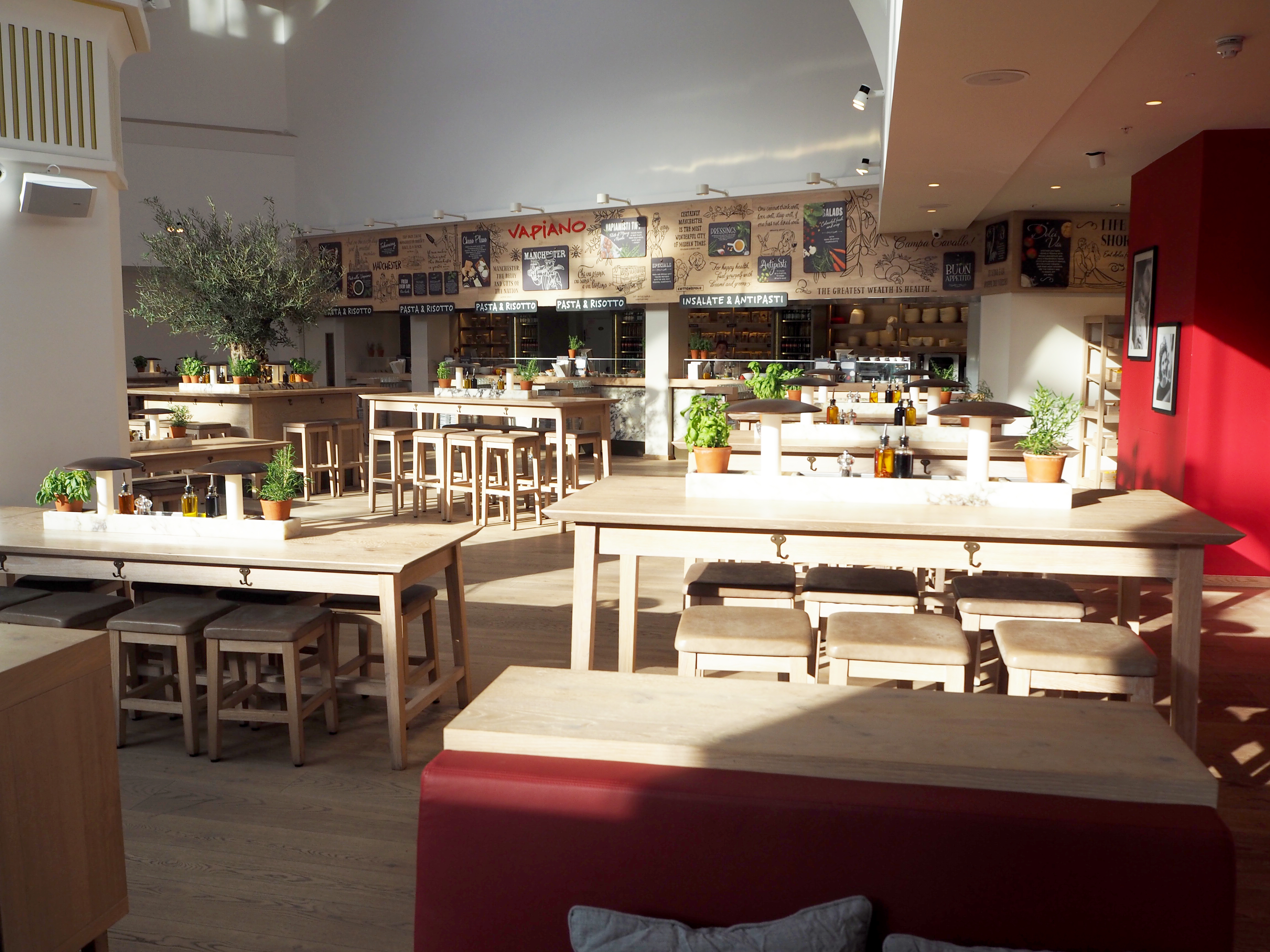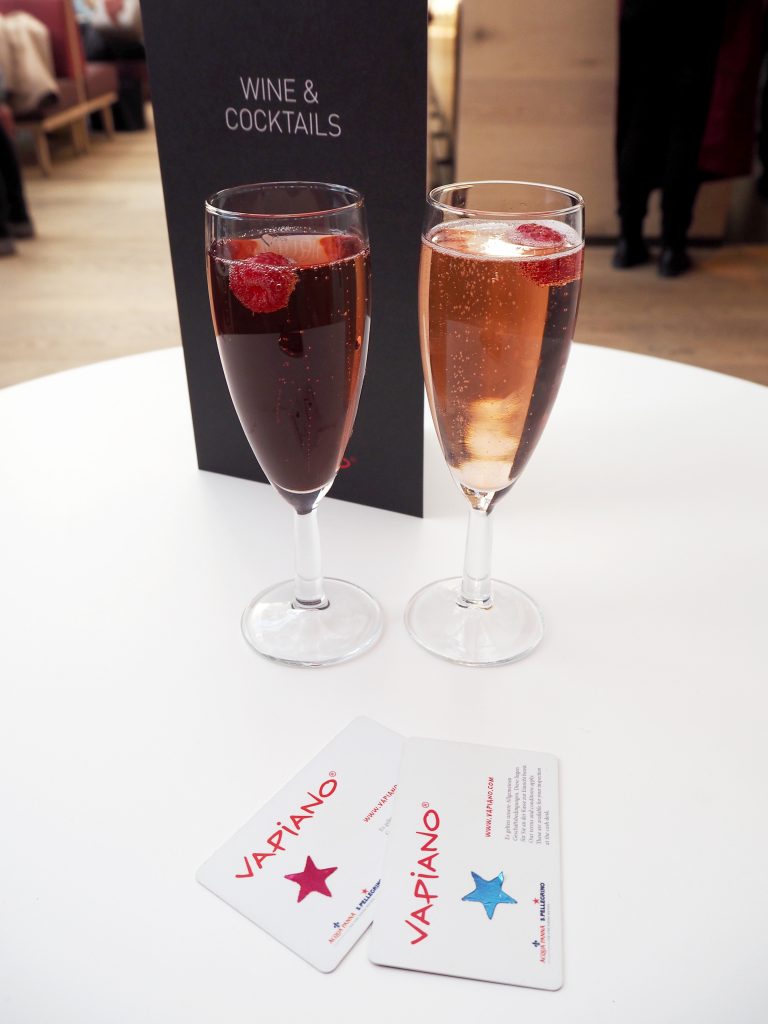 We were seated in a private booth area upstairs, which had a great view of the inside of the Corn Exchange over the open balconies. All of the restaurants that have an upstairs area have large balconies and terrace-like seating, looking out into the centre of the building and other restaurants. It was the perfect evening for some cocktails as the sun was beaming in through the roof right onto our indoor terrace. I welcomed a lovely glass of kir royale on arrival, and made myself comfortable before being introduced to some of the lovely staff, as well as the organiser and PR representative, who talked us through the new cocktail menu at Vapiano.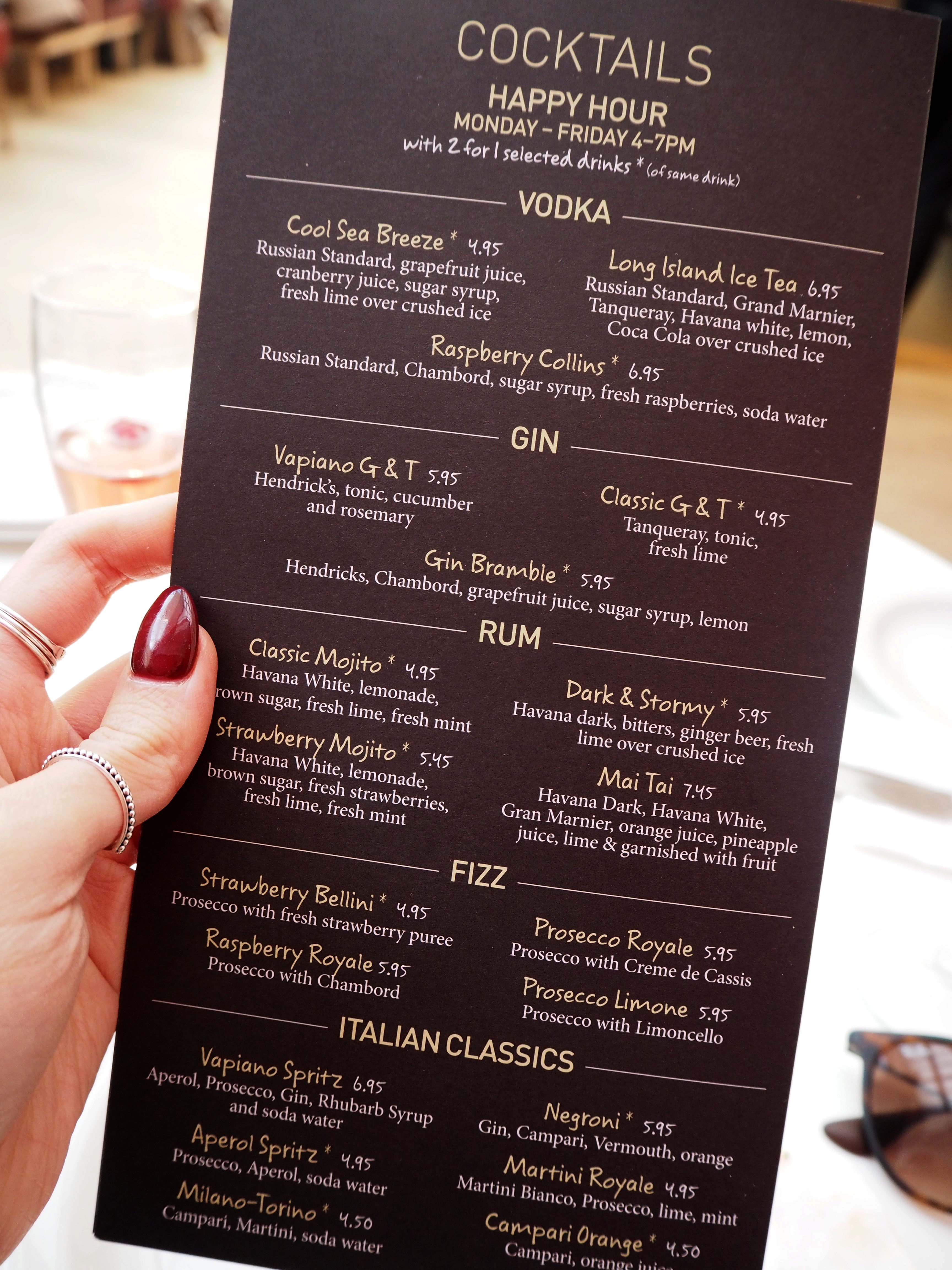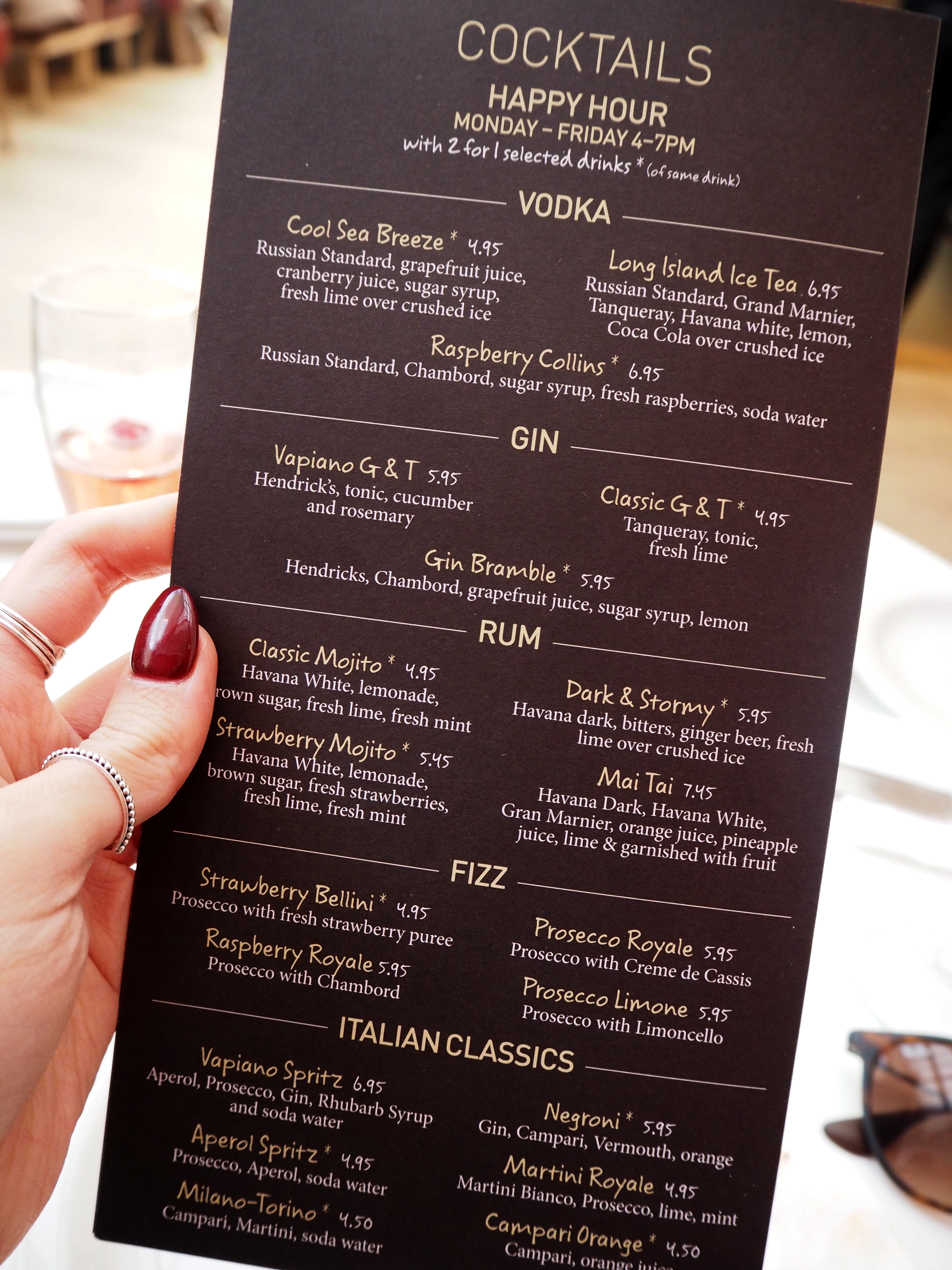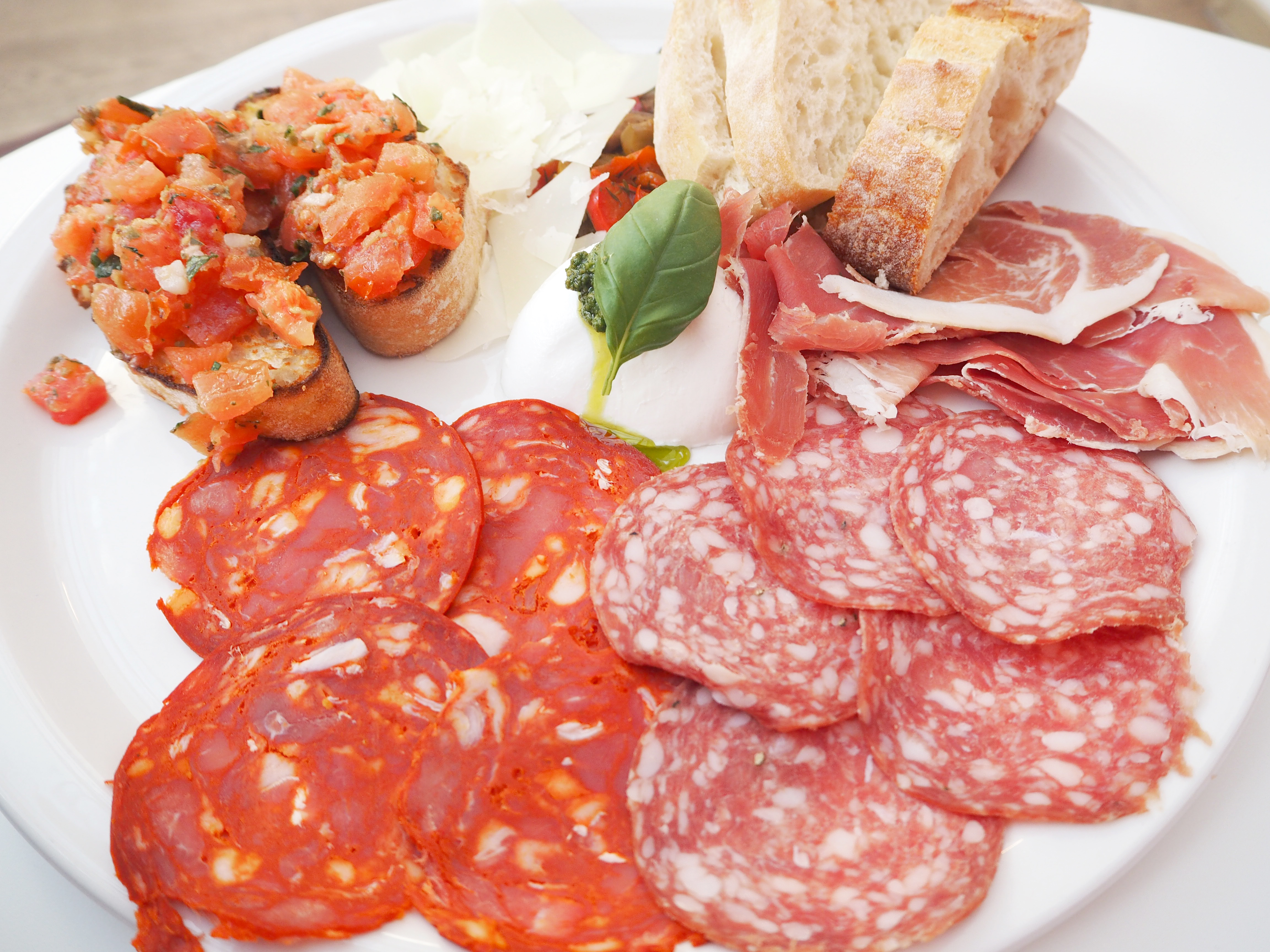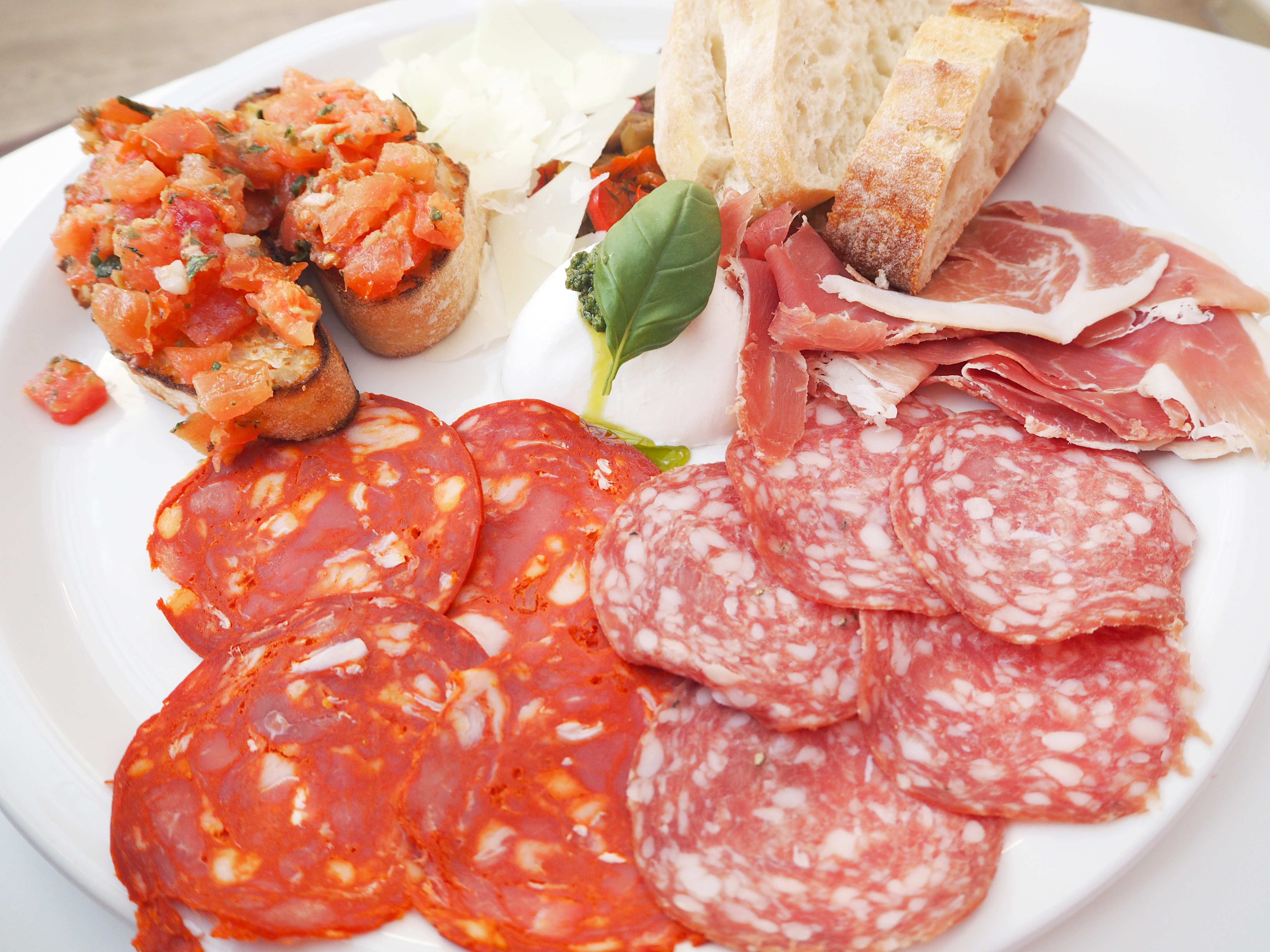 Vapiano have never had a cocktail menu before, but are branching out with some of their own personal twists on classic cocktails, and some all-round favourites, which we would have the pleasure of trying before it's release on June 1st.
To accompany our drinks, we were presented with the Piatto Antipasti plate, which was a delicious selection of prosciutto tipo Parma, salami, chorizo, roasted vegetables, pesto, Grana Padano D.O.P., buffalo mozzarella and bruschetta. In my opinion, this is the perfect food to accompany cocktails – simple yet delicious, casual, and ideal for sharing with friends. The bruschetta had to be my favourite of the plate. Me and
Jonathan had this with almost every meal when we visited Rome, and became quite the bruschetta connoisseurs. However over here in the UK it is hard to find one that matches up to the real thing, but this came pretty damn close! Such a simple dish, but when done well it is truly delicious.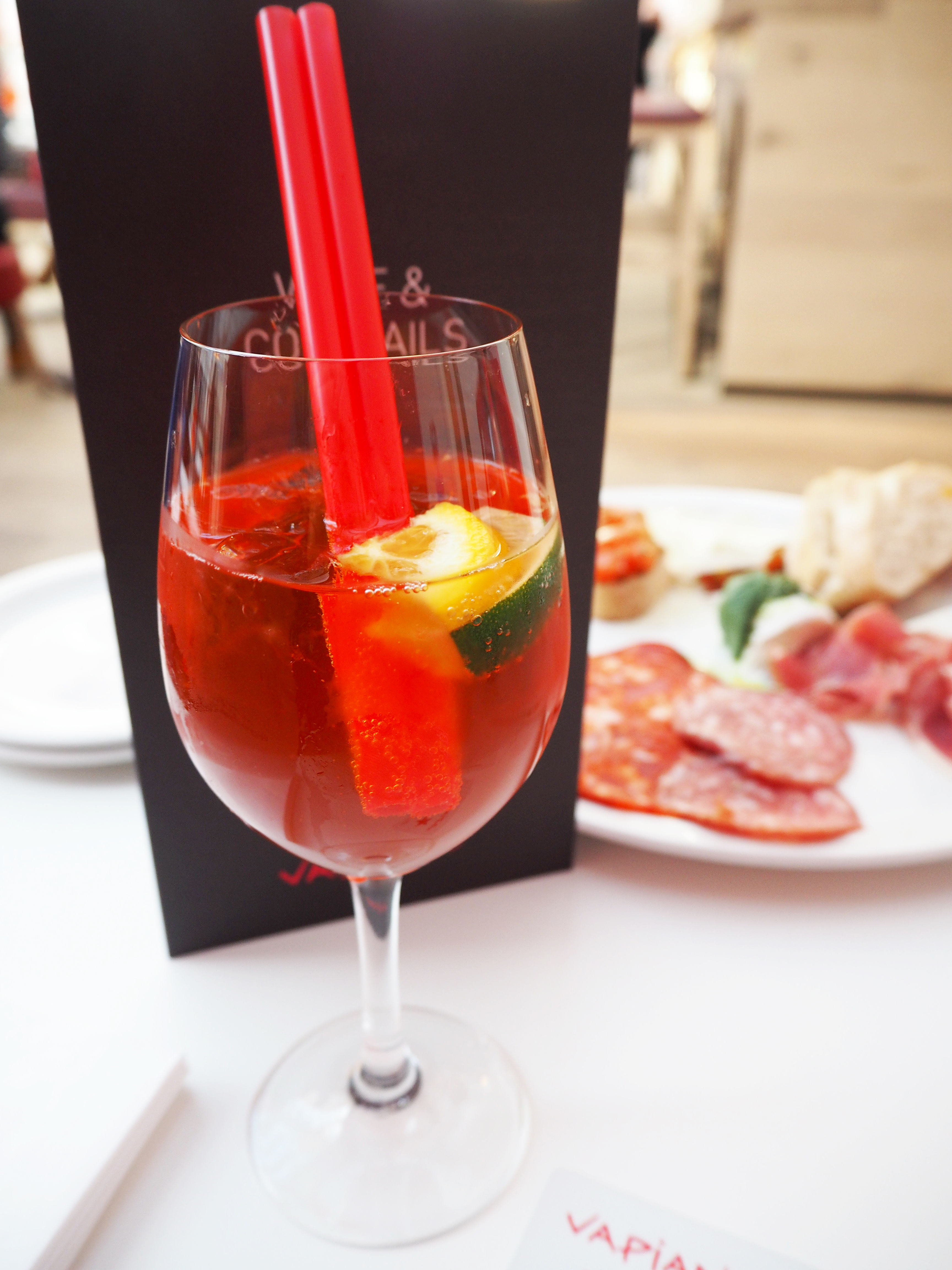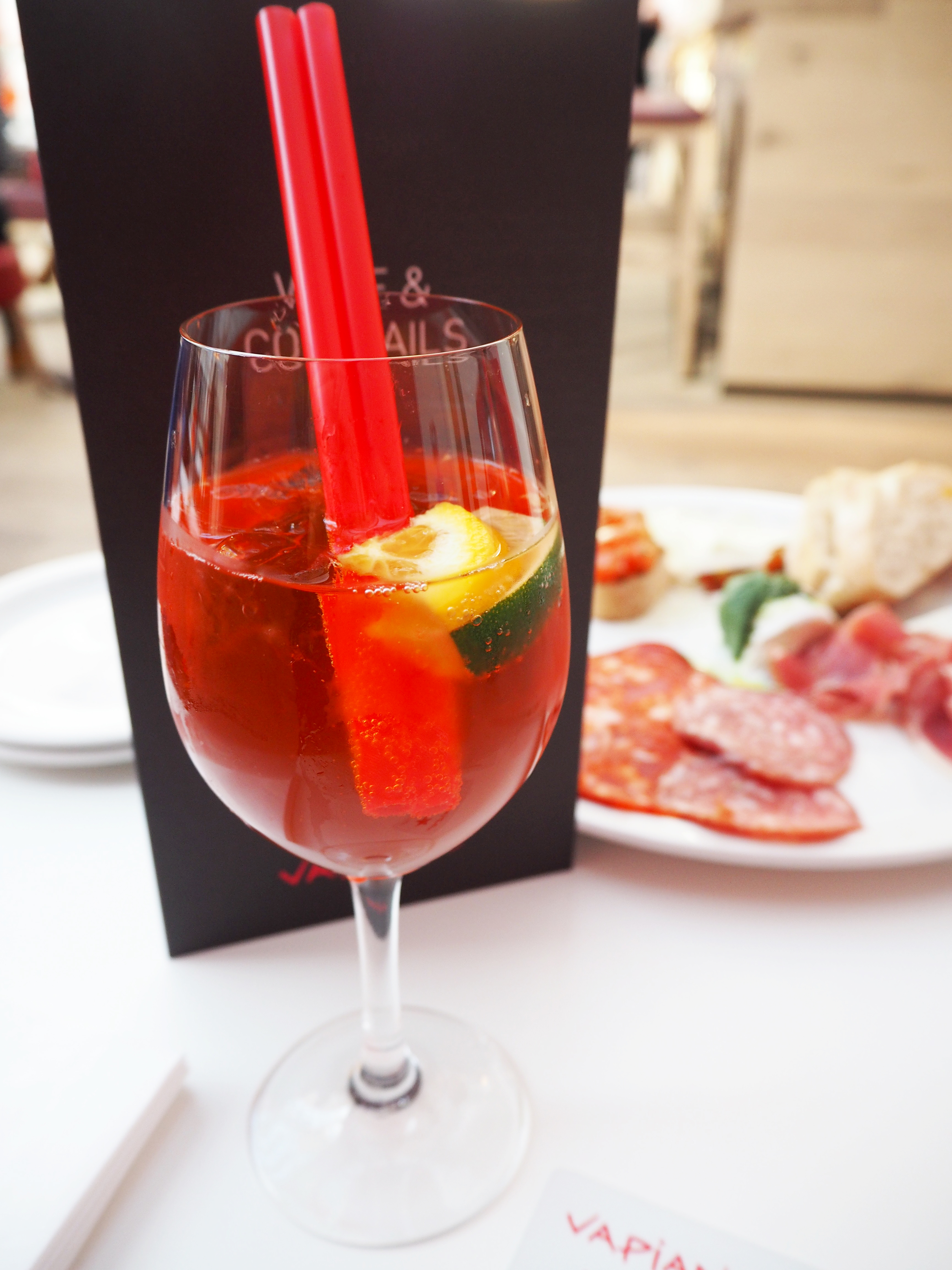 After sampling some of the plate and sipping our Kir Royale, we were presented with our next cocktail – the Aperol Spritz. We were given two variations of the drink; the classic version, which is actually the best value Aperol Spritz in town, and the Vapiano Spritz, which is their own twist on the classic. This one had the addition of gin and rhubarb syrup which sweetened the drink and complemented the slightly bitter notes of the Aperol. This one was a winner for me.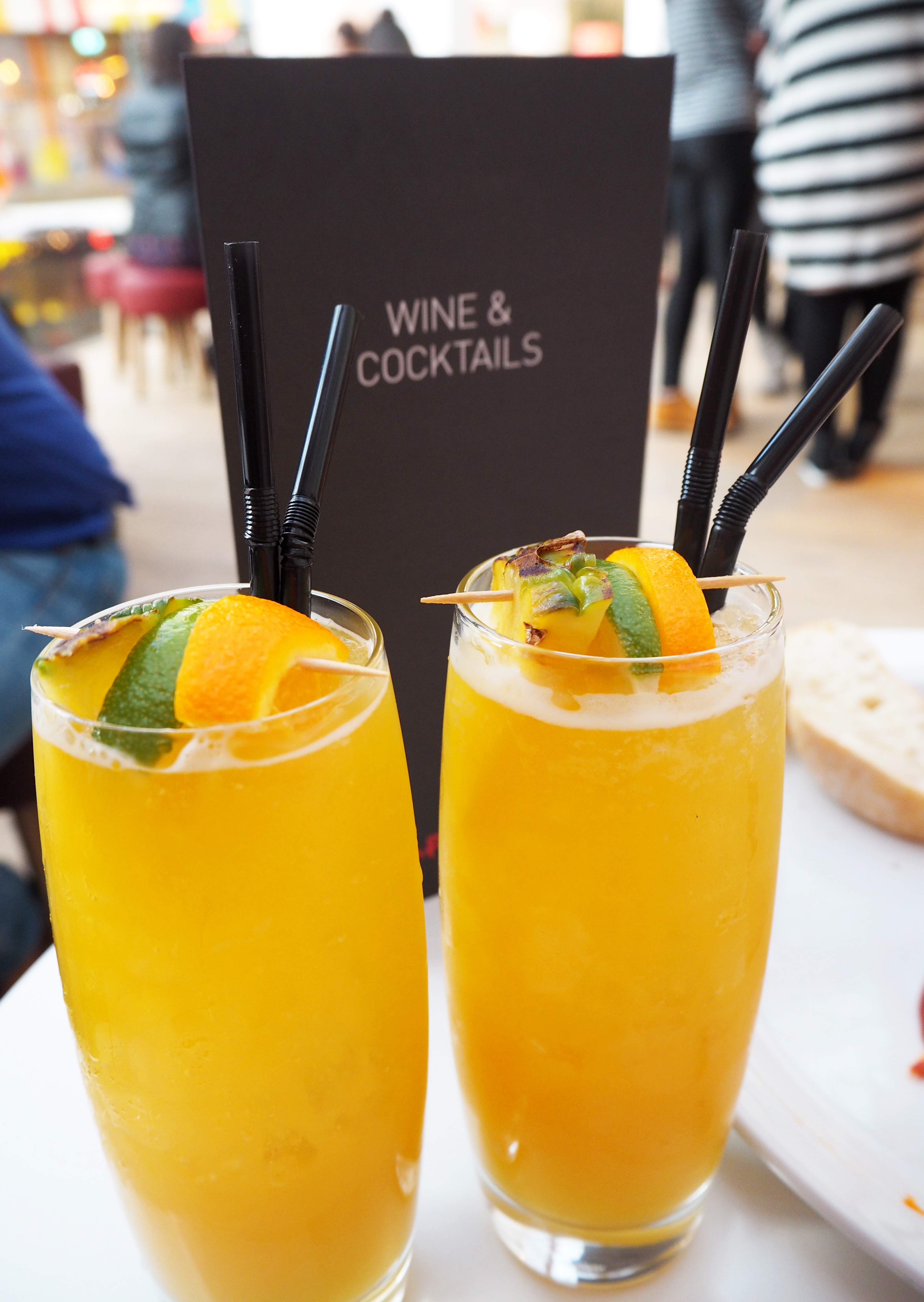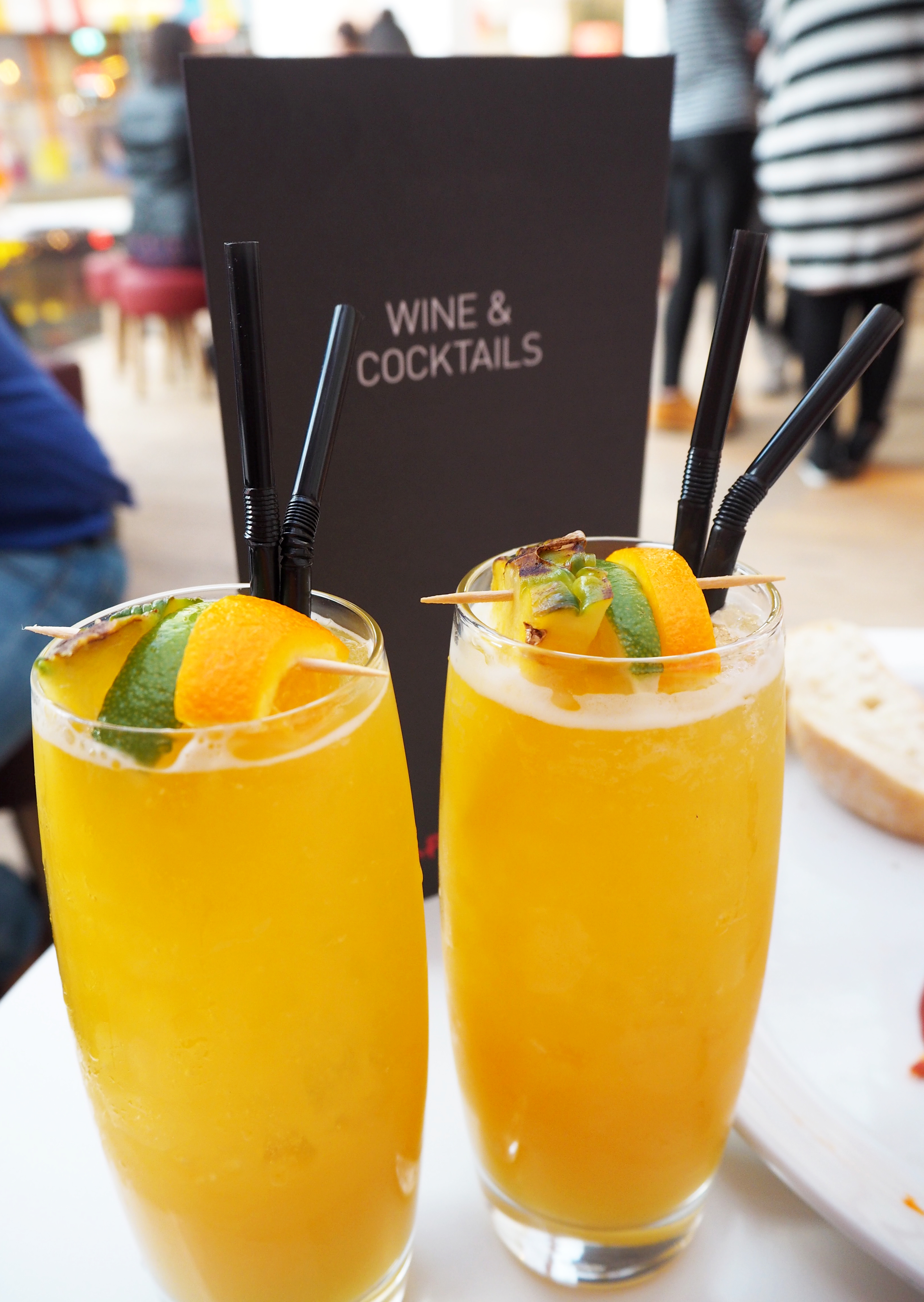 Next up came a Mai Tai. The classic rum based drink, here served long with pineapple juice and fruit garnish. This was quite strong (as it usually is) and very tasty. A must-try cocktail for those who are rum lovers.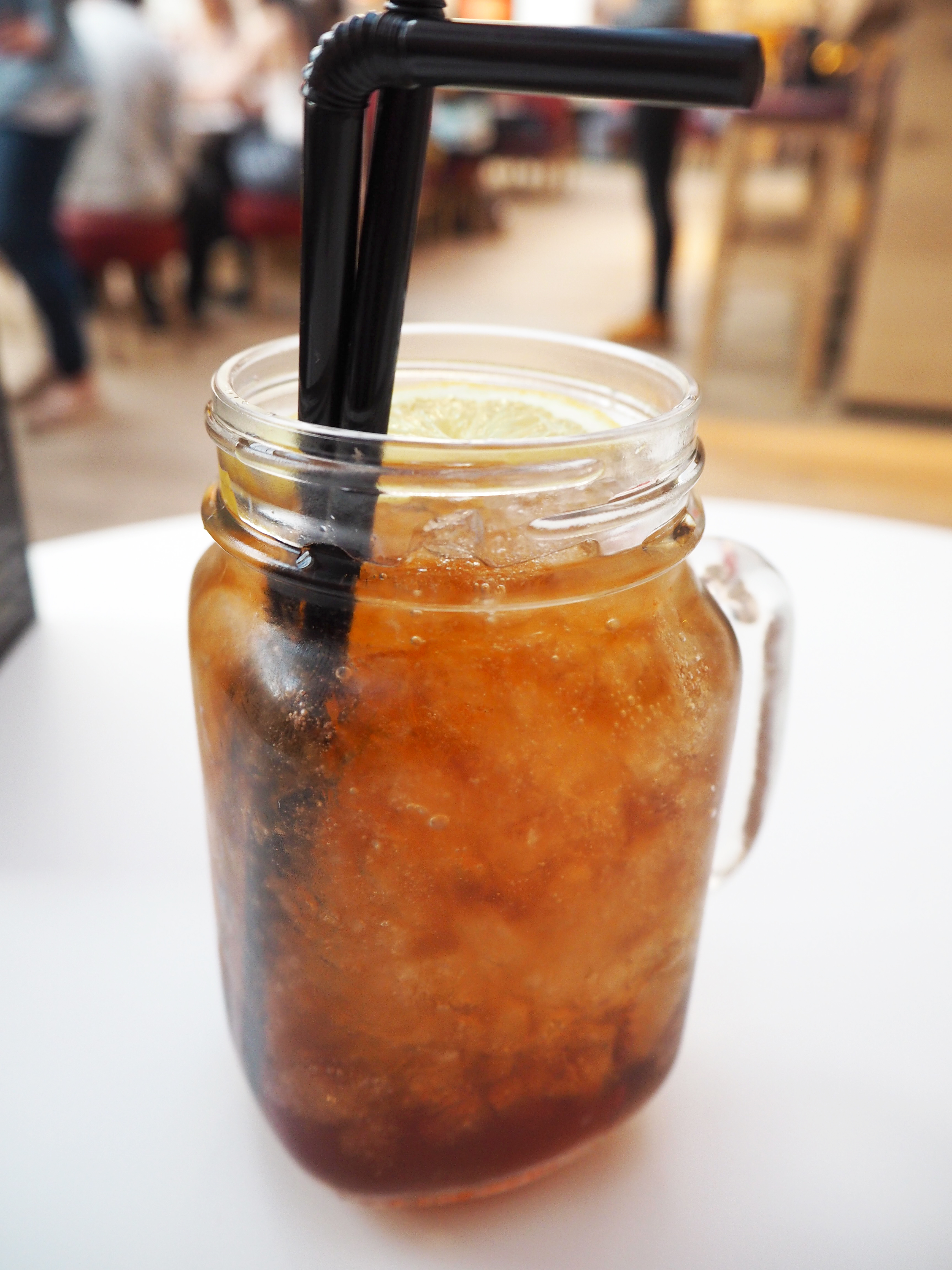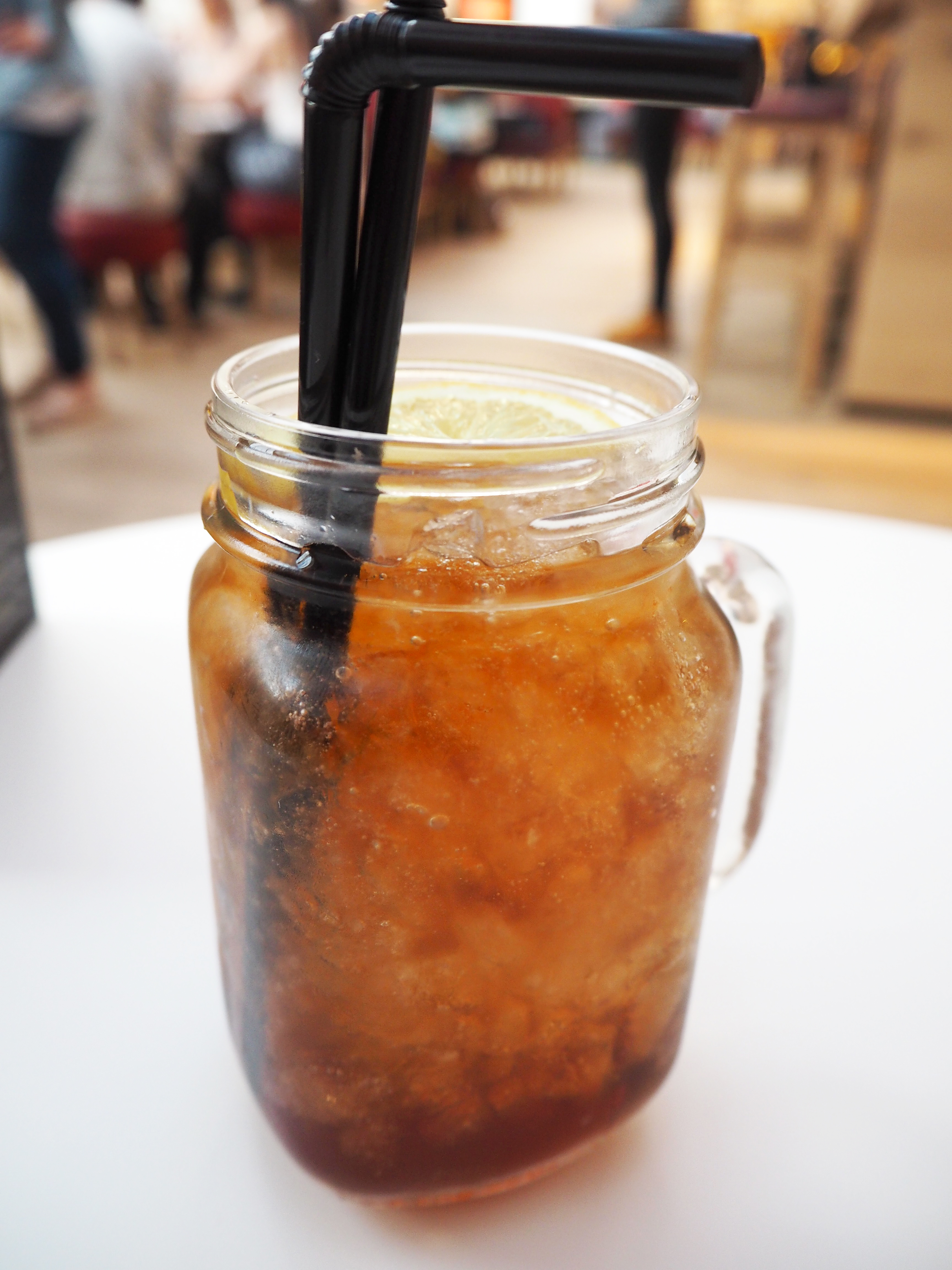 Then we moved onto Long Island iced tea. This was also served classic – basically a mixture of several different spirits and lengthened with coca cola, presented in a mason jar. I really enjoyed the way it was made at Vapiano. Sometimes this cocktail can be a bit overpowering as it contains such a mix of alcohol, but here they had the measures down perfectly and it tasted delicious – the perfect long drink for a summers day.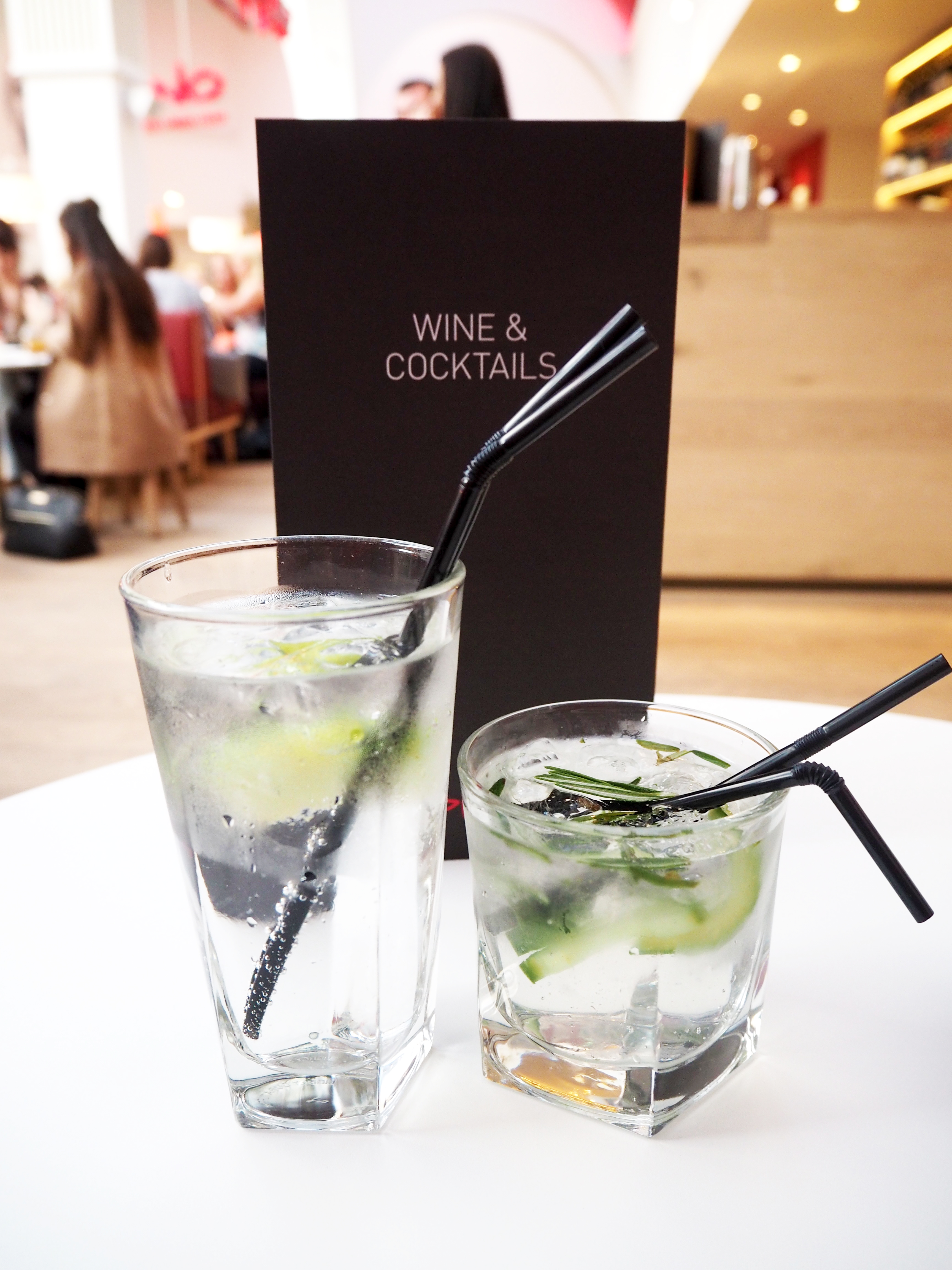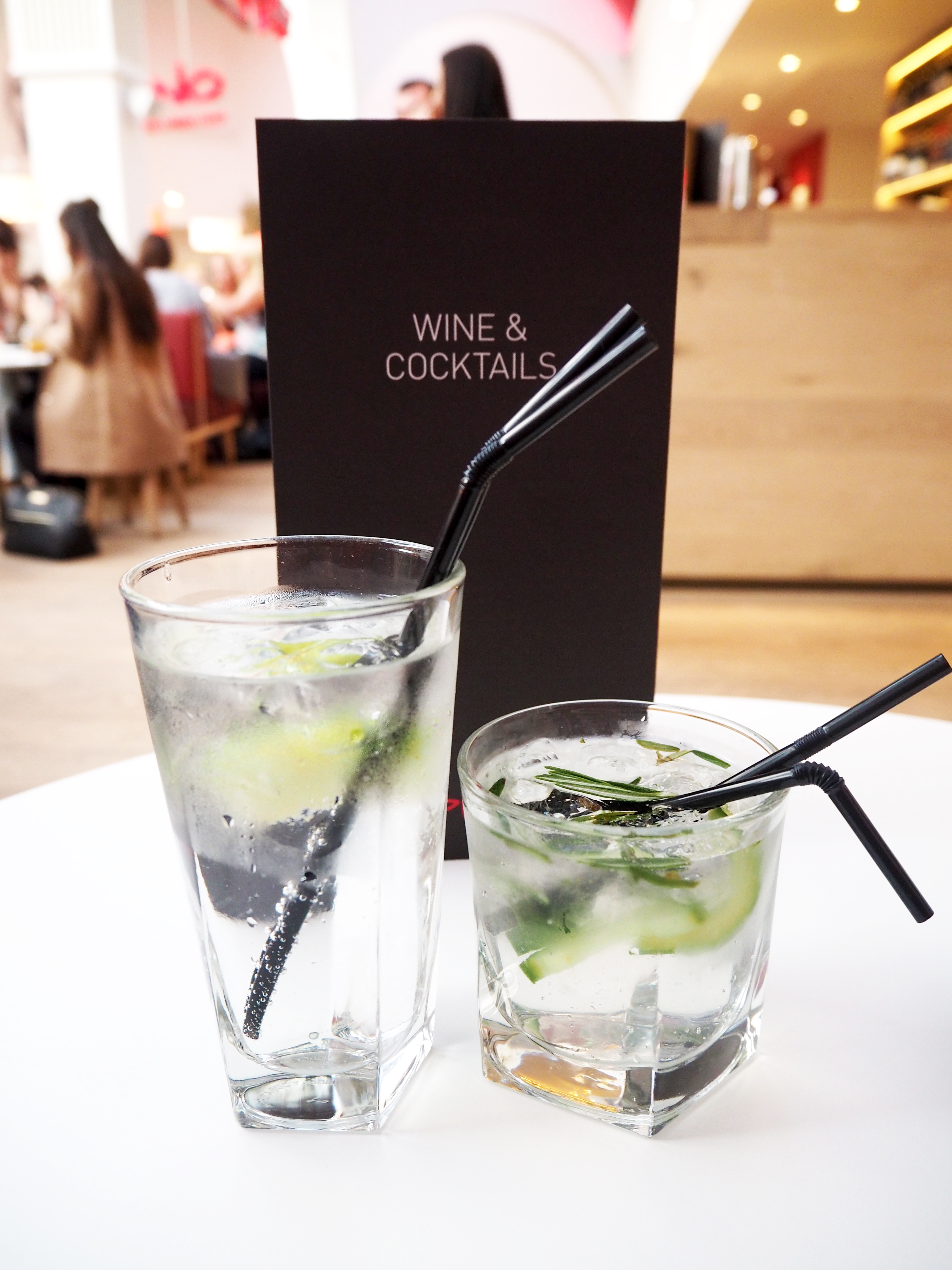 Finally we moved onto a gin based cocktail. We were served a classic gin and tonic (or G&T as it is usually known) and the Vapiano gin and tonic, which used a Hendrick's Gin (as opposed to Tanqueray in the classic), and had the aromatic addition of rosemary. I do like a good G&T, and honestly I couldn't decide which of these I preferred. The rosemary complimented the Hendrick's gin perfectly in the Vapiano G&T, but sometimes you just can't beat an old classic.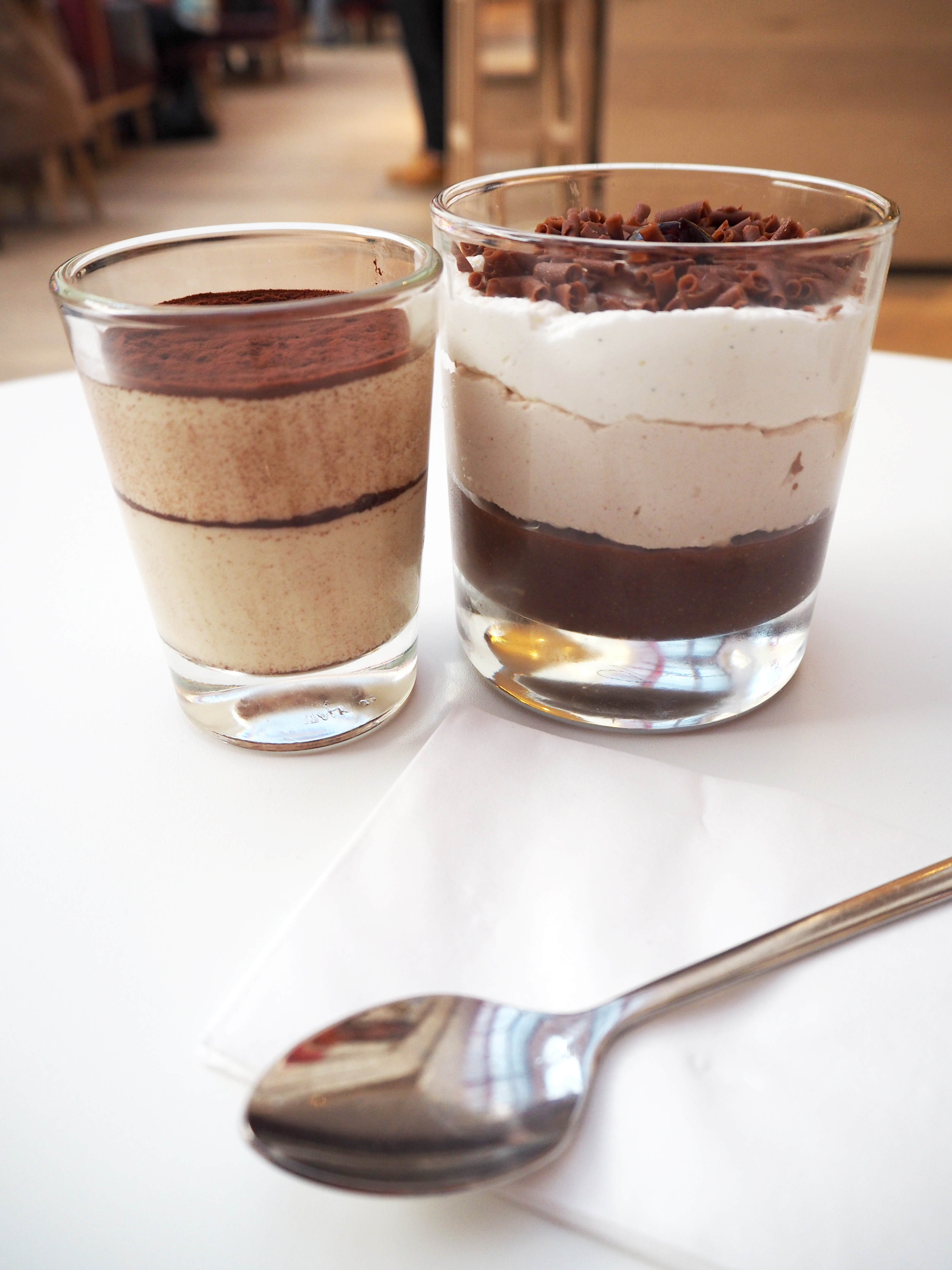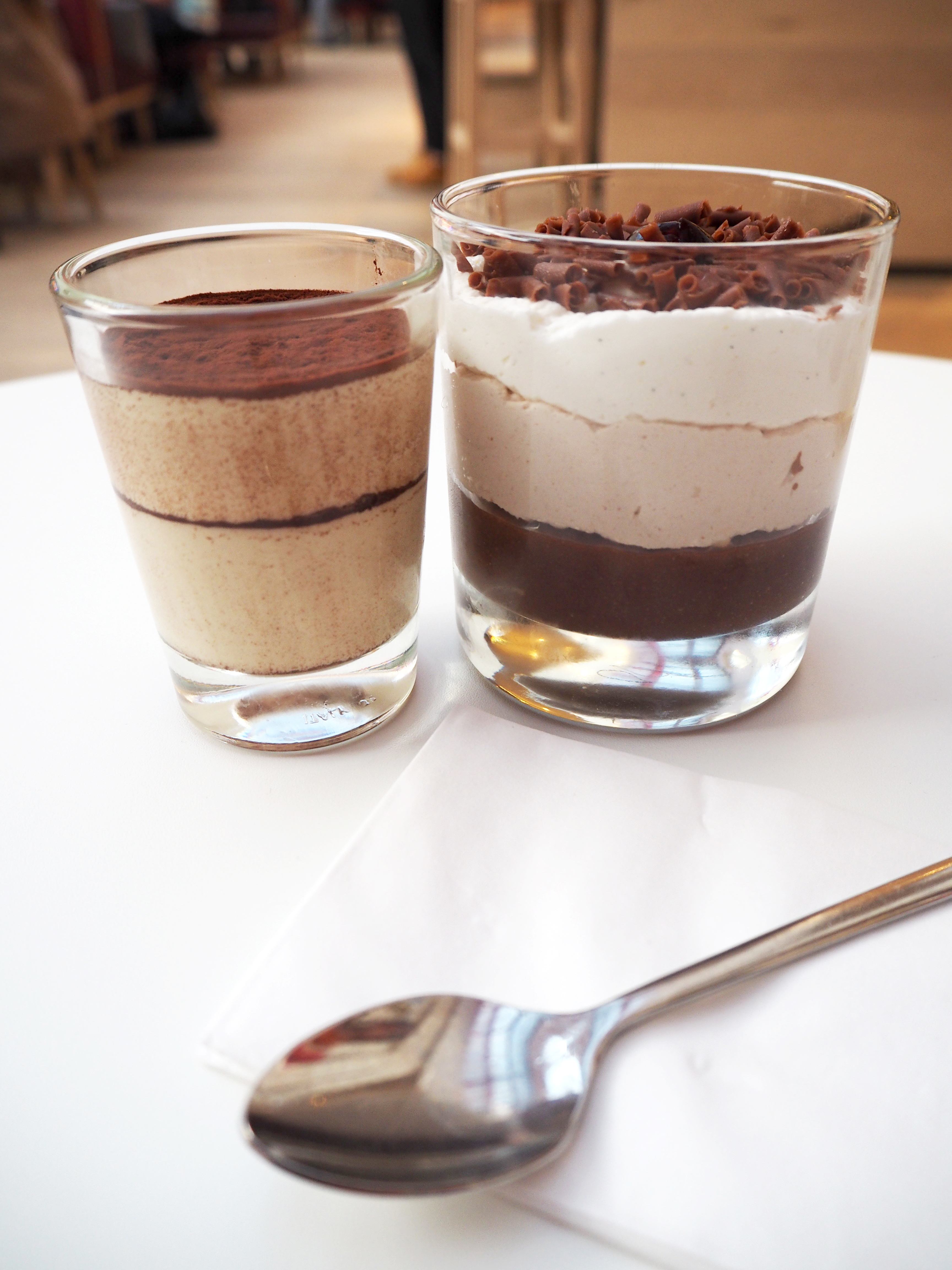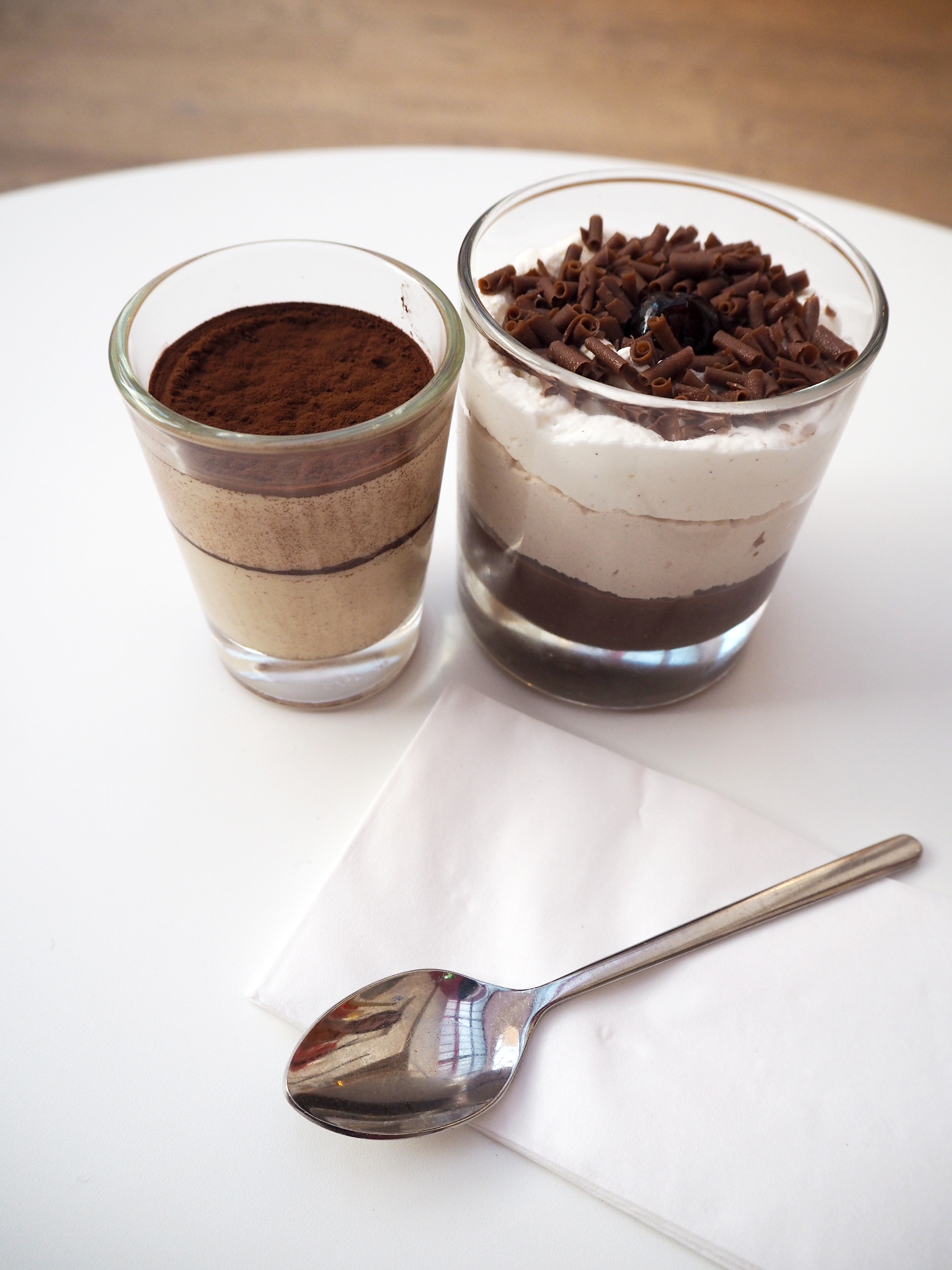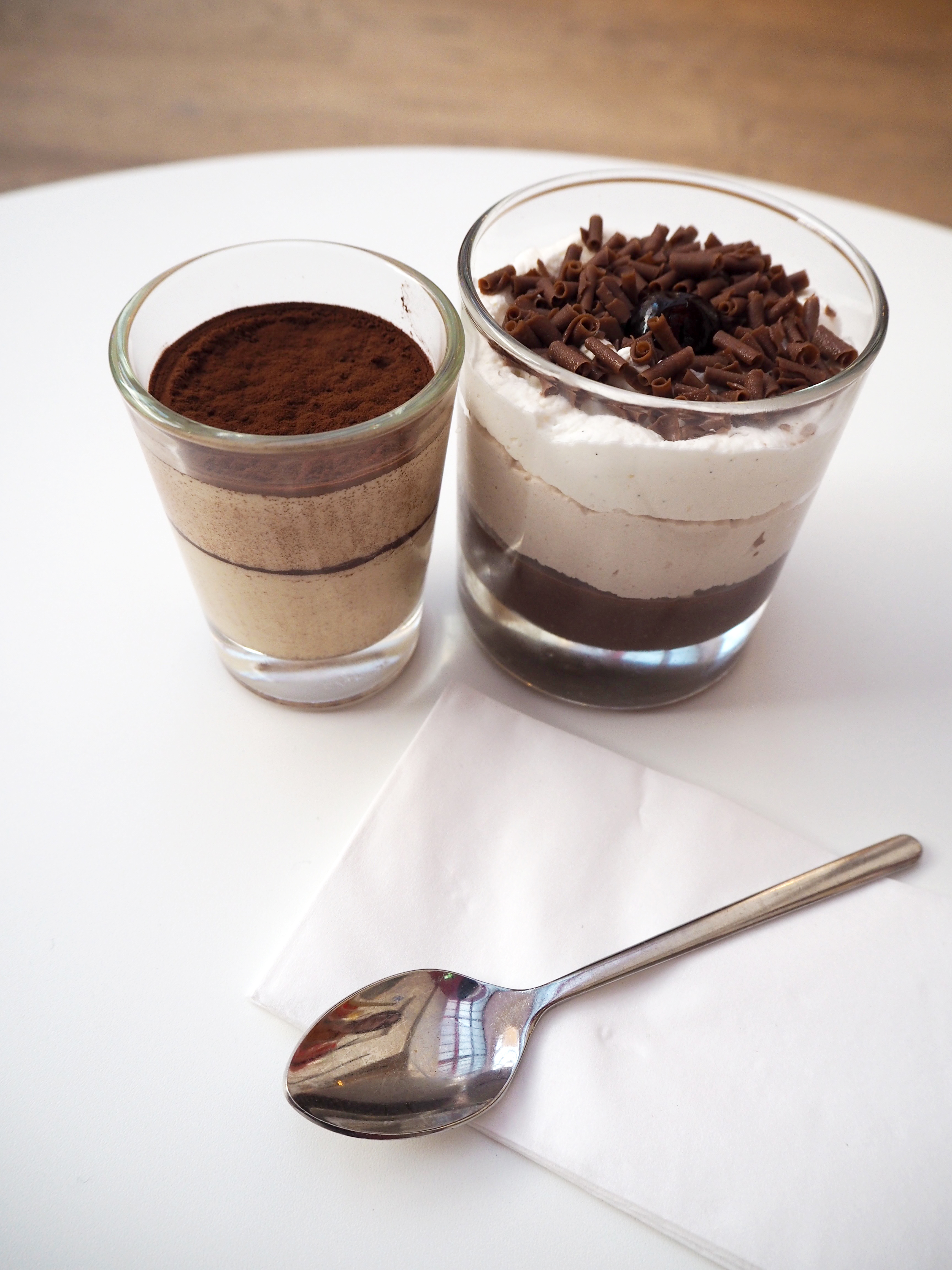 To finish off the evening we were lucky enough to select a couple of desserts from the menu. I have never had such a tough choice when it comes to picking dessert – they all looked and sounded divine! In the end we opted for the Tirimisu Della Casaaii and the Cioccolata Foresta Nera. All of the desserts at Vapiano are homemade and handmade, and the two we tried were both outstanding. Tiramisu is one of my all time favourites so I just had to try the one here at Vapiano to see how it compared (it was incredible by the way!), and the layered chocolate dessert was just dreamy – if you are a chocoholic then you need this in your life. It has a super gooey brownie base and is then layered with white and milk chocolate cream and topped with chocolate curls and a cherry. I am not usually a dessert lover but I just know I will be back to try more from the Vapiano dessert menu; I already have my eye on a chocolate Nutella flavoured one.
Overall, the cocktails were all delicious, although some may be to an acquired taste depending on what you like to drink. I am a self-proclaimed cocktail lover, so I enjoyed sampling all of these and experiencing the new twists and flavours, however we saw that some of the guests found certain drinks a little bitter or a little strong, but this is all down to personal preference really. My overall favourite had to be the Vapiano Spritz. I find that Aperol itself is quite an acquired taste, but the other elements of the drink completely balanced it out to create a perfect, all round summer drink.
The food was so tasty and we completely polished our plate off, not to mention the lovely staff and the warm and welcoming atmosphere. This is the perfect spot for a catch up with friends or an after-work drink, and I am already certain I will be back soon to sample more of the food menu and get myself another Vapiano Spritz.
The cocktail menu launches on June 1st, and there will also be Happy Hour from 4-7pm when Vapiano will offer 2 for 1 cocktails, with prices starting from just £4.50. See you there!
Be sure to check out the Vapiano website for menus, competitions, tricks and tips, recipes and much more!
Have you tried Vapiano yet? What's your favourite summer cocktail?
LL x