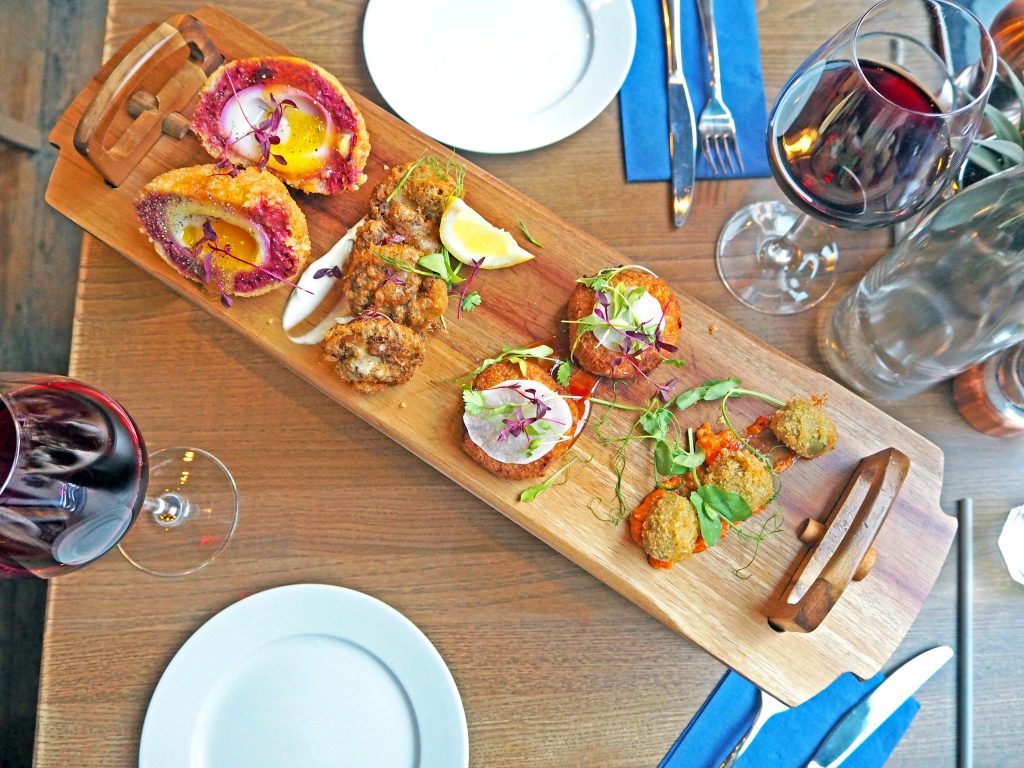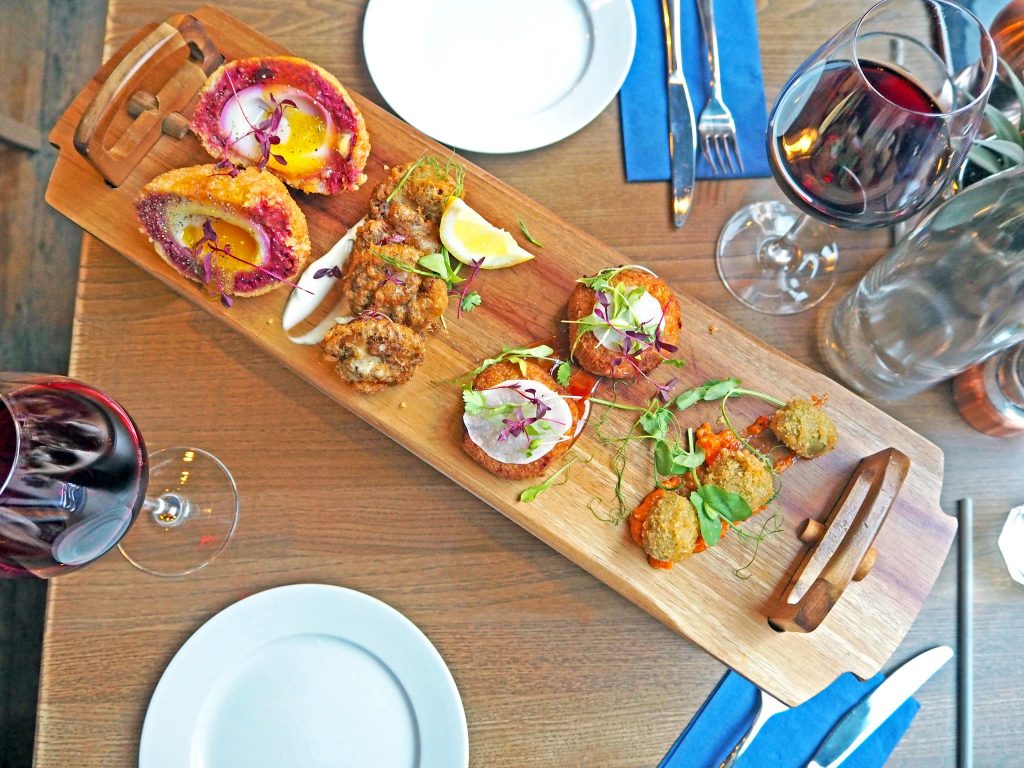 If you are a Manchester resident or regular and frequent the Northern Quarter side of town, then I am certain you will know of The Blue Pig. Located right behind the Arndale, The Blue Pig was closed for a short period of time this year, but now; back by popular demand, they have relaunched their food and drink menu and are offering deli lunches, sharing platters, and 'the best Sunday lunch on the plant', amongst other things.
I was actually surprised when I saw The Blue Pig closed, as it is in a perfect location and always seemed busy. Not surprising that before long it was back up and running, and I was keen to pay a visit when they invited me down to try out some of their new offerings.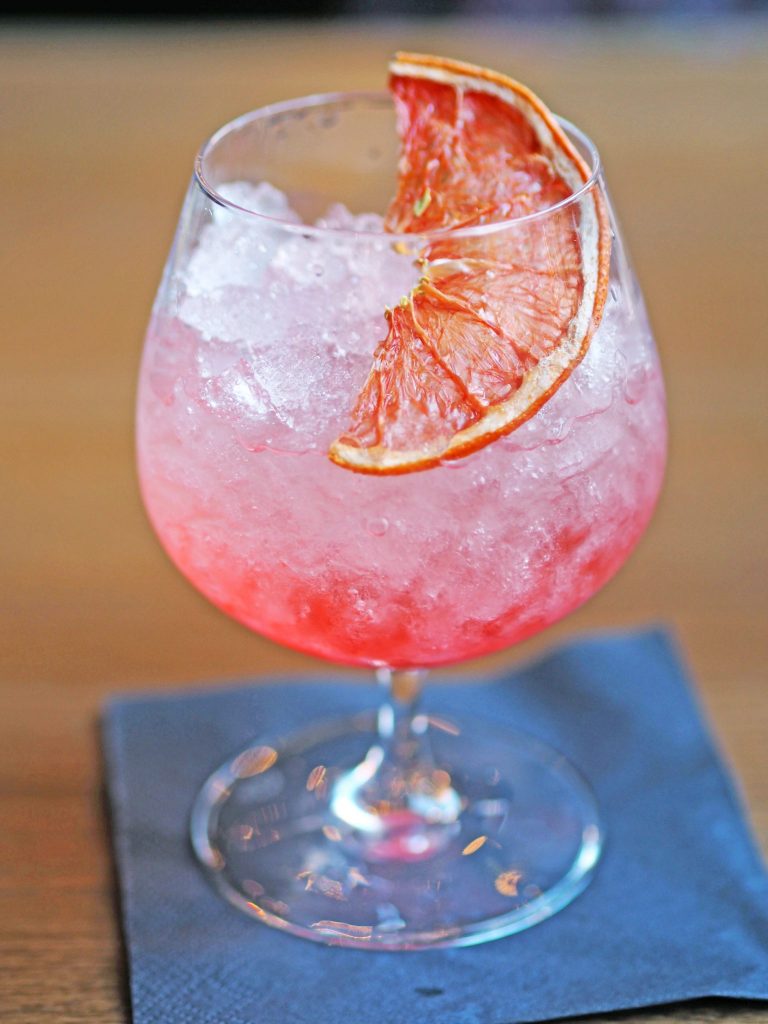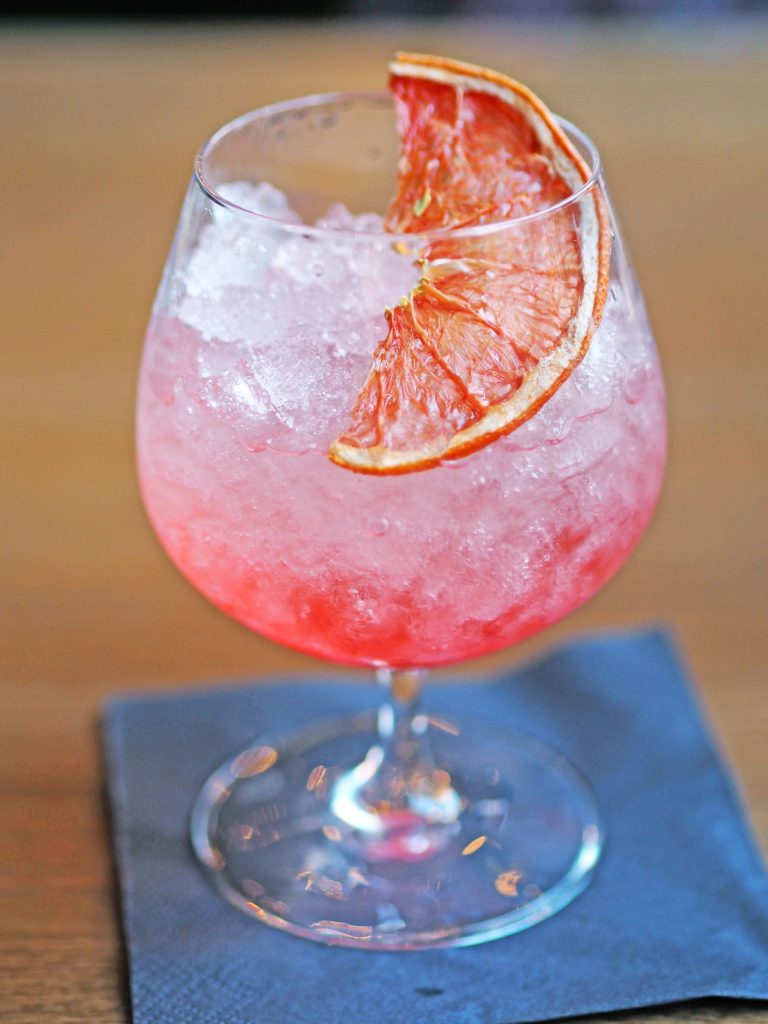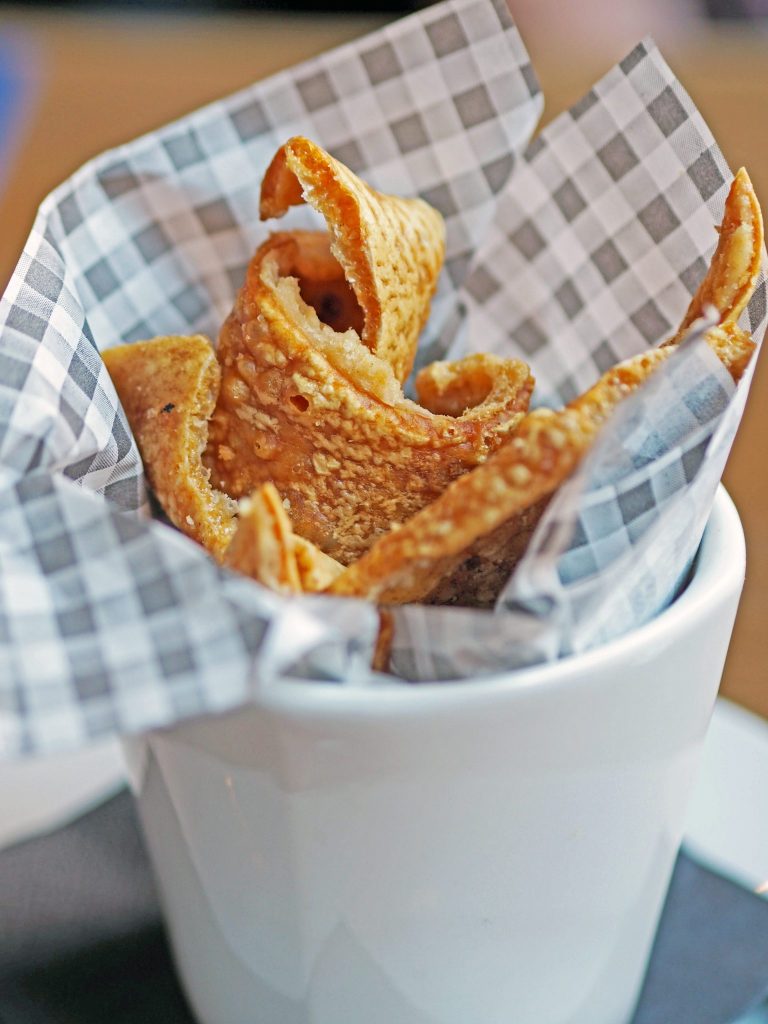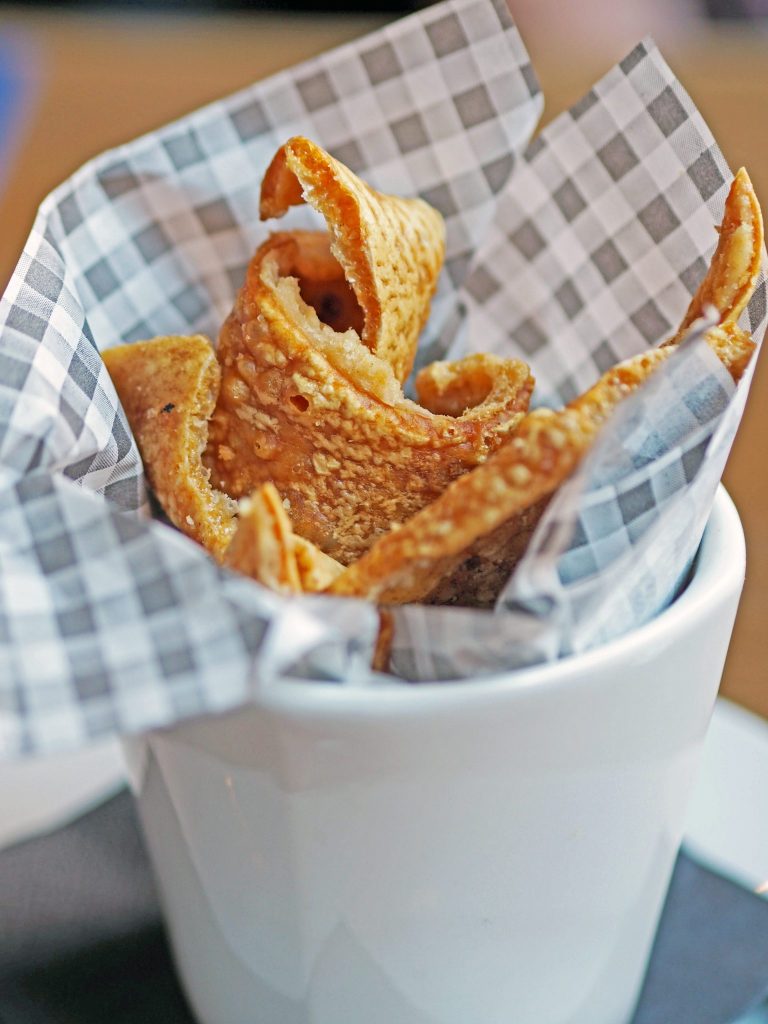 We started with the Pork crackling with fennel and coriander (£2.50) and a Negroni Bramble (£7.50). I absolutely loved the Negroni Bramble – a combination of Tanqueray, Lillet, and Pampelle grapefruit liqueur made for a refreshing yet punchy cocktail, packed with flavour. If you like crunchy crackling then the pork is certainly for you! You get a really generous portion and the flavour is delicious. Perfect to share over drinks.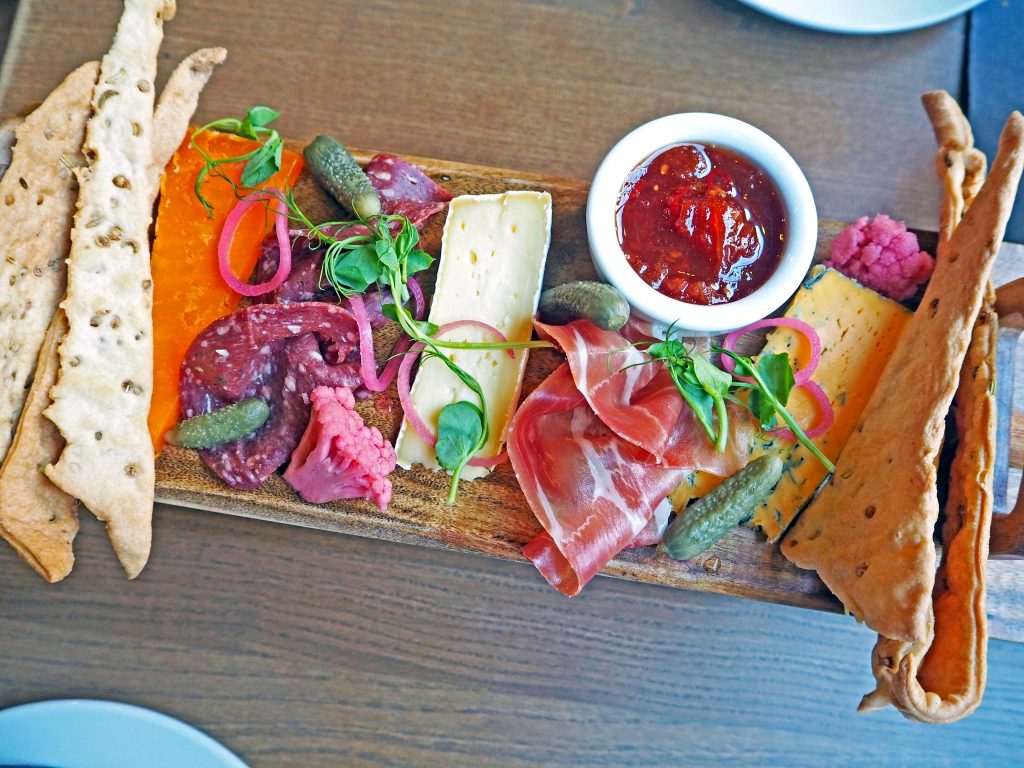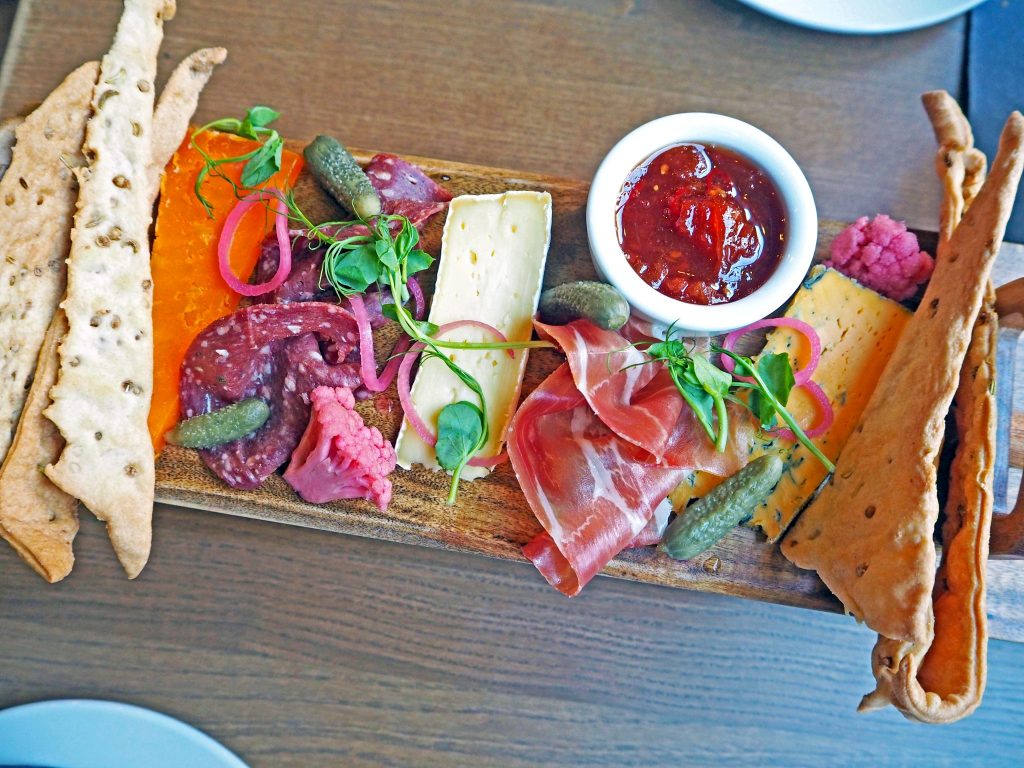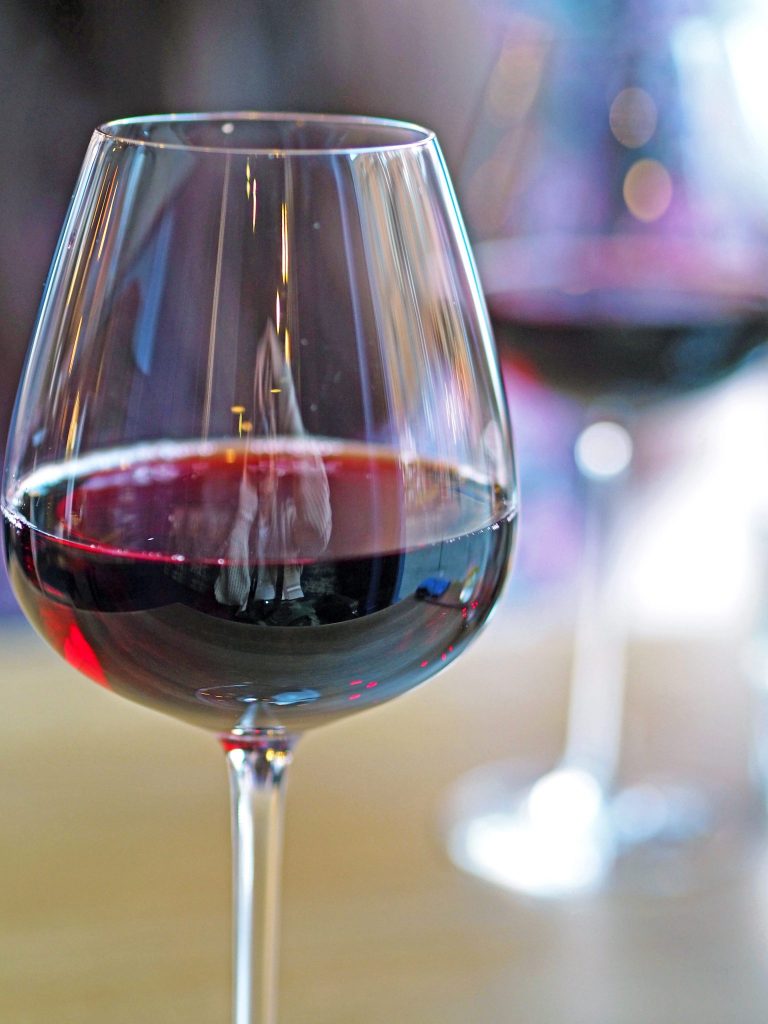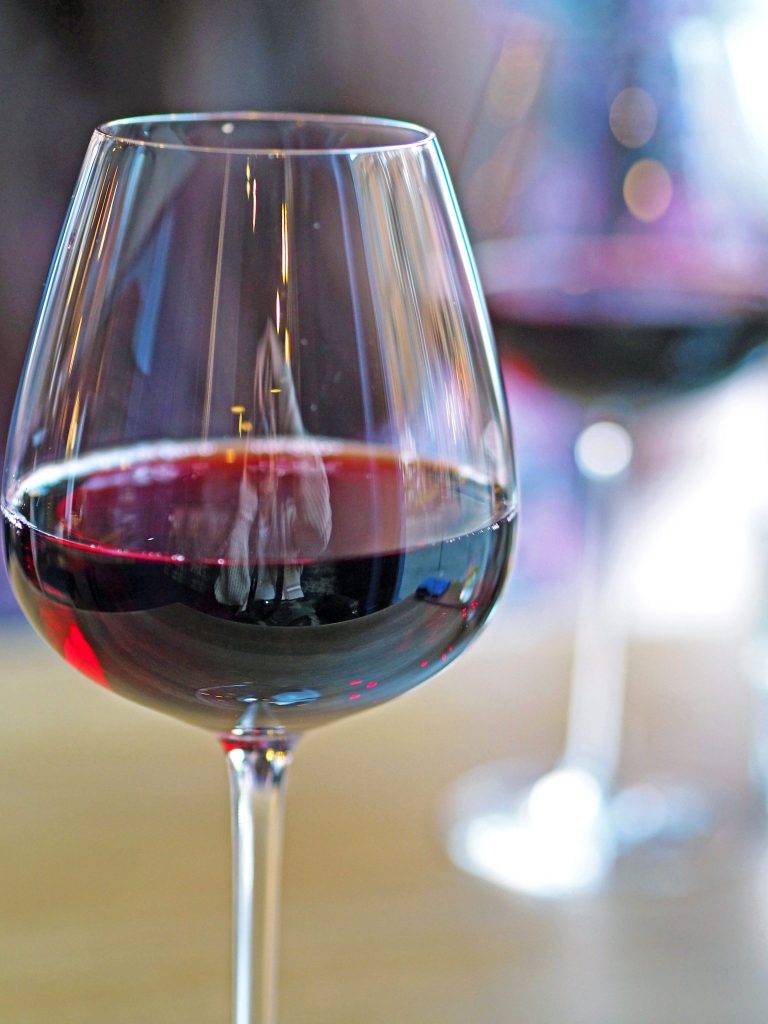 Next up came an amazing deli board, packed with a range of charcuterie, cheeses and crackers (any 3 for £7 or 5 for £10). I adore sharing boards, and on a recent trip to Italy, ordering a couple of glasses of nice wine and sharing a meat and cheese platter was my favourite way to spend the afternoon (or any time of day!) You can really tell a lot of thought has gone into the quality ingredients The Blue Pig have selected. My favourite had to be the Venison Salami with Green Peppercorns, and from the cheeses the Perl Wen Brie. The platter was washed down nicely with a delicious glass of Argentinian Malbec – perfection.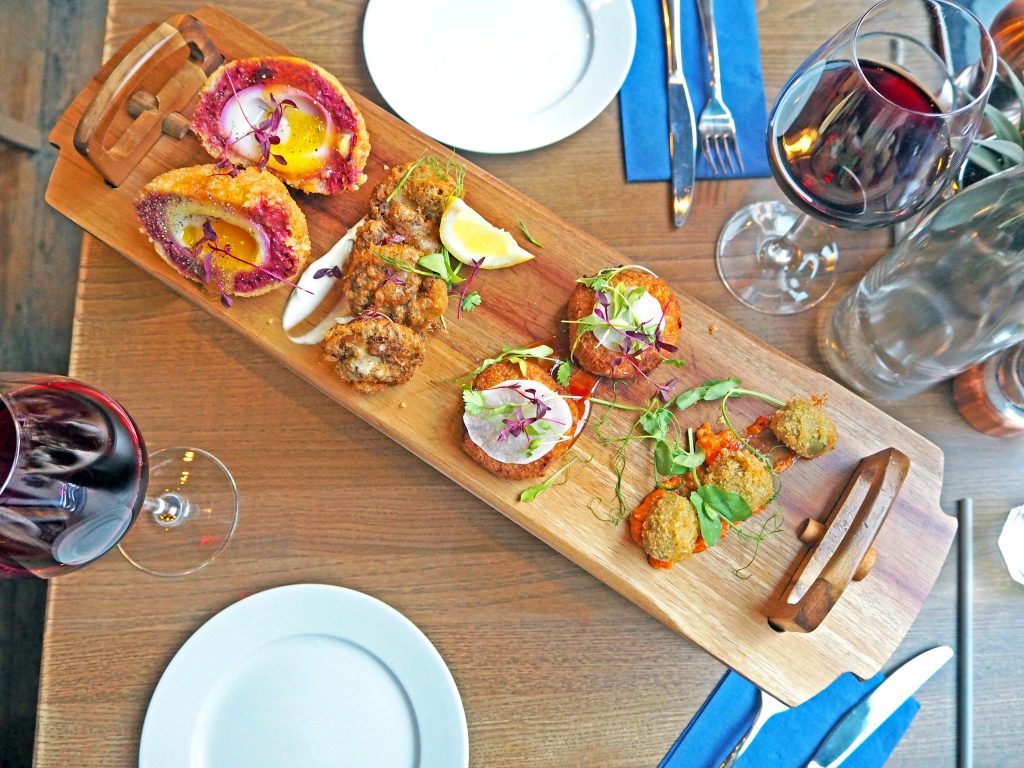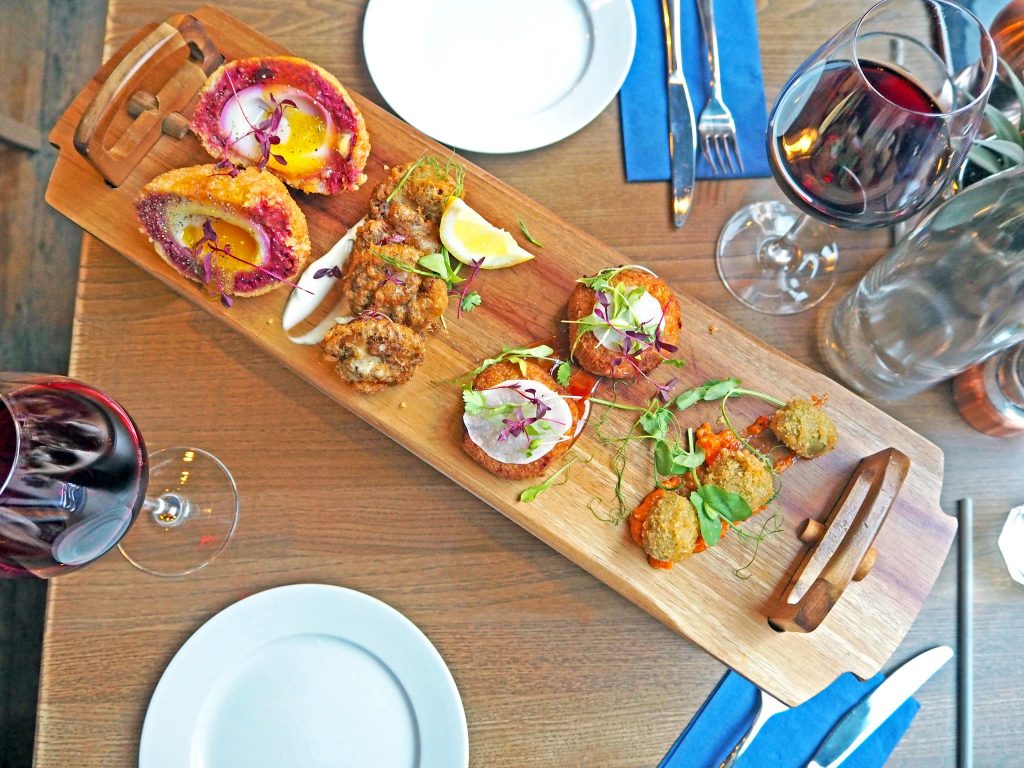 Just when we thought sharing platters couldn't get any better, we were presented with a board piled with Beetroot falafel scotch duck egg, ginger and rhubarb jam (£6), Tempura Jerk Prawns with citrus mayo (£8.50), Asian pork bon-bon served with pickle mooli and wasabi (£6.50), and Feta stuffed crispy olives with romesco sauce (£5.50).
The scotch egg was a definite highlight; a gigantic version of one of Britain's fave snacks, but veggie (as long as you don't mind the duck egg centre). My favourite had to be the Tempura Jerk Prawns though – I have never had this sort of flavour on seafood before but it is genius! I also can't not mention the olives; I adore olives anyway, but these cheese filled ones in their crispy coating are just taking olives to a whole new level. I know a lot of people who aren't keen on olives, but these are a sure fire way to change minds on that. Oh go on then.. I can't leave one dish un-mentioned (because they were all really just that good)! The pork bon-bons were absolutely delicious. The meat was very soft and tender, and the delicate mooli and peppery wasabi really contrast with the filling and bring out the sweet, meaty flavour.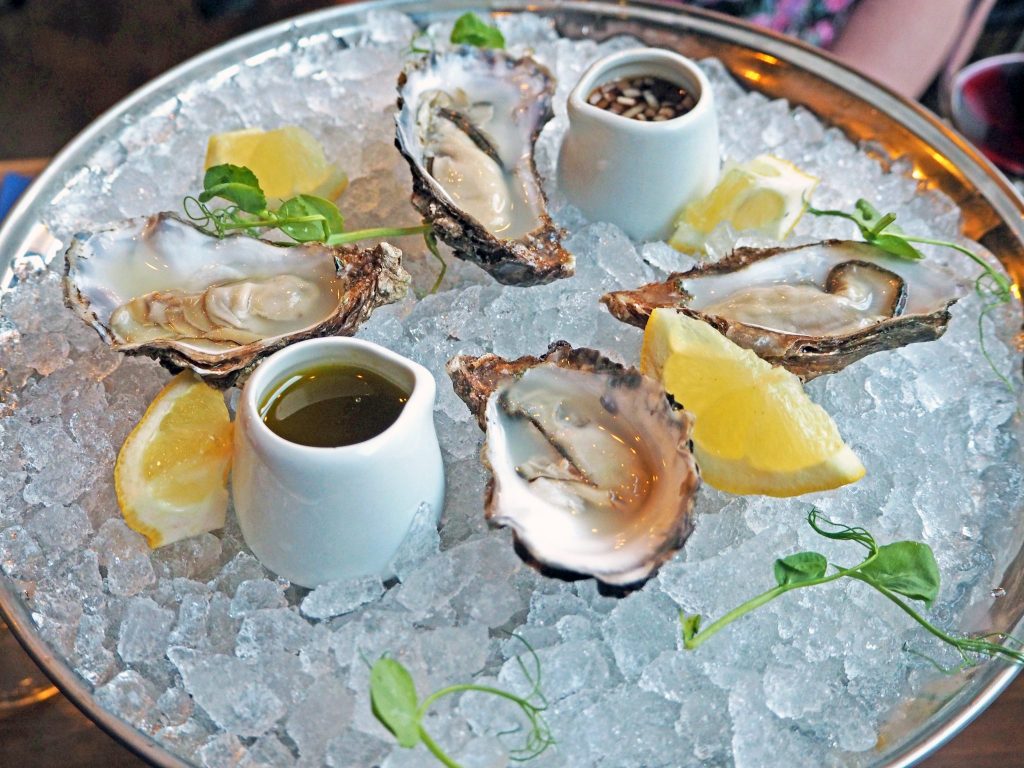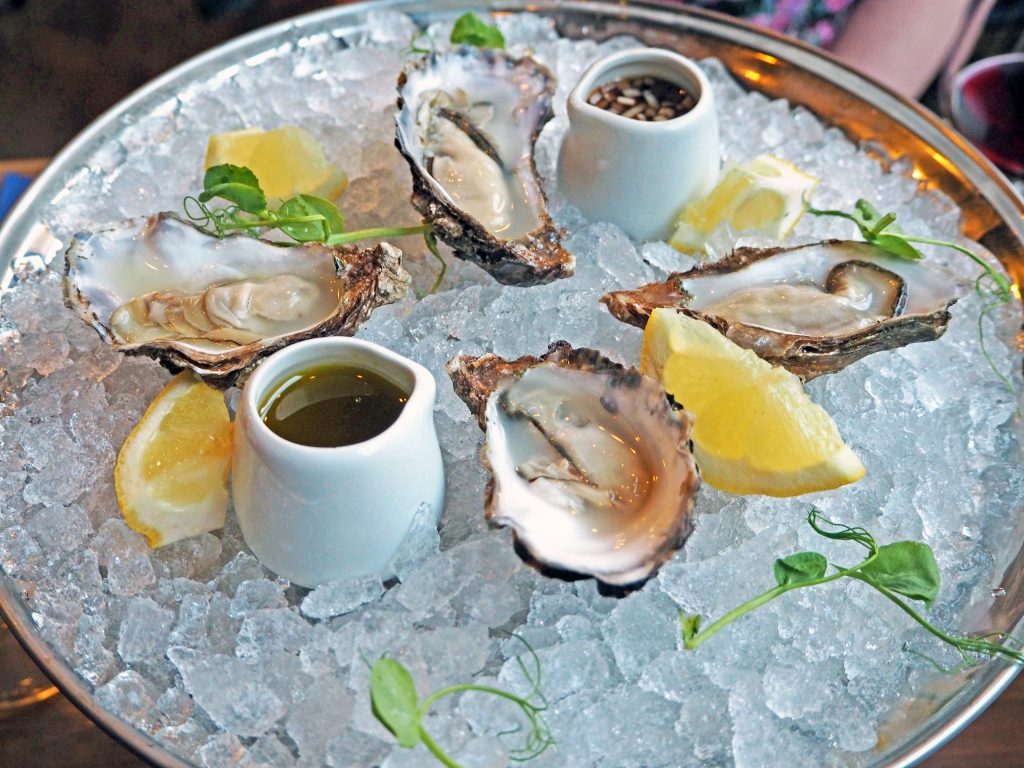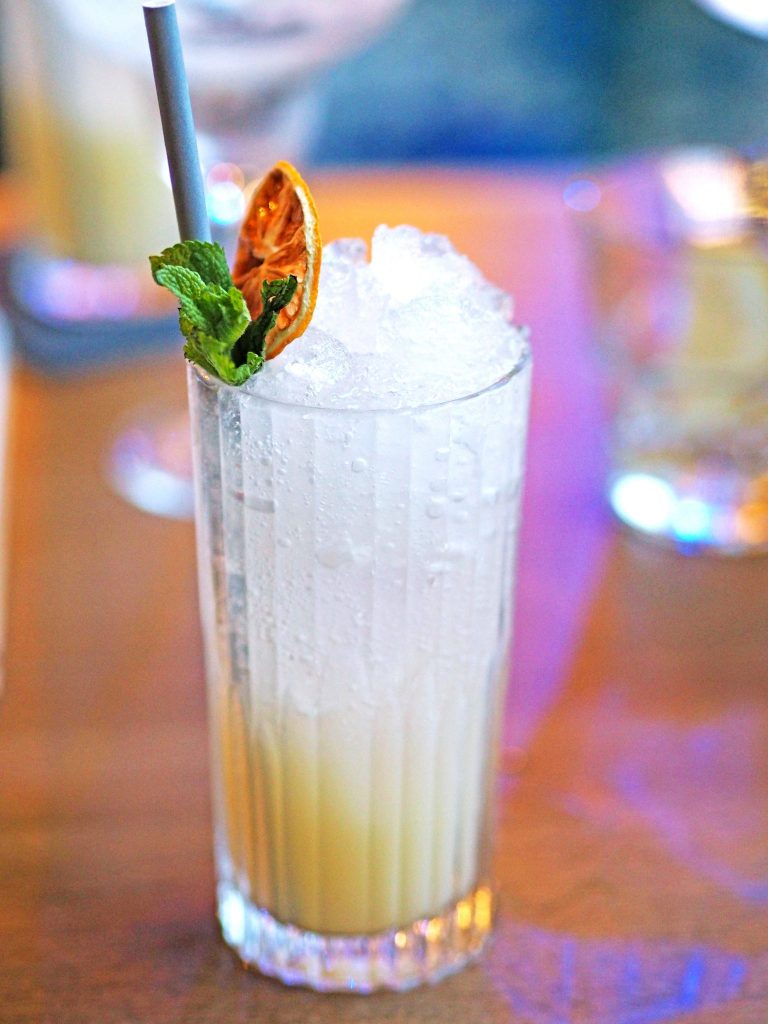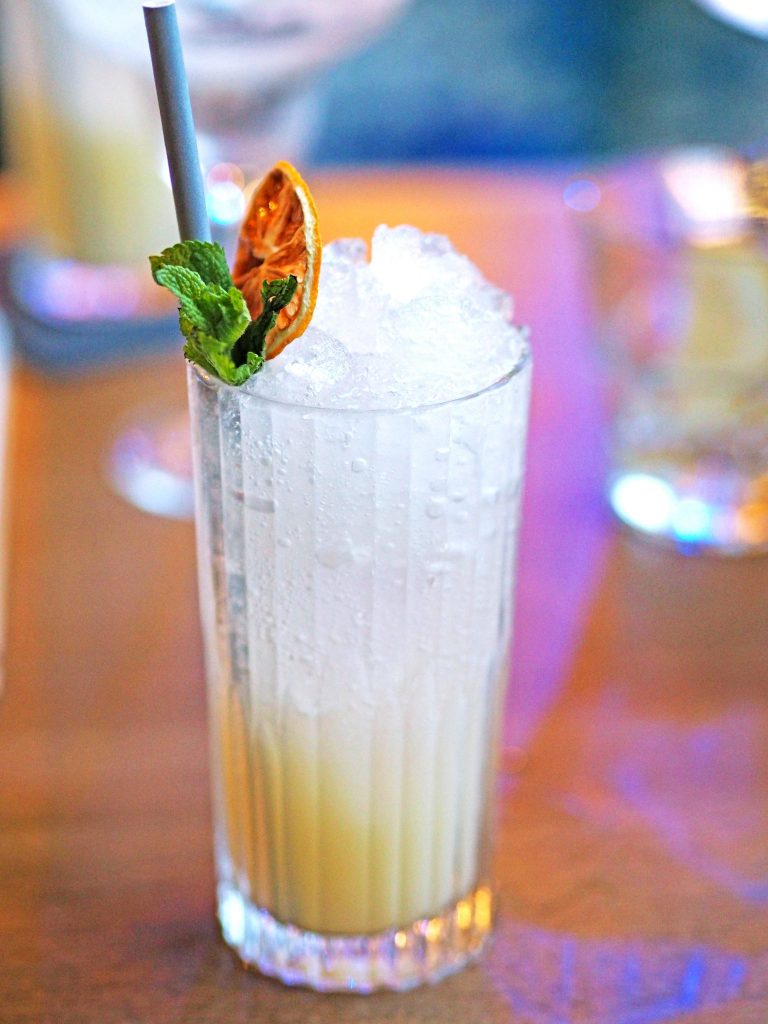 I'm sure you will know that I am a seafood lover, and I always opt for it when I am eating out, so you can imagine how happy I was when I saw a silver platter of oysters making it's way to our table. I always relate oysters to more high-end restaurants, but I love that you can now order fresh oysters (6 for £15.50 or 12 for £28) in The Blue Pig. A definite win and something I will be ordering with my sharing platters and wine – a big thumbs up from the seafood lovers!
Our next cocktail was the Lemon Curd Collins (£7.50), which was a refreshing mix of Ketel One Citron, Limoncello, lemon curd, vanilla syrup, orange bitters, all topped off with soda. If you are a lemon lover then this is a guaranteed win for you – it reminded me of a lemon tart, so would be a perfect option if you fancy something sweet but can't fit in a full dessert. Sometimes liquid desserts are better than the real thing! If you aren't a citrus fan then this may not be your perfect tipple as it is super lemony, but I found it lovely to cleanse the palette and sort out your sweet cravings.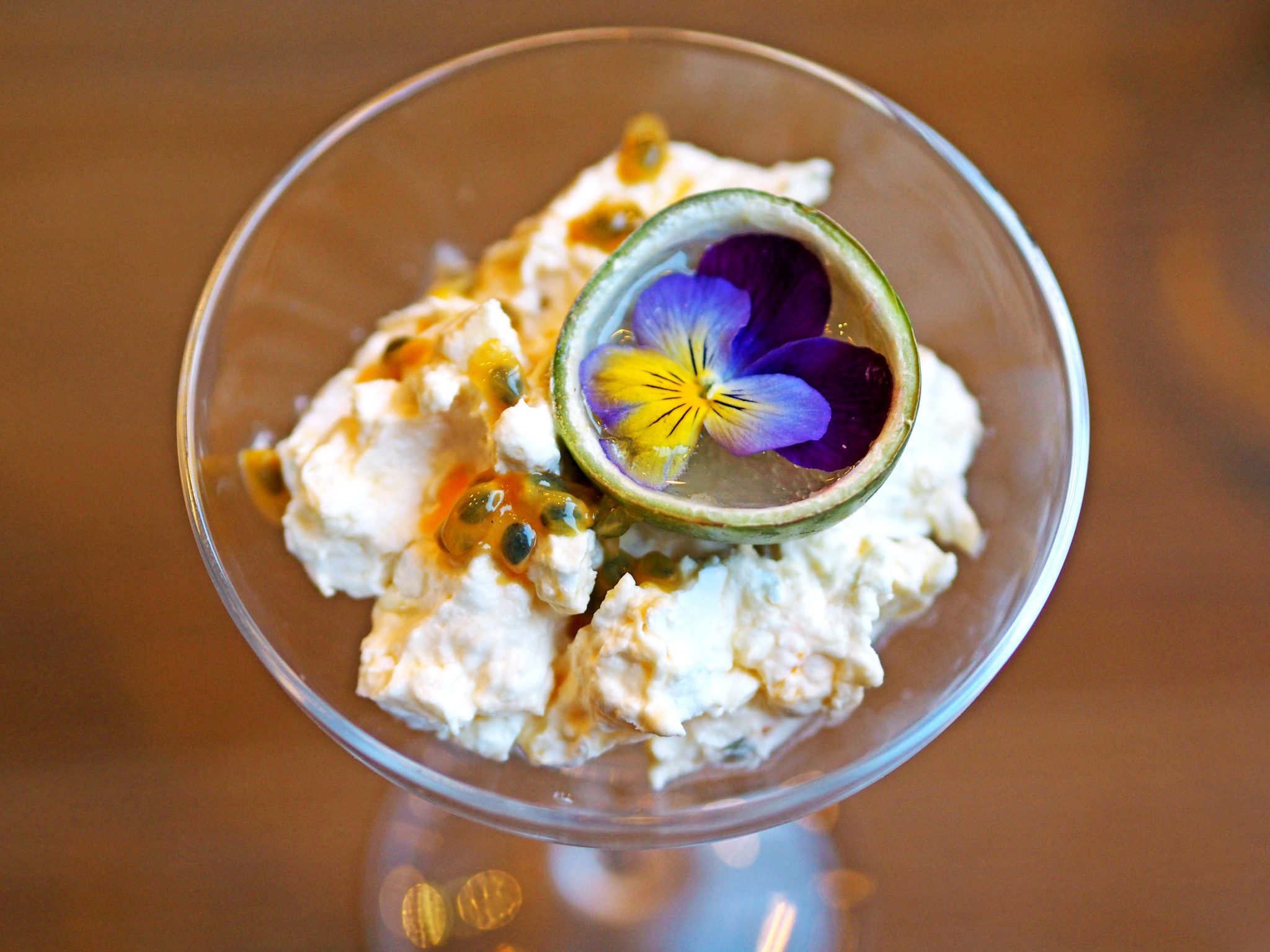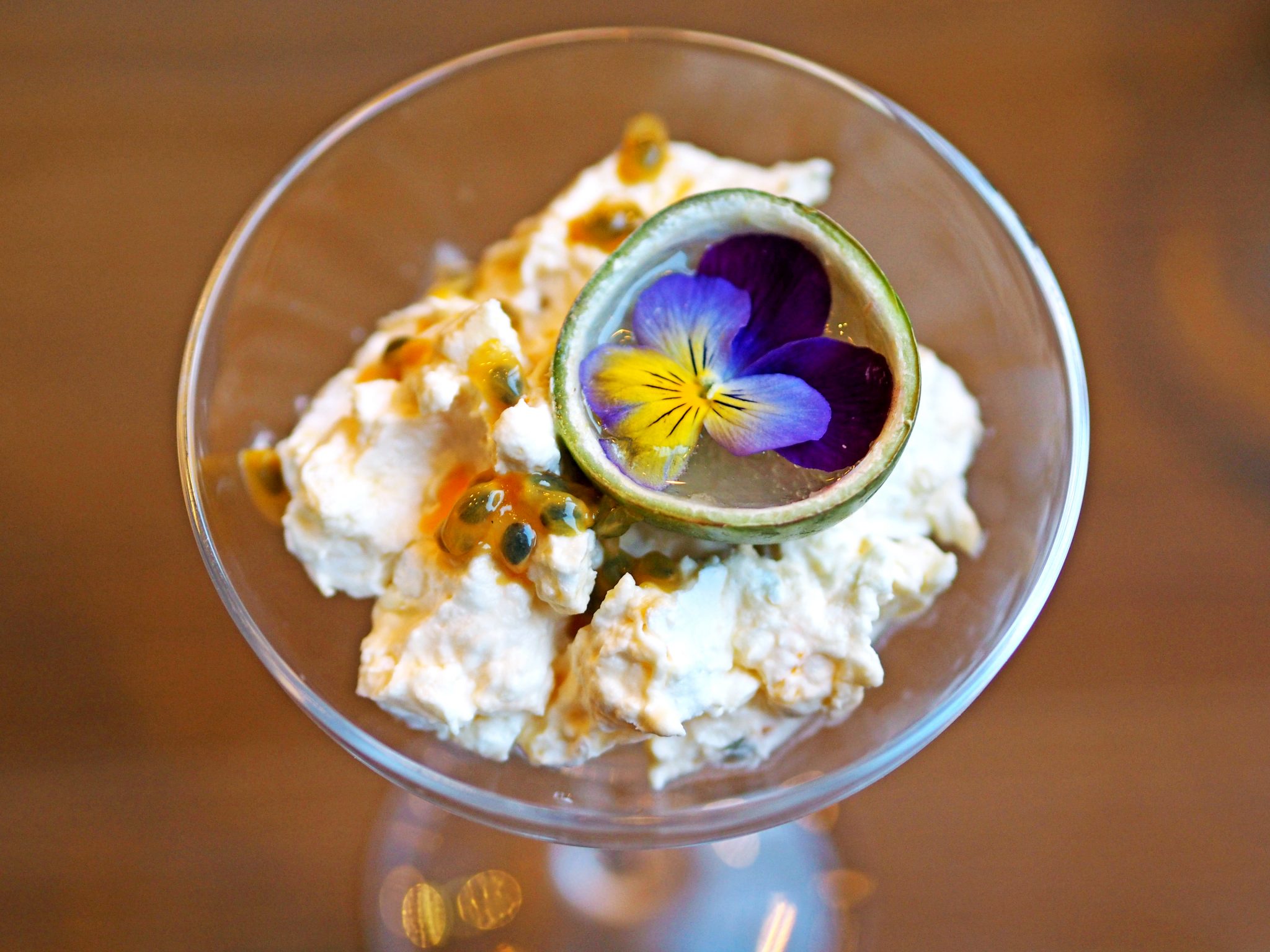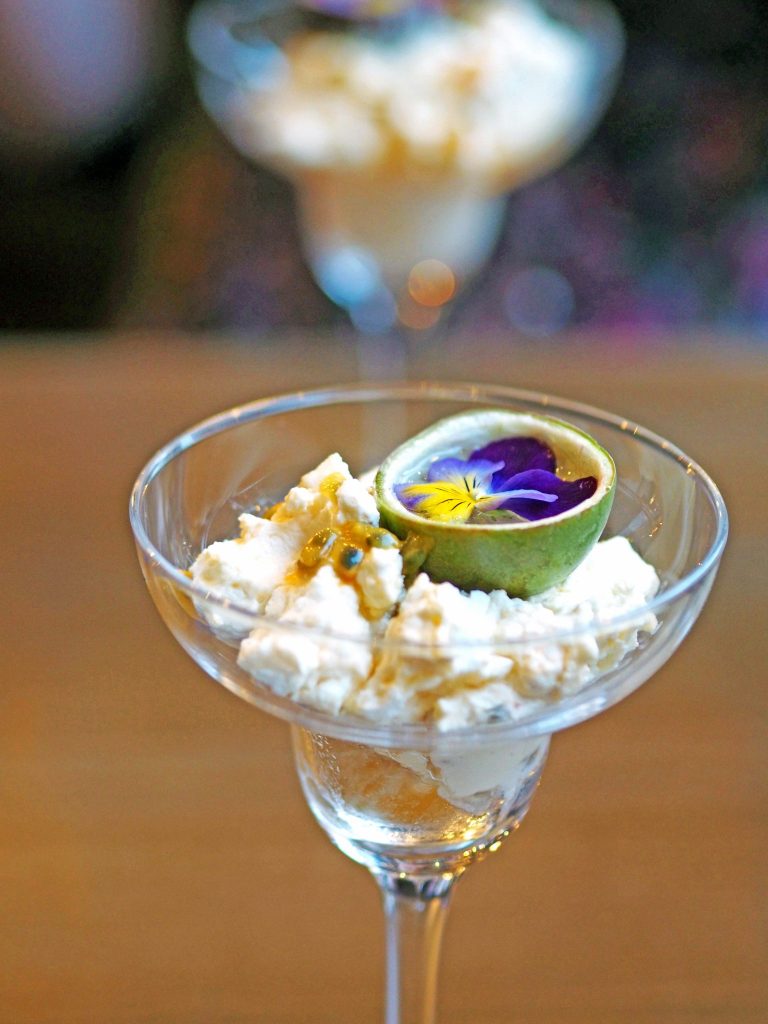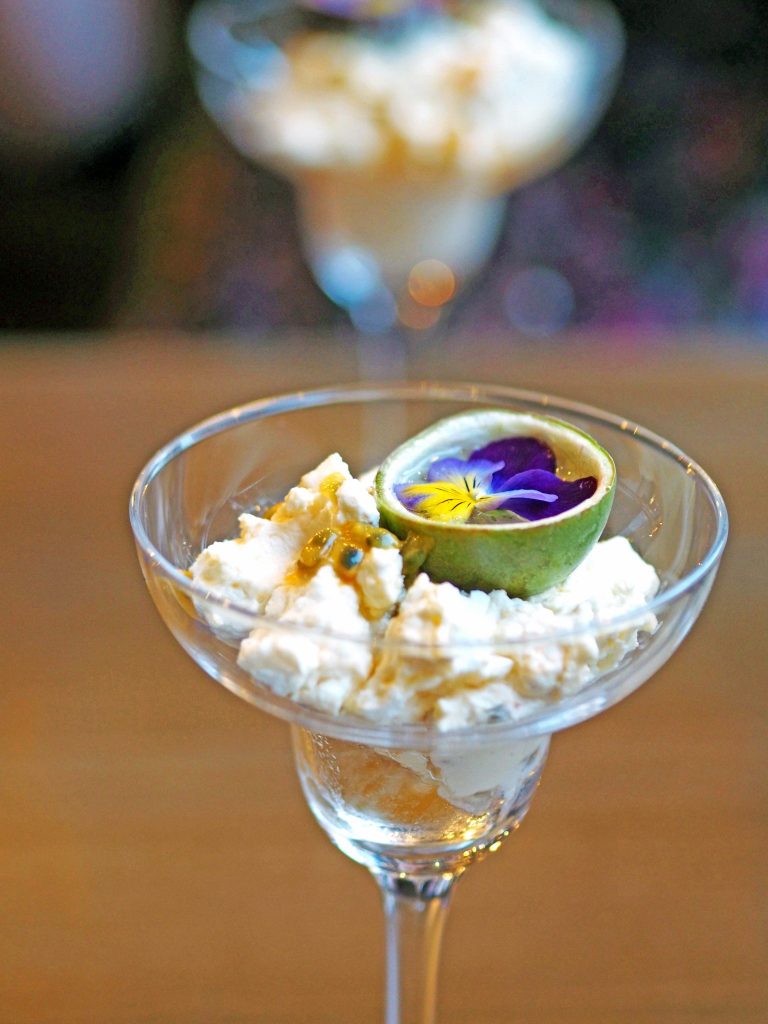 And finally… onto dessert. Having been a baker for 3 years, you may know that I dessert-ed myself to the limit, and it is so rare now that I will order deserter anything sweet when I am dining out. However, if it is cocktail related then you can 100% count me in, and this Pornstar Martini Eton Mess was a dessert that had me wishing it was appropriate to lick the glass. Desserts can often be quite stodgy and end up making me too full after a big meal, but this was really light, and hit the spot perfectly. The sweet meringue and cream combined with the punchy passion fruit and prosecco served in the shell was an amazing end to our evening with The Blue Pig.
To sum up, I would actually say that the menu exceeded all of my expectations by a mile. The Blue Pig gives off quite a relaxed, casual vibe; well fitting for it's Northern Quarter location, but they certainly haven't skimped on the quality of ingredients and the thought put into the new menu. There is something for everyone, and all of the prices are super affordable considering the excellent food they are offering. Definitely a hidden gem in terms of the amazing menu, and I will no doubt be back soon for more (especially eager to try their Sunday roast!)
LL x
*Everything included in this post was complimentary – thank you to The Blue Pig for having us. As ever, all opinions are my own.