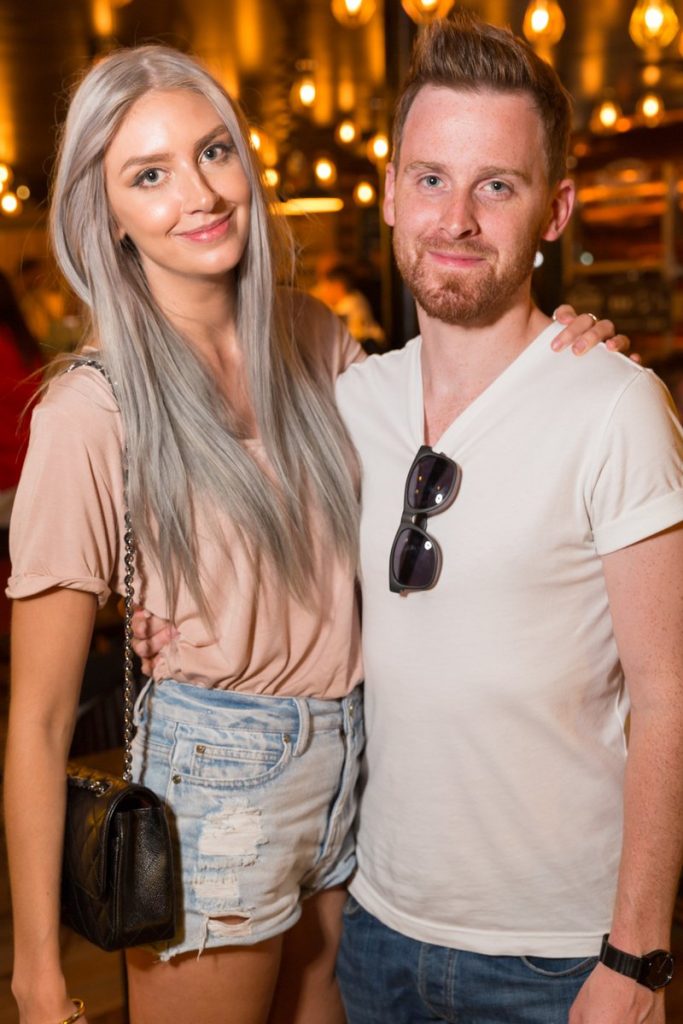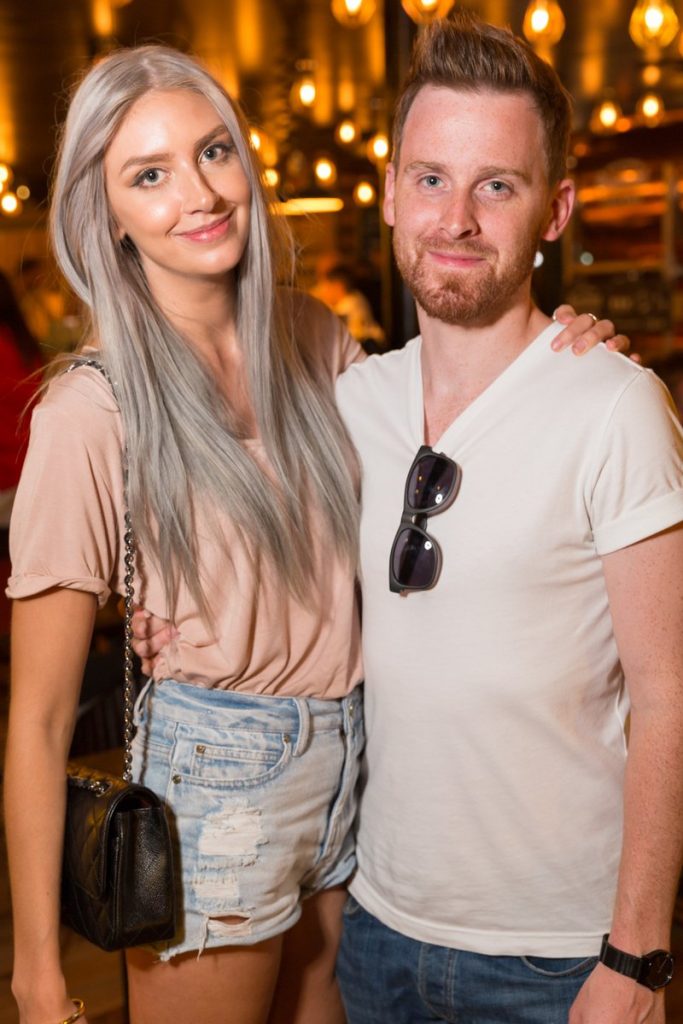 I was recently invited to the launch of a new restaurant in the city centre – Manchester Smokehouse and Cellar. Manchester boasts an incredible choice for dining, which seems to just keep growing and growing with no sign of ever slowing down. Not that I am complaining; being a self-confessed foodie, I love trying out the new bars and restaurants, ticking them off my list and adding them to my repertoire.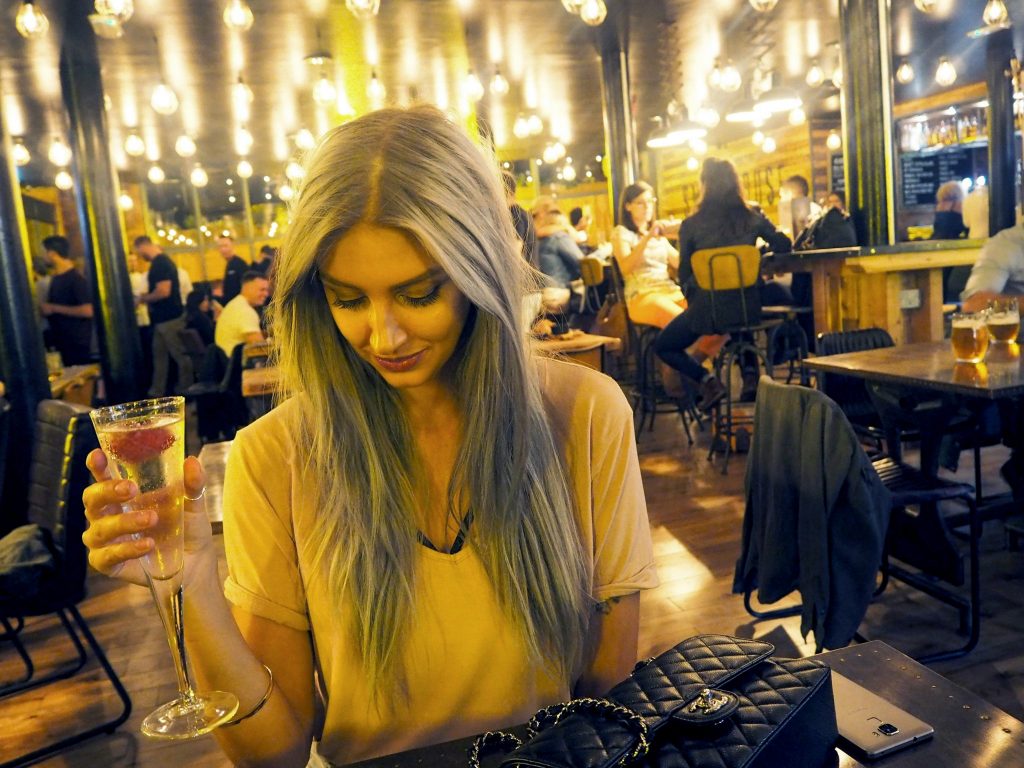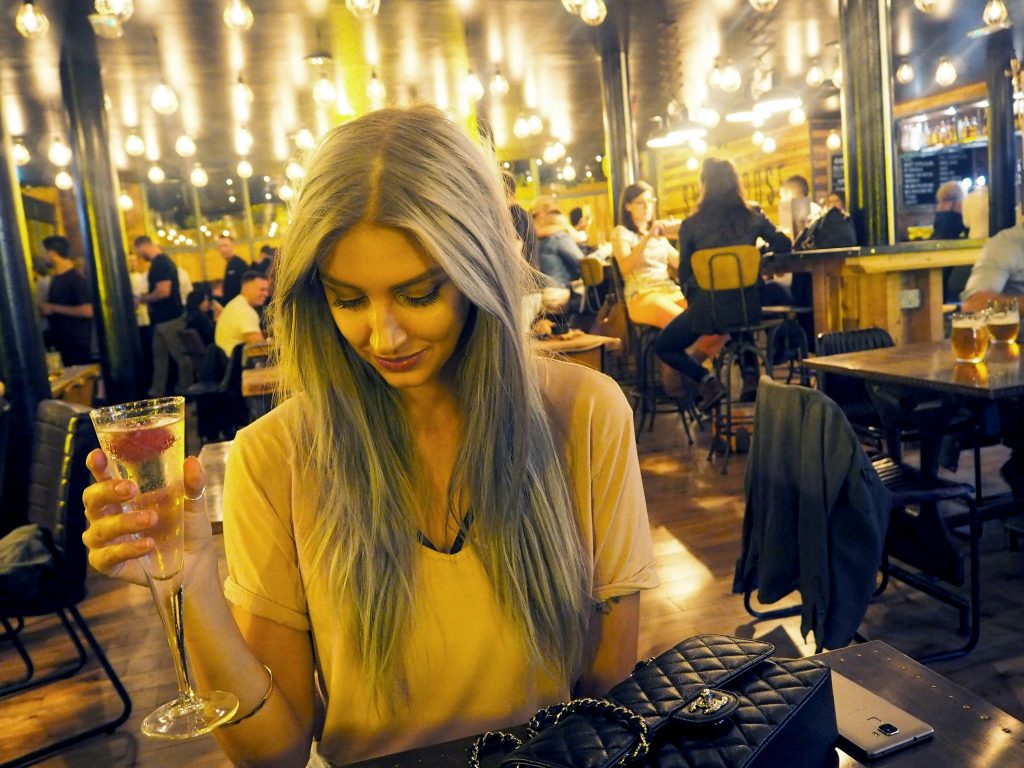 Manchester Smokehouse and Cellar is located on Lloyd Street, which is actually just next to the town square – so it's very easy to find if you aren't from the local area. If you're into BBQ food, then making a reservation here should go straight to the top of your to do list – trust me. The restaurant boasts a kitchen ran by 'Pitmaster' Jason Latham, and offers a great menu filled with delicious dishes cooked in an entirely fire-fuelled kitchen. Cool huh? The kitchen is located in the corner of the venue, and is pretty open which means you can get a good look in at the wood-fired pizza oven, open-flame fire pit and the insanely large char-griller barbecue (I was overly excited about this as it looked like something right out of Man Vs Food).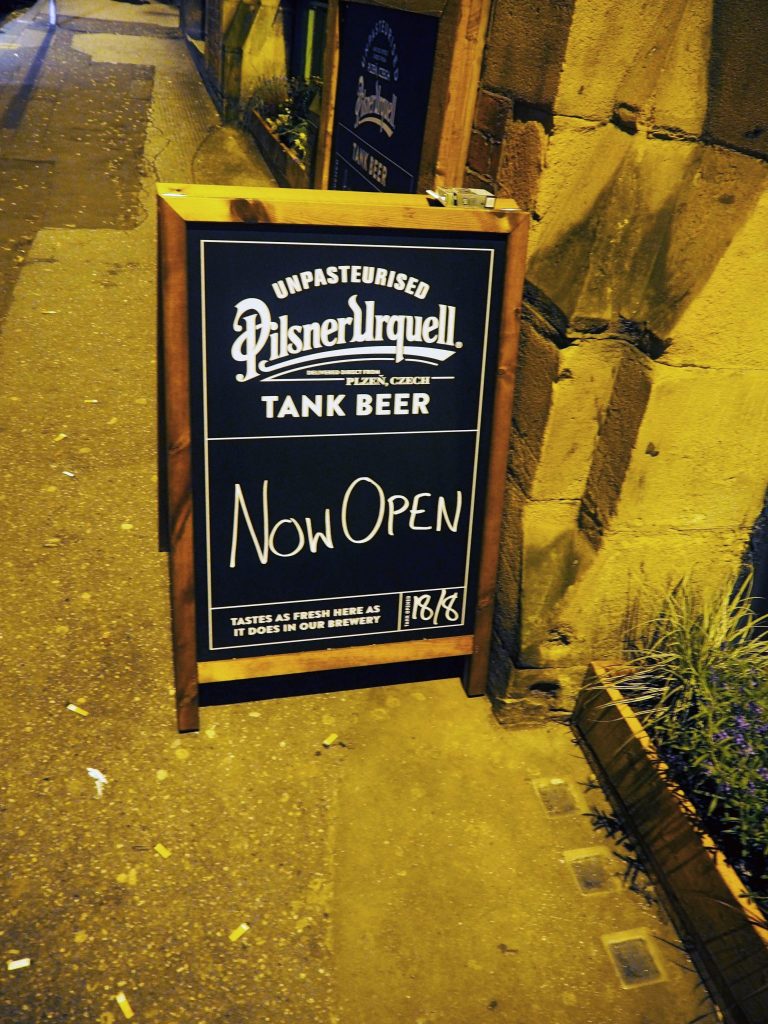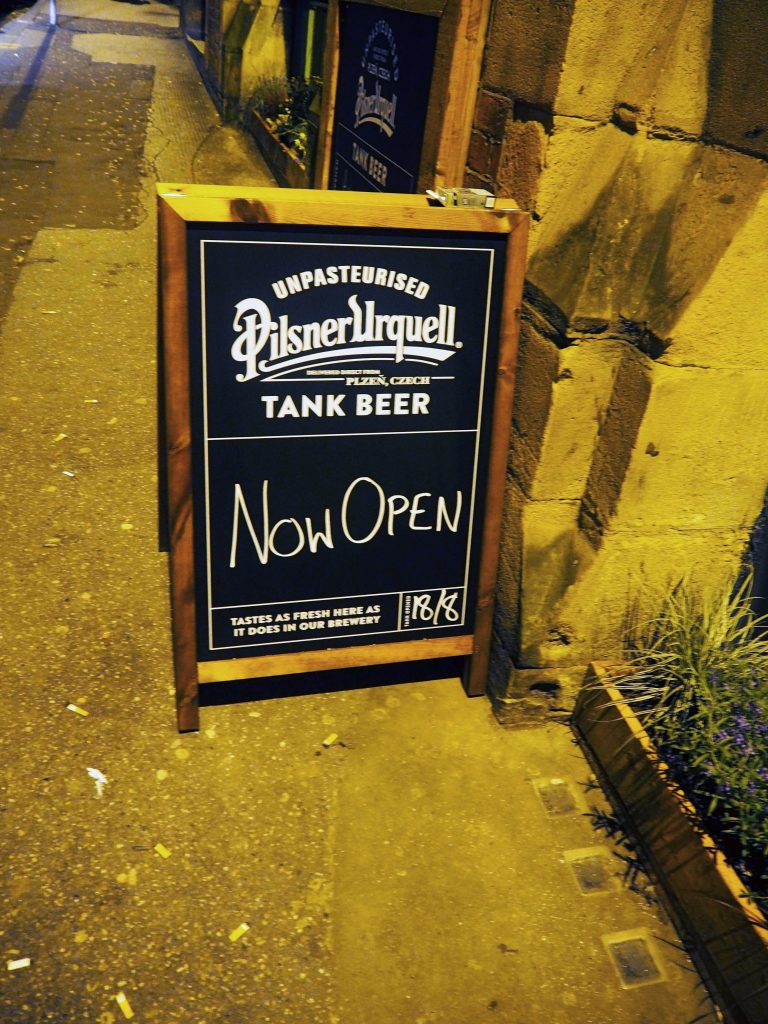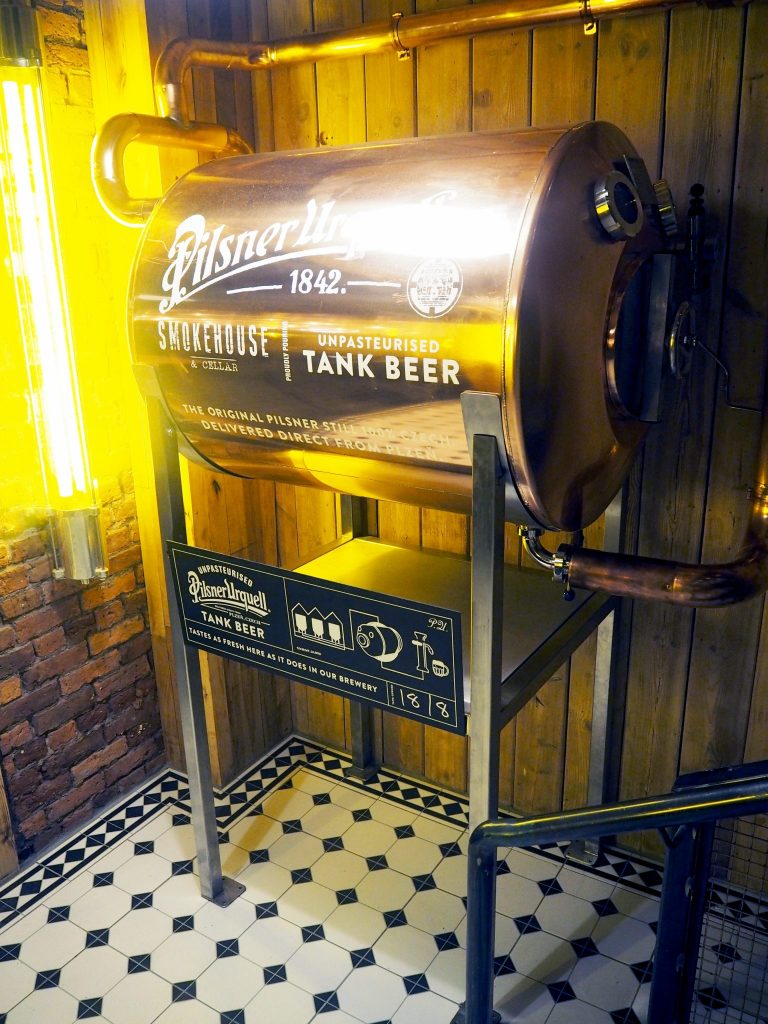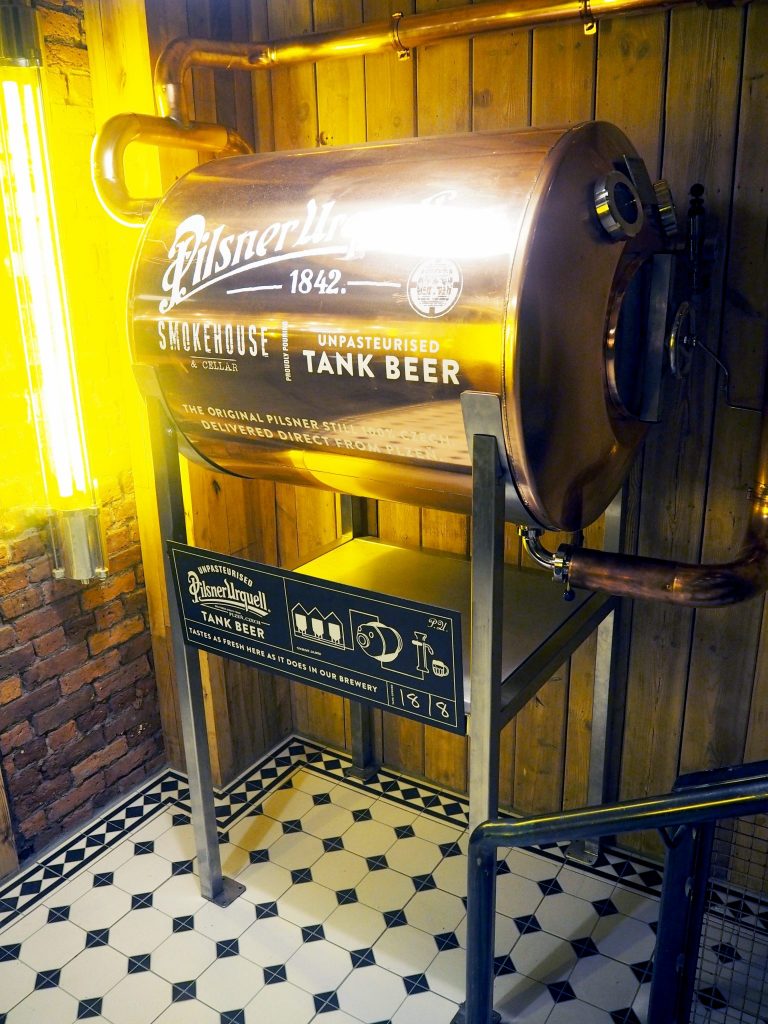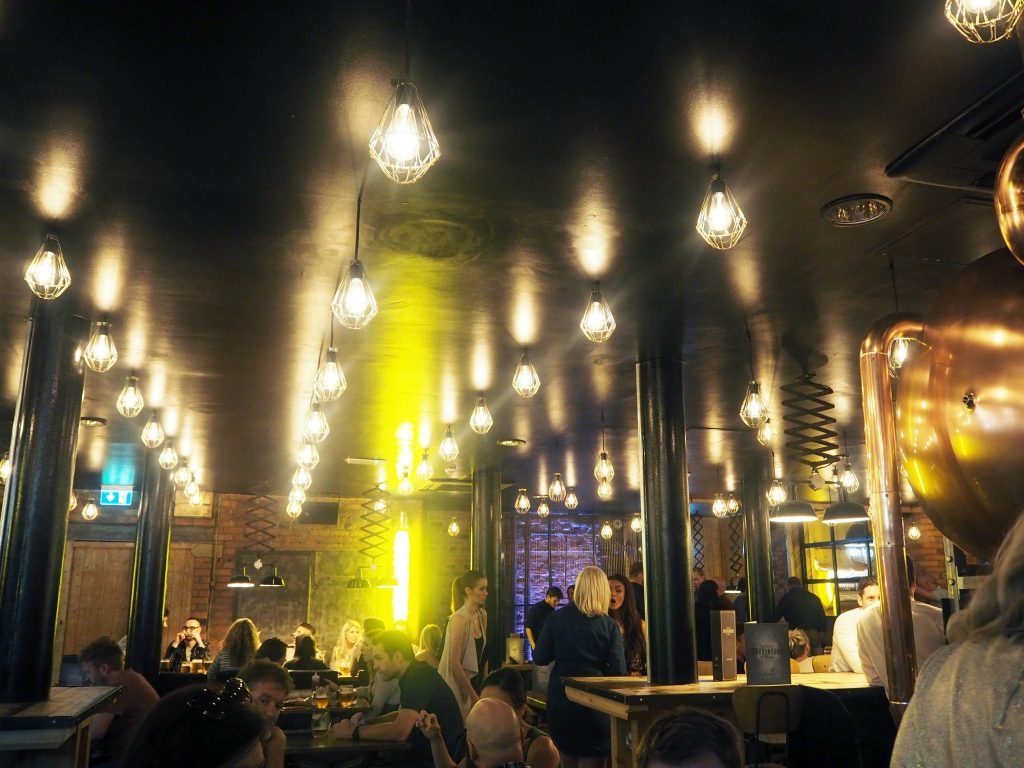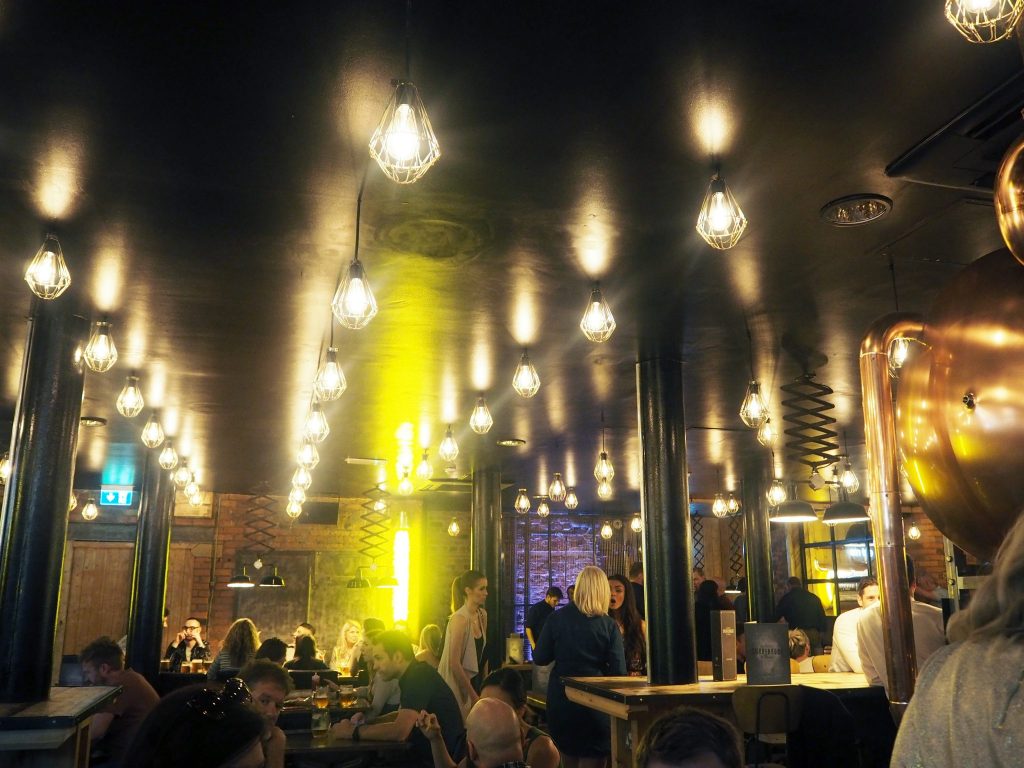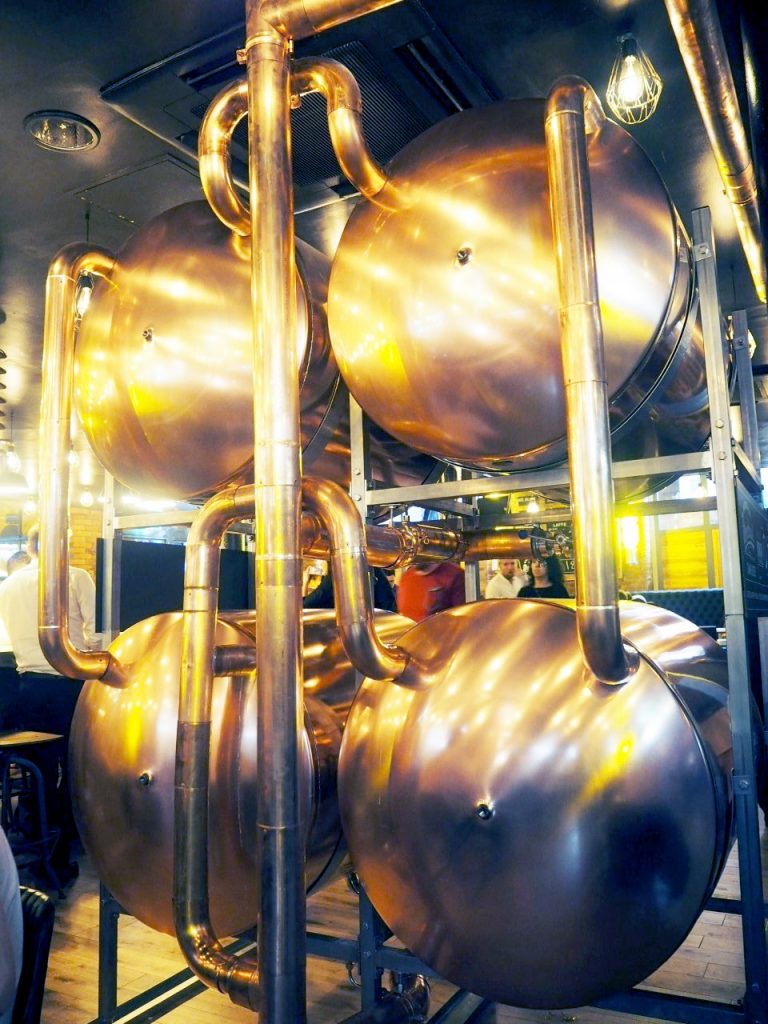 I really like the interior – it feels quite industrial with wooden furniture, huge copper beer tanks and modern lighting. One of the biggest selling points for me is the tank beer. Manchester smokehouse is the second of only two (the first being Albert's Schloss) to stock Pilsner tank beer – which is flown in fresh and opened on site, with a chalkboard displaying when the current tank was recently opened. I think this is such a novelty and a great USP; where I might usually choose a glass of wine or a cocktail, I opt for a pint of the fresh beer to begin, just because I love the novelty and how fresh it is.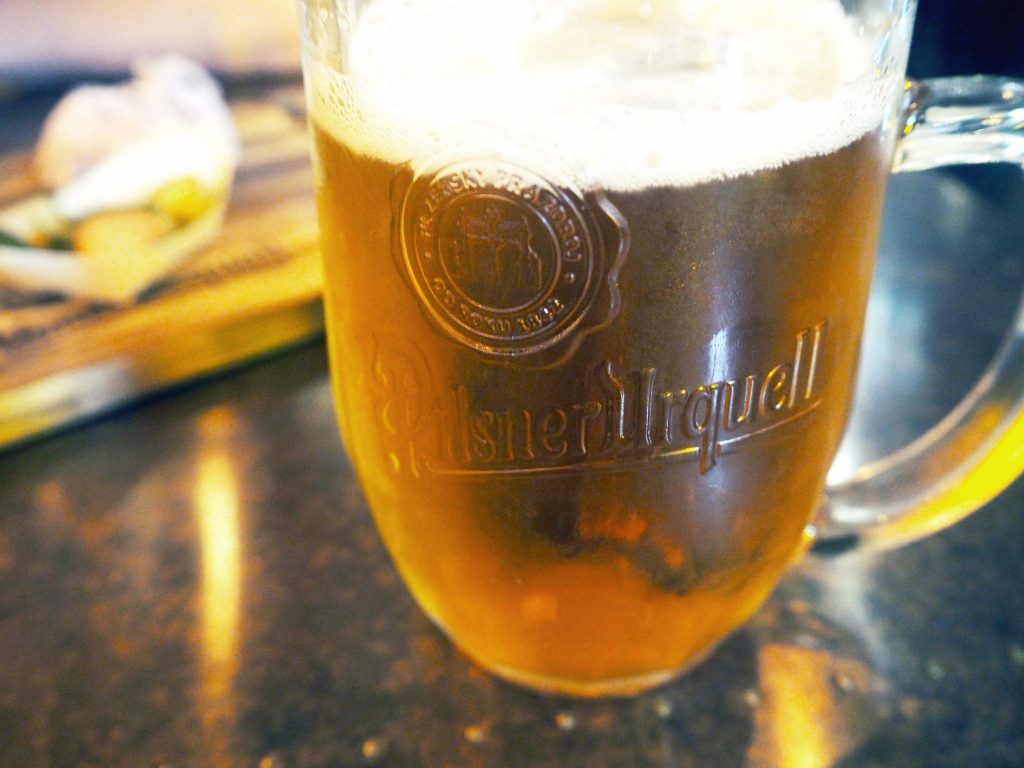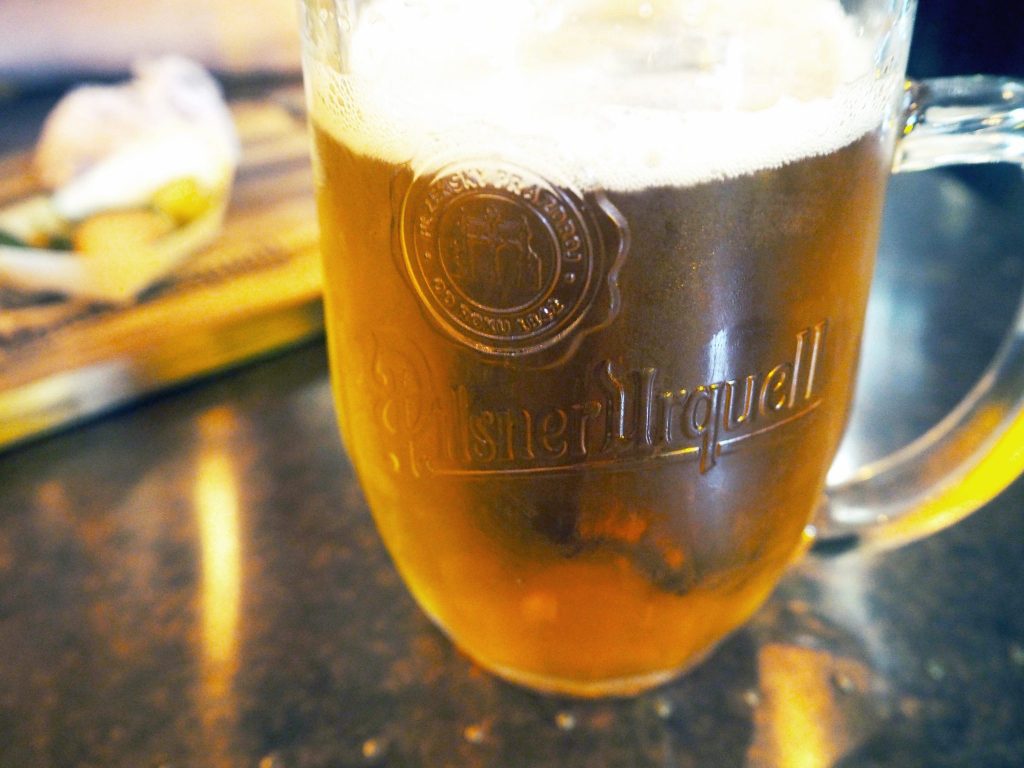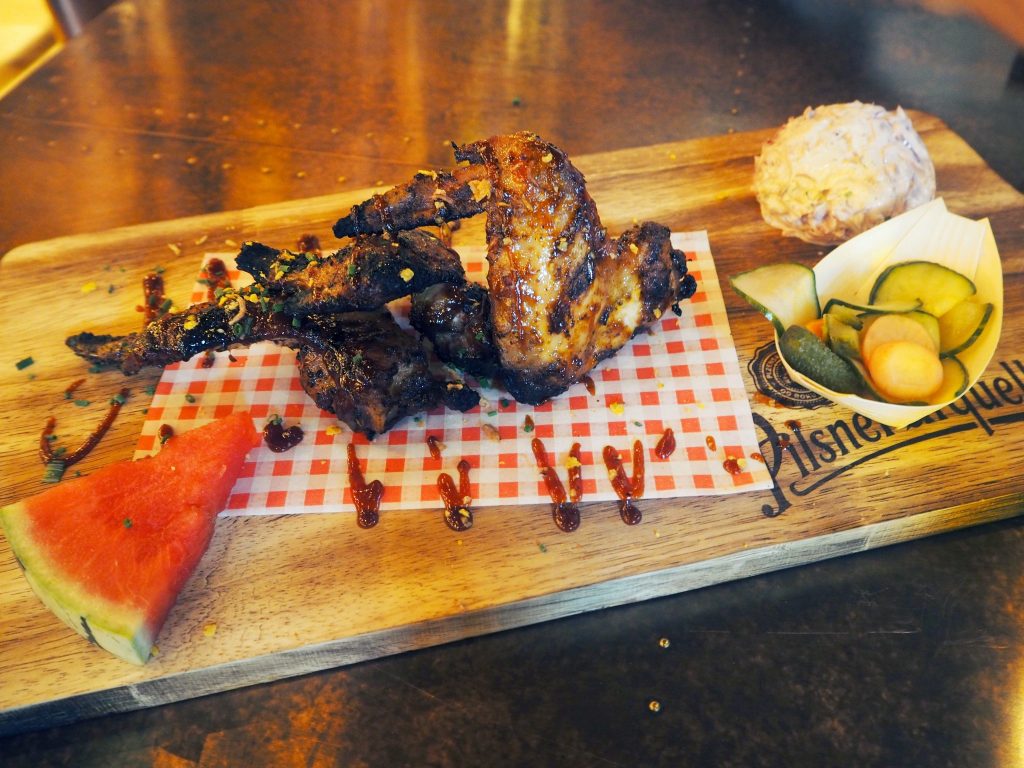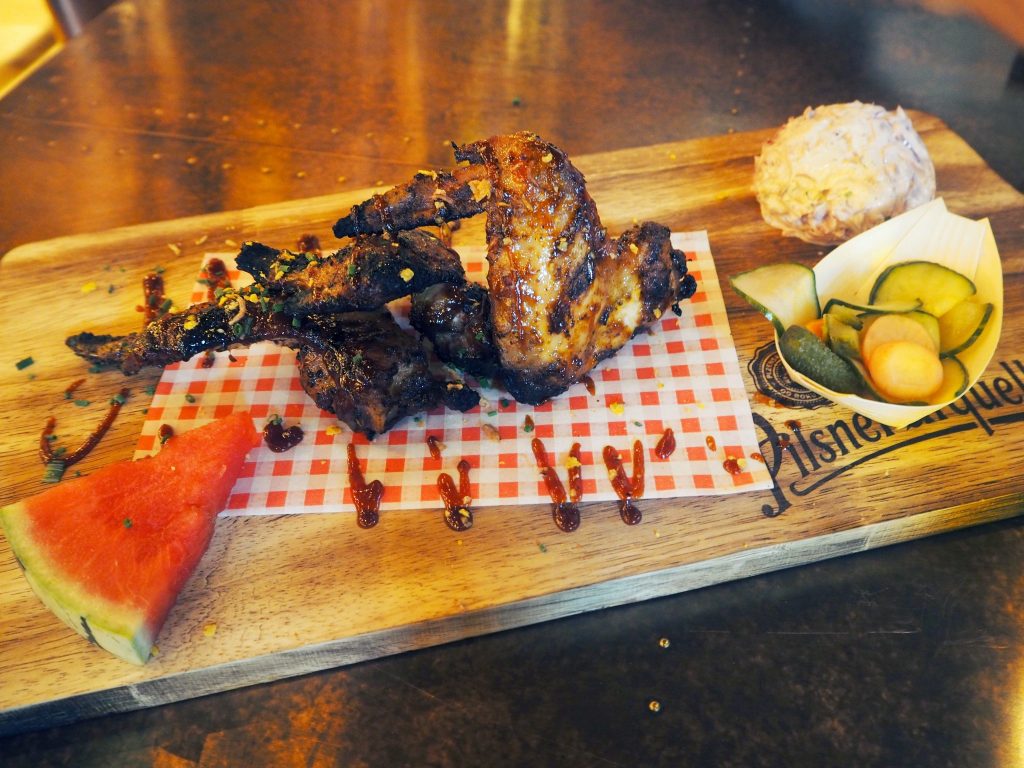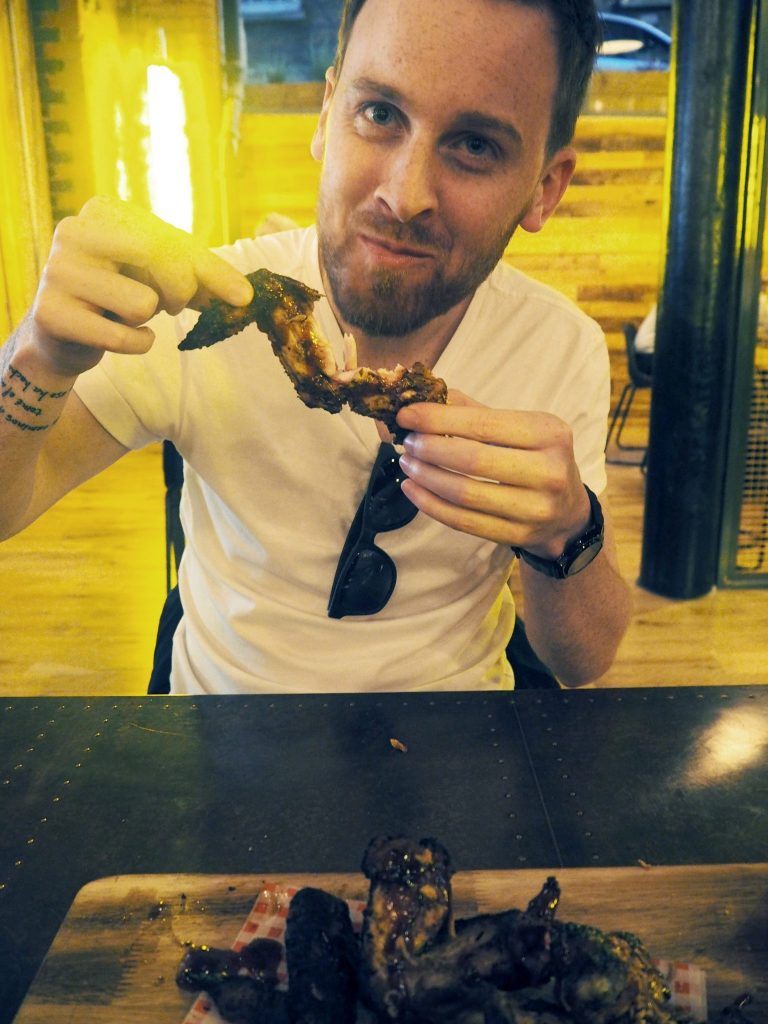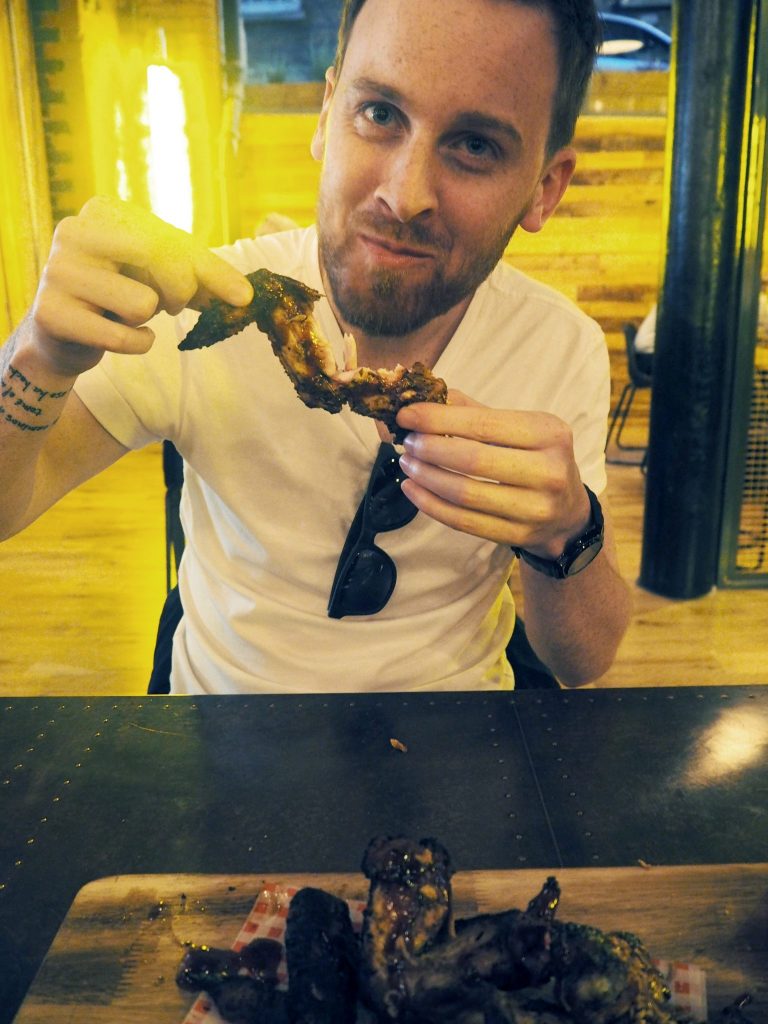 We ordered a couple of Pilsners to begin, and found a table towards the back of the venue, near the kitchen and the bar – win! The food was served as and when it was ready; the floor staff for the evening would simply bring a variation of items from the menu out as the chef made them, and presented it to tables wanting food. We started with a portion of the Smoked XL Chicken Wings in BBQ Glaze. The wings are definitely 'XL' and the glazes are delicious. You also really do get that smoky, bbq flavour coming through which really added to the taste.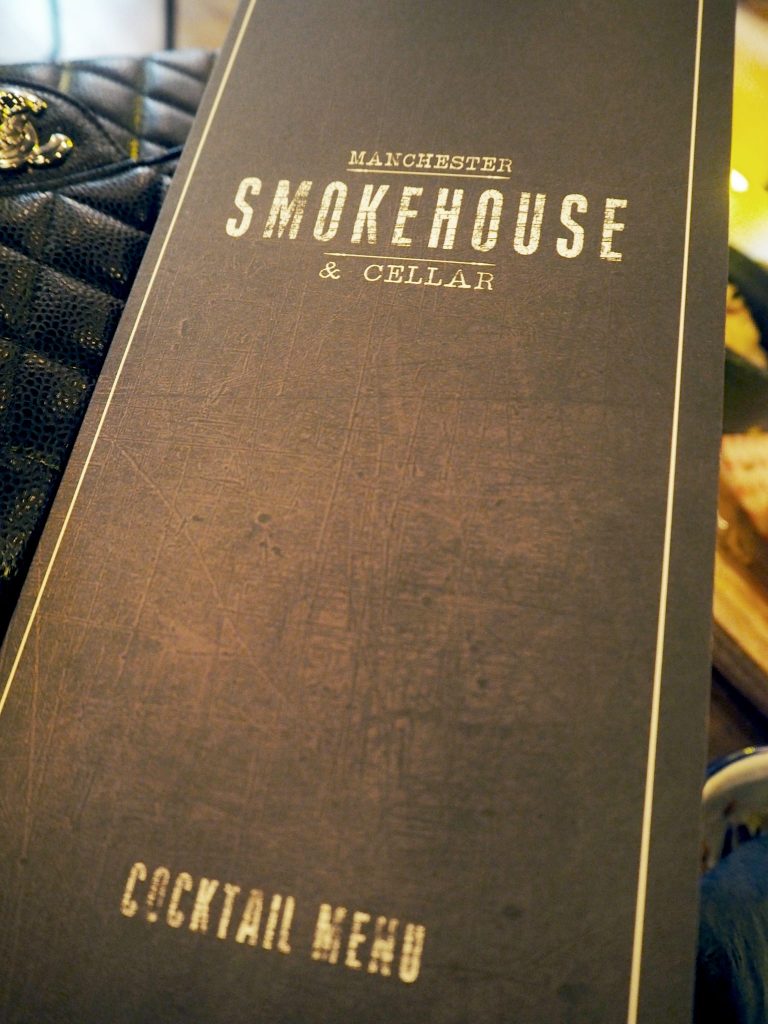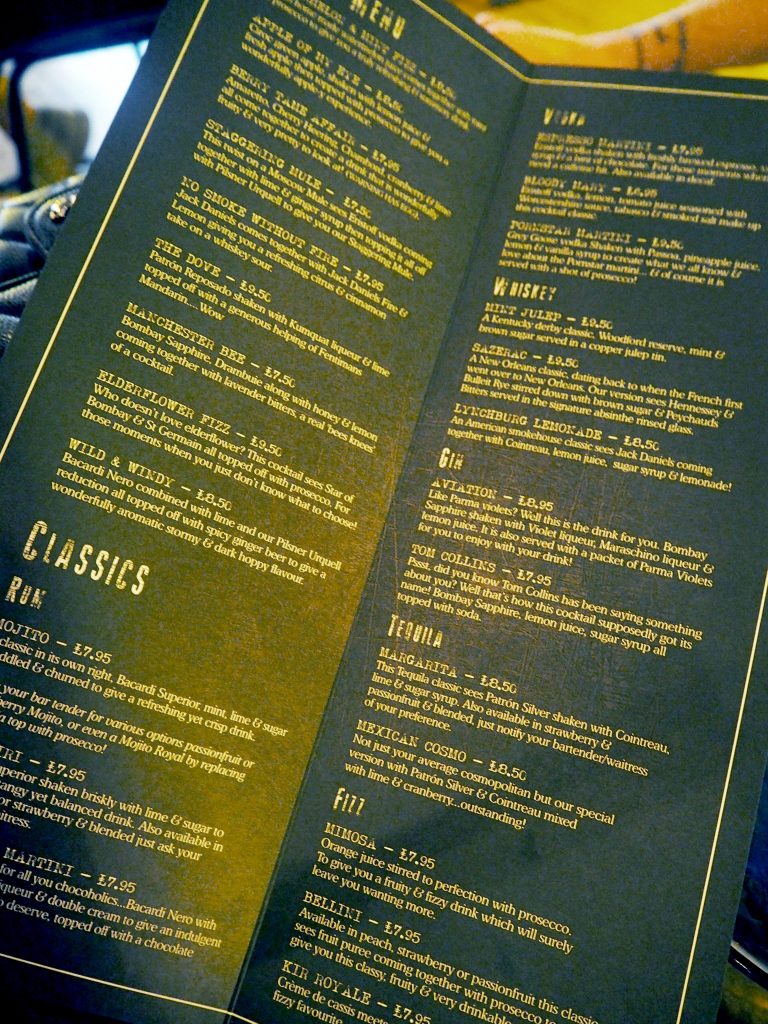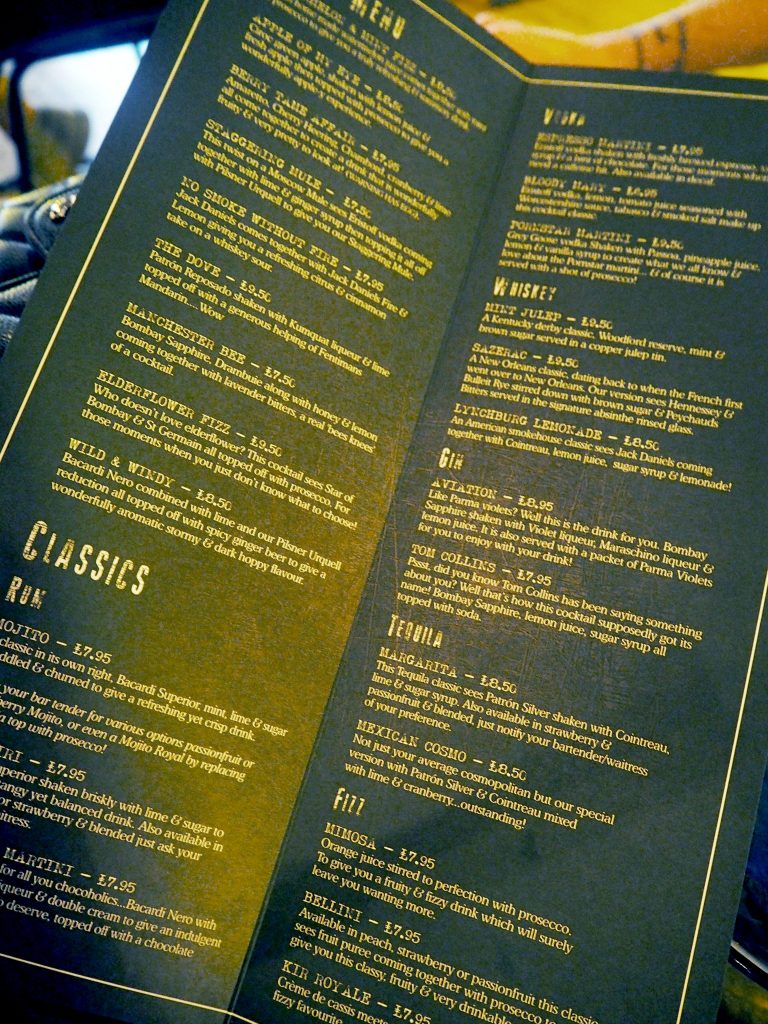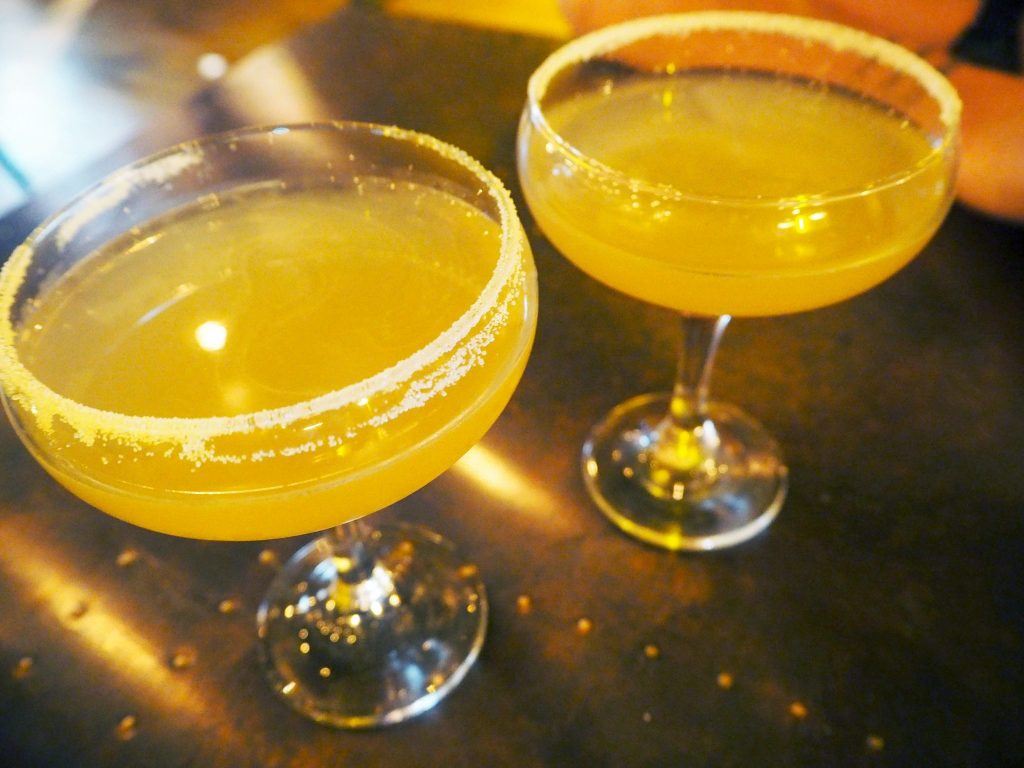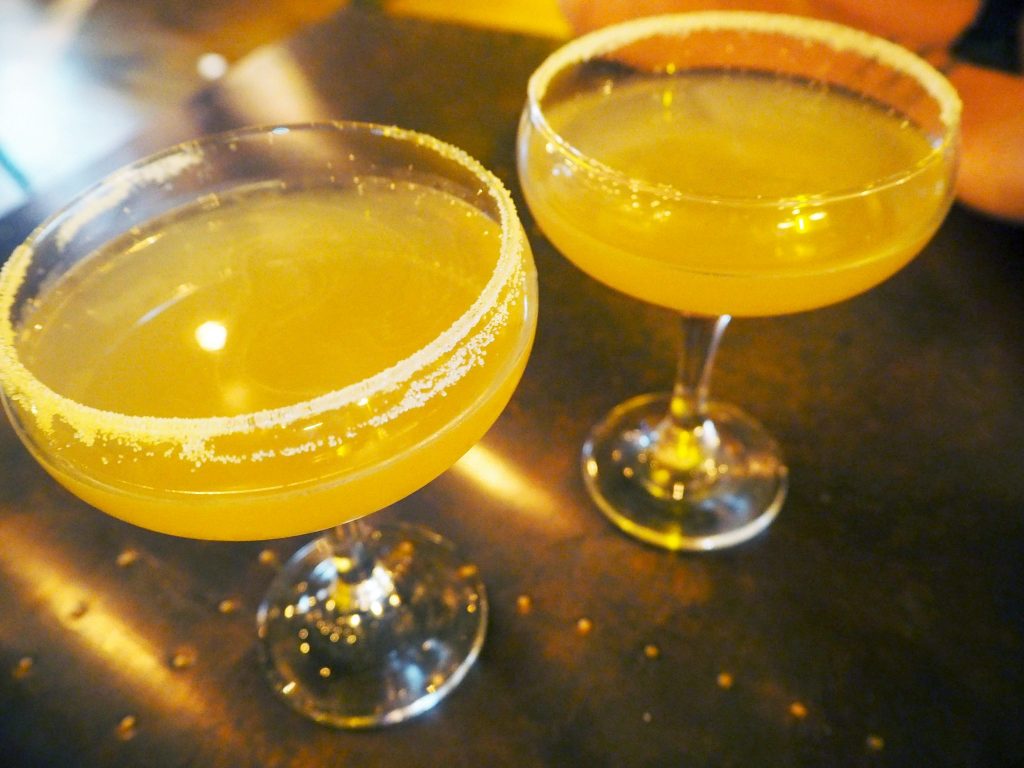 Despite being really busy, our waitress was kind enough to take the time out to stop and talk through our food items with us, as well as taking drink orders and providing table service on this too. When I saw the cocktail menu, I obviously had to try my favourite cocktail of the moment – a margarita. If you like short cocktails then definitely try something from this menu. The margarita was a great balance of everything, short; strong, sweet and sour, all served in a salt rimmed margarita glass. Perfect!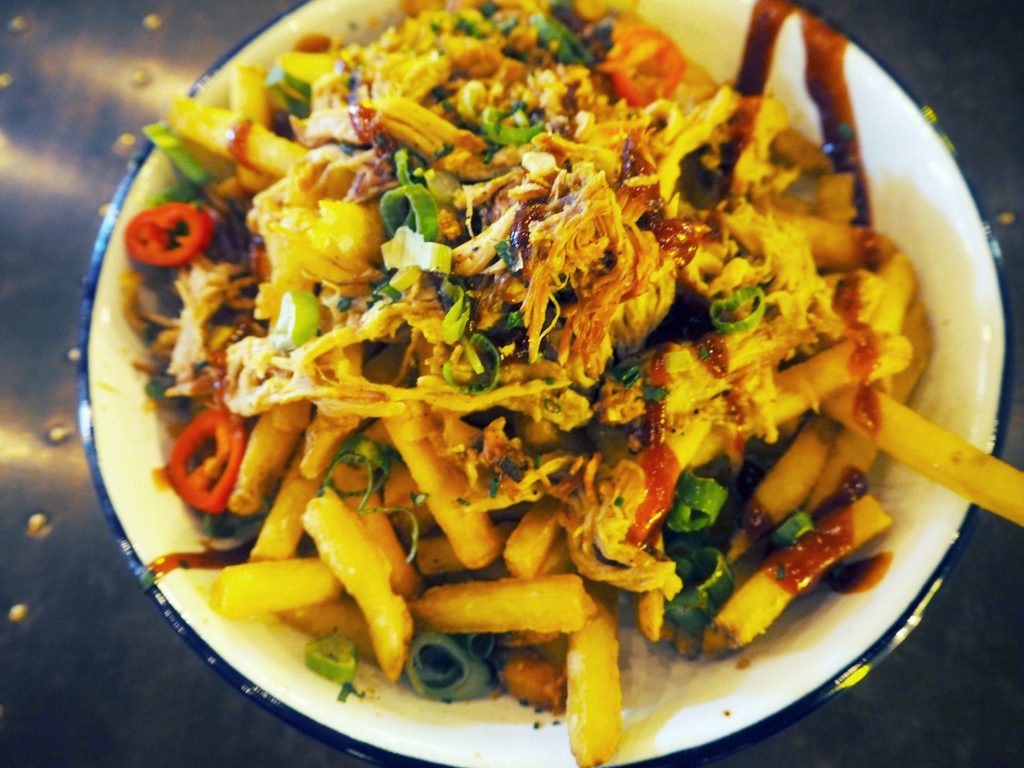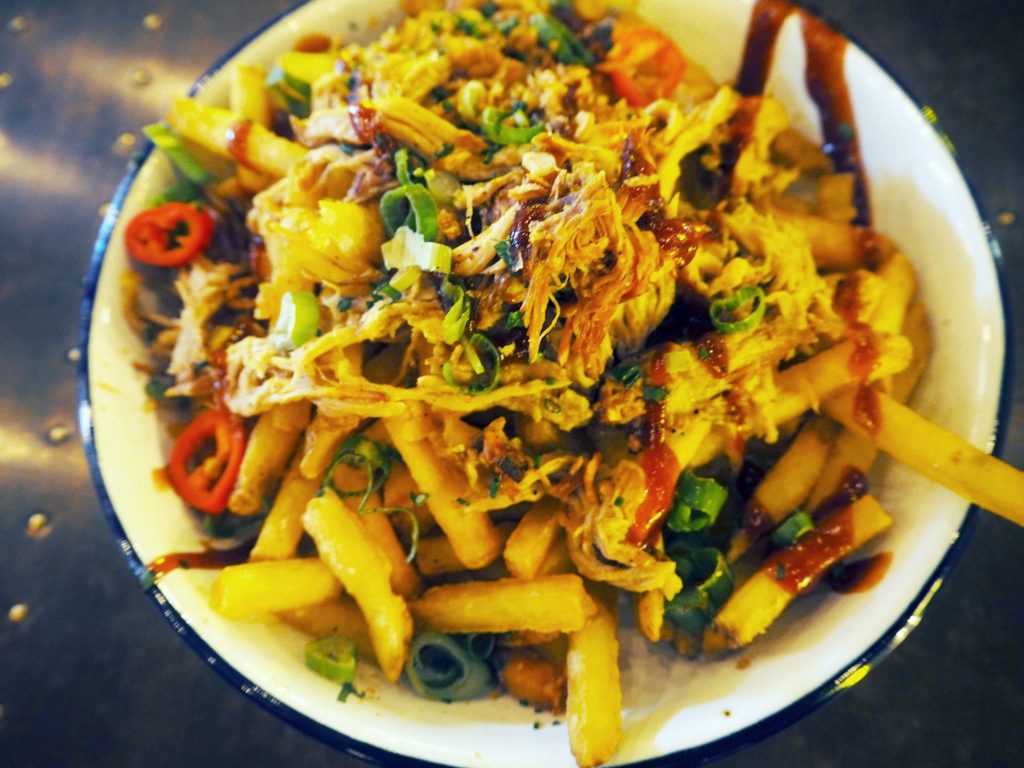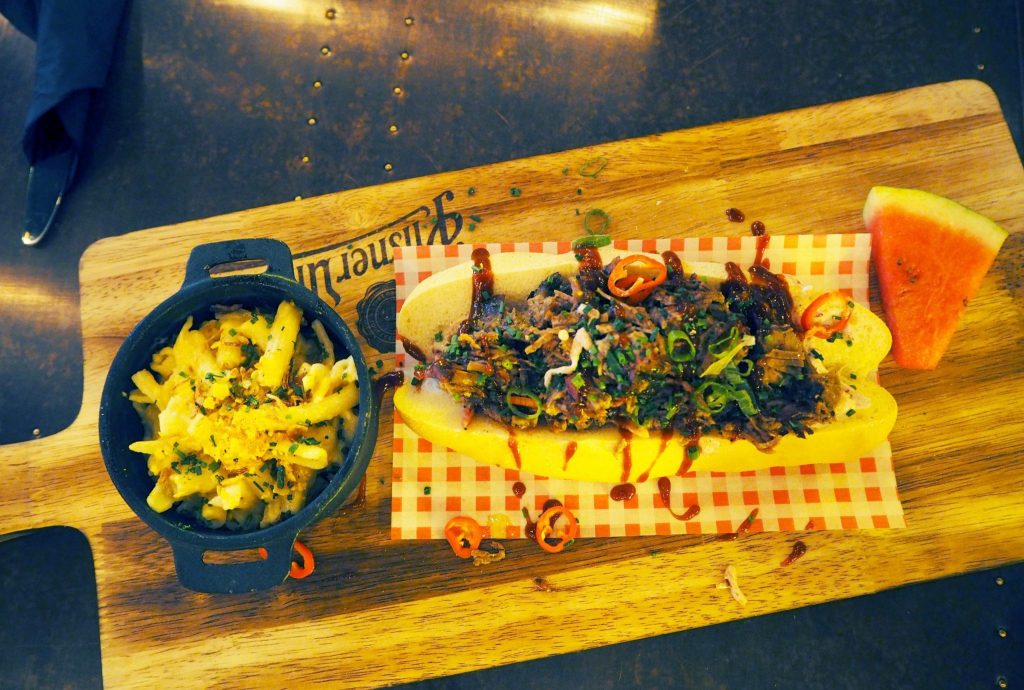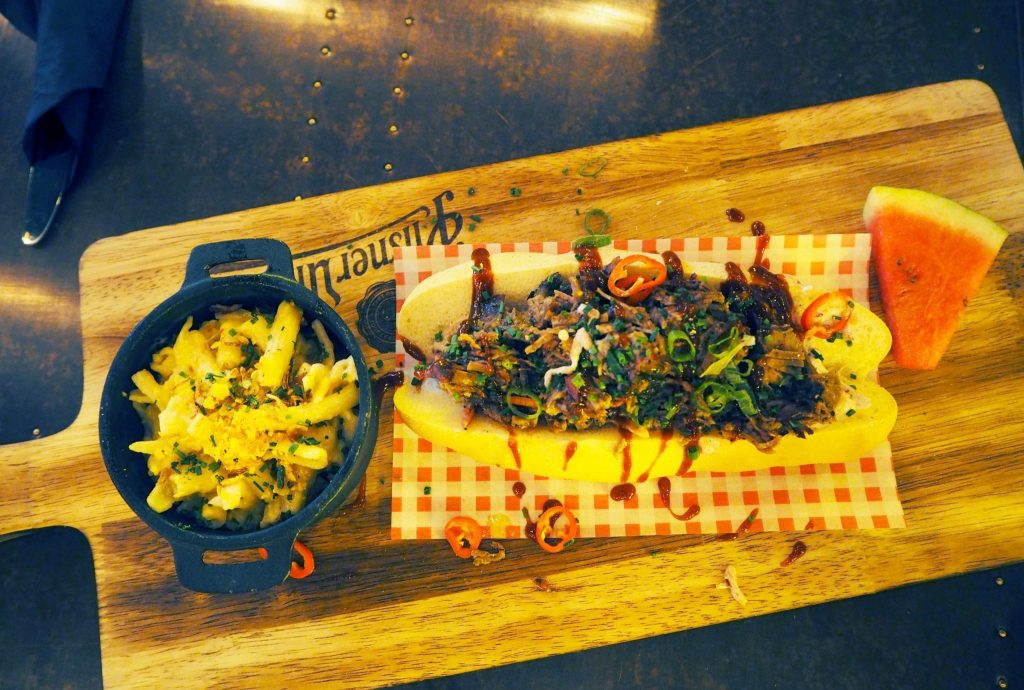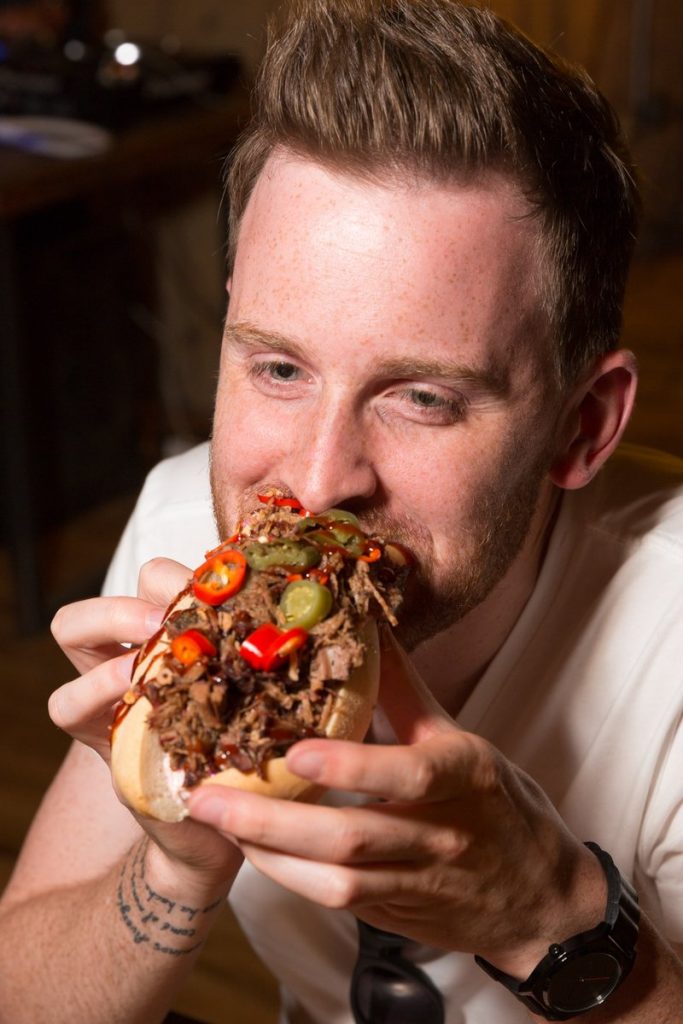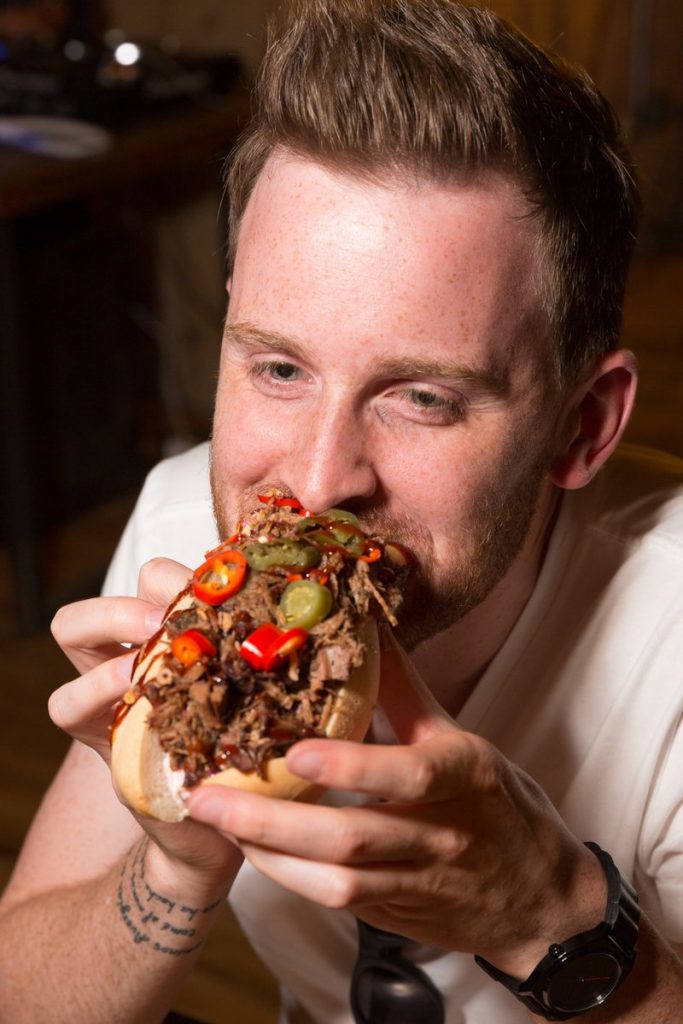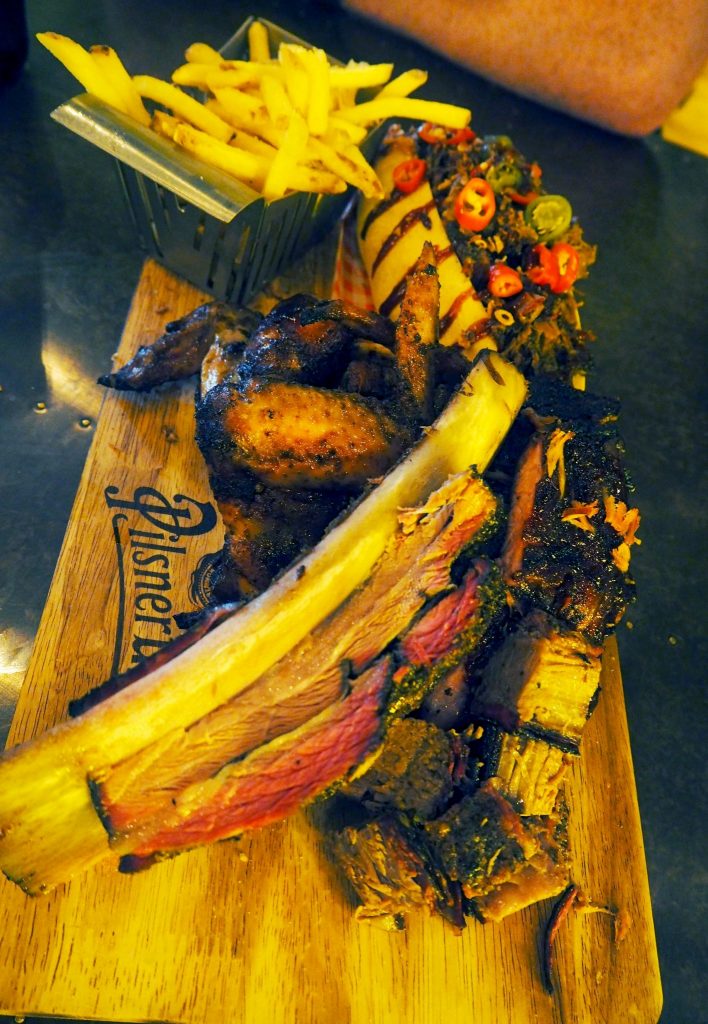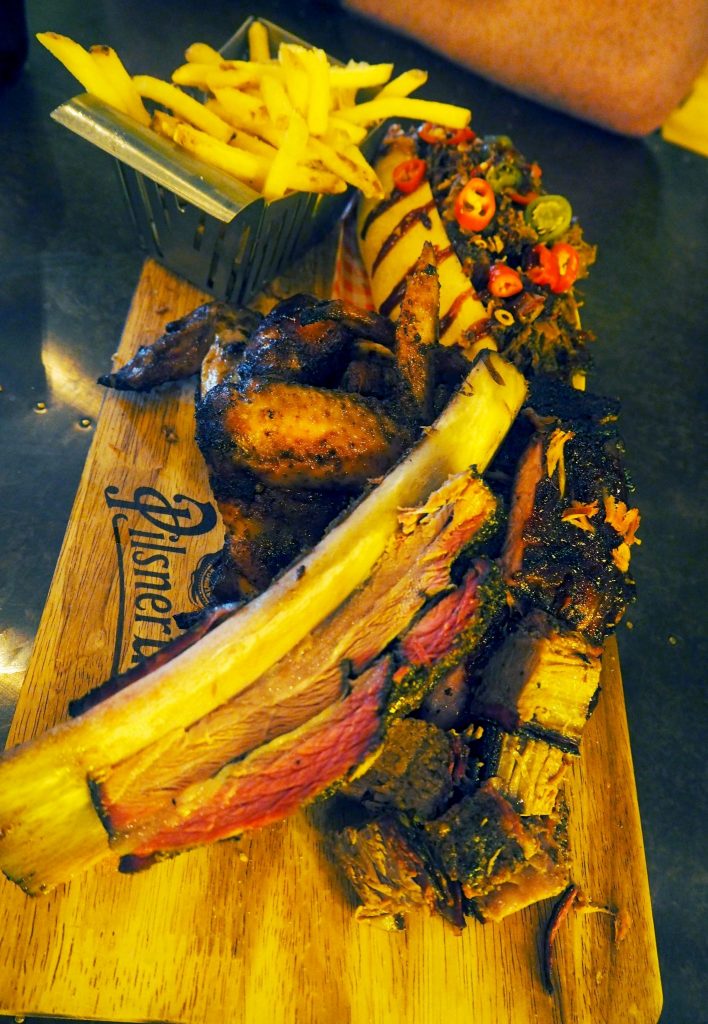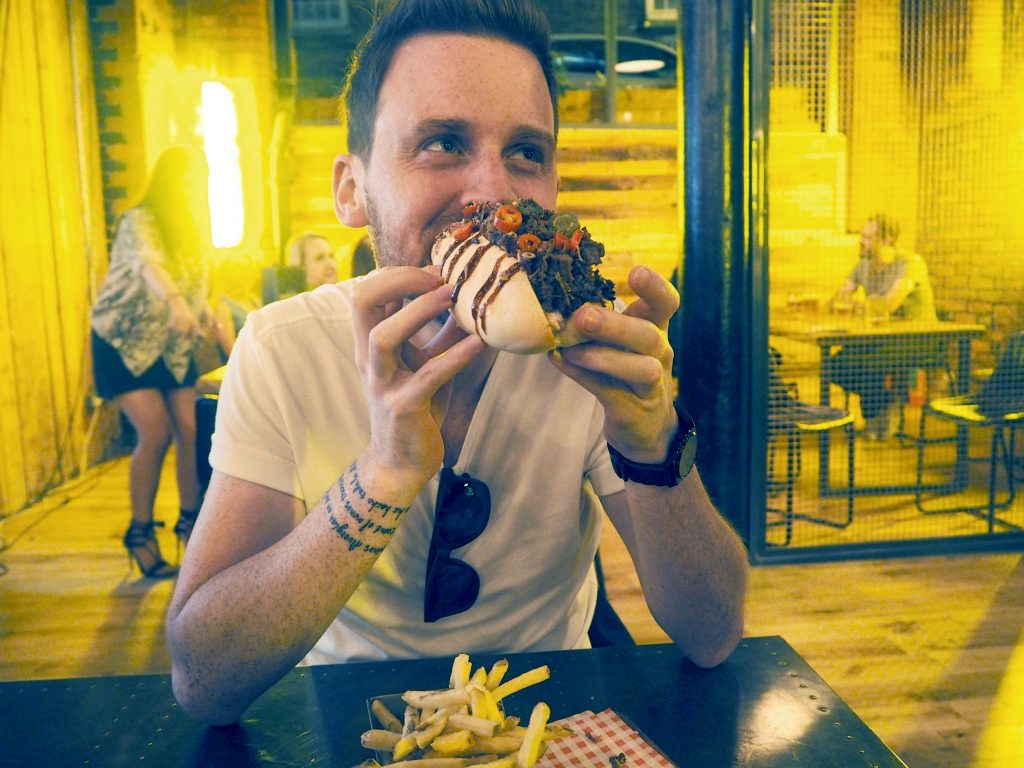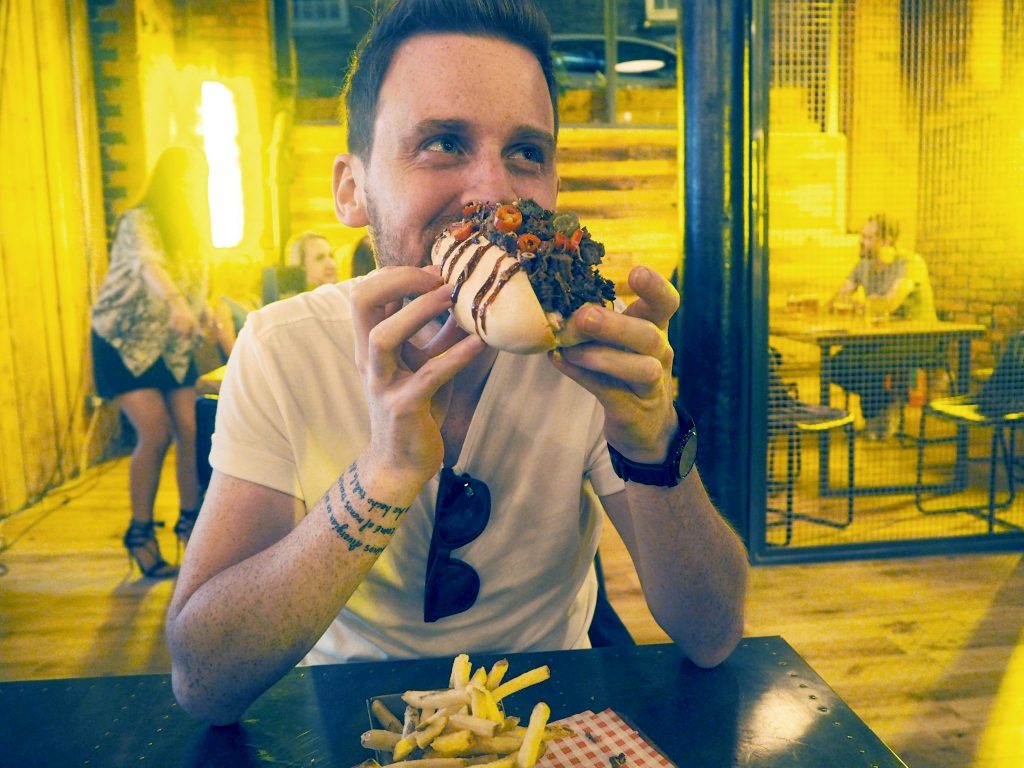 From the huge menu, we actually got round to trying a great selection of what the smokehouse had to offer (pictured above: Pull a Pig Fries, Texas Pulled Brisket Po Boy, Sharing Platter Selection). I would highly recommend trying a sharing platter with friends if you can – it's a great way to experience a range of things from the menu, served on a large tasting board. All of the meat was so tender and juicy, with a great BBQ flavour. The meats served on the bone like ribs and wings were all just so melt in the mouth, and of course the meat fell right off the bone as soon as you picked them up. Exactly what you hope for from BBQ style restaurant food.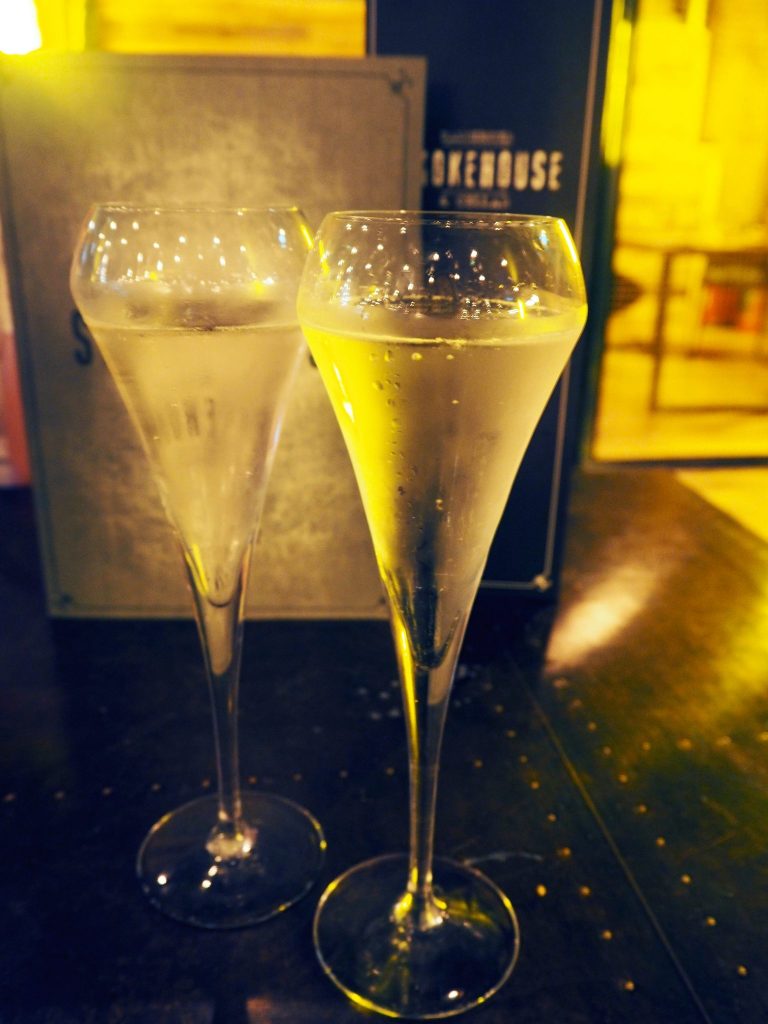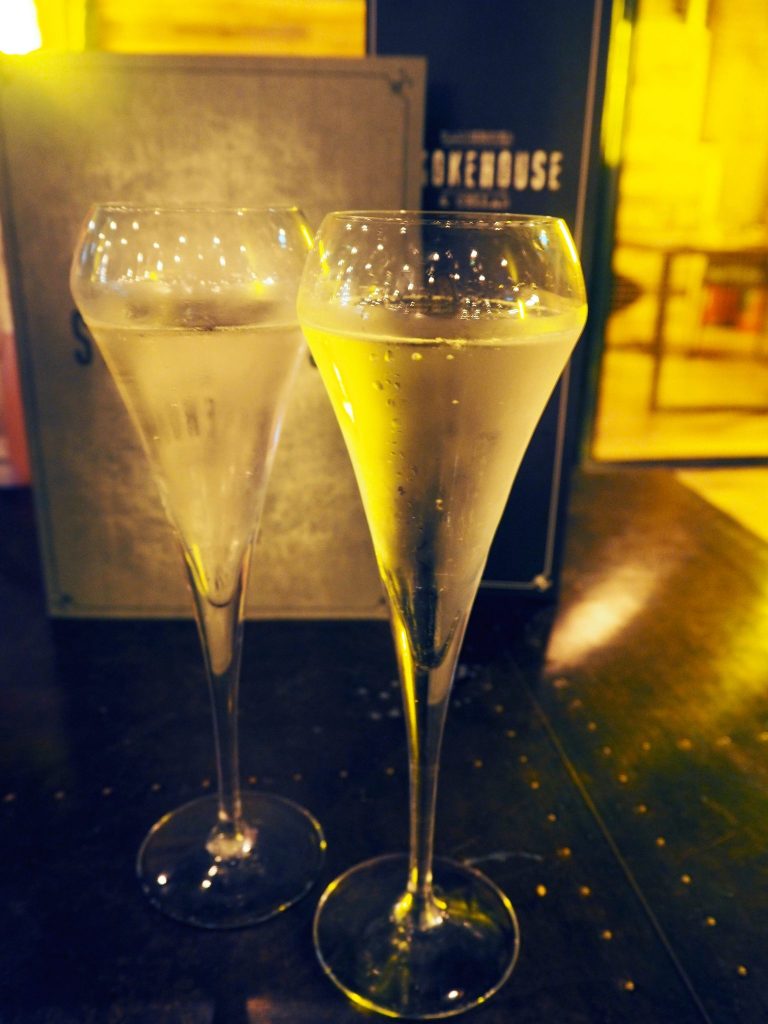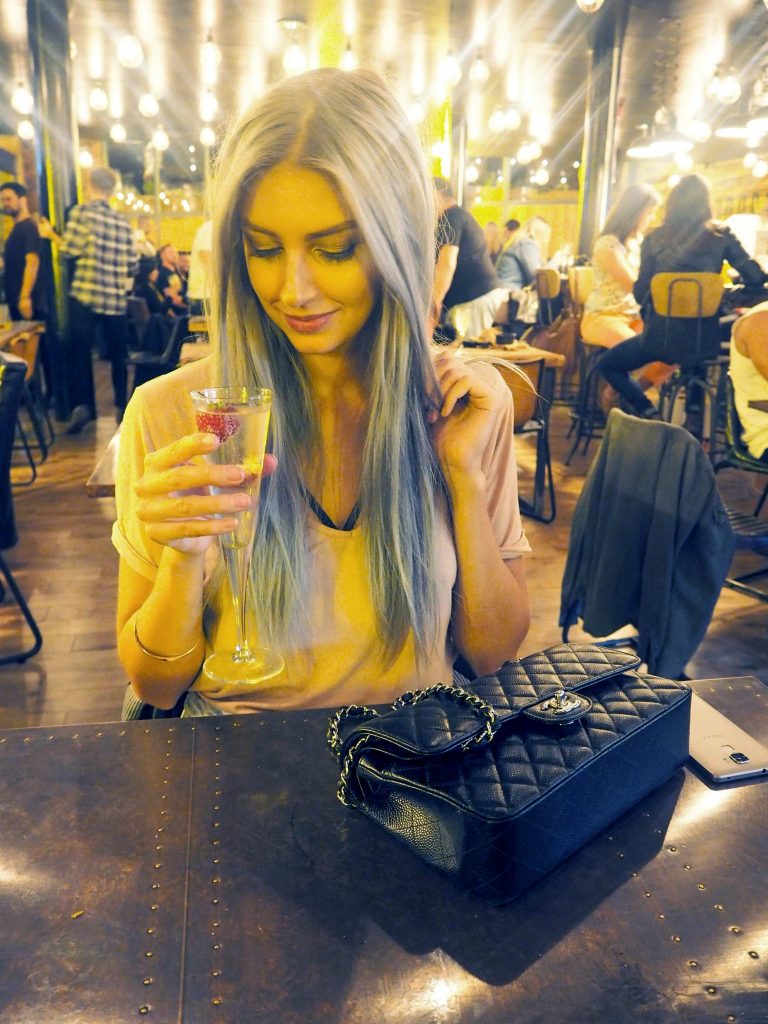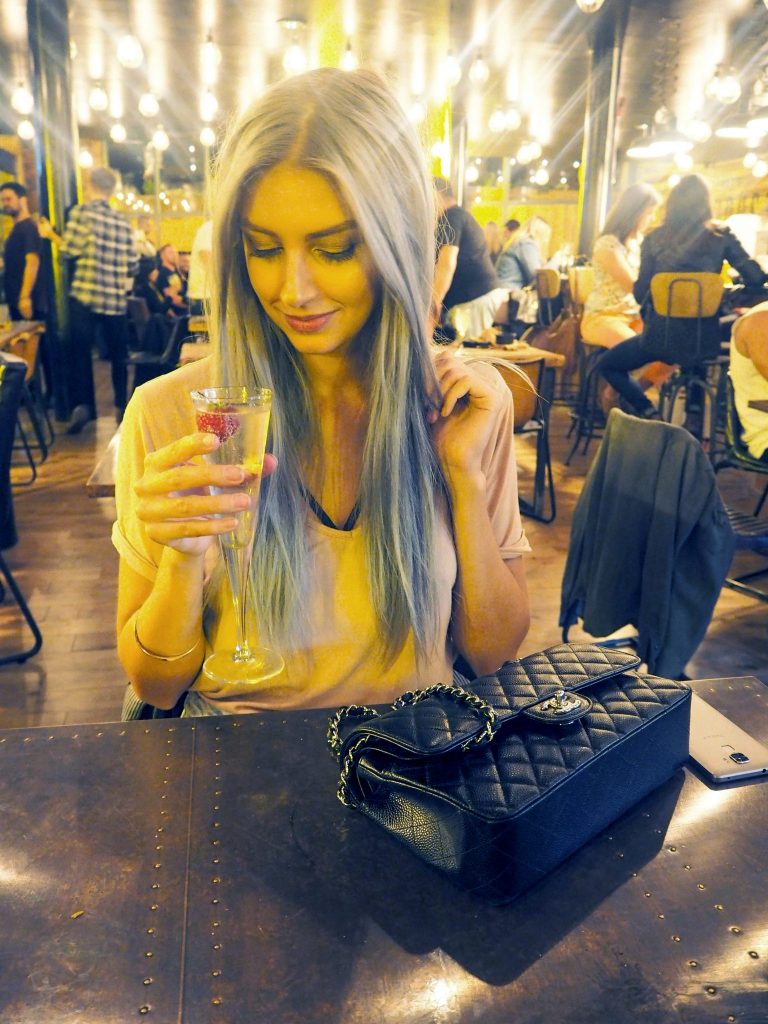 After stuffing our faces we had a couple of glasses of prosecco to wash down the food and enjoy the atmosphere a little longer. There was a DJ playing and the event was scheduled to go on until late, where much like at the weekends, the restaurant will close and the venue will transform into more of a bar vibe.
This is a great new spot in the city, and despite the many restaurants offering up burgers, ribs and American style BBQ food, this one has to be the most authentic. The fire-fuelled kitchen and way the meat is cooked really gives that authentic BBQ flavour to the most delicious dishes. I must warn you though – it can get messy!
Find Manchester Smokehouse & Cellar here:
Website
Facebook
Instagram
Twitter
Have you tried Manchester Smokehouse yet? Do you have any BBQ joint faves in the city? Let me know in the comments!
LL x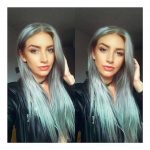 Are you following me on Instagram?