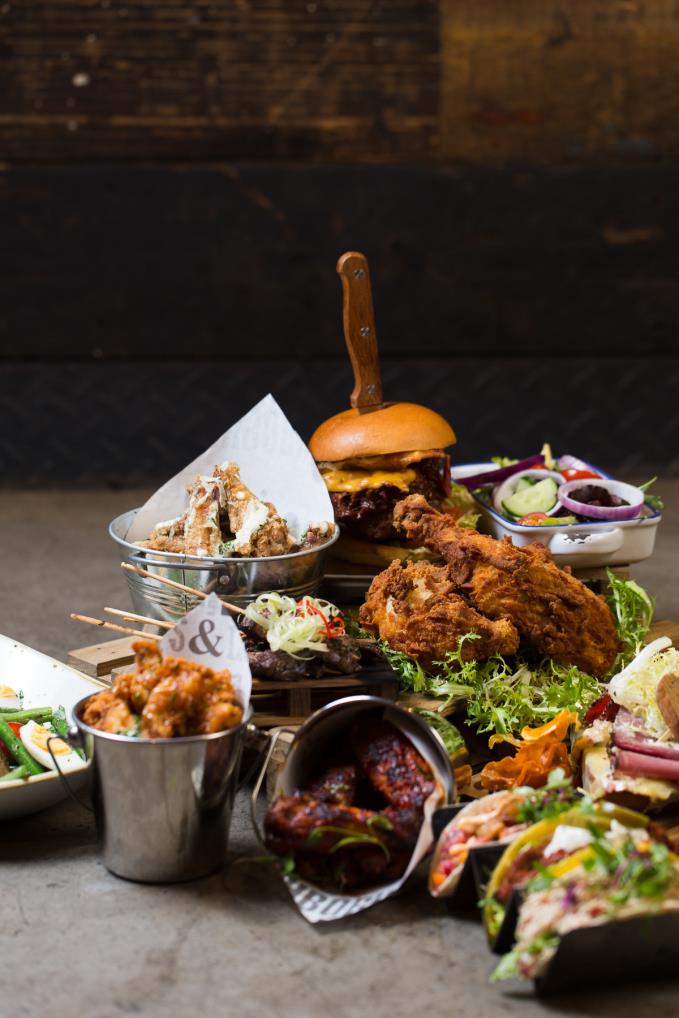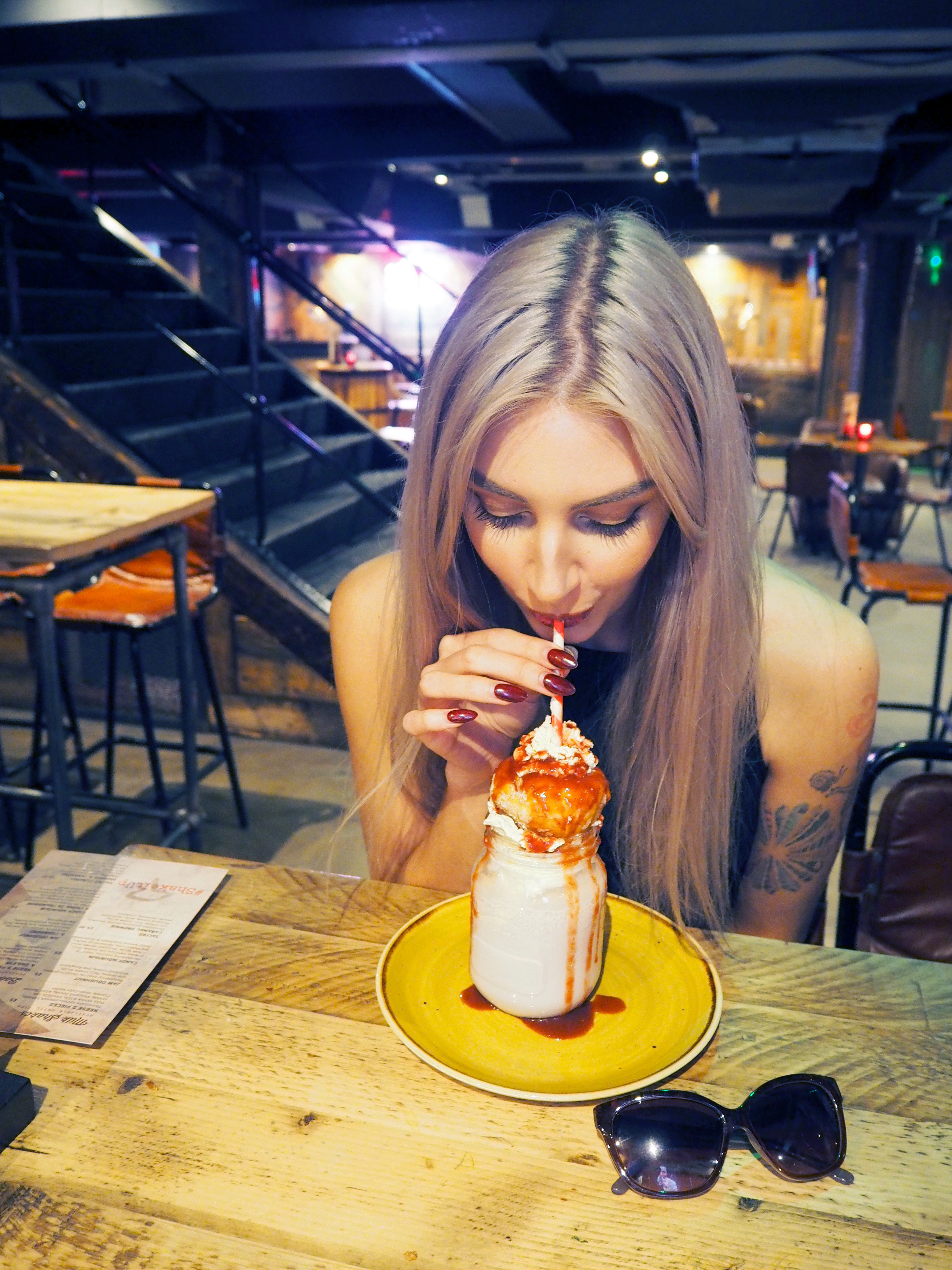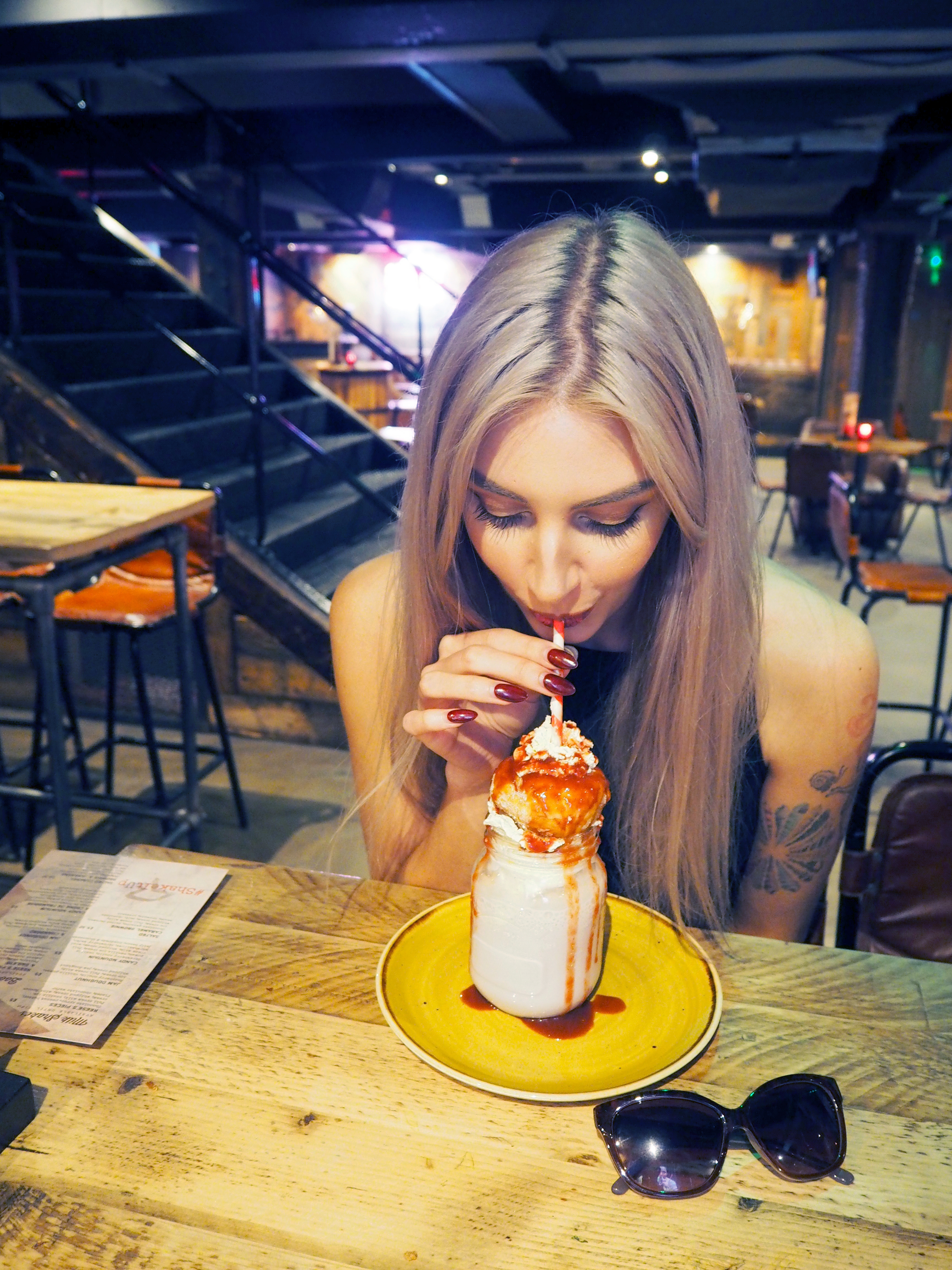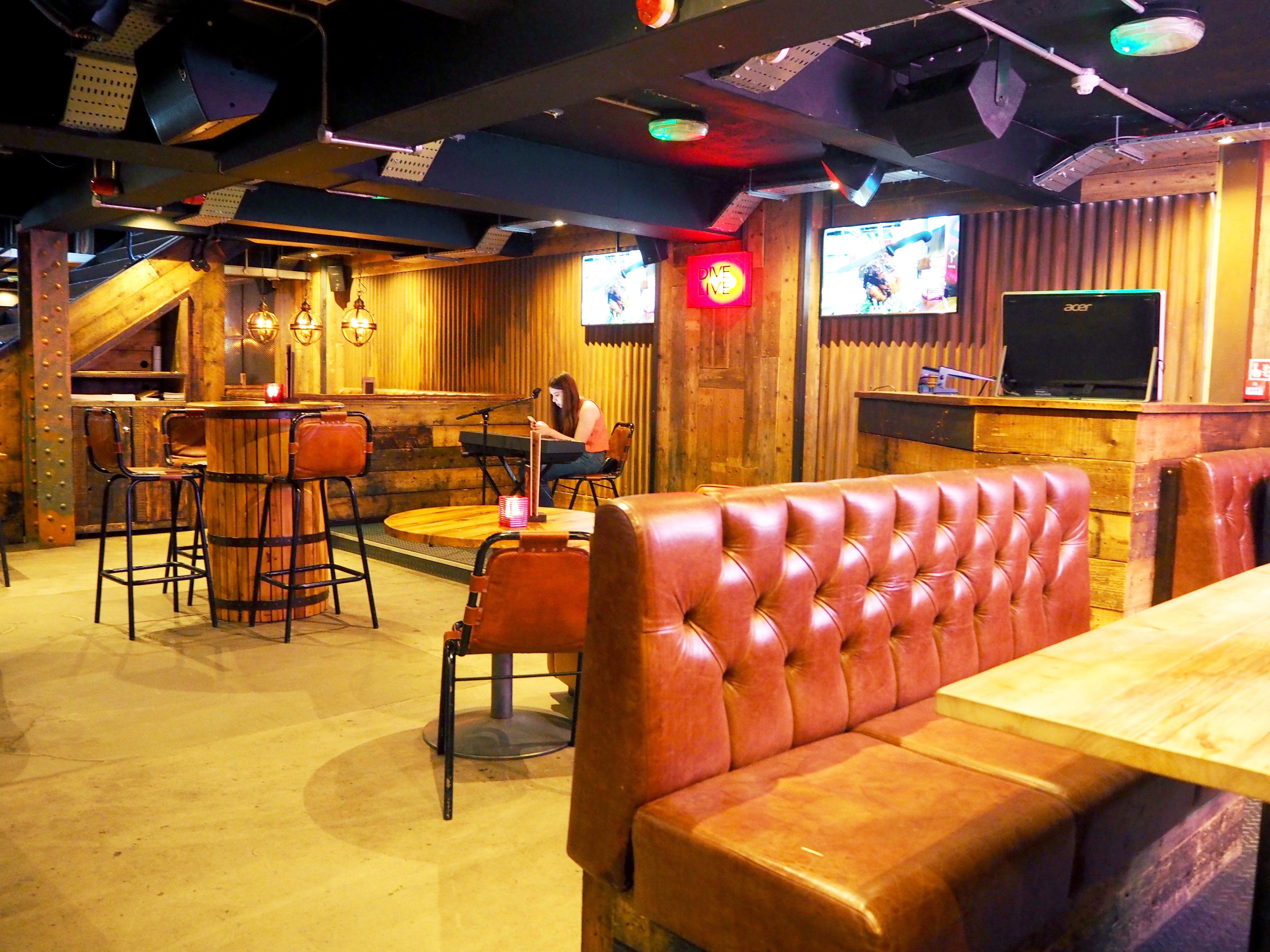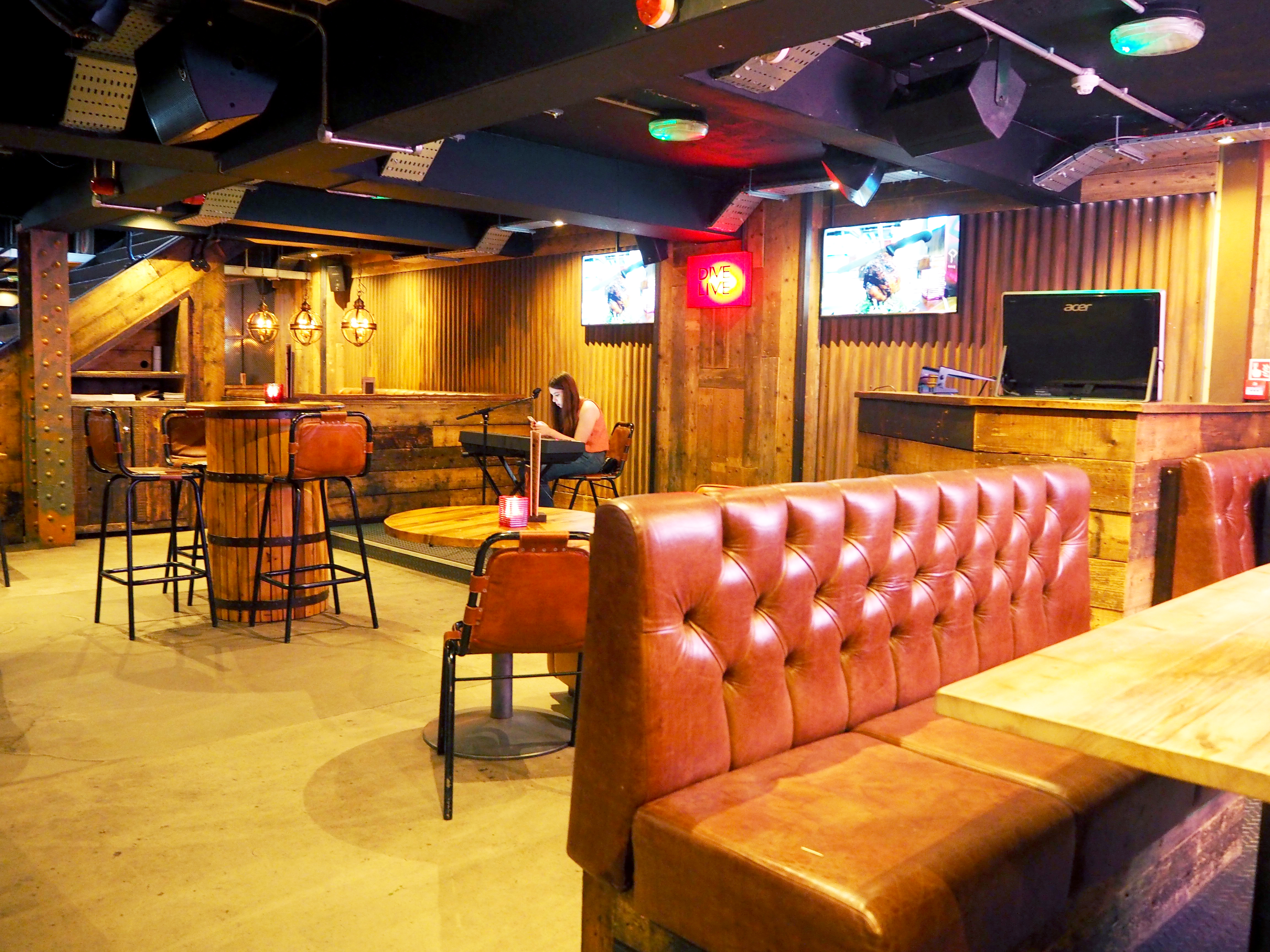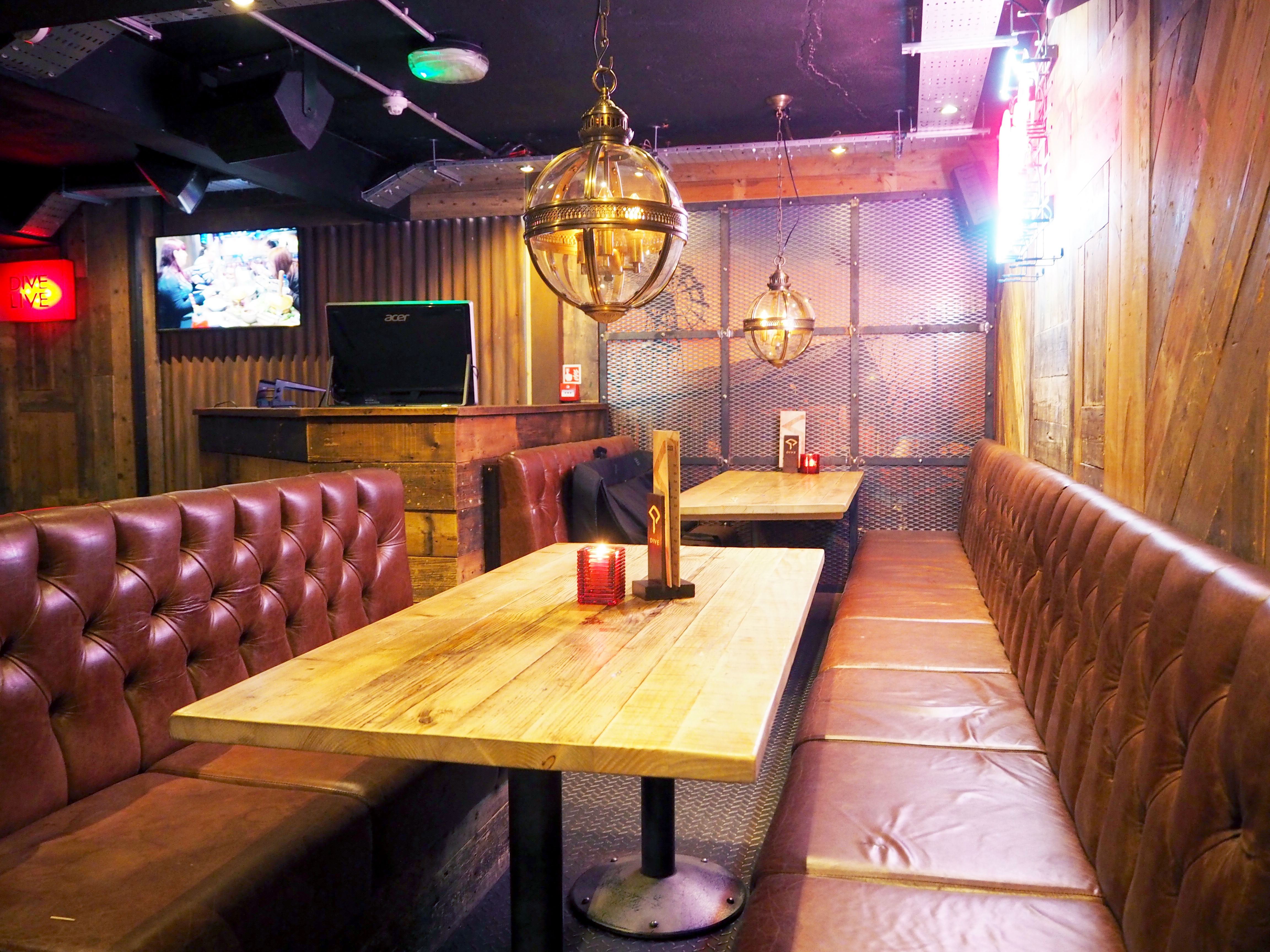 Dive bar is one of the northern quarter's newer spots; taking the place of the ever popular Mojos – which was severely damaged in a fire in 2013. Dive has a super cool, laid back atmosphere, with red and wooden interior and walls lined with flat screen TVs.
We arrived and were able to select a large booth in the corner – this was great as at a lot of press events and lunch nights it can be very crowded with nowhere to sit and minimal room. Dive had got it just right – there were people on each table but it felt super relaxed and not over-crowded at all. There was no queue at the bar and plenty of staff on hand to help with any questions or orders.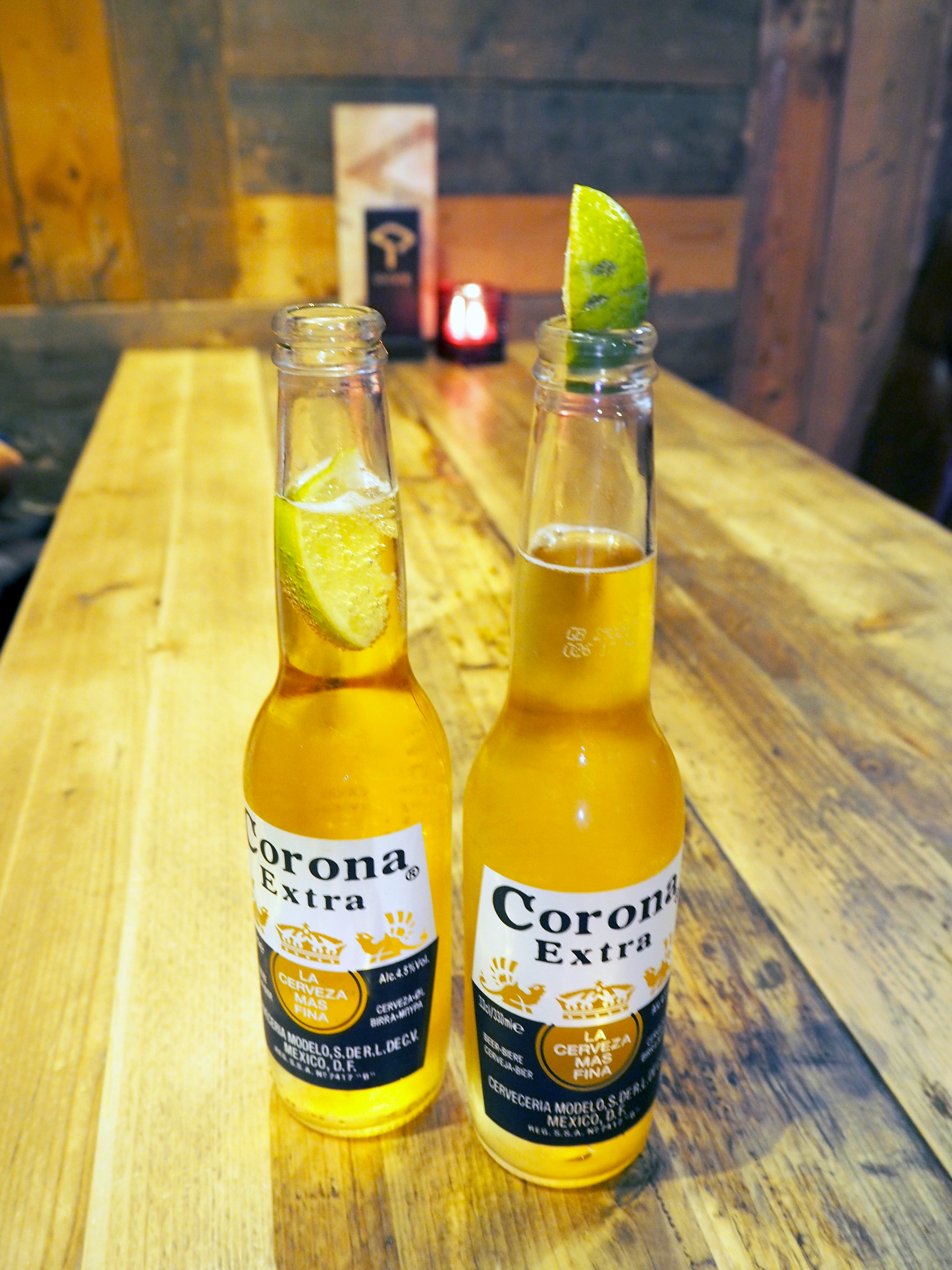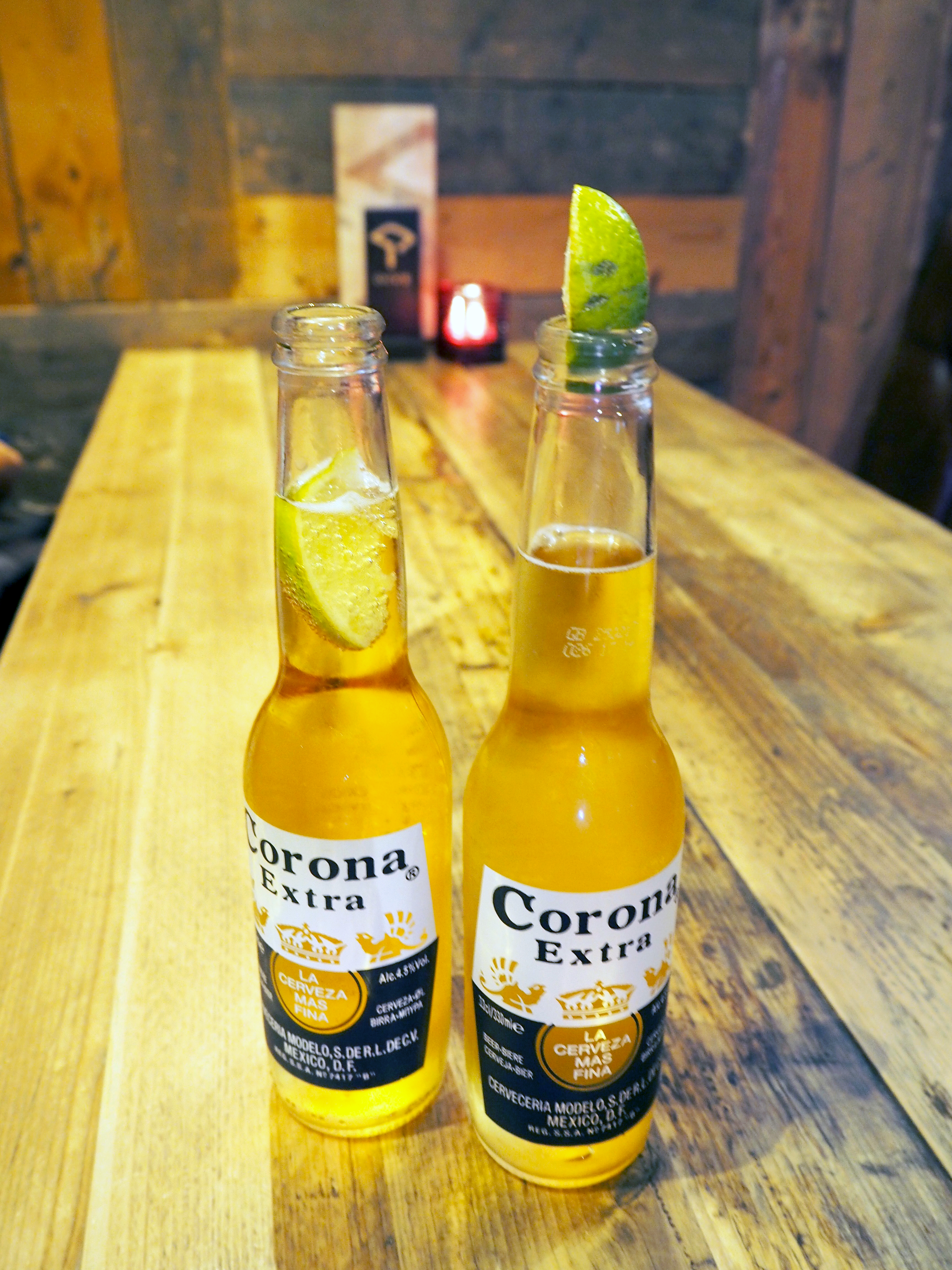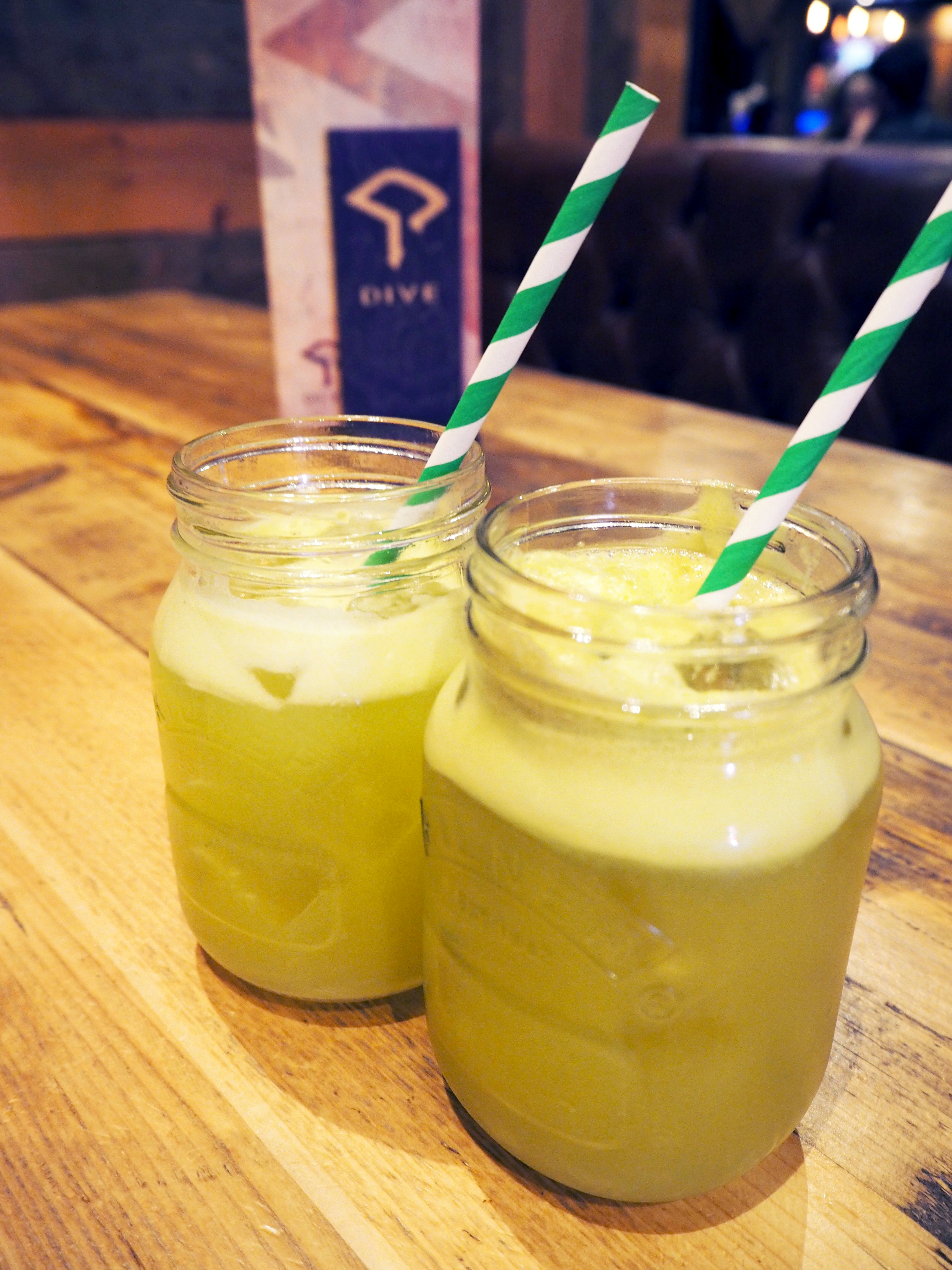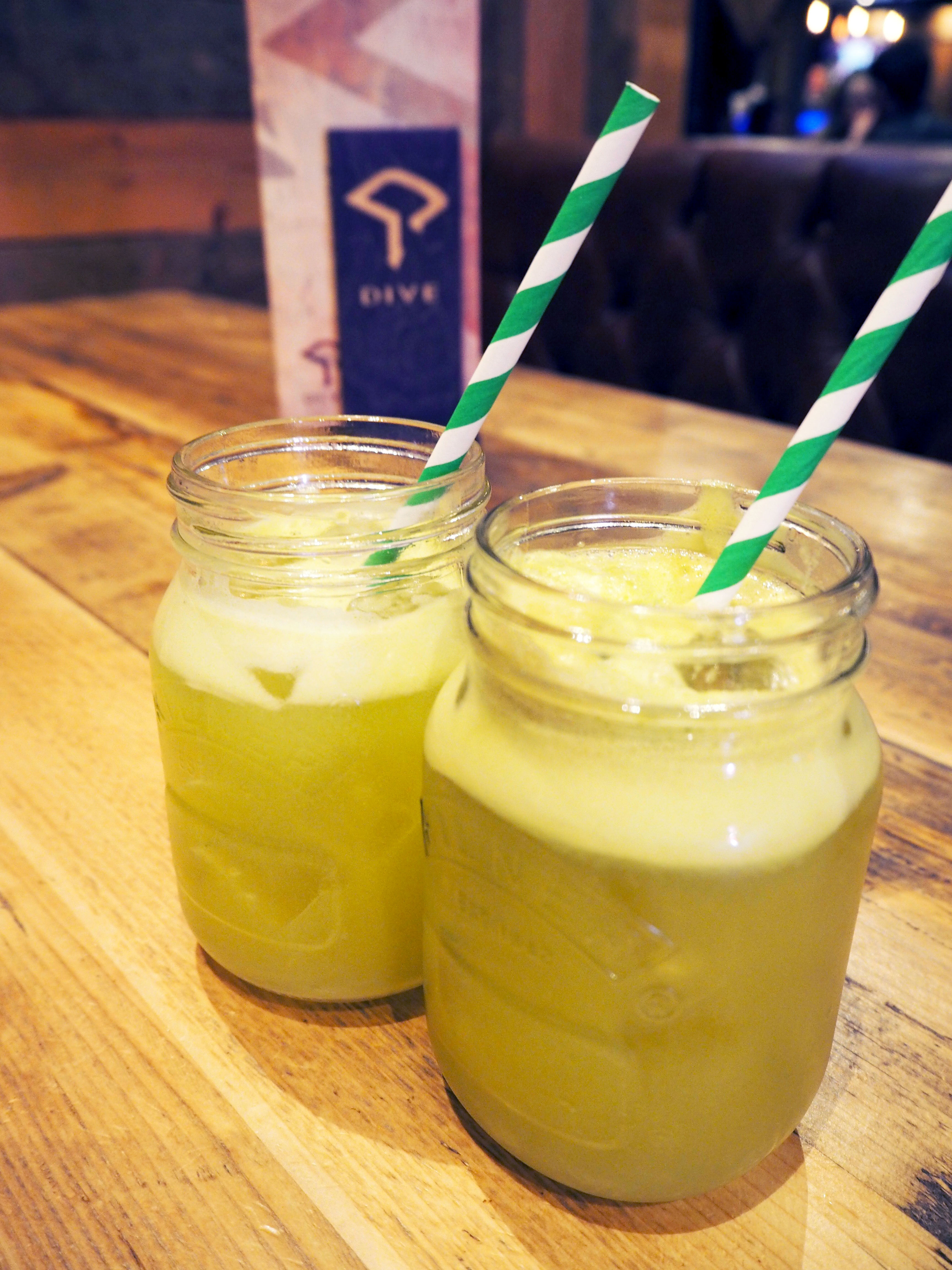 Dive generously provided an open bar for the guests, which included a large selection of drinks including bottles, wine, spirits and beverages on tap. On top of this, the bartenders were serving up some of the delicious new cocktails from the menu which were brought around for us to try.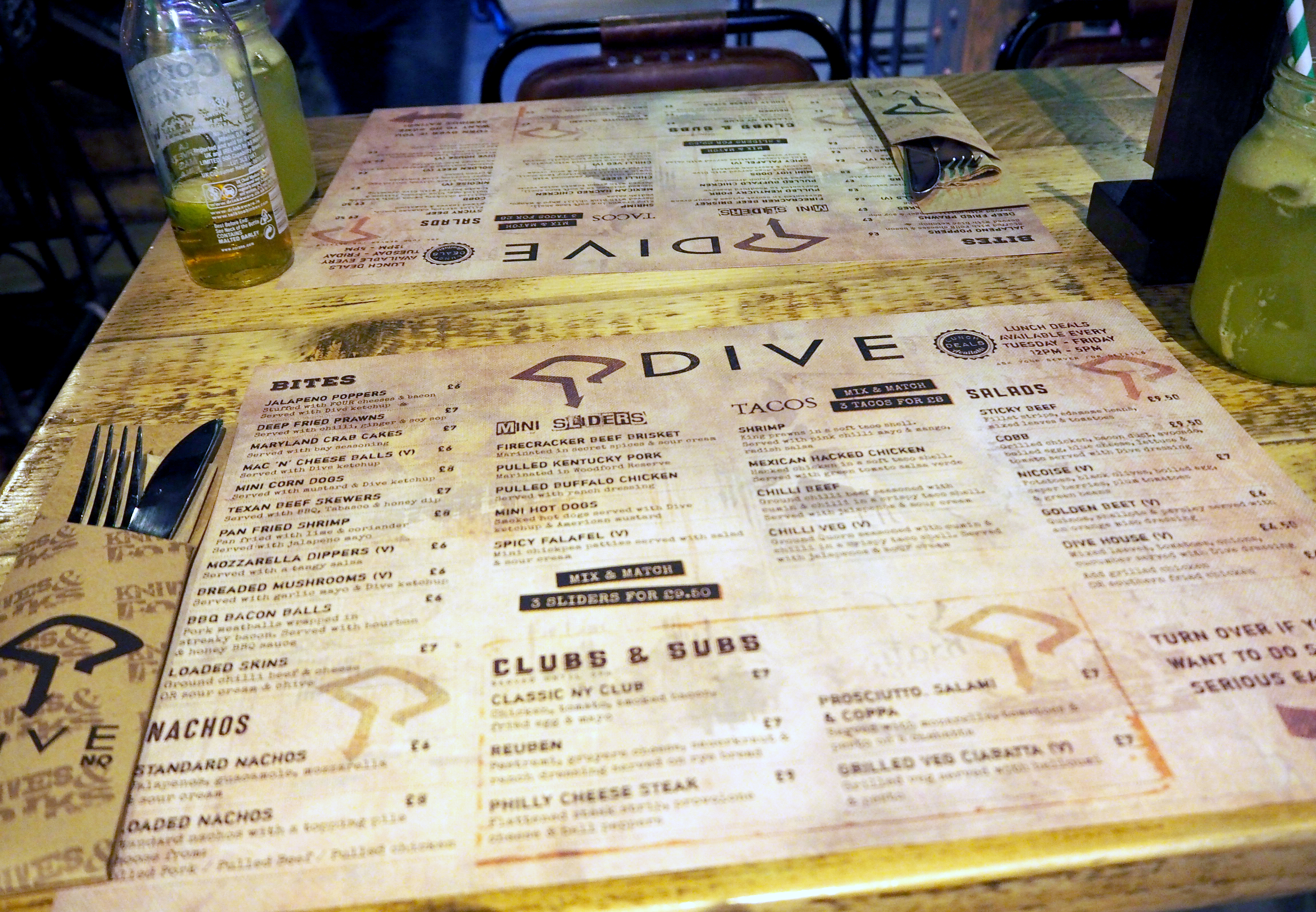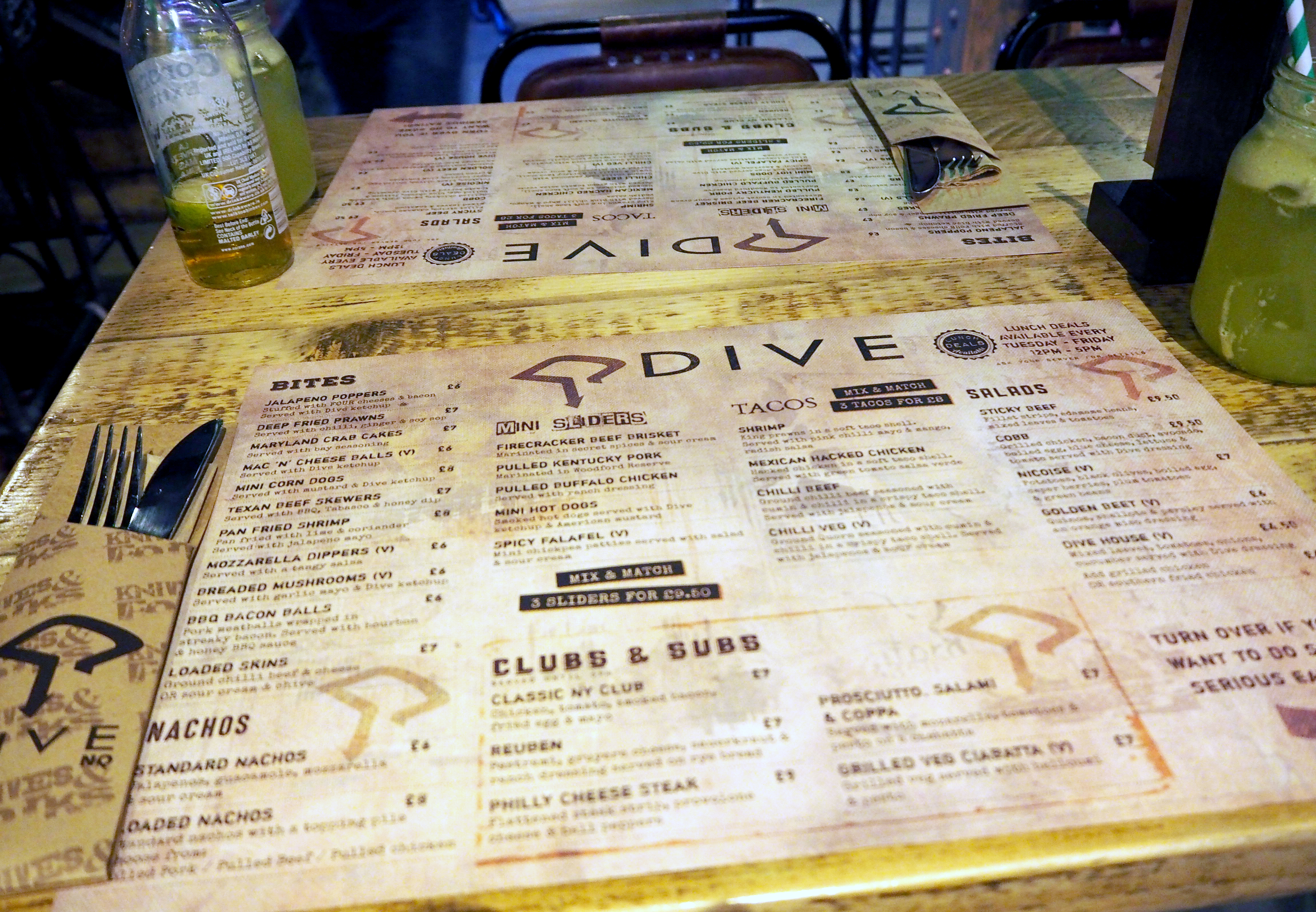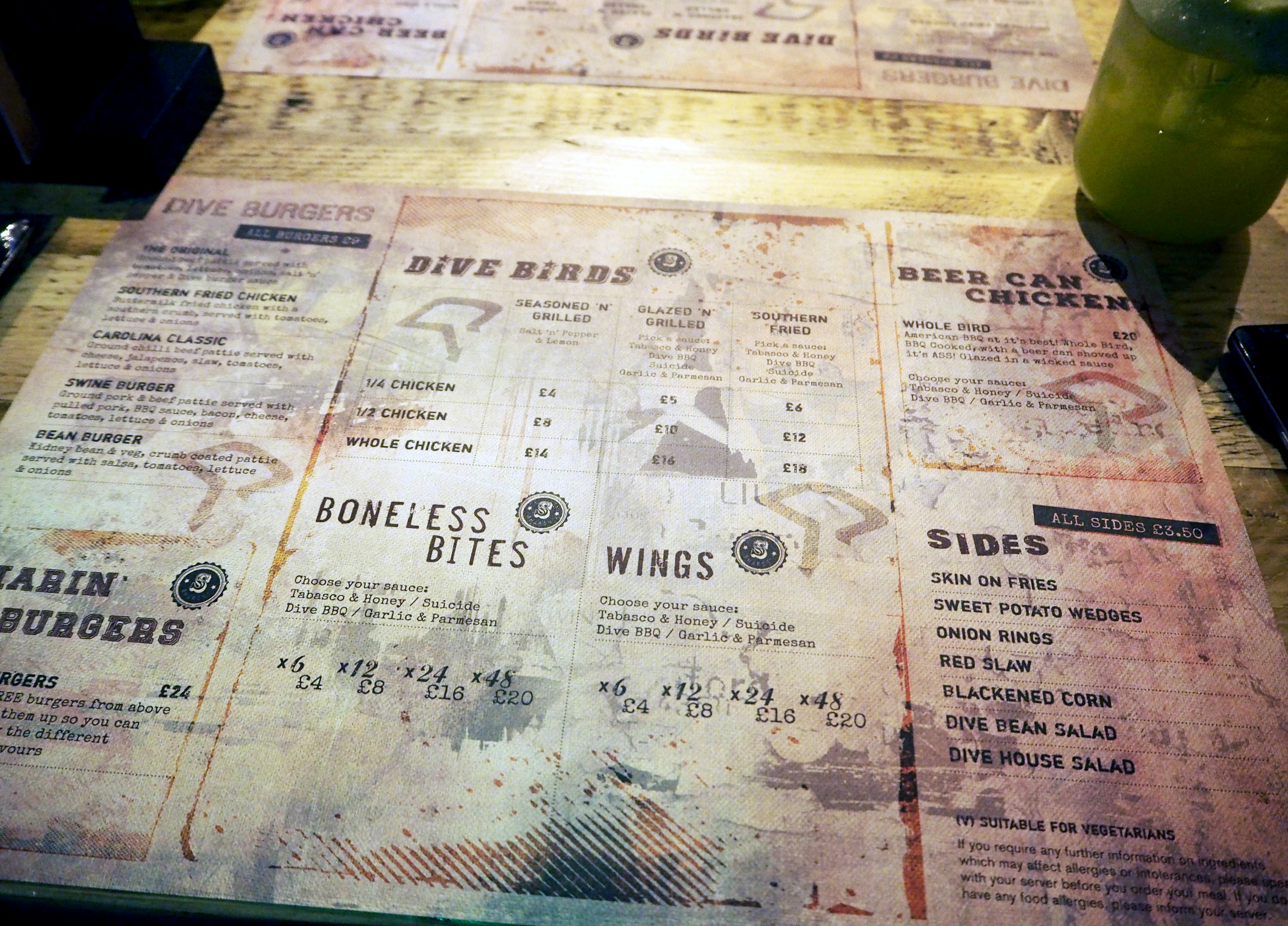 We were given a while to relax in the bar with a few drinks, before being taken over to the seating area. I was pleasantly surprised by this as I had initially thought that the bar was separated into two halves; one for the event guests and one for customers, when actually the full venue was for us! The further tables and booths were all set up for us in the dining area, so we took a seat and cast our eyes over the incredible new menu, which by the way is two sided!
Side plates were handed out, drinks orders taken, and the starters and sharers began to arrive one by one from the kitchen.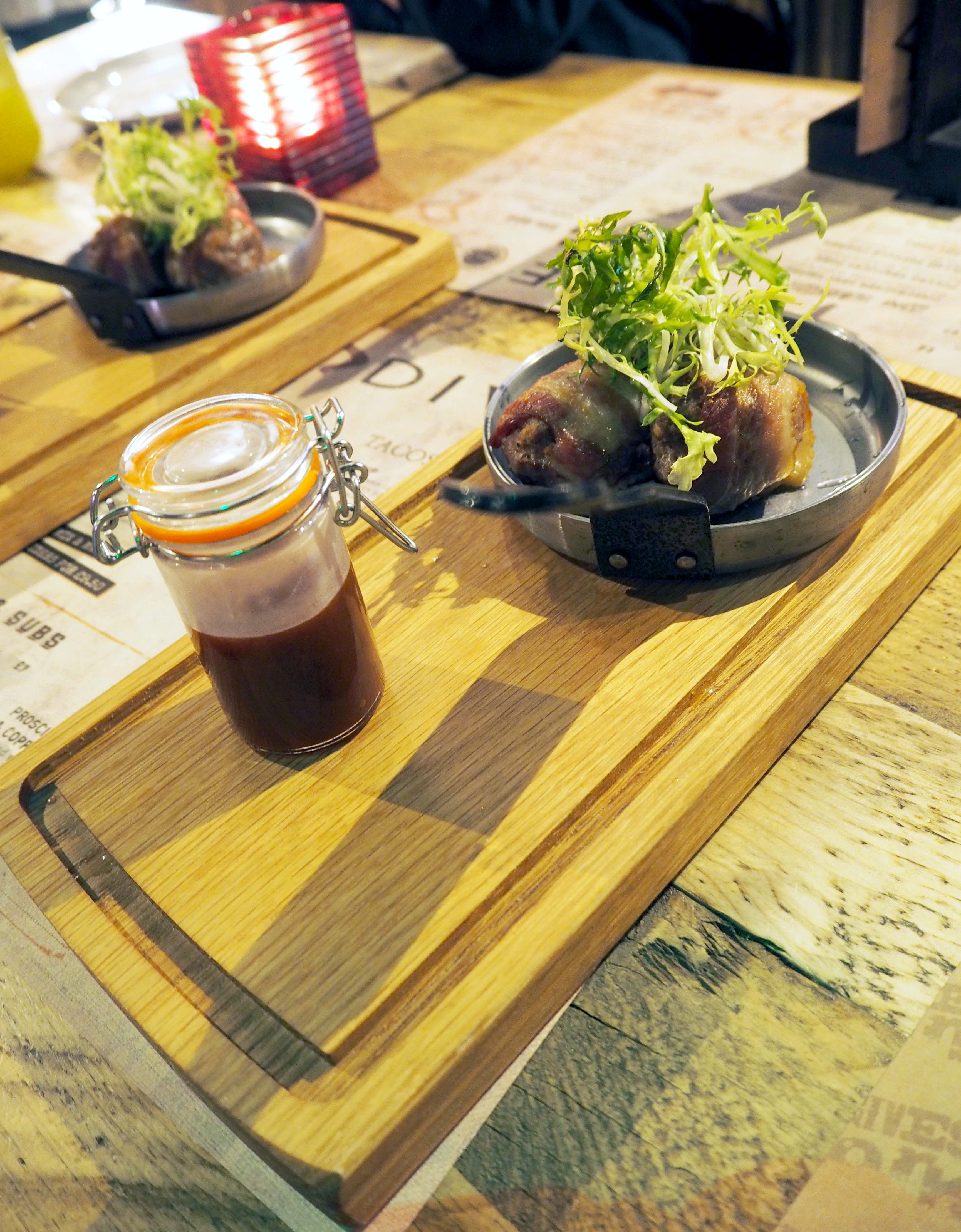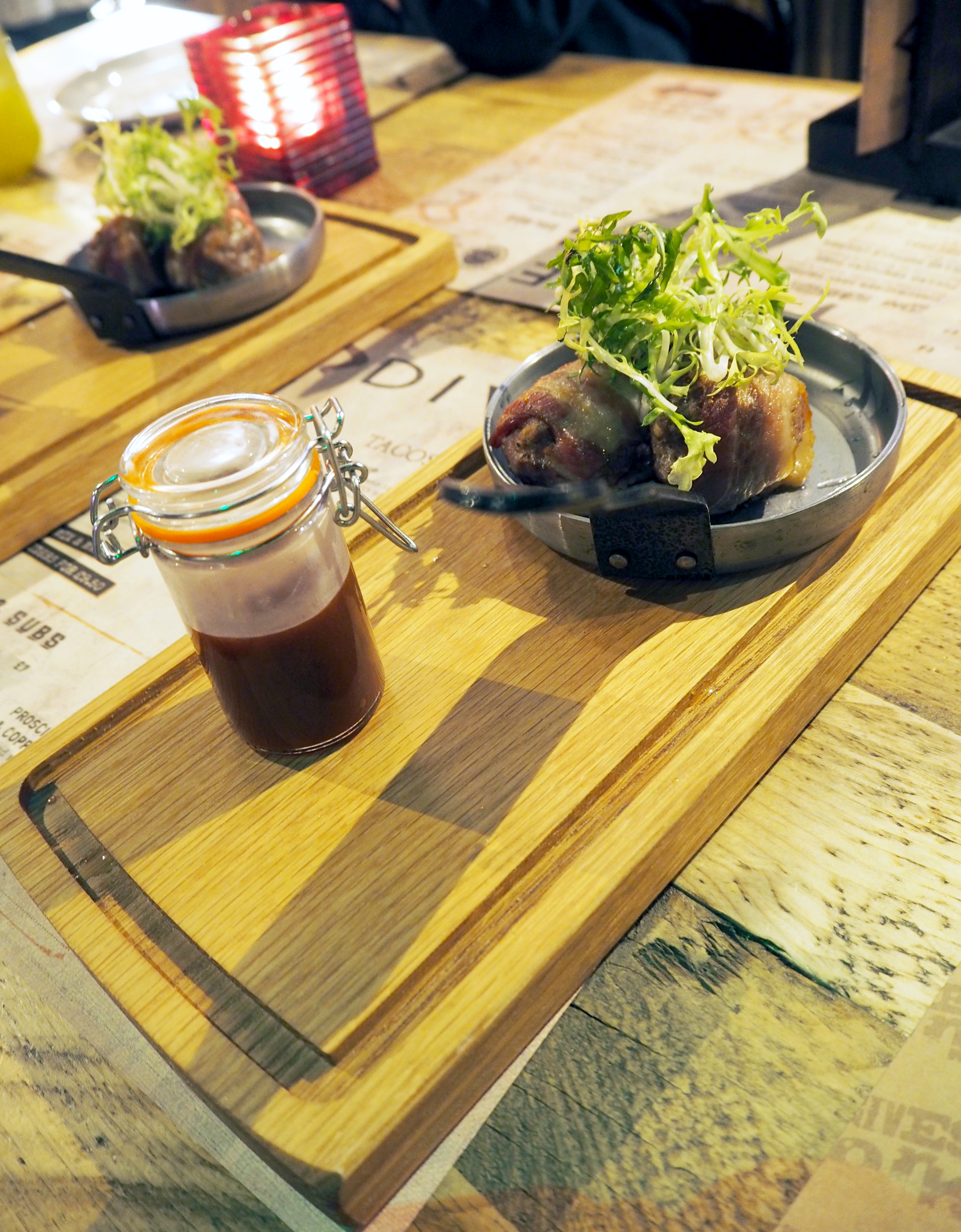 BBQ BACON BALLS | £6
Pork meatballs wrapped in streaky bacon. Served with bourbon & honey BBQ sauce.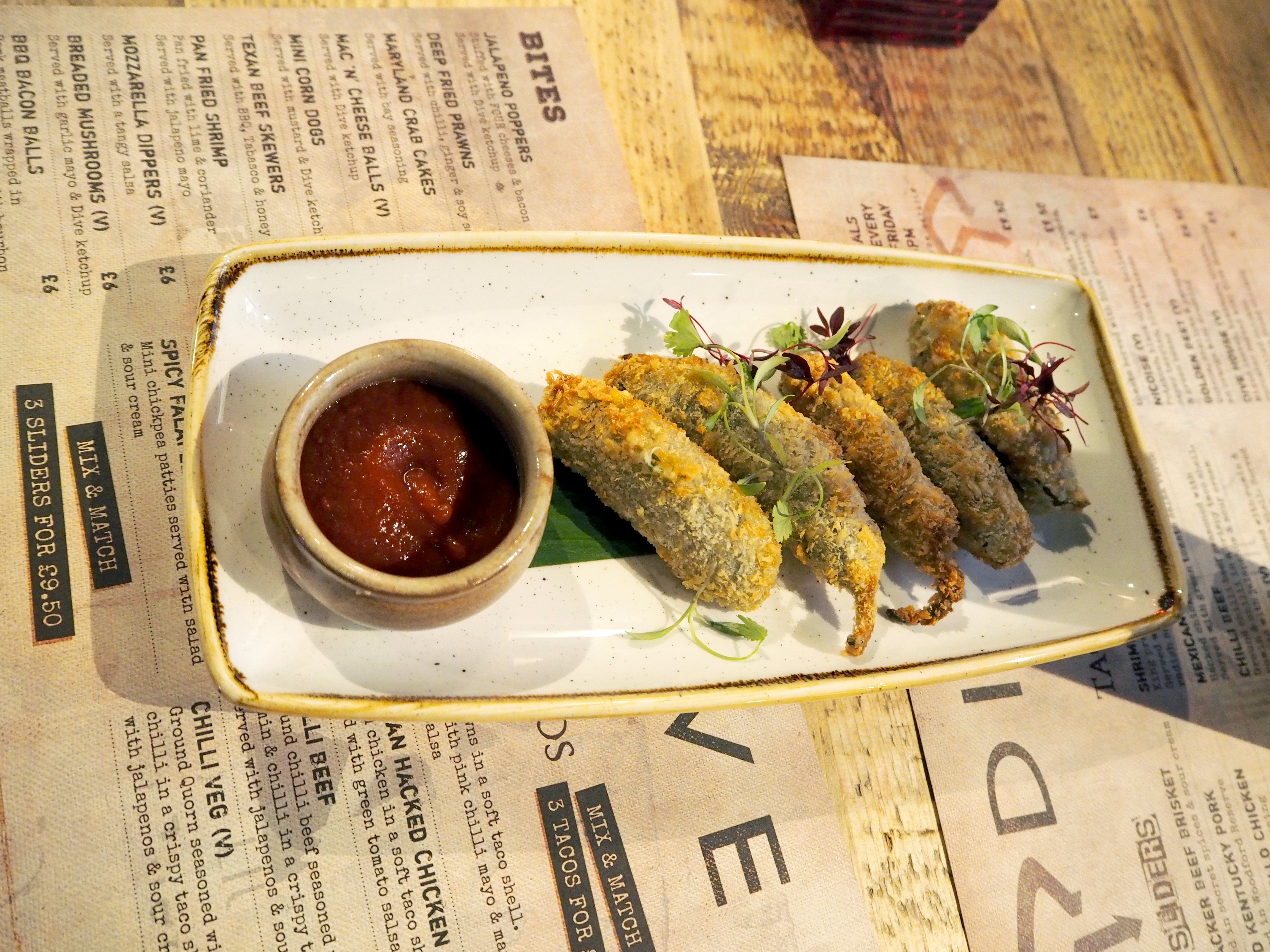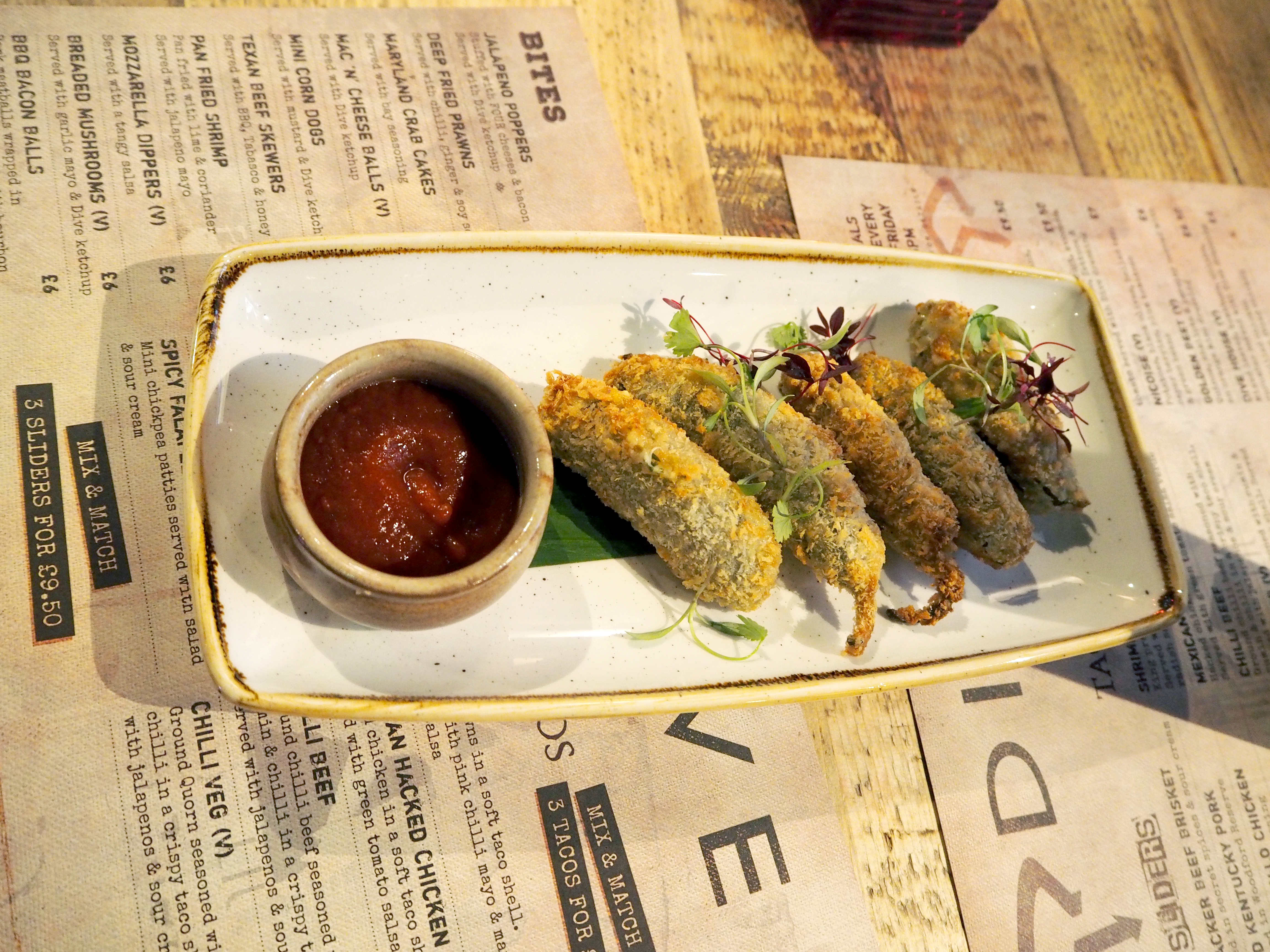 JALAPENO POPPERS | £6
Stuffed with FOUR cheeses & bacon. Served with Dive ketchup.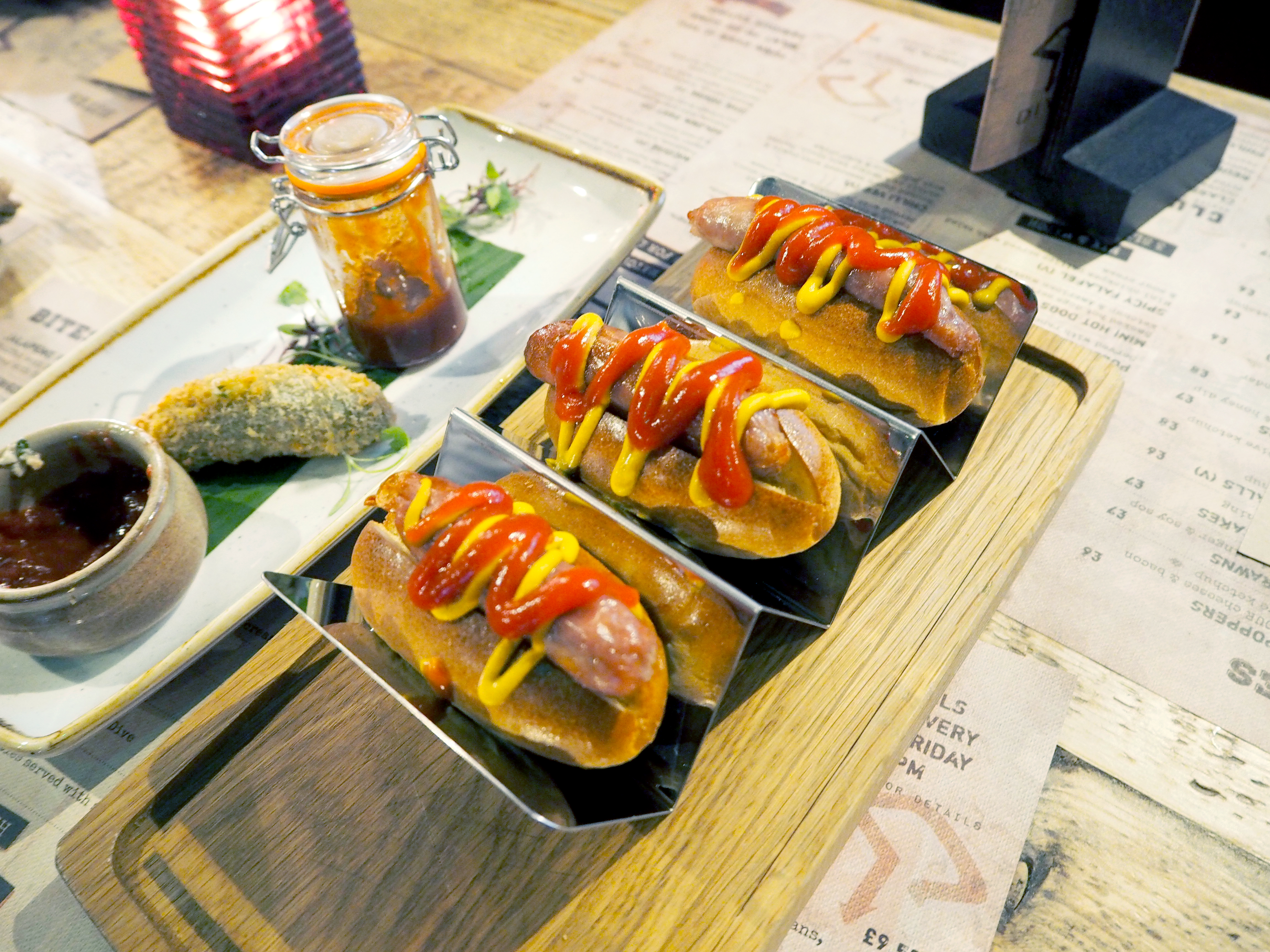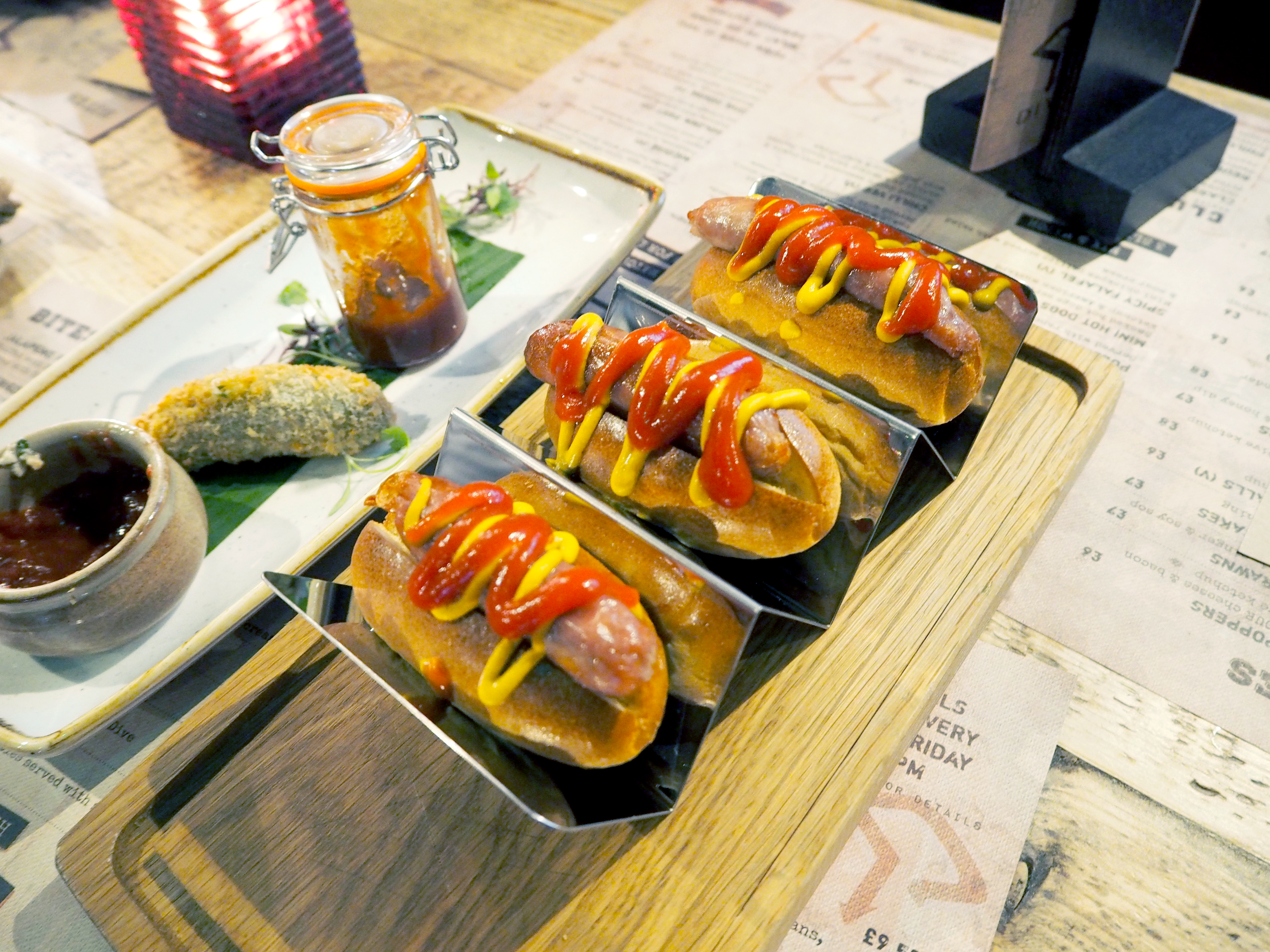 MINI HOT DOGS | All mini sliders are mix & match 3 for £9.50
Smoked hot dogs served with Dive ketchup & American mustard.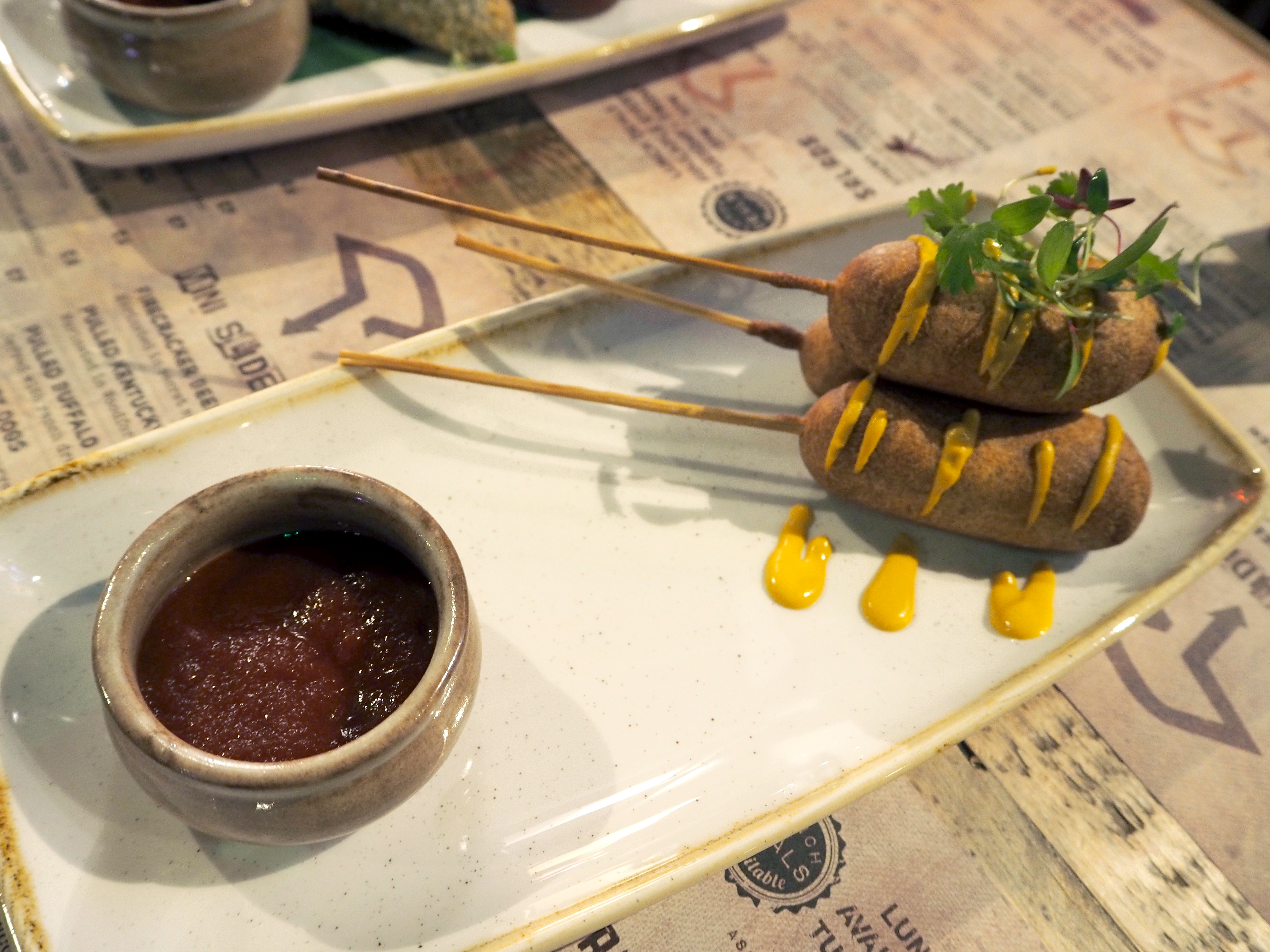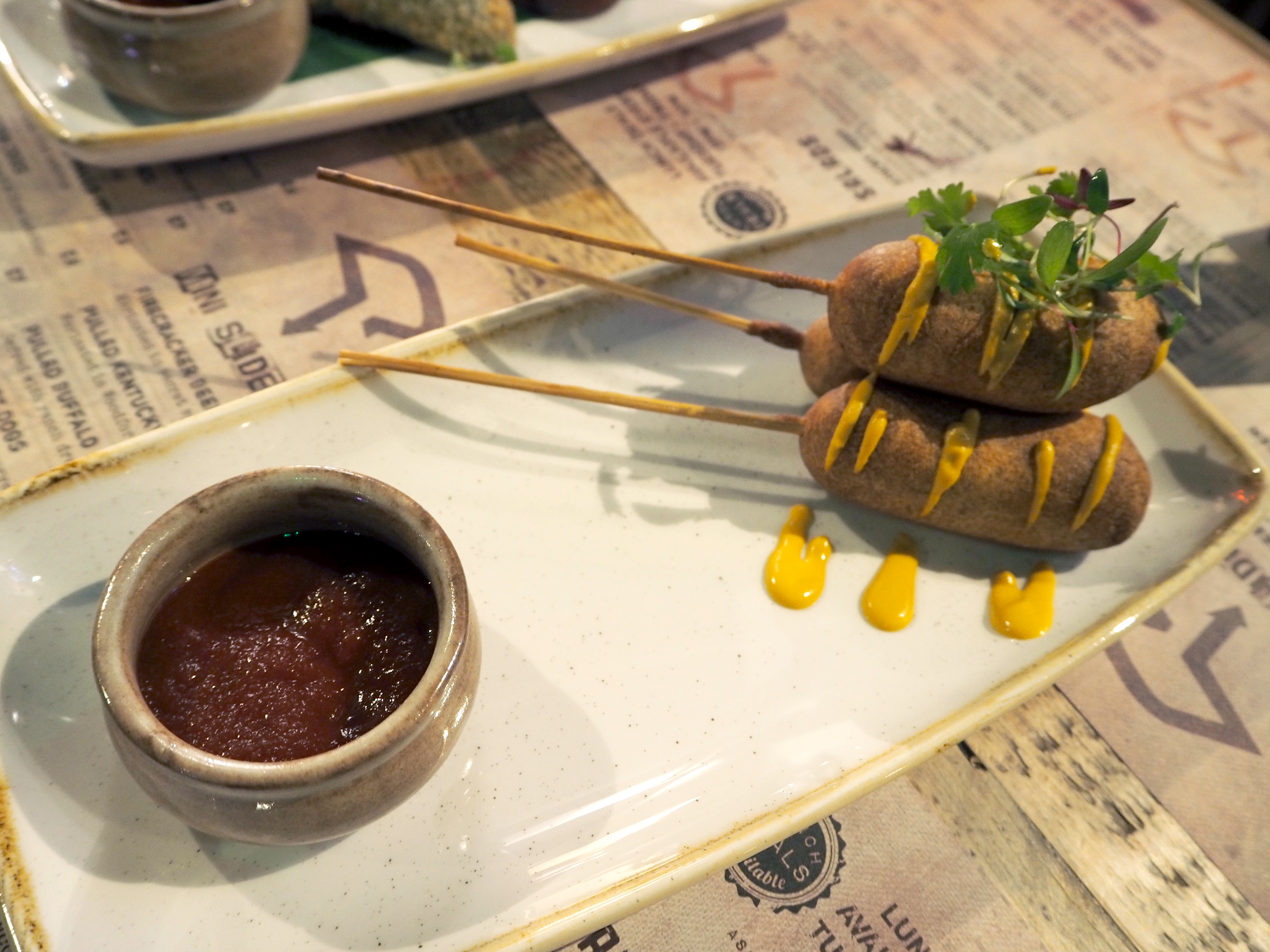 MINI CORN DOGS | £8
Served with mustard & Dive ketchup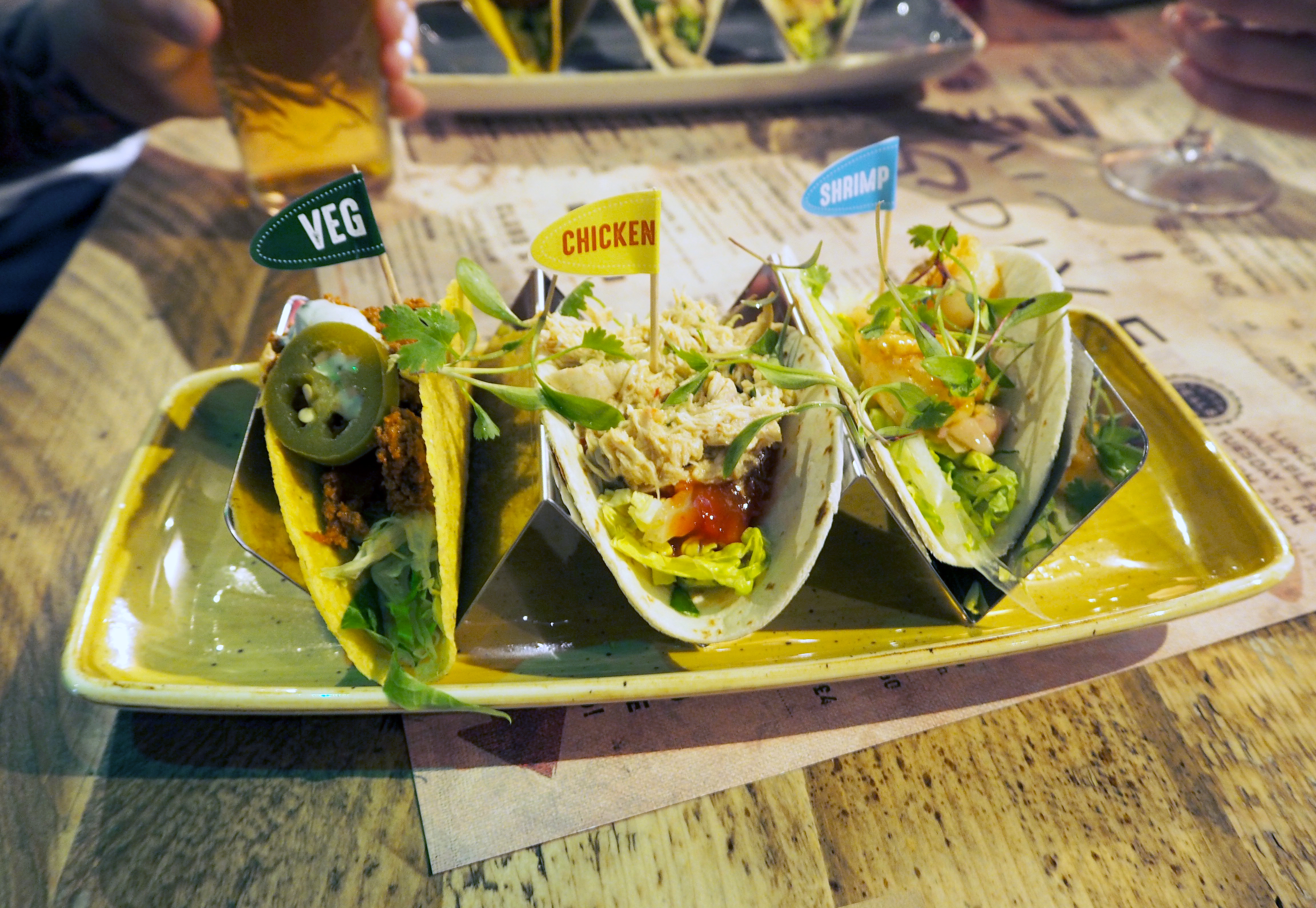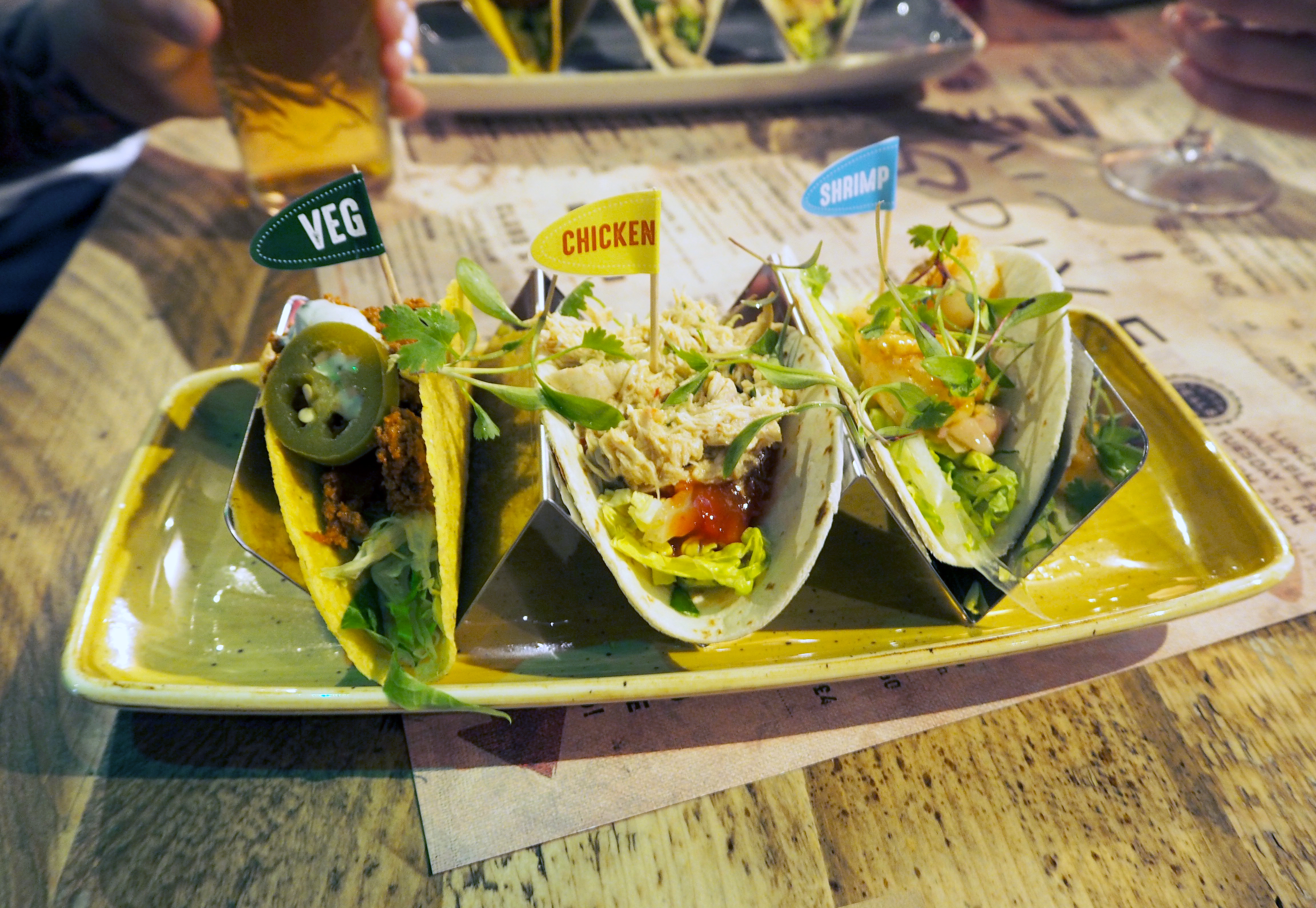 TACOS | All tacos are mix and match 3 for £8
CHILLI VEG (V) | Ground Quorn seasoned with cumin & chilli in a crispy taco shell. Served with jalapenos & sour cream
MEXICAN HACKED CHICKEN | Hacked chicken in a soft taco shell. Served with green tomato salsa verde
SHRIMP | King prawns in a soft taco shell. Served with pink chilli mayo & mango, radish salsa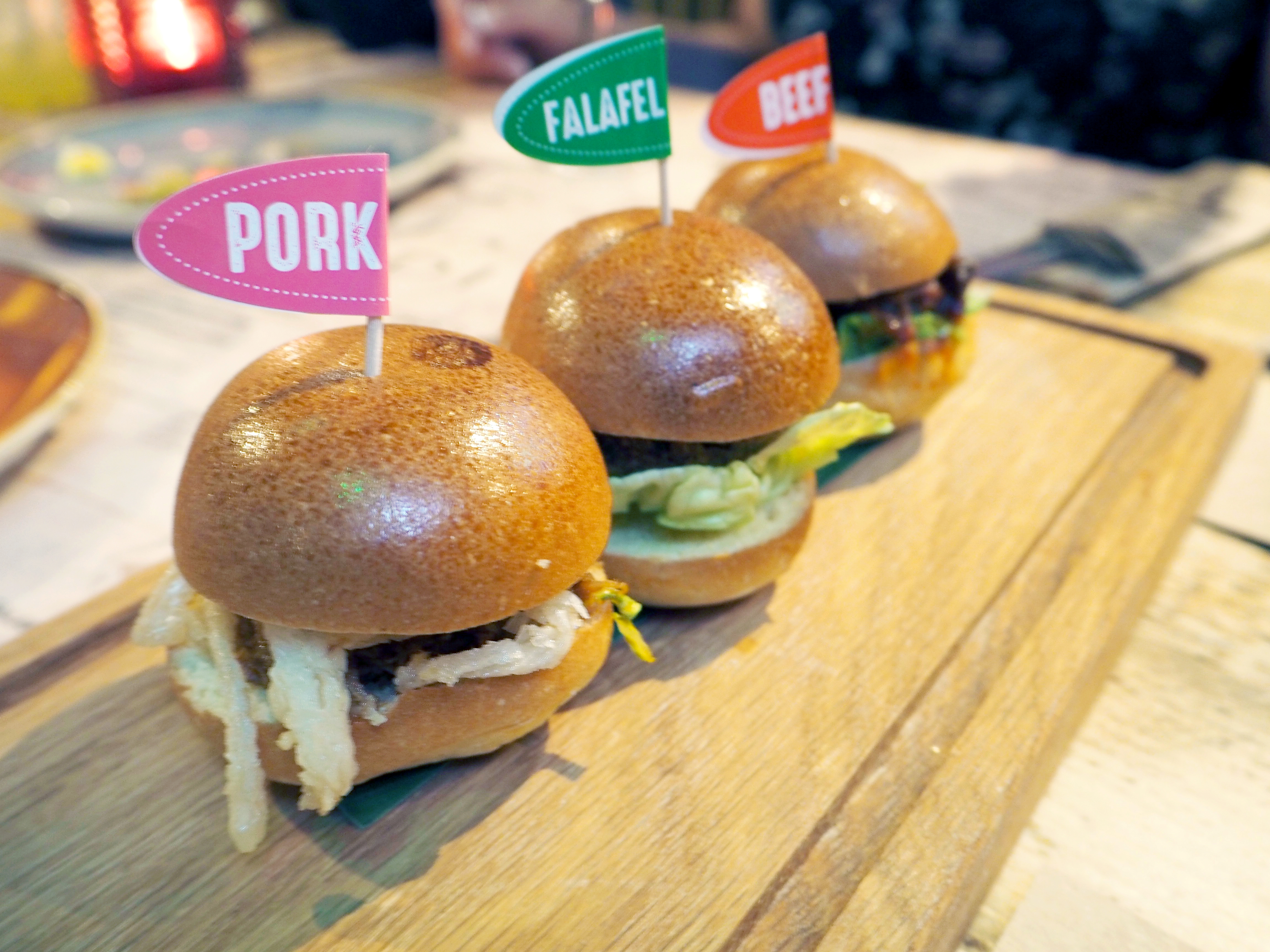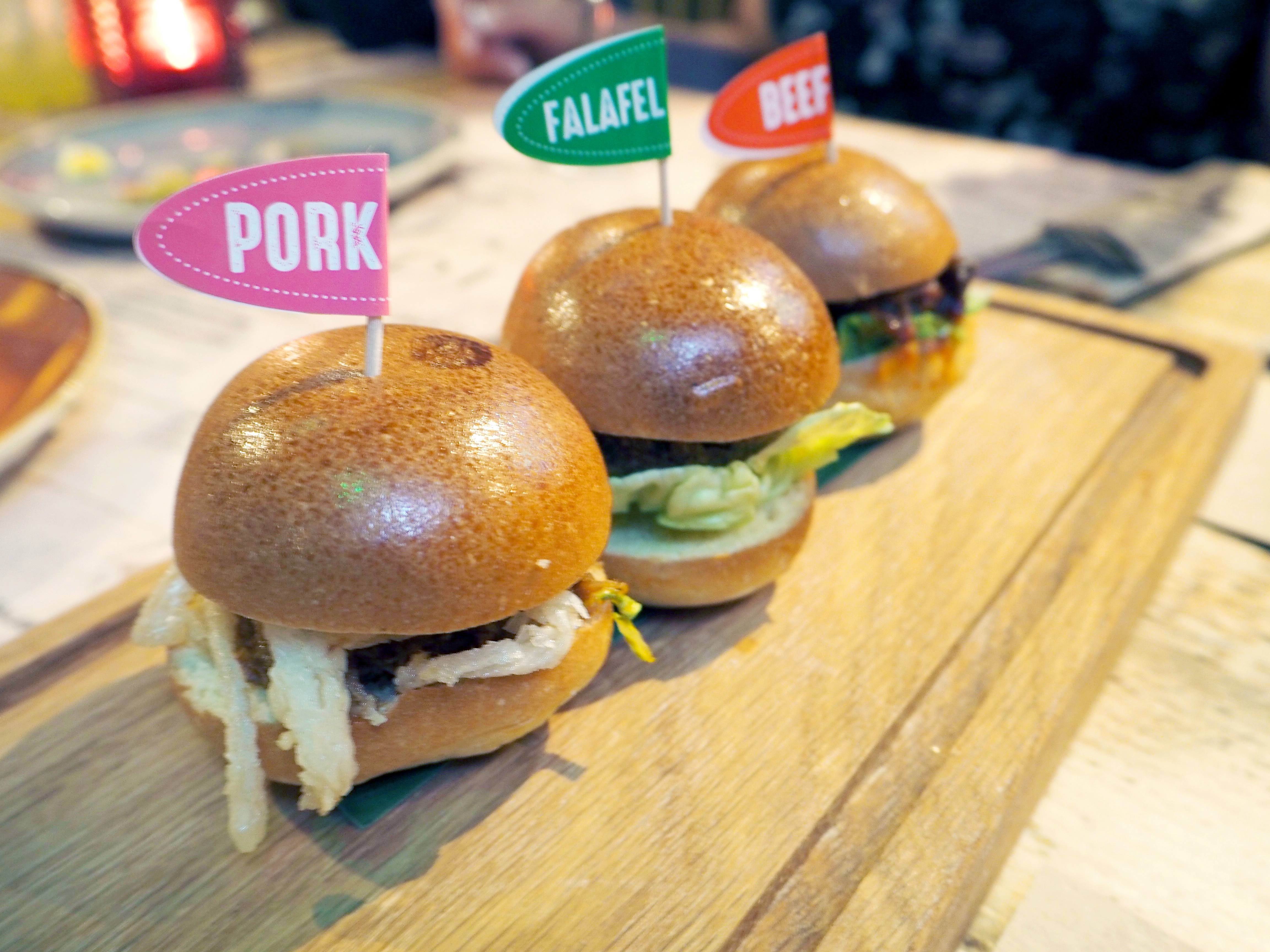 SLIDERS | All mini sliders are mix & match 3 for £9.50
Pulled Kentucky Pork | Marinated in Woodford Reserve
Spicy Falafel (V) | Mini chickpea patties served with salad & sour cream
Firecracker Beef Brisket | Marinated in secret spices & sour cream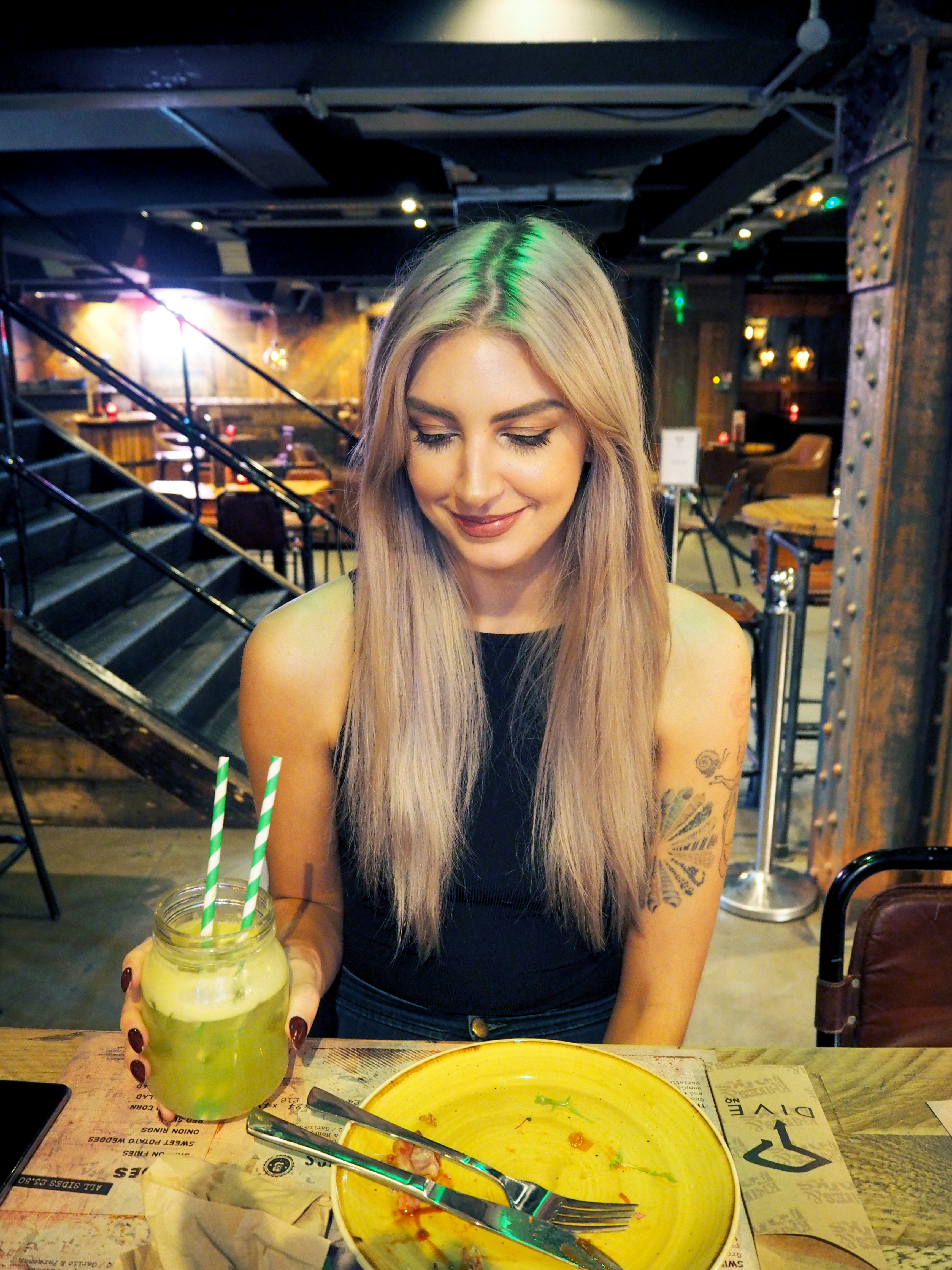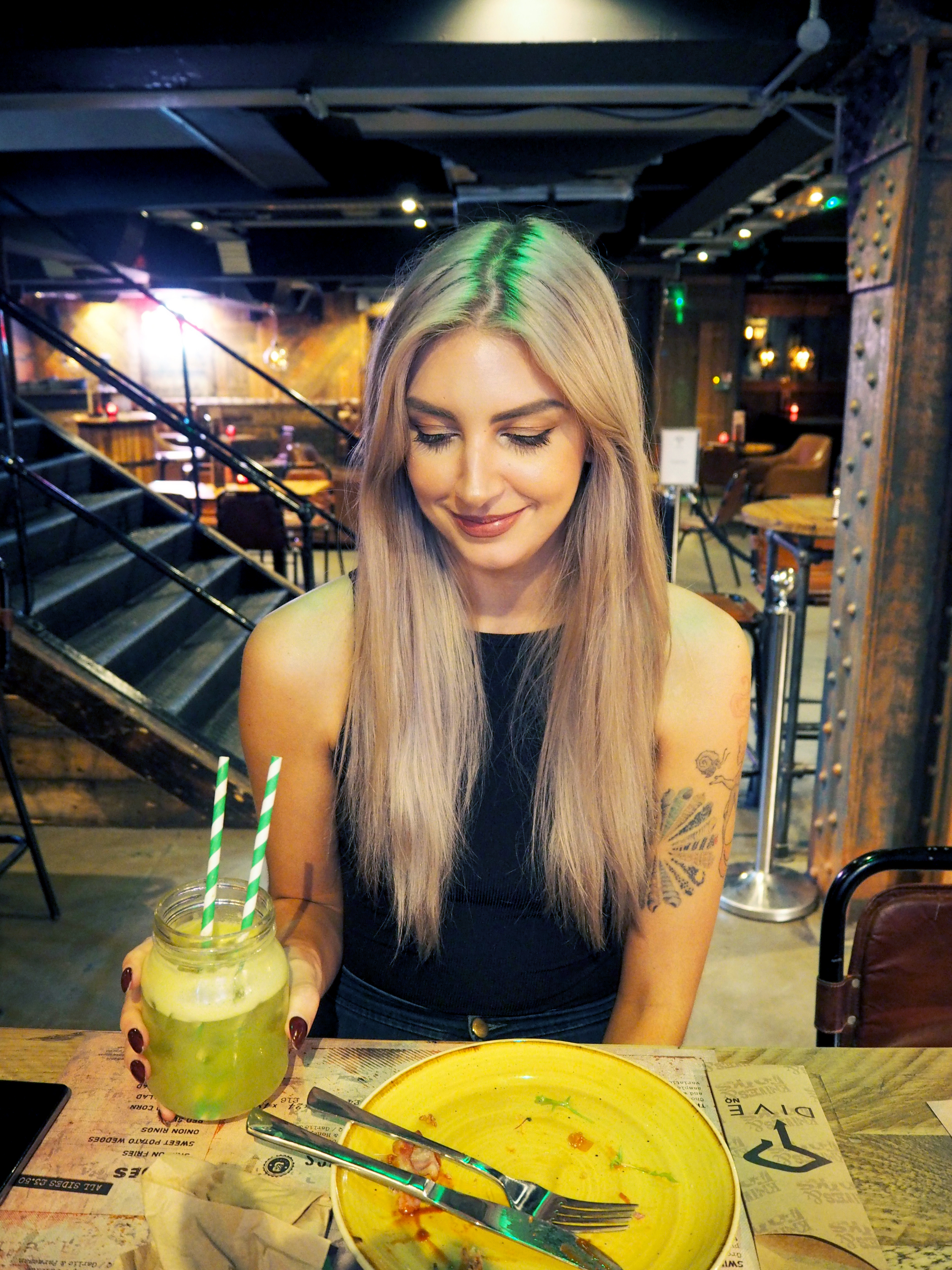 After all of those delicious bites, we had a short break while the kitchen prepared some of the larger plates for us to try. As you can imagine, I was already getting rather full after eating pretty much all of the starters from the menu! But trust me, when the food is this good, you will not want to stop.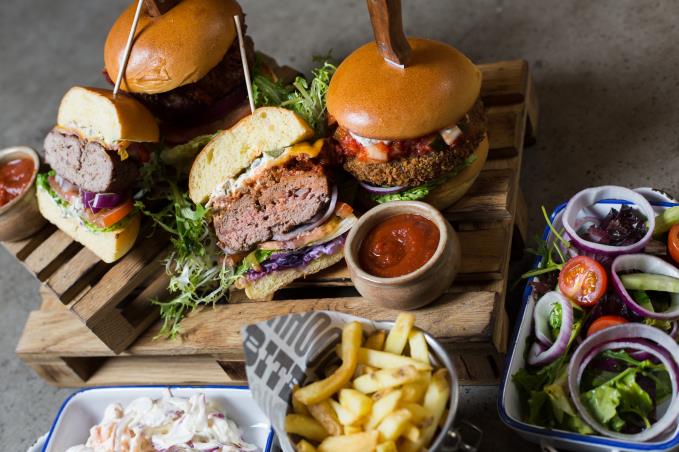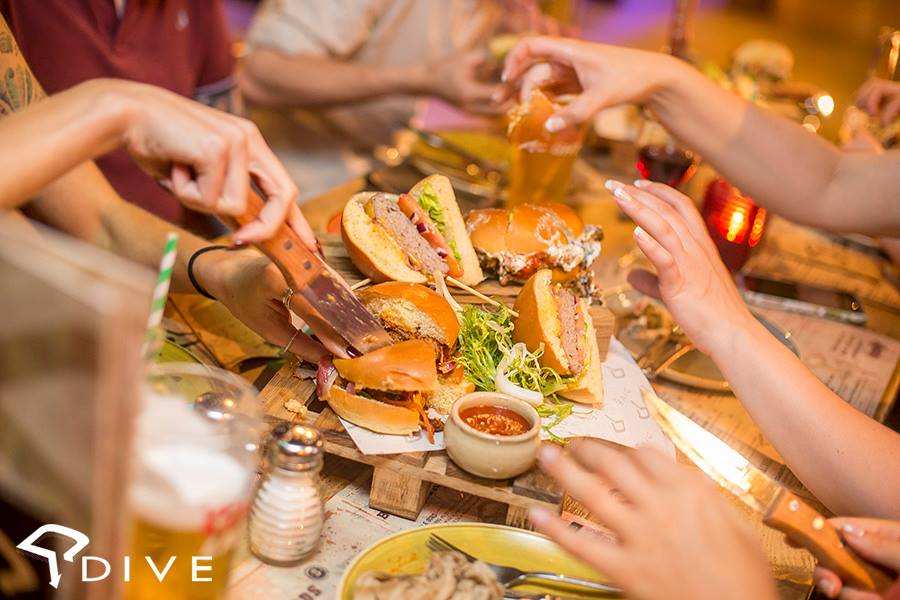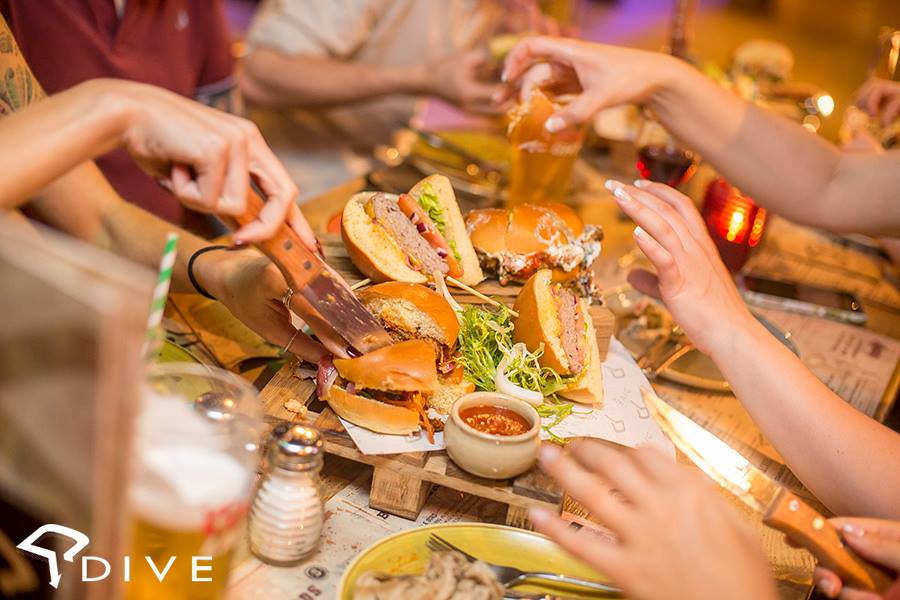 SHARIN' BURGERS | Trio of Burgers £24
First up were the Sharin' Burgers. I absolutely LOVE the concept of this, and I don't know why I have never seen this done elsewhere. I am one of those people who take forever to choose what to order in a restaurant, because I always want to try more than one thing and just can't decide. This is the perfect solution, as you can choose any three burgers from the menu, and Dive will slice them up for you, so you can share and sample the different variations of flavours. Here are the options:
The Original | Ground beef pattie served with tomatoes, lettuce, onions, salt 'n' pepper & Dive burger sauce
Southern Fried Chicken | Buttermilk fried chicken with a southern crumb, served with tomatoes, lettuce & onions
Carolina Classic | Ground chilli beef pattie served with cheese, jalapenos, slaw, tomatoes, lettuce & onions
Swine Burger | Ground pork & beef pattie served with pulled pork, BBQ sauce, bacon, cheese, tomatoes, lettuce & onions
Bean Burger | Kidney bean & veg, crumb coated pattie served with salsa, tomatoes, lettuce & onions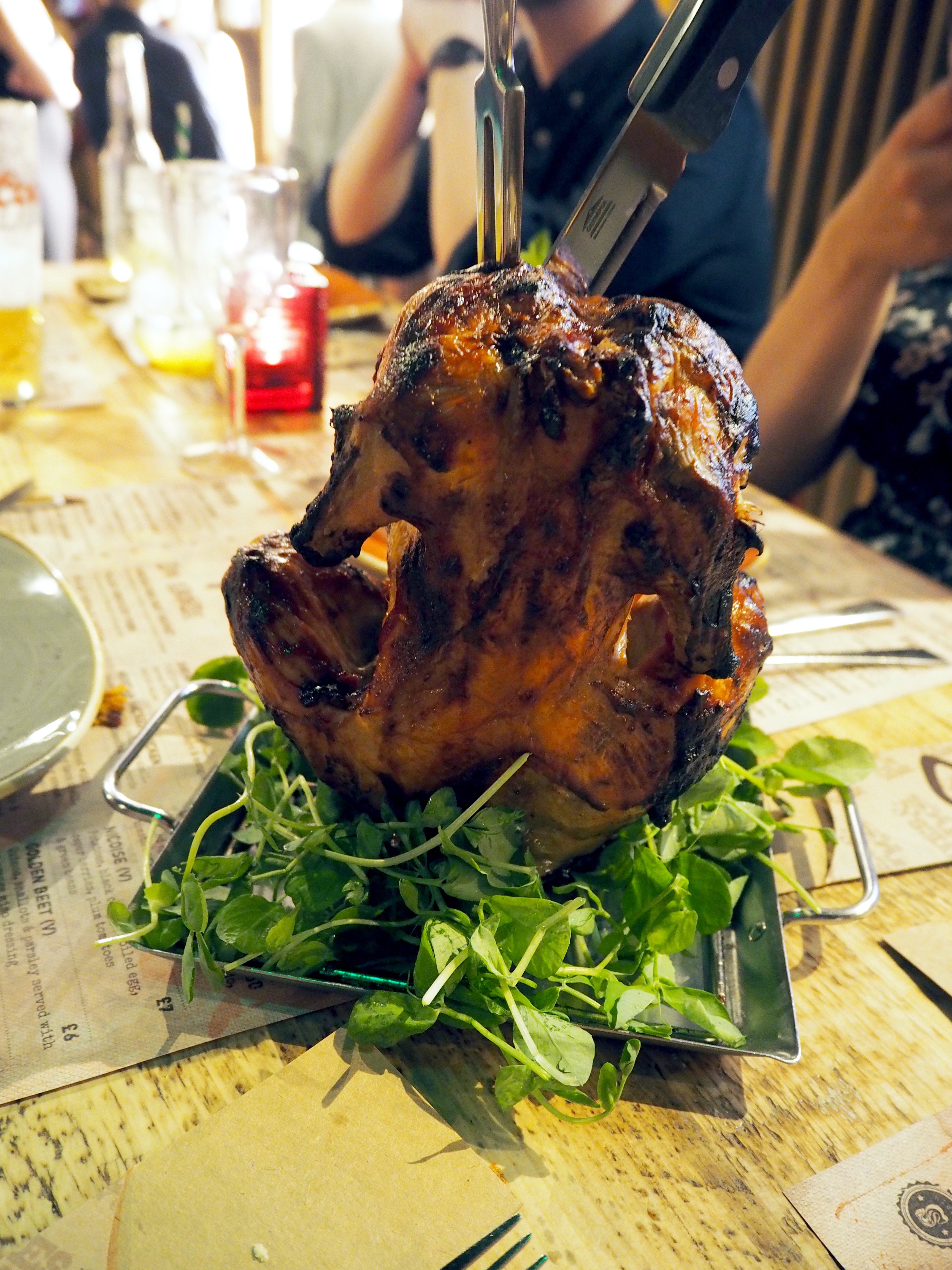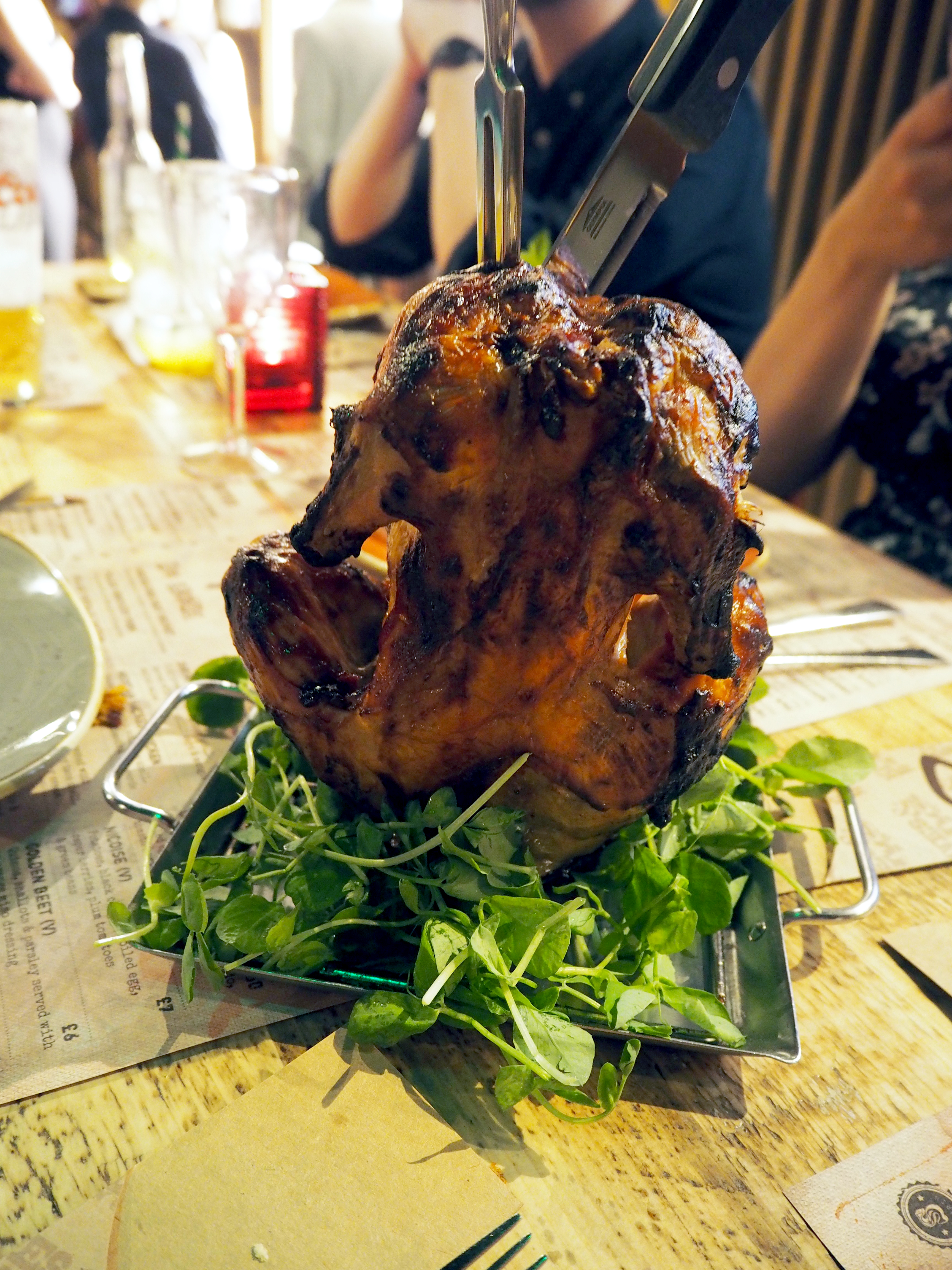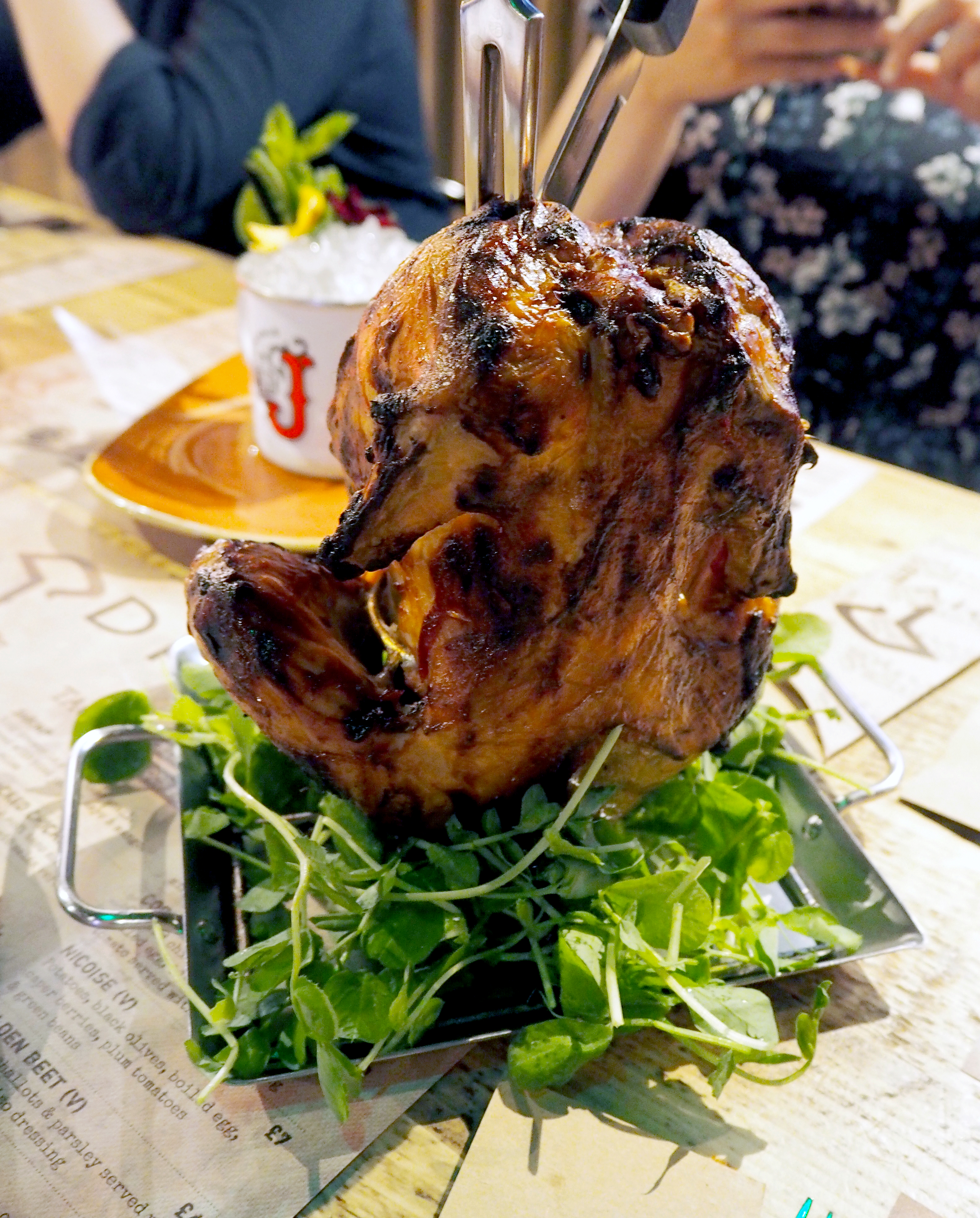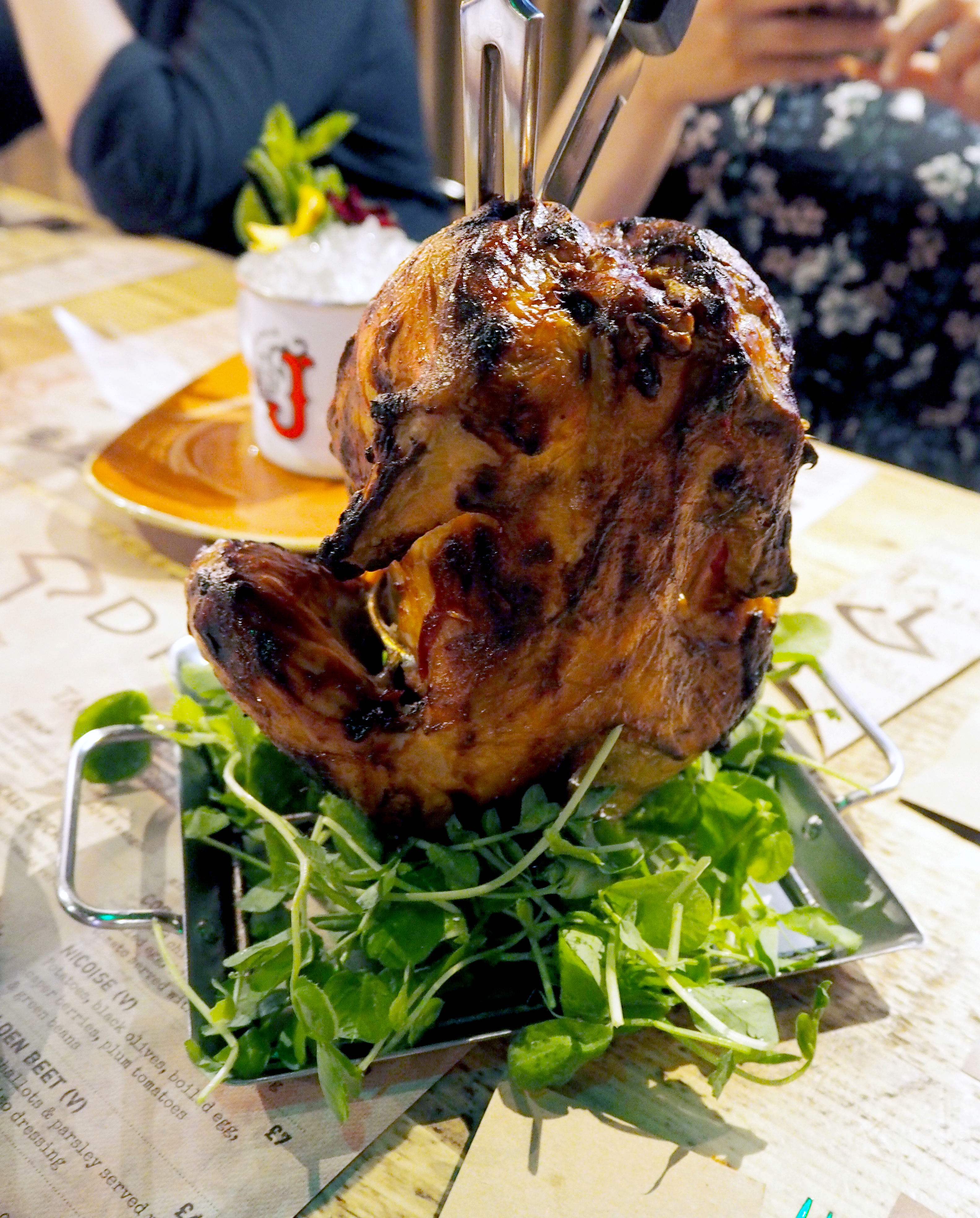 BEER CAN CHICKEN | WHOLE BIRD £20
American BBQ at it's best! Whole Bird, BBQ Cooked, glazed in a wicked sauce.
With a choice of sauce:
Tabasco & Honey / Suicide Dive BBQ / Garlic & Parmesan
And last but by no means least, we were presented with an incredible Beer Can Chicken and a whole range of sides to accompany it. I have seen these done in a few restaurants and always wanted to try it. Safe to say, this did not disappoint; the meat was tender and the glaze was delicious. This is another perfect dish to share with friends – I would recommend getting a bunch of sides to share and carving this up between you.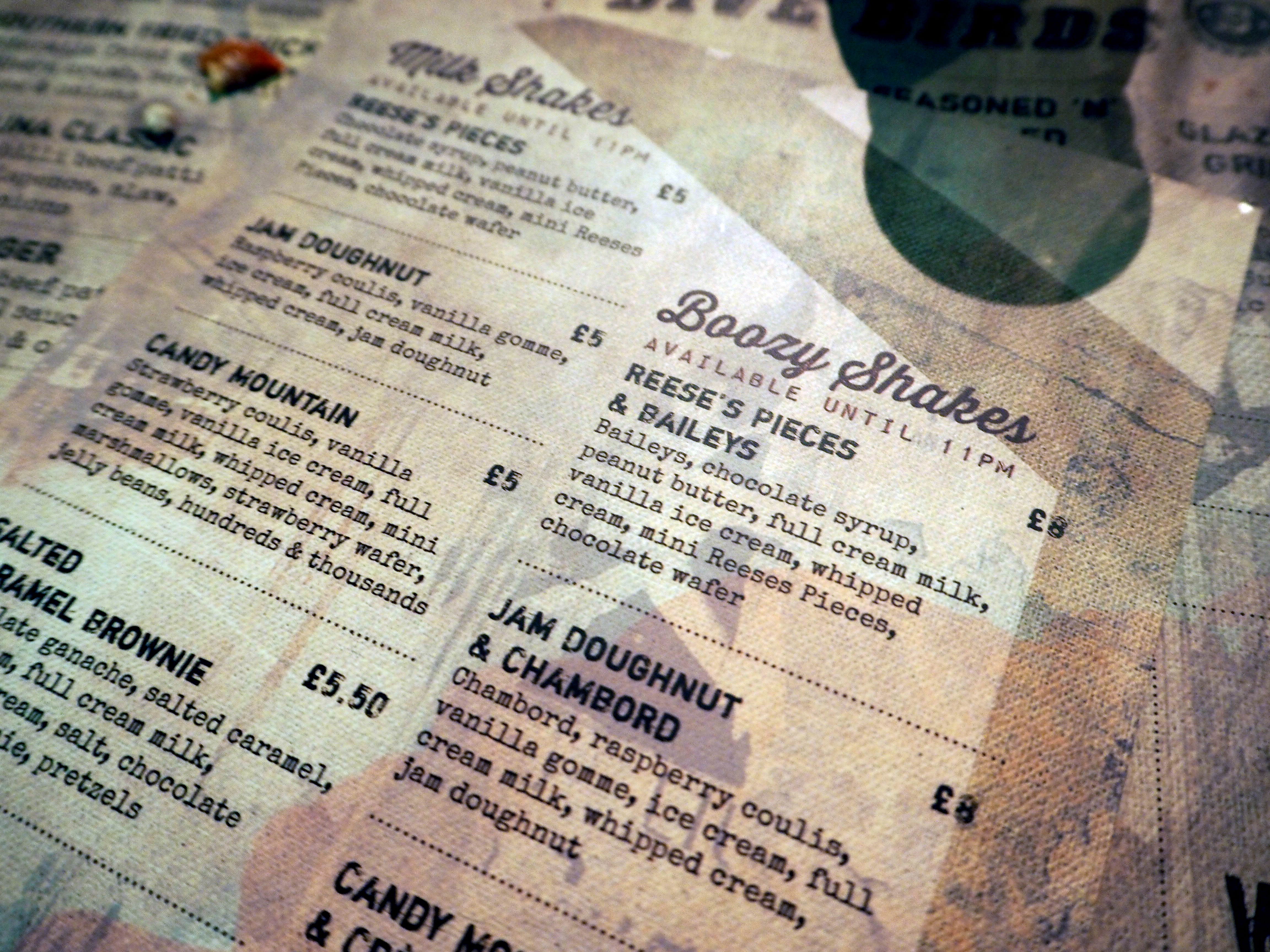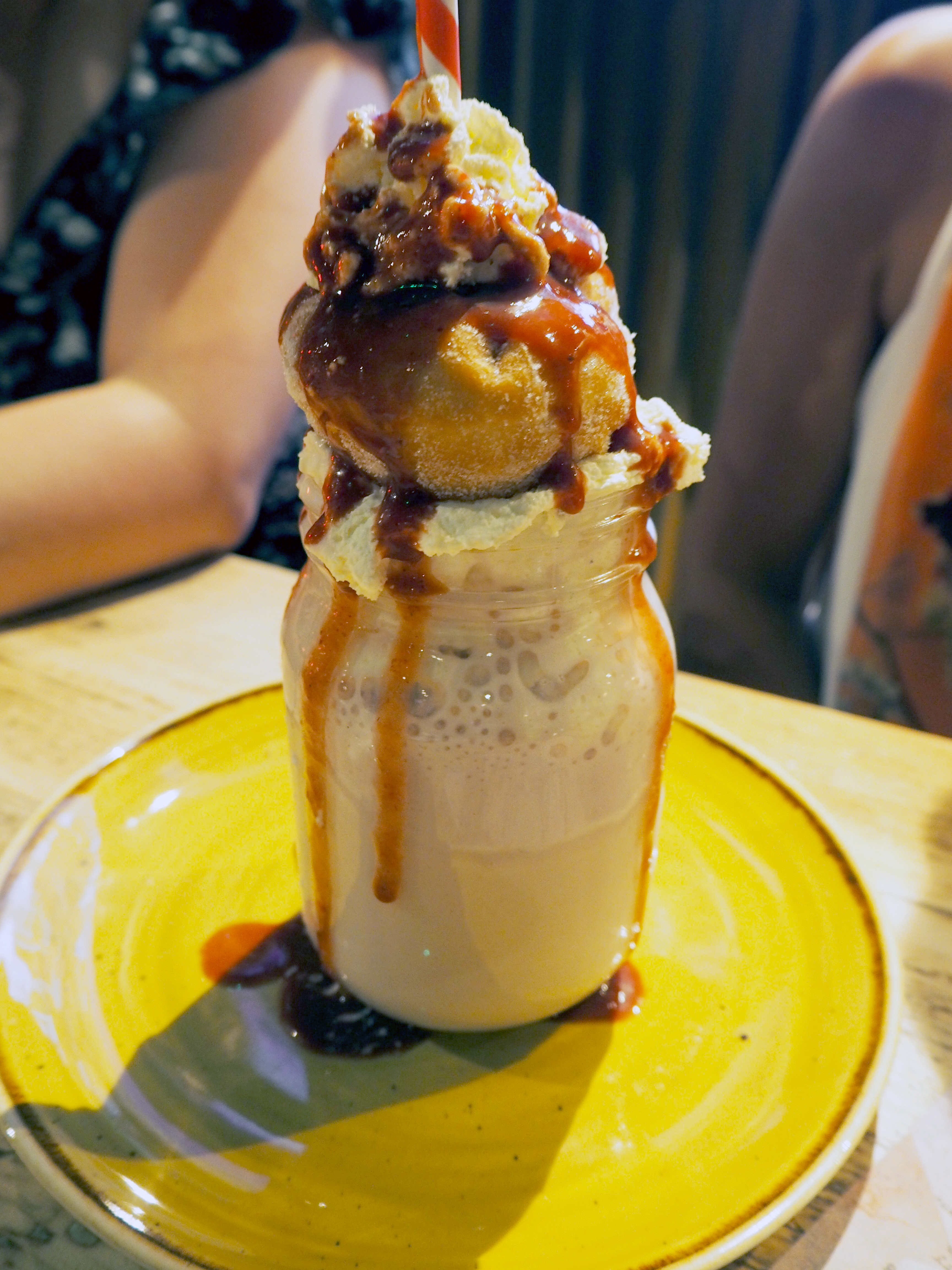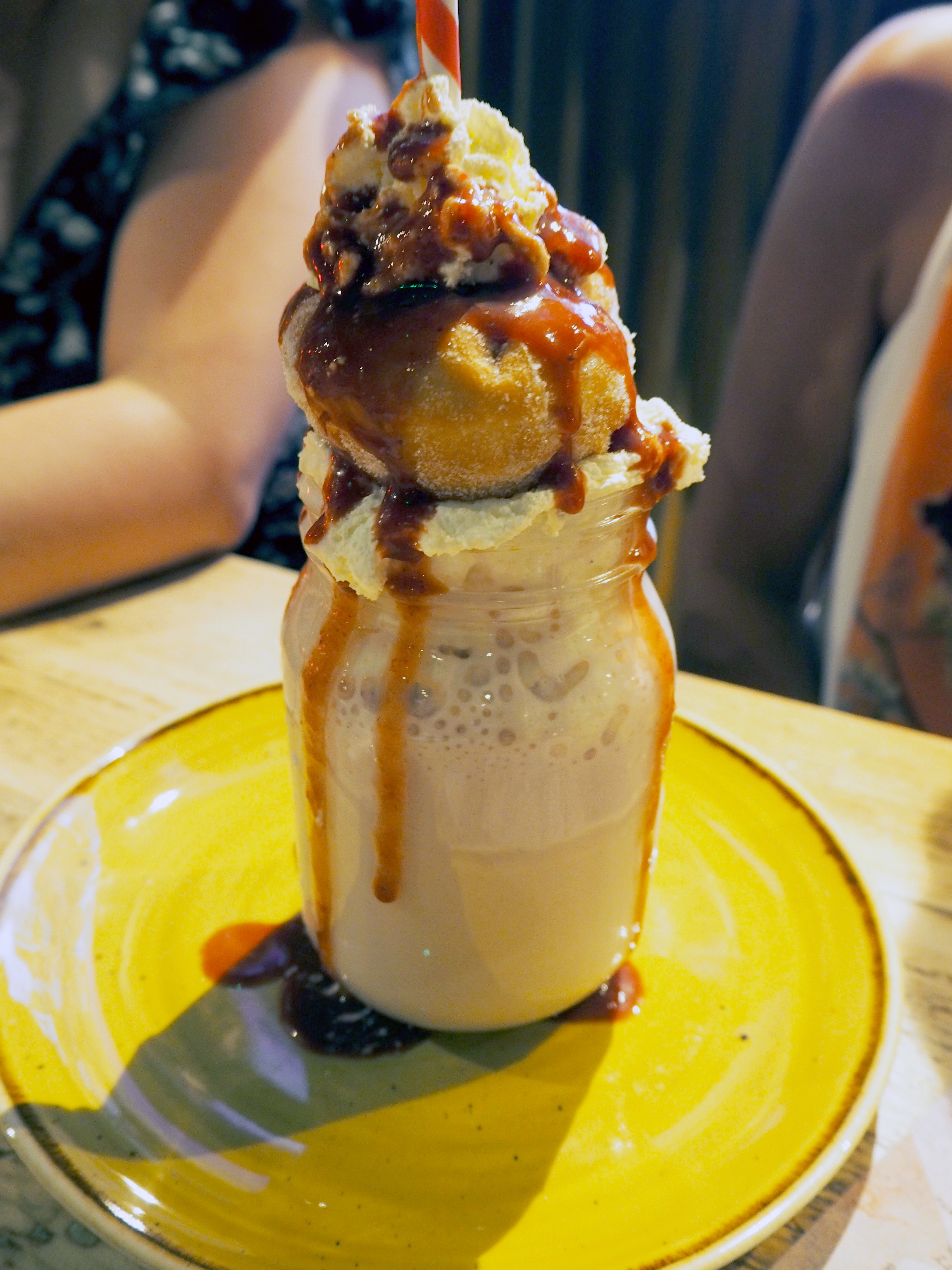 JAM DOUGHNUT & CHAMBORD | £8
Chambord, raspberry coulis, vanilla gomme, ice cream, full cream milk, whipped cream, jam doughnut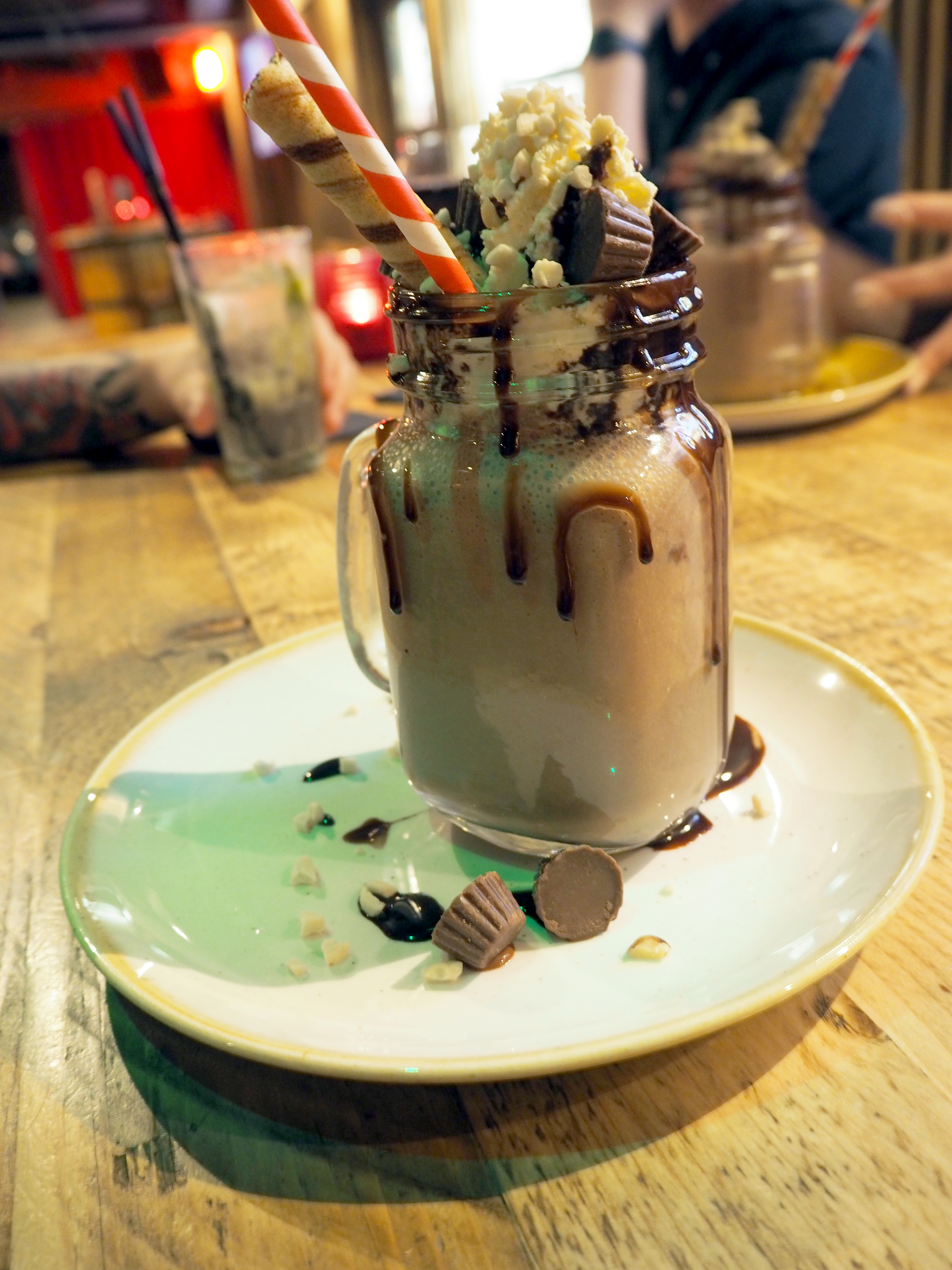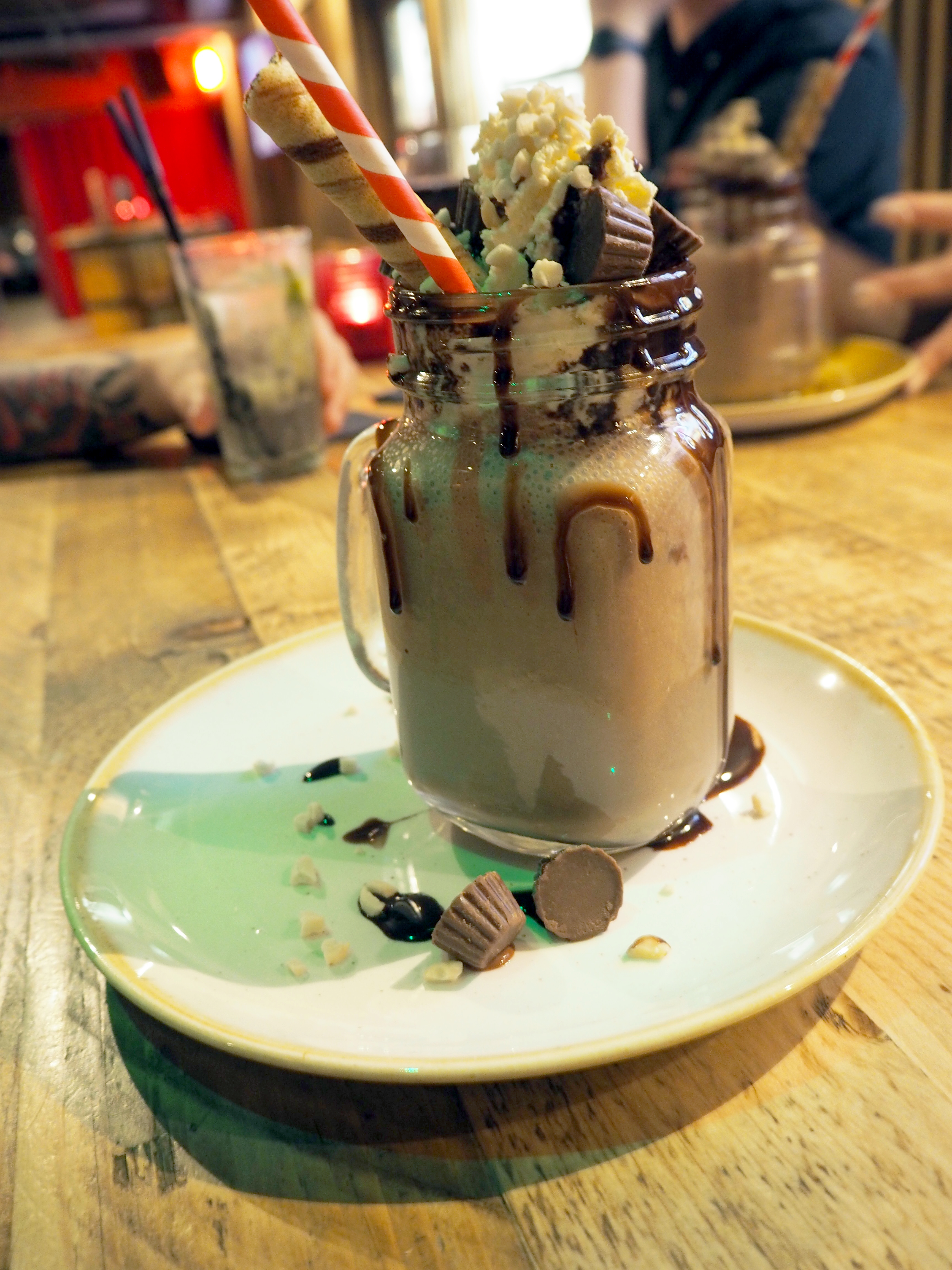 REESE'S PIECES & BAILEYS | £8
Baileys, chocolate syrup, peanut butter, full cream milk, vanilla ice cream, whipped cream, mini Reeses Pieces, chocolate wafer
Just when we thought service was over, we were all handed dessert menus and offered desserts of our choice to finish the evening. After all that food you would think I might have stopped myself at course number eight, but I had my eye on the Reese's Pieces and Baileys cocktail shake, and just couldn't pass up the opportunity to try it.
As a peanut butter-lover, I adored this mountain of chocolatey, boozy deliciousness. I also got to sample the Jam Doughnut and Chambord shake, which was equally as tasty (although I obviously preferred the Reese's). One thing I would say with the boozy shakes is that they are super sweet and pretty filling. If you are looking to end your meal with something sweet, I would opt for either this or a dessert, but not both.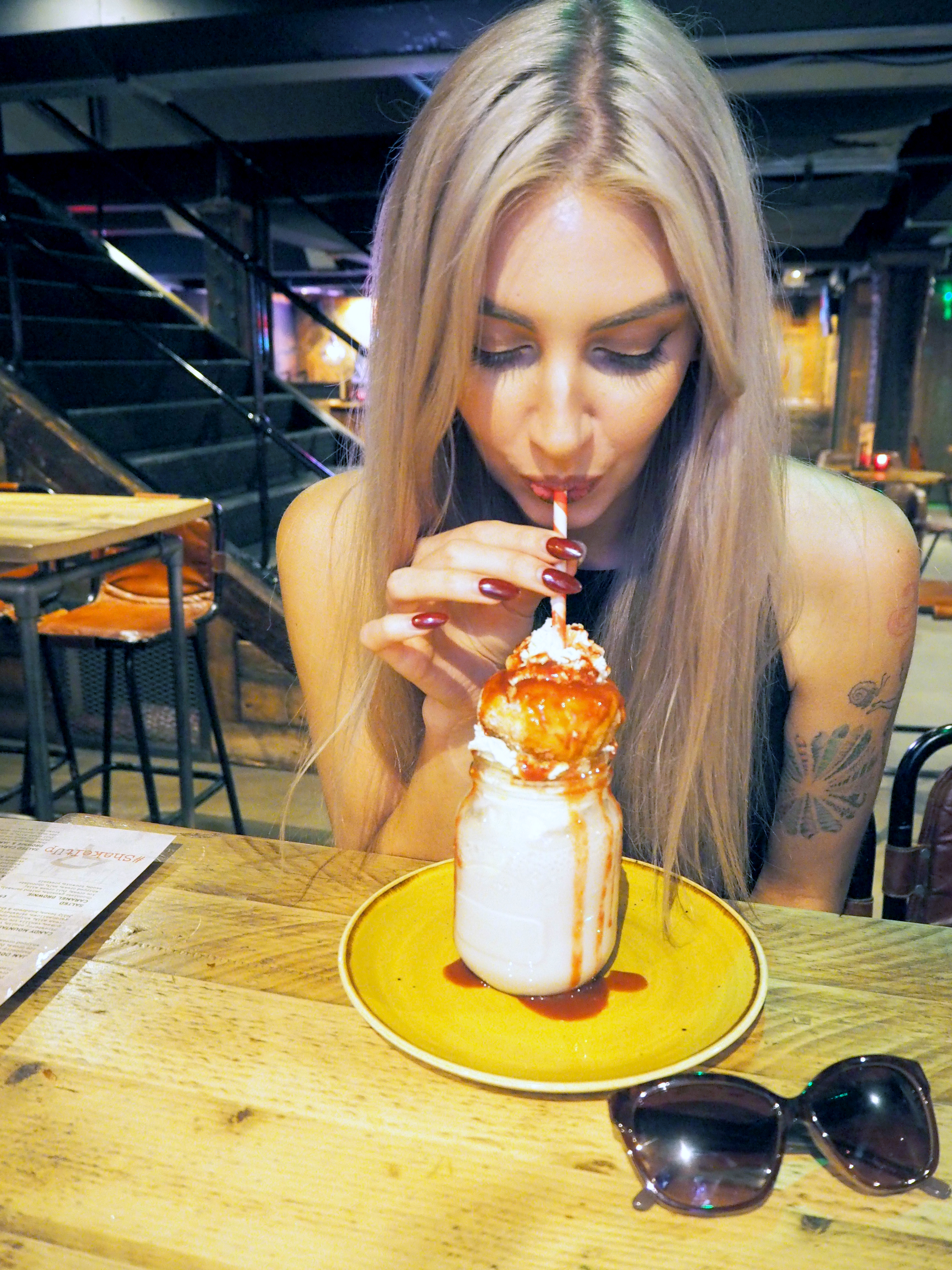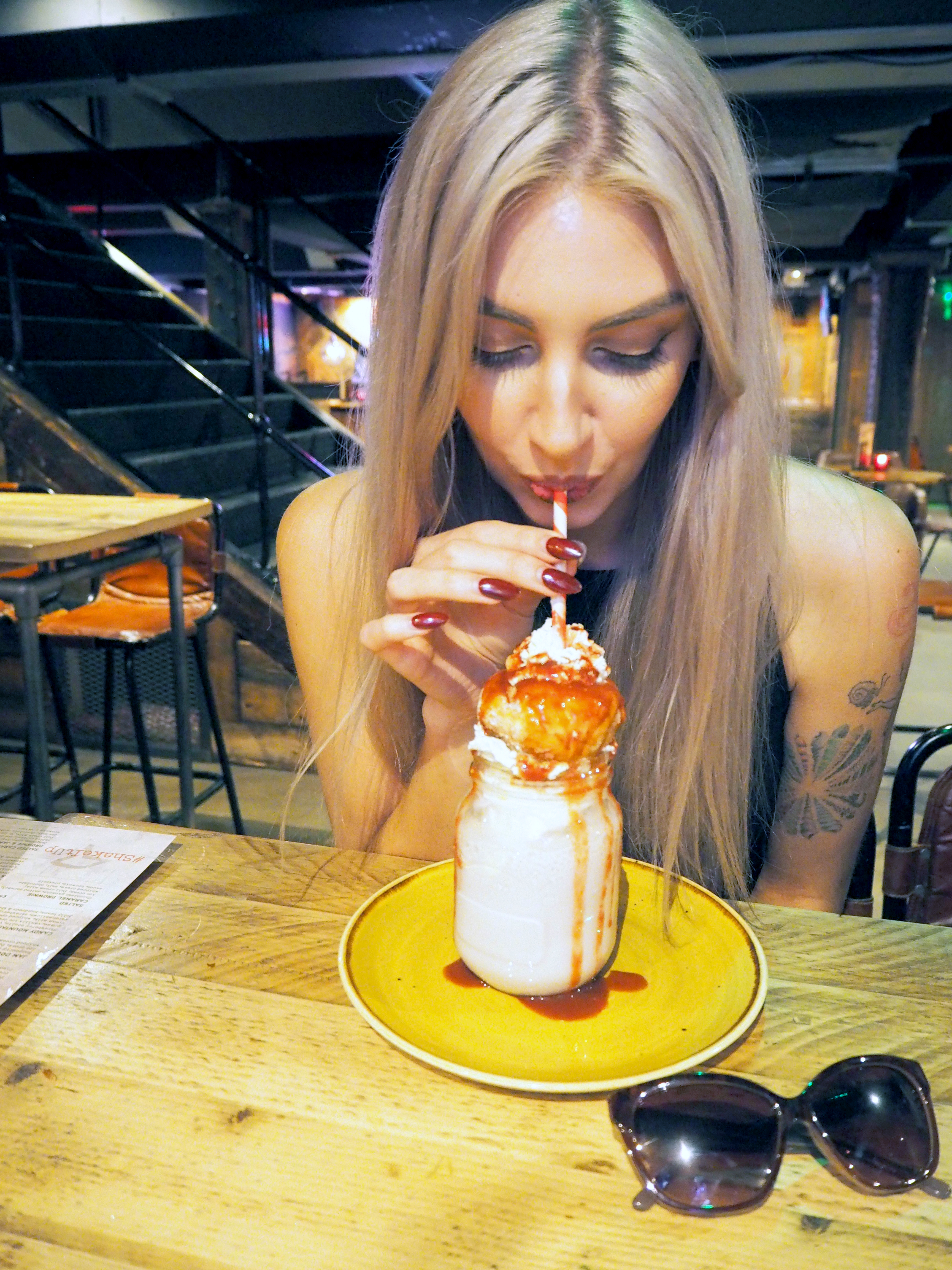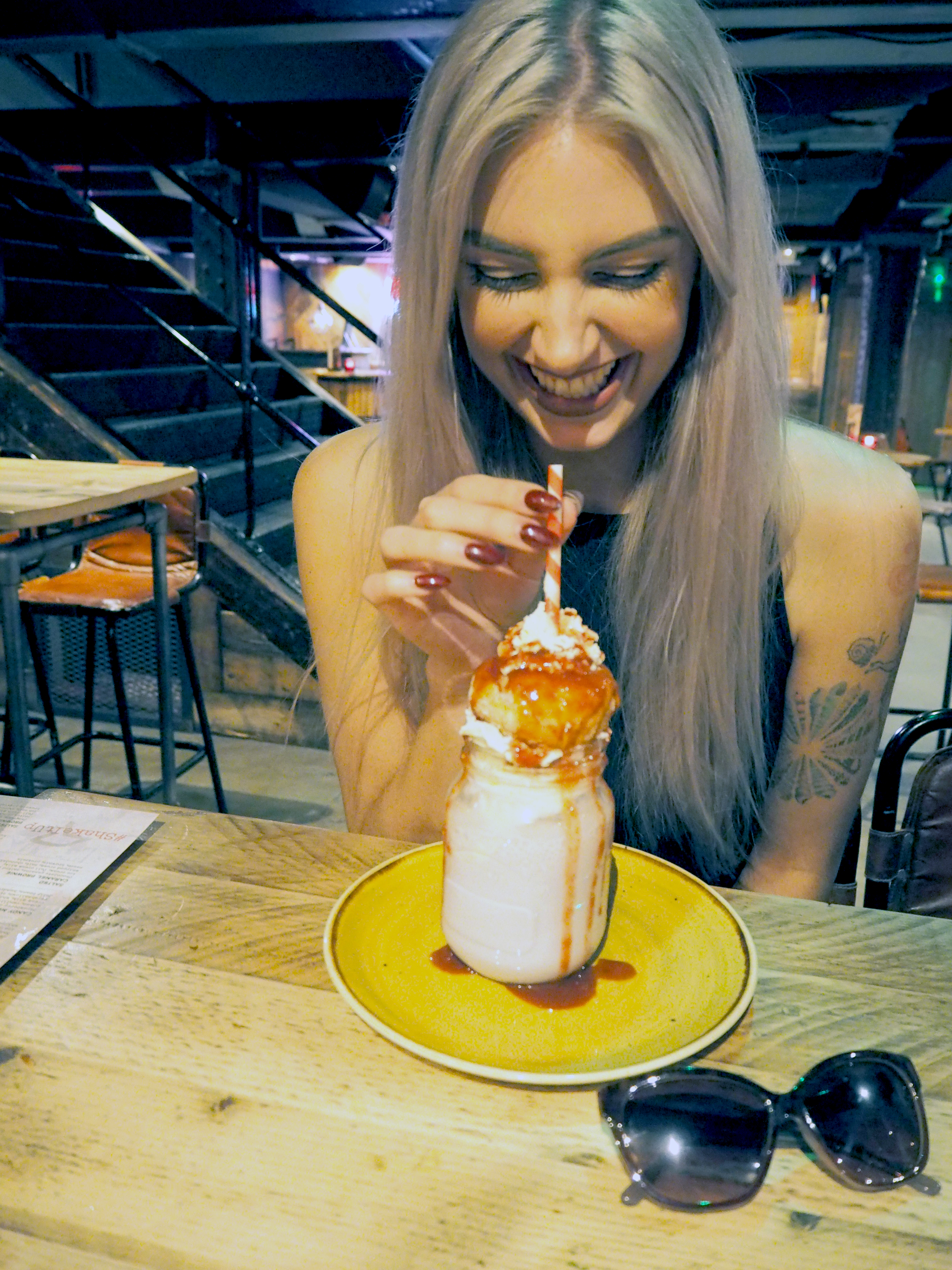 It's so hard to summarise so many delicious courses into one short paragraph, and the photographs truly don't do the food justice at all – but the main thing I will say is that if you live in Manchester or are visiting for the day, Dive Bar is a must try. The cocktails and drinks selection is awesome, the food really is something to brag about, and wether you are looking to grab a bite, watch a sports game or hit the town for drinks, Dive bar can cater to your every need.
What's more, they also offer a huge 55% off food every day if you sign up for a Dive card, which is totally free and you can do it both online and at the venue.
Have you been to Dive bar yet? Do you have any favourite spots for food and drinks? Be sure to let me know in the comments!
LL x
Are you following me on 


?