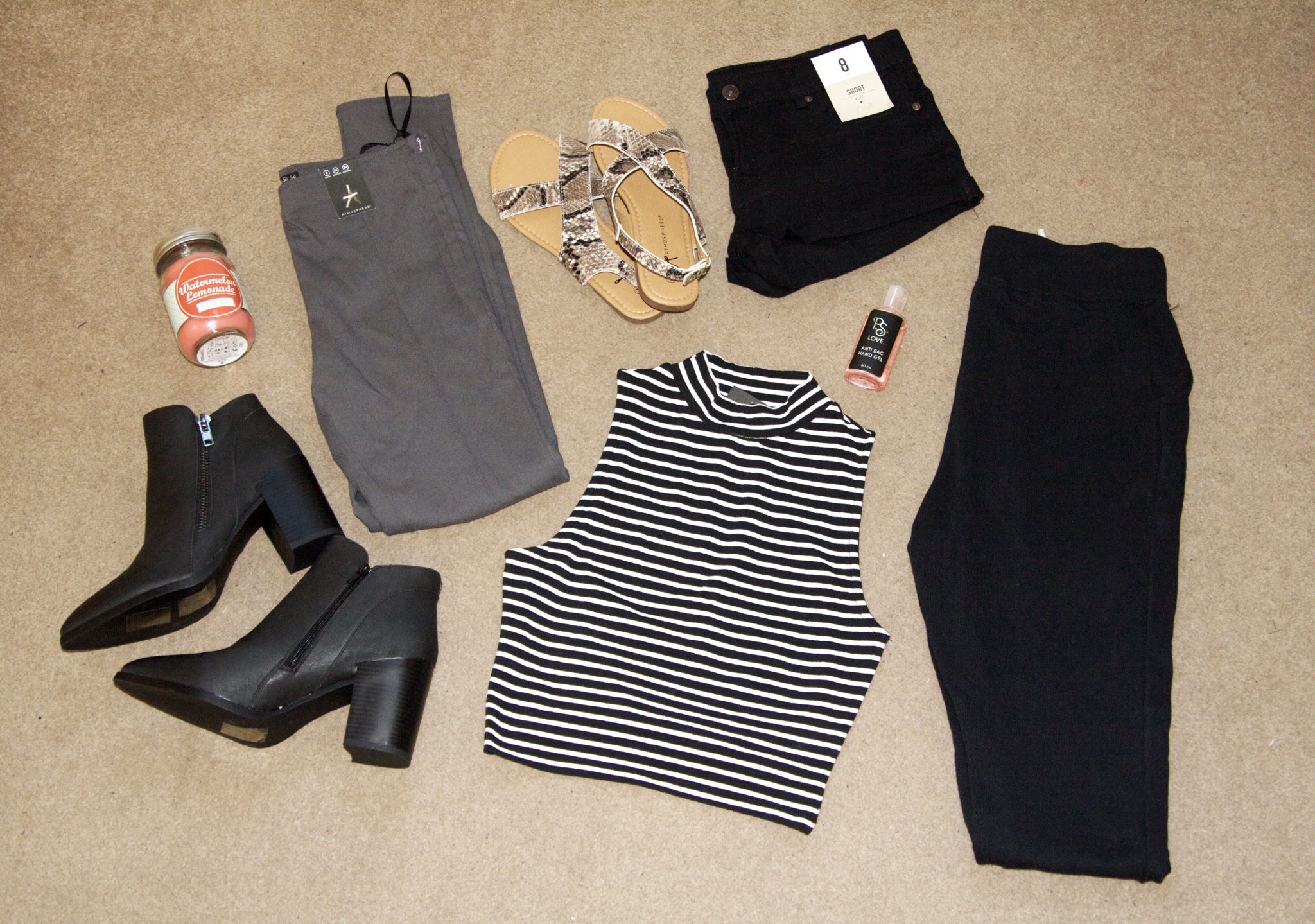 I recently nipped into Primark to get some last minute bits for my holiday to Florida (which, by the way, is the day after tomorrow!!!) and ending up coming out with a mini haul! So I just wanted to share a few of the bargains I managed to pick up with you. Maybe you're on the lookout for something similar…
(L-R)
First up, Watermelon Lemonade Jar Candle – £3
This candle is one of my favourite recent purchases. It smells SO amazing (even Jonathan agreed so it passed the boy test!) and is such a bargain at £3, and I'm already thinking about what I can do with this cute jar when its all used up.
Grey Cropped Pant – £8
I got these pants for work, they are lovely and stretchy, and come in a few different colours if grey isn't your thing. Low cut at the top and cropped at the ankles, they look cute with ballet pumps or heels, and perfect with my worky tops.
Snakeskin Print Sandals – £6
I am a lover of a good animal print, and I think they can compliment outfits really well. I just wanted some comfy flat sandals for walking round the theme parks in on holiday, and I thought these would be perfect with cut off denim and a vest.
Black Denim Shorts – £5
I do find it quite difficult to find a good pair of shorts with the perfect fit, and Primark is never usually my go to for this as their sizing can sometimes be way off. However, these fit perfectly, super comfy and easy to wear, plus I don't have any black shorts, so ive fixed that problem!
P.S. Love Hand Gel – 60p
I always go on about this because I love it so much and its such a bargain! I always have a bottle on my desk at work, in my drawer at home and in my handbag. It smells amazing, and makes your hands clean, what more do you want?!
Black Skinny Leg Joggers – £8
I have been after a pair of these for absolutely ages now. Jonathan got some from the mens section and I was considering getting some of those because I couldn't find any anywhere! However, Primark have now solved my problems and brought out the ladies version (in a nice fit). These are great for lounging around in, and I would probably nip into town in them too. They are drop-crotch style, and look great with a fitted vest, but I also found this allows me to style them as high waisted, and they look cute with a calvin klein crop too.
High Neck Striped Sleeveless Crop – £4
This is just a cute basic crop I came across that is ideal for Florida. Easy to style with denim for day or evening. Simples!
And finally, Pointed boots – £10
Again this was a purchase for work, but I will get my wear of these ouside of work too. They go well with the grey cropped pants, but I will probably team these with skinny jeans and tees. Loving the pointed toe and the chunky heel, and at £10 I couldn't resist.
Have you found any awesome bargains recently?
LL x