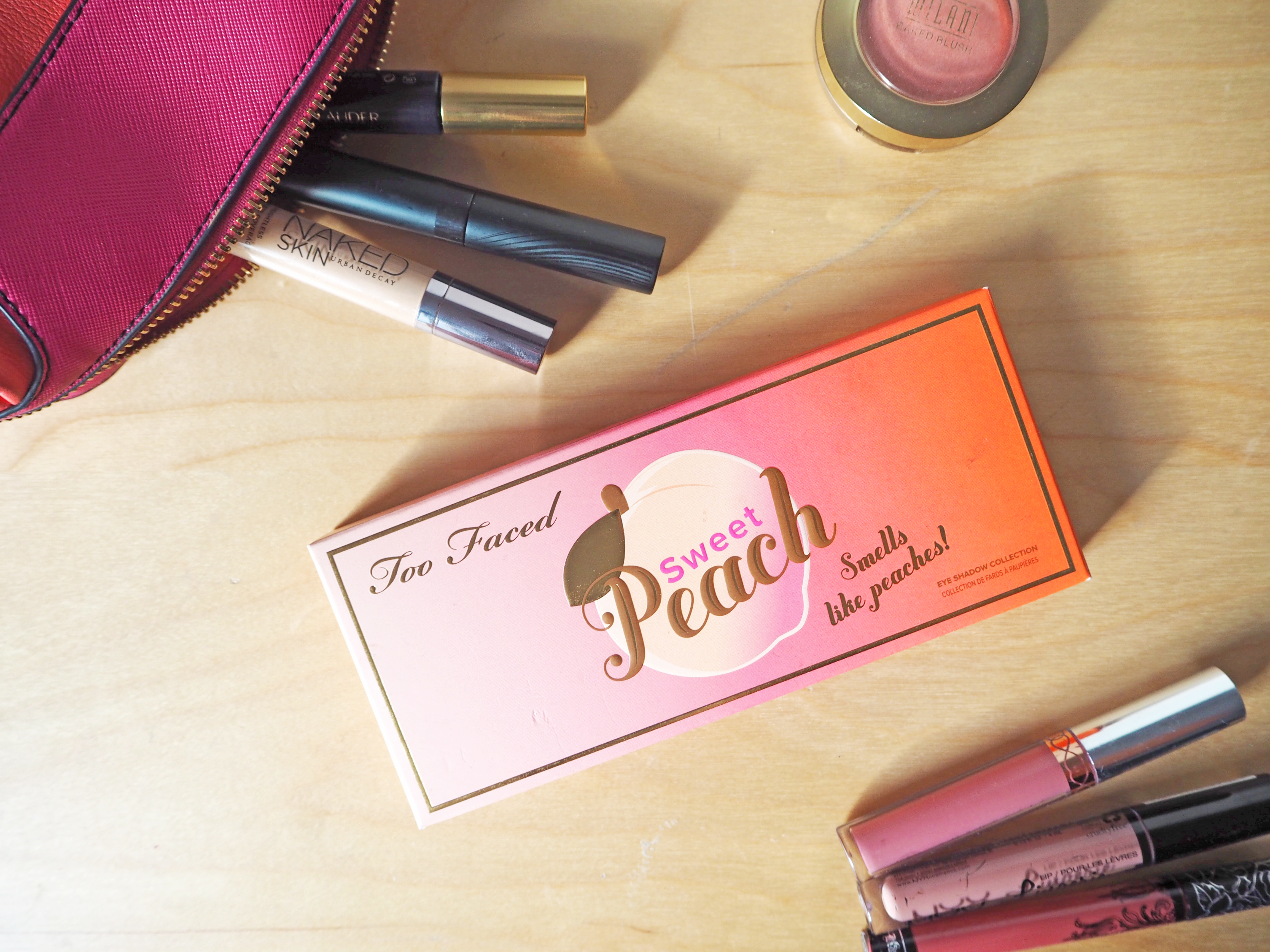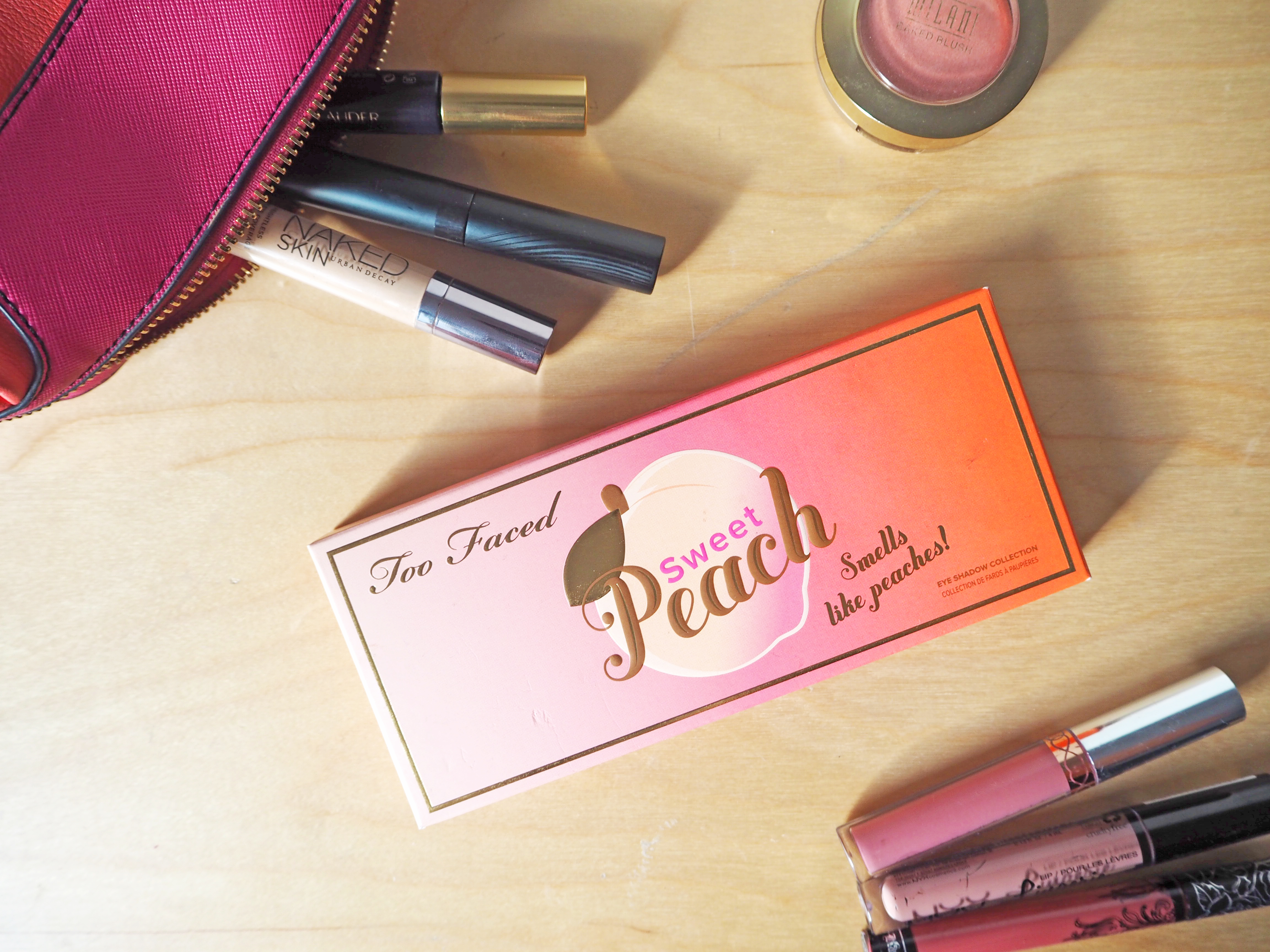 If you are a makeup obsessive like myself, you will have no doubt been hearing about the Too Faced 'Sweet Peaches' palette for months. It is definitely one of, if not the most highly anticipated eyeshadow palettes of the year, and sold out everywhere as soon as it was released.
The palette contains 18 shades of peachy pinks, corals, bronzes, and pops of purples that are all infused with the juicy scent and antioxidant-rich essence of peach. I was in love as soon as I set eyes on it!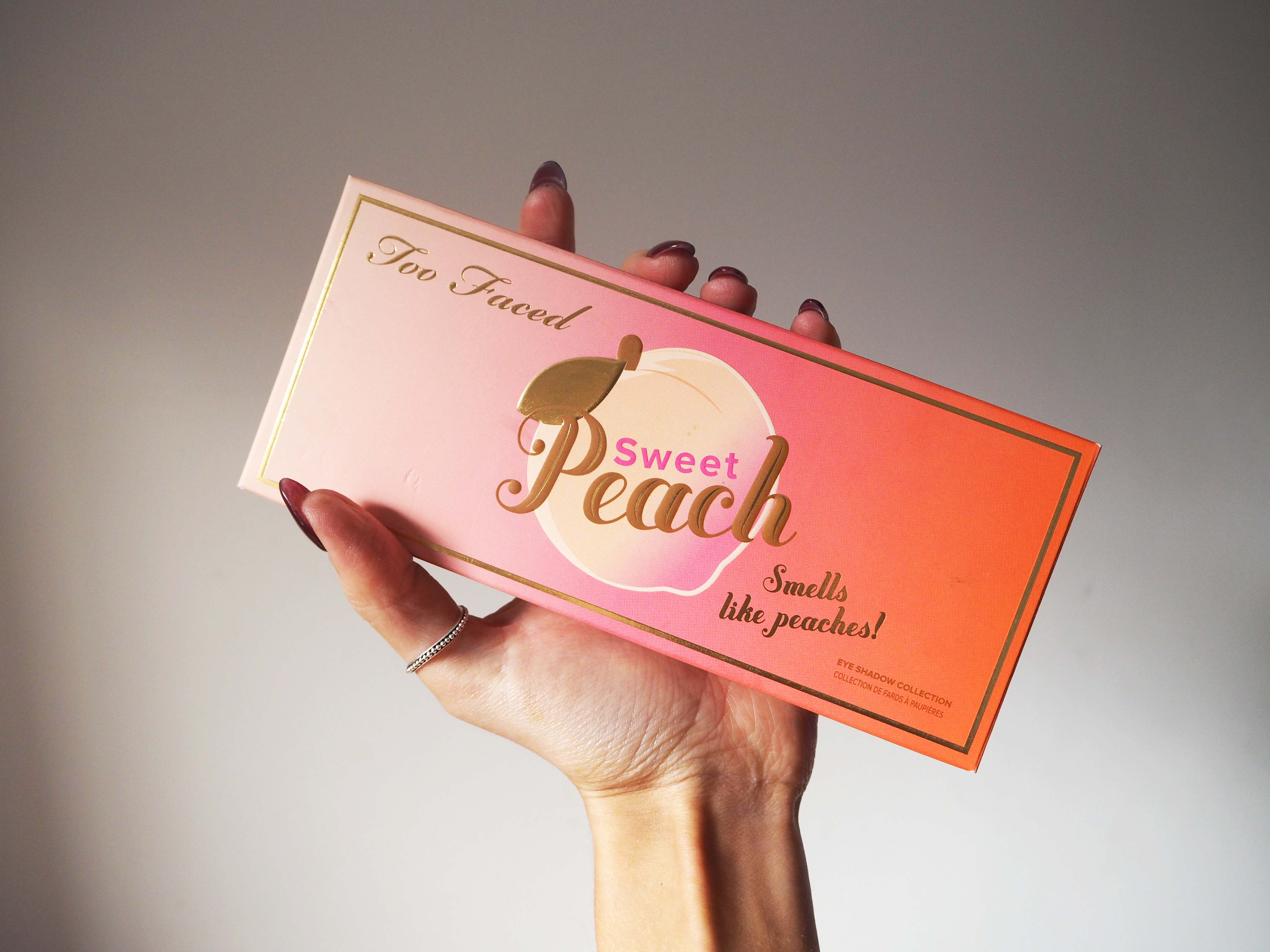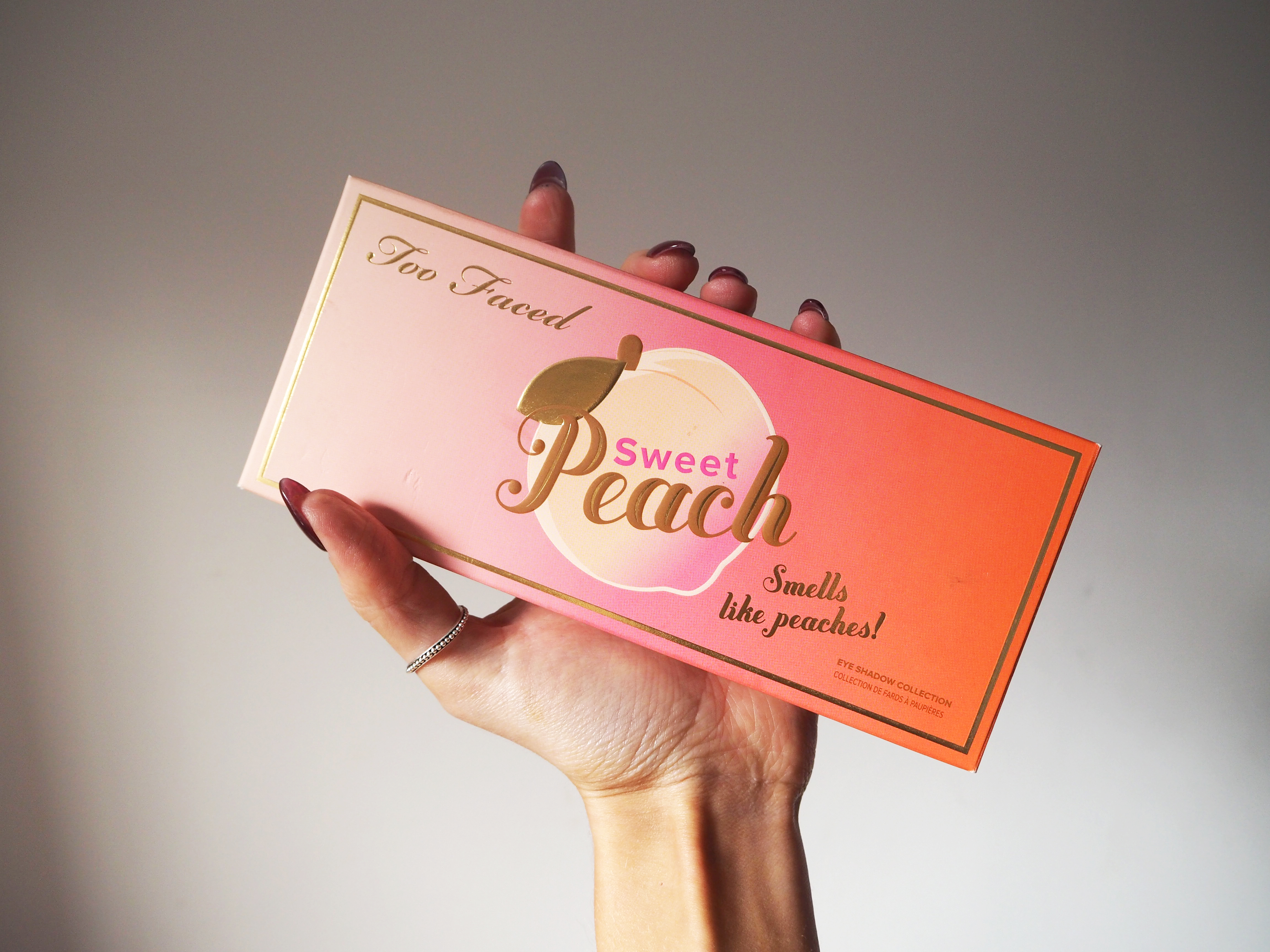 Quite often some of the most highly anticipated beauty products aren't released over here in the UK, or are at least only available a few months after release date (unless you want to remortgage your house and buy them on eBay). So when I saw online that the palette was actually available in Debenhams and still in stock online, I raced there on my lunch break to pick it up. To my excitement, I managed to snap up the last available palette, and was told by the assistant that they sold out immediately when the palettes first hit the shelves, and were sent a couple more that week which would be the last stock they would receive. It was obviously meant to be mine.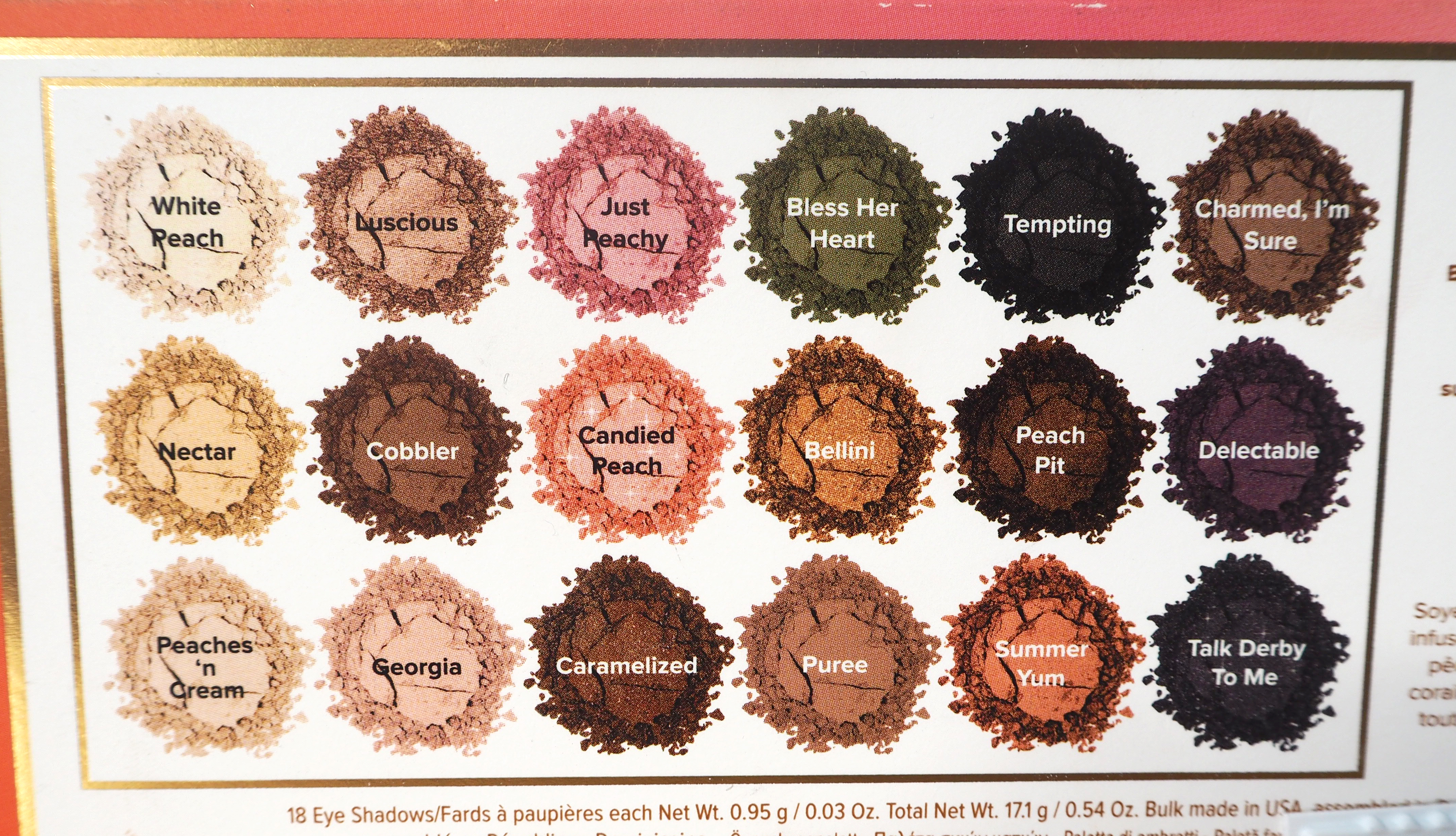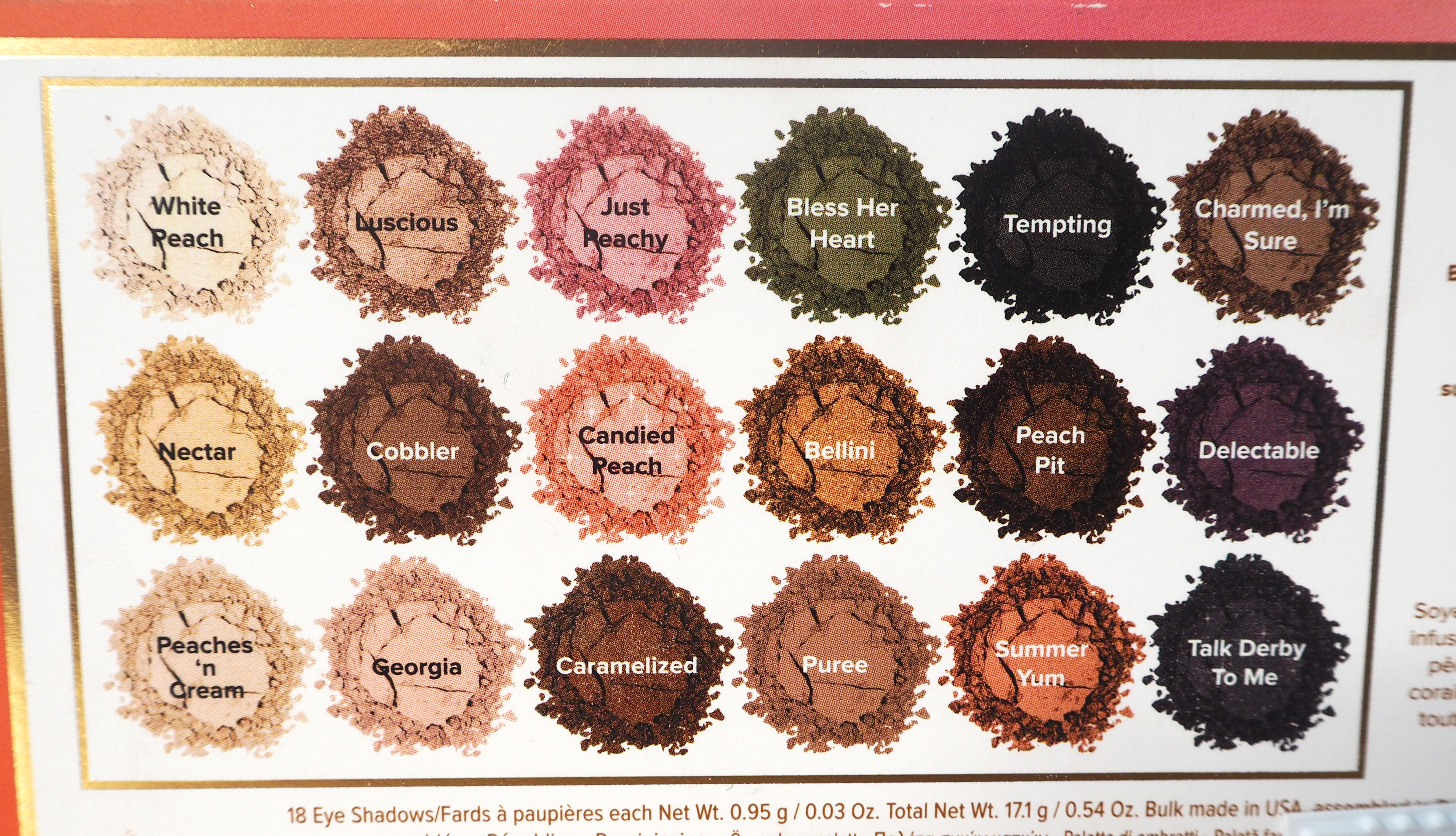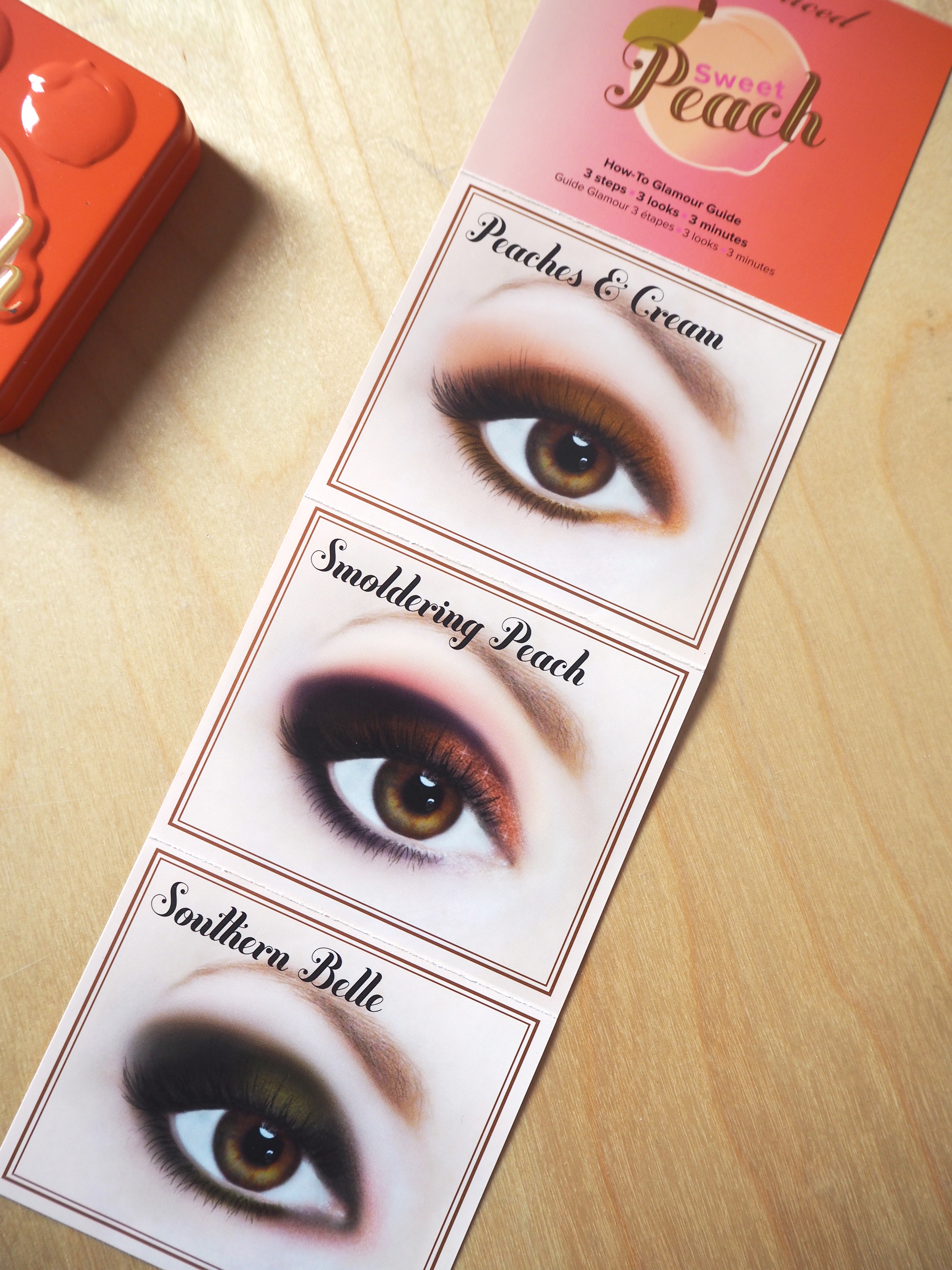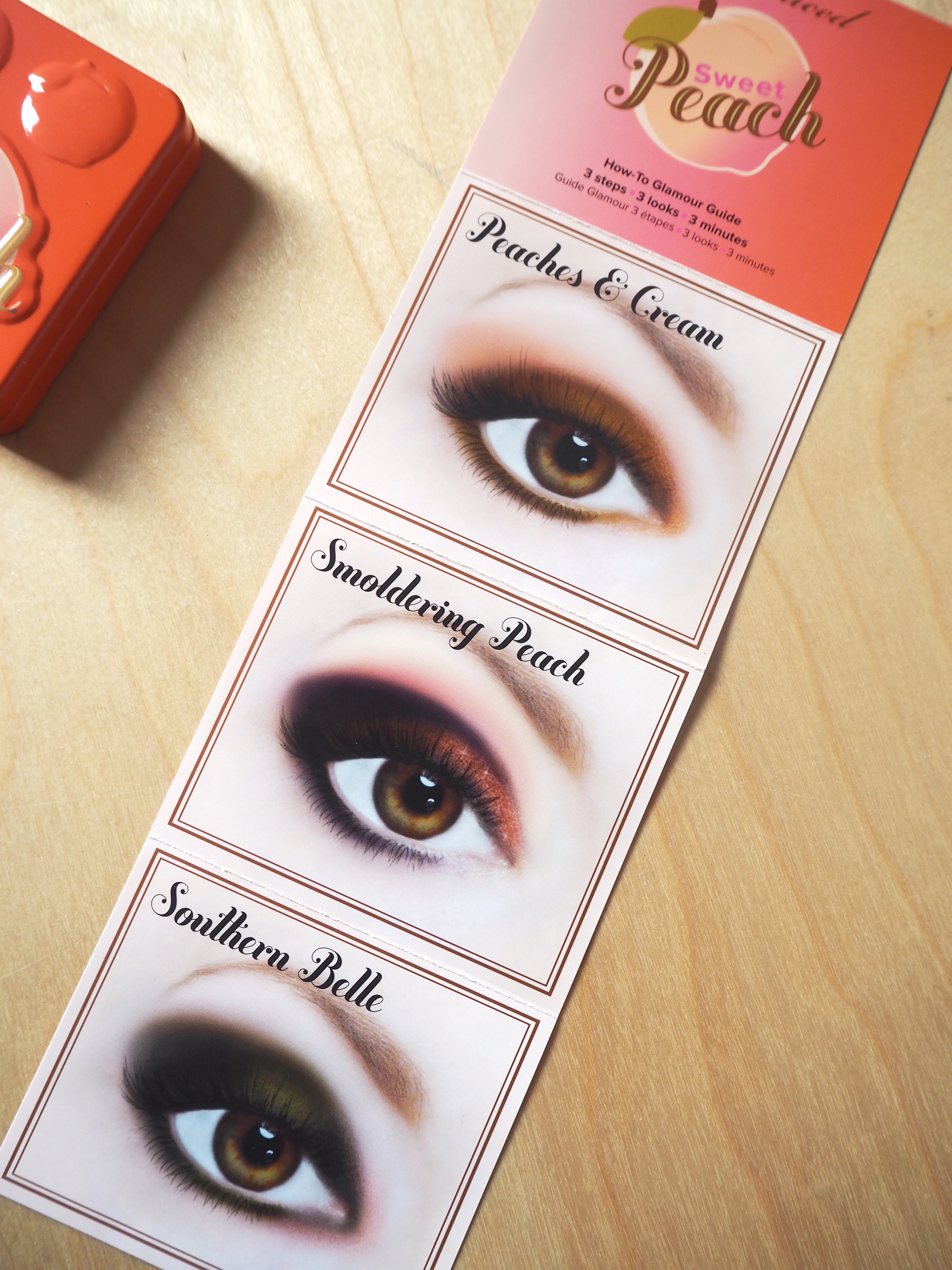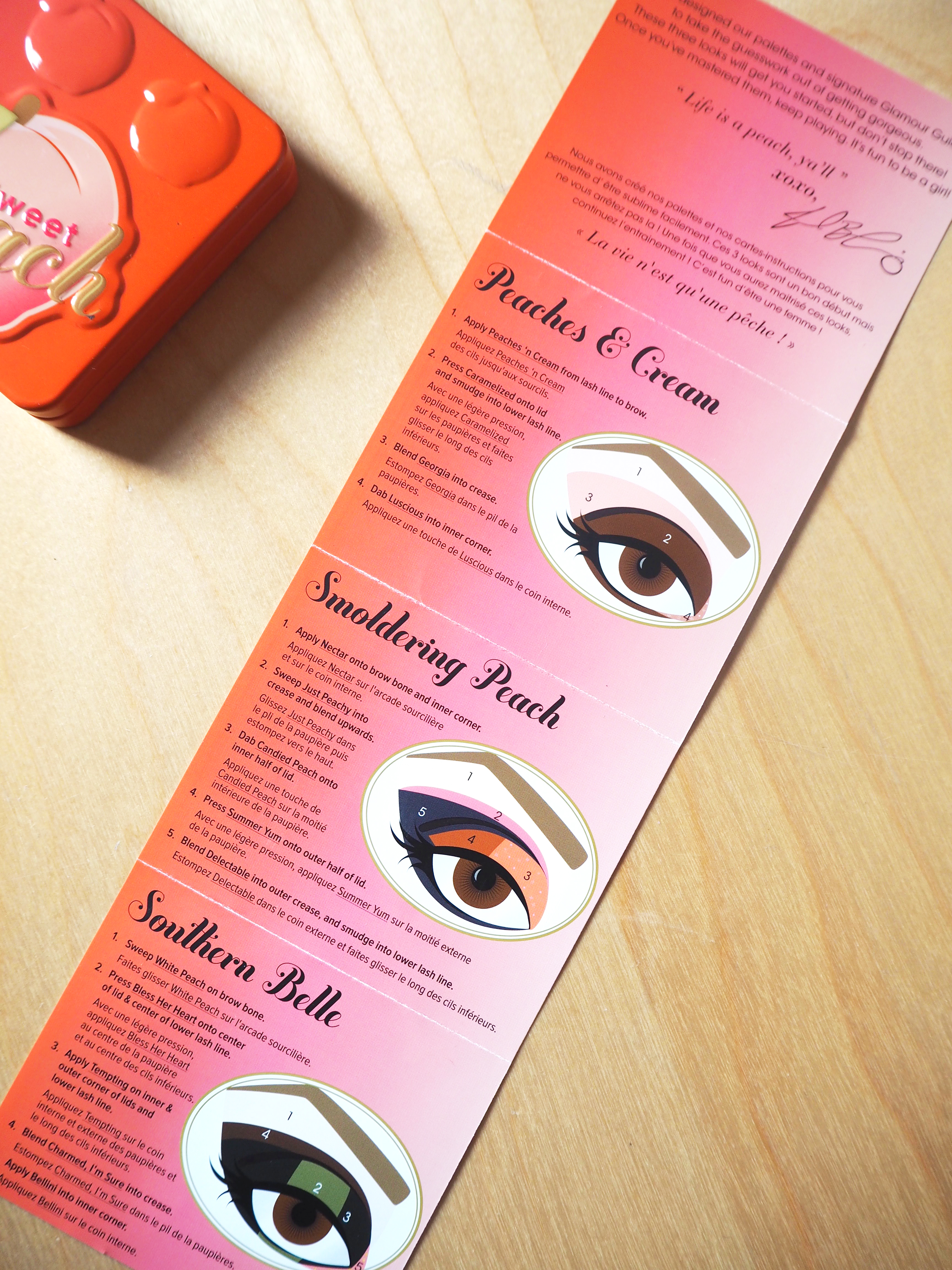 First impressions of the product did not fail to impress. The summery ombré cardboard outer box displays the 18 shades on the reverse, and inside holds the palette itself, with the addition of a cute little Glamour Guide displaying three eyeshadow looks to create. If you aren't super confident in creating your own eyeshadow looks with palettes, this is a really handy extra to get you started.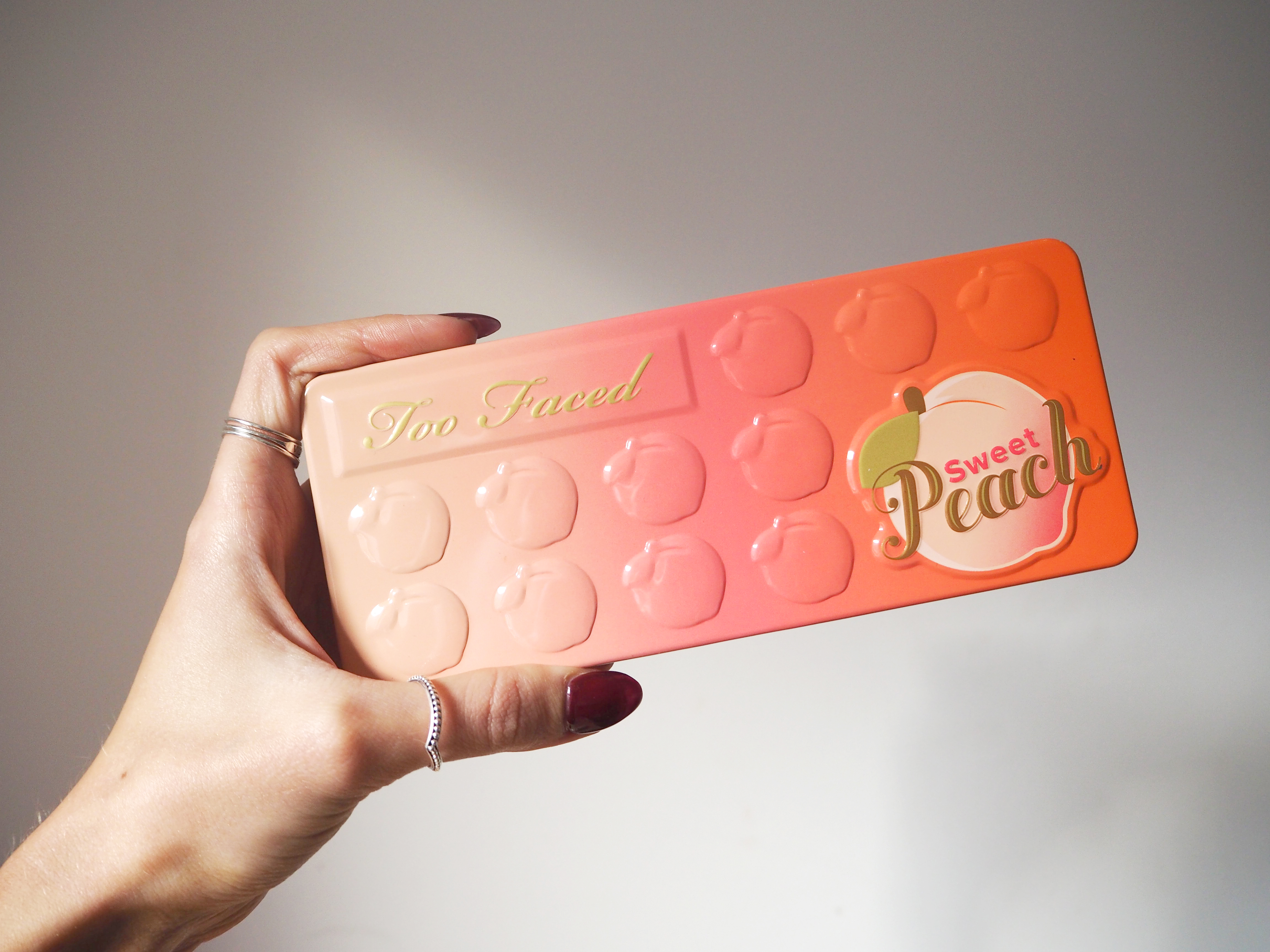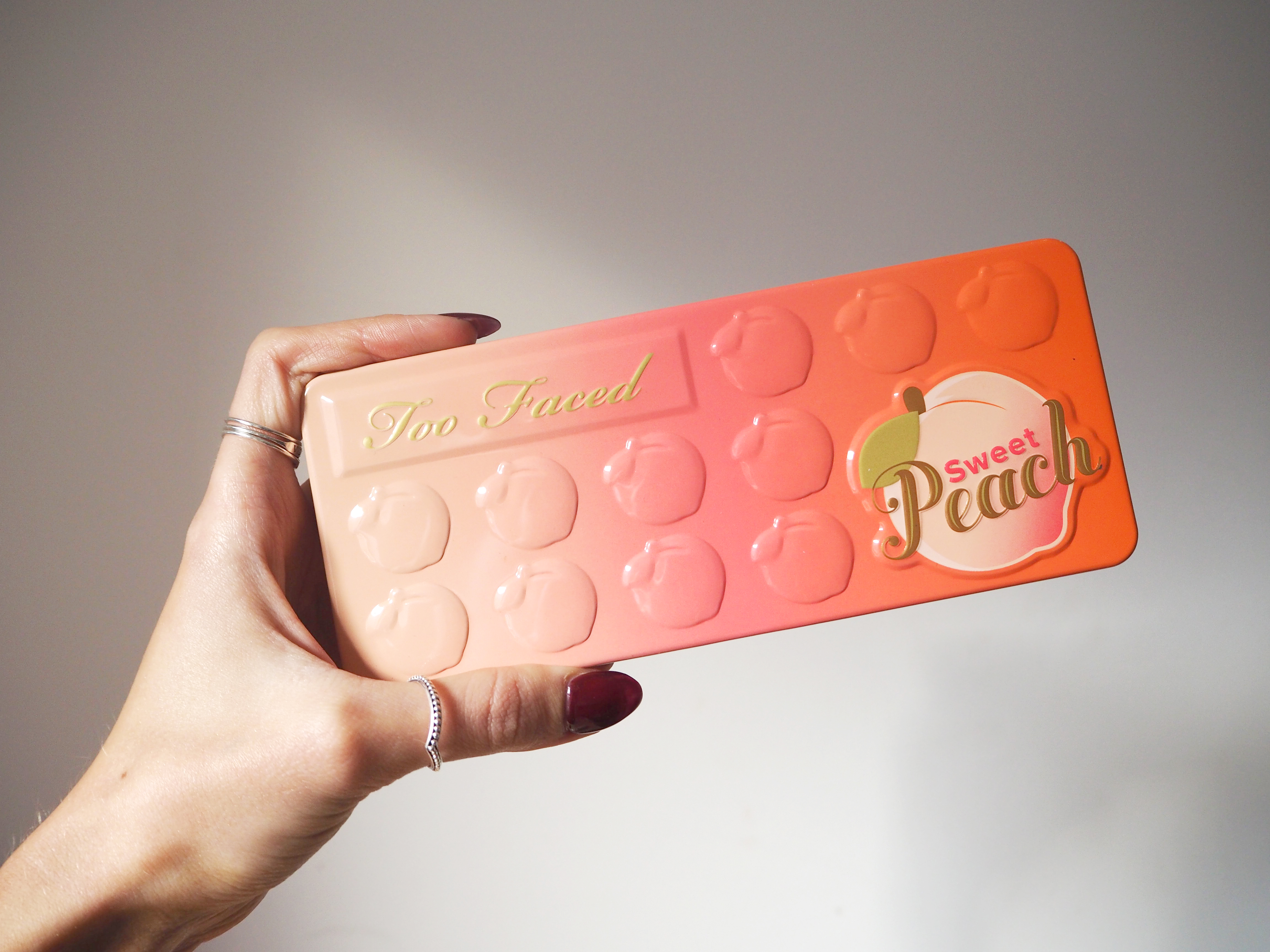 The packaging of the palette itself is the same style as the Too Faced Chocolate bar palettes – a metal tin with magnetic closure and a mirror in the lid. I must admit I do like the tin palettes as sometimes cardboard ones can feel a little cheap and flimsy. I also feel like the tin is more protective of the shadows if you are transporting your makeup or you are taking the palette travelling with you.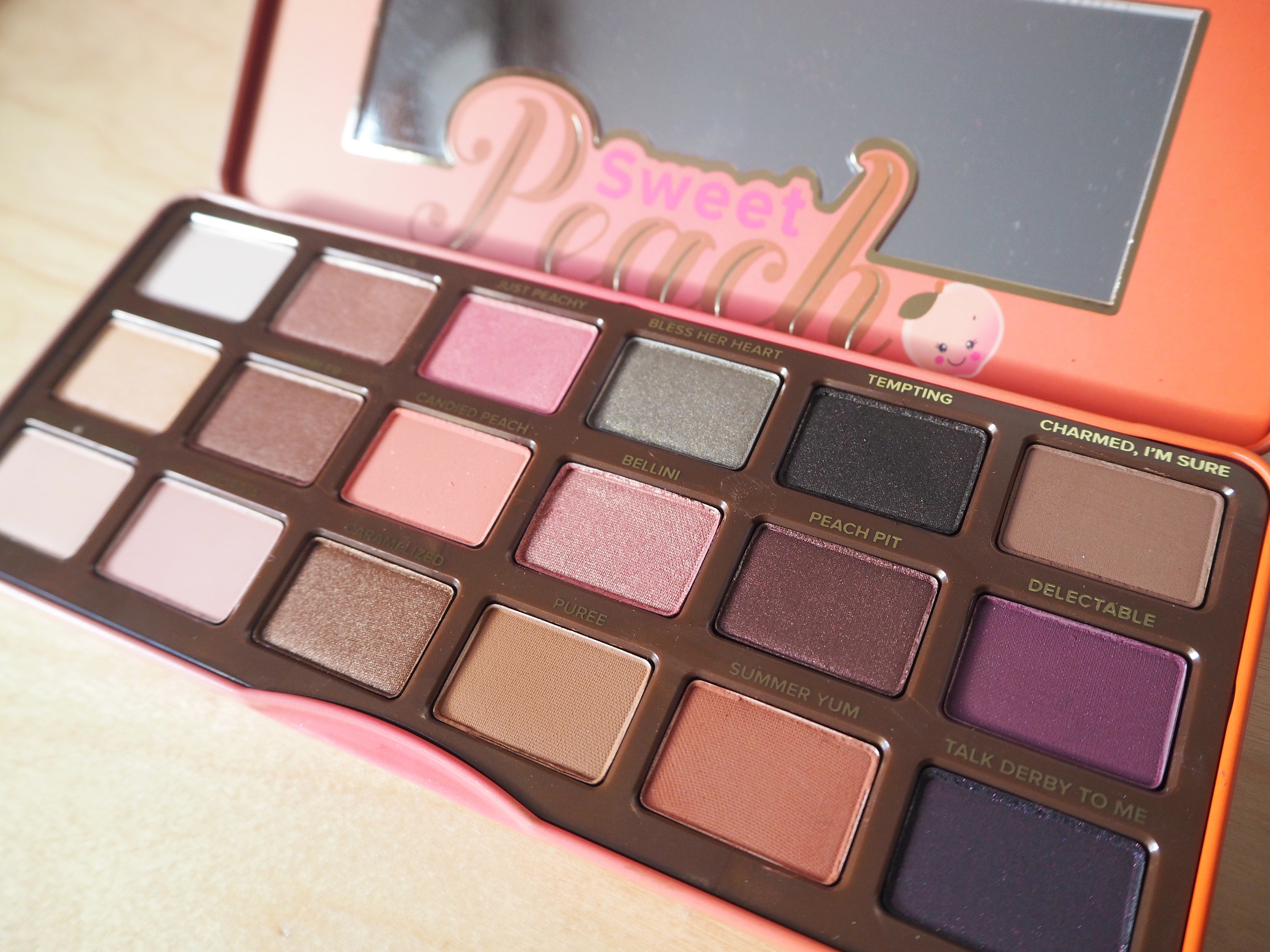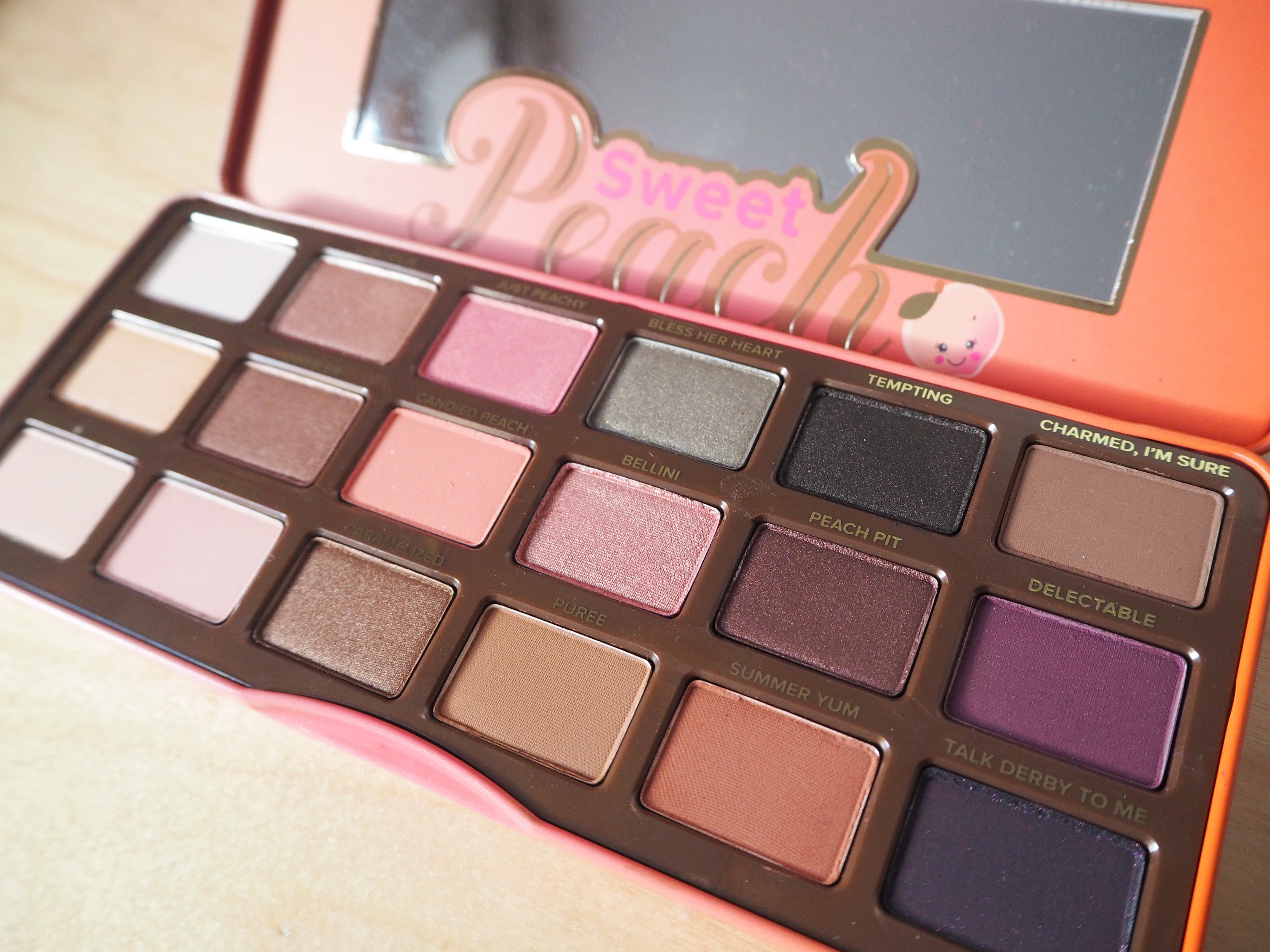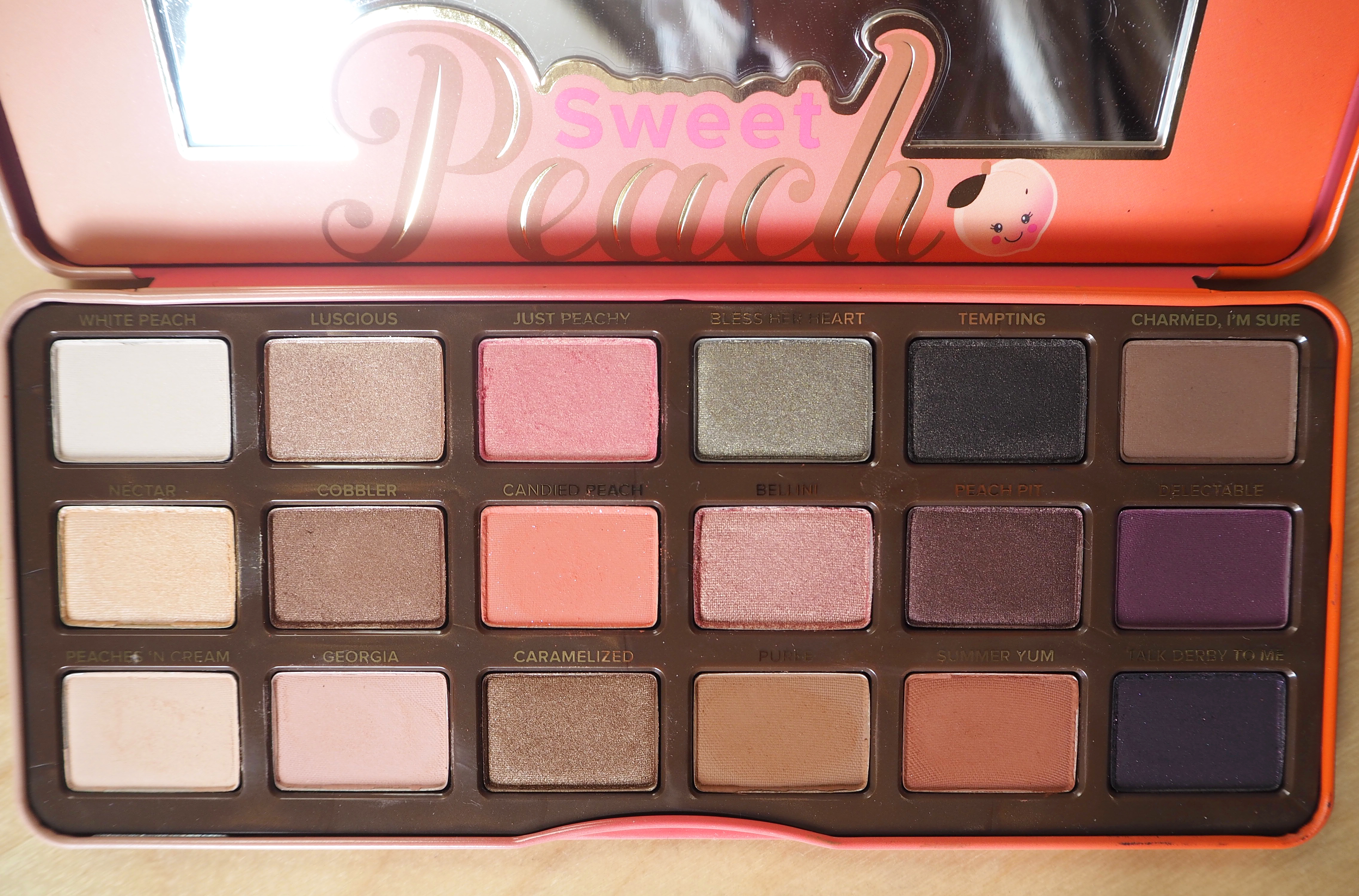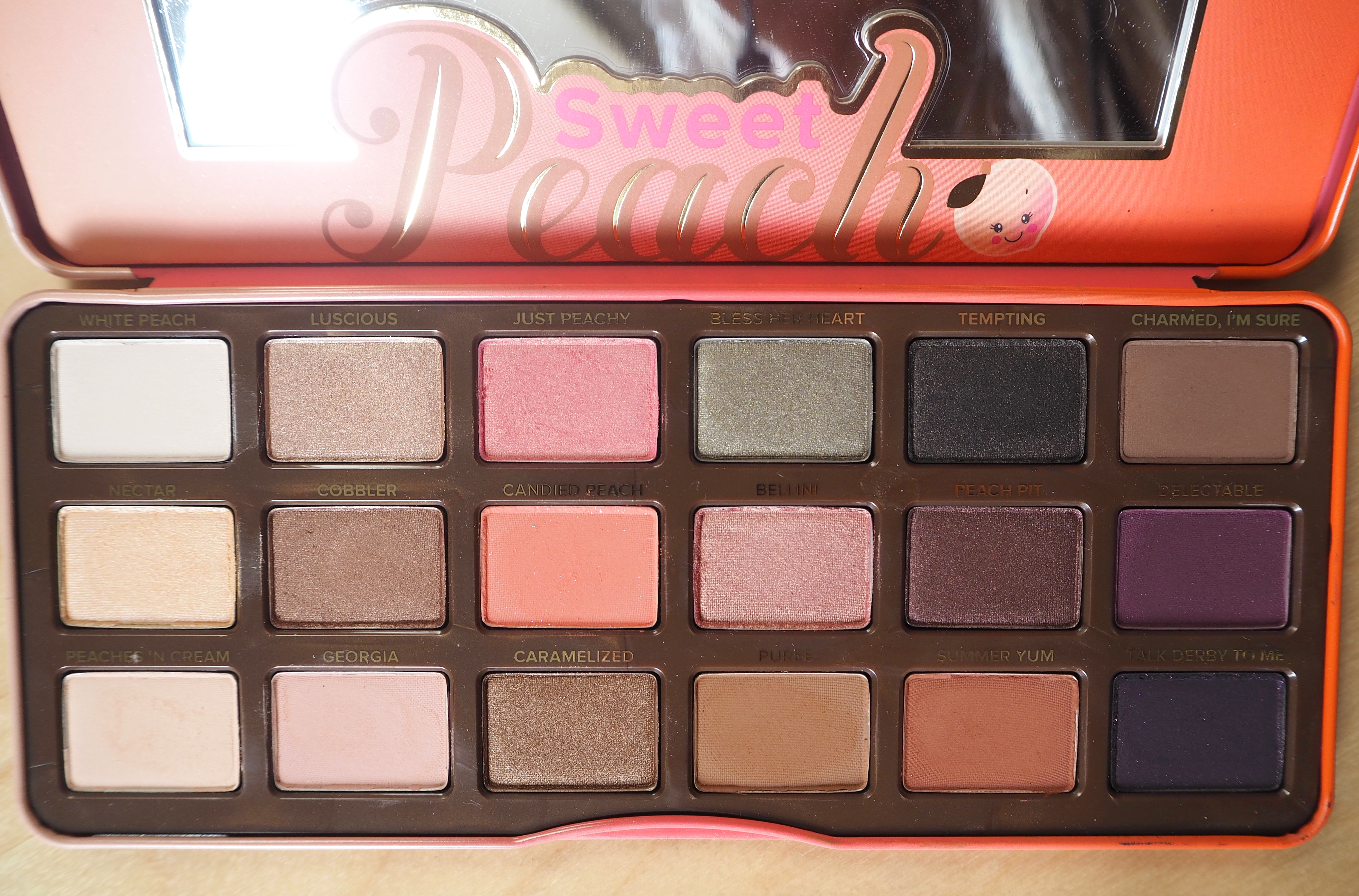 When you open this palette the gorgeous scent gets you straight away; a super sweet and delicious peach fragrance that reminds me of holidays and summer. I would rub this scent all over me if I could! However, if you are not a fan of really sweet, peach scented things then this may discourage you from purchasing this as it is quite an intense scent.
Now onto the shades. First off I just want to mention that I love that the names of the shadows all have a quirky connection to peaches in some way – it just made me smile when I opened it up.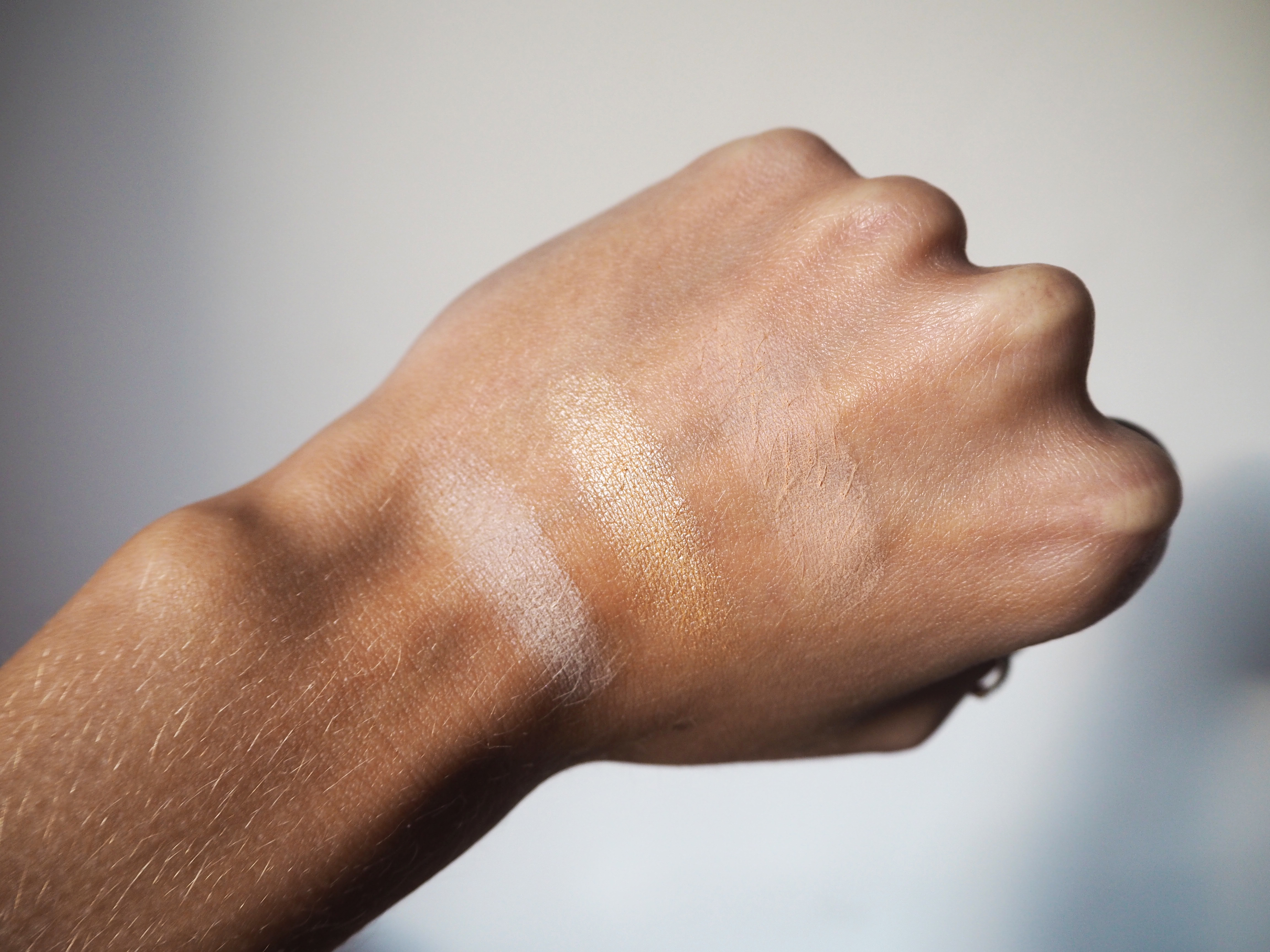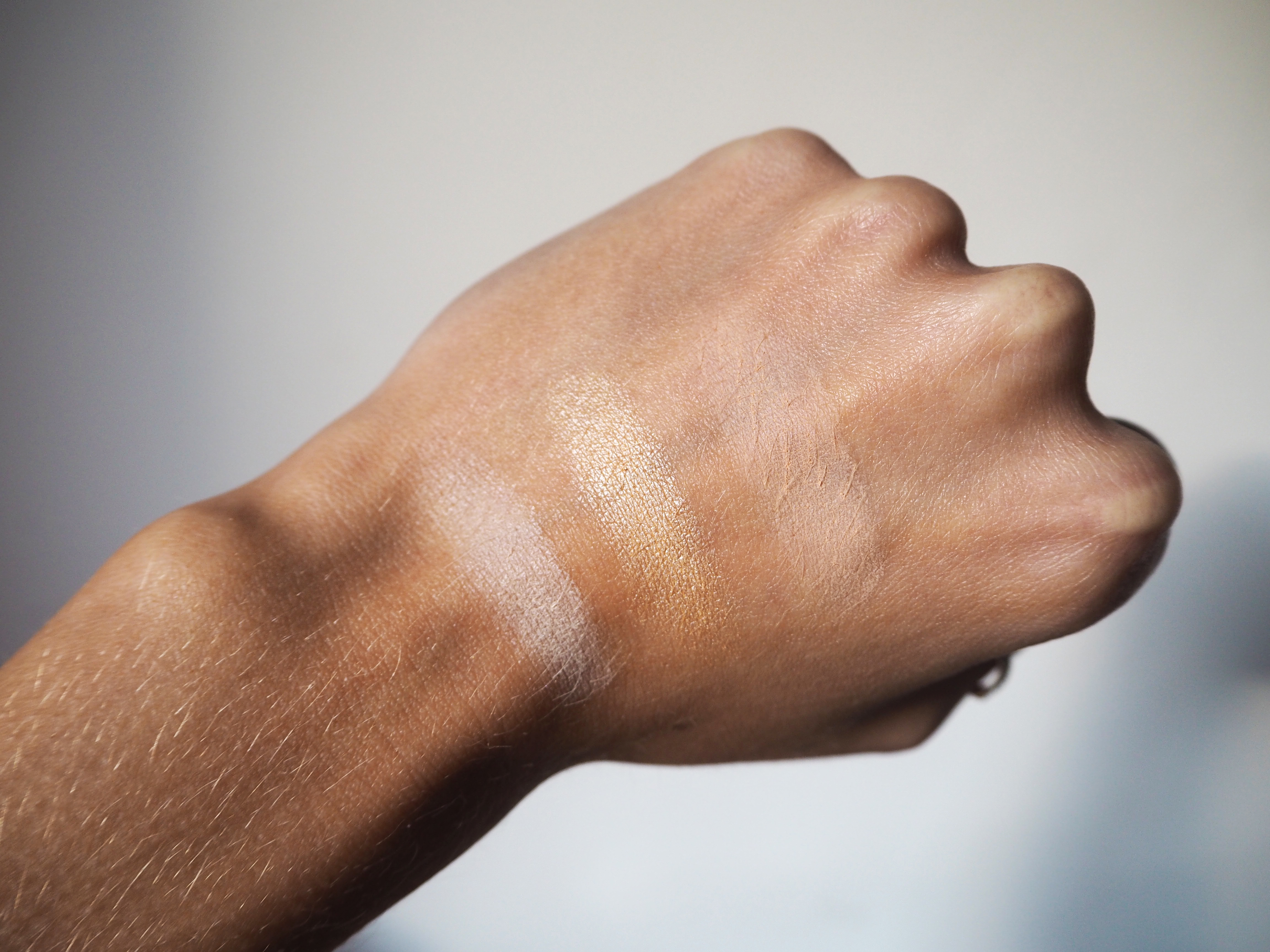 L-R
White Peach – pale cream sheen – great base colour
Nectar – champagne shimmer – perfect inner corner highlight
Peaches 'N Cream – pale matte peach – another great base or transition shade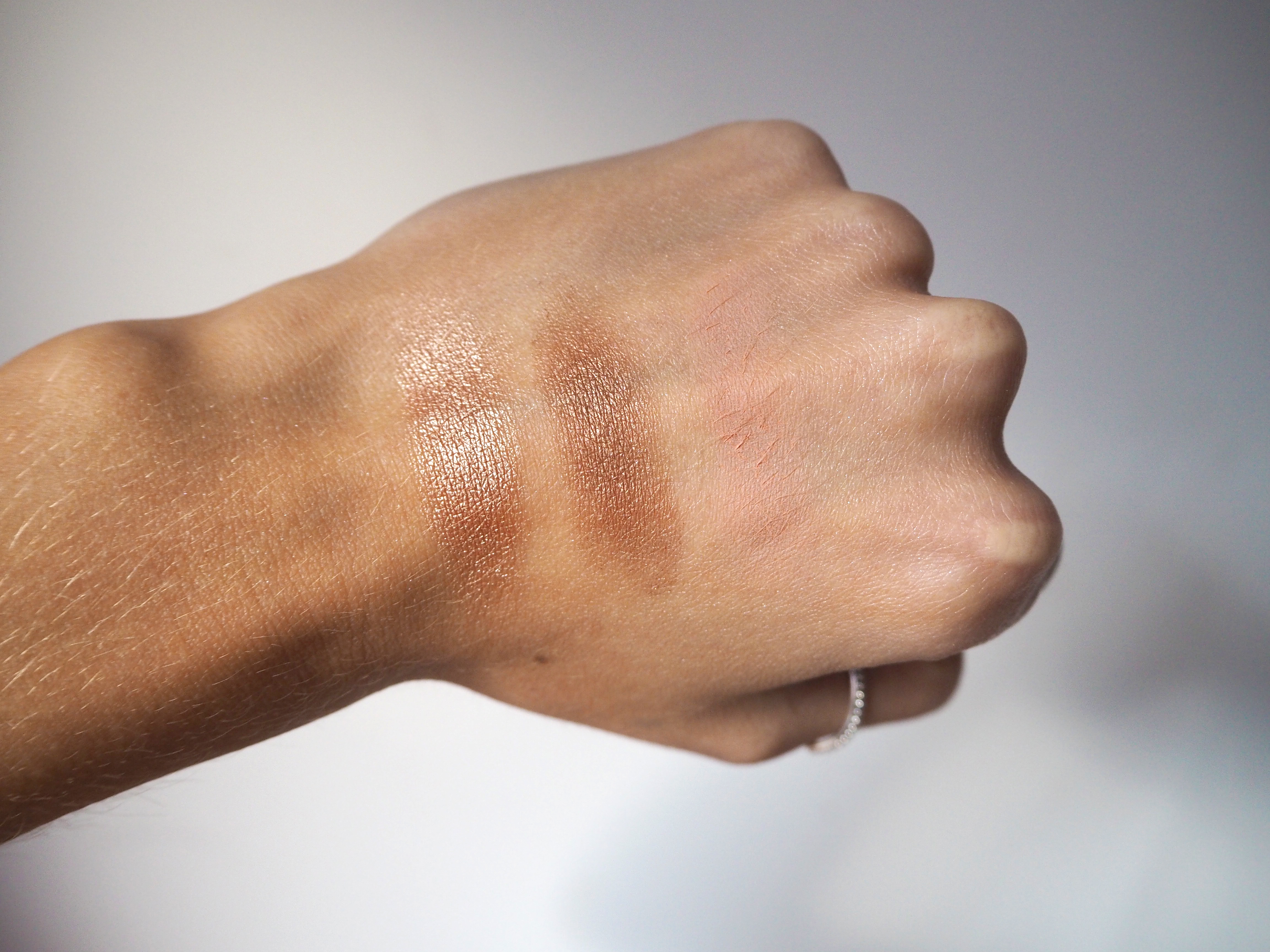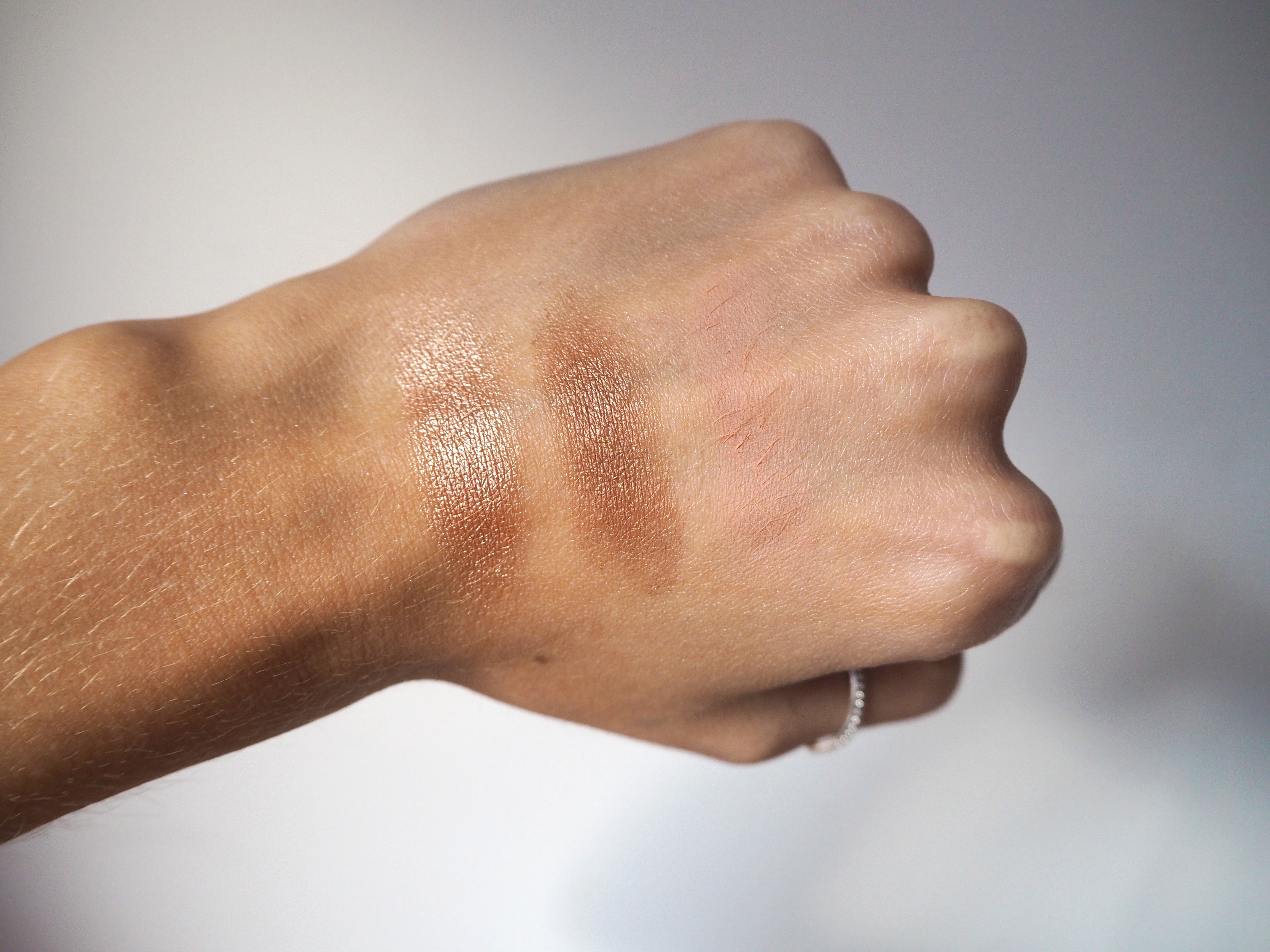 L-R
Luscious – warm peach shimmer – perfect summer bronze
Cobbler – deep peach bronze glow
Georgia – neautral matte peach-pink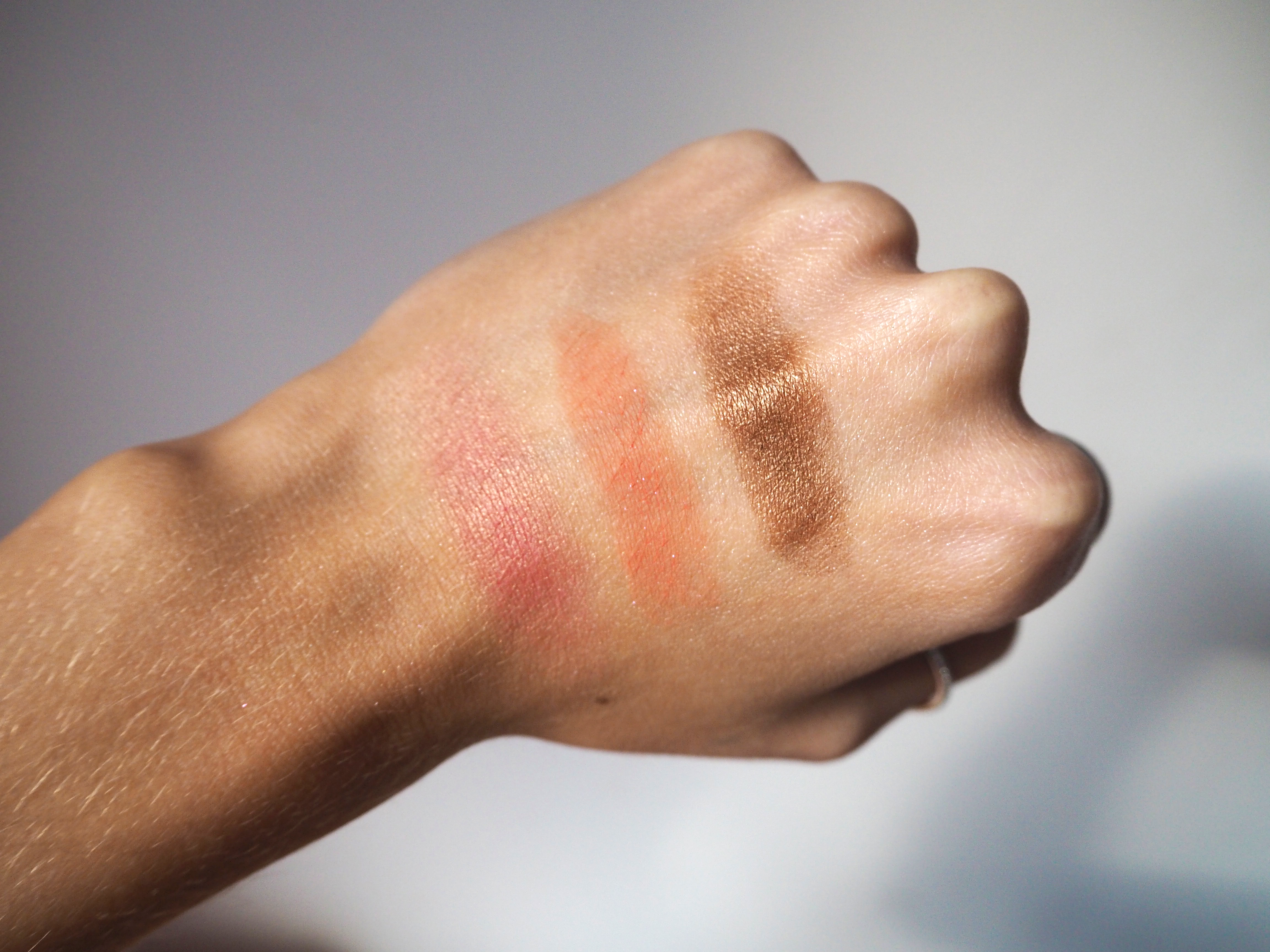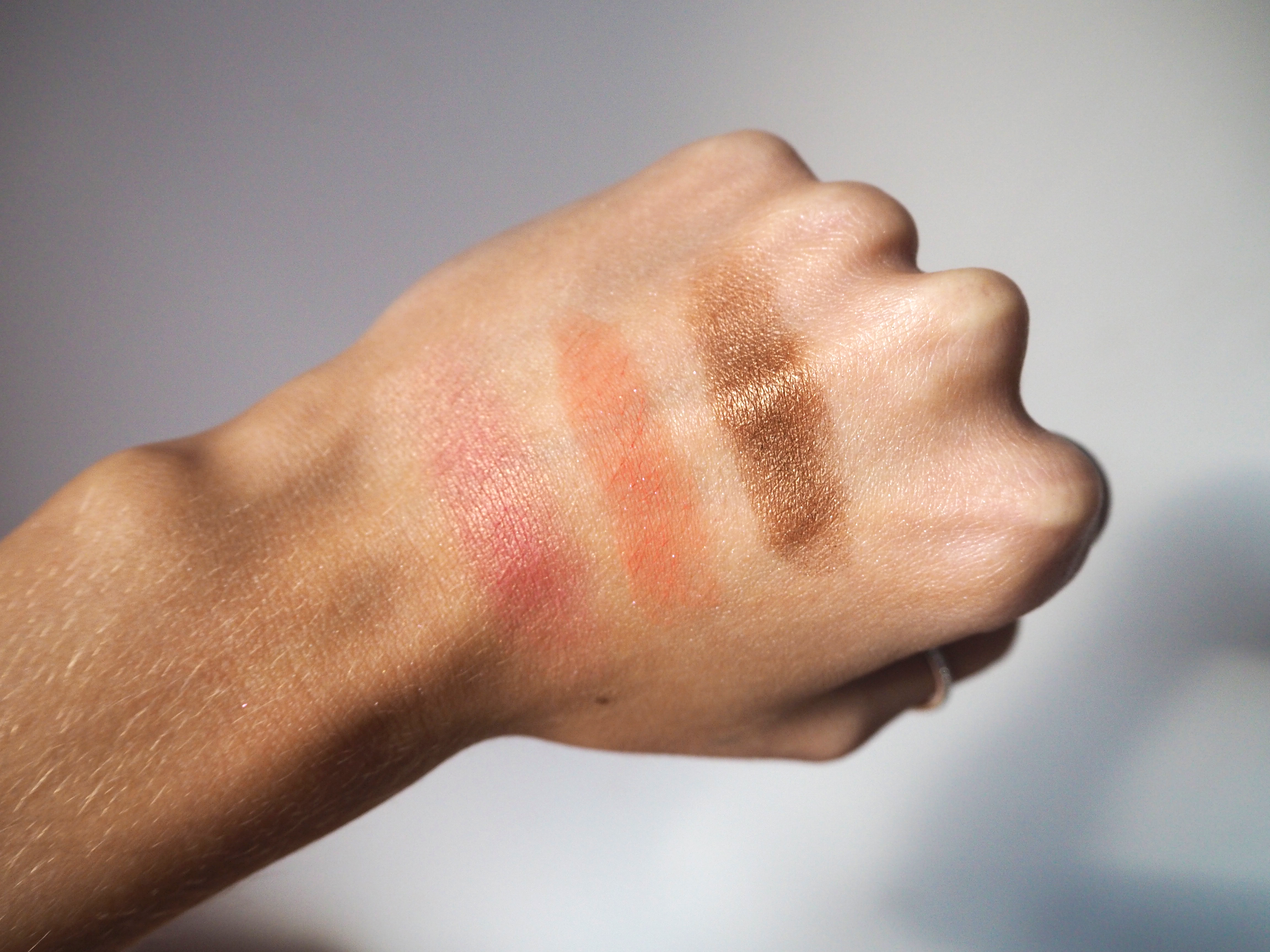 L-R
Just Peachy – pink with gold shimmer – amazing shimmer colour
Candied Peach – coral peach with pink glitter
Caramelized – warm deep golden-brown bronze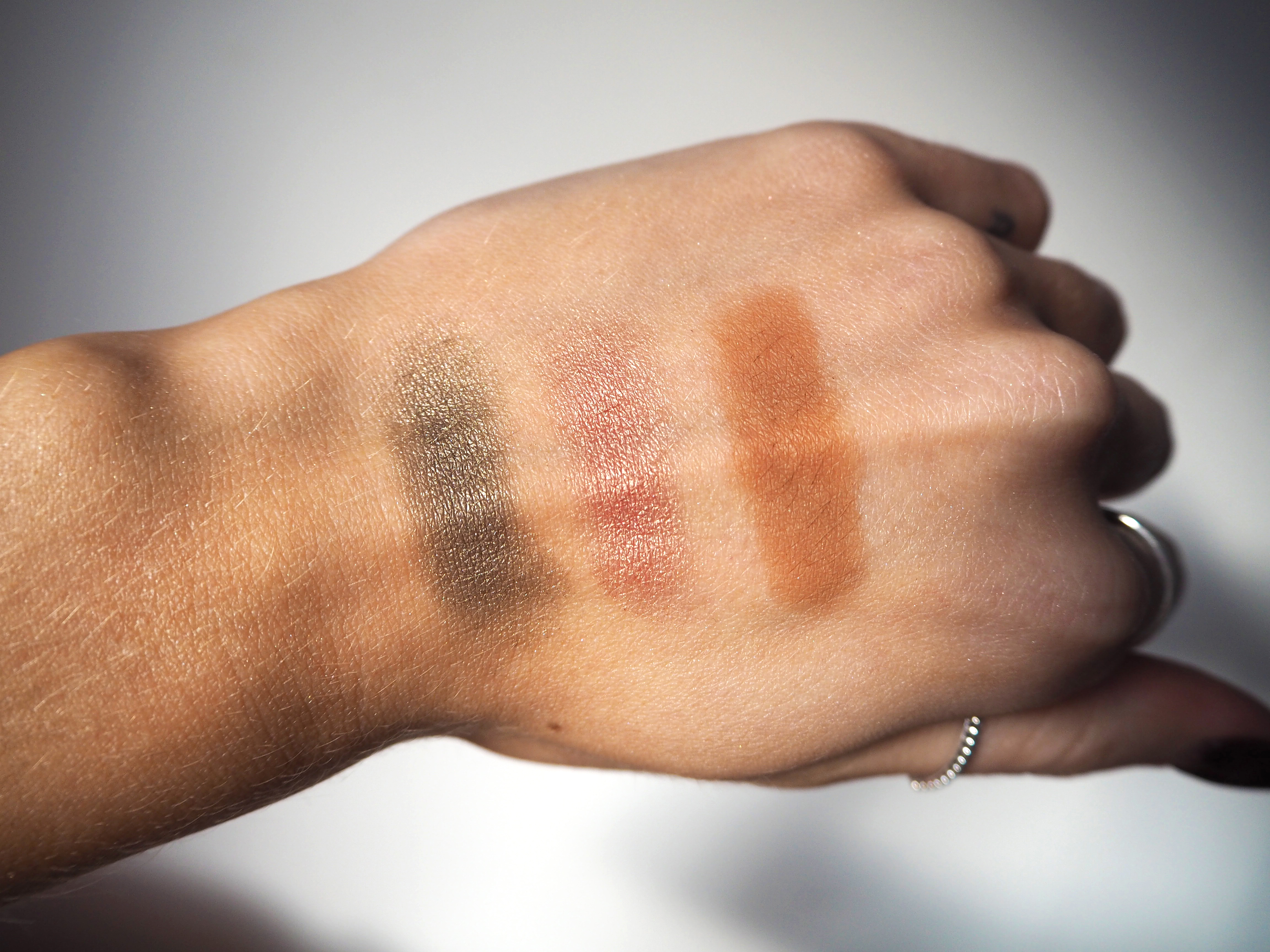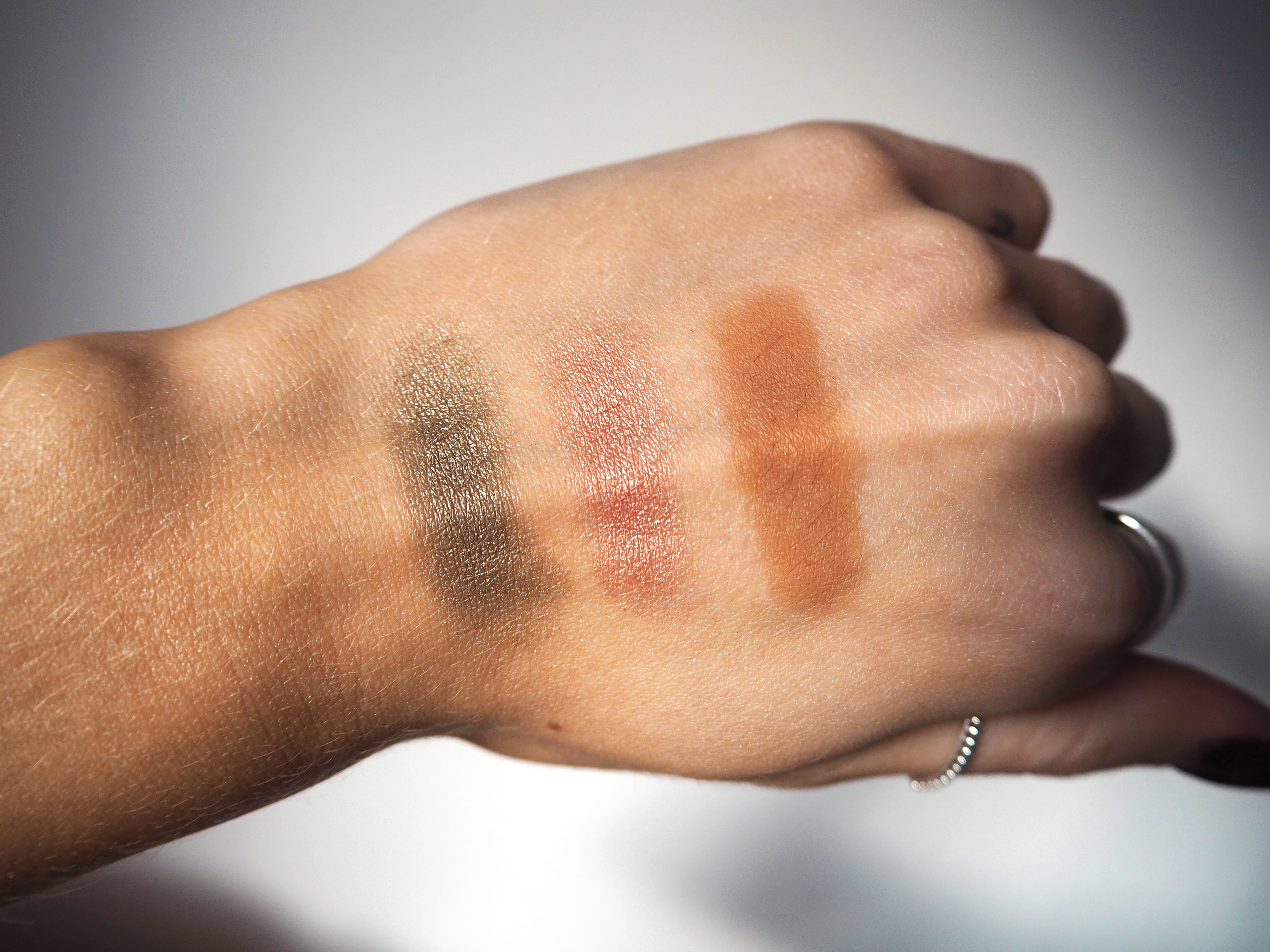 L-R
Bless Her Heart – deep golden green – unusual but gorgeous
Bellini – rose gold shimmer
Puree – matte orange-brown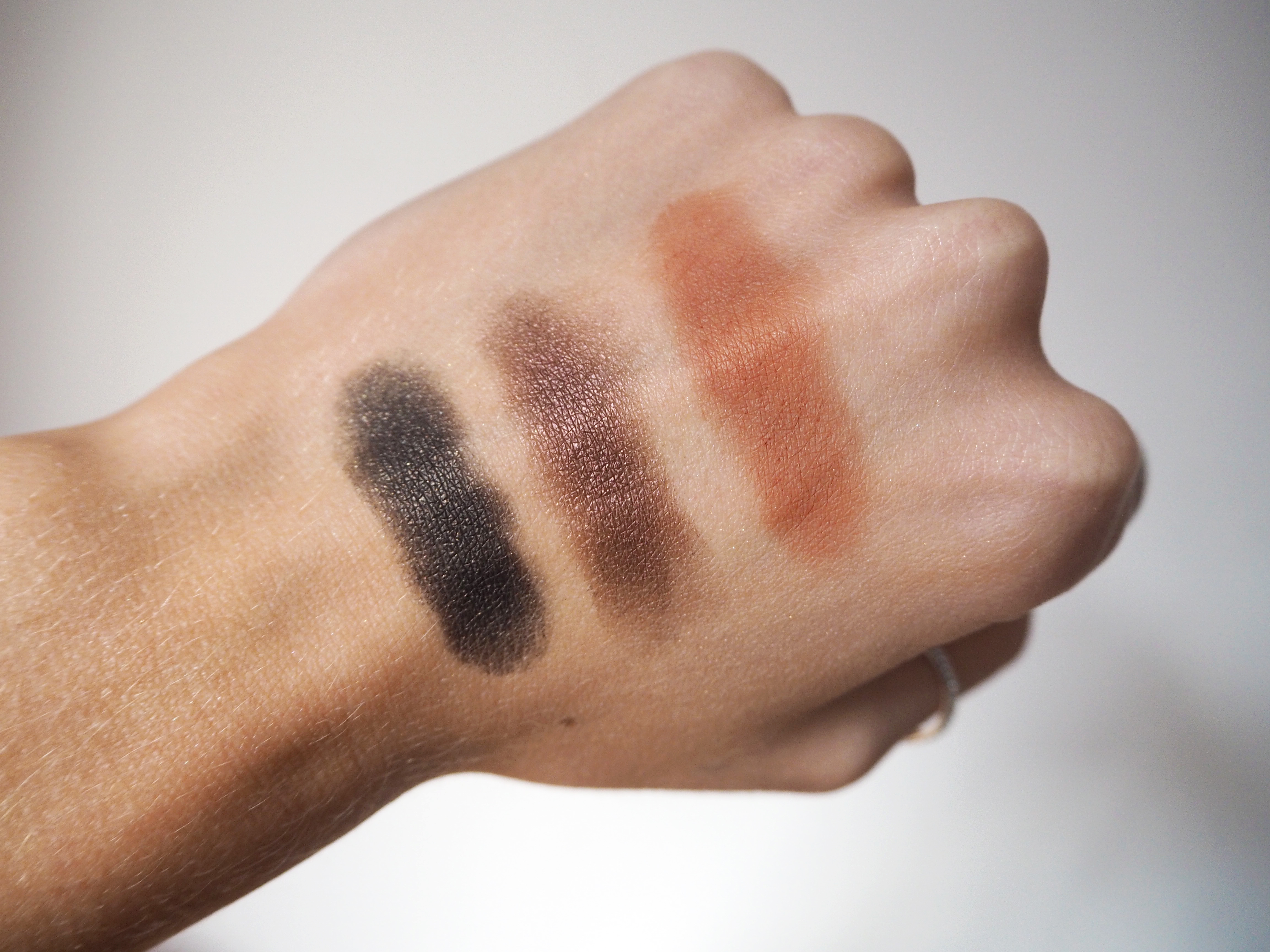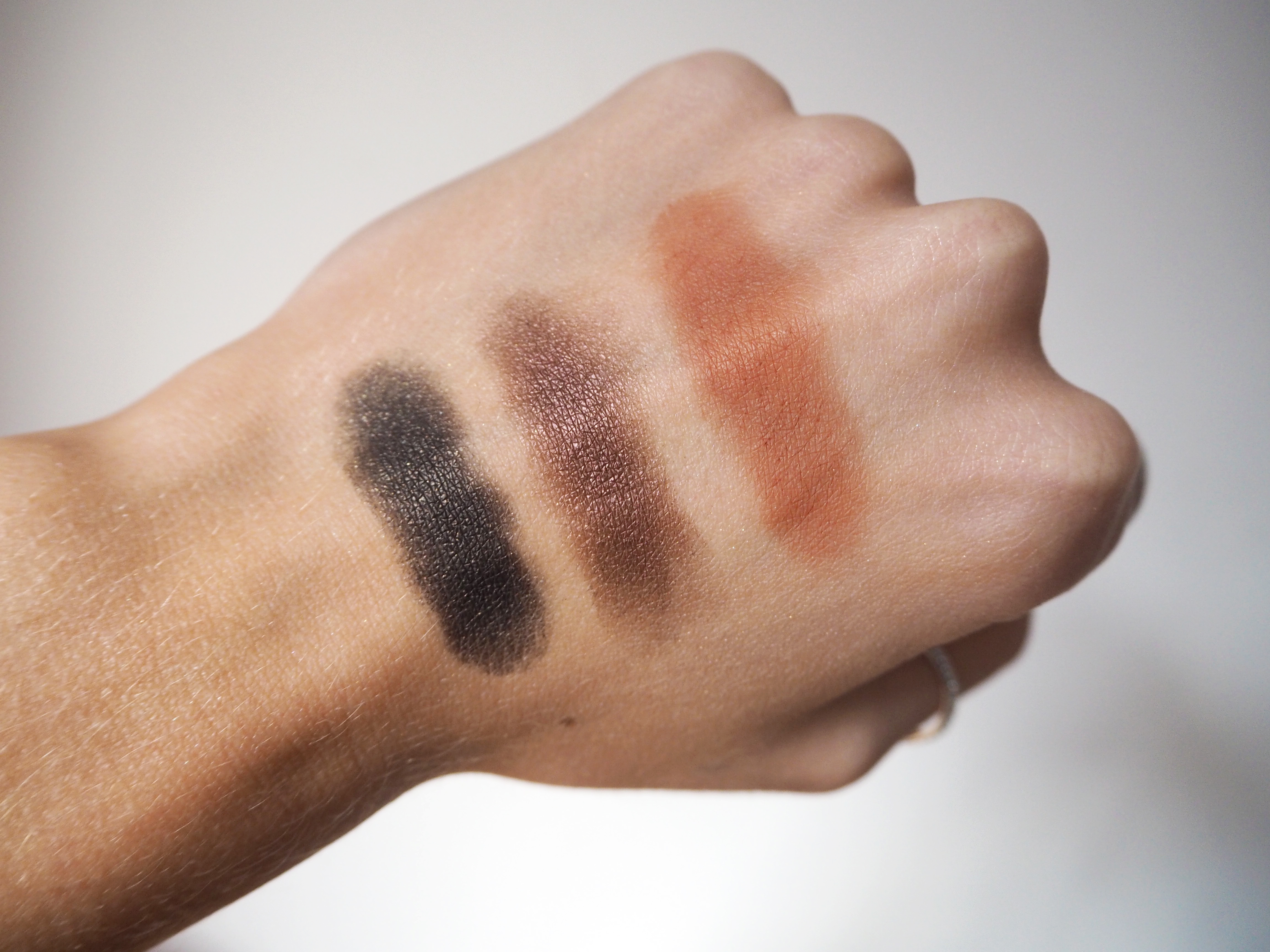 L-R
Tempting – black bronze shimmer – super pigmented black with gorgeous glow
Peach Pit – warm deep orange-brown shimmer
Summer Yum – matte peachy terracotta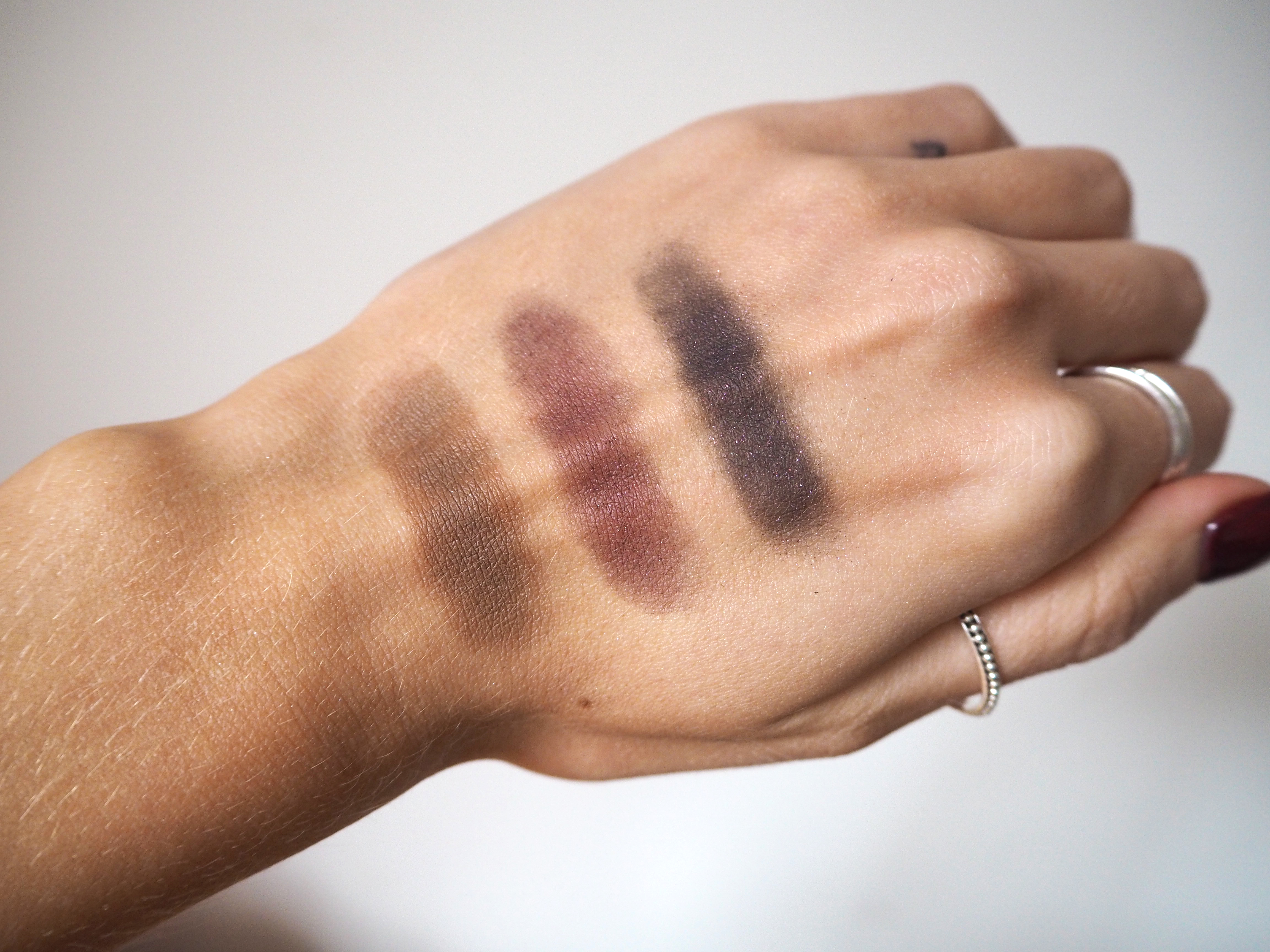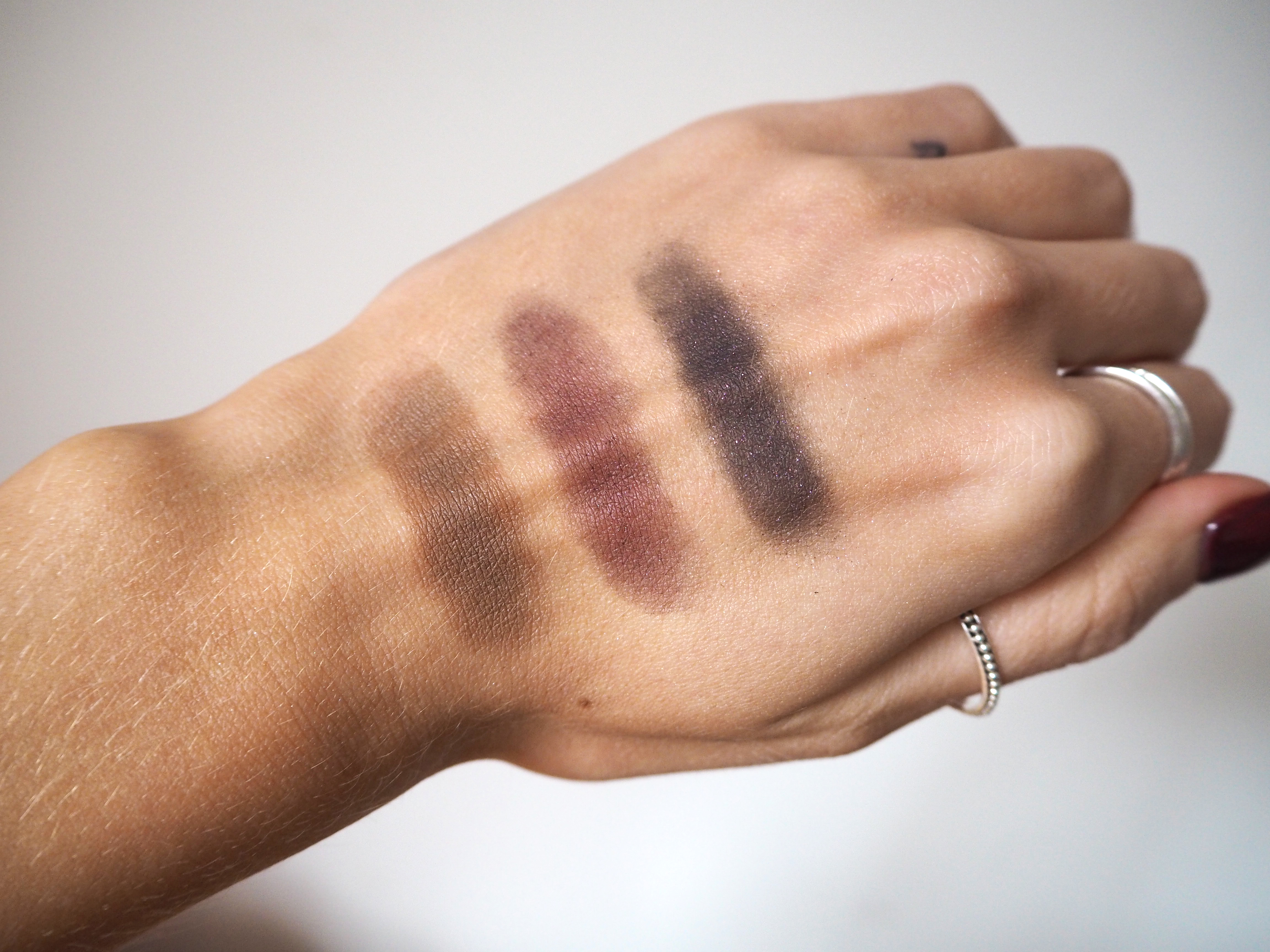 L-R
Charmed, I'm Sure – cool peachy-brown sheen
Delectable – purple shimmer
Talk Derby to Me – Charcoal purple glitter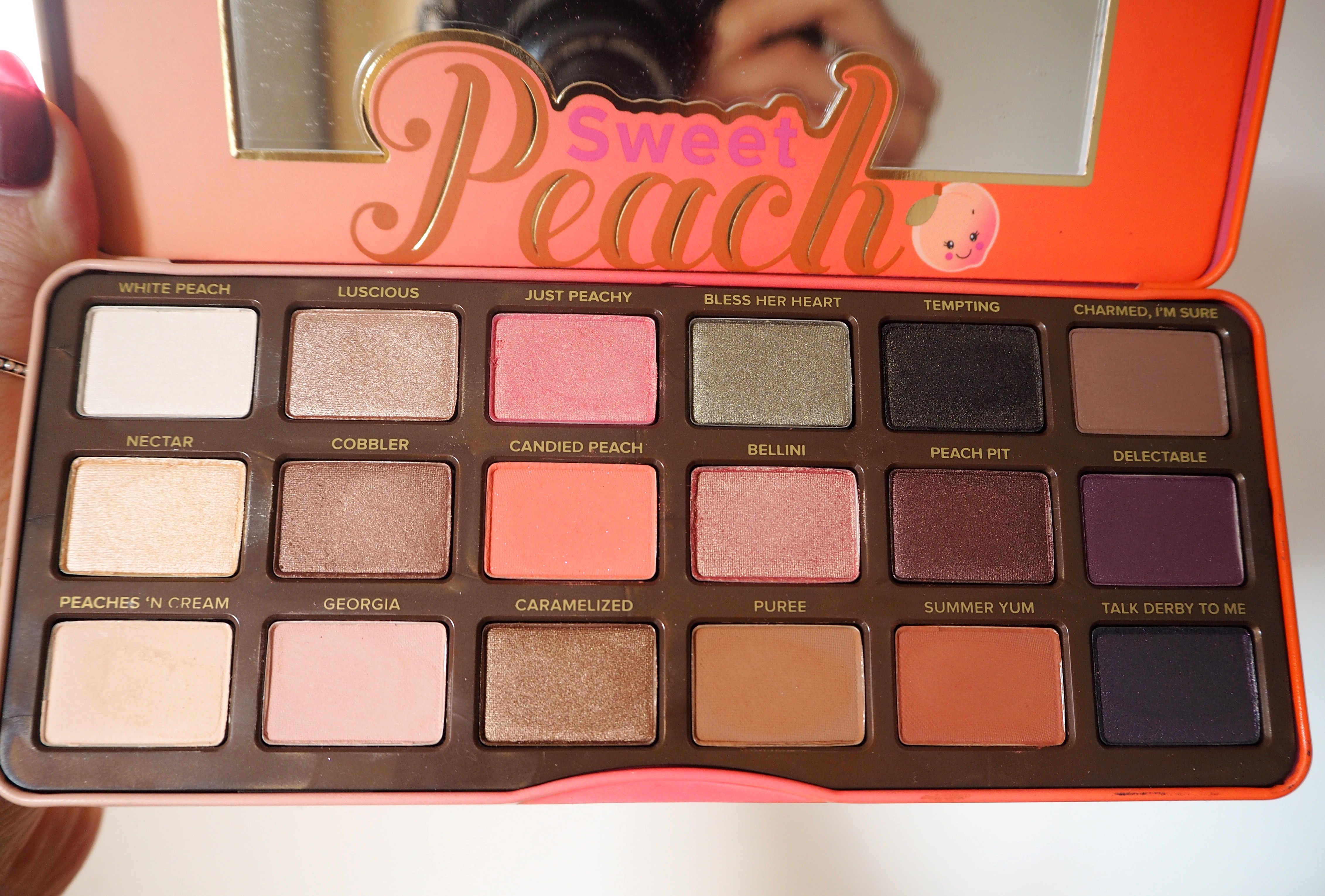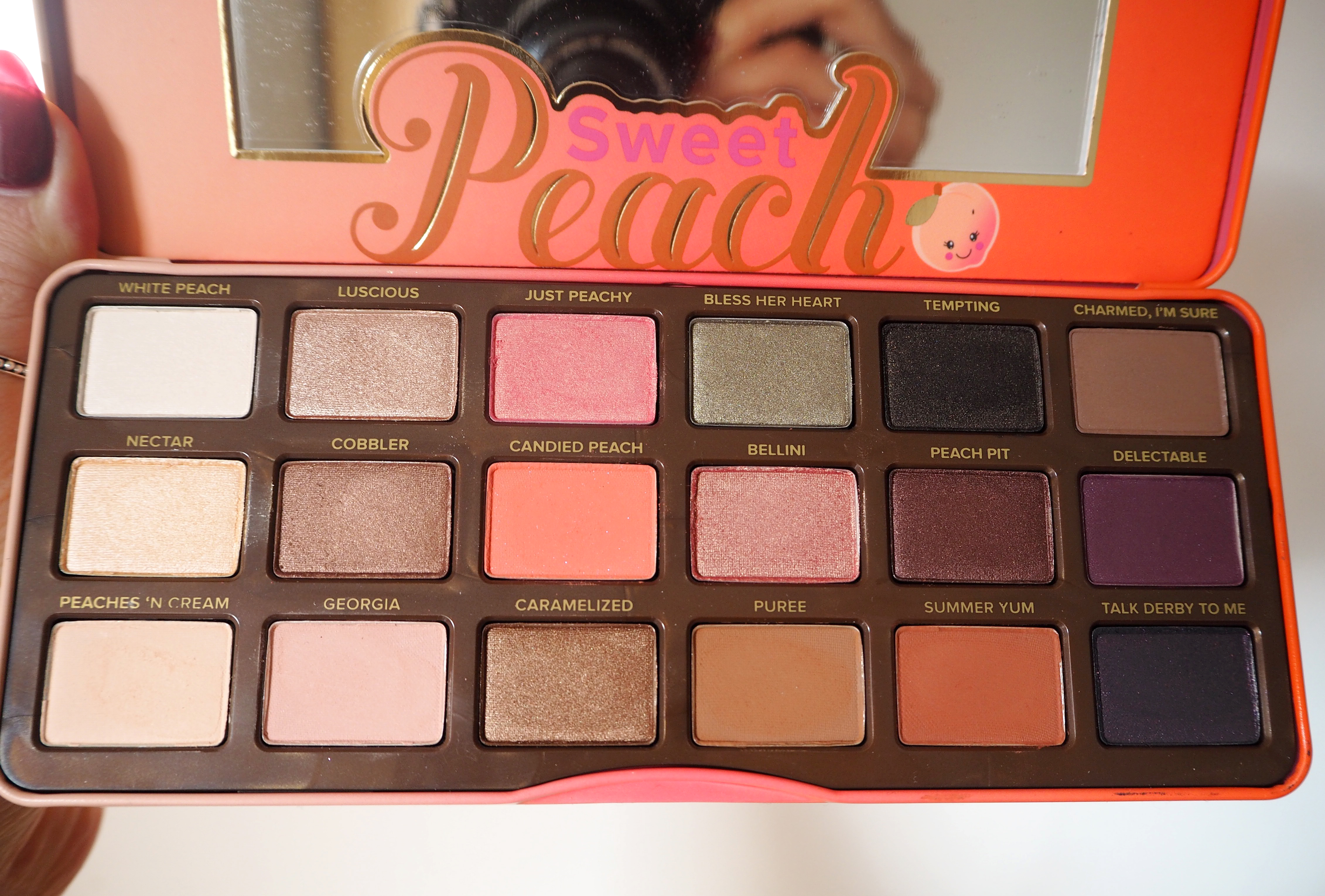 The verdict:
I am in love with this palette – it's pretty clear to see why it caused such a fuss months before it was even released. It has a great combination of soft mattes, shimmers and glitter shadows, and the creamy, velvety textured formula is to die for. Not to mention the incredible pigmentation and the good-enough-to-eat scent.
This palette has a great mix of shades to create endless eyeshadow looks; so wether you prefer subtle neutral shades, a seductive smoky eye, or a glamorous goddess look, you will not be disappointed.
Catch it here if you're quick enough!
Debenhams
Too Faced
Sephora
Have you managed to get your hands on this palette? Do you think it is worth the hype?
LL x
Follow me on Bloglovin: