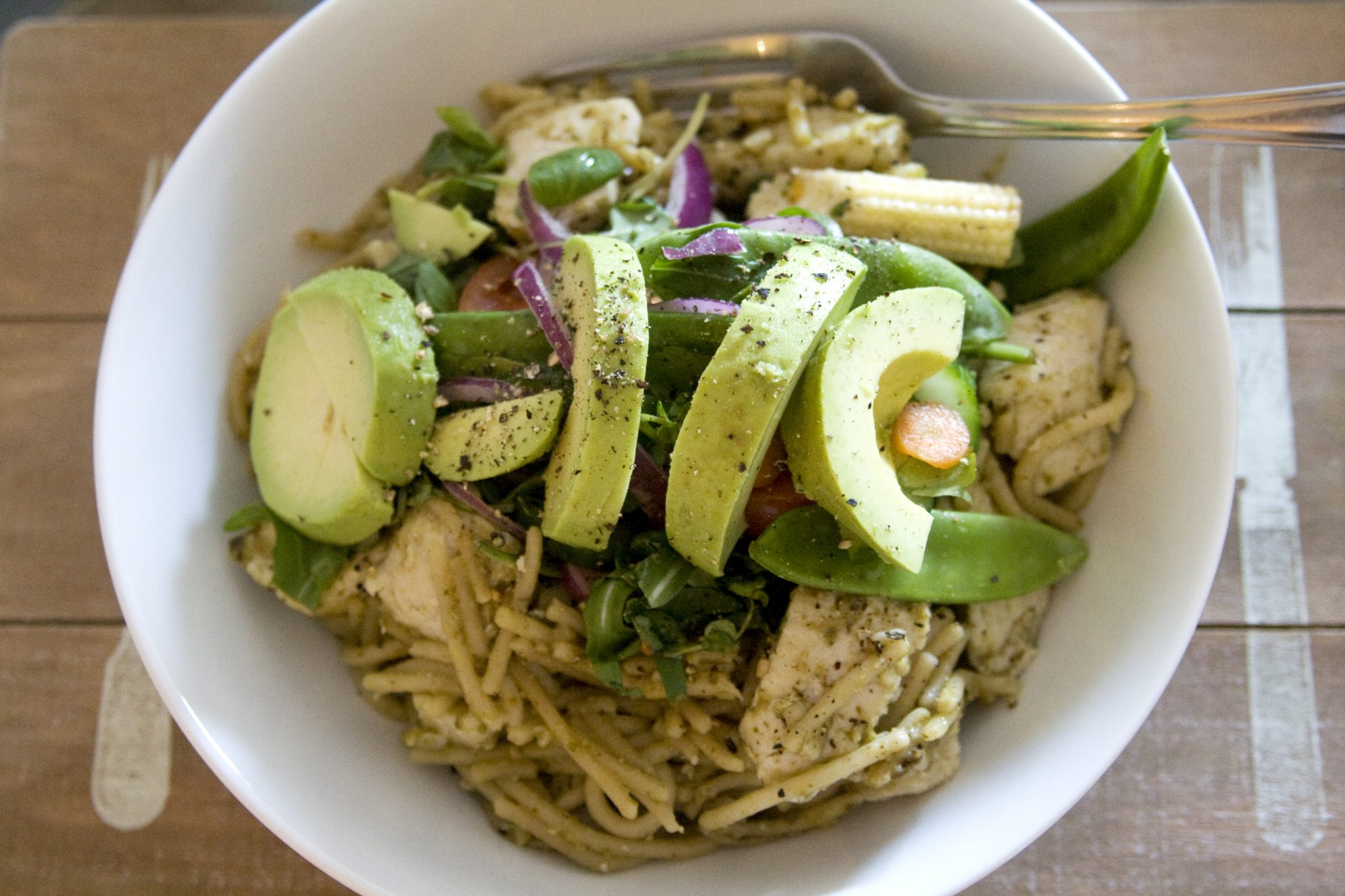 After getting back from Florida, and eating ALL OF THE FOOD, I've been throwing together some healthy dishes to try and make myself feel a bit less guilty. Here is what Jonathan referred to as 'one of the best things I've ever cooked'!
Healthy Pesto Pasta with Chicken & Avo
(Serves 2)
Ingredients:
140g Wholewheat spaghetti pasta
2 Cloves Garlic, crushed
2 Chicken breasts
Mushrooms, thinly sliced (I used about 8 or so, but you can play around with how many you like)
Pesto
1 Avocado, halved and sliced into chunky slices
Your favourite salad (I used a healthy salad I already had made up in the fridge: rocket, spinach, red onion, cherry tomato, finely sliced carrot, sugar snap peas, baby broccoli, baby sweetcorn, walnut pieces & dressing)
Method:
My pasta was cooked ahead of time, so I would go ahead and do this step first. Cook your pasta according to the packet, then drain/rinse and set to one side for now.
Heat a little oil in a frying pan or wok, add your garlic and your mushrooms to begin cooking whilst you dice your chicken. Throw the chicken pieces in with the mushrooms, stirring regularly until cooked through. Season with salt and pepper.
Throw in the pre-cooked pasta, and three heaped tbsp pesto (you can add more or less depending on preference, I just did mine to taste), stir well until everything is mixed together.
When you are happy that everything is lightly coated in the pesto and the ingredients have mixed, and that the pasta is warmed through, you can serve this into your bowls.
Top with the pre-prepared salad. You can use whatever salad you think works with this dish though, or whatever your fave is; you don't have to stick to the one I mentioned. And finally, place your chunks of avocado across the top. Season to taste. Done!
Super easy and super quick to make if you're short for time. The ingredients are also something that a lot of people might have already in their fridge/cupboard anyway. I accidentally made this, after having some cooked spaghetti that I needed to use, I just sort of threw stuff together that was in the kitchen at the time and it happened to turn out really well. This will definitely be something I will be making again. If you're not much of a chef yourself, this is so easy to do and looks and tastes pretty impressive, so give it a go!
LL x