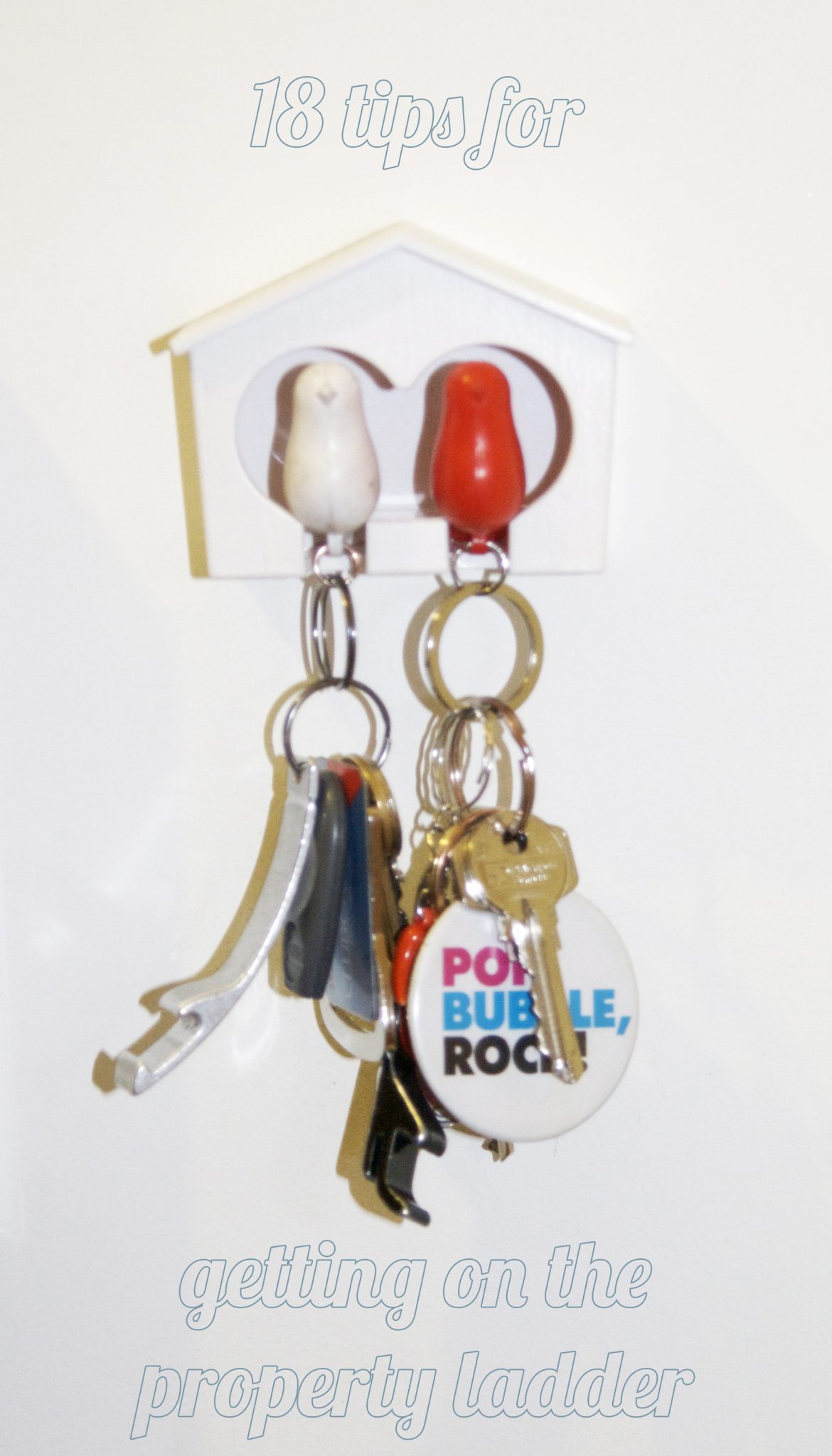 In 2013 I was lucky enough to buy my first property. It was easily one of the most stressful things I have ever done, but 100% worth it. It can be such a daunting thing to even think about as there is so much to take into consideration, you can feel like your brain is about to explode 99% of the time. Well I did anyway.
I thought it would be helpful to make a list of what I found most important, and what helped the most during the process. Did I mention I also love lists? And hopefully this will prevent your brain from feeling quite as explosive as mine.
Ok so…
1. Set yourself a realistic budget & criteria. You're going to have to find a happy balance between money and what you want. You need to know that you aint gonna get that Jacuzzi, home cinema and kitchen with an island that you saw on MTV Cribs for £100,000 in the city centre. Although it is super important that you keep searching until you find the right flat for you, don't hold out for your ultimate dream home. That will come in time, later in life (unless you're rich already, then what are you doing reading this page?!). Remember that you are working your way up the ladder and this is the first lovely rung.I was adamant that I had to be city centre, I needed a balcony, and I wanted big rooms. I don't enjoy the whole sitting in bed at the same time as brushing my teeth in the bathroom whilst cooking a spag bol in the kitchen. Not a fan of studio apartments, but that's just me! My parents and boyfriend were all convinced that I wouldn't be able to get this within my budget, and tried to get me to lower my expectations, BUT after much searching I found the perfect flat with everything in my criteria. If you believe you can realistically get something then keep searching for it.
2. Mortgages. Scary! When I had to look into this I had not a single clue what I was doing. My mum and dad were such an amazing help with this; answering all my questions no matter how ridiculous, and helping me go down the right path. You need to do your research, shop around, and get advice wherever you can take it. Ask questions. Lots of them. When it comes to deposits, I chose to save up and put a big chunk down, which I would highly recommend as my monthly payments are now super cheap. However there are so many options and deposit schemes out there that if you'd rather take a different route, there will be something to suit you.
3. Don't forget that there will be extra fees involved. When budgeting you will need to take into consideration all of the extras – solicitor, moving furniture, surveys, insurance, service charges, etc, etc. I'd love to tell you exactly how much these would cost, but they vary so much that you will have to do that part yourselves! There are loads of sneaky extras that are easy to overlook when thinking about buying your first property, but will need a chunk of your budget dedicating to them.
4. Is the property furnished or will you be taking your own furniture? If there is furniture in when you view, check if it's included in the price (more likely with apartments). If not you should ask if the sellers would offer it; if they do it will usually work out cheaper than buying everything and paying to move it in yourself so this is a great option. Also, some sellers can be ridiculously frugal, so you need to check if that nice wooden floor will still be present when you move in, if you need to take your own bulbs because they plan on leaving you in darkness, and when you couldn't find the right bulbs and you have to light loads of candles, will the fire alarm still have batteries in or are they actually trying to kill you?
5. Are there any hidden charges? Having a survey and a good solicitor will help with this one. Does any work need doing on the property? If you're buying an apartment you might have to fork out for work on the building that you weren't expecting.
6. Get a good solicitor. My solicitor was amazing – finding a good one can get you a long way. She did SO much work for me, and she also told me that this was the worst case she had ever worked on. Typical! (I made it up to her with cake.) Try and get a solicitor that knows the area well, or even knows the property. And don't forget that they cant legally disclose information until they are actually your solicitor. I put an offer in on an apartment that needed roof work doing (see previous point) but my solicitor could only tell me this once I hired her, and I obviously withdrew my offer as it was VERY pricey.
7. Be prepared to wait. And wait some more. And a bit more.
8. Be prepared to be messed around. From my experience, estate agents aren't the most reliable of people. Often my mum would drive to Manchester to view some flats for the day, and half of the estate agents wouldn't even turn up or let us know. Try and book multiple viewings in one day, so that if one falls through you can pick yourself up and move on. Leave a bit of time between viewings too, incase the estate agent is late or something runs over.
9. Do your research on the area. Even things you wouldn't usually think about. Are there doctors, schools, shops, night life? And how close are all these? Will you have to pay to travel? You need to account for traveling in your budget, so if you have to get the train to work every day, how much is that for a year? Will you have to get a £50 taxi home every time you go on a night out? Sometimes it can work out better in the long run to pay more and live closer to the centre or to local amenities, than save on the property but have to splash out on traveling.
10. Be excited about decorating. Just because you can!
11. Look for signs of developing the area. It will be cheaper to buy in a less developed area, but if there are plans to build this up then your price will go up with this. I'm already in the centre, but right next to me there are plans to build a development with new apartments, gyms, shops and restaurants, which will mean the renting price will be higher when I am ready to do that.
12. DO NOT trust the photographs on the internet! This probably sounds obvious but viewing is a must. And if you found one you like then view it again at least once. I saw apartments online that I was convinced were 'the one', but when I arrived I was instantly disappointed. Estate agents also often use one lot of generic photographs for apartments if the whole block is for sale/rent, so it might not even be the same apartment you are looking at!
13. If you find the perf property, and are ready to make an offer, don't forget to remind the estate agents of your flexibility. For the last couple of years, it has been and still is a buyers market, so emphasise that. You are the first time buyer, no chain, flexible and can move fast. This will work in your favour if there are a few people offering and you are the most flexible. People don't like to wait.
14. Get together some contacts you might need and keep them in a safe place! Don't forget you are the landlord now, so you cant just call up someone to complain that the shower isn't working properly. Its your responsibility. Make sure you have the property management contact details, but try to find a good plumber, electrician, etc just incase.
15. De-clutter. Don't move everything you own then realize you can throw loads of stuff away. Consider the size of the rooms and the storage, are you downsizing? Even if not, this is a great opportunity to have that much needed spring clean. I have SO MUCH stuff even now, but after I'd moved everything I decided to de-clutter to have a nice clean apartment, when I should have done that before. duh.
16. Transferring details. You will have A LOT of things to transfer. Don't forget to let your energy, water and internet companies know you will be moving as soon as you know when. Otherwise you could get charged after you leave and end up chasing for refunds. Internet providers are the worst for this. Other things like your doctor, your bank and accounts such as Tesco clubcard or things you subscribe to will also need to be changed; you don't want other people getting hold of any personal info if post goes to the wrong address.
17. BE EXCITED! There are SO many benefits to owning a property so don't forget to be excited even when times feel tough. It can be a stressful and exhausting process but it will always feel worth it in the end. You could be looking at a great investment for the future, and it feels so nice to live in something that is actually yours.
18. Party! Throw your first ever housewarming. I don't think this needs much more explaining. Get your friends and family over, crack open the bubbles and celebrate your amazing achievement.
I hope this is helpful to anyone who is even considering getting on the property ladder. It is a big jump up to the first little rung, but anything is possible.
How do you feel about first time buying?
LL x