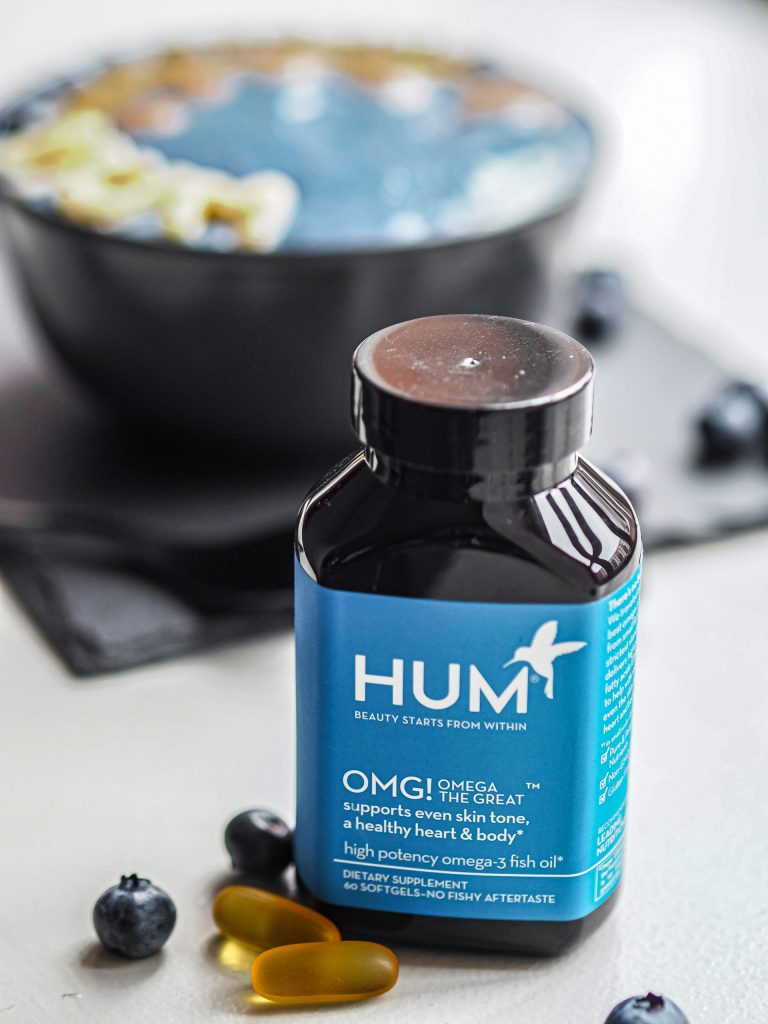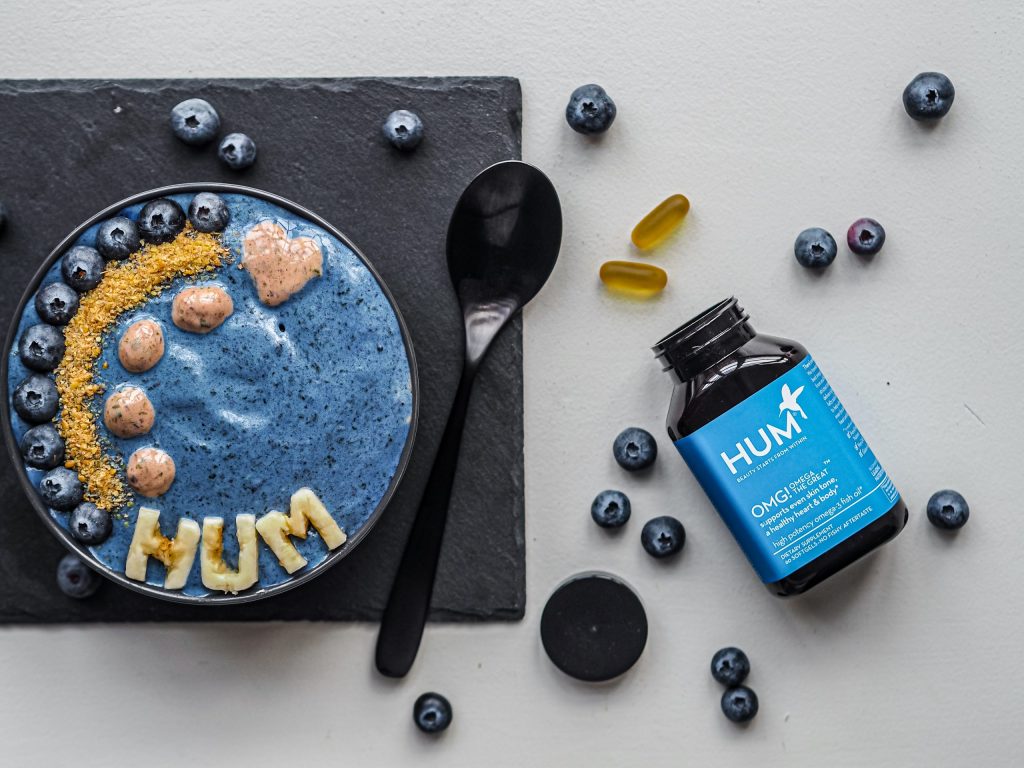 HUM Nutrition
You might have noticed that since lockdown, and for the past six months especially, I have totally upped my supplement game. I'm such a summer person. I love being outside in the warmer months, so this winter has felt especially tough with the added restrictions of being stuck inside on top of the cold weather. Not only can this have an effect on our mood, but on our mental health and body too. I've definitely increased my skin care whilst in lockdown. So why not take care of my skin health and body from the inside out too? I know I'm not getting the usual nutrients and endorphins I would be from simple things like just being out and about in the daytime and exercising. To counteract this, I've been trying to find ways I can give my mind and body a boost whilst we are still stuck inside.
One of my favourite new additions to my supplement regime are these HUM Nutrition OMG! capsules. HUM Nutrition are new to the UK. After proving incredibly popular in LA, they have now launched on Cult Beauty. The reviews for all of their products speak for themselves; they are definitely killing it in the supplement market, and I can't help but agree that the results are great.
After a struggle with breakouts and firm in the belief that self-care (and skin care!) starts from the inside out, the minds behind HUM Nutrition set out on a mission to distil the expertise of leading nutritionists into a line of high-performing supplements. Underpinned by the intrinsic link between nutrition and health (be it skin or otherwise), each of the clever capsules and gummies in this collection are empowered by bioavailable, naturally derived nutrients of clinically proven quality – they're triple-tested for potency and purity. Whatever your skin or wellness goal might be, HUM Nutrition allows you to curate your own customisable routine, tailored to your needs.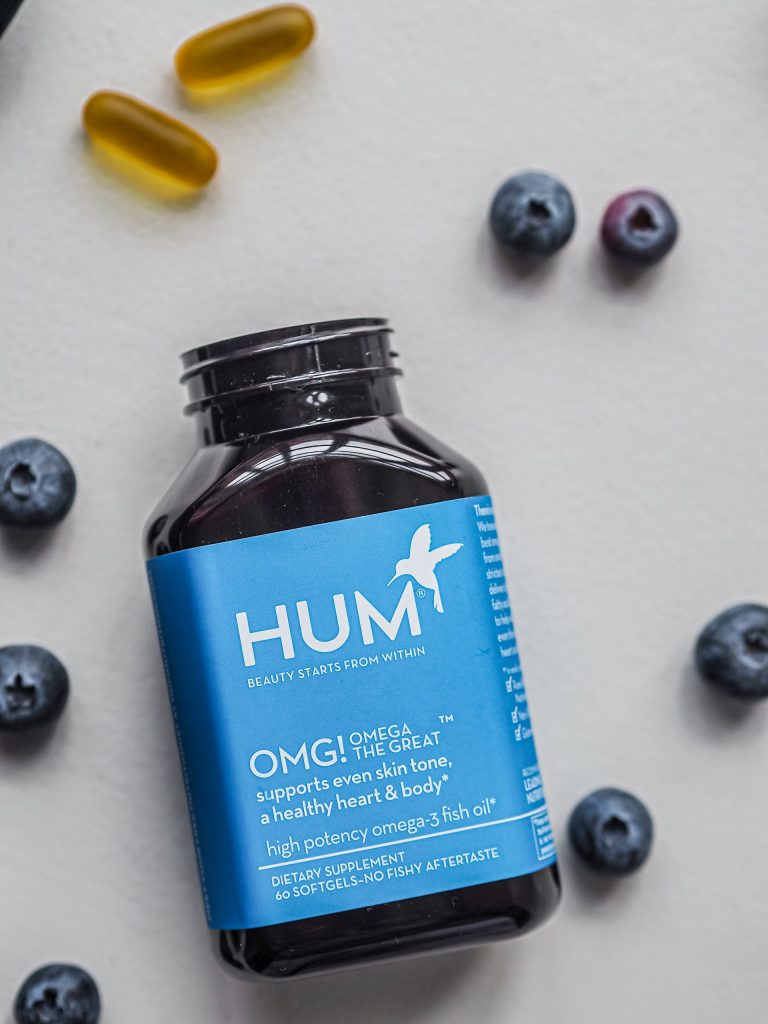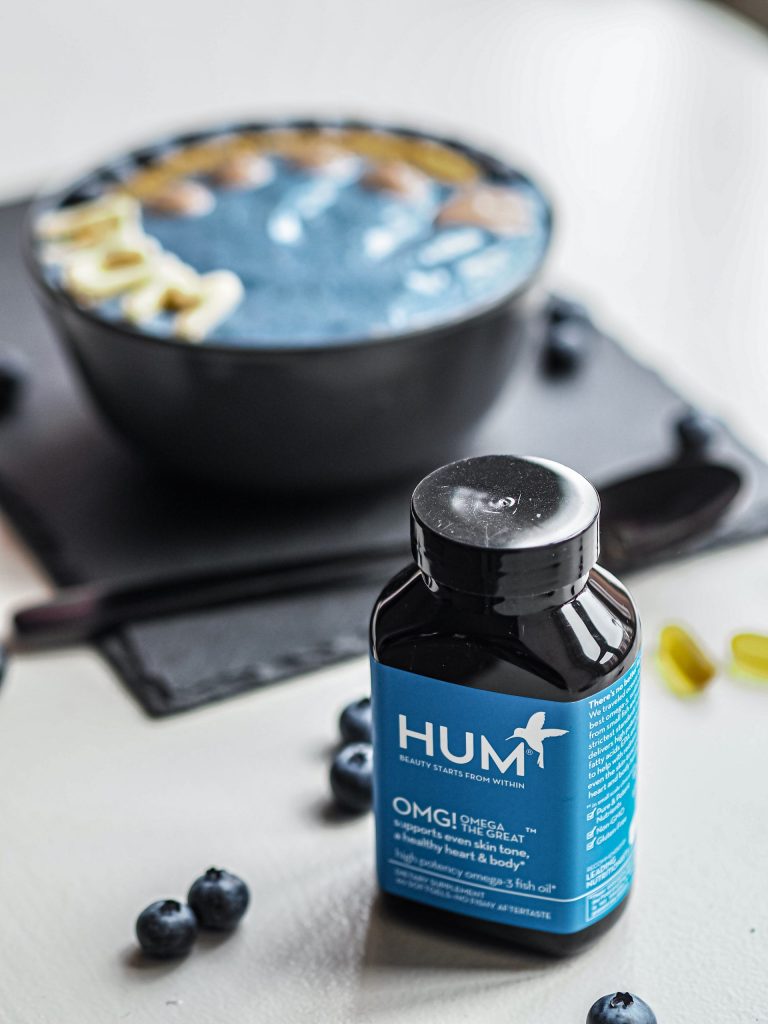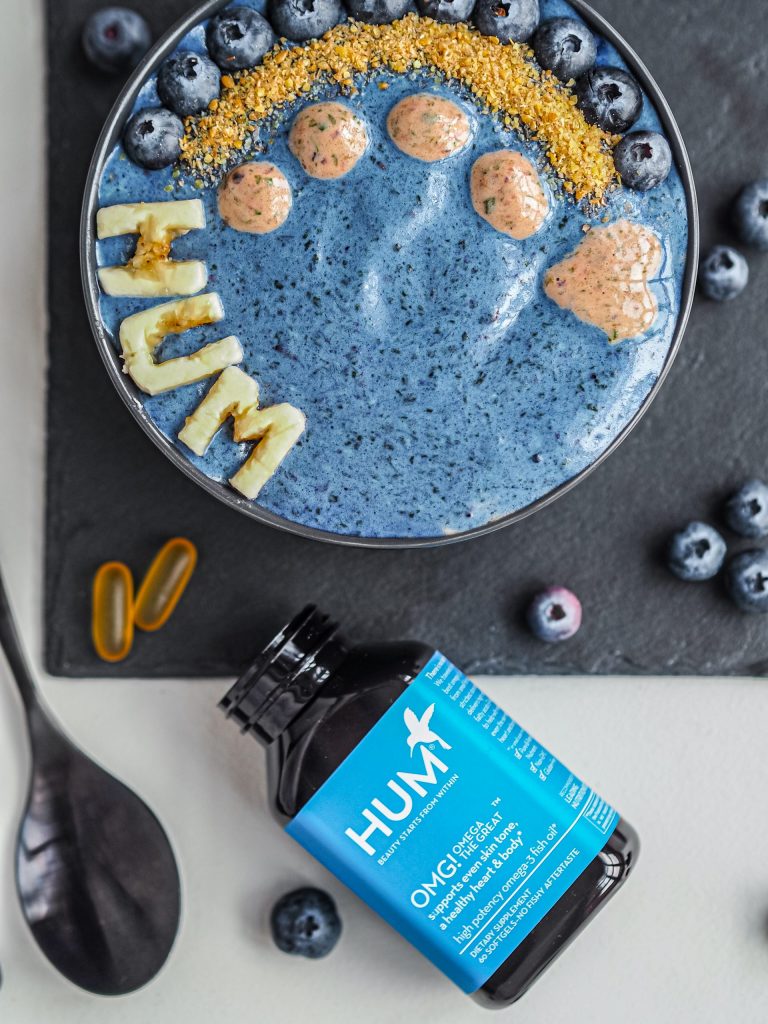 OMG! Omega the Great
These little capsules of goodness are aptly named OMG! Omega the Great. They are high-potency Omega 3 fish oil tablets that support even skin tone as well as a healthy heart and body. When taking supplements, I definitely think its important to invest a little more for something high quality than genuinely works.
Pumped with heart-healthy fish oil, each softgel is high in omega 3 fatty acids; providing some major skin-healing benefits. With no fishy aftertaste, the omega 3 works to support a healthy body while reducing the amount of skin-surface lesions for clearer, more even skin. A powerful anti-inflammatory; the omega 3 works to counteract redness and dry, itchy skin. It improves skin barrier function and locks in moisture, keeping irritants out.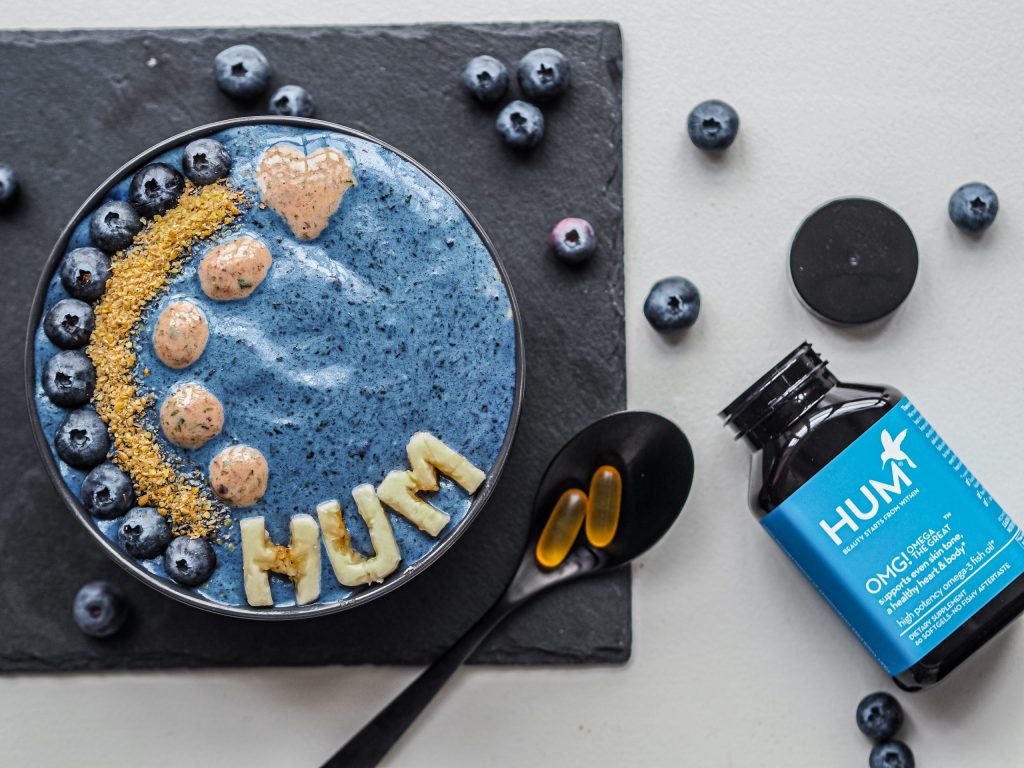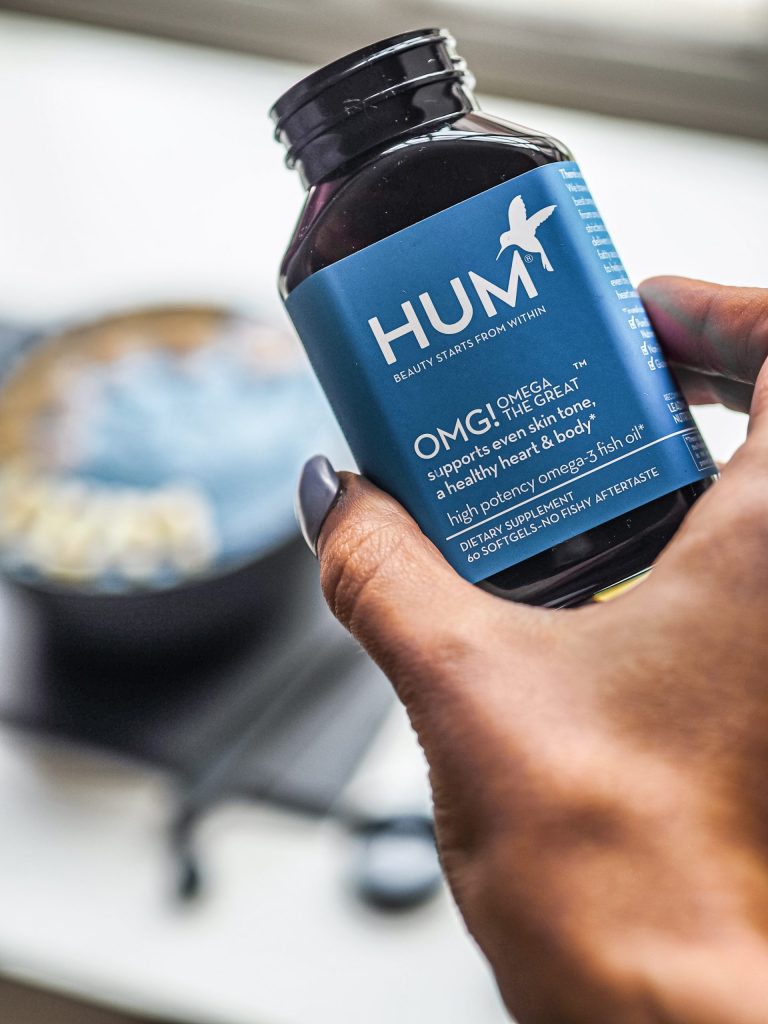 My Thoughts
I only ever remember fish oil tablets being one of my least favourite when I was younger. I associate them with a potent, fishy smell and an unnecessarily large tablet that was a battle to swallow without discomfort. The HUM Nutrition tablets however, are not like this at all. They are completely scent-free and flavourless, and I take them along with my other tablets with complete ease. I also love the packaging. I often mention that I'm a sucker for cool packaging. HUM Nutrition are somehow making something like supplements that I would say are considered pretty un-cool, look pretty darn cool! All of the supplements in their range have the signature sleek yet fun branding and brightly coloured labels.
I've really felt like I can see the difference since starting taking these. I've been having them daily, for 40 days, as I wanted to give them a good run before reviewing them. It's now one of those things that I feel is just part of my routine and I am well and truly hooked! I definitely noticed some negative effects of lockdown on my skin, and these have really helped with that. I do also get some dryness just from having artificial heating during the colder months, as well as lack of vitamin D! However I've barely suffered from it at all this year, and I think this is partially thanks to the wonders of OMG!
I am pretty lucky to have consistently clear skin, but tonnes of the reviews comment on the reduced breakouts since using these, so if you suffer with this then I would definitely try these capsules. I know lots of people who swear by omega 3 tablets, and I definitely think I'll be using them daily now I've tried these.
You can buy OMG! exclusively on the Cult Beauty website here.
LL x
*This item was gifted. As ever, all opinions are my own.