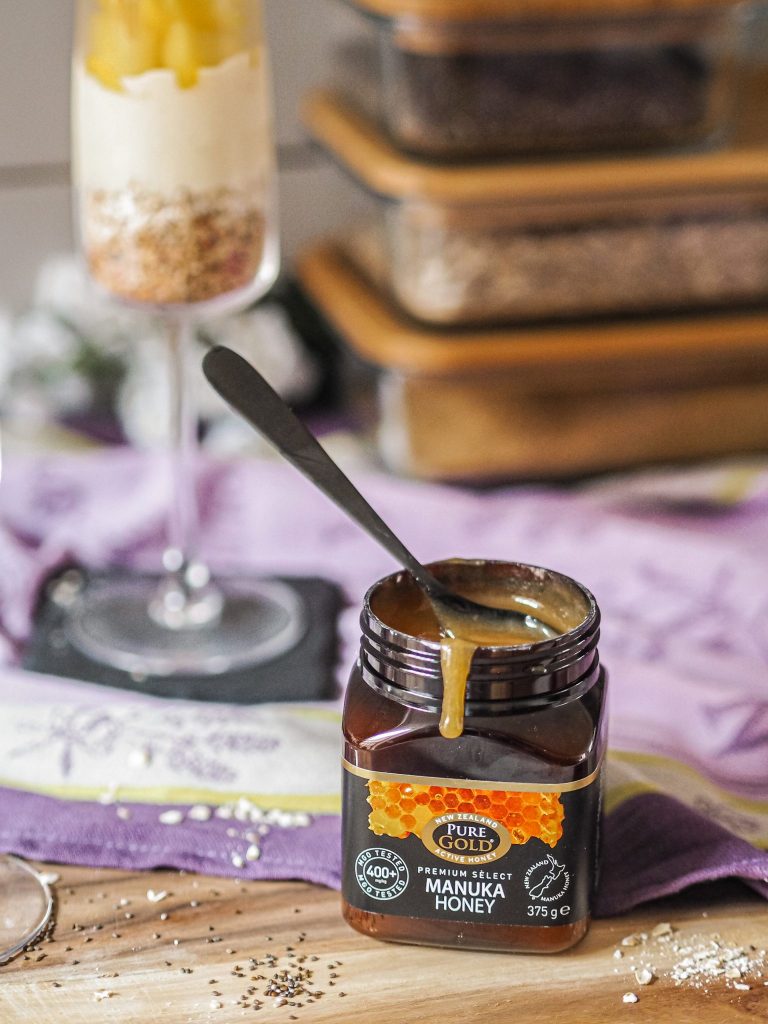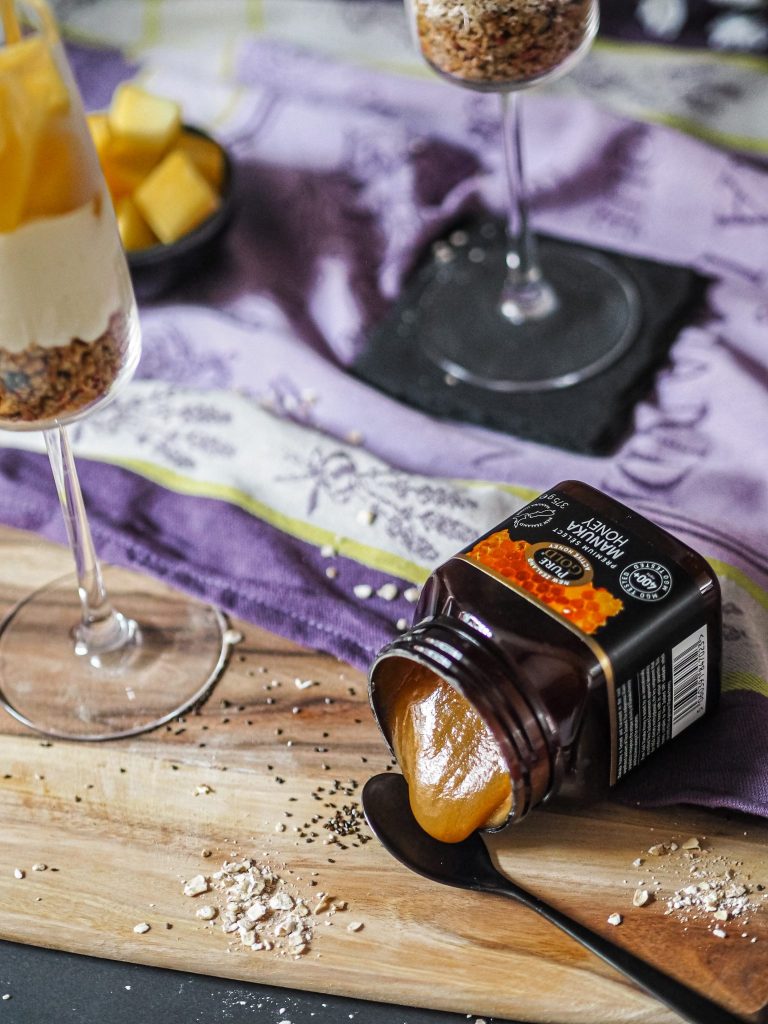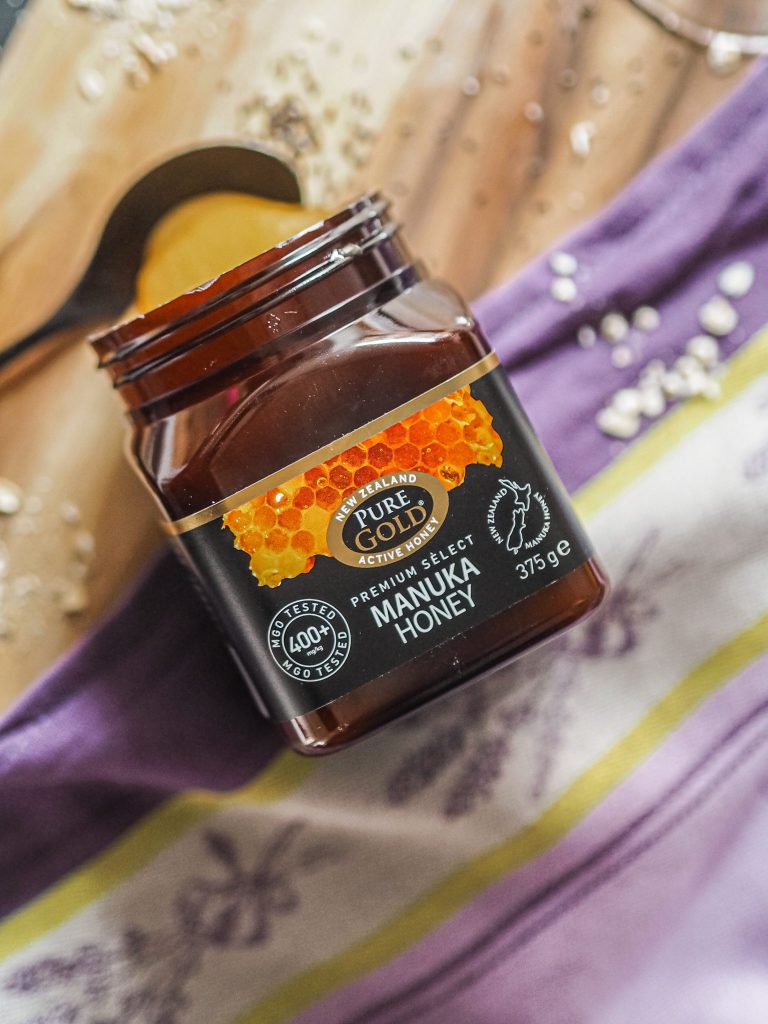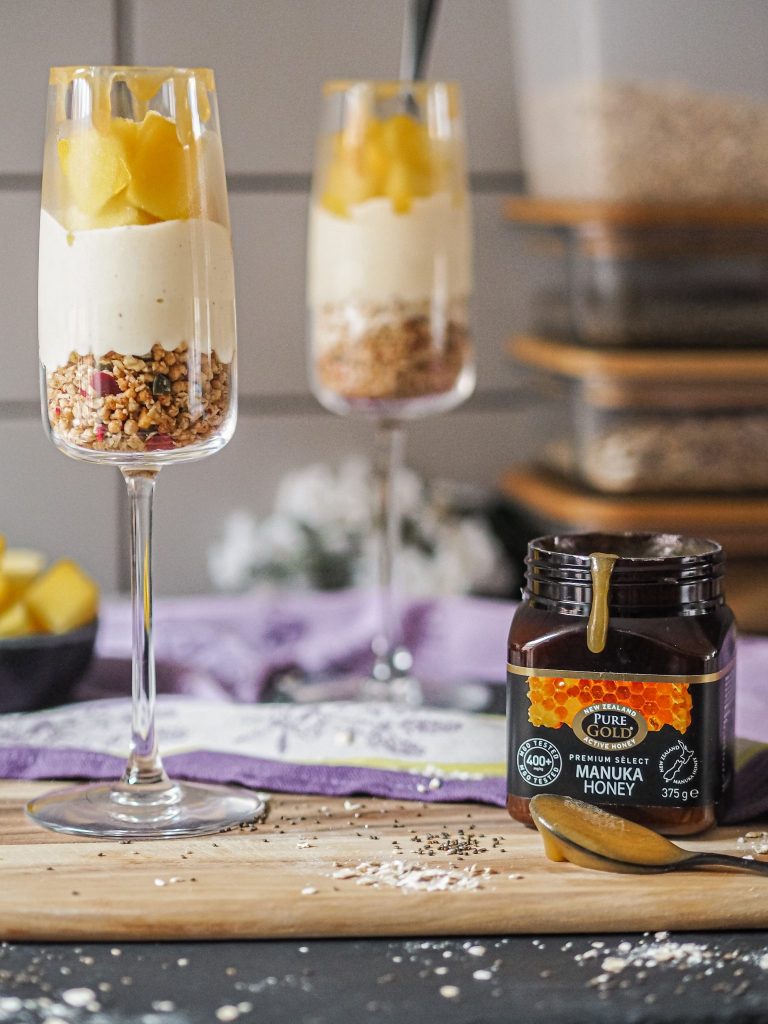 Pure Gold Manuka Honey
You've probably noticed that I'm trying to add healthy meals, swaps and products into my routine where possible. It's been one of the main things thats helped me feel a little better and get through lockdown. My newest favourite absolutely has to be this Pure Gold Manuka Honey from Holland and Barrett.
Pure Gold Manuka Honey is tested by an internationally accredited New Zealand Government approved laboratory for MGO (dietary methylglyoxal); the key component that endows Manuka honey with its unique properties.
Manuka honey is farmed and harvested in the rural unpolluted pastures of New Zealand. It can only be gathered during the months of December and January. The indigenous Maori population recognises the unique activity of Manuka honey and has been using it for centuries. Some of the claimed health benefits are: Improve digestive issues, aids healing, oral health, treats acne and much more.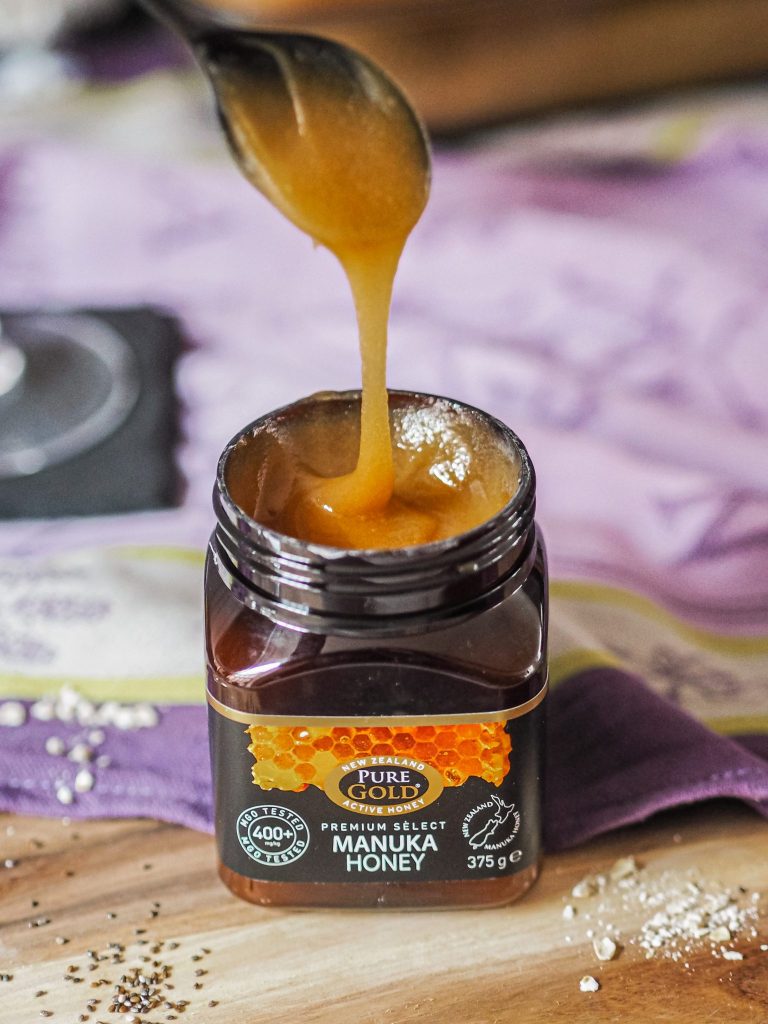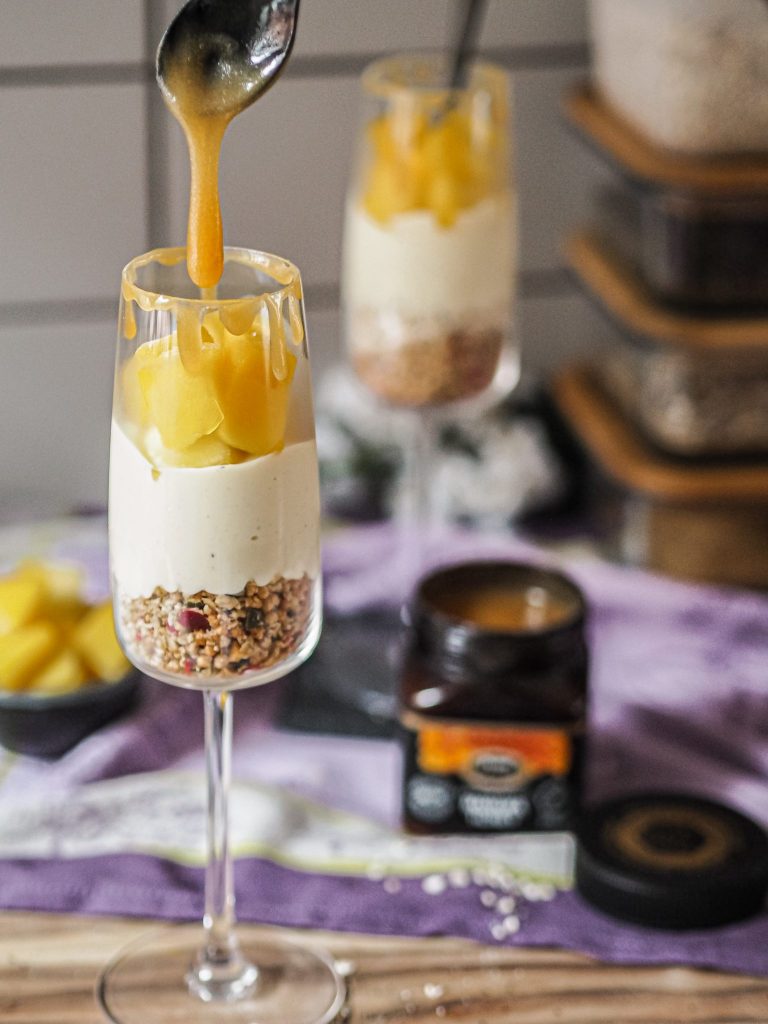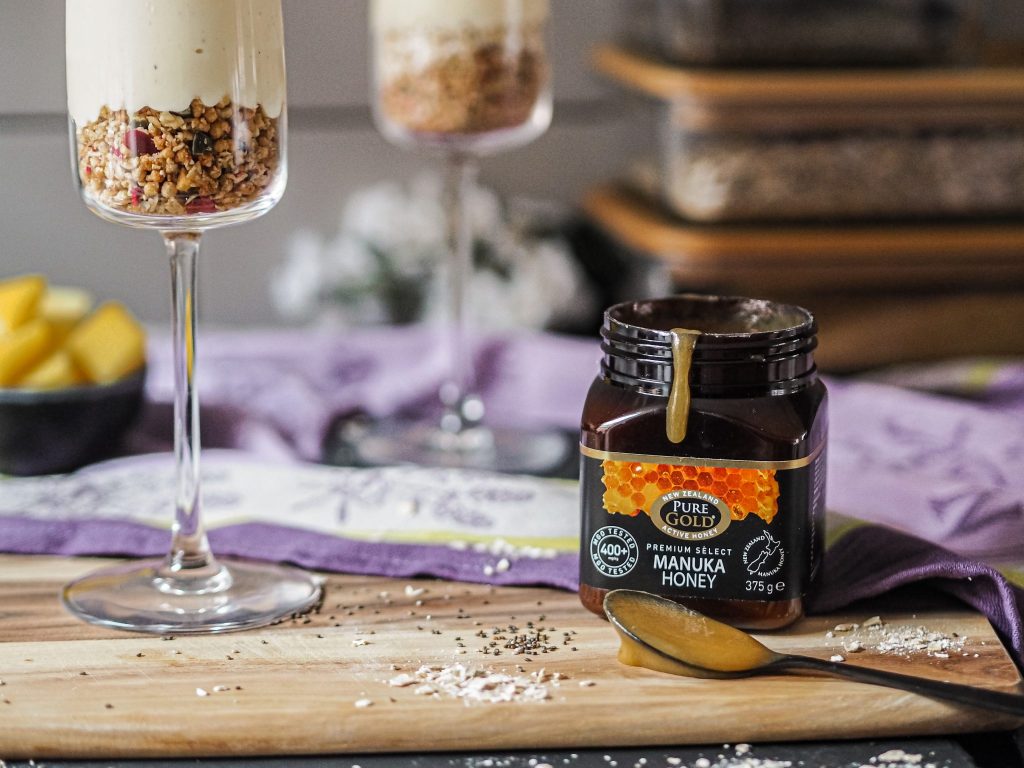 Layered Breakfast Pots
Pure Gold Manuka Honey is recommended to be taken as part of a balanced diet by taking one tablespoon per day, ideally one hour before meals. You can however, incorporate it into your diet however fits best. I thought I'd share my quick and easy meal idea to add this into your breakfast; kick starting your day with a sweet boost!
These are super simple layered breakfast pots, that can be made with any combination of ingredients that you have in your kitchen. They also feel like a lovely sweet dessert for breakfast, and I even made mine a little more luxury by serving in fancy glasses. Luxury honey deserves luxury glasses right?
Start with a base of something like oats, cereal or granola. I used a mixture of oats and granola for a crunchy layer. Then add in a creamy layer to balance with the crunch! I used some vanilla dairy-free yogurt, but you can use any type of yogurt, or even a layer of smoothie. Try using bananas as these give a really thick, smooth consistency; a little like ice cream! I topped mine with mango slices, but again, you can use any fruit of choice. If you don't want to add fruit you could use a nut butter, seeds, or even some dark chocolate chips. Then finally, finish with a teaspoon of the Pure Gold Manuka Honey drizzled over the top.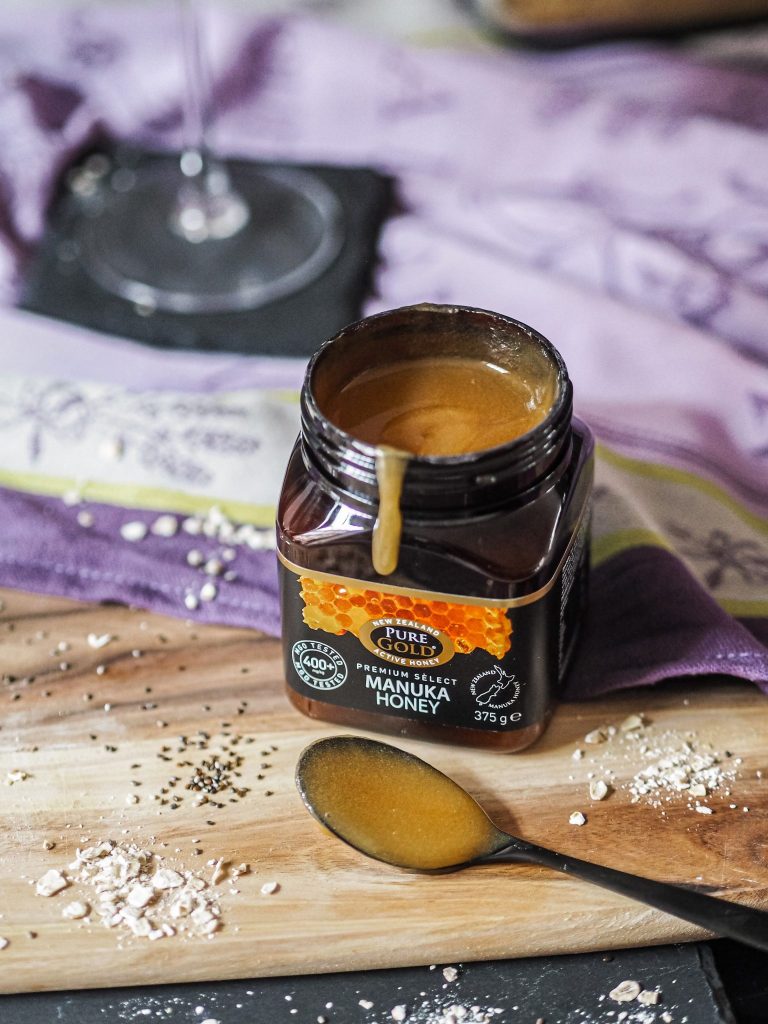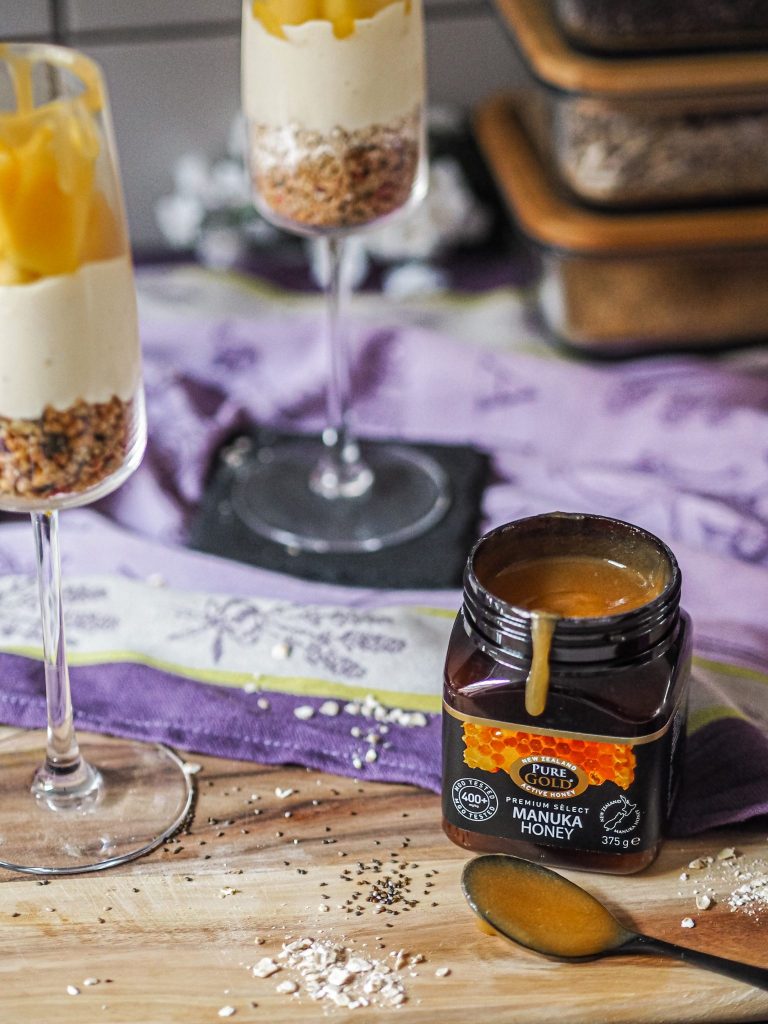 Review
Whilst it might seem like a pricey product, coming in at £84.99 per jar, I do see why it is priced so high. Considering it is only available for collecting two months out of the year and can only farmed and harvested in the rural unpolluted pastures of New Zealand, it is quite the luxury. However, a little does go a long way. You only need to take a teaspoon a day to reap the benefits, so a jar will last you a good while. It also tastes delicious too! I've been loving having it as part of my morning breakfast, or in a hot drink to add sweetness.
You can shop the Pure Gold Manuka Honey at Holland and Barrett here.
LL x
*This item was gifted. As ever, all opinions are my own.