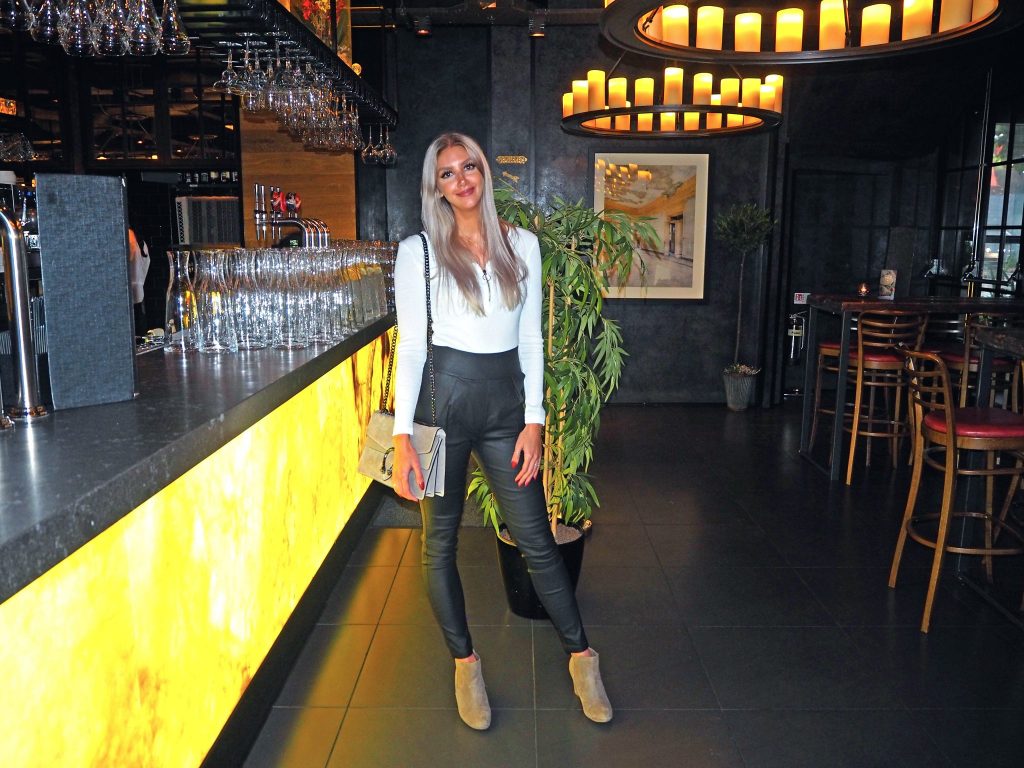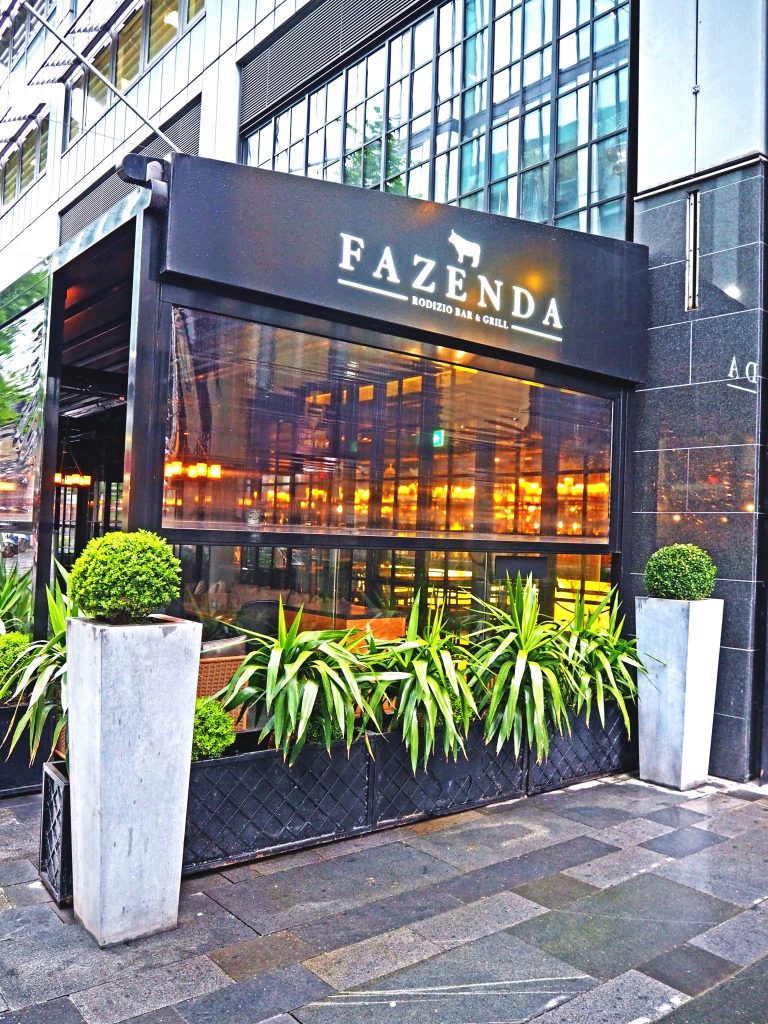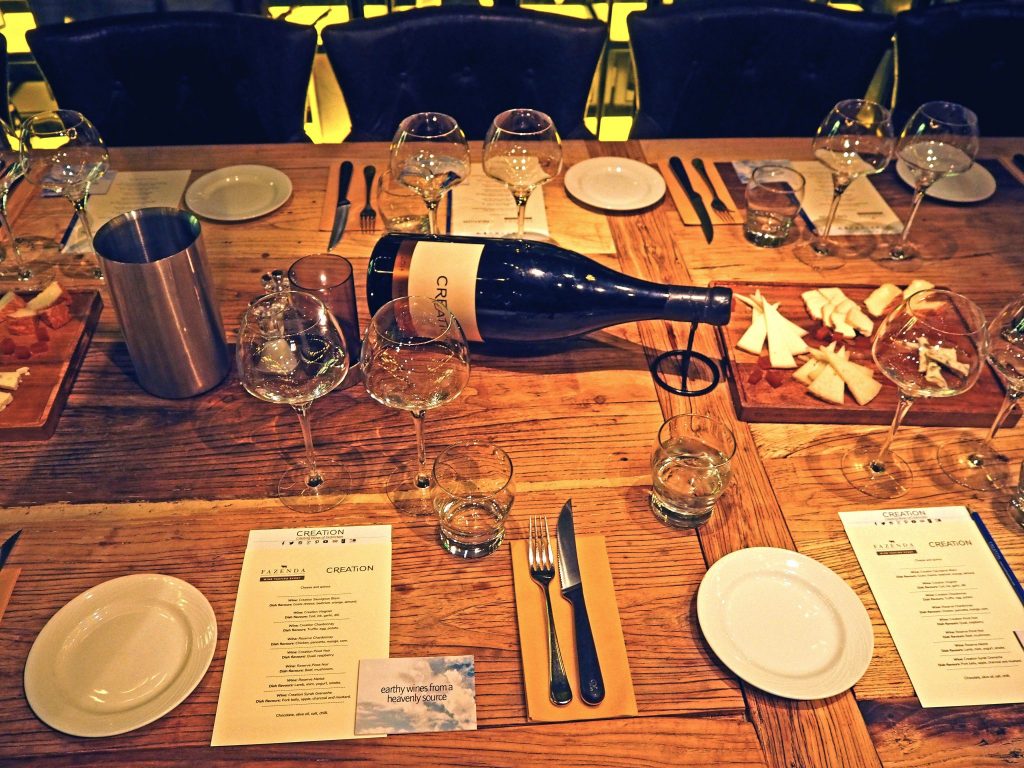 Over the past couple of years, especially since my trip with Soave wines to visit their vineyards, I have become quite the wine enthusiast and love discovering new wines that I love. I am also a sucker for a tasting menu (especially when it comes with matched drinks), so when I was invited to a tasting event with Creation Wines at the beautiful Fazenda restaurant, I couldn't think of a better way to spend an evening.
We arrived at the Spinningfields venue and were seated in the gorgeous private dining area; neatly set up with our menus, plenty of wine glasses – of course, and some cheese boards to try with our first drinks. Carolyn Martin who is one of the co-owners of Creation made us all feel very welcome, and spoke with (not surprisingly) such pride about the history and background of their work and the wine they produce. After introductions and trying not to eat too much of the cheese platters, we began to make our way through the courses and wines of the evening.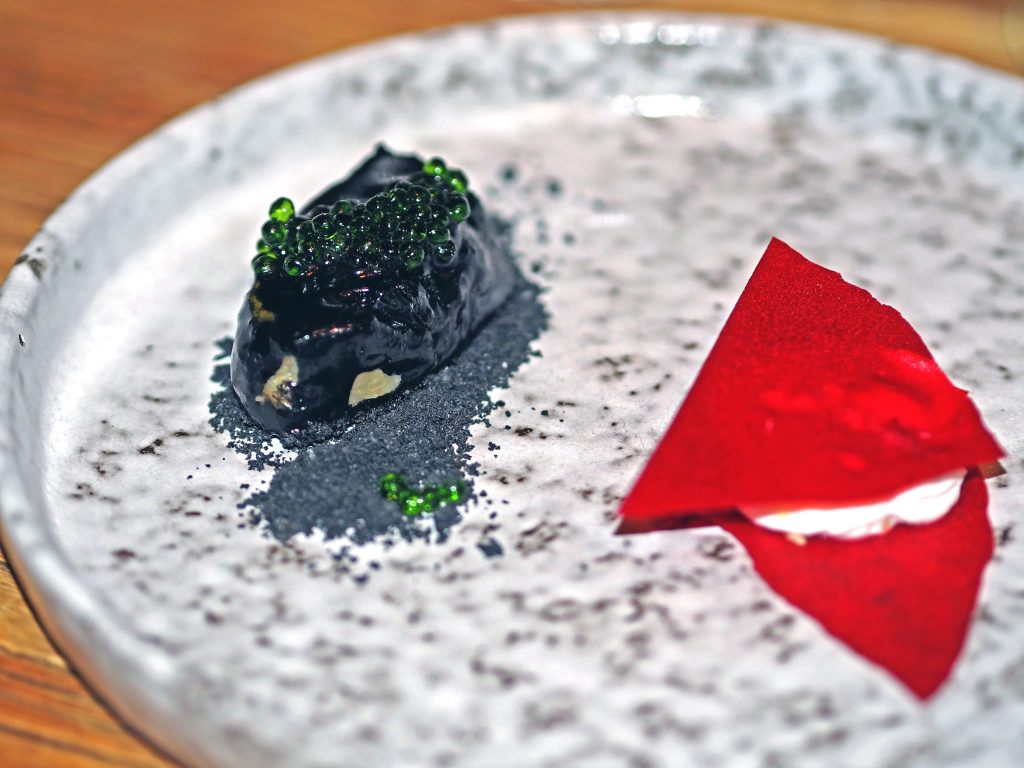 The first dish came as two parts – our wine was a lovely, light Sauvignon Blanc, and the flavours of the dish to compliment were goats cheese, beetroot, orange and almond. You can see how amazingly delicate the beetroot shell was, surrounding the creamy goats cheese; the perfect contrast and like the wine it was very smooth and perfect to ease us into the menu. (Sauvignon Blanc tasting notes – aromas of tropical fruit, elegant elderflower and interesting, minerally whiffs)
The second part of the dish – my favourite, was a crisp and fruity Viognier matched with flavours of cod, ink, garlic and dill. I'm sure you will know I am a seafood lover if you are a regular reader, and these two together were just a match made in heaven for me. (Viognier tasting notes – Abundantly fruity and forthcoming yet refined on the nose with fragrant white peach aromas mingling with a rich, creamy character)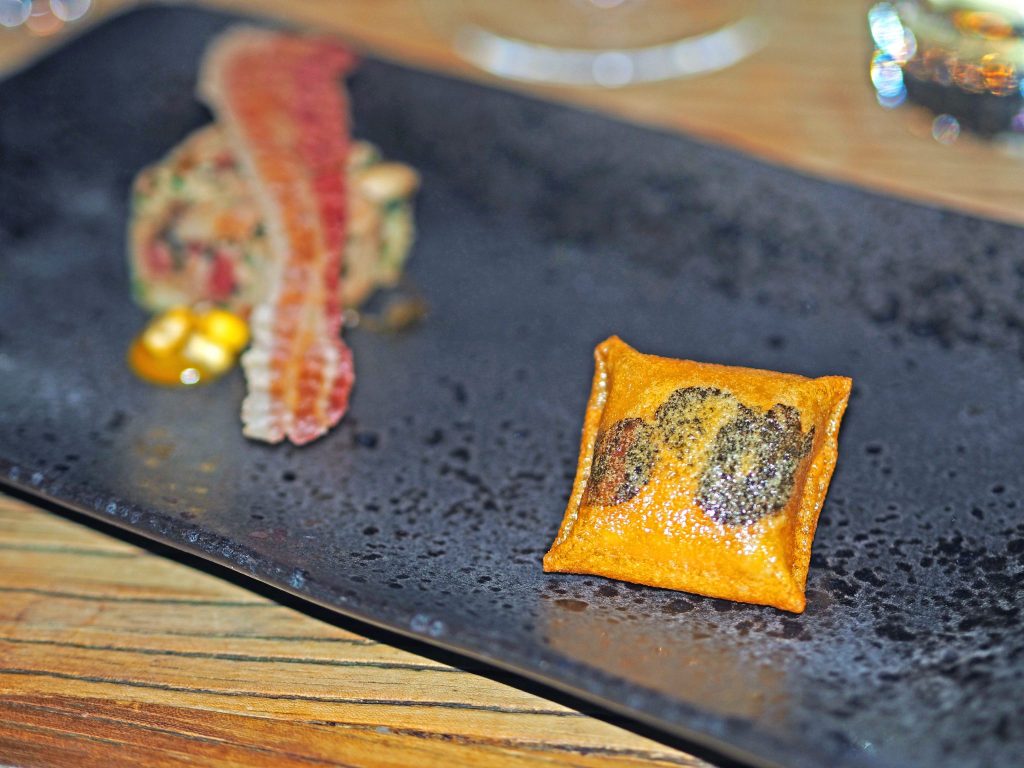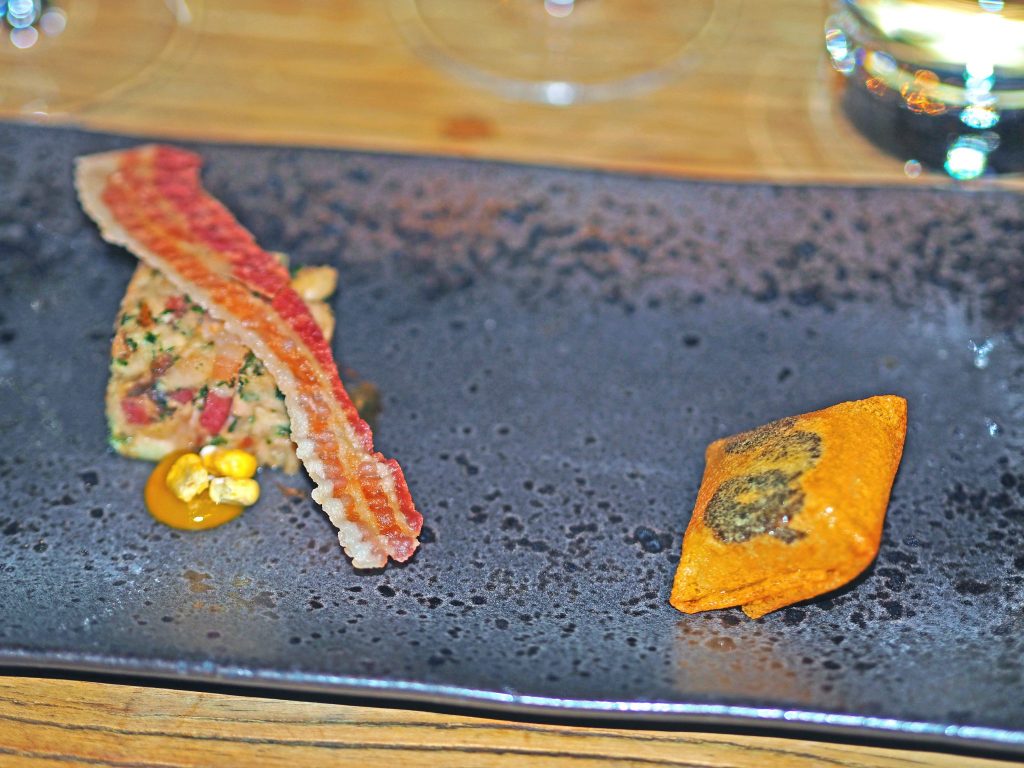 Next up was another double dish, starting with a Chardonnay to accompany truffle, egg and potato. This little parcel was so small and light, but absolutely packed with delicious flavours. The Creation Chardonnay was very fresh and a lovely match to really bring the flavours of the truffle through. (Creation Chardonnay tasting notes – generous quince, pear and peach aromas and flavours, enhanced by fresh minerality and hints of vanilla)
Following this was a Reserve Chardonnay grown in a single vineyard and meticulously crafted by cellarmaster Jean-Claude Martin, which really was delicious. This wine matched with chicken, pancetta, mango and corn; the fruitiness of the wine really made the meat flavours stand out and balance with the sweet hints of mango and corn. (Reserve Chardonnay tasting notes – vibrant aromas of fresh grapefruit and fragrant apple mingle with a hint of honey and a sprinkling of cinnamon)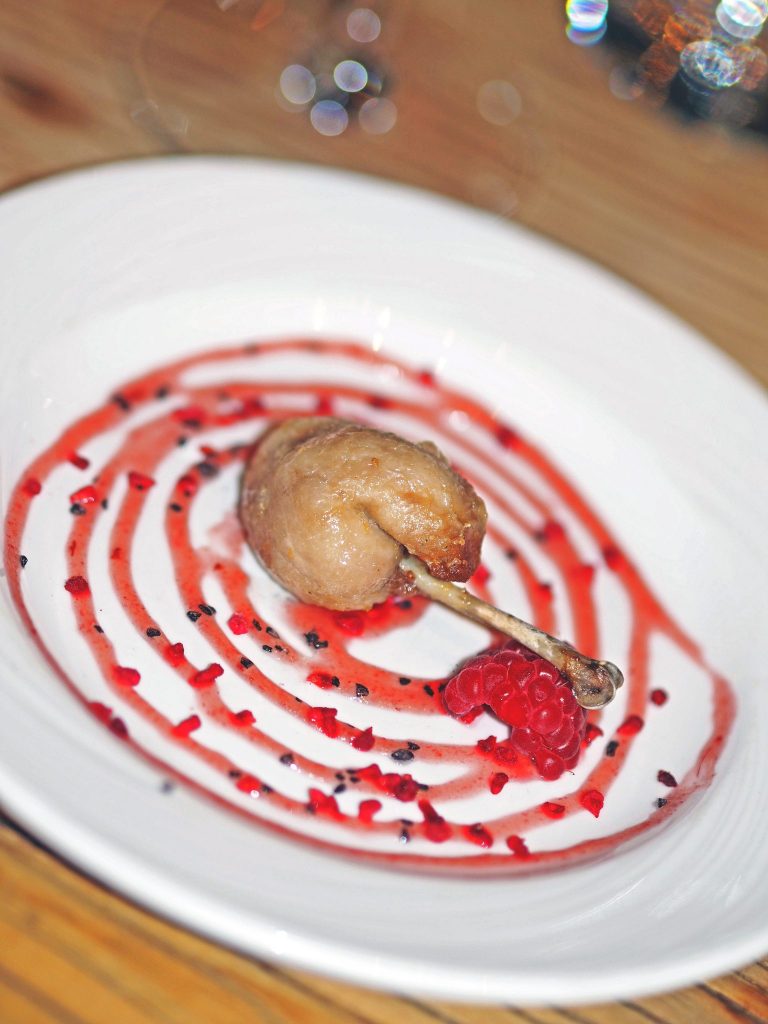 After trying some incredible whites, it was time to move onto red wine. We began with a favourite of mine – Pinot Noir, served with Quail and Raspberry. I love a good Pinot Noir, and this one was super smooth and so easy to drink with the quail – perfectly matched. (Creation Pinot Noir Tasting Notes – Delicate whiffs of violet mingle with hints of raspberry and a generous pinch of spice on the nose)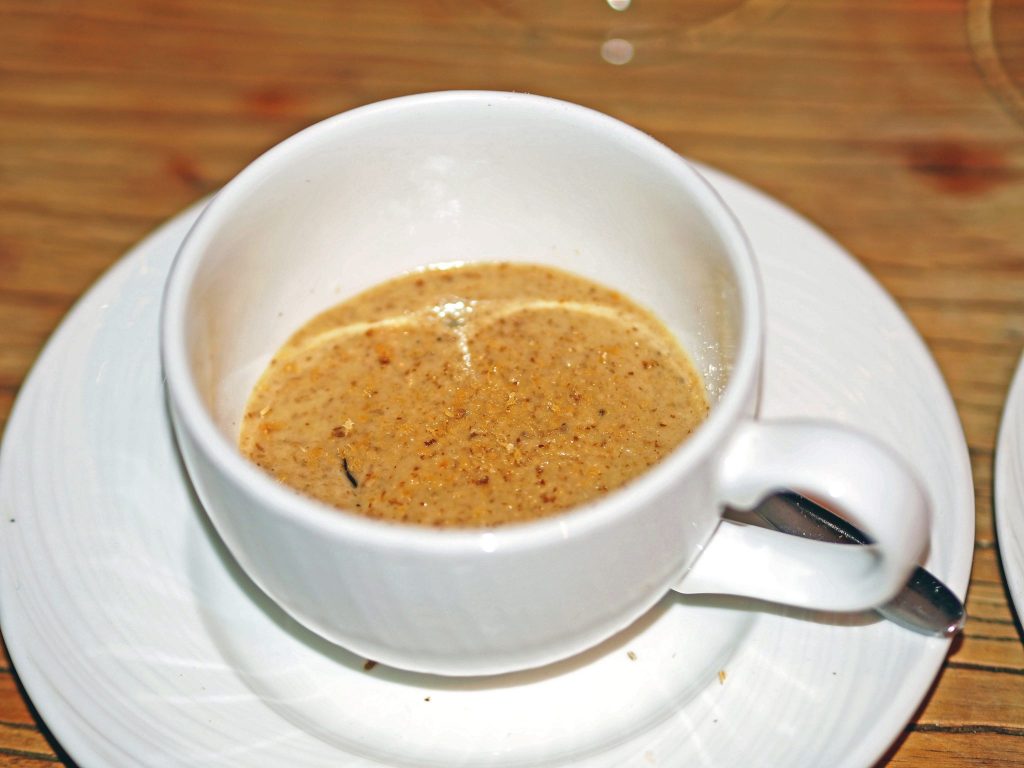 After thoroughly enjoying the previous course, I was very excited to then move onto a Reserve Pinot Noir; deliciously smooth with rich berries and a lovely hint of spice. This was served alongside beef and mushroom flavours, which of course went hand-in-hand with the wine. (Reserve Pinot Noir tasting notes – peppercorn and clove supplemented by a delicate whiff of dried apricot. Layers of dried fruit mingle with hints of raspberry and piquant spice.)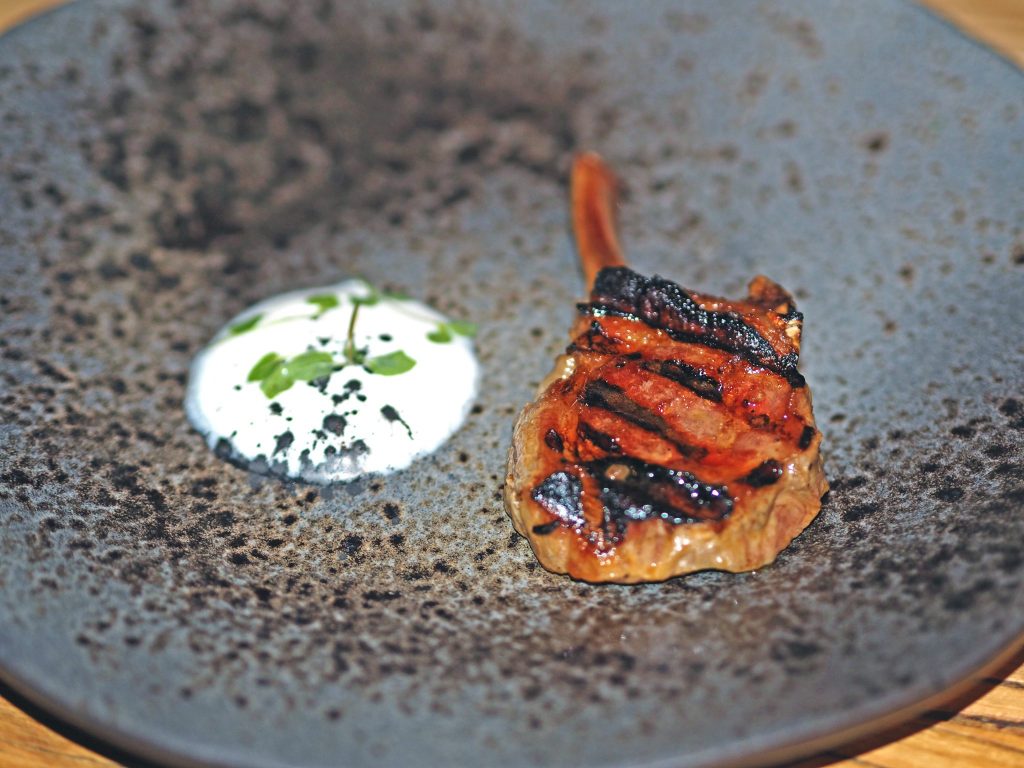 Moving onto the next red – a Reserve Merlot; this was lovely and rich, very fruity and oaky tasting, paired with lamb, mint, yogurt, smoke. The flavours of the wine were incredible with the charred yet tender lamb, and contrasting with the cool mint yogurt. (Reserve Merlot tasting notes – a royal feast of berries and nuts complemented by whiffs of cigar box, cedar & clove. Velvety smooth and berry-rich on the lingering palate where the exciting layers range from dried goji berry to hints of graphite and wood spice.)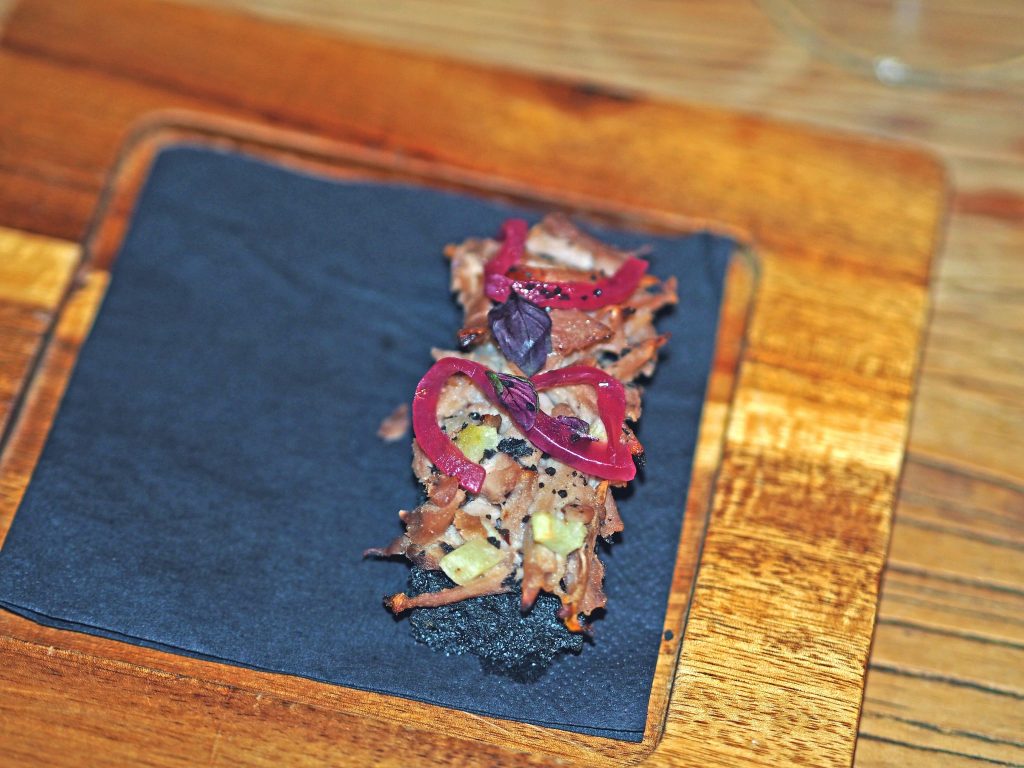 Our final savoury course of the evening had quickly come around – porkmbelly, apple, charcoal and mustard, accompanying a Creation Syrah Grenache. The wine was so velvety; it was a real winner to end a dinner with. (Creation Syrah Grenache tasting notes – Intense aromas of cranberry, exotic spice and nuances of dark rose petals. A feast of bright pomegranate, red current, cracked peppercorn and a seductive sprinkling of sumac.)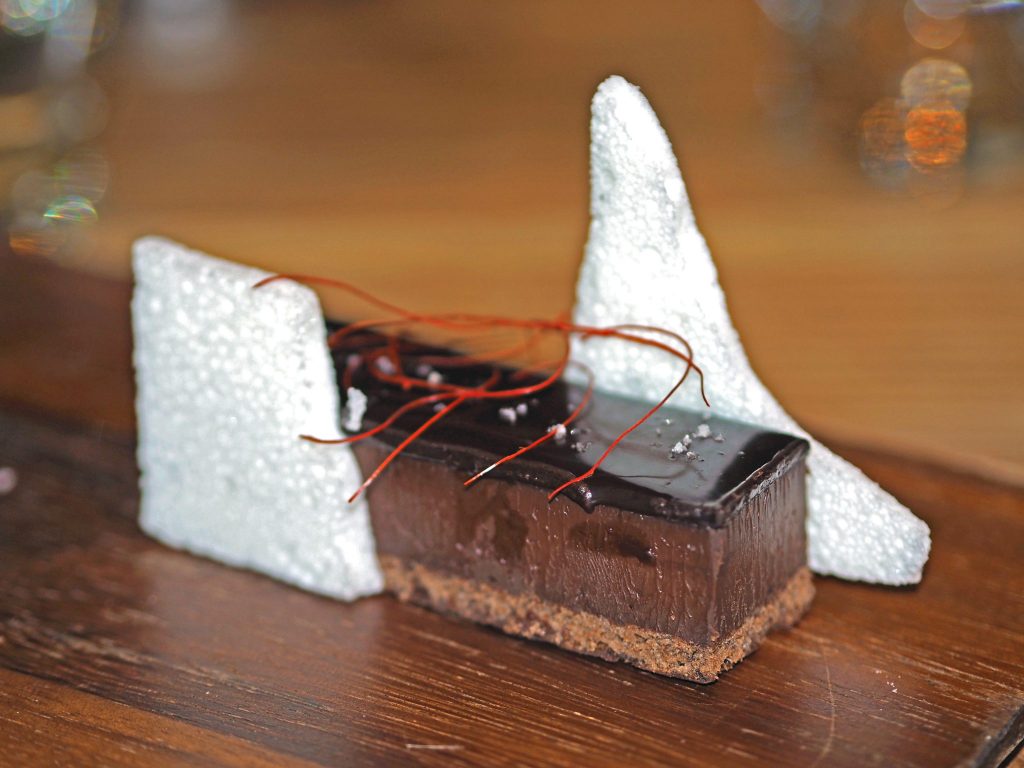 To conclude the amazing tasting menu, we were served this chocolate, olive oil, salt and chilli dessert which was just divine. It was quite rich but not sickly, and the perfect size to satisfy the sweet tooth at the end of a meal. As we finished up our evening the table discussed their favourite wines (and of course went back for more of said favourites) and chatted with the hosts.
I also must mention that Fazenda, if you weren't already aware, is a Rodizio Restaurant, and the standard menu is a unique dining experience, serving an incredible range of sizzling meat right to your table, accompanied by a fresh salad bar – where you can find traditional hot and cold dishes, fresh vegetables, salads, cured meats, continental cheeses, and several other options to accompany your meal. The executive chef – Francisco Martinez had actually created a unique tasting menu especially to compliment the Creation wines, which was (as you can see) so delicious, I am already planning to return to try their standard menu.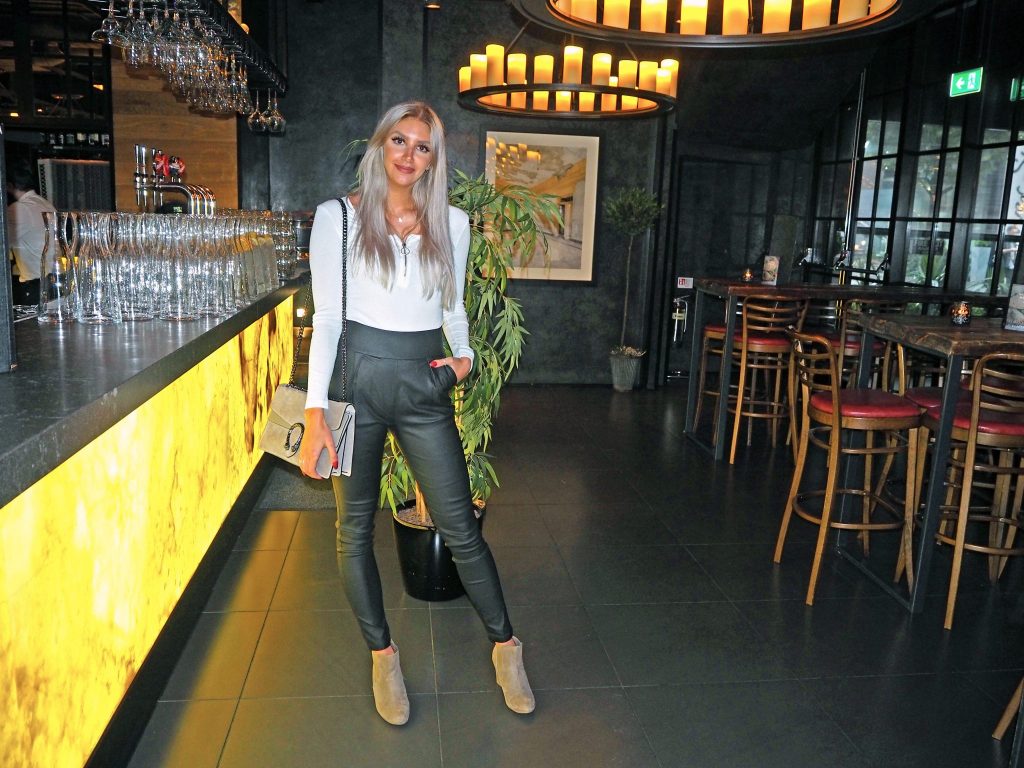 The whole evening was really special; the wine was of course the highlight, not to forget the accompanying food that just made the wine even better, and the whole team and Creation and Fazenda were the perfect hosts.
You can visit the Creation website here to find out more about them and buy the wines online (I am already hoping I will get to visit their picturesque South African Vineyards one day to try some more!)
You can also visit the Fazenda website here to find your nearest restaurant and see the menus – I highly recommend visiting if you haven't already.
LL x
*A huge thank you to both Creation wines and Fazenda for an evening not to be forgotten. As ever, all opinions are my own.