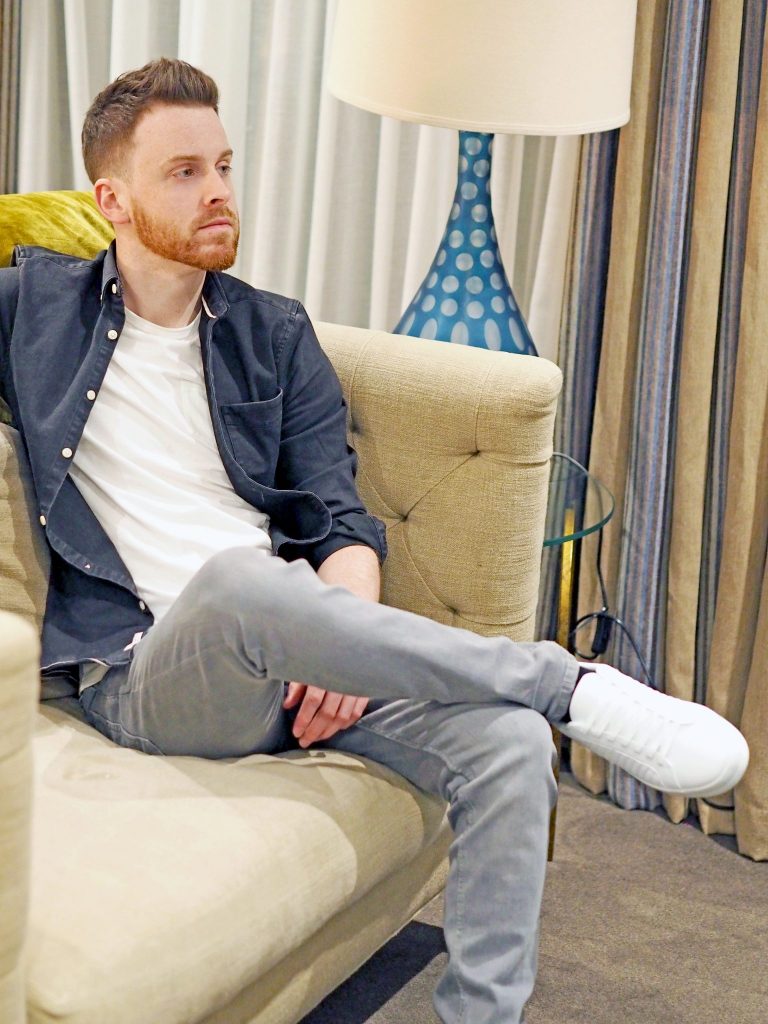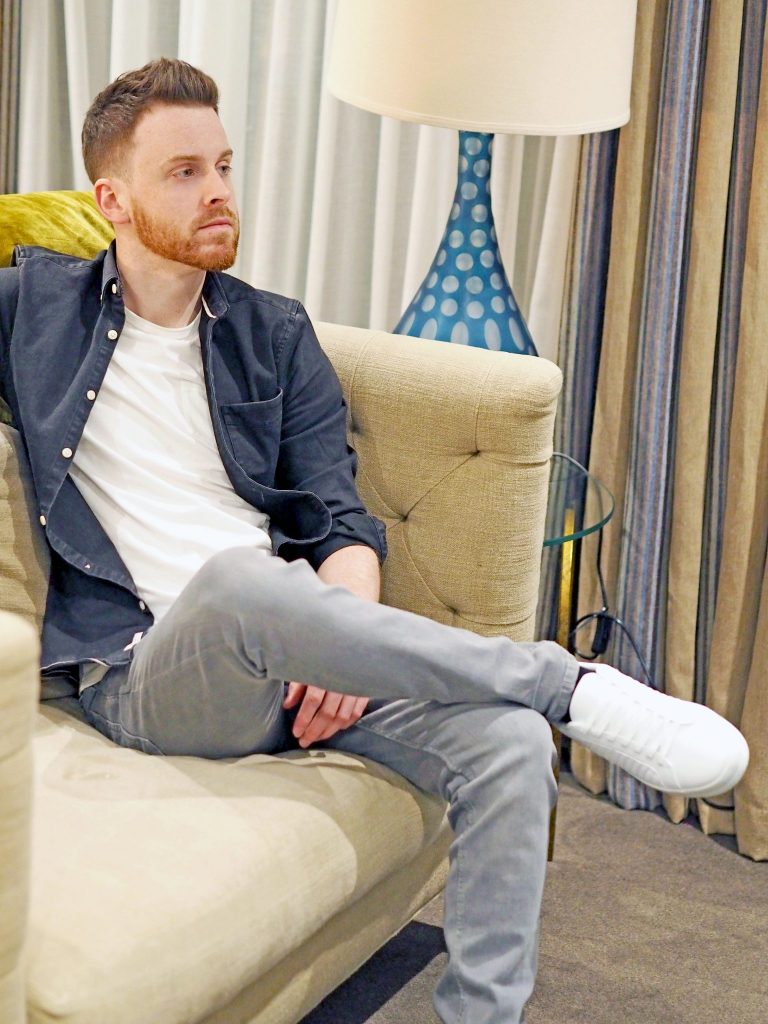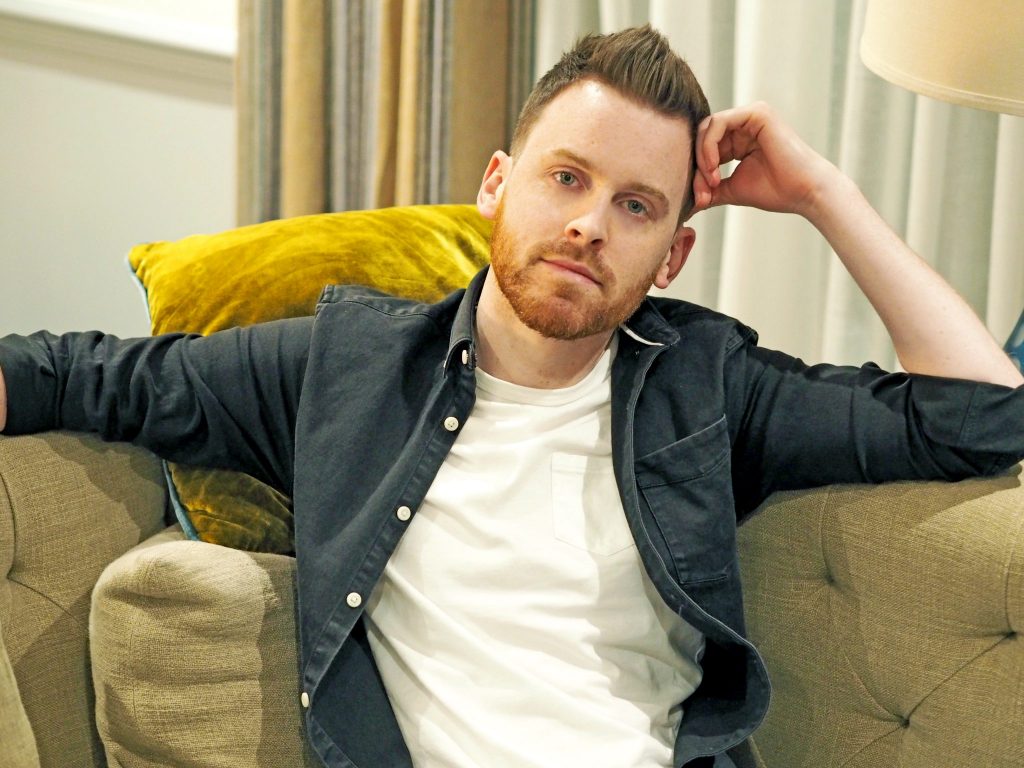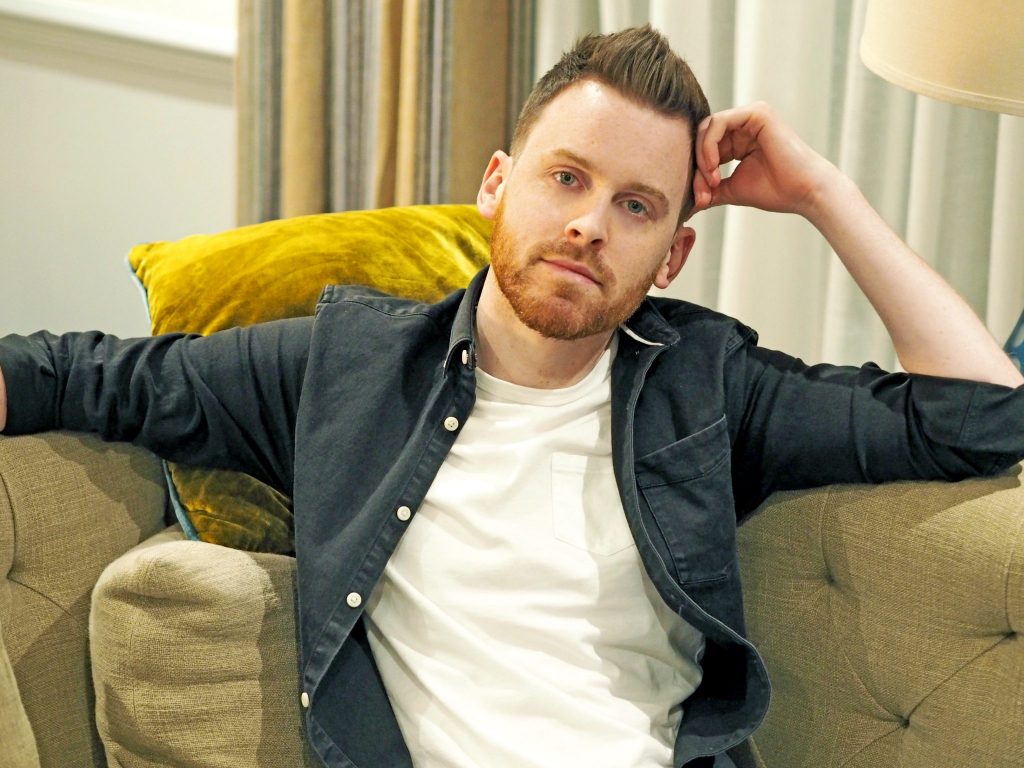 I am very excited to have teamed up with River Island to bring you guys a new style of post for the blog. I have put together a full outfit from River Island for my other half, which they kindly sent for Jonathan to wear and compare against an outfit Jonathan would pick for himself. The style brief I chose to go for is a smart-casual wardrobe staples. Some guys go for a more casual look in the day, and then a smarter outfit for an evening or weekend, so I wanted to put together a look that works great for both of these; versatile, smart and stylish.
The items in the images are all the pieces I selected for Jonathan, and his choices (along with mine) are all linked at the bottom of the page.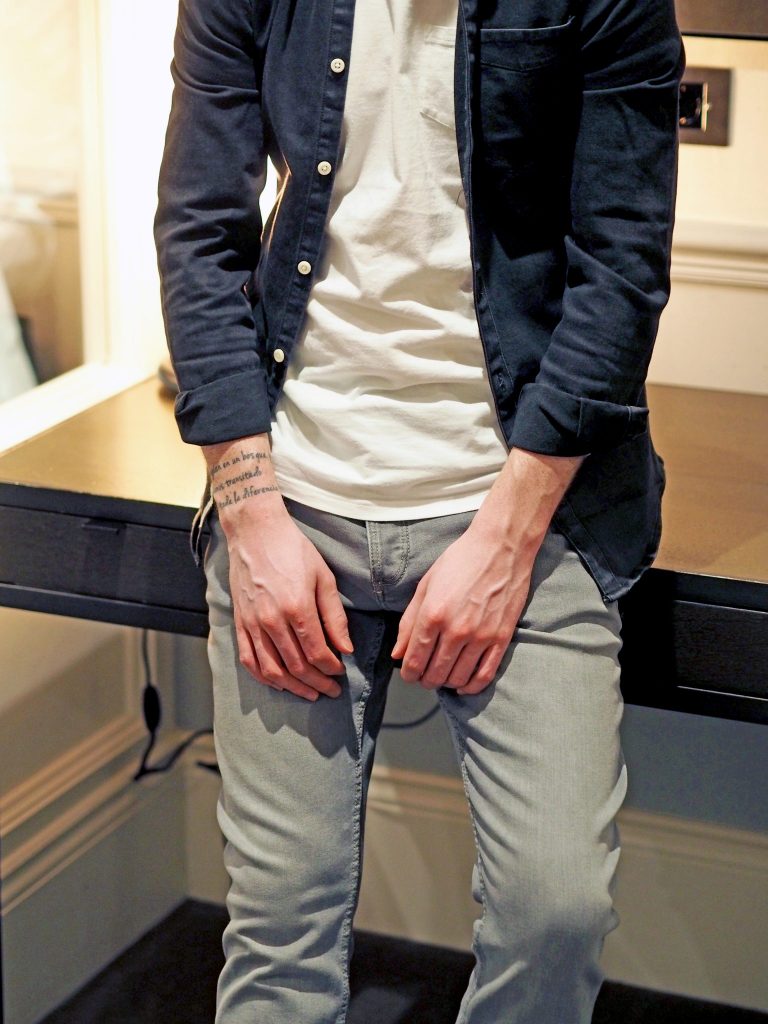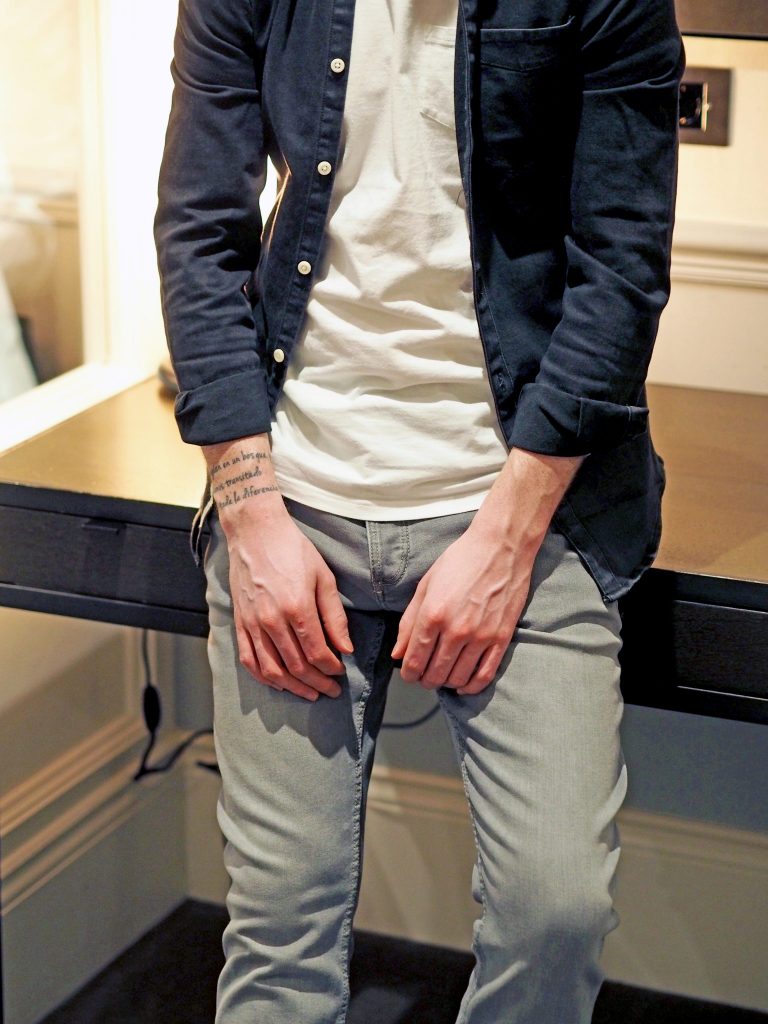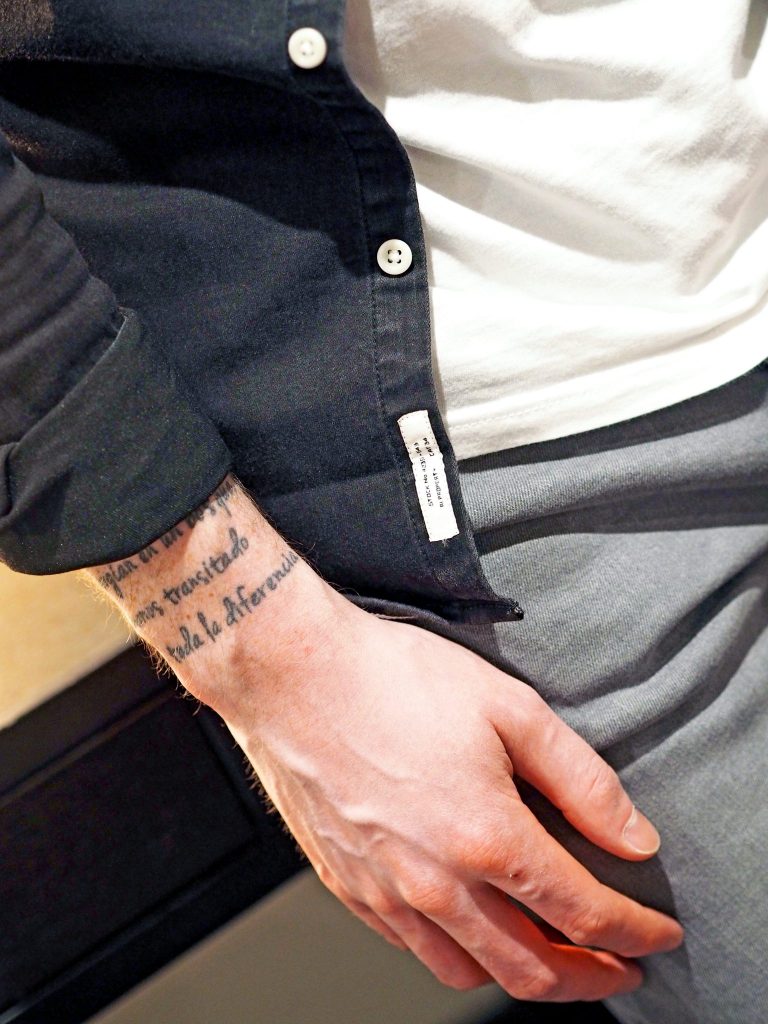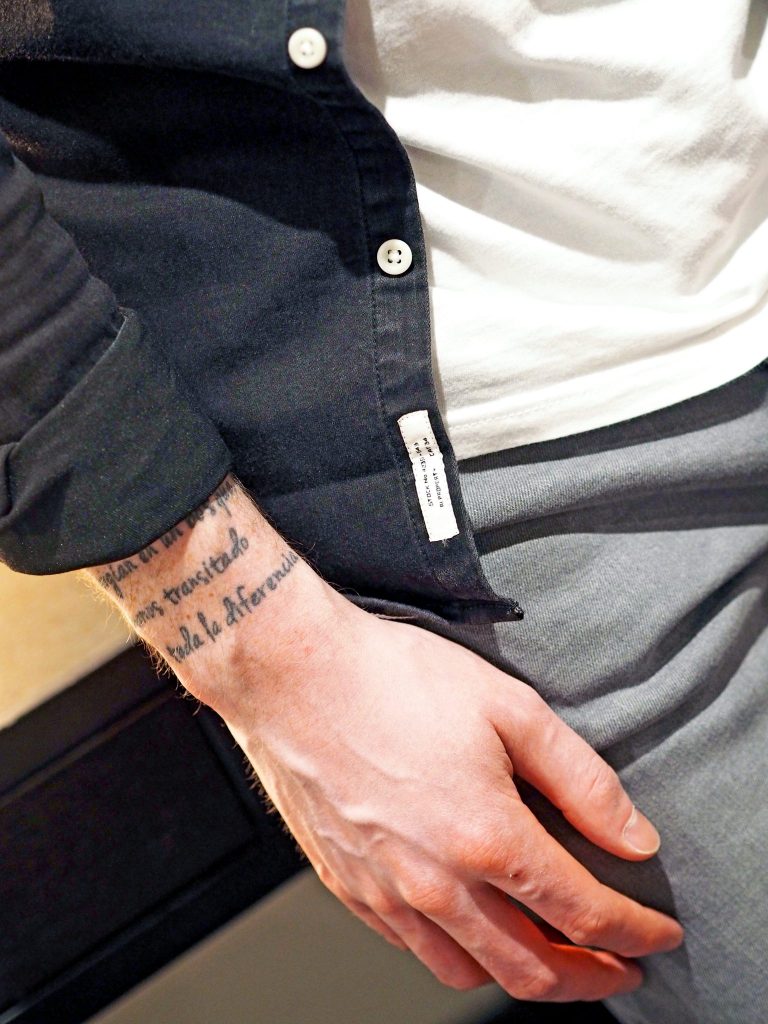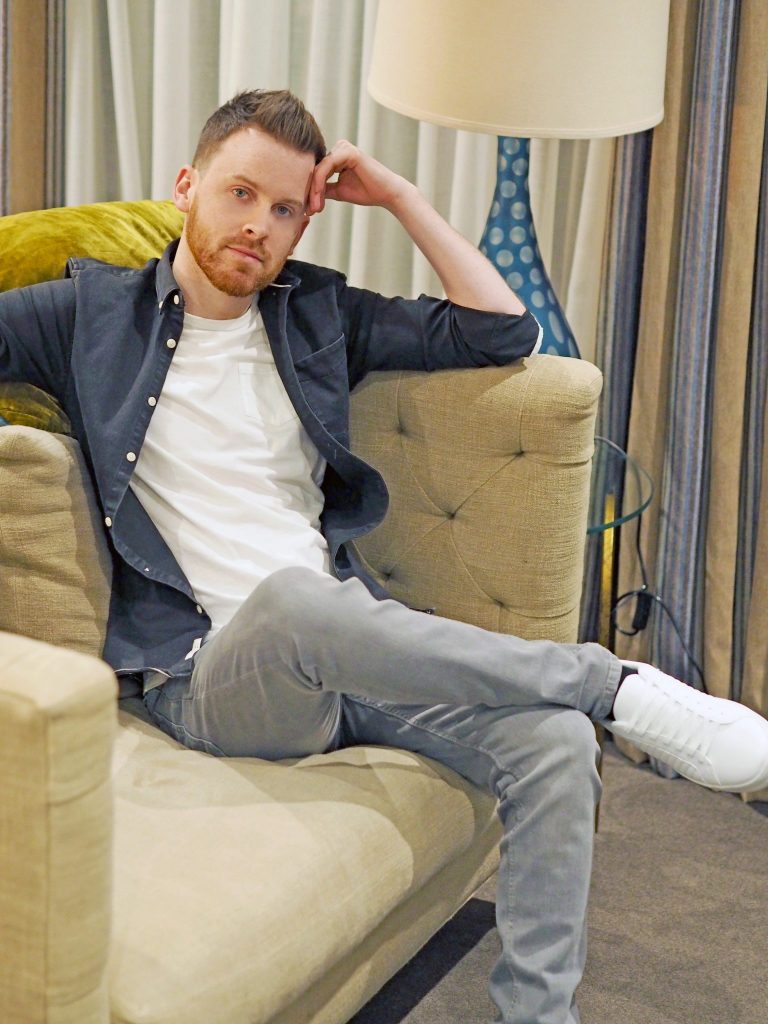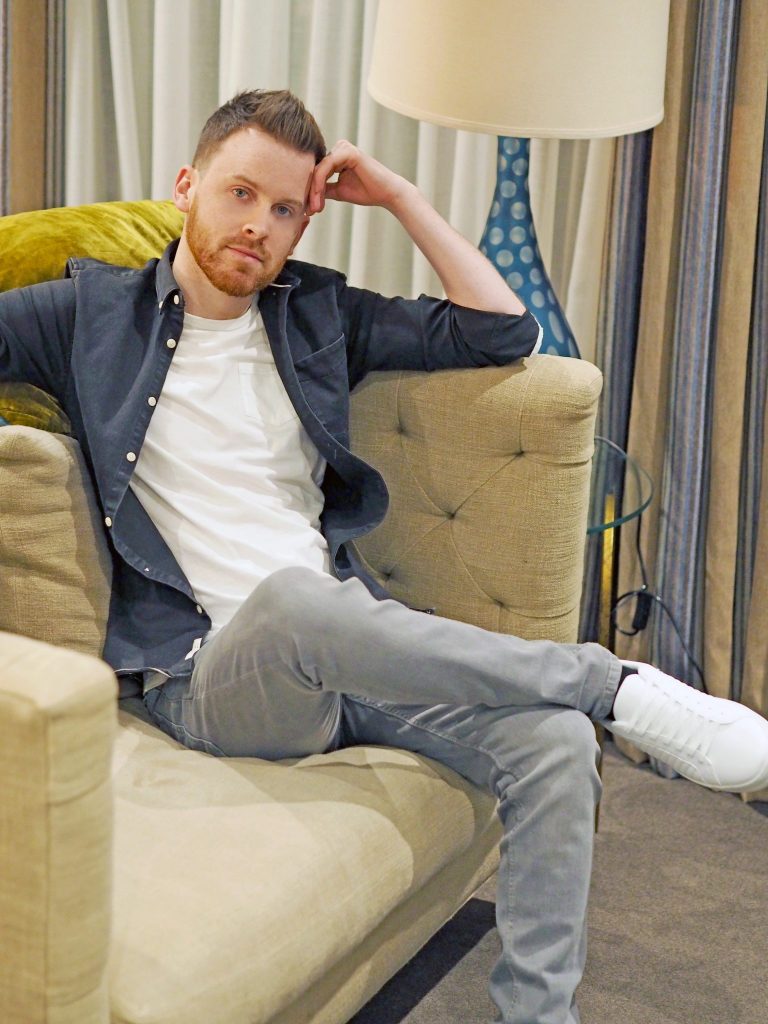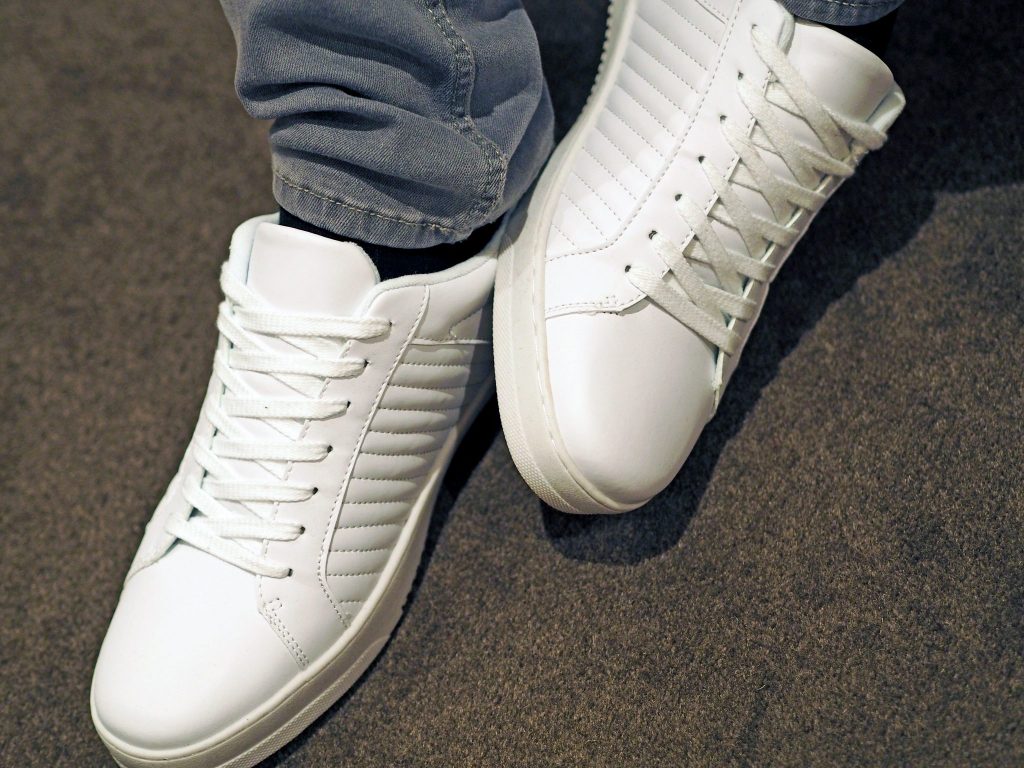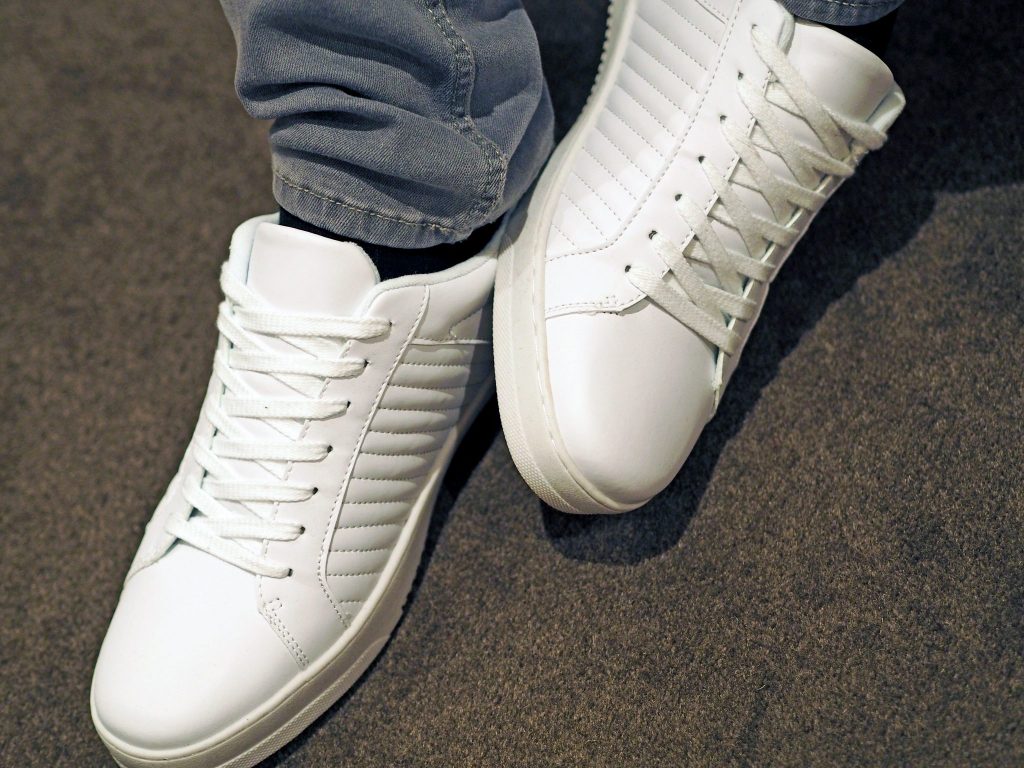 My Choices
I opted for some smart slim fit jeans, a dark denim shirt layered over a white muscle fit tee, and some simple bright white trainers. The look isn't too smart or too casual, so flexes really well for different occasions.
Grey Dylan Slim Fit Jeans
I picked the slim fit jeans in a grey colour, as I thought a standard blue denim might look too casual, and this colour is quite different to any other jeans Jonathan owns. They have a washed look so they feel quite effortlessly cool, but the slim fit and grey tone work really well with smarter tops too.
Black Muscle Fit Button Down Denim Shirt and White Muscle Fit T-Shirt
For me, this is the perfect combo that all guys should have in their wardrobe. I love a bright white tee, and then to dress it up, a slim-fit shirt layered over the top. This is a great option for when you are going out for a nice meal or drinks, or for an occasion where smart dress is required, but you don't want to go full shirt and tie. The white tee looks really crisp and clean underneath, and the shirt adds a smart, pulled-together look. You can really mix and match on the colour and print combos too, dressing up a tee with a smart shirt, or going more casual with a checkered lumberjack print.
White Quilted Trainers
The final part of this outfit is probably the most flexible, and you can change the whole look with just a slightly different shoe. I originally wanted to put a smart shoe in here as trainers can sometimes make an outfit look too casual, but I think simple trainers like these that are crisp white with minimal detail look really sharp, adding a cool and casual edge but without bringing the outfit down out of the smart bracket. You could go for a dress shoe or leather boat shoe for something more dressy, or a pump or running shoe to go full casual. I picked these trainers to finish the look as I thought Jonathan would be more likely to wear this outfit as a whole, but less-so if the shoes were dressier, so this part is really down to personal preference and occasion.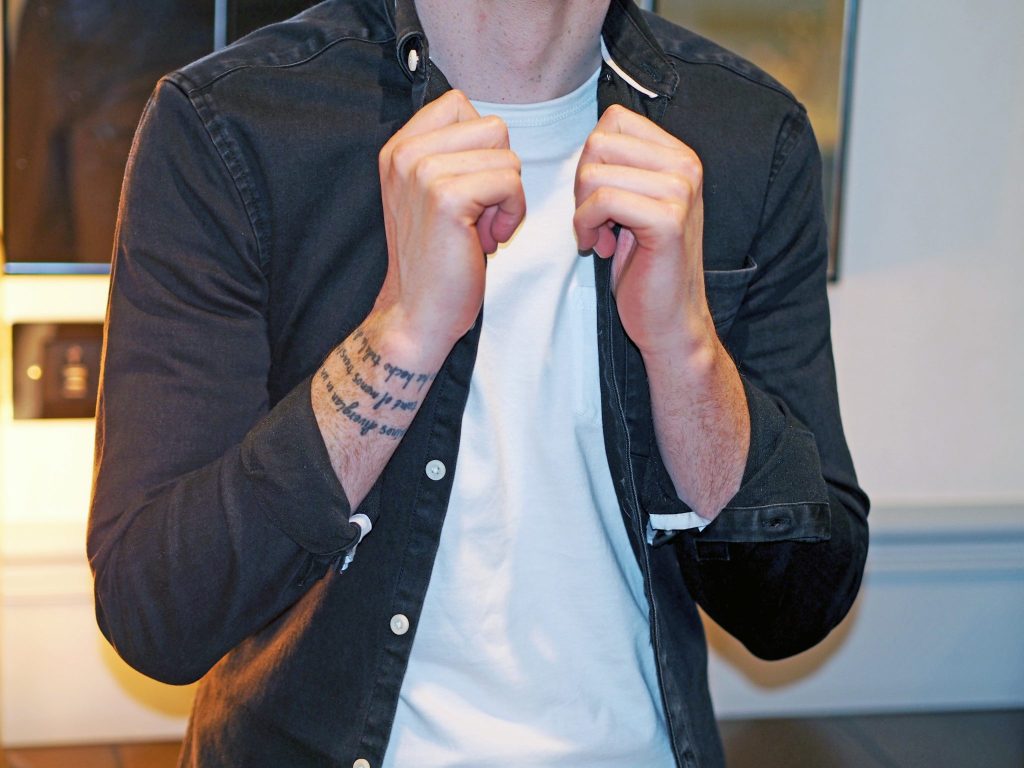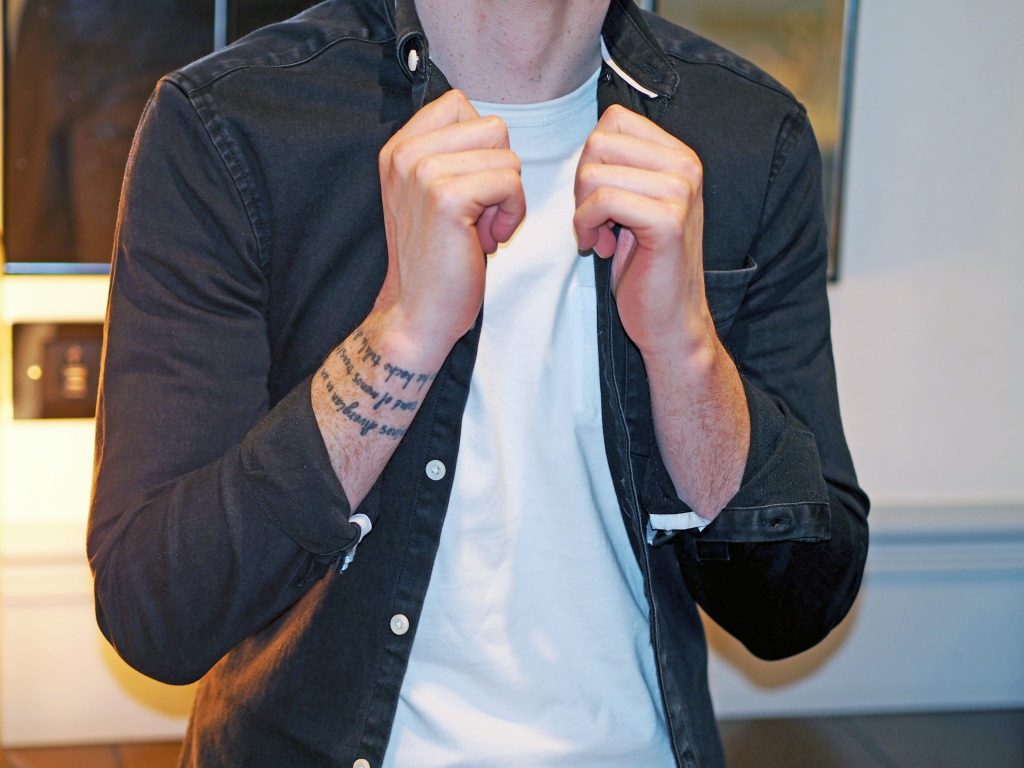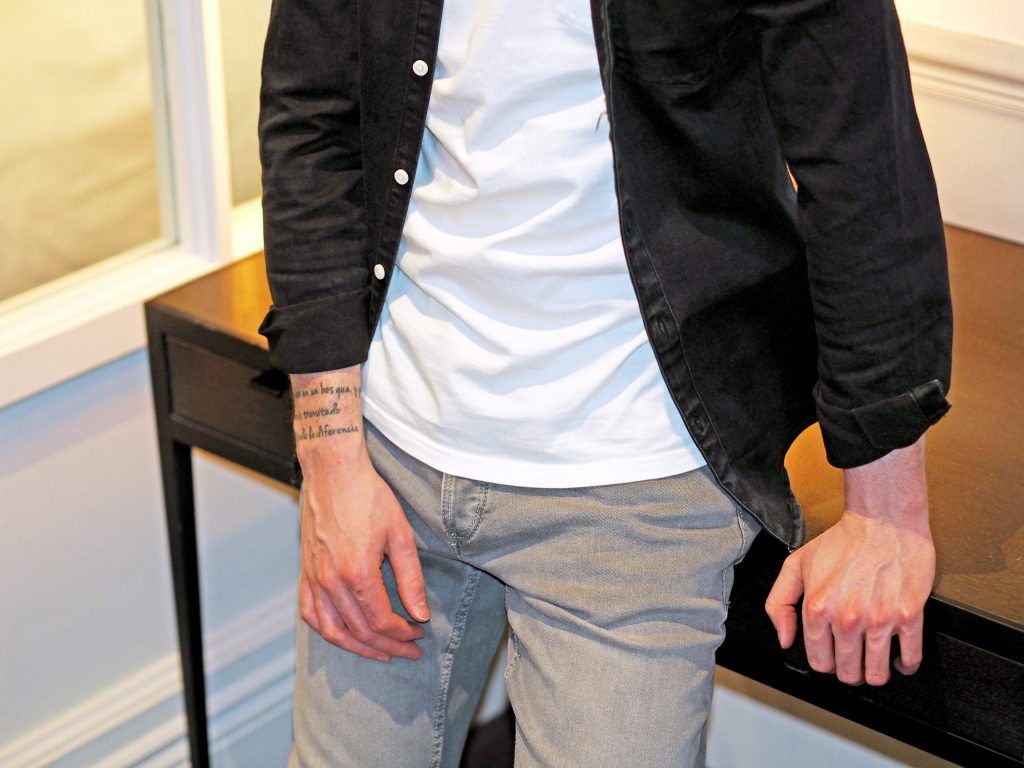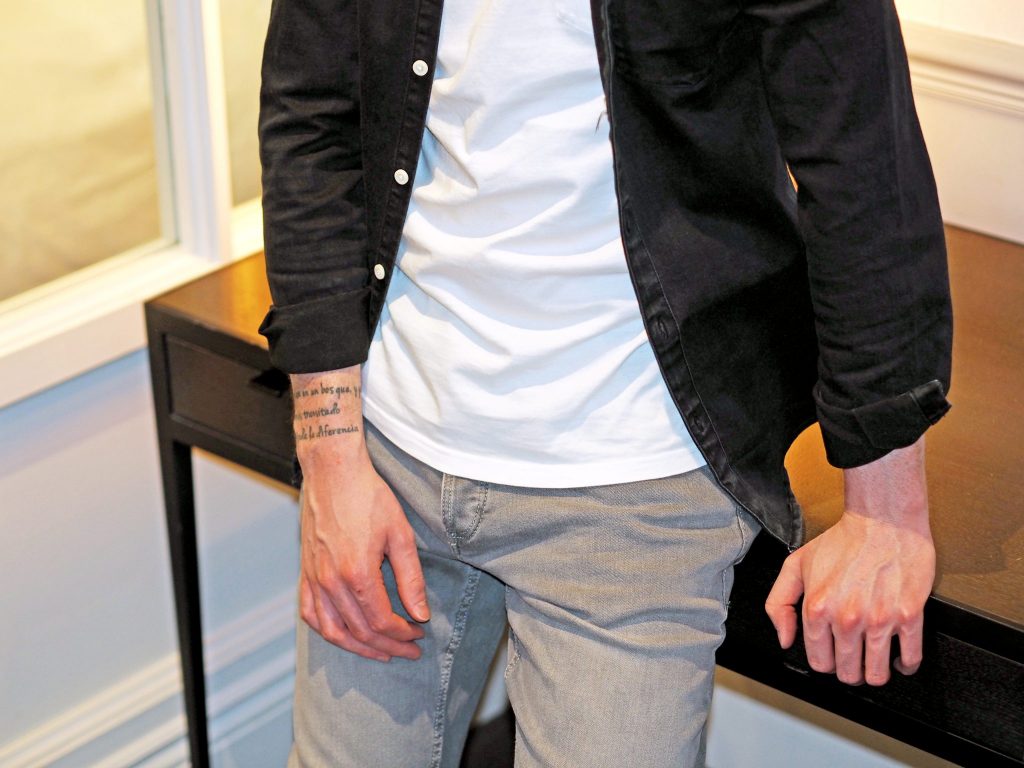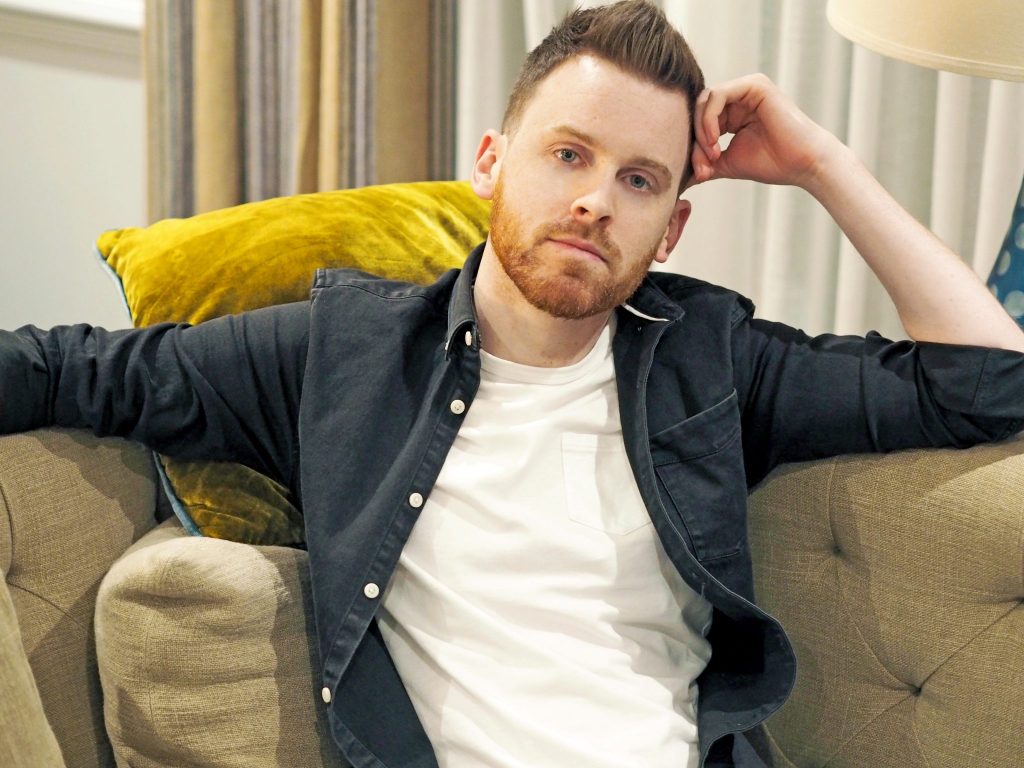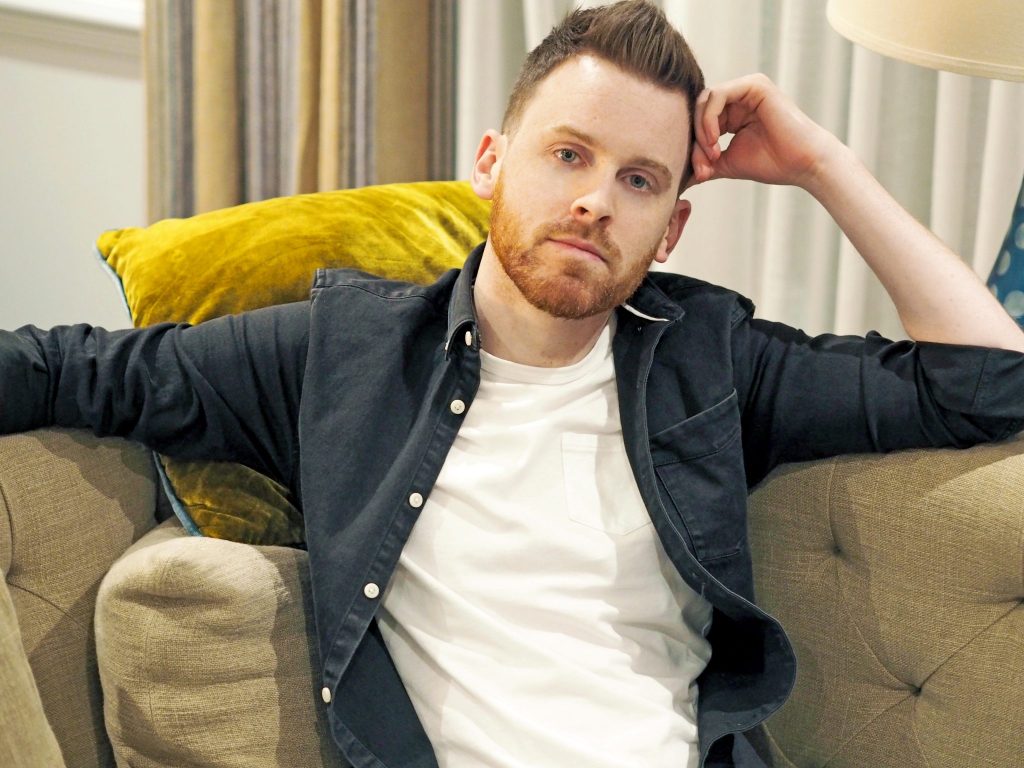 Jonathan's Choices
Moving on to Jay's outfit options, he was given the same smart-casual wardrobe staple brief, and I asked him to select pieces to create a full outfit that he could wear from day to night for different occasions.
Mid Blue Fade Ripped Jimmy Slim Tapered Jeans
Starting again with the pants, Jonathan picked these light blue jeans in a tapered style with ripped details. Now I actually love these jeans, and some of my favourite jeans that Jonathan owns are this ripped style with a tapered leg, so I think this is a great choice for his personal style, however it may not work quite as well as the grey jeans for multiple occasions. You can totally dress up ripped jeans, but this very light denim colour isn't as easy to work with to create a smarter look in my opinion, and it can be tricky pairing smart shoes with them too.
Black Long Raglan Sleeve Muscle Fit T-Shirt and Black Leather Biker Jacket
This leather jacket is my favourite pick from Jonathan, and I think this fits the brief perfectly. It is timeless and smart, and definitely one of those pieces that can be thrown over anything to bring a look together. It would look equally as cool over a smart shirt as it would over a tee, and adds edge to the full look. I do also like the style of t-shirt Jay picked, and I think we were on the same wavelength with the muscle fit style being a better option for something that would be worn for both casual and smart occasions.
Khaki Green Gum Sole Lace-Up Plimsoles
To complete the outfit are some trainers that aren't actually too dissimilar to my pick. The style of shoe is quite alike, but I do get a more casual feel from these plimsoles. I think the darker colours could lend really well to a smarter evening outfit, and they would also look great with the jeans Jay chose, but the gum sole does dress them down slightly, and for a more versatile outfit I would personally opt for the clean white trainers.
The Verdict
Overall I actually did like both outfits, but I do think my choices are more wearable for all occasions, whereas Jonathan's are definitely tailored to his style and the things he would usually wear. He also really liked my choices and agreed it would be something he could wear for different occasions, but the complete outfit was probably something he would consider more dressy and wear out to dinner or an event.
Which outfit do you prefer? Let me know in the comments below!
LL x
*The items pictured were gifted to me for this post. As ever, all opinions are my own.