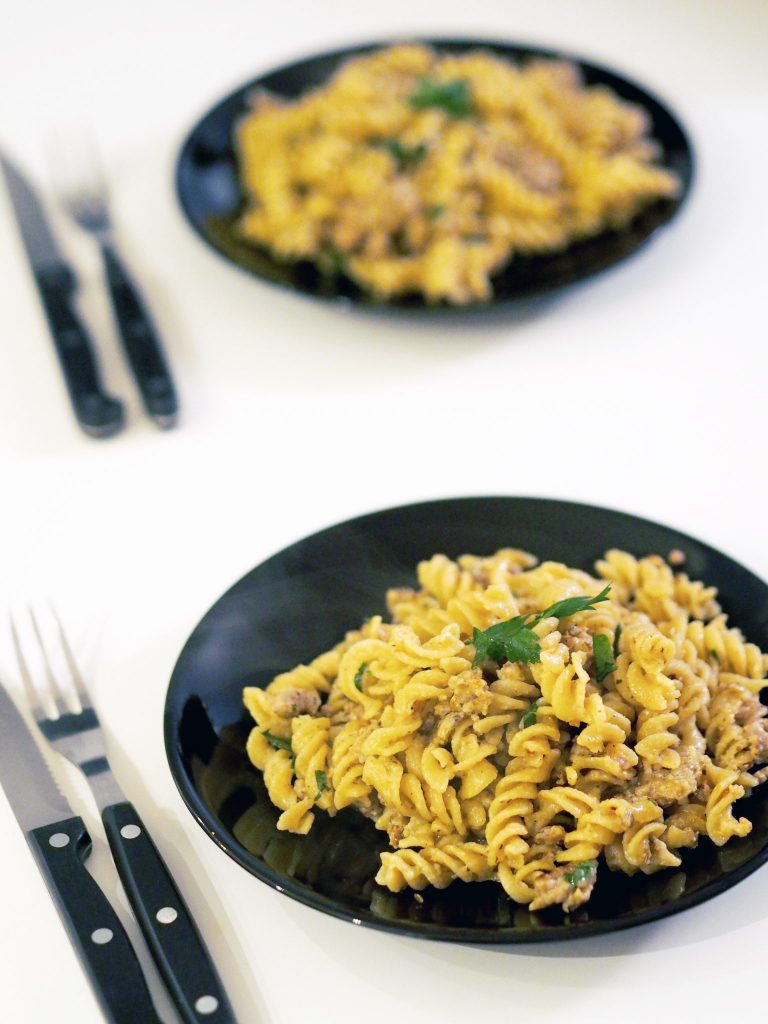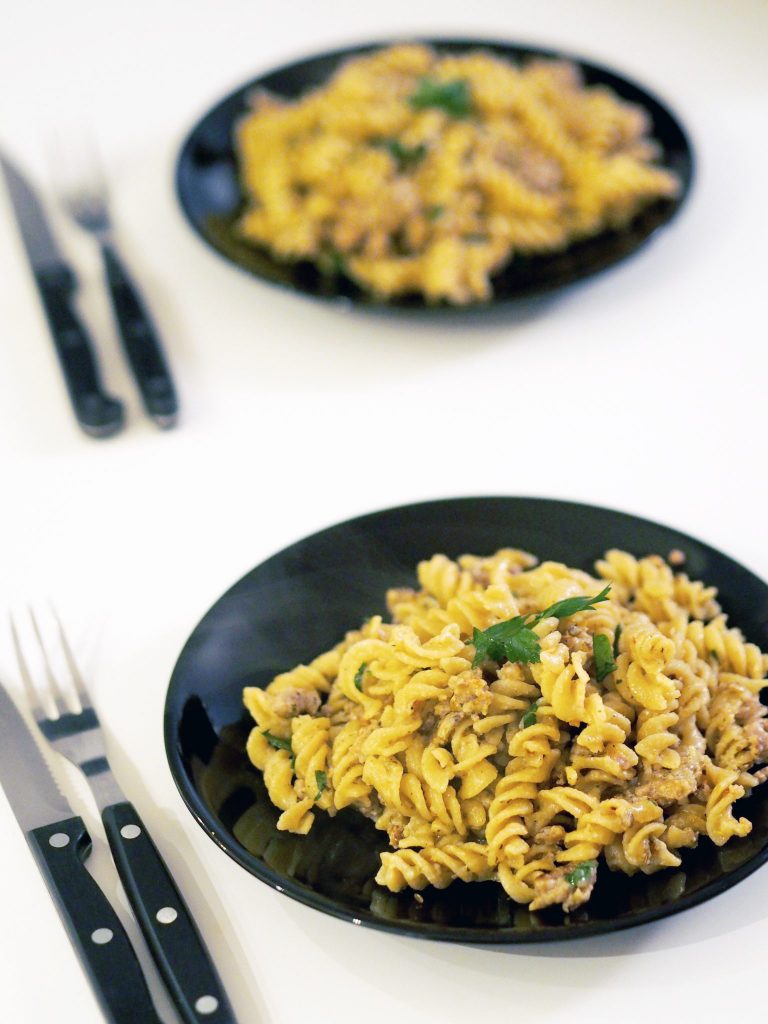 This is a perfect winter warmer dish, made with the delicious artisan sausages from Grandad's Sausages.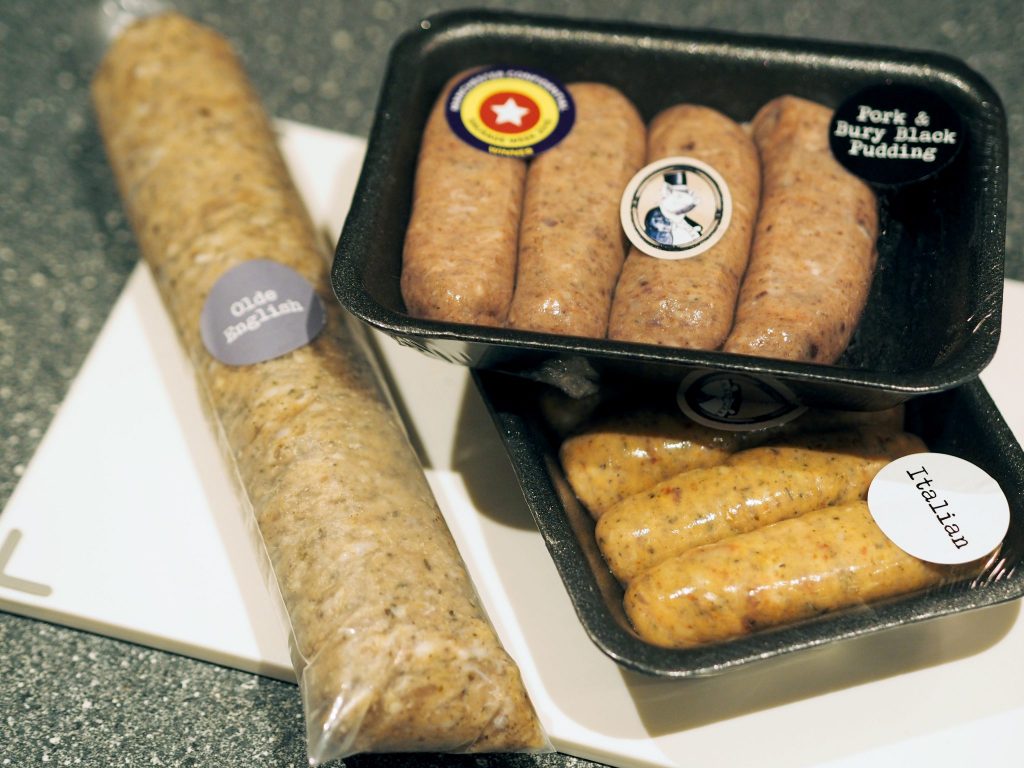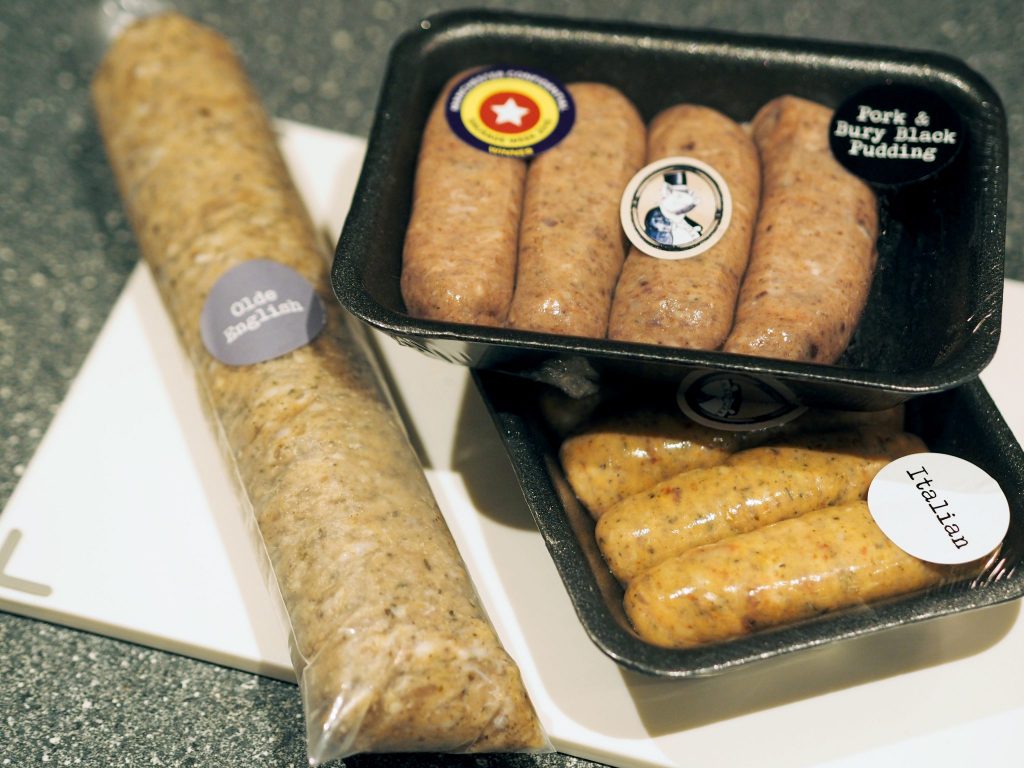 Grandad's Sausages are a family business originating from Bury in Lancashire that has been in operation for over fifty years, started by Grandad Bernard. Their high-quality, artisan pork sausages come in range of mouth watering flavours including Traditional British Pork, Olde English, Pork and Leek, Lincolnshire, Cumberland and award-winning Pork and Bury Black Pudding.
They also produce other delicious flavours, including Fiery Chilli, Italian, Moroccan, Pork and Garlic and Pork and Apple. Working with Grandad's Sausages, I have selected three of their sausage flavours to bring you a series of recipes and ideas for creating dishes with them.
First up is this warming dish which is a perfect dinner during the winter, and totally adaptable to your favourite tastes and flavours. It is actually a twist on a Jamie Oliver recipe that our neighbours made for us at a dinner party once – it was so delicious that we have been making it regularly since, although I like to play around with the flavours.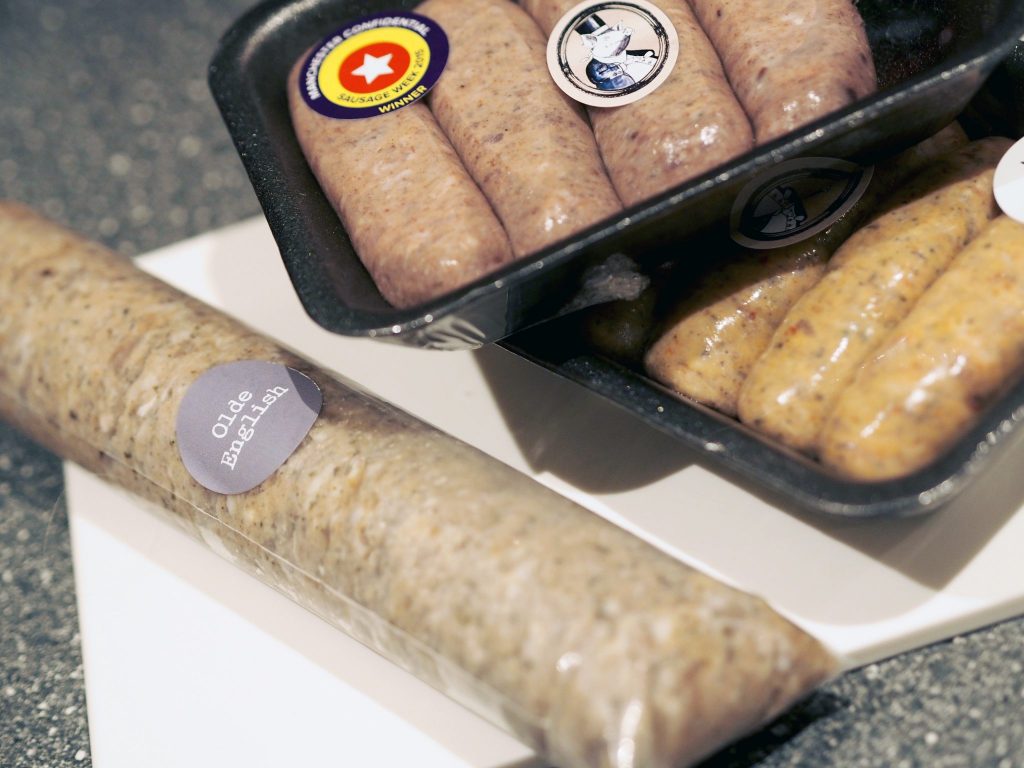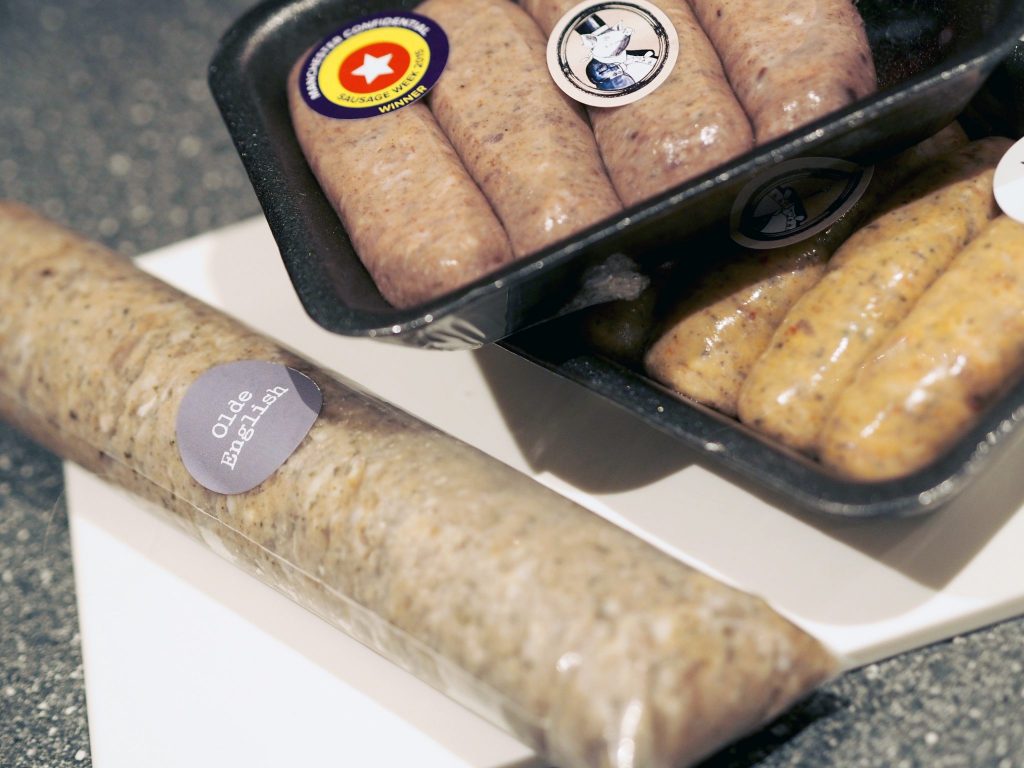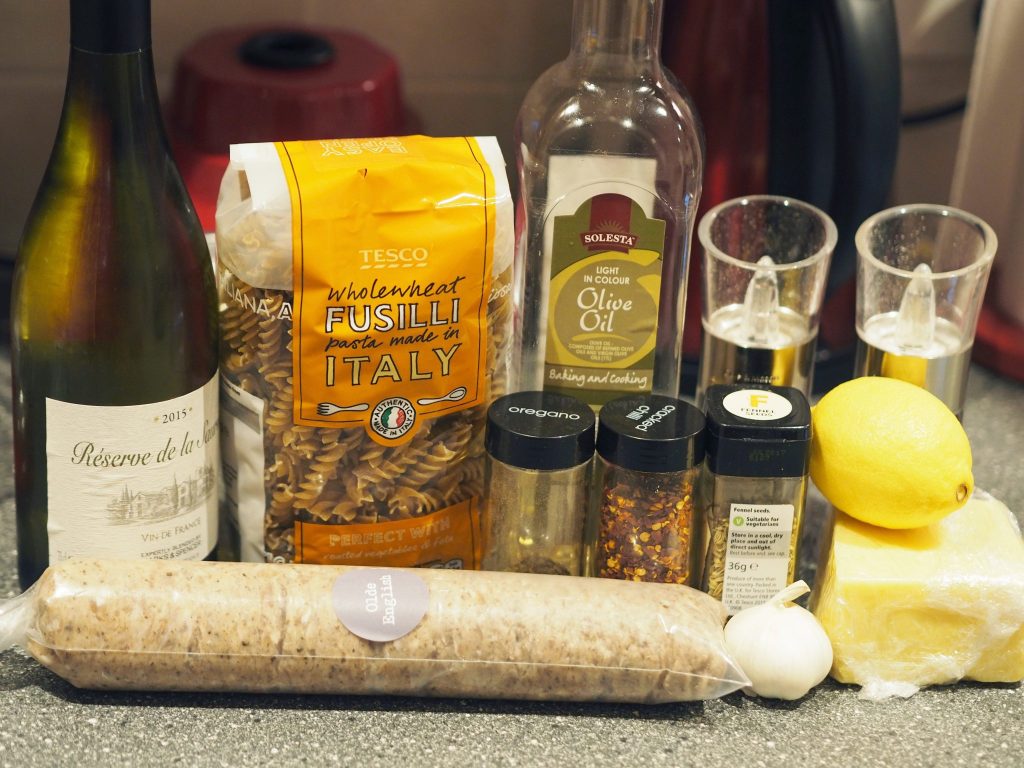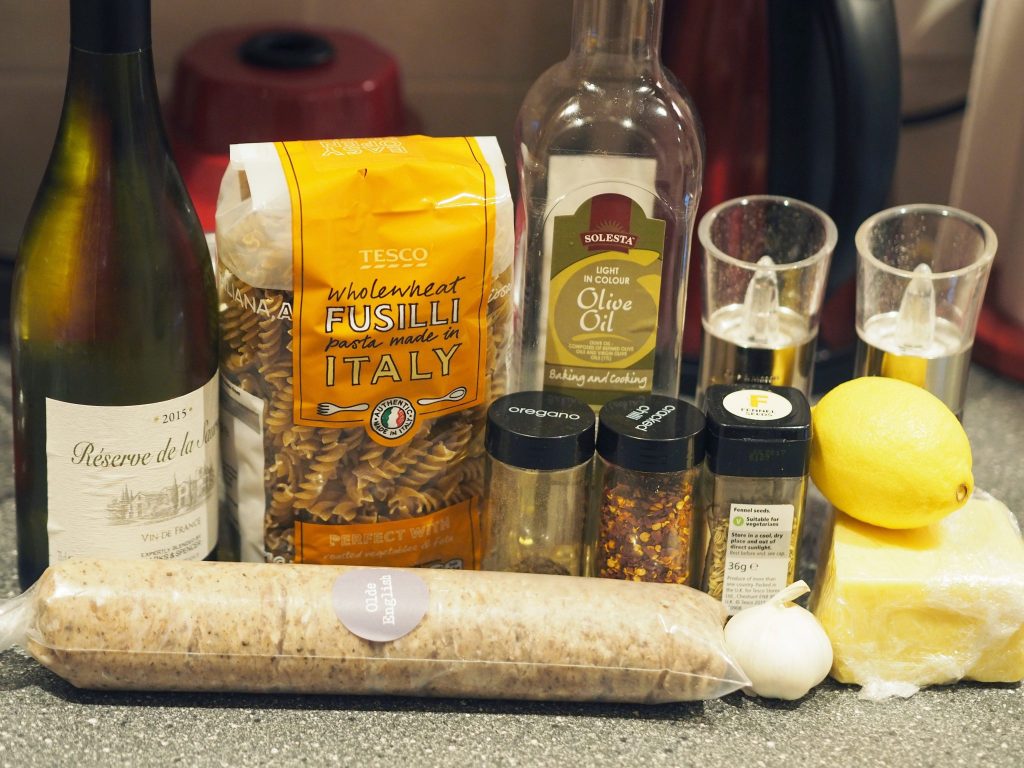 Ingredients
(Makes enough for 2 hearty portions/3 normal portions)
400g Grandad's Sausages Olde English Sausage Meat
200g Fusilli Pasta
2 Garlic Cloves
1 Tbsp Fennel Seeds
Juice and Zest of 1/2 Lemon
200ml White Wine
1 Tbsp Oregano
Salt & Pepper to taste
Chilli Flakes (optional)
Handful Fresh Parsley
Handful Spinach (optional)
Mild Cheddar Cheese – as much as you like!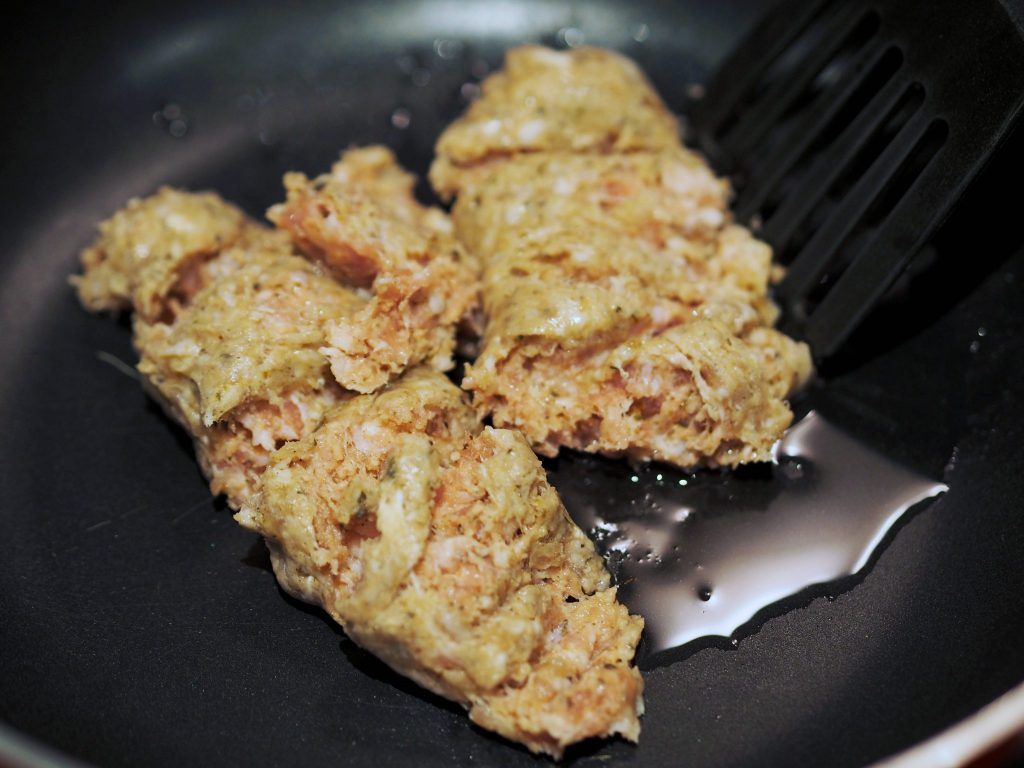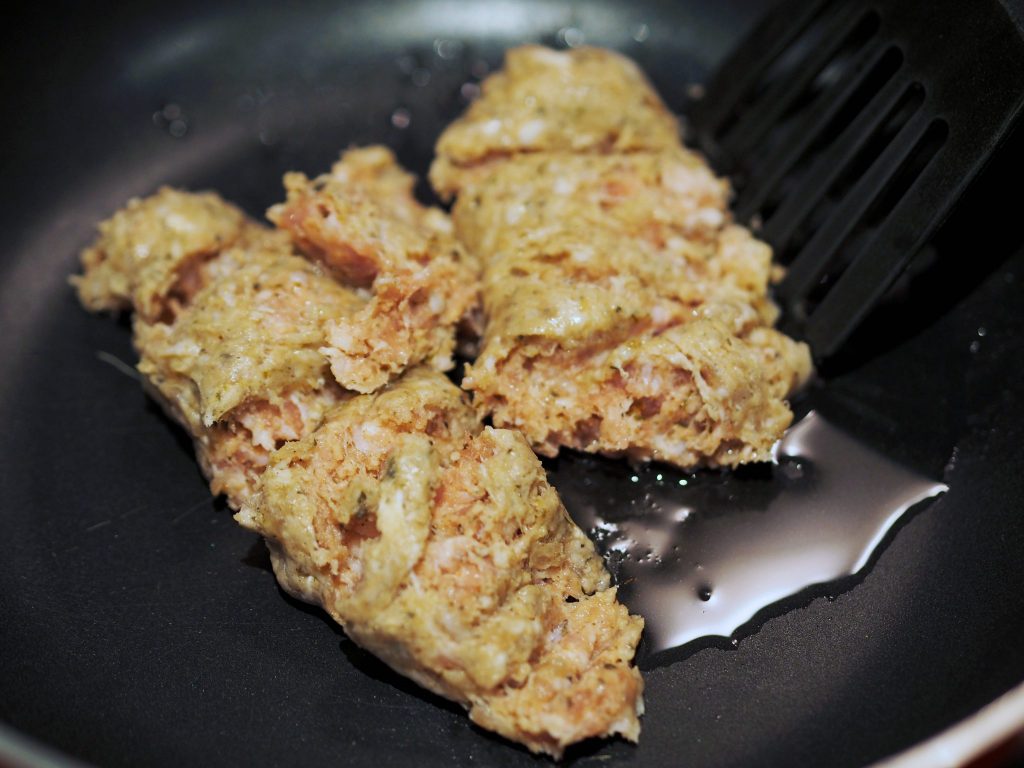 First of all, start this dish by getting your pasta going so it can be cooking in the background. I use 75g per person, so just weigh out enough for each person and cook in water on a medium heat according to the packet.
While this is cooking, get out a large pan to cook the sausage meat in (you will be adding the pasta in here too later on so make sure your pan is big enough for everything). Finely slice or crush your garlic, then on a medium-high heat, add a glug of oil to the pan and throw in your sausage meat, followed by the garlic. If you have crushed fennel seeds you can add these in now, if the seeds are whole you will need to grind them down with a pestle and mortar, or using the good old fashioned put-them-in-a-bag-and-hit-with-a-rolling-pin method! You don't need to grind these right down, just crush them enough to release the flavour and so they aren't all whole seeds.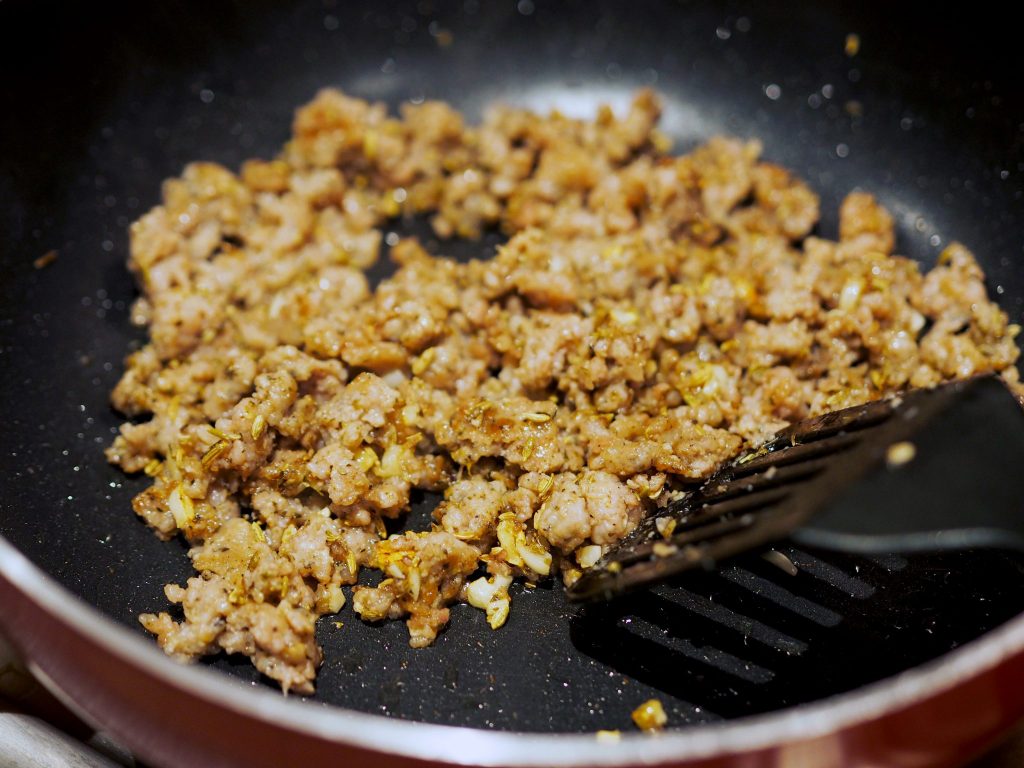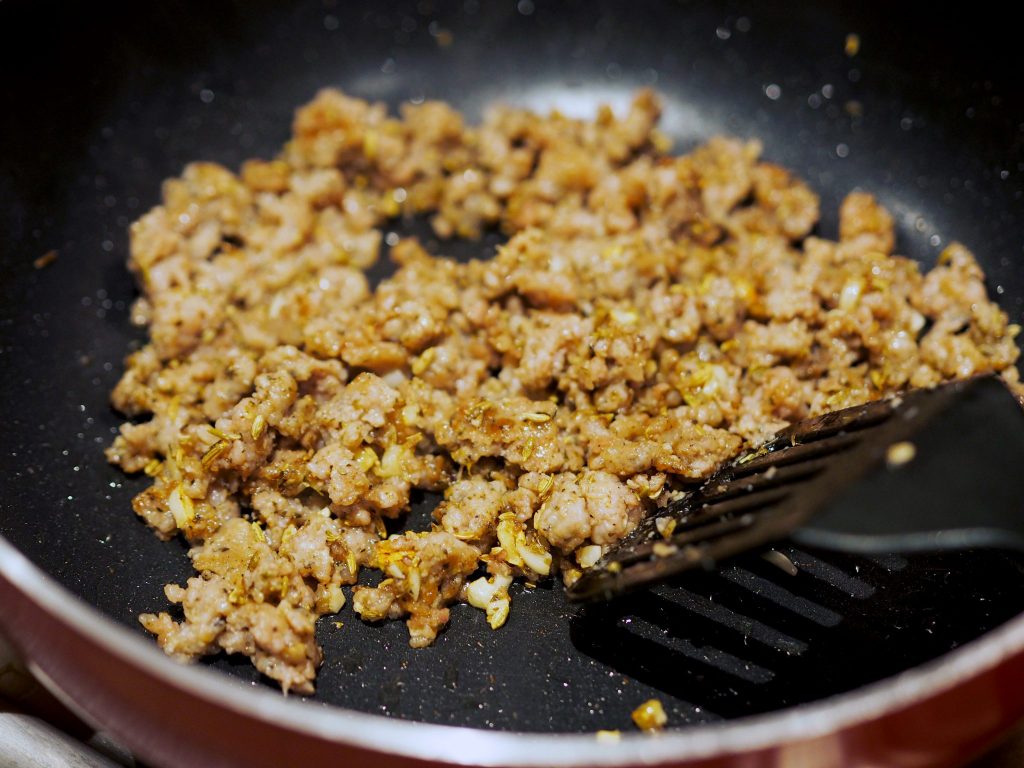 Fry this off in the pan until the meat is beginning to caramelise and brown, then turn the heat down to medium and add in your white wine. Cook this off until reduced by half and squeeze in your lemon juice for a hint of citrus. When your pasta is done you can drain this off and give it a quick rinse to get rid of any starchy liquid. Add the pasta to the pan along with your sausage meat and give it a good stir to get the flavours mixed in.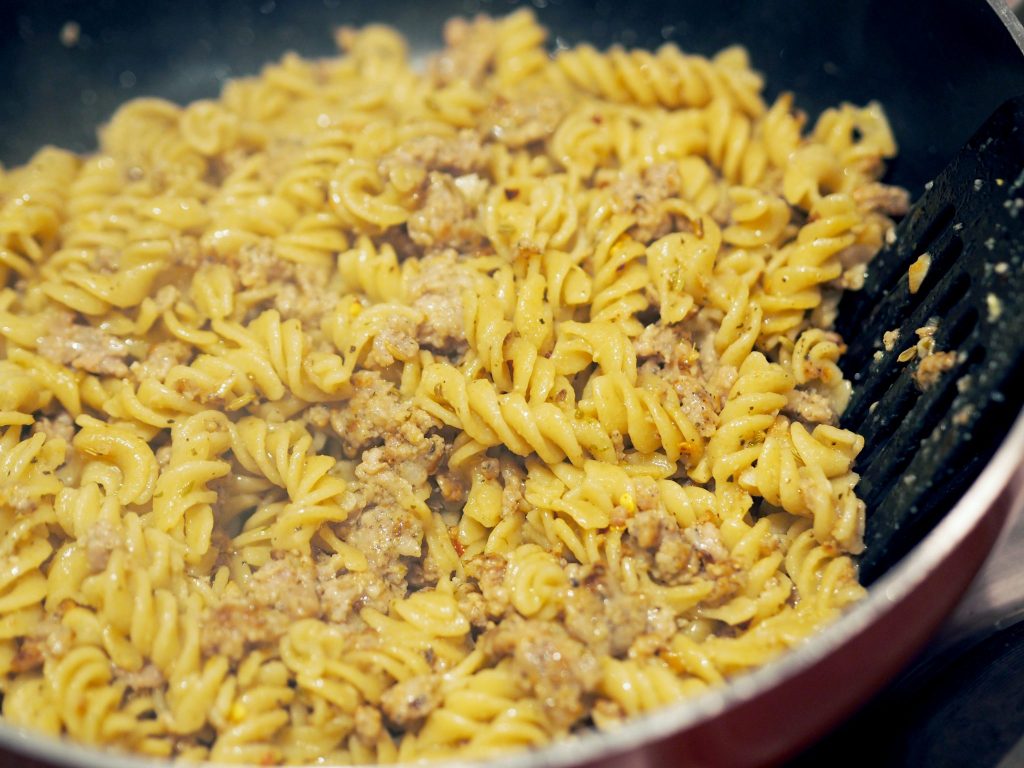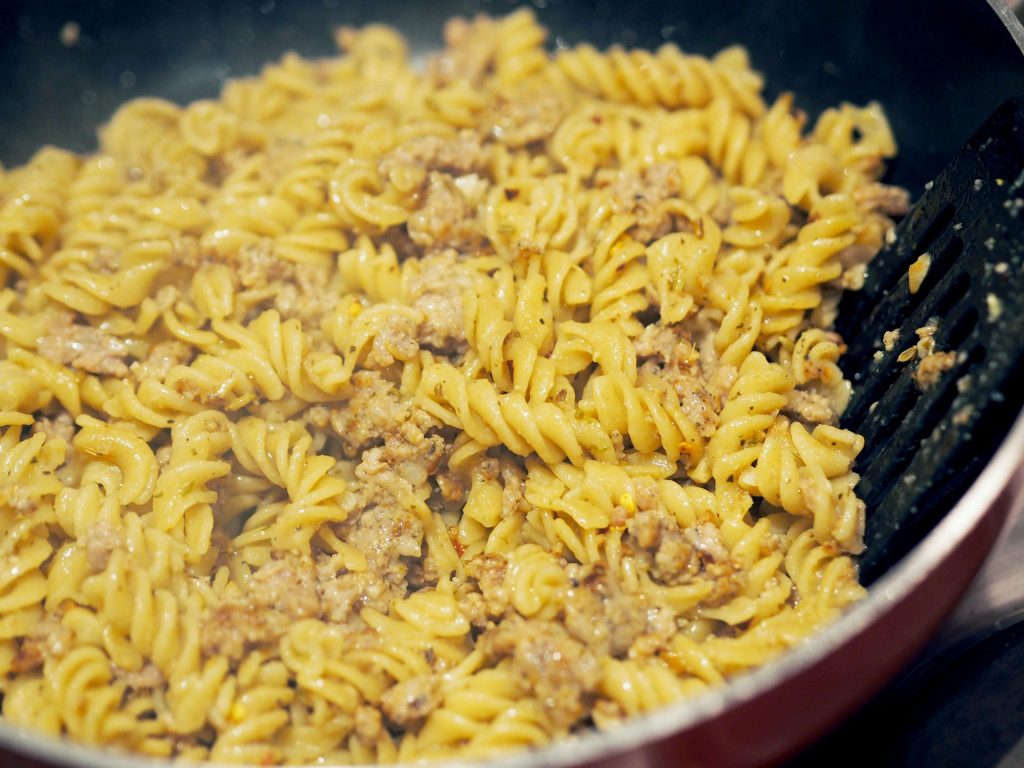 Add salt and pepper to taste, oregano, and chilli flakes if you want to add some heat. If you want to get some goodness into the dish, you could add some veggies or greens at this point; I sometimes like to add some spinach in here to wilt down but you can add anything you like – broccoli, spinach, kale, asparagus and mushrooms are some options that would all work really well with this dish.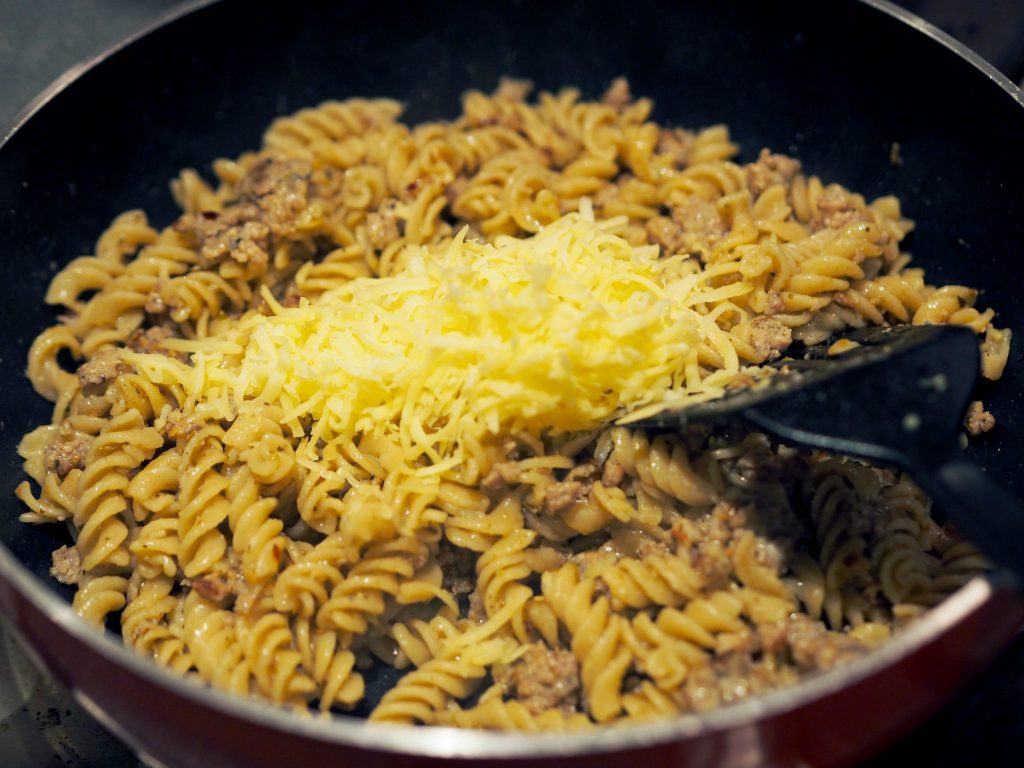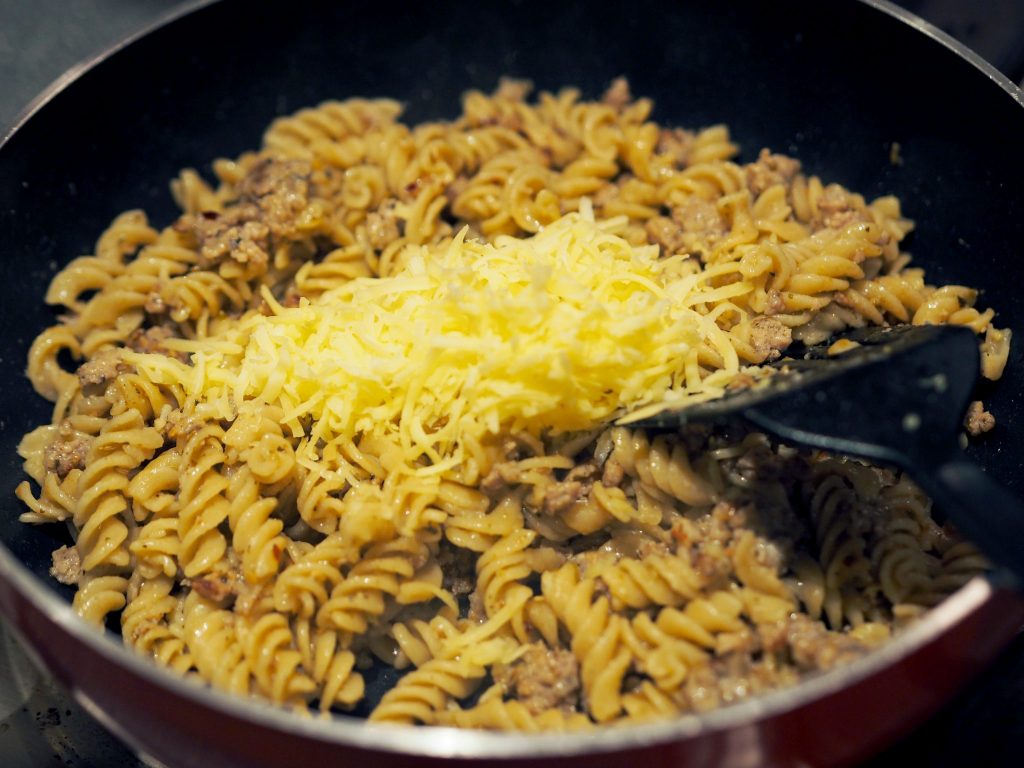 Of course, you can play around with your herbs and spices here, so feel free to add or take away any of these ingredients. If you like it spicy you can add fresh chillies instead of dried, or if you prefer it cooler you could add a spoonful of natural yogurt or sour cream and some finely chopped onions. The basic ingredients are super versatile so you really can personalise it to suit your tastes.
Once you are happy with the flavour, finish the dish off with a generous portion of grated cheese – whatever cheese you prefer is fine. Parmesan goes particularly well, but here I just used mild light cheddar as it is what I had in the fridge. You could add cream cheese for a creamier flavour or maybe some stronger cheddar to add a bite of sharpness. Stir this in, grate over some lemon zest and chop in your fresh parsley. When all of the cheese has melted into the dish and the ingredients are well mixed, you are ready to serve.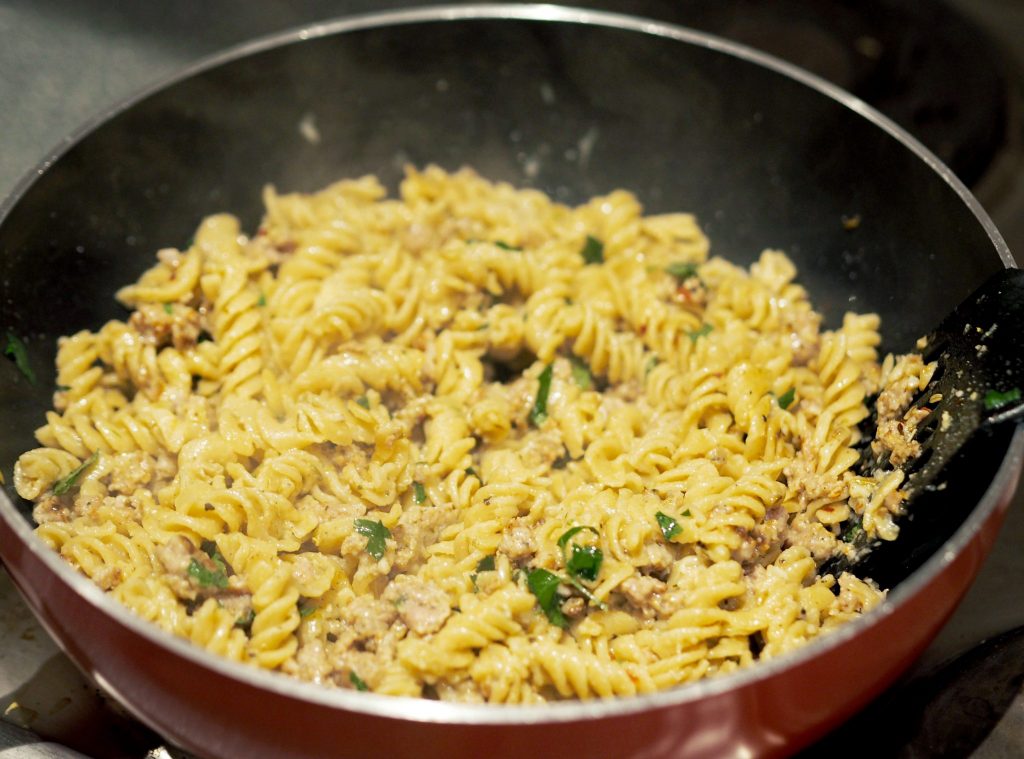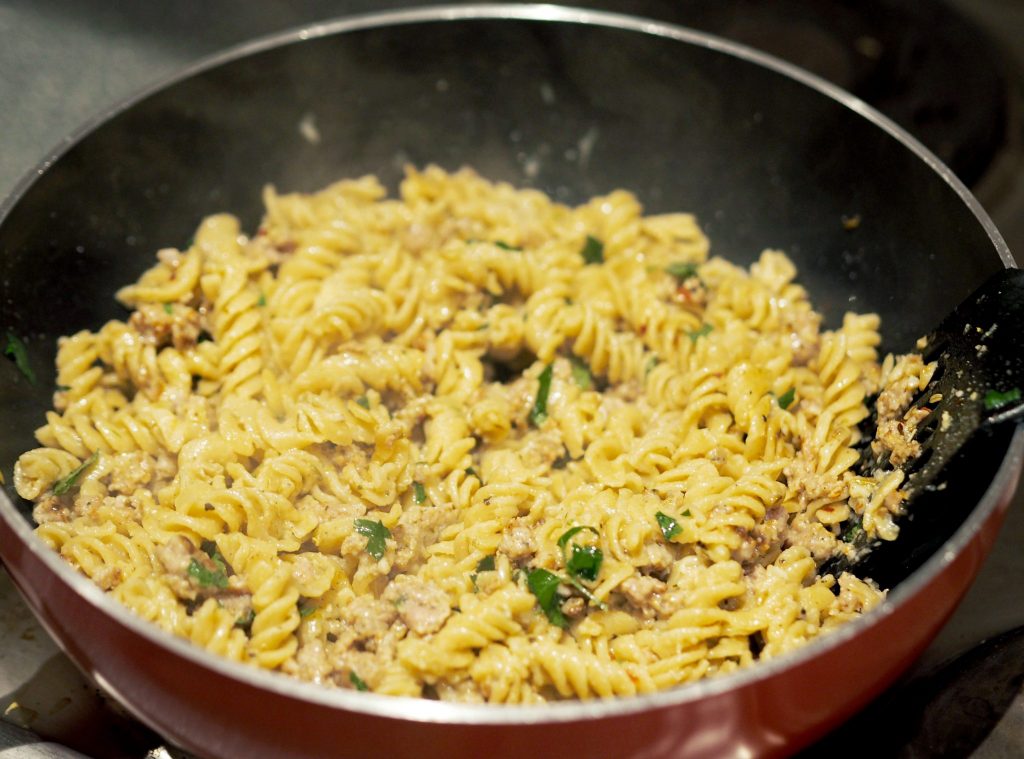 Plate up and serve with an extra sprinkling of cheese and a sprig of fresh parsley. I like a generous grind of fresh black pepper on the top too.
Enjoy!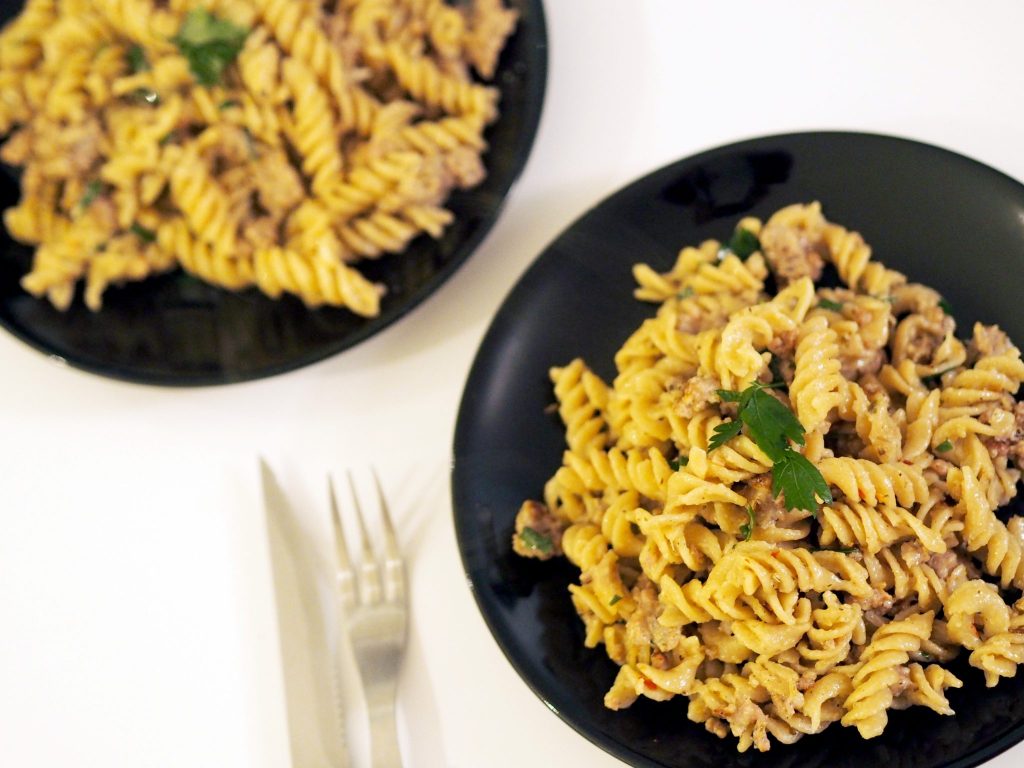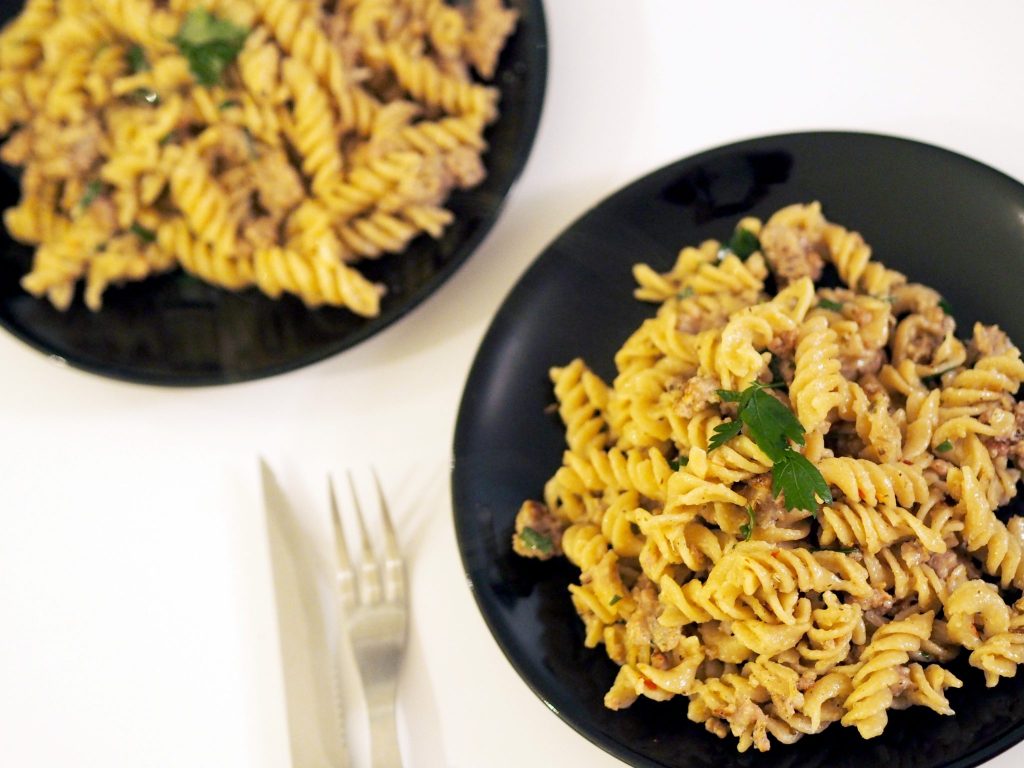 Check out Grandad's Sausages here:
Grandad's Sausages Website
Grandad's Sasuages Twitter
Grandad's Sausages Facebook
Grandad's Sausages Instagram
They have recently been providing their awesome gourmet hotdogs, samples and chilled sausages at Tom's Winter Garden, situated at the back of Toms Chophouse next to St Anne's Square. They are popping up all over the city so if you see them be sure to try out some of the food – they really are delicious.
Let me know if you try this and what flavours you decide to go for in the comments below!
LL x