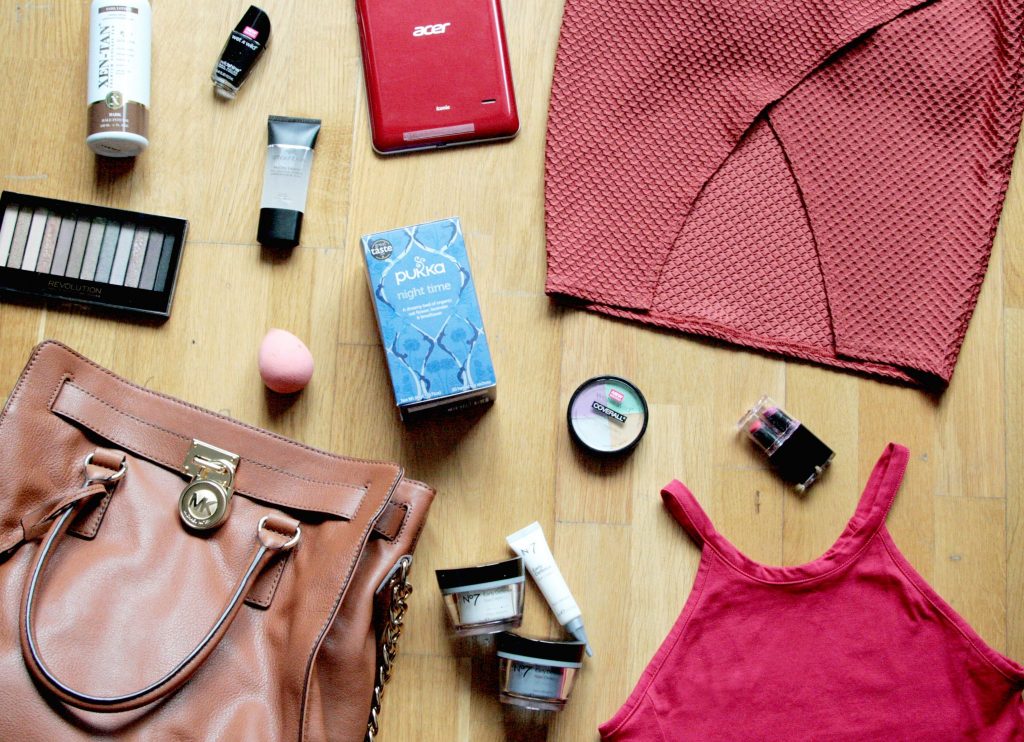 Some of my faves for the month of May.
So somehow June happened and I hadn't even got over the fact that it was May. I seem to be enjoying neautral and earthy tones this month; according to this picture anyway! There's quite a mix of stuff in this month's faves; I have a few newbies that I'm loving, and some oldies that have made a comeback and now I don't know what I did without them…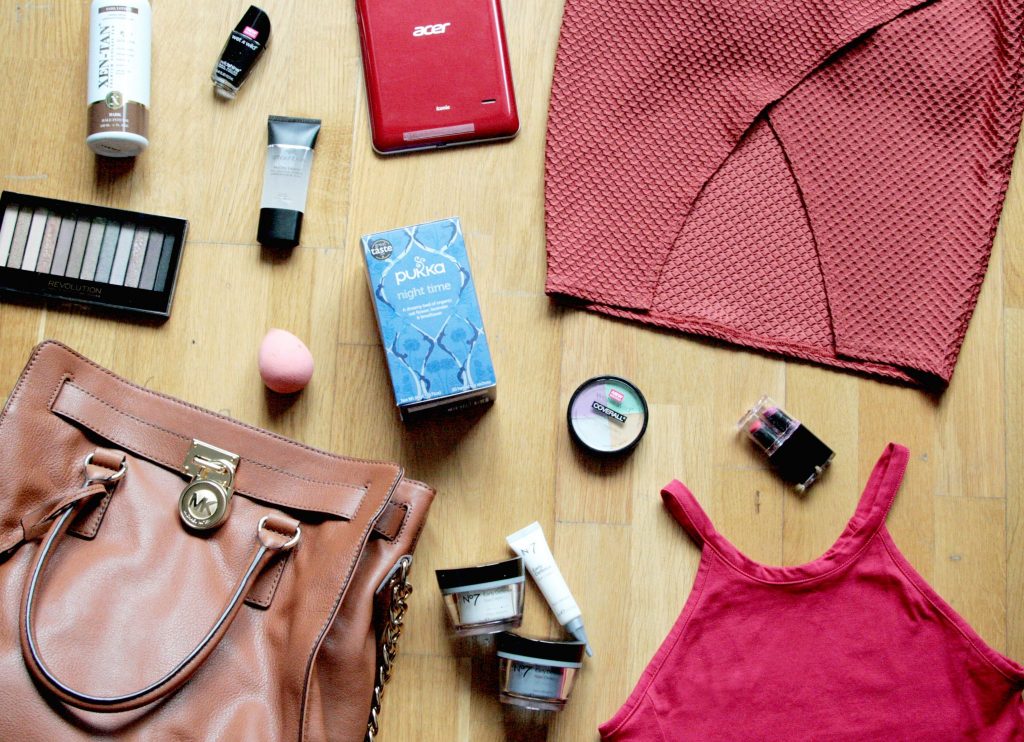 Clockwise (L-R)
Xen-Tan – £29
I'm not really a huge tanner, I just can't ever seem to find the time for applying and then waiting for a few hours and washing off blah blah blah. It just feels like such a huge process for probably a day of tan that maybe isn't even noticeable..? I am quite lucky in that I already have olive skin and tan super easily in the sun so I guess that sort of helped me never bother with fake tan. When I do tan I prefer the ones where you can just apply an hour before you go out and you're set.
Anyway, recently I was sent this XEN-TAN and at first I wasn't so excited to be honest, but I wanted to give it a go. My verdict? First of all, one of the main things that makes me love this is the smell. It smells a bit like cherry bakewells; quite almondy/cherry scented, and I LOVE that. Definitely not that awful biscuity-tan smell. Another awesome thing about this is that it is enriched with nourishing ingredients including coconut, walnut and jojoba nut oils. Most tans are just something you put on your skin for the appearance, but having natural moisturizing ingredients in there is like getting two jobs done at once. Bonus!
You can either leave this tan for 3 hours to give you a healthy holiday glow, or overnight for a darker tan. With a tanning mitt it is super easy to apply and also dries quickly, so no standing around naked and cold waiting for the tan to dry before you can get dressed (always nice). I opted for the 3 hour holiday glow to try this out, and I was pretty pleased with the results. I was noticeably more tanned after applying but I think a lot of this was due to the guide colour. I would have liked a bit of a darker tan as the end result, but again, I did only leave it for 3 hours, so I will be trying the overnight option soon.
Wet n Wild Nail Varnish – $1
You may have noticed a recurring theme in this month's faves.. Wet n Wild. When I was in America I went a bit crazy because Wet n Wild products are so cheap! I spent a good hour in Walgreens deciding what to bring home with me. These nail varnishes were a bargain at 99 cents, and are actually really good. I bought my two most used colours – black and red, but I definitely wear black the most, and at this price I regret not buying more! Huge fave this month
Smashbox Photo Finish Primer – £25
Love, love love this at the moment. I honestly never bothered with primers before I got this. I tried them a couple of times but never really saw the point. I am lucky enough to have good skin with minimal effort though so maybe that's why! I've heard a lot about this primer so I decided to give it a go and see what all the fuss is about, and now I realise. Apply a small amount to your face and it just glides on, my skin is so smooth when applied, and my makeup really does goes on amazingly and stay put all day. If you are looking for a good primer I would 100% recommend this.
Acer Tablet – Around £70-£100
I got this tablet for Christmas and I wasn't sure I'd use it enough as I already have a phone and a laptop. After going on holiday in April and using it for books then, I use it every day. Only really to read books, but its so handy. Kindle books are super cheap to buy and you don't have all the clutter of having books around that you may never look at again. Plus I love the fact that it saves pages for me, and if i can't remember who a character is or I want to know what a word means it's so simple to just press and the app will tell me everything I need to know. I will always want to buy some books to keep forever but this is a great way to get into reading more (which was one of my NY resolutions – go me!)
Missguided Midi Skirt – £15
If you have seen my previous post then you may have noticed that I purchased a few items from my Missguided wish list. I may have only just bought this but its already a definite favourite. I wore it out for a date on Friday and it was just perfect. I don't have many midi skirts but that may change after this! Super easy to team up with a plan vest and heels for a date night, but can easily be dressed down or wore out for drinks or to a club, and I really love the crossover detail and deep rusty colour.
Wet n Wild Lipsticks: Coraline and Mauve Outta Here – $1.99 each
Another US bargain. I usually stick to bright or deep reds for lipstick, with the occasional pink if I'm feeling experimental. I've always loved coral lipsticks with a tan but never braved buying one, but when i saw these at $1.99 I couldn't resist. So I went for the coral and a pinky mauve colour; both of which I happen to now love and wear all the time!
Wet n Wild Coverall Corrector Palette – < £5
I can't quite remember how much I paid for this but I remember it being super cheap. I love the idea of this palette and haven't seen anything around similar. The palette uses the rules of the colour wheel as a way of balancing out any imperfections on your complexion. For example, green and red are opposites on the colour wheel, so if you have any reddish blemishes, zits, flushes etc, use the green to cancel them out! When I first saw this I was super skeptical, but when I used it I was actually suprised that it actually works really well.
Miss Selfridge Basic Crop – £8
This is a wardrobe staple of mine. I have this style crop in 3 colours so far, and they are super simple to throw on with some jeans or a skirt. I find the cut very flattering, and if I don't know what to wear one of these is an easy go to.
No7 Early Defence Day Cream (£19.50), Night Cream (£19.50) and Eye Cream (£13.50)
I actually got sent these just as I was looking to buy a new moisturiser so it was perfect timing. I love the idea of having these anti-ageing creams aimed at a younger audience looking to prevent or at least slow down the appearance of wrinkles before they arrive. As far as I know most creams are aimed at a slightly older age group, who are looking to reduce the appearance of lines and wrinkles rather than prevent them. I'm also much better at remembering to apply these when I have a little range like this, somehow it sort of reminds me to do it at each stage, whereas if I'm using a mix of different creams I can forget sometimes.
Pukka Night Time Tea – < £5
I'm a big green tea drinker, and I just started trying other flavours and varieties of teas. This was the first one I reached for a I always seem to have that ridiculous feeling of being tired from the moment I wake up, through the whole day, until I actually get into bed. Then its like PING wide awake. So I'm giving this a go at the moment. I can't quite tell if it is working or if its having sort of a placebo effect but it does taste nice and I like to think it works!
Primark Egg Sponge – £1.50
I only got this because of the hype around this sort of sponge, just to try it out. I use a mixture of a smaller sponge and brushes at the moment anyway so thought I'd give this a whirl to see what all the fuss is about. Obviously this is a primark £1.50 version so I wasn't expecting the world. It is pretty good, the shape is handy and give quite a nice smooth application. For £1.50 I am happy with this, it does the job and I have been using it quite a bit since I bought it. I have read quite a lot of bad reviews about this but I am trying to keep in mind the price compared to other applicators. Overall it's good for the price and after trying this I would now like to try one of the higher end blender sponges.
Michael Kors Hamilton Tote – £310
YAY. I am actually in love with this bag. I wanted it after Christmas and almost bought it in the Selfridges sales, but was very disciplined and went against it at the time. When we went to Florida in April, JP bought it for me as part of my birthday gift and I haven't put it down since. It's the perfect size, perfect colour, it has loads of little pockets a quirky details both inside and out, and generally it's just the best ever.
Makeup Revolution Eyeshadow Palette – £4
And finally, this beautiful palette. If you haven't checked out my previous post about these palettes, please do go look as I would highly recommend. In fact, since the post I have already been back and bought more. They are amazing dupes and such great value for money. They do a whole range of stuff, and the items I have so far are now some of my favourite pieces of make up.
And there you have it! Some of my aMAYzing May faves (haha). Have you tried any of these bits? Do you have an amazing make up blender recommendation for me to try after this Primark dupe? Or maybe a good book to recommend?
Happy June guys 🙂
LL x