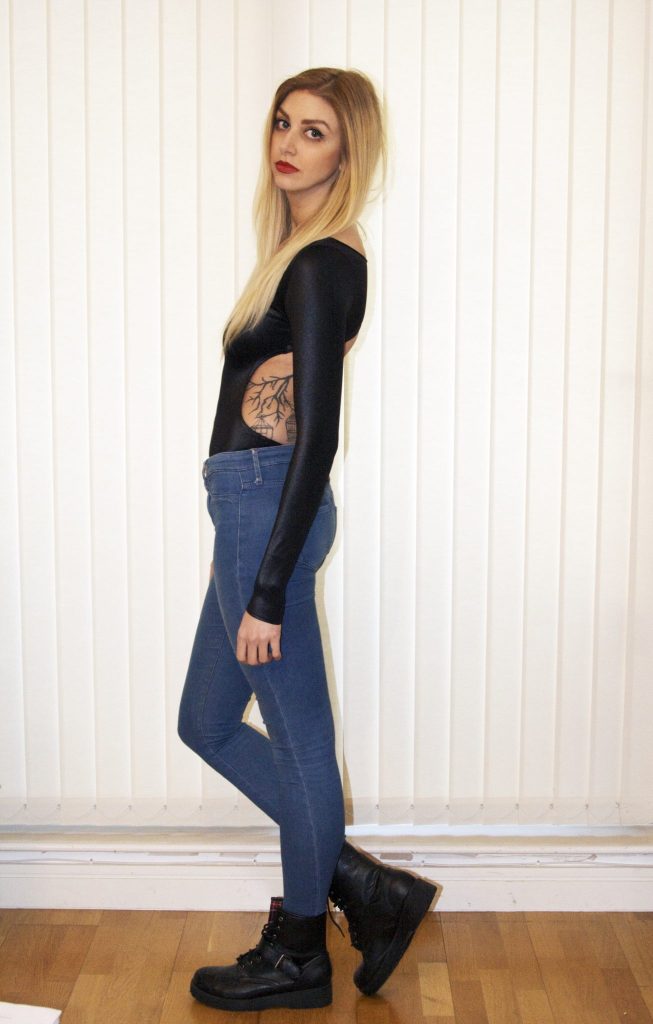 Bodysuit – Black Milk Clothing
Jeans – River Island
Boots – Primark
Here's one I've been meaning to post since before I went away, so this is pre-Florida tan (sad lip). I love the swim suits from Black Milk, so if you haven't checked them out before go have a looky. Unfortunately at the moment there are no UK based warehouses, so be warned about nasty customs fees if you do order! You don't always get them so it's sort of a lucky dip really. This is one of my fave pieces from them as it's very different to the printed swims I own, and the cut out back looks awesome. I would probably wear this a lot more if I had a smaller waist, but from my hips I don't really curve in much and I'm pretty straight up and down, so personally I don't think the back isn't as flattering as it could be on me.
There are A LOT of dupes out there online, so if its just the prints you are going for then these are much cheaper, but the quality, feel and fit of Black Milk is second to none. I find them super comfy and very flattering for all body shapes and sizes (even this one that I think could look better!), and it's sort of addictive.. once I had one piece and saw how amazing it was I had to have more, so now I have about 10 different ones.. oops! They are super easy to just throw on with jeans and are my go to when I don't know what to wear. Although they are more expensive than your average high-street top,  I have 100% got my moneys worth from them and the quality means they will last too. PLUS you can actually go swimming in them unlike a lot of printed bodysuits.
Black Milk also have their own online communities and Facebook groups, and is known for having such a strong following of 'Sharkies'. These girls (and some guys!) have loads of pages and blogs to join or follow where you can get involved and chat to different people about anything and everything. From what I have seen they are all very supportive and helpful to each other, and I just wanted to mention that aspect as I think it's quite unusual and really inspiring to see so many different people coming together over a brand.
Do you have any clothing addictions?
LL x