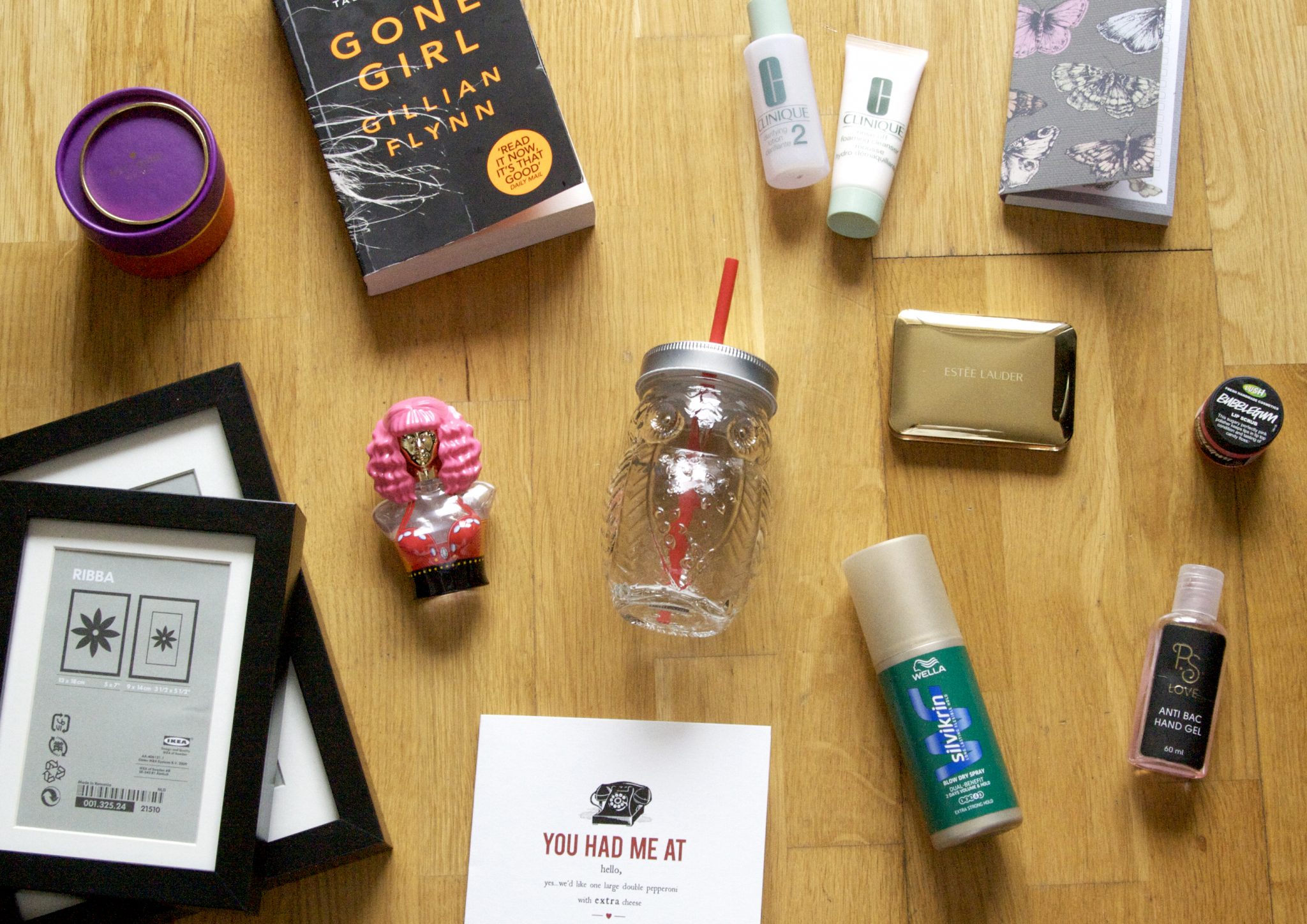 The things I have been crushing on for the month of February…
(Clockwise from top left)
 1. Heart of Gold Bangle – Kate Spade
Well.. Anything Kate Spade is worth crushing over, let's be honest. Even the packaging is just one of those things that you just couldn't ever throw away because its so aesthetically pleasing. This is a simple gold bracelet with 'Heart of Gold' engraved onto the inside. If you love simple jewellery this one's 100% for you. Classic and timeless. At the moment I tend to wear it alone, but I would also like to start to build my collection to wear a bunch at once and sort of stack them, as I really love that look.
2. Gone Girl by Gillian Flynn
I know I know, I'm late to the party with this one. Pretty much everyone I know had already read the book in anticipation of the film but I don't think I even heard about it until it was due to be released. When I heard what it was about I knew it was totally my kind of film, and I watched it as I got chance. Personally I think it is an awesome film, unpredictable and something quite different to recent movies I have seen. Most people prefer to read books before their film versions, and I completely understand why. The book is really great too and I would recommend it, although now I know what happens it's not quite as exciting!
Skin care is really not my forte so this is very new to me but so far I am really loving it. I only started moisturizing in college because my mum told me I should, and that's all I've been doing since! I just use Simple moisturizer and put it on in the morning before I apply makeup. A couple of weeks ago I found some Clinique bits that I have had in my drawer for SO LONG and just never bothered with, so I decided to give it a go. No time like the present (especially when you just turned 26 ha)! The 3 step skin care is feeling really great so far, and I have a few other bits I am yet to try. I can totally see why this gets great reviews, and I will most definitely by investing in some more in the future.
4. Butterfly Print List Pad – Paperchase
This cute little list book was one of my Valentines gifts this year. I make multiple lists every single day, probably too many, and they definitely have far too much on there for me to even think about completing. But hey, I feel more organized! Its also great to have some reminders for myself because I always think of ideas, or things I need to do or buy, and about 10 minutes later its completely gone from by brain. So yeah, this is cute, super handy to fit in my handbag and very practical!
5. Estee Lauder Deluxe All Over Face Compact
This is actually the first Estee Lauder product I have used, and I must say I am impressed! My mum got a big EL gift set but hadn't used this compact, and when she saw me testing it she let me have it! Unfortunately I have found that it isn't available for sale individually, which I think is a real shame. There are 3 blushes; 'Peach Passion', 'Lover's Blush' and 'Pink Kiss', and 1 brozer 'Bronze Goddess Medium'. The colours are gorgeous; I have always worn more bronzey tones on my cheeks as I have quite olive skin, especially in summer, but I tried these pinks for the first time and can honestly say I wont be looking back! This palette is an ideal mix of colours, and is perfect for carrying in your handbag as it has a mirror and little brush (although I have been using my Real Techniques brush to apply but this would be great for touch ups).
I feel like I have been looking for this all my life! I often get dry lips, especially when I wear lipsticks quite often, and during the summer. Sometimes lip balms just don't do the trick, and you know when you apply lipstick and it just highlights where all the dry skin is? Yeah.. that. But this product is just like a body scrub or exfoliator for your lips, and just eliminates that. Plus it tastes a-maz-ing.
7. P.S. Love Antibac Hand Gel – Primark
OMG.
I have never been one of those people who always use anti bac on their hands and carry it in their bag. But then this happened. At 60p you just cant not have this. The main reason I like it is because it smells AMAZING! Its like one of those smells that reminds you of something but you just never know what it is (please tell me if you do know). Its like perfume and sweets and just makes me want to shower in it. I actually think I might be getting addicted to it now.
8. Silvikrin 2 Day Volume & Hold Blow Dry Spray
This is a product I would have never picked up for myself, but my mum brought it over for me (she likes to turn up with random bags of goodies), and it really surprised me. I don't use many hair products, as from my experience they usually make your hair look greasy just after you've washed it, and my hair is quite thick and heavy so products find it hard to hold it how I like it (maybe ive just had bad experiences). But this actually works! I just spritz it on wet hair after a shower and I have noticeabley more volume and no stickyness or greasyness. Plus its not expensive at all so this is a total win.
9. Owl Smoothie Jar – DrinkStuff.com
After getting my beloved KitchenAid blender for Christmas I have been smoothie-ing and soup-ing all over the show. I usually take my breakfast to work with me (to shorten the time between breakfast and lunch haha) and I needed a suitable vessel for my smoothies. After only being able to find jars for around £10 for one on the internet (come on, its only a big jam jar), I stumbled across this cutie! At only £3.99 he was a bargain, and far more cute than any others id seen! I also bought a 4 pack of the jars with handles for only £12.99. This website is now securely in my favourites!
10. Valentine's Day Card – Paperchase
This is one of my cards from Valentine's this year. (Our anniversary is on Valentine's Day, so this year I was lucky enough to receive two – one for each occasion – boyfriend points!) I just had to include this because I love the phrase on the card ('You had me at hello, yes… we'd like one double pepperoni with extra cheese'), and actually I just love Paperchase. I could easily spend hours in there chuckling at their cards, and to be honest, I could easily spend all of my money in there too. A definite go to for any card occasion.
11. Minajesty Perfume – Nicki Minaj
I picked this up in Boots not really imagining I would like the smell half as much as I do. A lot of music artists bring out their own perfumes now, and I have never actually really bought into it. Flowerbomb is my fave perfume, and I have had that for the past few years now, so I haven't really been looking for a new scent. However, when I was browsing in Boots I just picked this up to try and actually found it really nice. Its quite light and fruity, and for the price I thought it would be a great perfume for the days where I might want something a bit different. I got the set that also came with a cute roller ball perfume stick; which is so handy for your purse, and a matching body lotion. When I was buying this I considered getting one as a gift, but then whoever I gave it to would have to really like Nicki Minaj to have a small statue of her in the form of the perfume bottle. One of my guilty pleasures is Nicki Minaj so im fine with this. I know people who don't like her wouldn't be inclined to sniff this but I would really recommend it.
And finally, these IKEA photo frames. Firstly I love IKEA, secondly I love IKEA hot dogs, thirdly, after buying my apartment, I love IKEA even more than I used to. These frames are super cheap and look awesome when you hang a few together. I have bought a selection of shapes and sizes that I plan on hanging all down my hallway as a sort of feature wall.
LL x