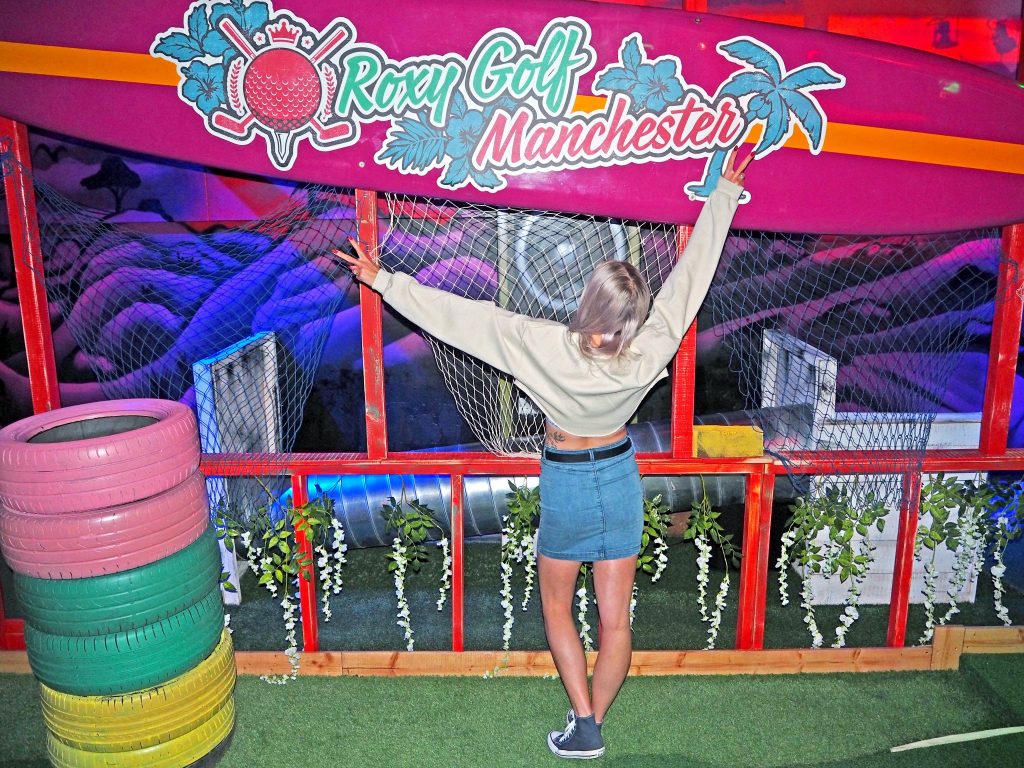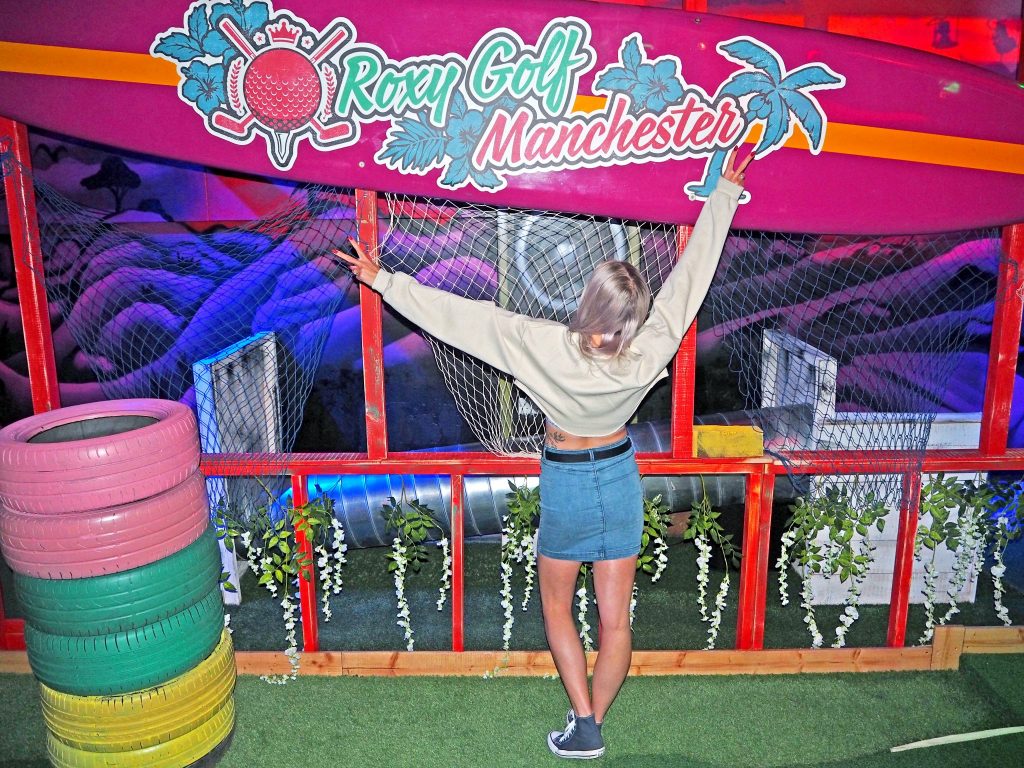 Manchester is definitely not short of amazing restaurants, cool bars, and fun activities – leaving you spoilt for choice on what you might want to do if you are visiting the city (or even living here). Over the last couple of years, there has been a rise in venues offering games and quirky activities as an alternative to your standard evening or weekend plans to slob out on the sofa or go and sit in a local pub. I was recently invited down to Roxy Ballroom, an epic venue located on Deansgate, filled with an abundance of fun games, as well as an American style food menu packed with fresh pizzas and burgers, and an extensive drinks menu to match.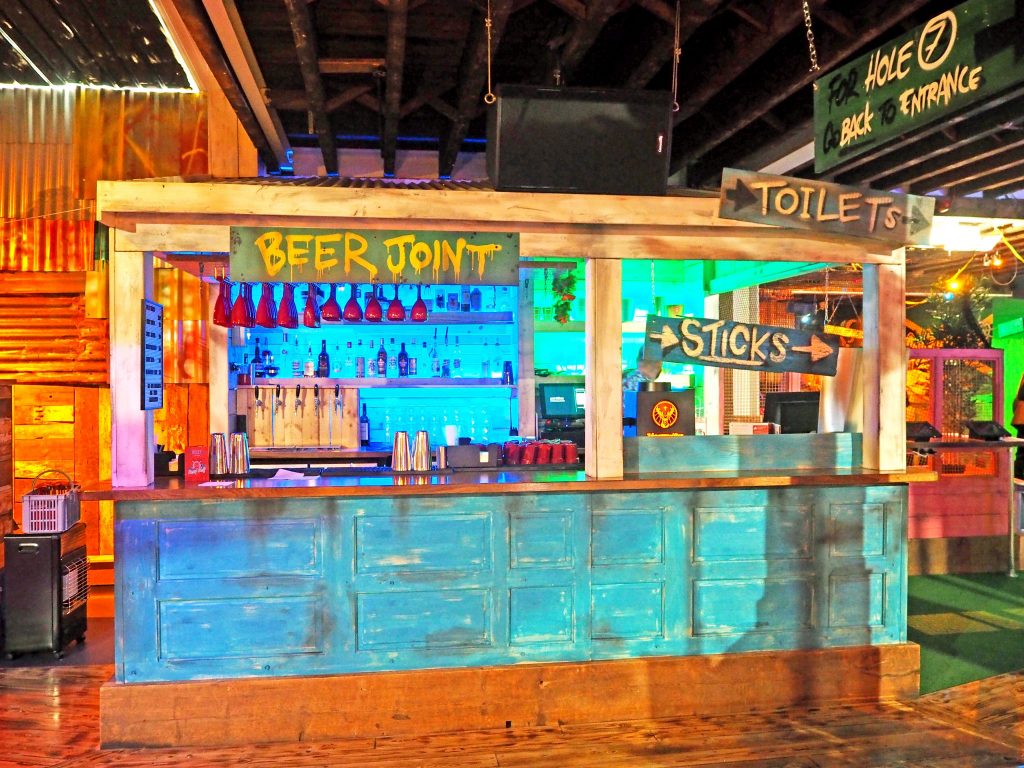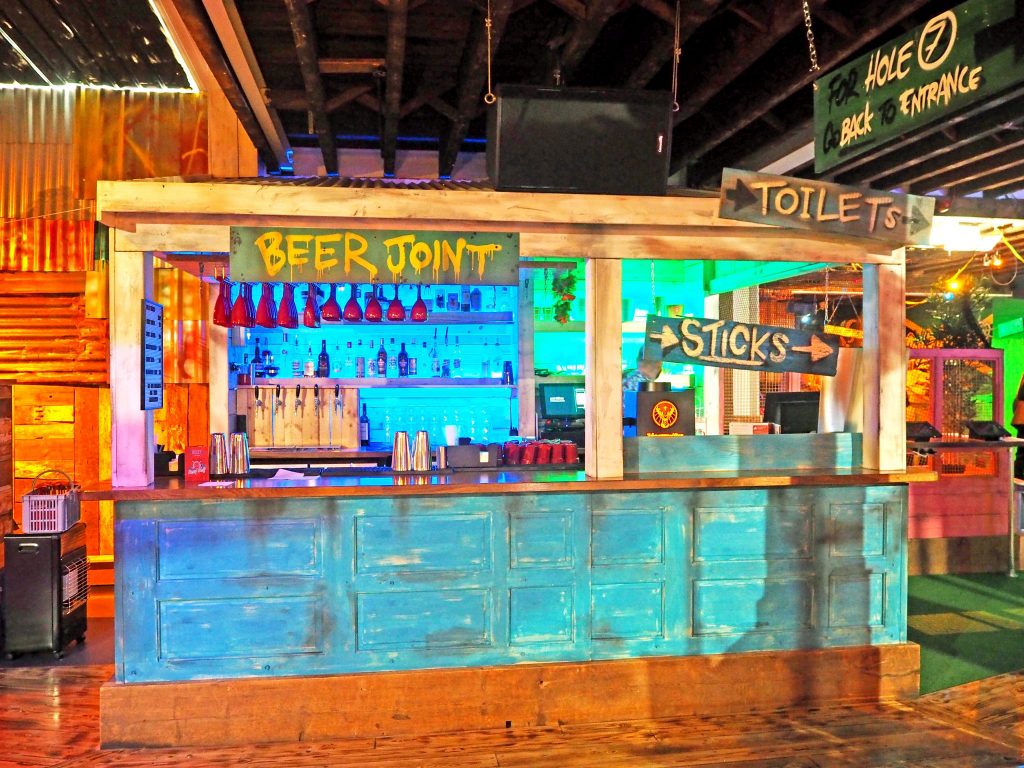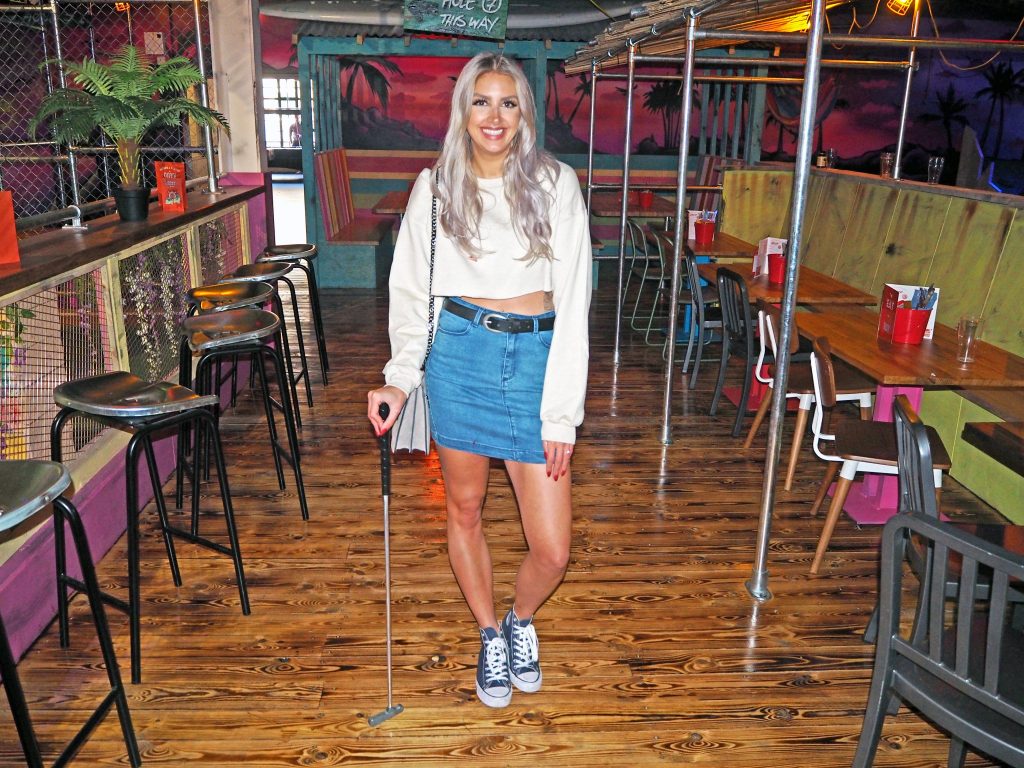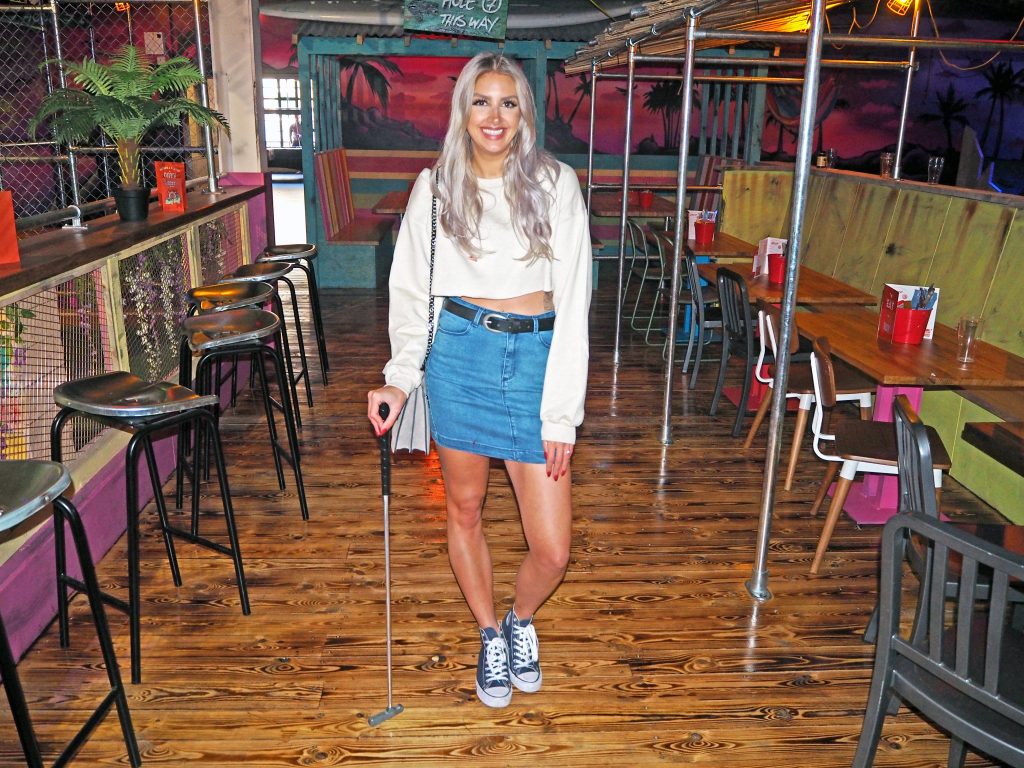 The most recent addition to Roxy Ballroom's activity offering is mini golf. As well as this, they also offer ping pong, pool and beer pong; and if you aren't into any of these, there is a huge seating area where you can simply sit and take advantage of the bar and food menu.
As mini golf is their newest feature we decided to give this a go; working up our appetitive before sampling some of the menu. The process for all of the Roxy Ballroom games is really simple – you can book both online and at the venue, so if you know you are going and don't want to miss out then you can book in advance. Alternatively just turn up, have some drinks and see what you fancy! We headed up to the golf course, grabbed ourselves a couple of beers to take round the course with us, and armed up with our clubs ready for the 18 hole challenge.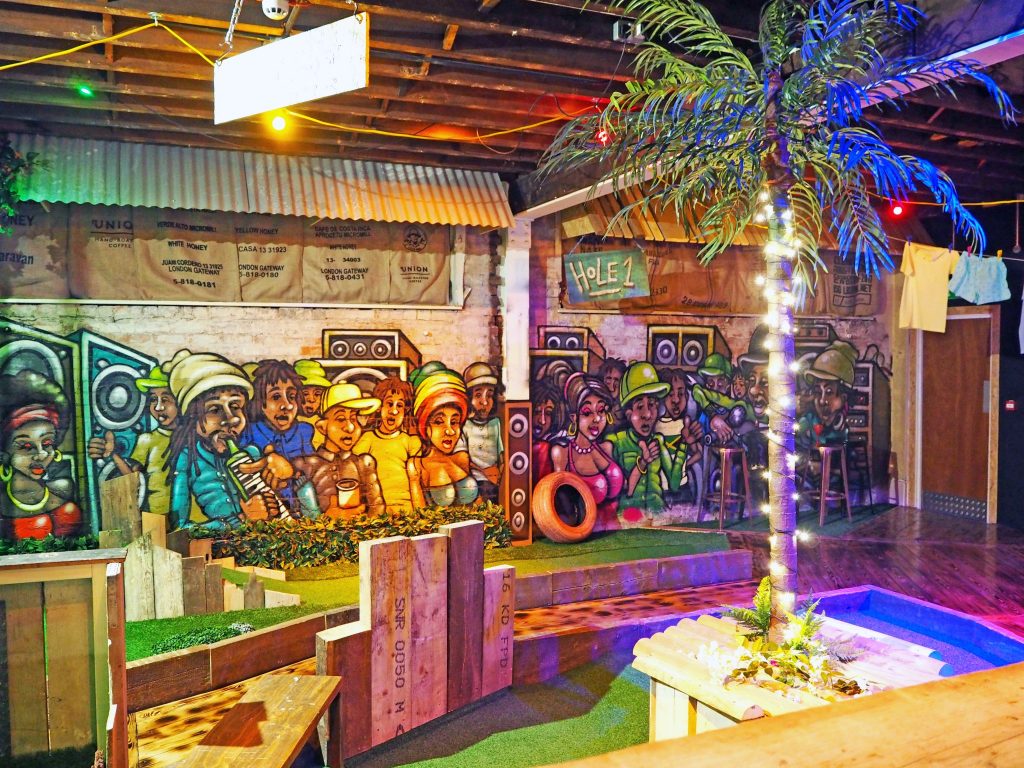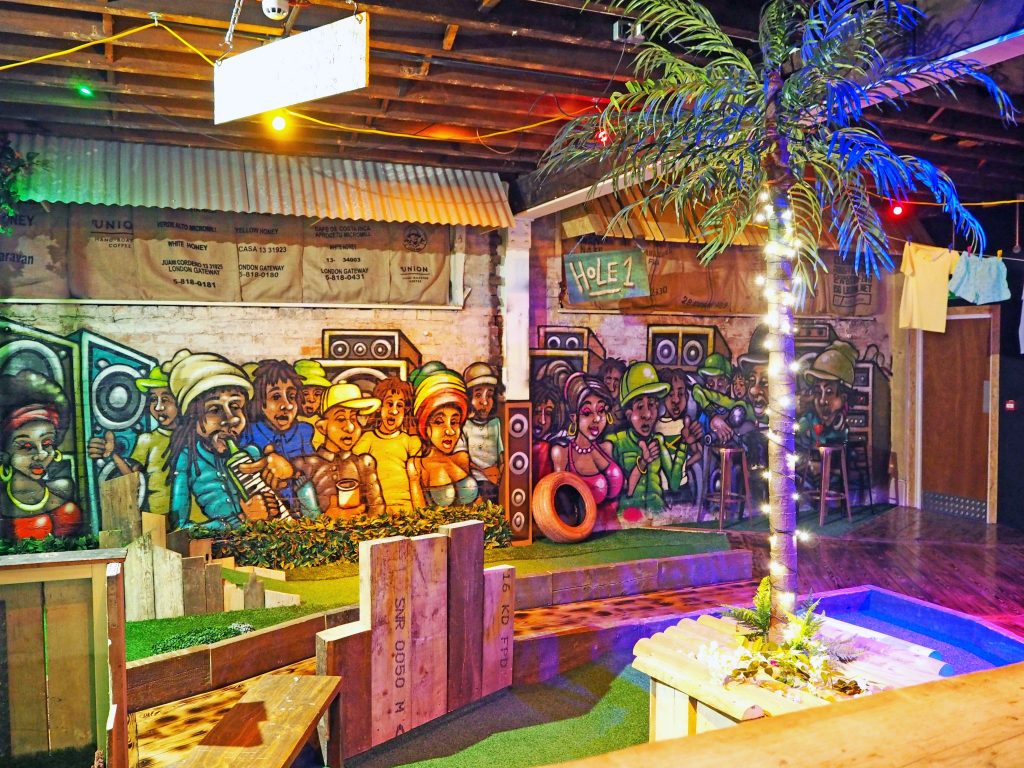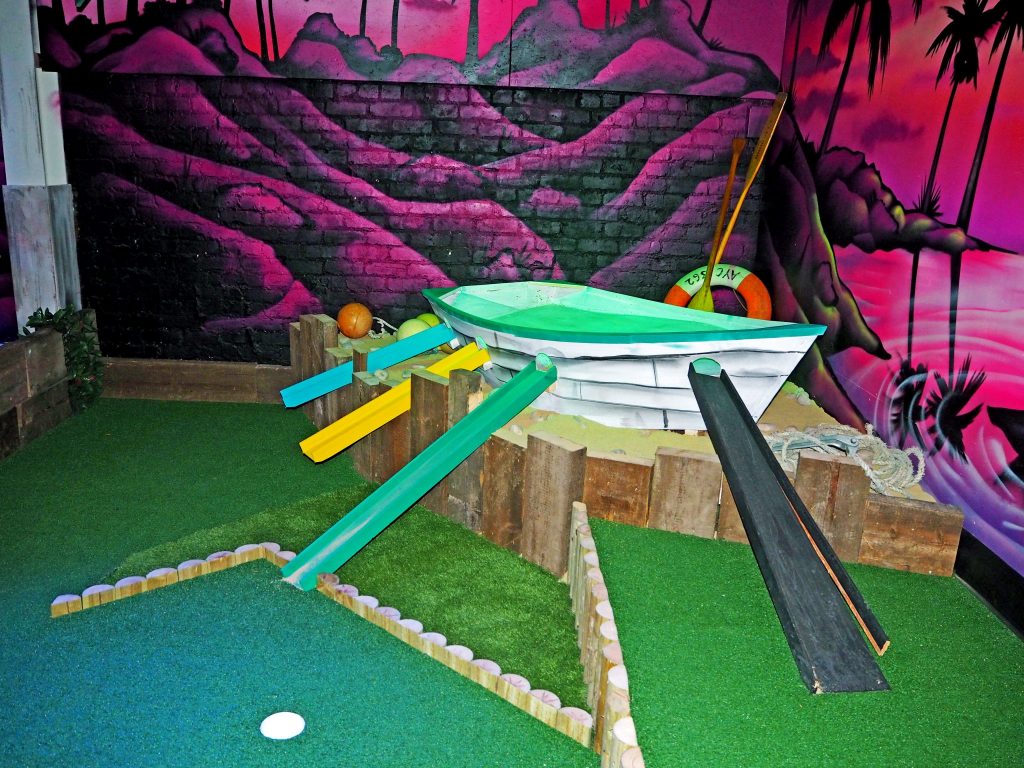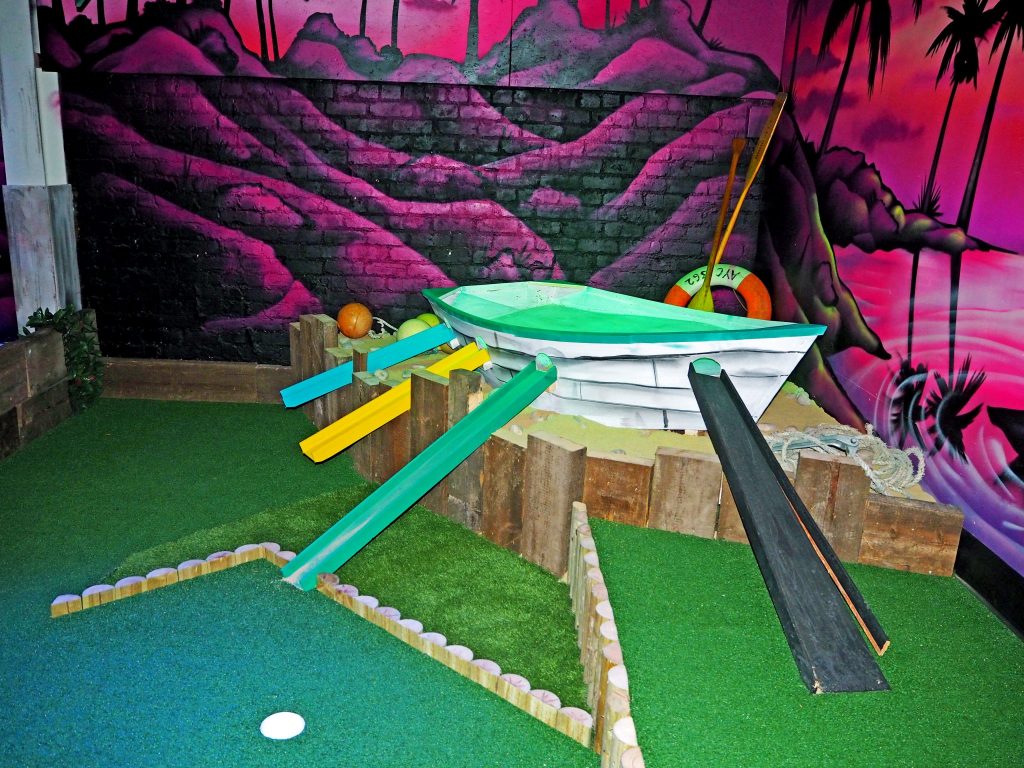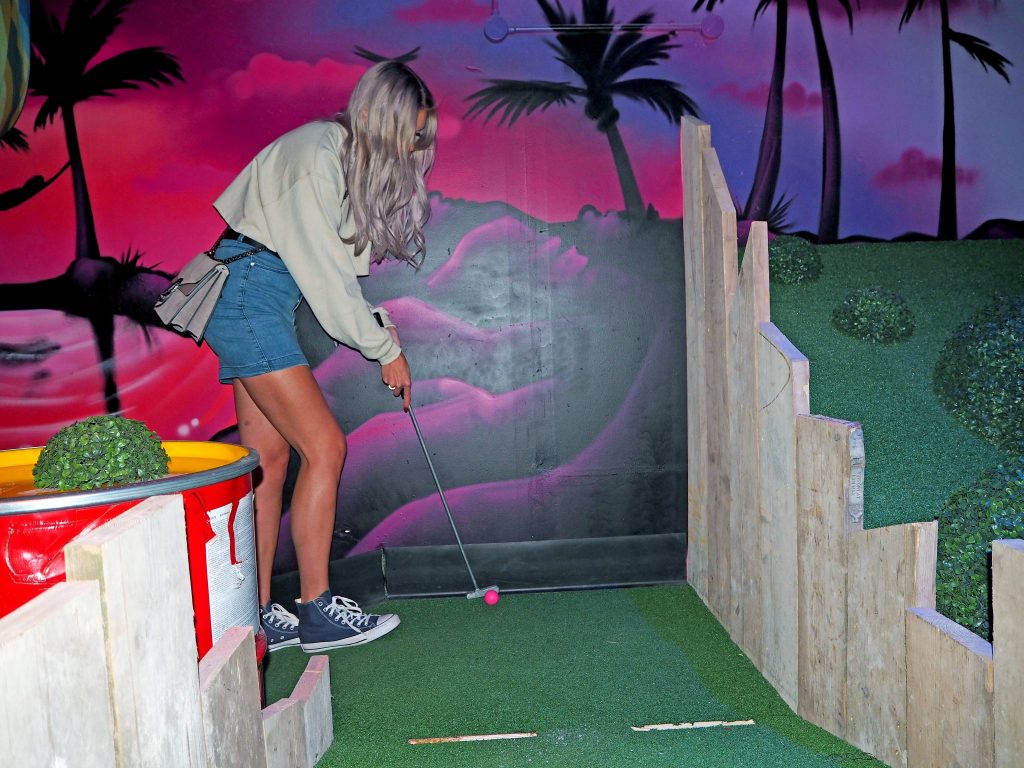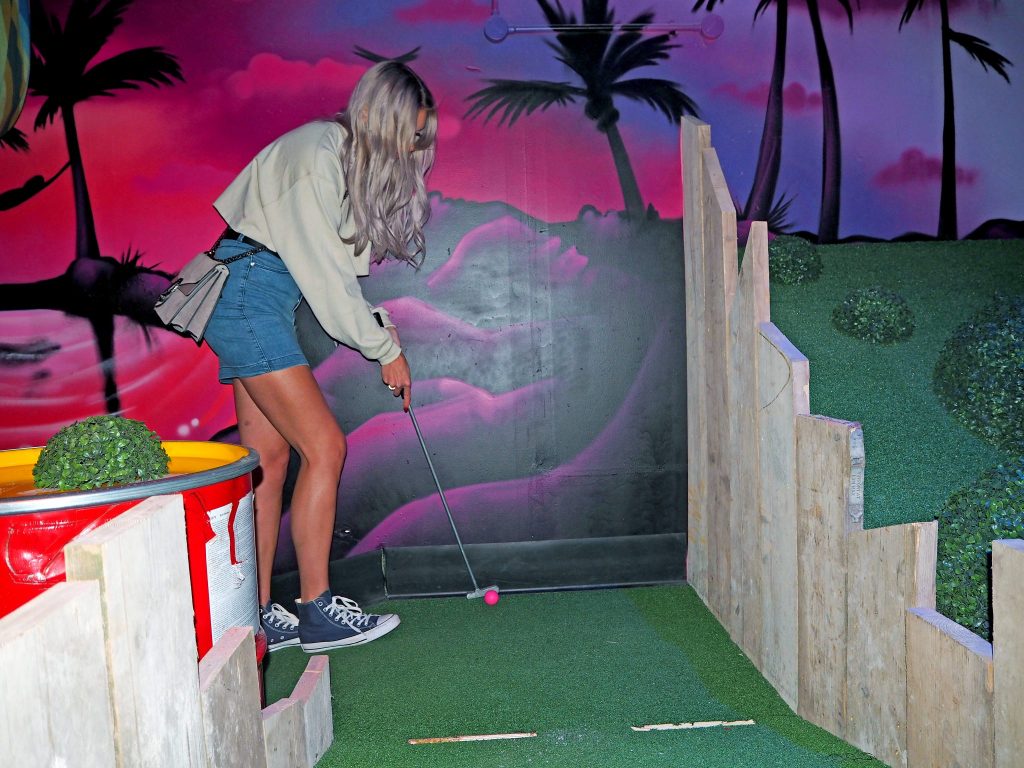 The course is decorated amazingly with bright colours and images, so each new hole is exciting and totally different to the last; i have played mini golf before and it has become quite repetitive as you can tell that the ideas for each hole ran out pretty quickly, but this kept us interested and entertained the whole way round the course.
There are also plenty of fun and interactive sections dotted around the venue, as well as spots to wait and rest your drinks if you are behind people waiting for the next hole. Plus being able to drink on the way round the course certainly kept us entertained.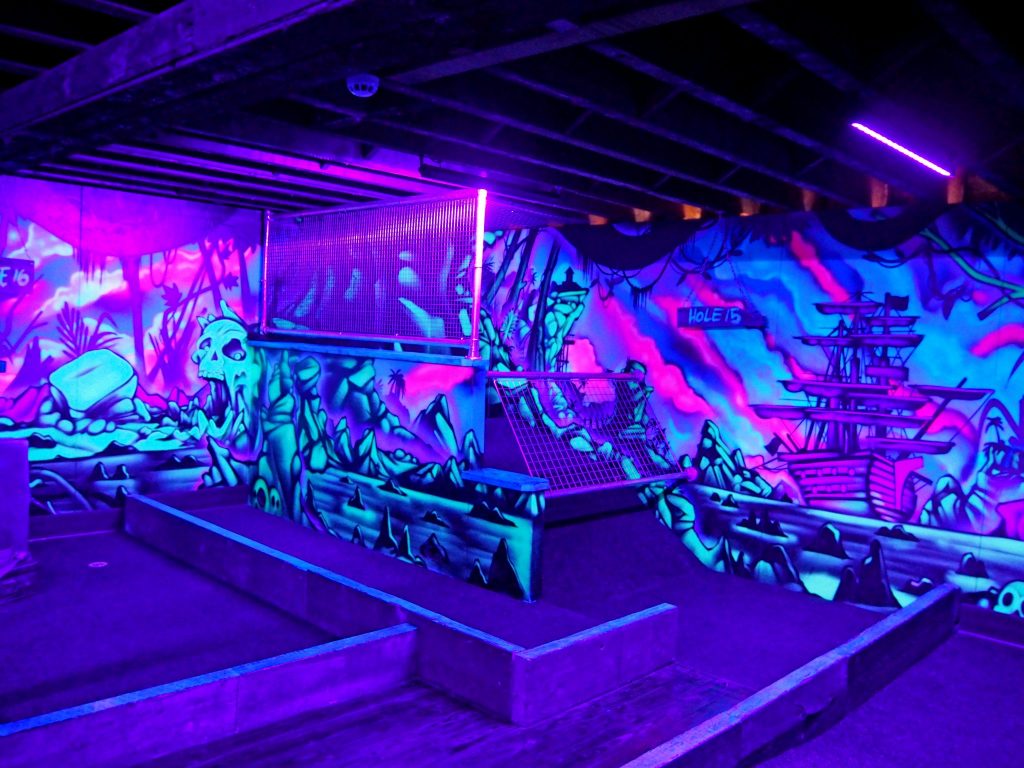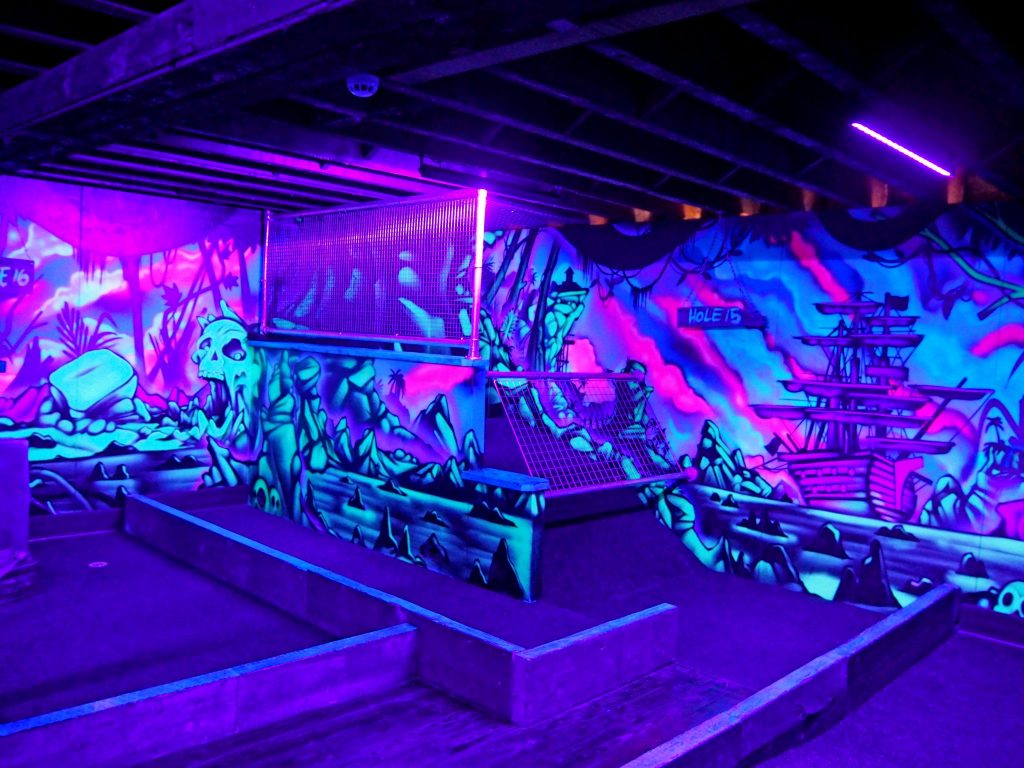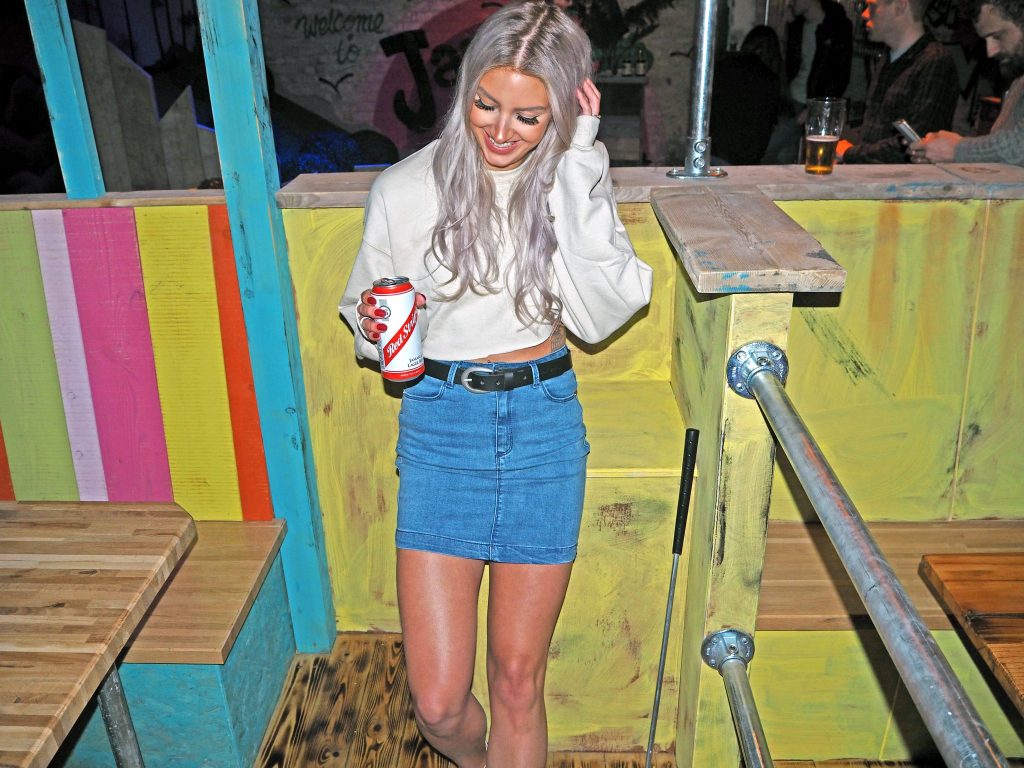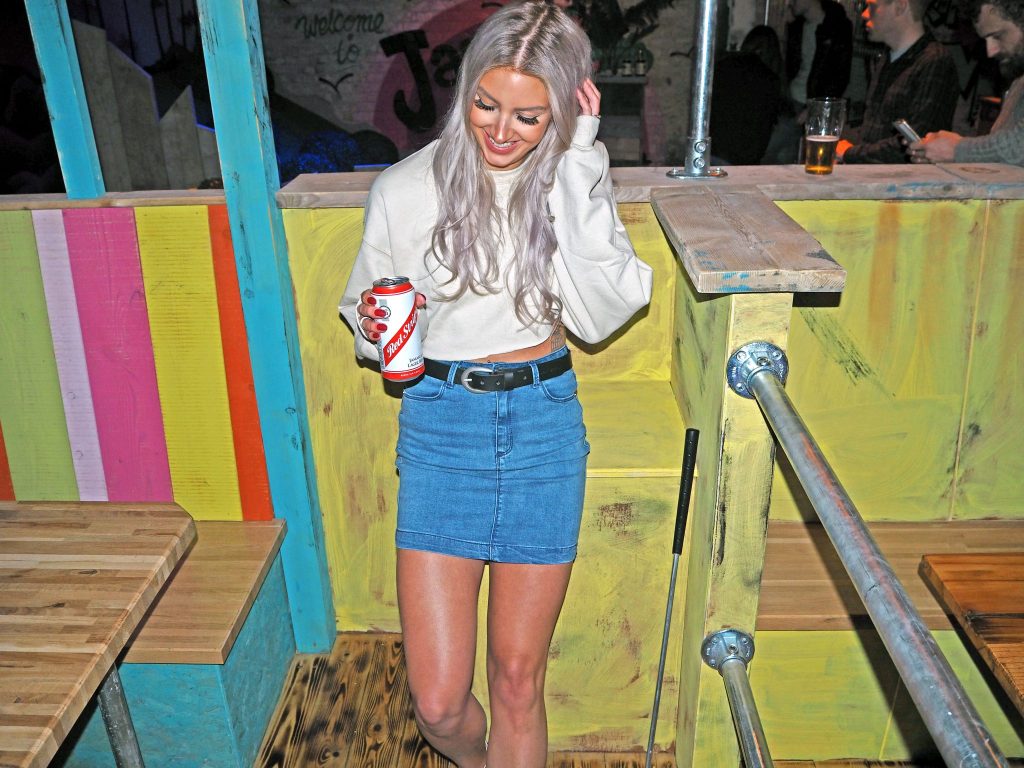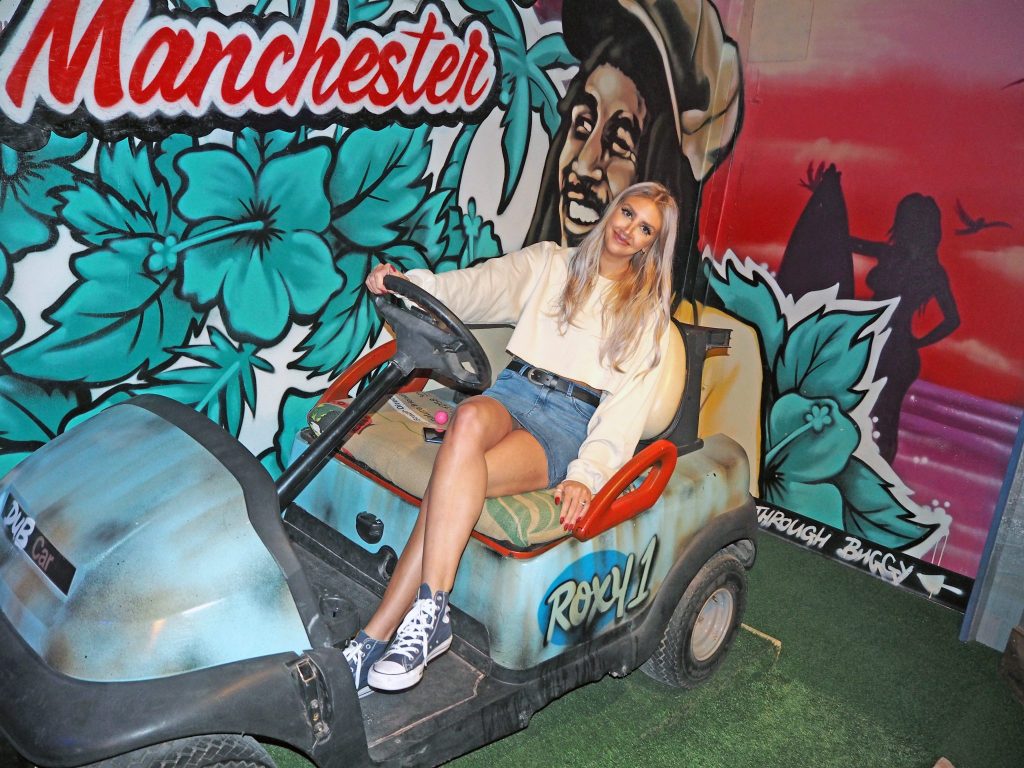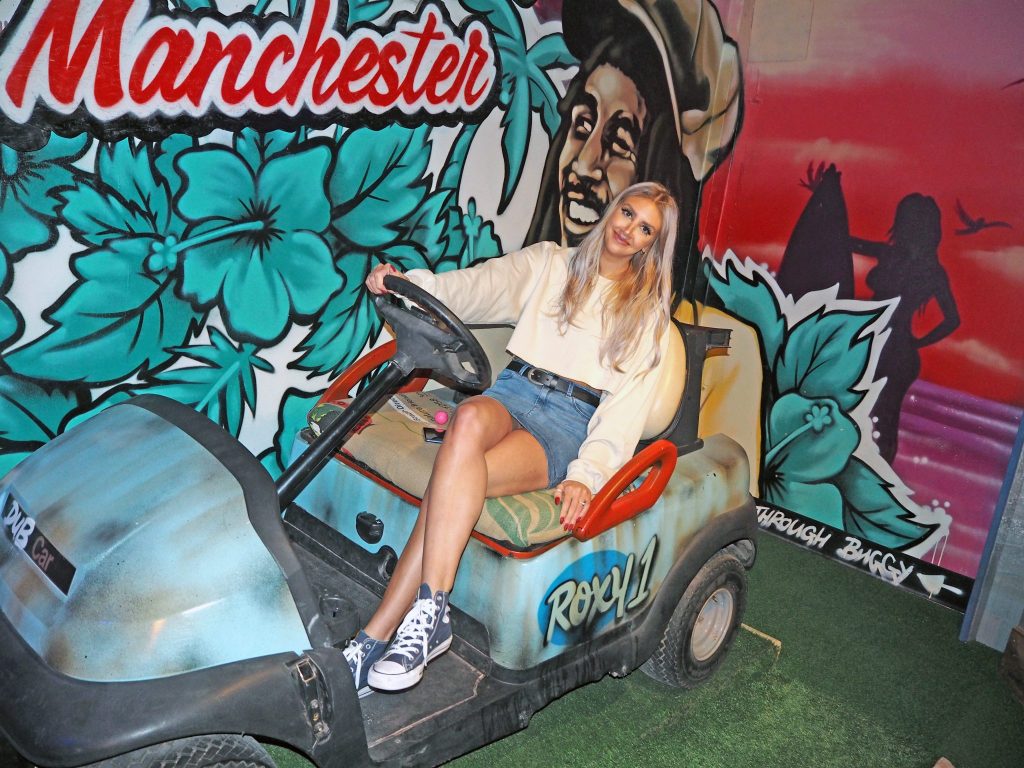 The 18 challenges also keep you busy for quite a while; some shorter courses I have visited can seem to be over so quickly, but this was a great amount of time to really get into the game, and you don't feel like you have only just started playing before its over. We had so much fun playing the course, I would definitely recommend it for something different on date night, hanging out with your friends, or even a group celebration or birthday. If you don't fancy the full course or are short on time, you can do a smaller version of the course which just finishes after the first 9 holes.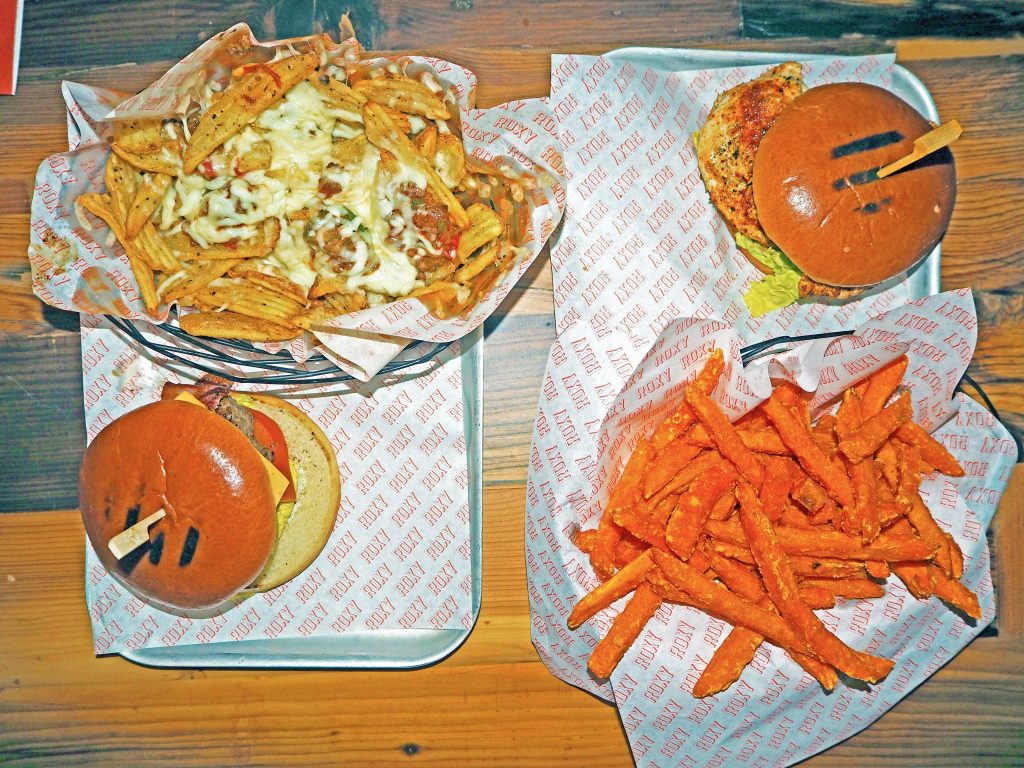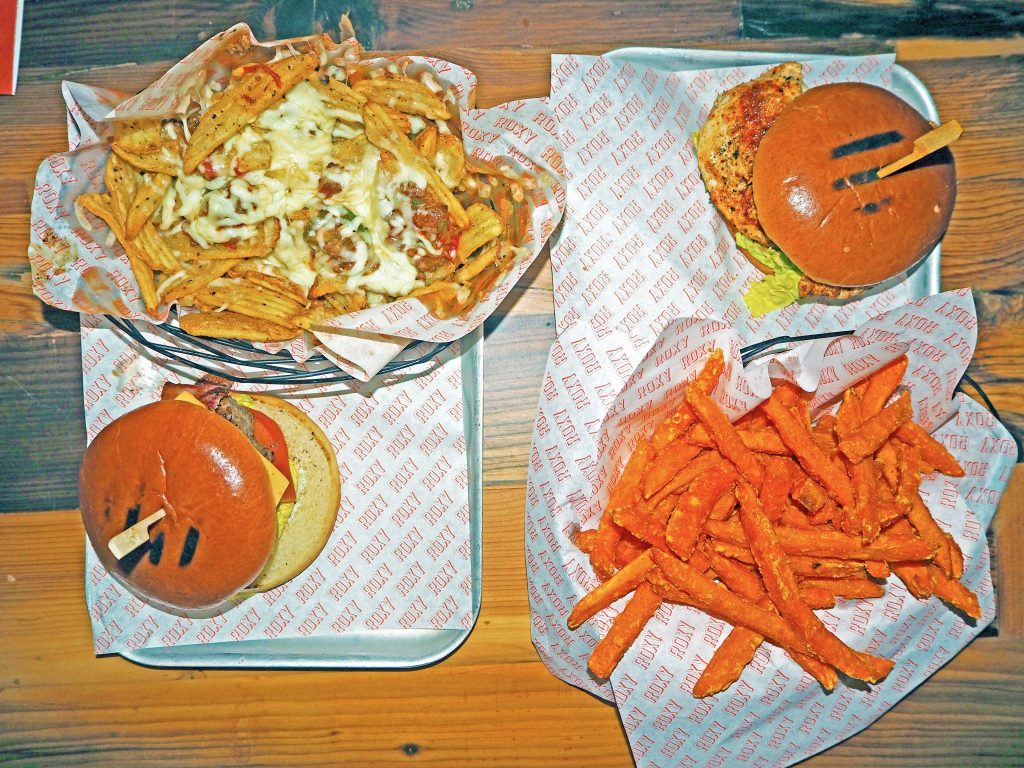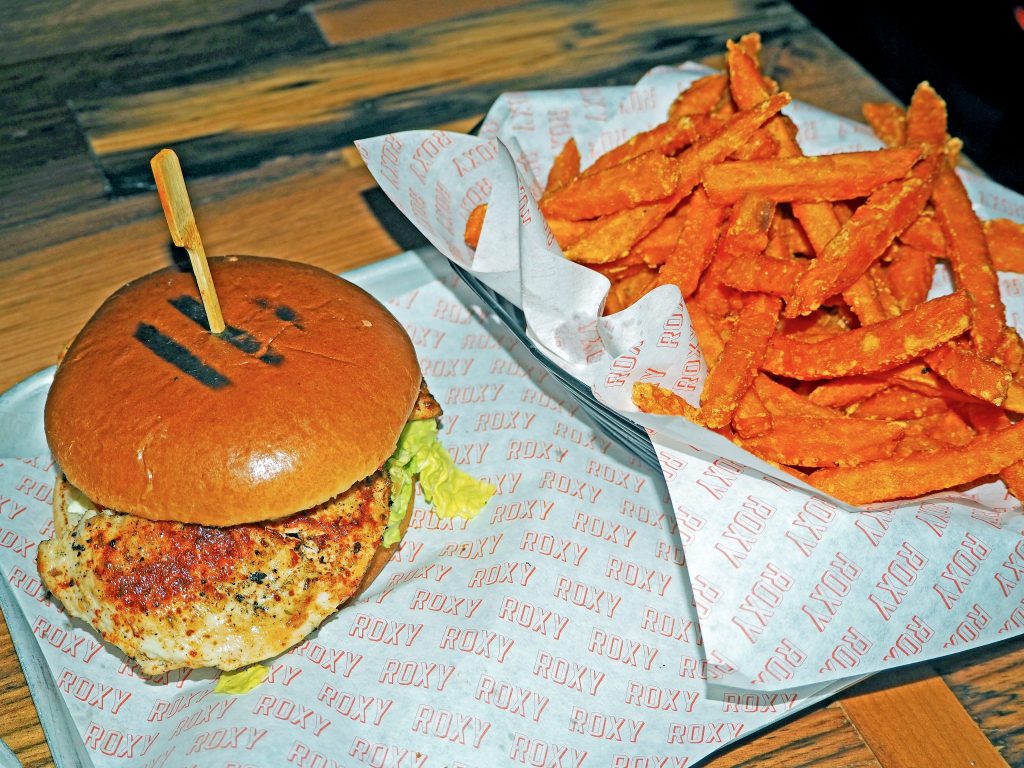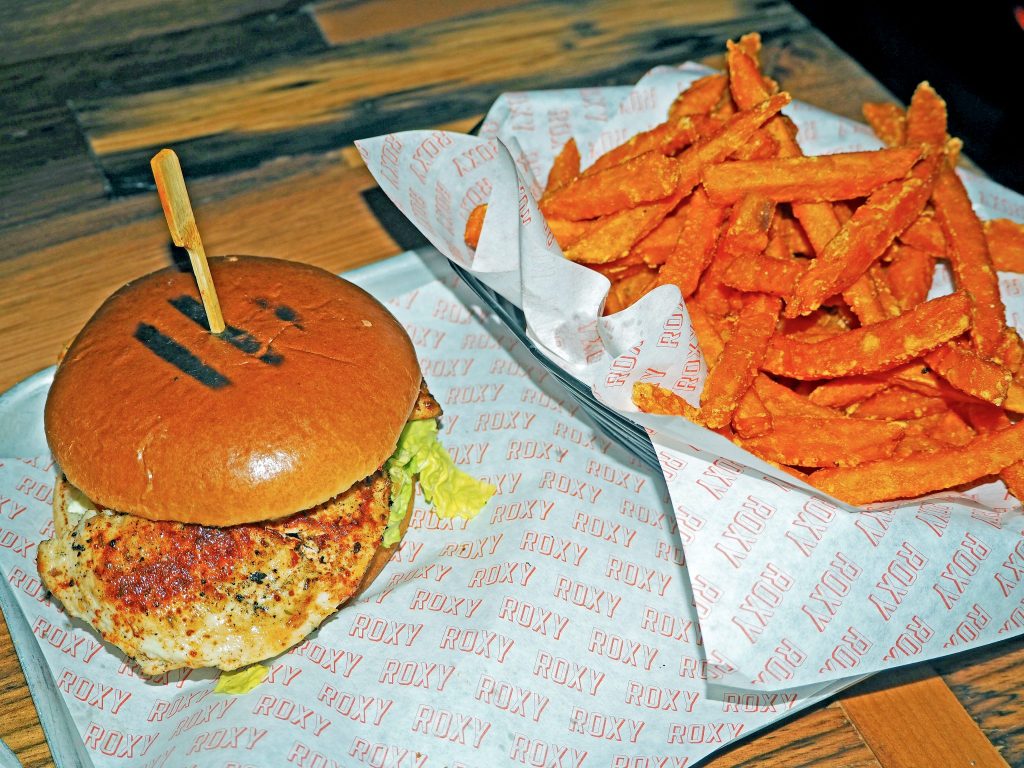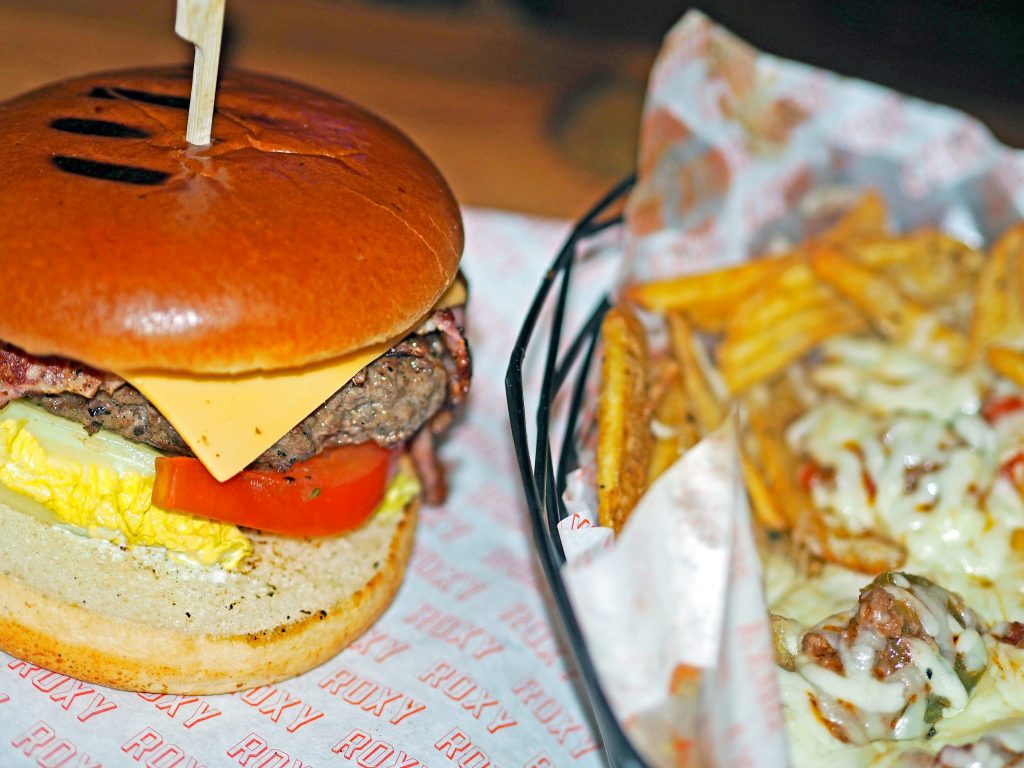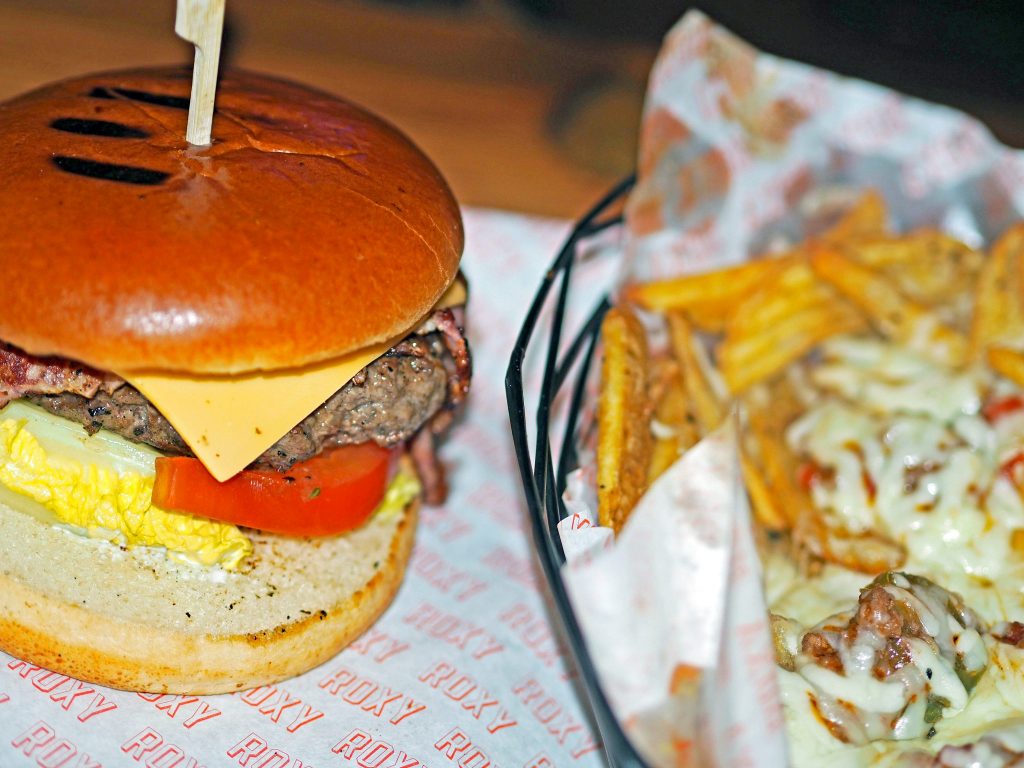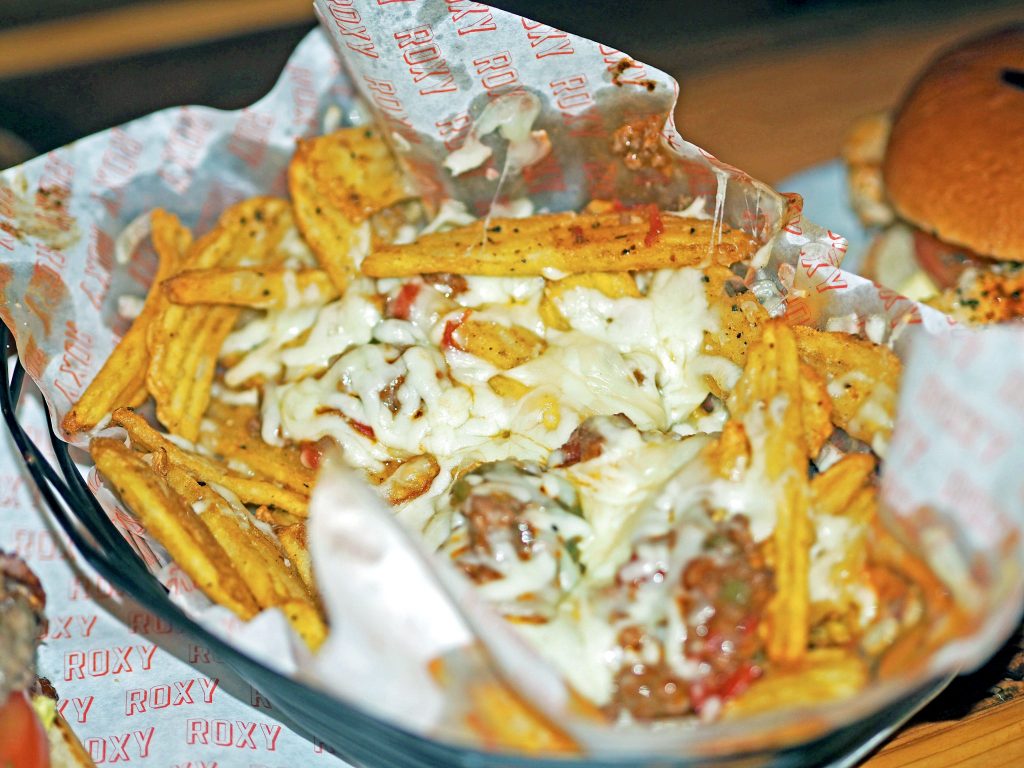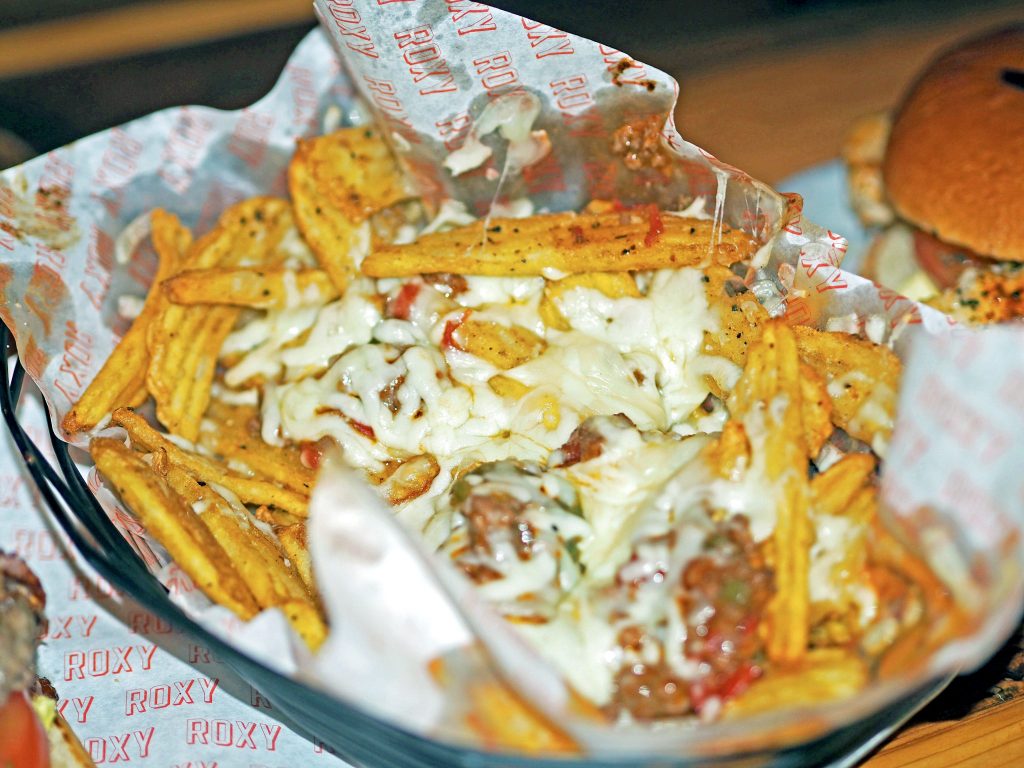 After working up our appetite, we headed to the bar area to order some food. You can order food in both the bar area by the golf course and downstairs where all the other games are. The menu is perfect for snacks whilst you are gaming, or for a tasty meal before or after your activities. If you are with a group of friends, Roxy also offer a 'Champions Feast' platter – perfect for sharing.
We ordered some of the burgers (I opted for buttermilk chicken and Jonathan got the cheese and bacon) which are served in a brioche bun with salad and a side of black pepper fries as standard. We decided to upgrade our fries to try the sweet potato and the sloppy joe fries; the sloppy joes were a definite favourite, served on crinkle cut fries, with chilli and plenty of cheese.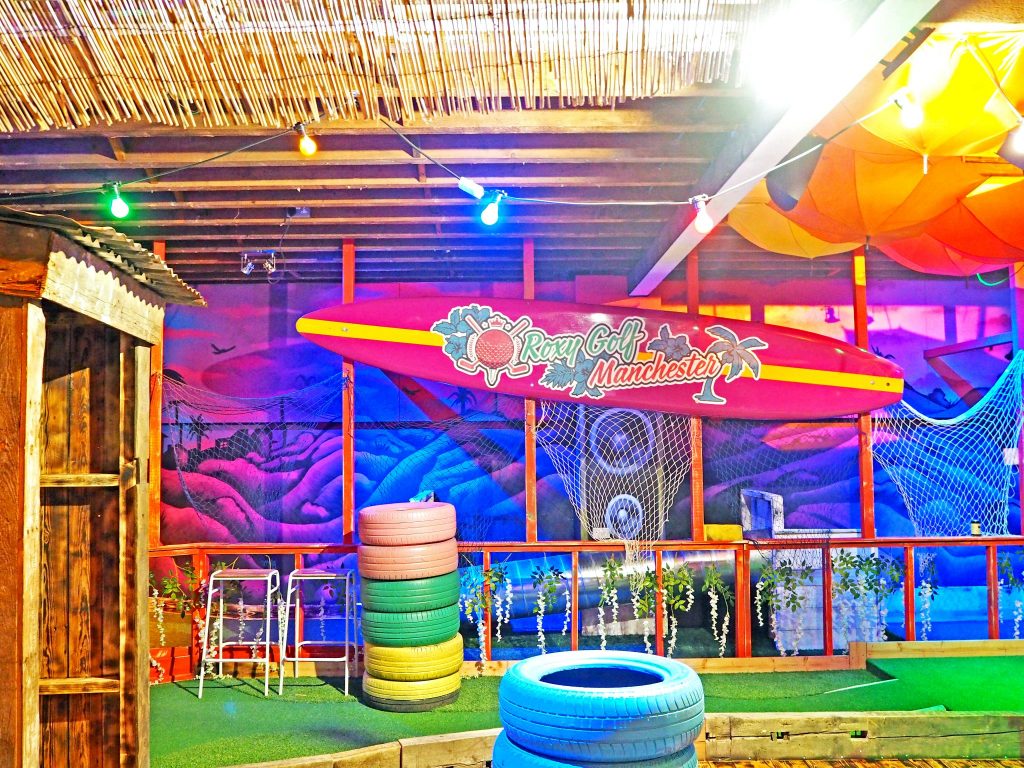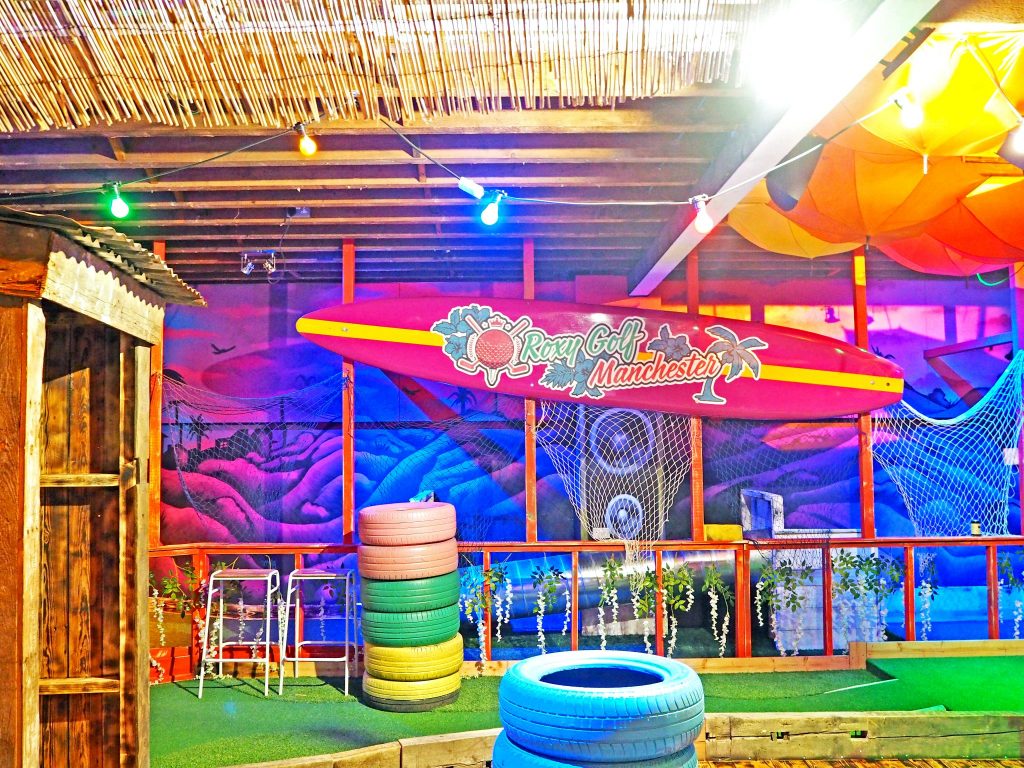 We had the best night at Roxy Ballroom, and I would 100% recommend trying it out, whether it be for the games, the food, or just a few drinks at the bar. The venue is huge and they are really using the space for it's full potential. If you haven't been before, trust me, you will be surprised after entering through the little doorway on Deansgate at just how epic it is!
Roxy have kindly given me a voucher to share with my readers which you can download here, entitling you to a free cocktail of your choice at any of the Roxy venues until 29/06/18!
I will definitely be heading back soon for some of the other games and some drinks with friends.
You can head to the website here to find a Roxy Ballroom near you, book some games and take a look at the menus.
LL x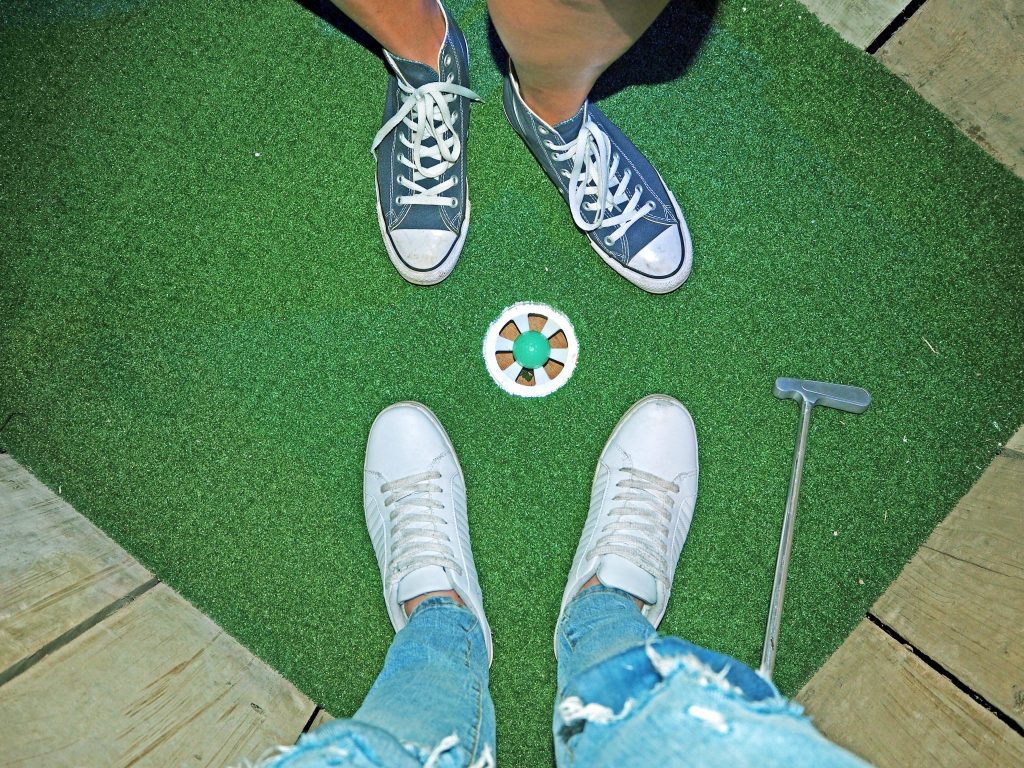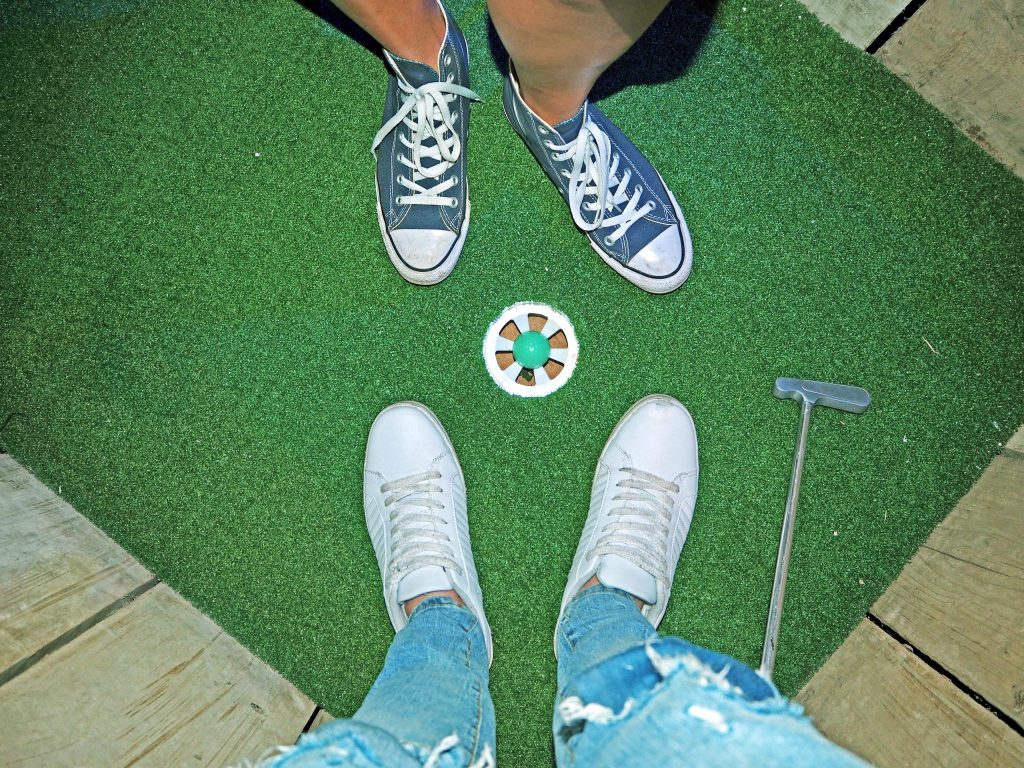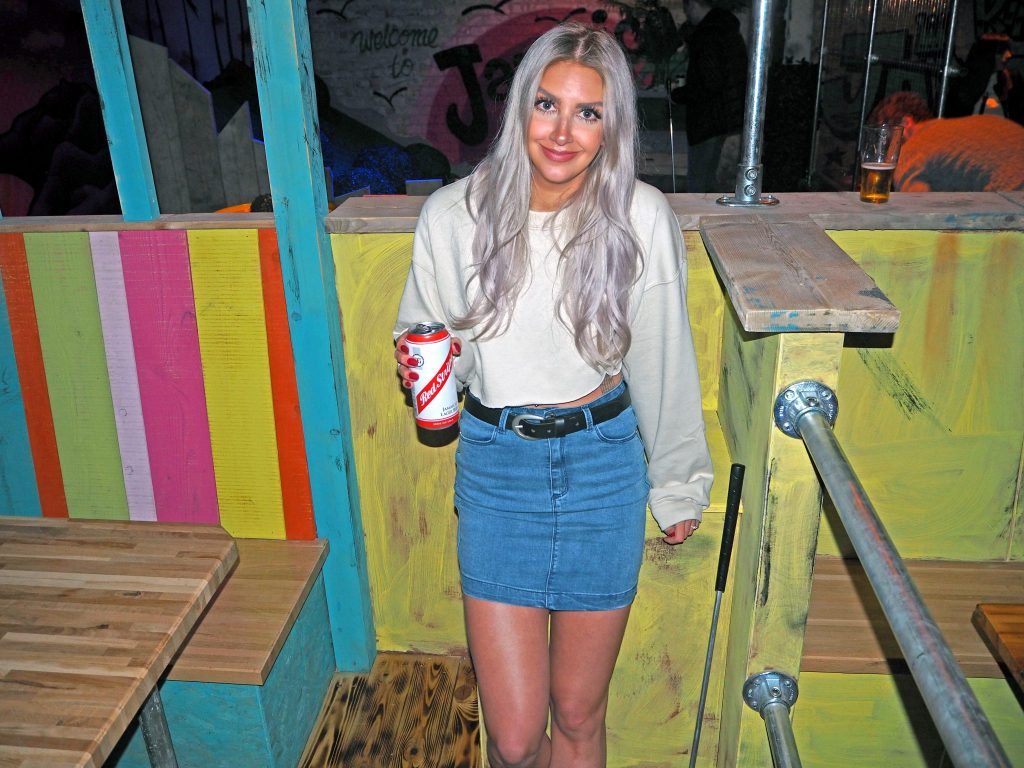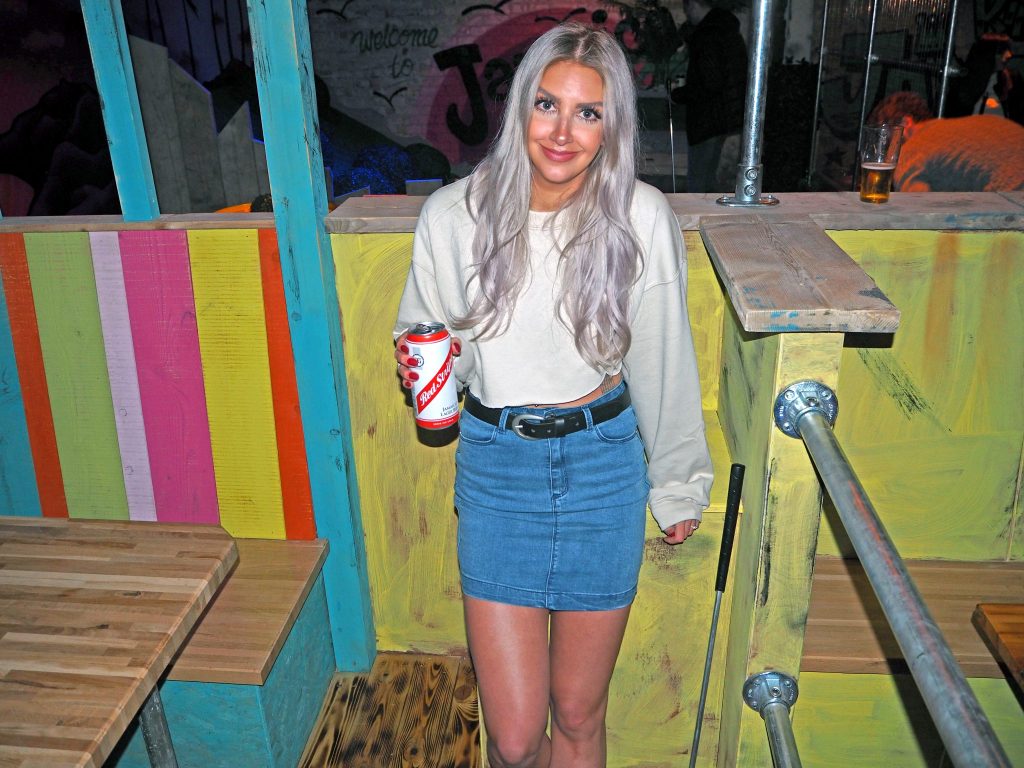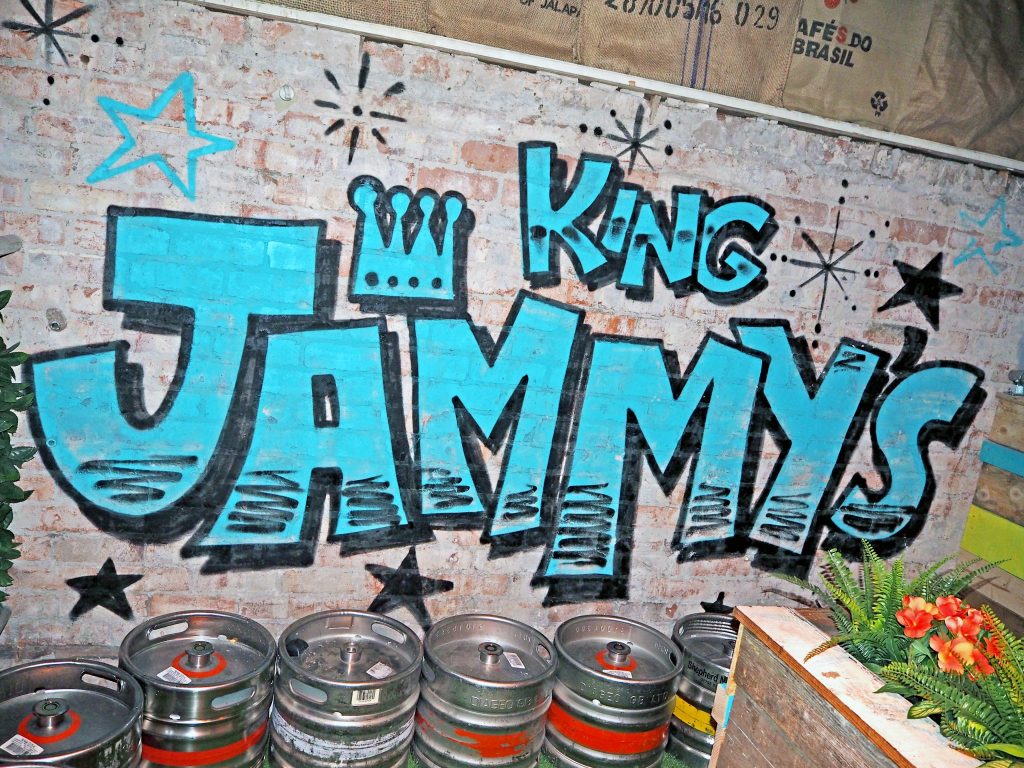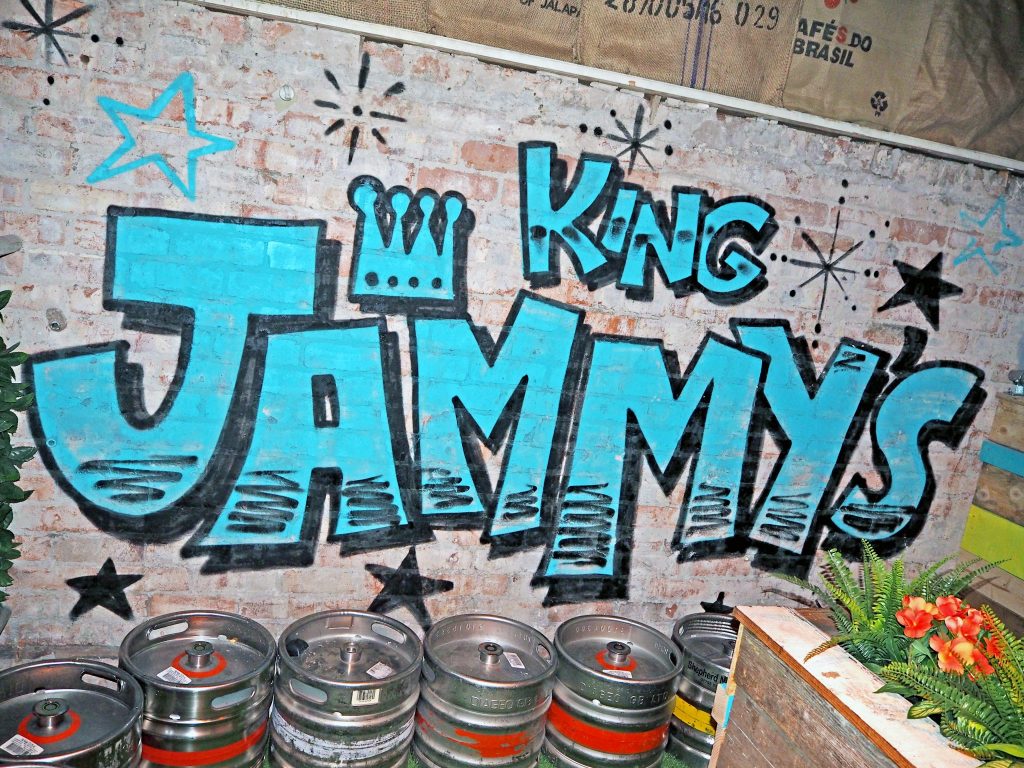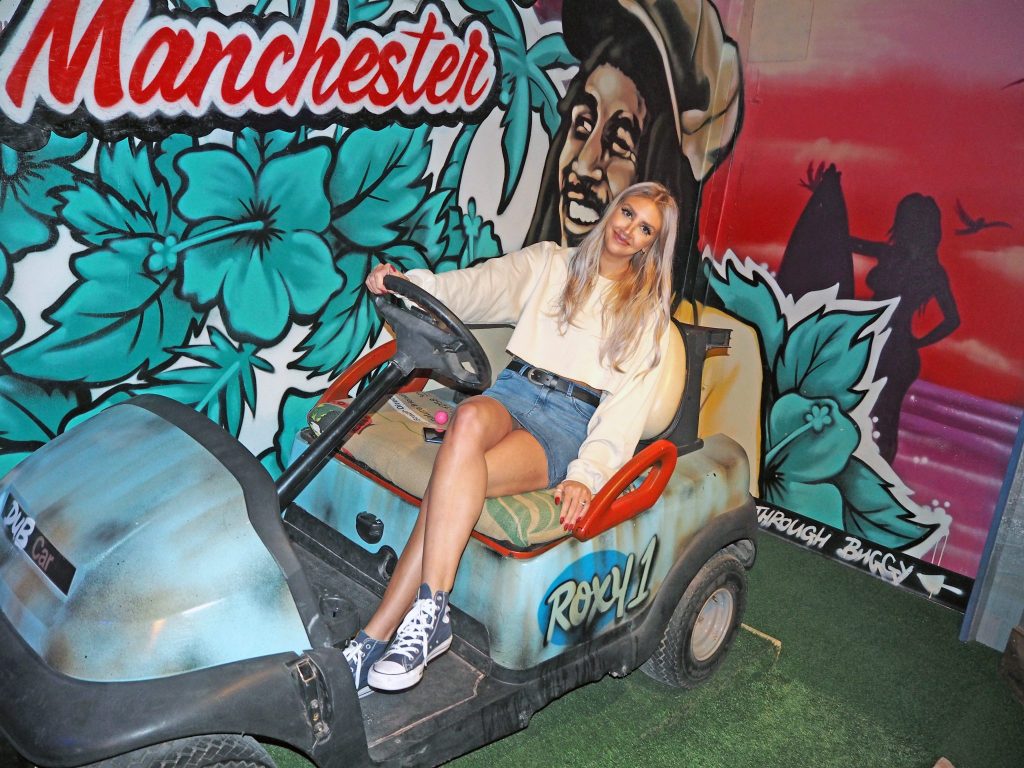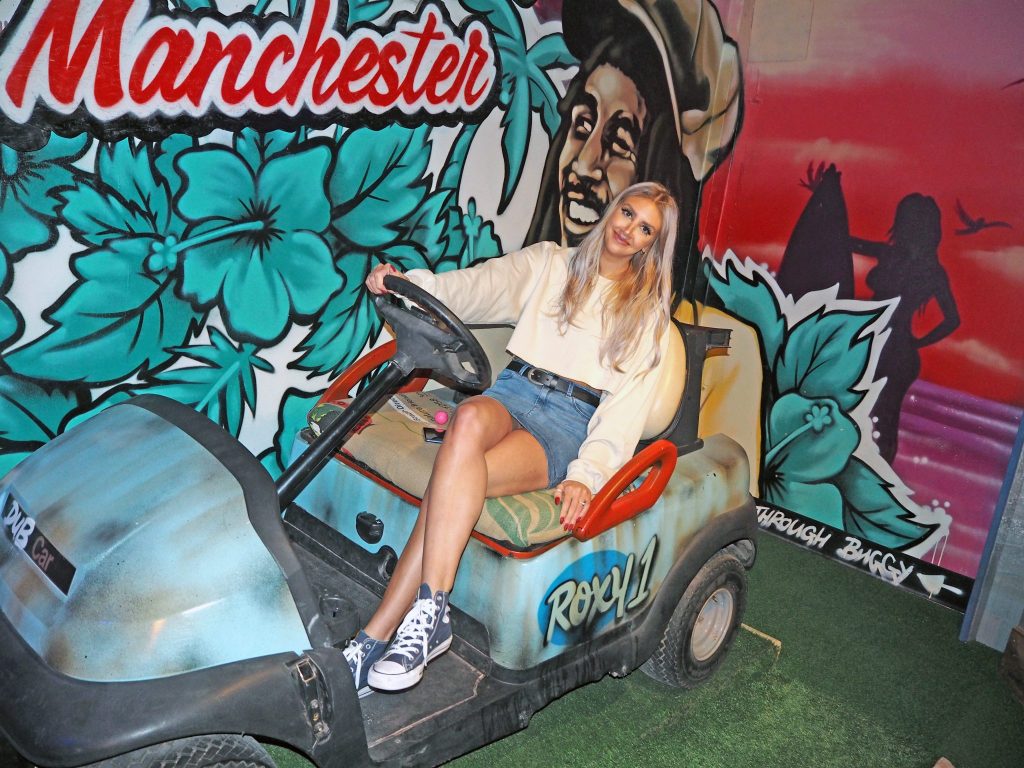 *A huge thank you to Roxy for inviting us down and hosting us for the night. As ever, all opinions are my own.